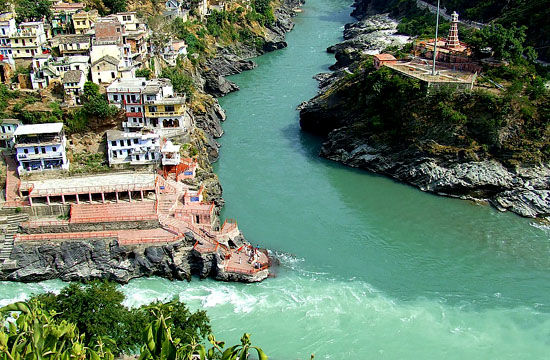 Happiness is a myth. A steady mind, a peaceful heart with hopes is the truth. Once the hope is lost, life becomes meaningless.
If someone asks me of my happy times, I describe the times when I had felt at being peace with my surroundings. A cool majestic river flowing by, slippery large rocks around and a bridge over a narrow valley, dim sunlight from the setting sun beyond the mountains, birds chirping and going away to their nest leaving behind an ubiquitous silence. In that silence I could listen to my own heartbeat resonating with the frequency of the universe, such that it made me feel a smart part of the stupendous world, in that moment I wanted to surrender myself to unknown imaginary power whose ostentatious presence I discerned. .
I was in Rudrayaparag, eight years ago, on an excursion trip organised by my school Doon International School, for the boarding girls. Rudraprayag is a beautiful, peaceful place, one of the Panch Prayag (five confluences) of Alaknanda River, the point of confluence of rivers Alaknanda and Mandakini. We started from Dehradoon by bus and it took us around seven hours of uphill journey along the sinuous curvy roads.
Days have passed, and years have gone, but never that attachment, that profound memories that I made there will be lost. It was an innocent trip, not many photos were clicked, but still the memories are fresh. The bus driver diligently steered the bus along the sinuous road. On the left was the green plush prairie valley with small settlement of locals and on the right the scraped mountain wall along which the road had been excavated and laid. The beauty of the place, the mesmerising views of the landscape made me feel ecstatic as well as pensive deep melancholic feelings surfaced my heart out of nowhere. That scenery evoked many hidden emotions which lay in my sub conscious that I felt as if I knew that place , taking me into a trance state which made me feel may be in my previous birth I have lived here. I imagined myself as one of the local girl living in that place hundreds of years ago, carrying woods from the forest to their settlement of huts & cattle, doing daily chores running up and down the hills, imagining of friends I would have had, my family, my lover- perhaps a traveller from a far off place, who broke my heart and went on his way. I don't believe in reincarnations, I never believed in God, but that place made me believe of a mystical power. The vastness of nature and its mysterious paths made me realise how insignificant I am on the cosmological scale and I adopted nature as my God! A cynical like me who had lost all hopes from life started dreaming and hoping for better times & better people, and I became a more peaceful person thus making myself smile more often.
The Alaknanda river flowed behind the Monal resort, where we were staying. I sat there for hours keeping my feet in river, sitting with some close friends, feeling the coolness of fluvial river water while we chit chatted about usual things which teenage girls talked- shoes, boys , future etc. At some time our talks receded and we all became lost in our own thoughts in the beauty of the setting sun. A lady with a fair face with eminent features, large flat eyes with a small nose jewelled with nose ring, dark thin pink lips, dressed in faded full sleeved kurta and loose salwar , with dupatta tied around her waist was singing and setting up a pile of woods in the resort backyard for the bonfire that was arranged for the tourists at the night time. The view of the setting sun behind the tall forest trees, the jungle path beyond the river & the lady singing the songs reminded me of a poem, the solitary reaper by William Wordsworth. As I sat there, I tried imagining her life, about her family, her kids or perhaps her lover, daily difficulties & challenges and survival. I wondered if she was happy with her place in world, I started comparing her life with mine. It was difficult to comprehend this situation, she and me were very different and in different places in varying situations & I realised we can never measure our happiness by comparing it with others.
Our next three days went in sightseeing, trekking, bungee jumping, water sports and street shopping. While travelling to our destinations my fellow classmates put up a cassette of melodious songs. The song that touched most was "hum kis gali ja rahein hai" by Atif Aslam. It's a simple song with the simple lyrics but with a deep meaning about life. We don't know where we are going in life in the pursuit of our dreams, lost in our rhythm; we don't have a destination, only distances to cover.
We went to the view point of sangam (confluence) of river Mandakini and Alaknanda, the majestic water flow from both the rivers merged into each other with a sudden rush and splash of sound. One could make out the difference in colour of the waters of both the rivers, but as they merged into each other the difference was lost, just like when two young lovers, from a different cultural and economic background come together and start their life fresh.The rest of the day was spent in getting acquainted with the local place and street shopping. We also went to the famous Koteshwar Mahadev Temple. The Temple looked mysteriously beautiful in the full moon light at night.
The next two consecutive days our group went for trekking. First we trekked to Kartik Swami Temple constructed over a mountain which is about 3050 feet above sea level. The temple is famous for its natural beauty, birds and the majestic view of snow covered Himalayan peaks.
Next day we went to a Chandrashila summit trek , it is a summit of Tunganath mountain range. The path to the summit is mesmerizing with snow-capped shrubs and trees. We climbed up following the trekking path, along the bushy & stony path. The path was steep, and we had to place our foot firmly on the ground to avoid slipping. There was a certain kind of plant that grew in that region, whose flowers were pink at the mountain bottom, but as we ascended up, the same species of plant had white flowers. We saw patches of snow which had became muddy due to the fellow trekkers. When we started trekking the day was sunny, but after achieving some height, it became damp, cold and a little dim. Cold waves blew into our faces making us shiver and fear the weather. It was my first trek, and I was a little slow compared to my group. After some time I was left behind in solitude due to my slow climbing pace. I stopped to take in some deep breaths, and looked around. The Himalayan peaks such as Chowkhamba, Nanda Devi, Neelkanth and Kedarnath with their top covered with snow were seen; the horizon was grey with a tinge of orange, the valley was deep and scary. If I was to slip the rocks, or if somebody pushed my down from that height, I would have hit many rocks before going down into the valley dead. The thought of death in that moment made me aware of the privileges of being alive, of my body being able to discern, function & respond to the external environment, the human feelings & emotions. Whether it is suffering or happiness, our body and mind are evolved enduring both the phases & both are necessary for a healthy functioning of a human body. In the lap of nature, I gained some enlightenment about my group going ahead and me left behind, I hurried along the path , with faster pace, almost jogging along the trek. An enormous wave of energy encompassed me and and I breathed heavily as I trotted along the narrow rocky path. I reached the top of the mountain in approximately half an hour. The view from the top was splendid. Once we reached the Chandrashila summit, we enjoyed the beauty of bugyals, the Kedar, Chaukhamba and Nilkanth peaks. After resting for a while there, we ate noodles from the tiny shops that were set up by locals there for tourists.
At nights we came tired back to the resort, heavily tired, to have our dinner. The late night were spent having a bonfire and music played on loudspeakers and woofers. After the tiring day, some girls still had the stamina to laugh and dance. There was a treehouse nearby where I climbed and viewed the party from the distance, looking at the beautiful laughing dancing people. Time passes away, but the shrill sounds of laughter, the memories of a carefree times always follows us in our solitudes.
Frequent Searches Leading To This Page:-
Rudraprayag Uttarakhand travel package, rishikesh to devprayag to rudraprayag, garhwal tour package from Kolkata, rudraprayag to auli joshimath