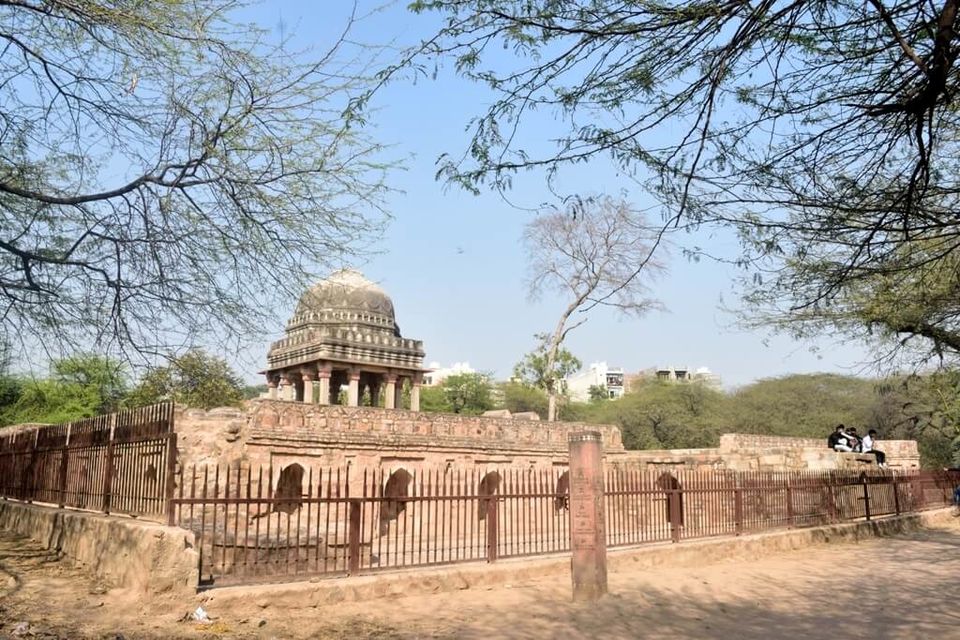 Delhi - Dilwalo ki - is a great city, being my hometown I loved the city because of the smiling faces, happy people, positivity in the environment and great nightlife. The city has lots more to offer in terms of history and this time when I went Delhi I thought to explore region nearby Mehrauli - a less known archaeological park and the sky touching Qutub Minar. I reached Mehrauli archaeological park at around 10:00 a.m and spent around 4 hours there. After getting out at 2:00 p.m. I went to Qutub Minar complex which is nearby to it and spent 3 hours in Qutub complex as well. It was a memorable heritage walk. If you are in Delhi and this trip will hardly cost you any money, it would be the cheapest and wonderful trip for history lovers.
Heritage walk through Mehrauli Archeological park

Delhi has been very popular among every ruler - a dream city for them. Thus the city has seen rise and fall of the various dynasty. Since 11th century Mehrauli is the oldest inhabited settlement in Delhi. The area in the archaeological park has several magnificent monuments to admire the culture of olden days. The place has several Boali - step well, mosque, mausoleum and many more. When you will get there you will feel that every monument is whispering its own tales.
The area is now maintained by ASI and lies just behind Qutub Minar complex but still, it is less known and attract very few visitors but you will love it if you are a history buff. There is no entry fee to the park, just backpack and plan your visit to Mehrauli with your camera.
As soon as we entered the archaeological park we saw a beautiful rose garden with a variety of roses. After the rose garden, we moved to Jamali Kamali tomb, an example of Indo Islamic architecture. The mosque has a big courtyard and Vazu tank and a big courtyard in the mosque complex. There are several knowns and unknown Baoli inside the complex and some interesting stories attached to them. You can ask the security guards or some locals over their for more details, or you can hire a guide from some agency.
Things to visits inside archeological park:-
1. Rose Garden
2. Jamali Kamali Mosque
3. Balban tomb
4. Raja ki baoli
5. Muhammad Quli Tomb
To read more about the monuments at Mehrauli Archaeological park you can check here
Tips for traveller:- The area does not have toilet facility or drinking water facility inside the complex. There is no shop and very few visitors so avoid going in late evening.
Intact Heritage walk to Qutub Complex
Just behind Mehrauli park there is Qutub Minar complex - a must visit tourist destination. But there are several other monuents also which have some interesting stories behind their construction and failure which are worth noticing, such as
1. Alai Minar
2. Smith Folly
3. Iron Pillar
4. Iltutmish Tomb
5. Tomb and Madrasa of Sultan Alauddin Khilji
To explore more about the Qutub complex, you can check my blog post about Qutub minar at Fotolaa
Tips for traveller:- Best time to visit Delhi will be from Oct to Mid December and Mid-January to Mid-March. Carry a water bottle with you as areas are quite big.