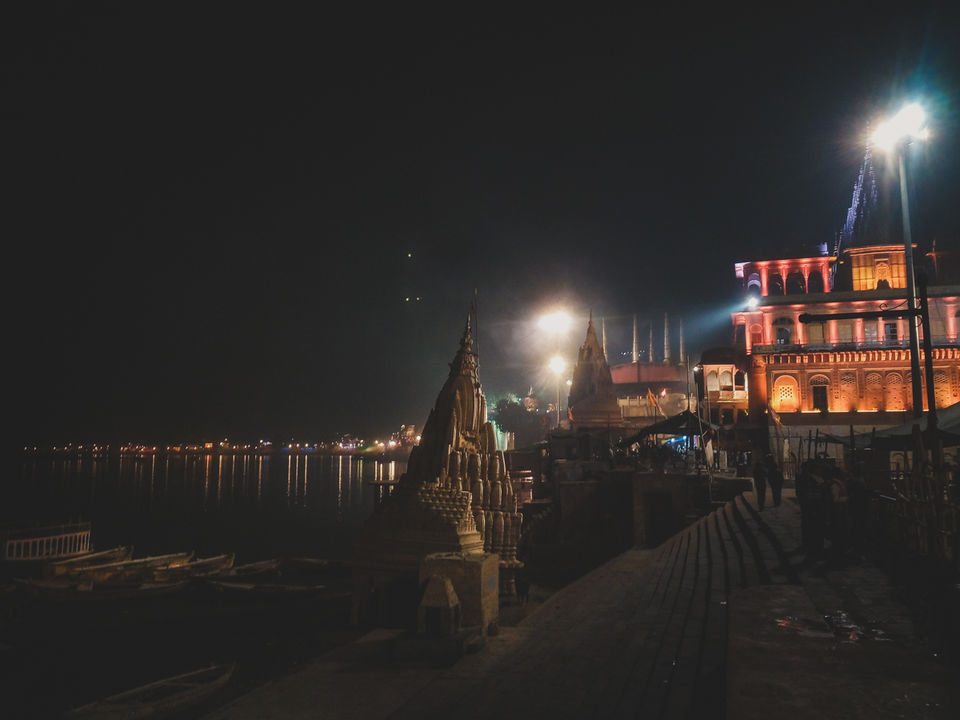 What's your crazy memory of a night escapade? Or does this idea sound off the charts?
Too lazy? Not a good time? Stupidity? Or any other seemingly justifiable reason that you confided onto, to avoid any night venture. Guess what, my sensibilities didn't behave any different when my half sane, half mad German friend (also an international freelancer chef traveling the world most of his life) put forth a proposition to attempt something crazy, a midnight walk on the streets of Varanasi all the way to Manikarnika Ghat, and yes we were drinking that bhaang lassi as we spoke more on it
You heard me! The magic potion that lord Shiva consumed himself, Bhaang when mixed with sweet lassi is a drink that will melt all your insecurities, and this one is available with almost every tea shop or fruit juice vendor in Varanasi. Two glasses of bliss maybe I had one more, can't remember clearly and here we were, standing tall, chests thumping with confidence, mind focused, eyes with excitement, gods showering flowers from above, drum beats in the air, angels dancing and our legs ready to tap the ground hard and….BAMMMM
The german guy falls unconscious. The bhaang had spoken, and my friend didn't look quite in a condition to go anywhere. In that very moment I almost convinced myself to take some steps back and bring my ass back to the couch. Nah, not a good idea to go anywhere I said to myself. But, but, but the angels were still dancing, and they had hope in their eyes. I could see. That's it, I took another shot of the bhaang, and with a deep breather hit the street
Manikarnika Ghat, this one had build up crazy expectations with everyone talking about it, especially a visitation in the night. I had to see this now. Residing in close vicinity to Dashashwamedha Ghat, Kashi Vishwanath Temple (temple of Lord Shiva stormed with pilgrims and travelers all the time), and close to many versatile Indian food joints like Blue Lassi point, Kashi Chaat Bhandaar, Dosa café and uncountable food counters of Kachoris, samosa chats, puri bhaajis and sweets, Manikarnika Ghat appeared to be an unusual fit in all this extravaganza. Everything was a celebration in that area, it looked good, colorful and festive, it brought a smile on your face, with meditative chantings of lord shiva on the streets and piece of vibrant Indian culture thrown at you at every corner be it hoard of silk sarees, saints and pilgrims sporting ethnic outfits with white ash layered on their forehead, scent of prayer material or the mouth watering street food,
but not the Manikarnika Ghat
The latter looked like a place of despair
This is Manikarnika Ghat, a place where they burn dead bodies all day all night. A cremation site, in Hindi called the Masaan or a shamshaan, and finally I was there to witness first hand, the experience with the dead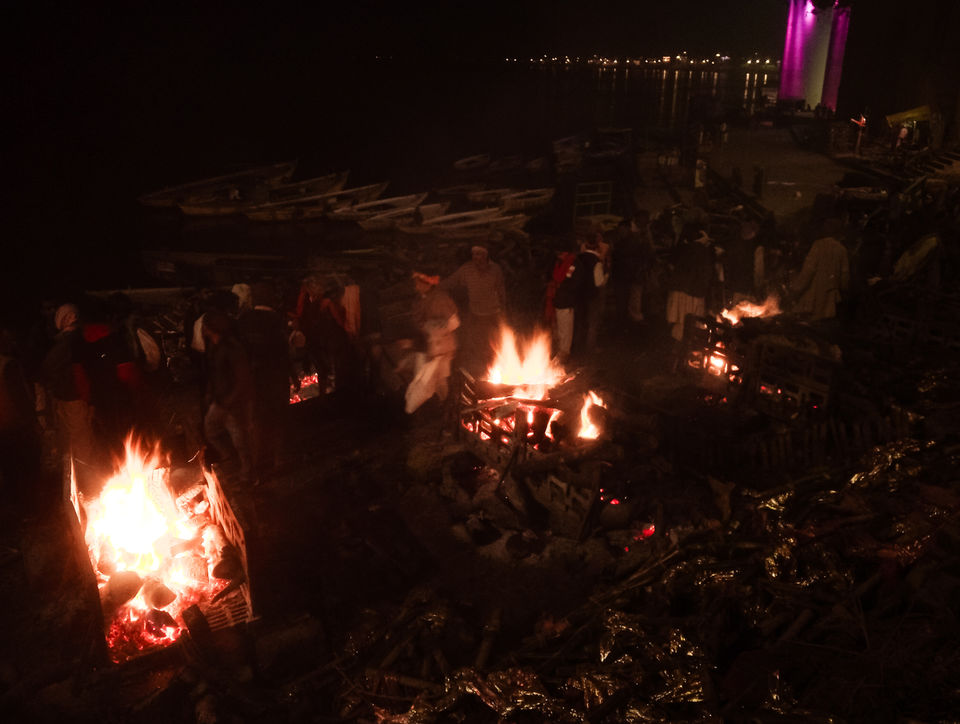 The air was filled with smoke, making things almost invisible. And I couldn't keep my eyes open for long. The smoke was infuriating. I had to move constantly. There were bodies getting burnt all around. First I saw the cremation from a distance, then I approached closer. I wanted a closer look, and there I was standing right in the midst of two burning bodies. I stood there for a minute, saw the corpses melting away. I kept looking. The hands and legs of the deceased were hanging, the head, the eyes, the neck all melting like how a candle burns and melts. The entire body was getting dismembered slowly, totally out of shape. It was melting right in front of me and I felt disgusted.
But I kept on looking
By this time, people were moving out, but I stayed there and kept on looking at this perfectly choreographed dance of an ancient sacred ritual and I couldn't take my eyes off. Maybe I was starting to get some perspective?
New corpses kept on coming in, wrapped in white fabric, garlands around their neck and chest, forehead covered in white ash and colorful marks (tilak) which signified their sacredness and caste, and carried on a small bed by 4-5 people shouting loudly " Ram naam satya hai" (Lord Ram is the inevitable truth). This slogan is part of the cremation ceremony and always broadcasted with a loud voice during the transport of the corpse and ends just before it is brought to the cremation spot. The bodies were coming in, and one by one immersed in the ganges for 15- 20 seconds (another sacred procedure to ensure purification of the soul), before they were finally kept on the pyre of woods. Woods were then ignited, slowly catching up the fire as these were thick logs kept on one another forming a big block. Each body was taking 4-5 hours to completely burn itself out, finally turning into ash
Many people see this magnanimous ceremony during day, but the experience is nothing close to what you see in night time. During the night, the noise is less, people sit quietly around and all you can hear is the sound of fire burning through bodies and lot of wood. Ofcourse the fire itself looks beautiful in the night giving a good contrast of light in the dark, as opposed to what it may look in the day. The feeling sinks in heavy at this time and what you feel entirely depends on what kind of person you are
The people doing this job however have no choice in feelings. They are mechanical in nature. They are duty bound and belong to a community called 'Dom'. The owner managing the entire place and work is popularly called the 'Dom Raja'. They have many hired priests, who lead the ceremony with their prayers and chantings. Without their presence, the ceremony is treated futile and insignificant. Out of curiosity, I started to look more closely at this workforce and I was startled to see how dedicated and unaffected they looked with what they had to endure. Manikarnika Ghat was practically their habitat. Most of them had spent their entire lifetime doing this work, living with smoke and fire all the time and the beacon was passed onto younger generation.
"humne toh itne log jalaye hain, ab toh kuch pharak nahi padta", said one of the workers when I asked him how he felt doing this job. I was sitting beside him as we both watched dead bodies get burnt. It was getting darker as time passed and we both decided to add more smoke on the already existing smoke from the sacred flames all around. This one came from the bidi (Indian cigarette) that we both smoked together. At that moment the smoke coming out from the bidi looked quite sacred to us, it gave us the happy high and we continued talking
He said, seeing the lifeless corpses getting burnt and vanishing out of their form is no big deal, It is like drinking tea and as simple as it can get
"Hum toh yeh bachpan se dekhte aa rahe hain"
And at that very moment I realized something has changed inside me. I was normalizing to this whole act. This overwhelming 'larger than life' experience was settling and becoming easy to watch. The time was doing its magic. And more I spent time there, more I started feeling comfortable.
On this positive state of mind, I started to move around in search of more insight of this business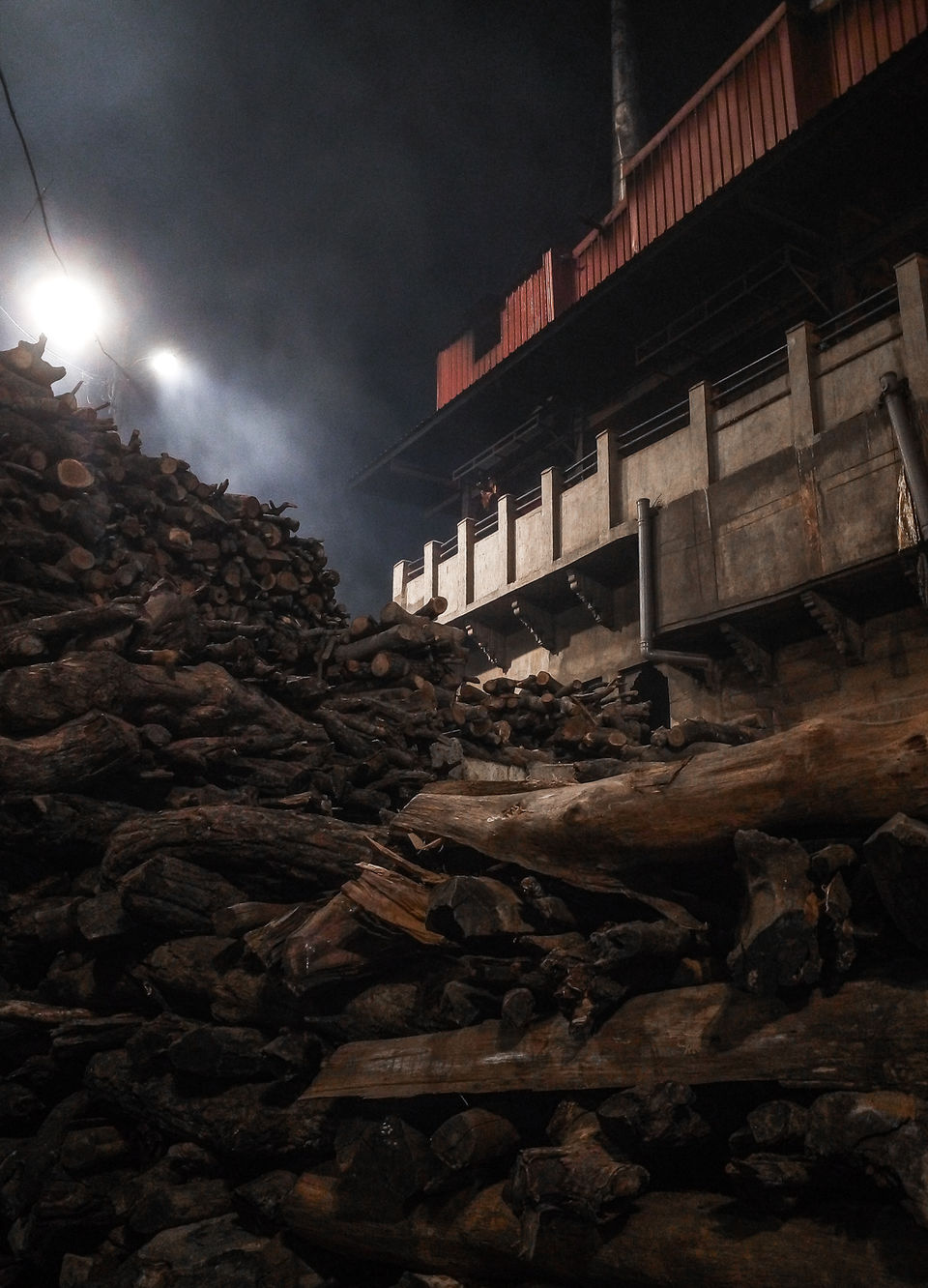 The place certainly looked like a dungeon at night with big wooden logs piled up everywhere. I almost felt trapped when I ventured inside the corridors, the view of the ghat and river was getting obstructed by these wooden logs. One could say that cutting and assembling these woods would have been a tedious job and the stock always had to be kept ready due to heavy influx of business. Yes, this is a full time job with a large labor force actively working day and night. Trucks coming in and out carrying the wood. The environment is high on pollutants with smoke filling up the air and ghat area covered with waste. You can hardly breathe clean air and your eyes get a burning sensation. This business has its toll on nature and people, but clearly this aspect gets overlooked by the people due to their devotion to rituals and traditions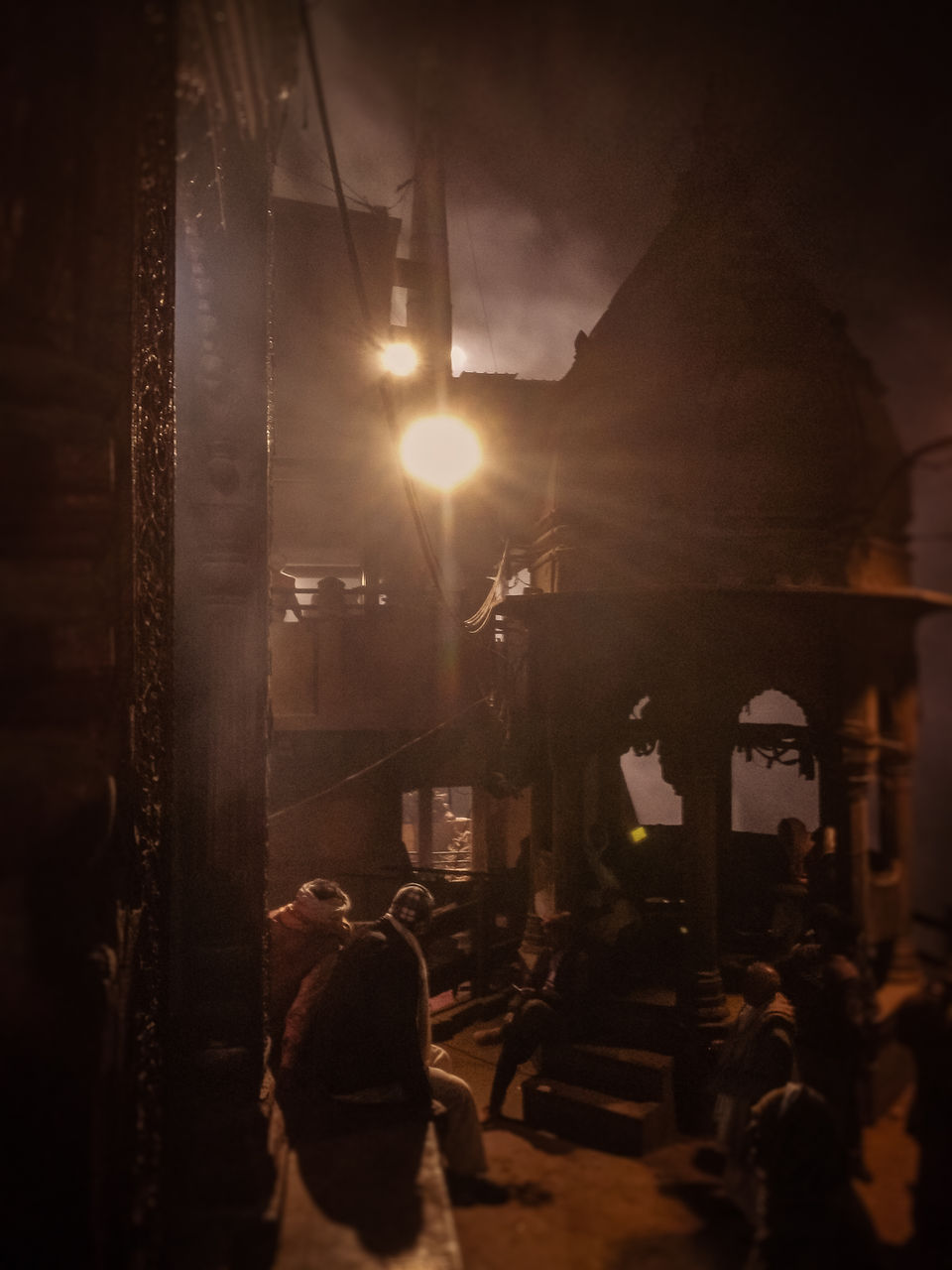 There was another set of people who were seen sitting ideal, talking about the place, narrating their stories. Some of them were in relation to the deceased, some were vendors who were selling tea, snacks and prayer material. It was night and mostly all the work had somewhat come to a halt, this was a time to relax and enjoy the place. The light was creating good shadows of the giant pillars that surrounded. I sat there for a while, over hearing people in silence
I was at Manikarnika ghat for some more time and then started walking back to my place, it was 3 in the night, the ghat was clearing out of people, the chores were thinning, silence was all there is, except the sound of the flowing river, and the feeling overwhelming. I had witnessed something unusual that day, something uncomfortable and deep. Life is a short journey and one day it has to end, that's a hard reality, but the experience at Manikarnika gave a distinct touch to this concept. Here the idea was to look at all this spiritually, and everyone who works and lives there wears that aura and sells this concept. The cremation done by the sacred flame at Manikarnika, is a part of that spiritual process, it's supposed to liberate the soul from the concept of life and death, from the mortal body
Maybe i was beginning to understand this concept, maybe i was not. Maybe i needed another glass of Bhaang lassi to clear my mind ;)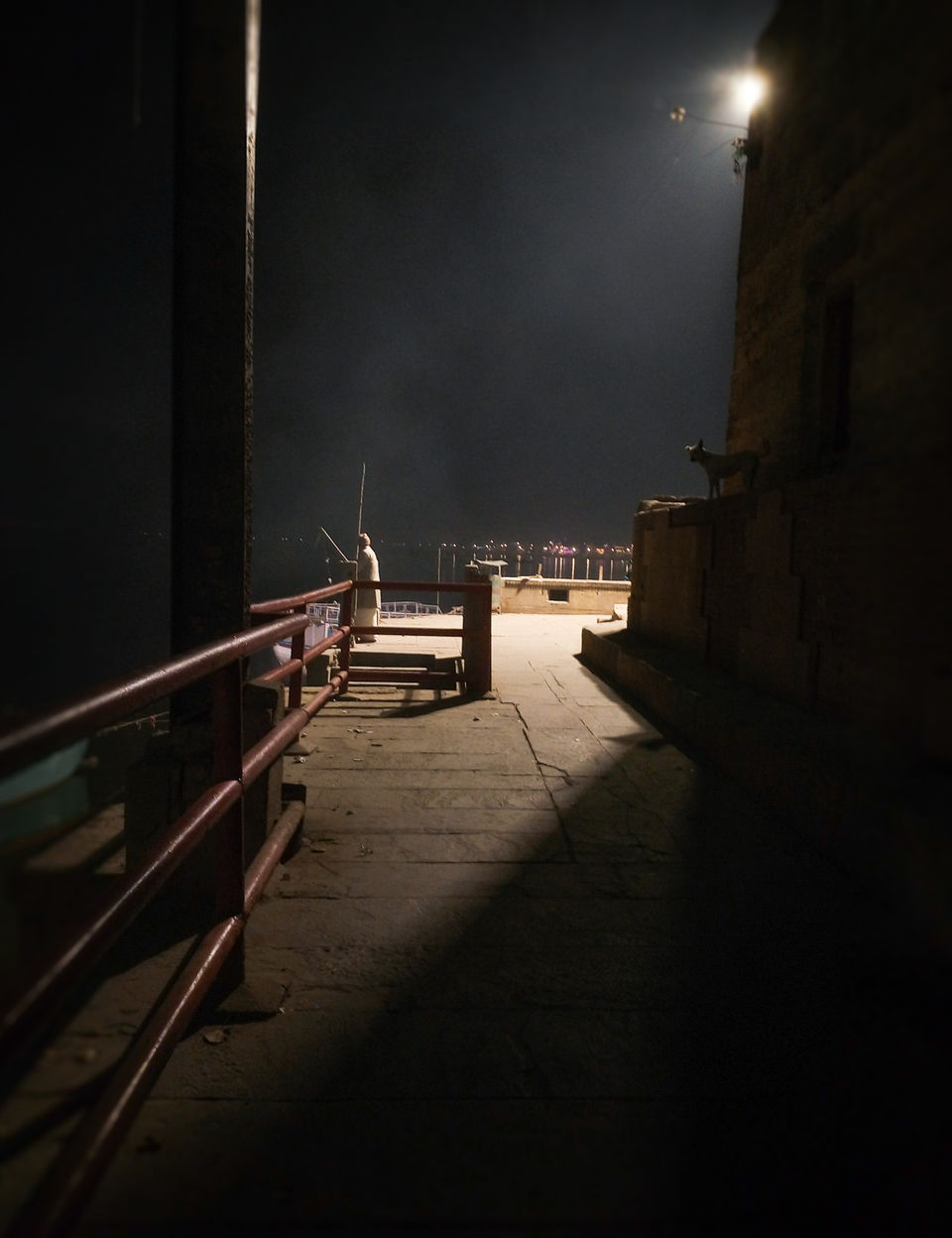 But I was certainly filled with the insightful thoughts of cremation being a spiritual process and as I continued walking towards my place, the thoughts became intense and deep.
I had something to ponder upon in the upcoming exciting days at Varanasi