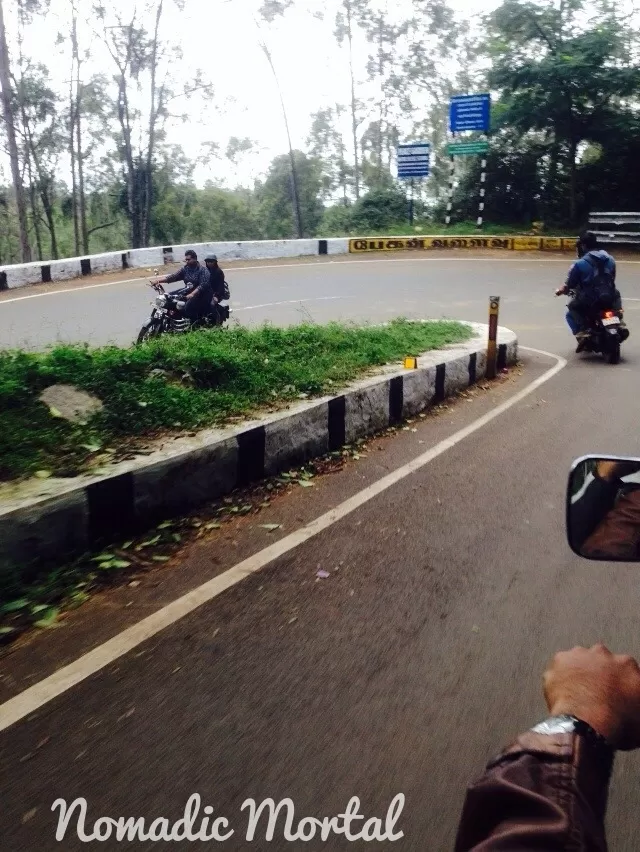 Yelagiri – A quaint mini hill station in the Vellore district of Tamil Nadu. I say mini because it is not as developed as a tourist hotspot when compared to Ooty or Coorg. Which is kind of perfect. I mean you get the hill station vibe but you don't have to wade your way through the tourist crowd. It is serene, unspoiled and beautiful.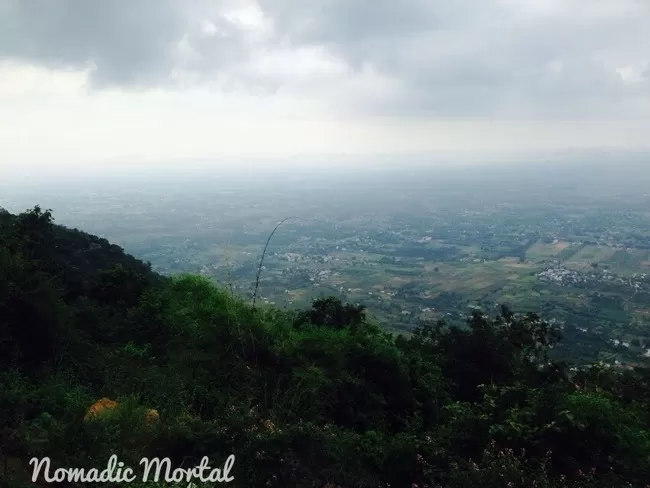 Distance from Bangalore : 170 kms More or LessTime Taken : Approx 5 hrs.
There are many resorts here and more than 2 adventure clubs. By adventure I mean trekking, rock climbing, zip line, paint ball, etc. Yelagiri is also known for being one of the best places for paragliding in South India. The availability of this however depends on the weather and such. There is also YASA – Yelagiri Adventure Sports Association which provides a 4 day Beginner course in Paragliding. Some day of course, I would love to explore this option.
Start : 6:00 AM, BangaloreThis time the sole purpose of our trip was to ride. We needed a long ride to a place away from the hustle bustle of the city. I'm honestly blessed to have friends who love to ride. So a bunch of us started towards Yelagiri on a cool November Saturday. The weather was so pleasant that morning. It was still dark when we left. We planned to leave at 5, but I am someone who never gets sleep the night before any trip. So I overslept and well, so did some others and we finally managed to leave by 6.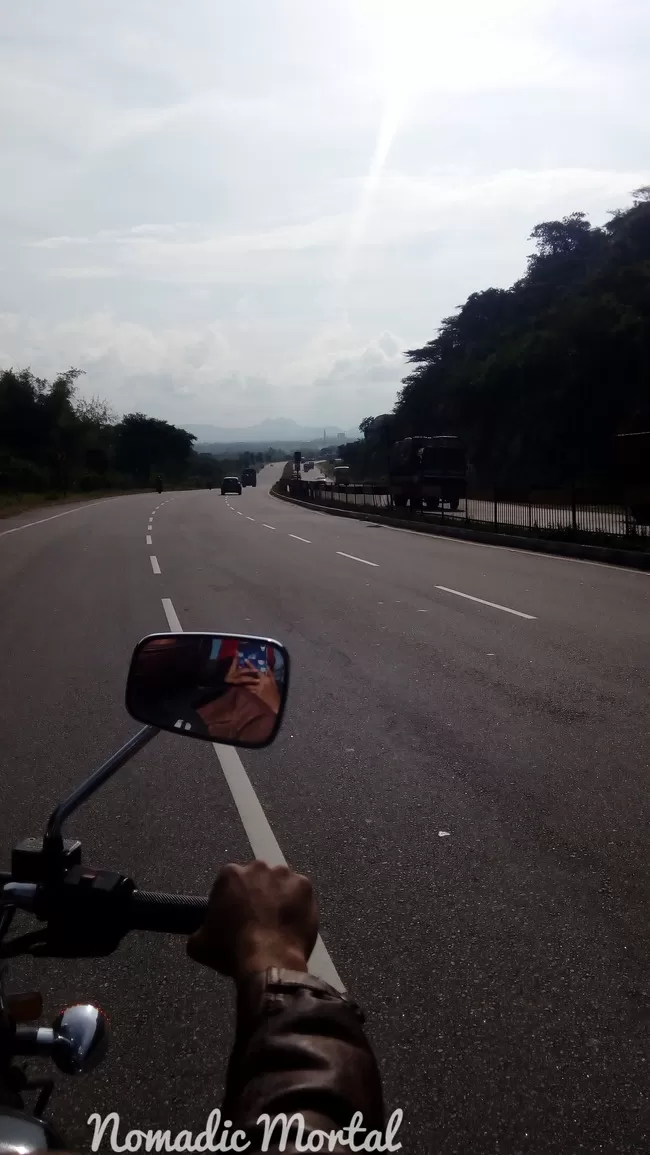 The road.. OMG the road!! I cannot explain to you how awesome the road to Yelagiri is. Up till Vaniyambadi town the road is 4-lane and anyone who enjoys a ride will love it here. You can easily reach top speeds of 120-125 km/hr. This will be your cruising speed. The Old Gods and the New had blessed us with zero traffic and a clear sky. The chill in the morning air, the sun rising, the breathtaking landscape, everything seemed too good to be true.
On the Way : 9:00 AM, NH 46There are a couple of routes to reach Yelagiri. We choose the Highway one which is also the 'easy to not get lost' one. We drove until Krishnagiri on NH 7. After which we took a left onto NH 46 which goes towards Bargur and Vaniyambadi. On reaching Vaniyambadi, you need to get a little careful as you will have to take a U-turn towards SH 18. From here on, there are clear sign boards in English leading the way to the hills.Oh and you can also enjoy the view of Yelagiri hiding behind the clouds as you ride on NH 46.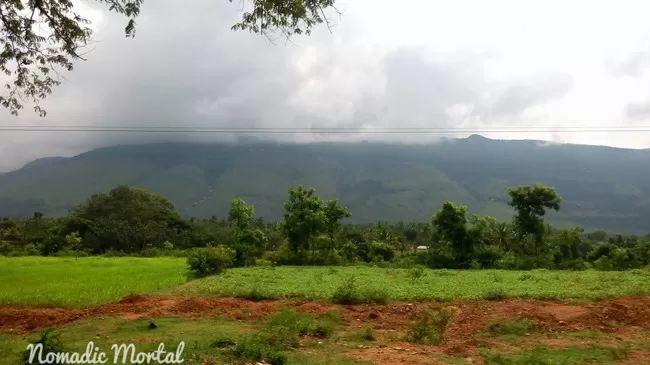 Destination : 11:00 AM, YelagiriAfter a lot of stops on the way, we finally reached our destination. There are 14 Hairpin bends to reach the top of the hills. It is such a pleasure to ride here. The weather drastically changed as we were ascending. It went from sunny to cloudy to drizzling in a matter of seconds. I loved the eccentric nature of the playful weather. There are many view points en route to enjoy the view of the vast plains below. Tall trees dot both sides of the road and you can see bee hives on most trees. Yelagiri is known to have the best homemade honey in Tamil Nadu.
We decided to visit the man-made Punganur Lake and the Shiva Parvati Temple. There are a lot of vendors near the lake selling fresh fruits. Jackfruit is very famous here, but we found all sorts of fruits on sale. You'll find hoards of shops selling honey and roadside vendors selling toys and jewellery as well. The lake is beautiful with lush green hills surrounding it. The lake area and the adjoining park have an entree fee of 10/- per person. You can also go on a boat ride here if you wished. The calmness of the lake and the cool clean breeze with birds chirping happily in the background will make anyone smile.
We then headed towards the Shiva Parvati temple. Ask for directions from locals – Just say "Kōyil?" and the helpful lads will show you the way. FYI Kōyil in Tamil means temple. This beautiful temple was under renovation when we visited and thus it wasn't open. But there is a beautiful statue of Shiva and Parvati on the outside and it is worth paying a visit.
Few Pointers : I don't think there are any petrol bunks on the hill top, so fuel up before you start the ascend. Thankfully the lake park has a pay and use washroom – not very clean but manageable. Explore the adventure sports clubs if you have the time.
USP : The ride. I fell in love with the road towards Yelagiri. Be it NH, SH or the curvy hairpin bends. The view of the plains is mesmerizing and if you are lucky you'll get to see it raining on the plains below.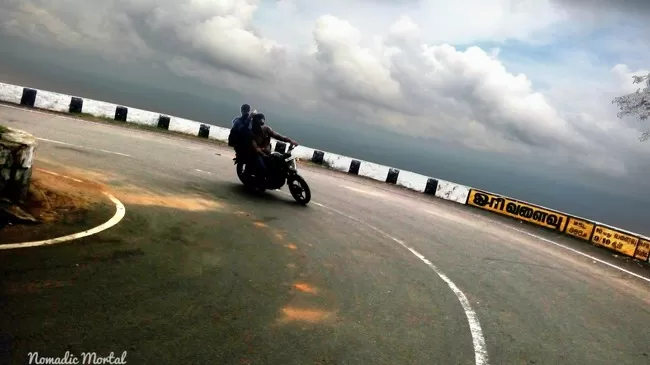 Return : 1:00 PM, YelagiriAlthough, the ride back was uneventful, every rider would love to rip on these roads. We stopped for lunch near Krishnagiri. Had a scrumptious South Indian meal and began our journey back home. It started drizzling and the view around us got even more beautiful if that is even possible. It was almost like the shroud of dark clouds was following us all the way till Bangalore. We hit traffic near Hosur since it was Deepavali week and Hosur is a hotspot to buy crackers.
The traffic hits you slowly at first and then all of a sudden. It's like a glass shattering reminder to bring you out of your blissful state. We had officially returned to the city and it's dreaded traffic.
Few Pointers : There are many toll gates en route. 2 wheelers didn't have to pay at any of them. 4 wheelers however, need to pay up at multiple toll gates.
Home : 6:00 PM, BangaloreBack in the comforts of home, safe and sound, missing the hills already. Plains are so boring, don't you think?
The Mountains are calling and I must go..
-John Muir
This trip was first published on Nomadic Mortal.