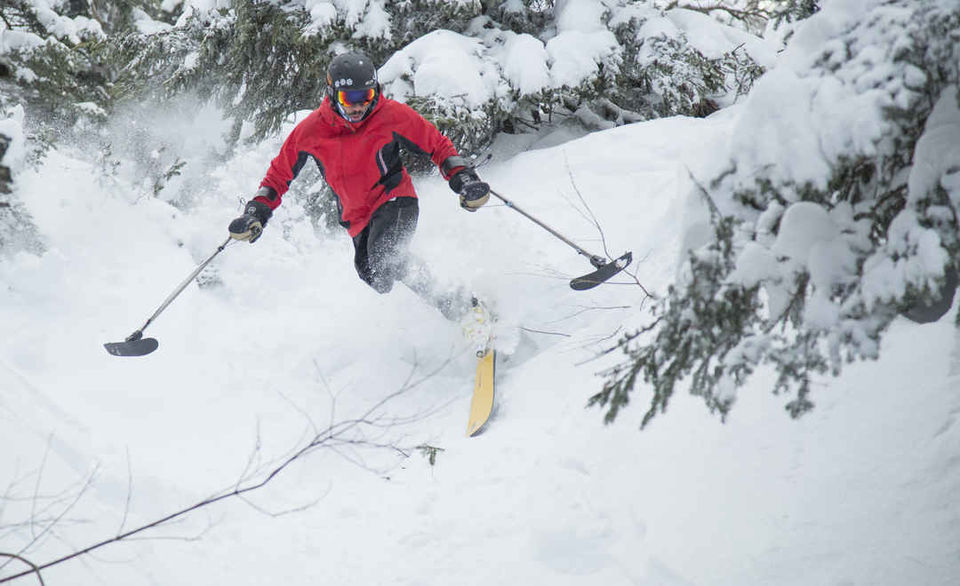 Travelling is on almost every person's resolution list this year but how many of us actually book a ticket and board the flight? In reality, travelling requires more than just preparing a bucket list. It requires motivation, dedication and inspiration. Vasu has been one such inspiration to millions of people around the world.
Vasu, a pro skier and a filmmaker, has proved to the world that anything is possible with passion, dedication and a little persistence. In a conversation with the star athlete, we tried to figure out how he has been #ninjasticking through the prejudices of society for years, to bring intersectionality to the area of physical sports
Vasu fell in love with skiing at the age of ten and since then there has been no turning back for him. He has always felt a deep connection with outdoor activities. Vasu lost a leg due to septicemia when he was just a nine-month-old baby and ever since, has raised his voice against biases in the way of under-represented communities in sports.
Here are some of the questions that we put forward to the multitasker.
You have travelled all over the world with your skateboard in tow. How has the overall experience been? Do you have any favourite destinations?
Time and place really do not matter when I am on my ski board. For me, when I am on my ski board, any destination is my favourite destination. My board makes me feel whole regardless of the place.
How did you train for it?
As the saying goes, nothing can be accomplished in one day. It needs dedication, lots of hard work and practice. Regular trail running, cardio and gym sessions helped me achieve the required physical and emotional fitness to face any challenge that comes in the way.
Was a prosthetic leg ever an option?

I used to have a prosthetic leg. I got it after my amputation when I was only nine months old. I had it till I was ten years old but due to the prosthetic, I was more of a burden on myself and it was too painful to handle. My amputation is pretty high so I had to sit into my prosthetic and strap it around my waist to secure it. Due to such high amputation, the prosthetic compensated for a hip, knee and an ankle joint. It did the work, but in the most minimal and cumbersome way.
However, this does not mean prosthetics are bad. It didn't work for me, but it can absolutely work for someone else.
Apart from skiing, what other outdoor activities interest you?
I truly enjoy my time outside, in any capacity. Besides skiing, I really enjoy trail running, hiking, camping, climbing and riding in my packraft (inflatable boat). I believe humans are social animals, they did not evolve to sit in boxes, and therefore, they should be encouraged to go out,meet new people and experience nature in its true form.
In the early stage of your career, how did you manage to fund your adventures?
In the early days, my parents were an incredible help. Along with them, the school I went to in Connecticut, offered low-cost ski trip outings to Vermont. I was a part of the school ski team. These small ventures helped me ski all the time. It was during these years when my love for skiing and the outdoors grew.
After school, I decided to go to the University of Vermont just to be closer to the mountains. Here I got involved in the university's Outing Club and also opted for college-subsidised adventure sports activities. Simultaneously, I started reaching out to outdoor companies for ski gear like single skis, bindings and boots. Reaching out early helped in getting equipment at great deals. Once the gear was arranged, I decided to create a film to attract sponsors for more skiing opportunities.
People react to those with disability in all sorts of ways. Does it affect you and the work you do? How do you sift through it?
People's reaction to disability is the reason I work so hard. My work is mostly based on the lack of knowledge that people without disability have. Stella Young famously said,
"Disability doesn't make you exceptional but questioning what you think you know about it does."
I believe and teach that having a disability is part of human evolution and we, in our respective societies, have to learn and work on providing better accessibility which makes everybody feel accepted.
How has social media helped you reach a wider audience?

Social media is my platform to engage and build relationships with people on a national and international level. It is through my social media accounts that I express my perspective, to expand the narrative on what representation in the outdoors means for all types of people.
Tell us a little about your collaboration with Eagle Mount and what the organization stands for.
Eagle Mount Bozeman is an organization that works with people with disabilities and folks affected by cancer to provide recreation and adaptive sports opportunities in a barrier-free manner. I am the Adaptive Sports Director for Eagle Mount Bozeman which means I head the following programs in an administrative and hands-on way: Adaptive Snowsports Program at Bridger Bowl Ski Area and Crosscut Mountain Sports Centre, Adventure Day Camps, Adaptive Ice Skating and Adaptive Handcycling.
How did Earthtone Outside Montana come into existence and what does the company aim to achieve?
Earthtone Outside MT came into existence when a colleague noticed the lack of diversity on trails and organised a discussion on how to provide outdoor access to under-represented communities. With the help of the local racial justice organization, we initiated to create a strategic plan to put our words into action. Earthtone Outside MT grew from that. The coordinators continued to spread the word about who we are as an organization, to create deeper conversations and discussions about diversity, equity and inclusion. Today, more and more local organisations and businesses have started collaborating to provide equitable access for all.
You have been a firm believer of equality in all sense. Are there any specific projects or programs initiated by you to encourage equality in the field of outdoor sports?
With my privilege and ability, I have reached this 'summit of success'. However, I believe, all those who have been affected by inequality have equal rights to stand with me at the summit. I have continuously been working for equity, which hopefully will soon transition into the state of equality once people understand the existing disparities. With my power and privilege, I've been trying my best to mobilize a the sense of equality by co-creating and leading Earthtone Outside MT, and by continuously working for Eagle Mount Bozeman.
Along with this, I also work with The North Face and other sponsors to support equal representation in media and marketing of the outdoor industry. This means hiring more people of colour, people with disabilities, people of different genders, people of sizes and all other beautiful humans to express themselves, so that the world can watch all of us through mainstream media.
What's on your plate next?

Next on my plate is to create films in collaboration with my sponsors, to continue to elevate and celebrate under-represented communities and to continue supporting equal representation on the big screen.
From being a passionate skier to working full-time for equality, it has been quite a journey for Vasu. What is truly inspiring is his incessant urge to fight for everyone who is under-represented, so that each of us have enough opportunities to travel, to reach the same 'summit of success' like him and no one is left behind.
Watch travel stories come to life with Tripoto on Youtube!

Explore the best of travel inspiration on Tripoto Instagram!