Mussoorie is all about the old-world charm. Thanks to the strict diet of Ruskin Bond stories that most of us have grown up on, Mussoorie will always remain a wonderland in our imaginations. So if you're visiting this summer, but don't want to break the fantastical bubble you're living in, you must stay at The Amber Vermont Resort.
Ideal For:
Amber Vermont Resort is the ideal property for all those who are done with generic hotel rooms that feel identical no matter what place you visit. If you're someone who is fond of experiencing the destination you're at, even whilst you're inside your hotel room, this resort is just perfect for you.
About the Property: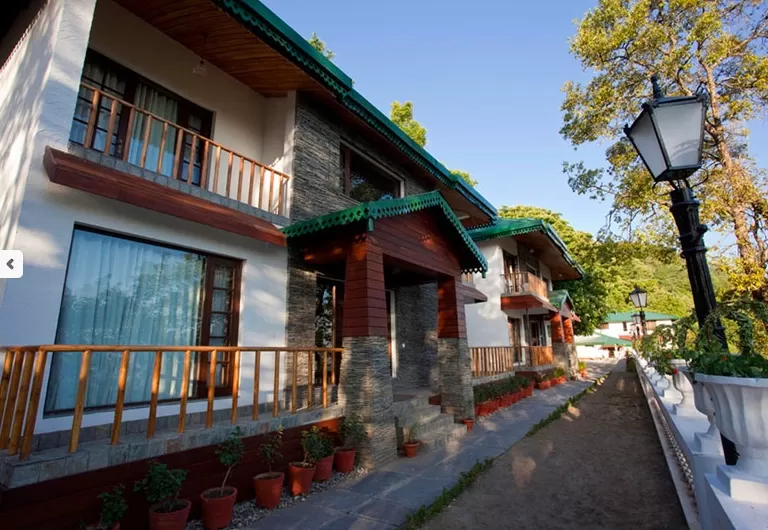 Built in the 19th century, the Amber Vermont Resort was initially owned by a Scottish botanist and geologist who is renowned for having discovered fossils in the Sivalik Hills in the Himalayas. The property was then bought by a British family, after which it was refurbished into a boutique resort. This typical Victorian architecture reminds one of the luxuries of 19th century when the skyline of a town was made up of grand mansions and manors. So, for everyone who loves archaic structures, Amber Vermont Resort is sure to delight you.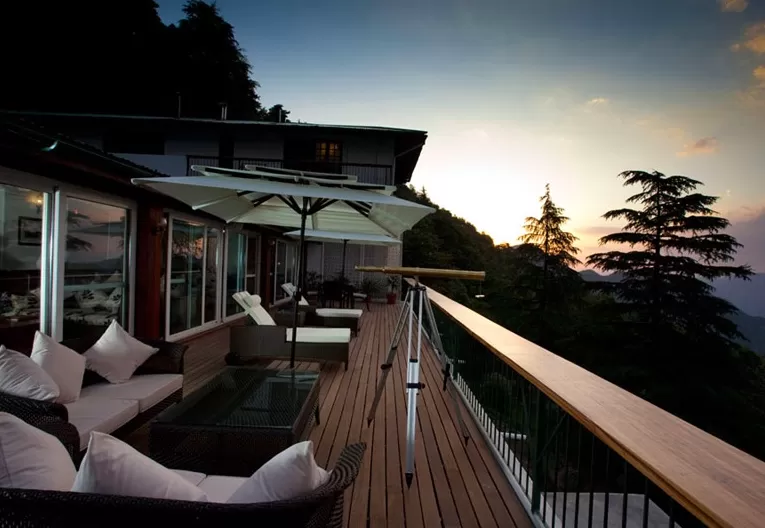 The resort sits on a mountain, overlooking the quaint town of Mussoorie. The surroundings are untouched where nature resides in all its glory. The invigorating fragrance of flowers and the sight of boundless greenery will give you the ideal mountain experience that you are looking for. The interiors of the resort compliment its natural outdoors; it is furnished with wood and enormous glass panels that make you feel like you're out in the pristine environment every second of the day. The resort has massive halls and rooms that are reminiscent of English architecture, giving you an experience of the ultimate luxury. Moreover, the decor complements the Victorian architecture and is flamboyant, yet classy.
The resort boasts of 12 double-deluxe room and 1 family suite that effortlessly fuse English heritage with state-of-the-art modern amenities. Each room has wooden flooring and bay windows that offer spectacular views of the Himalayas.
Cost: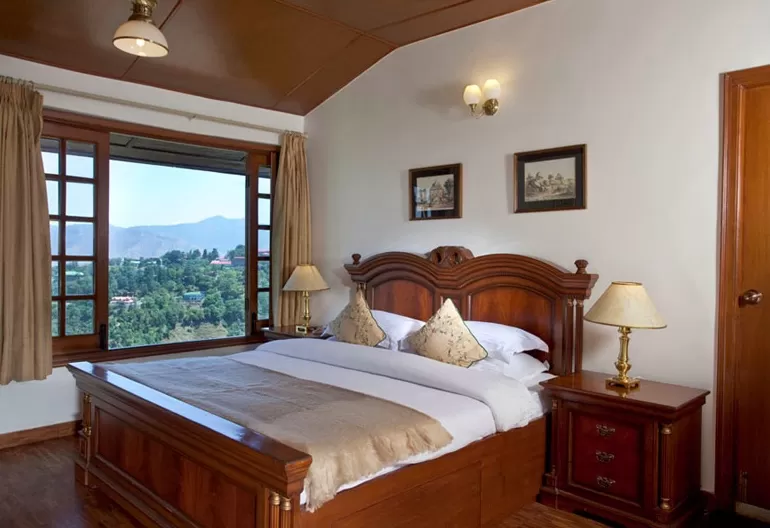 The double-deluxe room will cost you about ₹7,000 whereas the family suit can cost you up to ₹13,500. This cost is inclusive of a continental breakfast.
Food: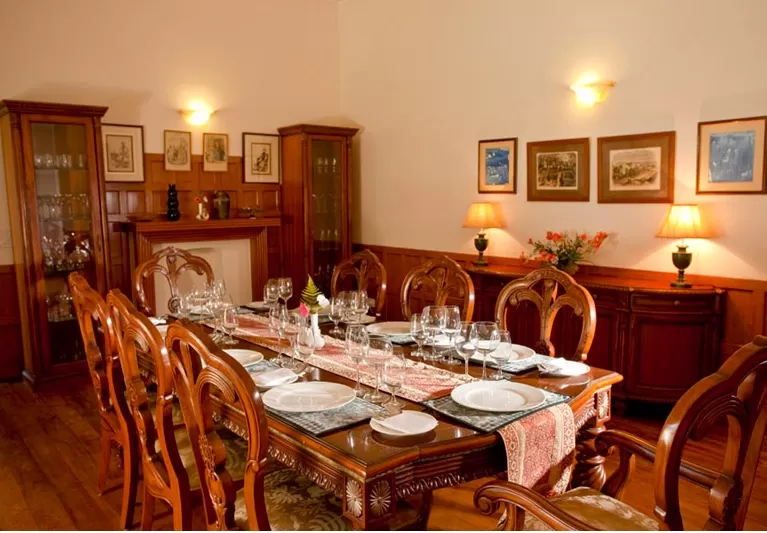 The resort offers an eclectic variety of Indian and continental meals. Dishes from their Indian tandoor are specialities that you must try. You can enjoy these meals at their dining hall or their picturesque outdoor deck.
Best Time To Go:
The ideal time to visit is between March-June if you prefer warmer months. This is a wonderful time to visit as the forests are in full bloom, the sky is clear, providing an ideal condition to spend the day outdoors. You can also visit from September to December if you want to experience a less crowded Mussourie. Although it is pretty cold at this time, there's nothing like a hill-station in crispy winters, if you're well prepared.
How To Go Here:
Air: The nearest airport to Mussoorie is the Jolly Grant Airport in Dehradun which is located about 70km away (2 hours) from the property. This airport is well-connected to Indira Gandhi International Airport, New Delhi. From the airport, you can hail easily available cabs right up to the property.
Train: The nearest railway station is also located in Dehradun. The ideal train to board is the Dehradun Shatabdi that starts from New Delhi Railway Station in the afternoon and arrives at Dehradun Railway Station by night. This is a convenient journey of about 6 hours. From the station, you can hail easily available cabs right up to the property.
Road: The distance between New Delhi and Mussoorie is about 280km and it takes about 6-7 hours to undertake this journey. Follow the route: Delhi – Meerut – Bijnor – Roorkee – Haridwar – Rishikesh – Dehradun – Mussoorie.
Around the Property:
Located in Landour, about 6km away from Mussoorie, Lal Tibba is the highest secluded viewpoint that offers a panoramic view of the Himalayas. Here you will find numerous telescopes installed, through which you can view Nilkantha Peak, Badrinath and Kedarnath Peak.
About 5km away from the city are Kempty falls that plunge from a height of 40ft., resulting in the most breathtaking sight. These falls, like almost every other thing in Mussoorie, were an important location for the British, for hosting tea parties! So grab your Maggi and chai, and have your own little tea party in these regal surroundings! Remember to use the dustbin and not litter around this pristine waterfall.
Located 6km away from the city, this is the last point of Mussoorie that offers the most wondrous view of Aglar River Valley. Cloud's End is a thick forest that has a beautiful walking track that leads one to the Benog Wildlife Sanctuary.
Your trip to Mussoorie is incomplete if you don't visit Cambridge Book Depot where the legendary Ruskin Bond visits on Saturdays! You can be sure to have a chat with the renowned author and have your favourite books signed by him.
So head to The Amber Vermont Resort for your ideal get away into the mountains.
Share your experiences and stories from your travel on Tripoto and inspire a community of 25 million+ travellers. For more travel inspiration, visit Tripoto's Youtube page.