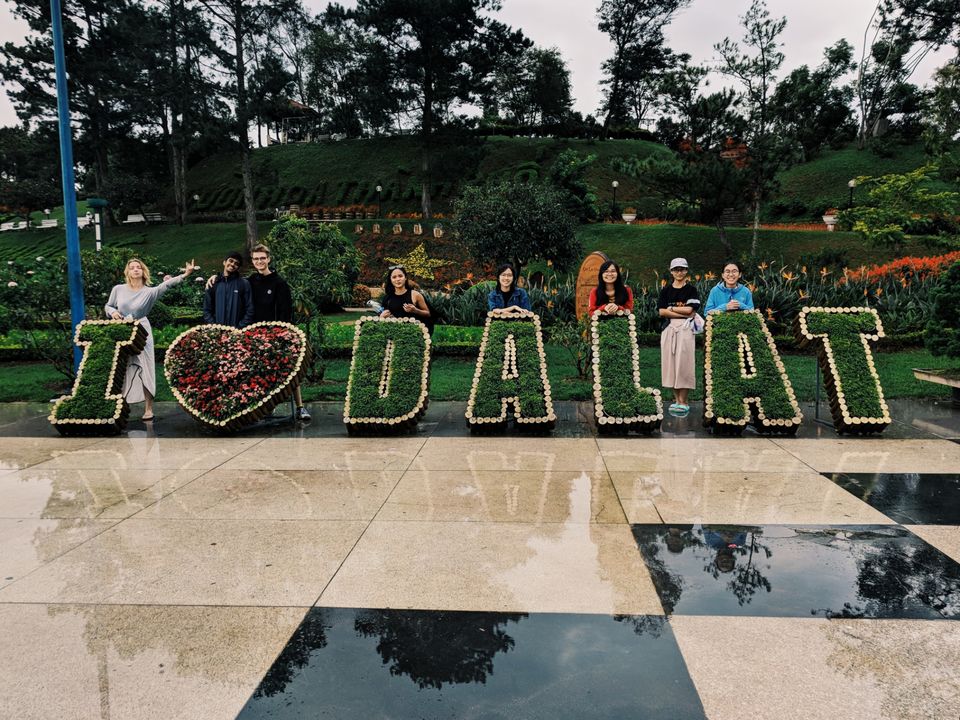 DALAT, also known as the city of eternal spring is like an avant-garde of Vietnam. It's completely different. I've stayed in Vietnam for about and around two months and I fell in love with this city! It is vv pretty! Tucked between the central highlands, this city's weather is alluring. Strawberries, coffee and flowers instead of rice or paddy fields is your first sight heading in and that's how you know you're falling in love with this place. And I did. Everyday, a little bit.
A seven hour drive from Saigon by bus or car will take you to the mountains. The French embarked on this journey first to escape the humidity of the financial capital and landed here so this mid sized city boasts quite elegantly about it's French architecture and influence thoroughly.
Temperature hangs around 18 to 20 during the day and drops down lower in the night which is phenomenal when you've been dealing with 30 odd degrees back in the city so the weekends see a lot families heading down there for the weather.
DALAT was captivating experience. This place is seriously pretty as hell. My team and I had a long weekend to spend after the workweek and a little R&R in this place isn't beat.
As usual, as every backpacker in Asia or around the world. We booked a hostel and a pretty good one. (Solo dalat hostel) The hostel care taker was extremely nice and heyyyyyyy, Dinner was on the house every night! ( FREE FOOD GAH CAN'T COMPLAIN)
We booked a tour with links from the hostel rather than renting a bike. And also it was monsoon so pretty much a dead end there!
So here's FIVE things you have to do when you're in dalat!
WALKING BEHIND THÁC VOI WATERFALL
This place is really adventurous and literally breathtaking. Y'all watch those shows on Nat Geo coming up with all these amazing pictures and when you're there, you feel it. It's totally different. You get to trek and climb behind waterfalls. The view you get from back there is bloody beautiful! It is a little dangerous but it's worth the climb. (s/o to all you climbers) Don't miss out on this if you're anywhere close to DALAT.
SNEAK IN A PIZZA AT THE DALAT NIGHT MARKET
This place is really intoxicating I tell you. The number of people present here at a time is innumerable. The market is filled with thrift shops and to be honest. I got lost more I usually do (mind you I'm a wanderer and a bad one) I went back there almost everyday to just see these crowds going bonkers and utter chaos everywhere and it was a really hard time keeping up with my buddies, but totally worth it!
GOBBLE UP SOME CRICKETS
SO HERE'S SOMETHING CRAZY. We had crickets! (Was definitely a vegetarian before I left to Vietnam hahaha). We're talking about insects now people. It's like a payback to all those annoying times they didn't let you sleep (oops? Hahaha) but a little salt and a drizzle of flavor. You might just love them!
GET YOUR AESTHETICS AT THE FLOWER GARDEN 🌱
Dalat flower garden. All you flower and nature enthusiasts. This is your place.(NOT MINE BUT YOURS) From bonsais to roses and orchids. You name it. And mind you this place is bigger than I thought it was. Crisp air. Lush greens and fooddd. We goood!
GO CRAZY IN NGA GUESTHOUSE 🎃
Tucked in the heart of the city is an completely unconventional building bustling with tourists. This popular twisted fairy house was build by a Vietnamese architect and it also included in the top ten bizzare building so that's all the more a reason why you have to be here!
http://avocadoandkale.com/