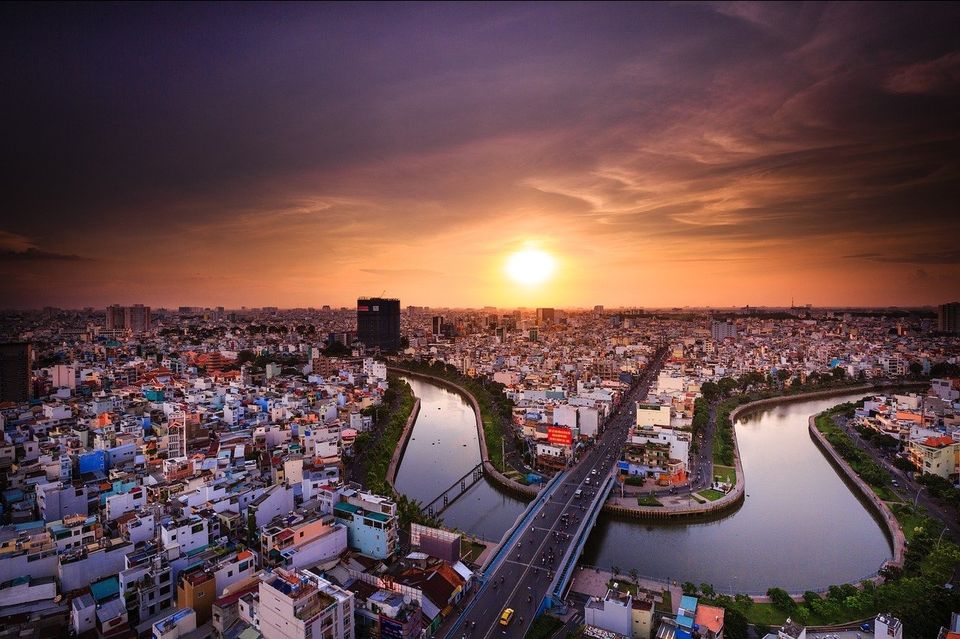 Ho chi Minh city is getaway no one would ever think of. But if you have. You're doing it right. This city has to be on your itinerary!
What's the first thing that comes to your when you say Vietnam?
If it isn't rice paddy fields or pho, It definitely has to be the war and numerous war movies that have been made about this country. Nonetheless what they do show in the movie isn't half of what it's like. This incredible country has some eye catching places and is definitely worth travelling to.
HO CHI MINH city, named after the former prime minister of Vietnam and more commonly called Saigon, Is the financial capital of Vietnam which makes it captive to tall sky scrapers. It's history is little more intriguing than you might have thought. This beautiful city holds remains of one of the deadliest wars fought, the Vietnam war.
What's the city like for tourists? Ooo It's a festival. From the cuisine to the night life and the museums, It'll get you mo-oving. The energy this place has, It's intoxicating. This beautiful city makes most of its ravaged remains with museums and palaces. And the people? they're the friendliest lot you'll find.
#places to stay - Booking.com should be at the top of your list if you're looking for hostels. District 5 would be the best place to stay cause that's right amidst all the action. You have more than enough hostels in and around the Bui vien walking street with some really good vibes. They usually include breakfasts too and I'm sure you'll have a variety to choose from.
heres a tip - while selecting hostels, Choose the ones with good rating and feedback and make sure you read the reviews to see what goes on there so you can get the best one. It's really important cause where you stay makes for who you'll meet and getting a good hostel means a much much better time.
Also a few of them try to scam off you so make sure you read the reviews and keep in mind the cheapest one might not always be the best way out and might end up costing you more also, you definitely don't want unwanted trouble when you're travelling.
Its a plus if you have a hip hostel keeper, makes for some really good night parties, again, boozier the better!
#travelling around the city - If you're staying in or close to district 5, most of the main attractions are a walk away. Local busses do ply but it's hard to keep track of which goes where and being new to city might seem a little scary (also the language barrier) but if you're looking for a really cheap way to get around the city. Buses are a great option and full respect to you (you go fam!). Another great way to get around the city is to use grab. Grab is a taxi service which along with cabs also offers bike taxis which I think is the best mode of transport if you're travelling alone.
I really do recommend you use the bike taxi here. The traffic is literally insane and I think you totally should take that risk. (Terms and conditions applied on the responsibility, and you did not hear that from me!) BUT ITS WORTH IT!
Make sure you have Vietnamese downloaded offline on google translate. Goes a looooonng way.
THINGS TO DO IN HCMC
#1 - SPEND THE DAY AT THE WAR MUSEUM
Truth be told, this place is haunting and scary. The war museum was opened shortly after the end of the Vietnam war. It's More specifically called the 'Exhibition house for US and puppet crimes', and as the name suggests, is anti American, and believe me you do not find any happy faces in here (and so it goes). I've been to quite a few museums all around but this one has a different impact on you. The corridors here are filled with a sense of eerie as graphic displays, descriptive photographs paint a picture of how horrific life used to be.
The museum is set in district 3, which is right in the middle of city. You could order a cab or take the bike taxi (again, quite effective if you're travelling alone), helps you beat the traffic.
#2 TAKE A STROLL IN BUI VIEN WALKING STREET
BUI vien walking street is in district 5. This is where Vietnam comes to life at night and the party goes on until early mornings. The street is filled with pubs and bars and restaurants of every sort. It's where the 'night life' is. You could pop a cold one and sit on the street as the night unfolds or you could get in on the singing and the karaoke cause it's all over the place. You got people performing on the street, fire, snakes, sea food and what not (Make sure you're careful, this place isn't the safest heaven so keep your phones and wallets close)
District 5 is the place to be in Saigon if you're a backpacker. It has quite a lot of hostels and from my first experience here, I would say it's a great place to meet people!
#3 ENJOY A CUP OF COFFEE IN ONE OF THE BILLION CAFES
There's always a missed pre conception about Vietnam when someone talks about it. But what almost never comes up is THE INNUMERABLE CAFES HERE. Coffee in every corner of the city and good ones at that. Vietnam has the infamous Luwak coffee which is shit good. literally!
Drinking coffee made from luwak poop isn't something I even thought existed until I came here, but nonetheless, it's amazing and totally worth the experience! I mean who doesn't want to say I've drank shit, that's insane!
#4 GO SHOPPING
The malls here are perfect if you want to get out and get into touch with the shopaholic in you. Places around district 5 have some pretty big shopping centres and we had a blast exploring and shopping on the last day.
After asking around the locals and checking out the internet, we found out the under armour and north face have their manufacturing units here so we made quick calls found the showroom and ended with some pretty cool sneakers.
There's not a brand that you don't get here. Also, HEY YOU GOTTA TAKE BACK SOMETHING FOR YOURSELF TOO!
#5 WITNESS INCREDIBLE VIEWS ON THE SAIGON SKYDECK
Everyone loves a good city view, Ho chi Minh is actually filled with quite a lot of sky scrapers, I mean they are TALL TALL! The sky deck at bitexco tower gives some pretty insane views of the city and the Saigon river.
Quick tip, the best time to go would be around sunset, Everyone loves a good sunset high up. The city lights would come on too and It makes for some pretty sick shots. The entry is a little on the higher side (200,000 VND) inclusive of the drink which they give you.
#6 GOBBLE UP SOME LOCAL DELICACIES
We finally come to the food. Street food is quite simply the best thing to do in Saigon. Vietnamese street food is for the daring. From snails, earthworms and shellfish to octopus, squids and crocs. This place has some great stuff to offer!
And for the sane, you have nothing to worry about. The banh mi, pho and the Vietnamese pizza will tease your taste buds just the same.
I could really go on and on but the top two things I can't forget even to this day would definitely be the banh mi and the banh cua (let's just hope I spelt them right) and now that you've seen this, you have to try them.
#7 YOU DEFINITELY CAN'T MISS THE BOBA
Saigon may be known for million coffee shops, but adding to the million will definitely be the bubble tea cafes. You find them in every corner. Bubble tea is a piece of art. simple as that! I absolutely love that beverage. It's originally from Taiwan but it's becoming more populous all over east Asia lately.
Every cab driver or almost anyone here would be having a drink in their hand, I mean figured, the locals love the drink! You have so many favours and toppings to choose from. I have an entire blog post just about boba and I feel it's absolutely worth trying.
#8 WRITE A LETTER BACK HOME FROM THE OLDEST POST OFFICE IN THE COUNTRY
This French Renaissance structure built in the 1880s and arguably the grandest and oldest post office in all of Vietnam is still functional. The intricate designs and the antiquated telephone boxes all serve as a reminder as to how life was before the dawn of the Internet era.
You could hop in grab a stamp and actually write a letter back home (or a post card) for super cheap. There are quite a lot of post card shops and it's one of the things people enjoy doing so I highly recommend you doing it (unfortunately I didn't, but now I regret it)
HO CHI MINH is a great place to explore fine Asian cuisine and have insane fun. Adding to all the above mentioned would be the cu chi tunnels and the independence palace. Or you could even take a cooking class right in middle of the city. It's a brilliant city and not matter where you're from, I think you'll find something to your liking!
If you want to know all the insider stuffs here, head over to avocadoandkale.com. I got you guys with thisss.