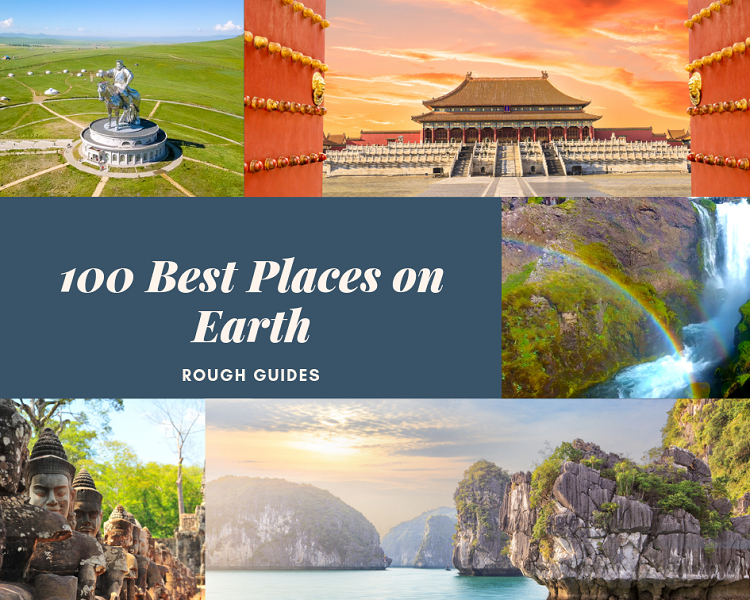 Ha Long Bay was honored in the "The Rough Guide to the 100 Best Places on Earth" handbook by Rough Guides publishing company (UK).
Halong Bay Was Listed On 100 Best Places On Earth
The book "The Rough Guide to the 100 Best Places on Earth" likes an inspirational handbook as well as a "target map" for travel lovers who want to discover and experience new lands. This book provides a large number of high-quality images that will bring the most famous destinations in all over the world to your life. You can find many types of landscape there, from the majestic mountains scenery, tropical islands, ancient constructs, vast deserts, etc. to the sparkling urban. "The Rough Guide to the 100 Best Places on Earth" will take you to every corner of the world, to find the best destinations for you. Interestingly, Halong Bay was also mentioned in this list as an attractive destination with impressive geological formations including limestone islands rising on the sea, small islands with mysterious stories or famous beaches that you should try at least once in your life.
Majestic beauty of Halong Bay
Halong Bay is located in northeastern Vietnam and its beauty can be described as a colorful picture. Halong Bay has been listed as one of the 10 most beautiful bays in the world for a long time. It is a great combination between the blue sky and thousands of limestone islets scattered on the sea. With thousands of unique shapes islets rising from the turquoise waters, creating a giant aqua painting. This is a privilege of nature for Halong Bay that no other country in the world has.
The islet system in Halong Bay is like a lively world. The islets have diversified shapes, such as: a pair of chickens (Ga Choi Islet), an old man are fishing (La Vong island), or a giant incense burner standing in the middle of the sea (Dinh Huong island), etc. There are also a lot of beautiful caves associated with many miraculous stories such as: Dau Go Cave, Drum Cave, etc. Thien Cung cave is like a majestic palace or the surprisingly beauty of Sung Sot Cave with different shapes of stalactites, each has its own unique beauty that attracts many tourists.
Sung Sot Cave
Halong Bay's specialty is in its natural, untouched sceneries with clean beaches and miraculous caves are hidden in limestone islands. If tourists fall in love with the tenderness outside, they will be fascinated and attracted by the beautiful and strange caves. Entering the cave like lost in a mysterious fairy world. With the unique values, Halong Bay has passed more than 400 wonderful destinations from more than 200 countries, becoming one of 7 new natural wonders of the world. The United Nations Educational, Scientific and Cultural Organization (UNESCO) recognized it as the World Natural Heritage for aesthetic value (1994) and geology and geomorphology in 2010. Halong Bay was listed as one of the 7 new natural wonders of the world in 2012.
Unforgettable Memory with Halong Bay Cruise
The best way to explore all the beauty of Halong Bay is by waterway. Floating on the sea and feeling the cool breeze on your face while enjoying the majestic scenes will be a great experience for tourists. Halong Bay Cruise will provide you a wonderful memory with convenient and luxury services during your journey.