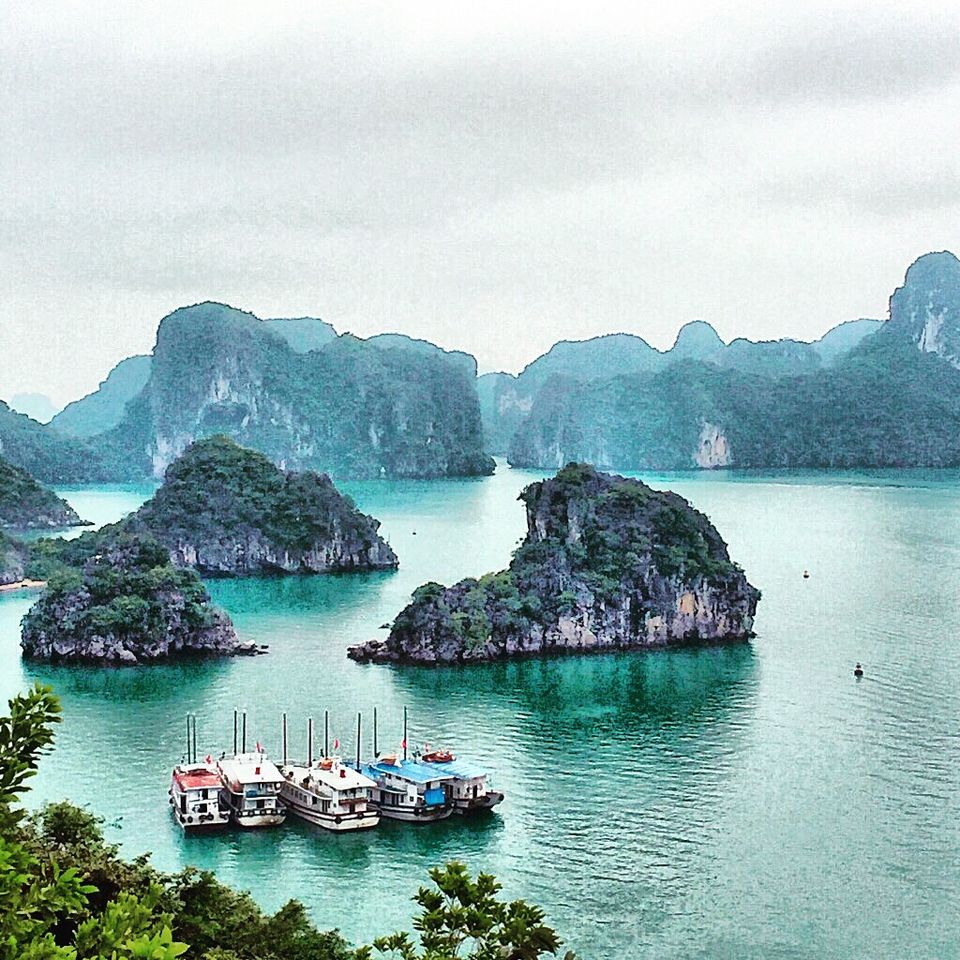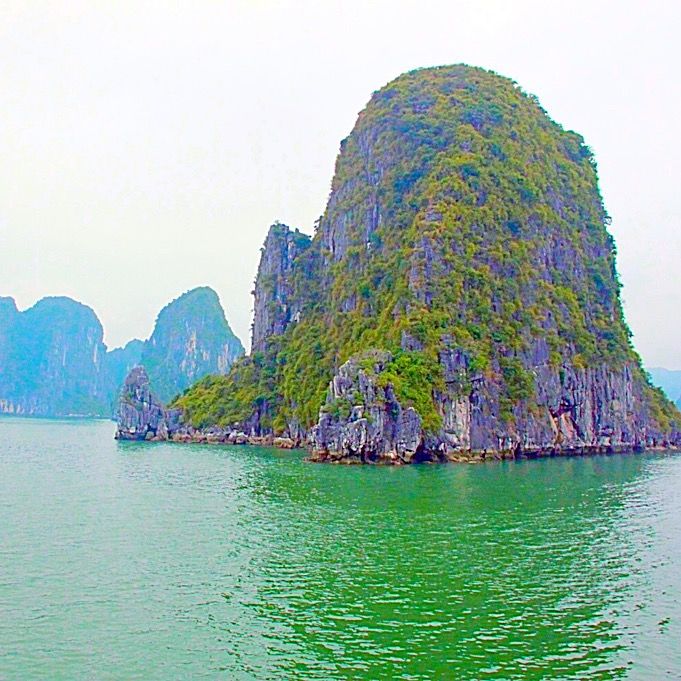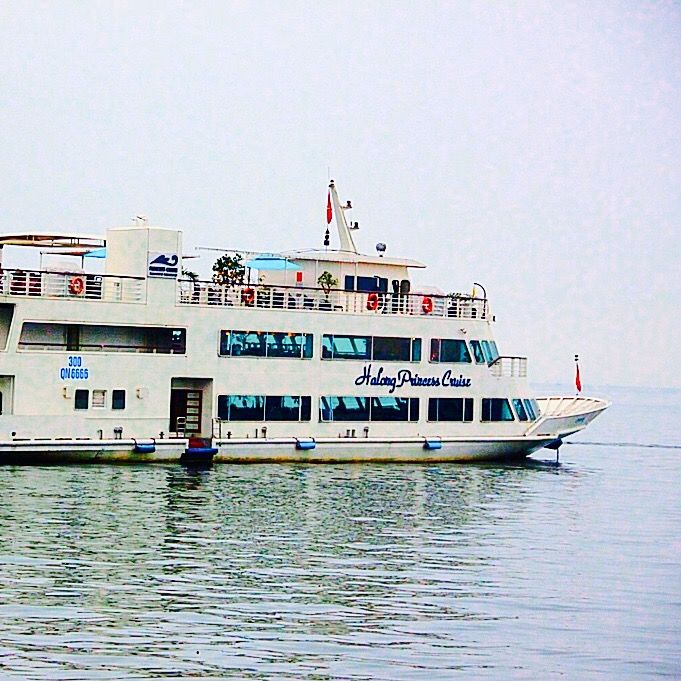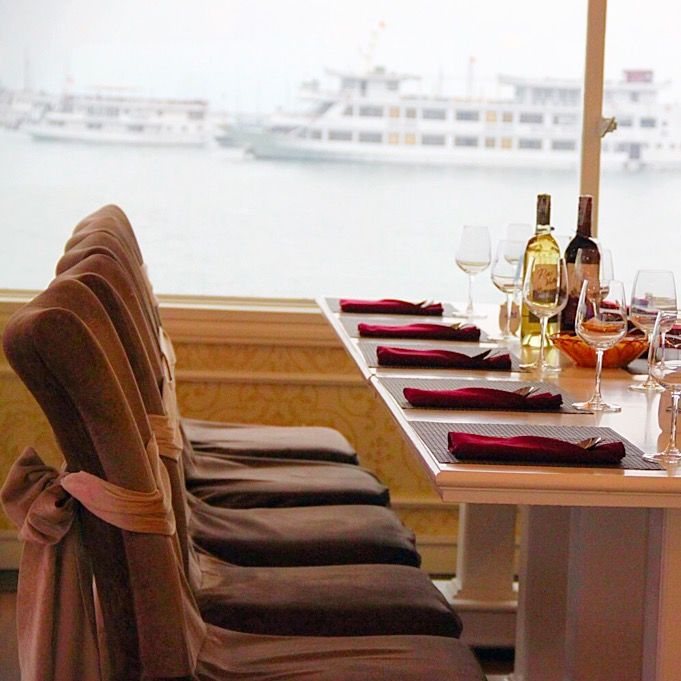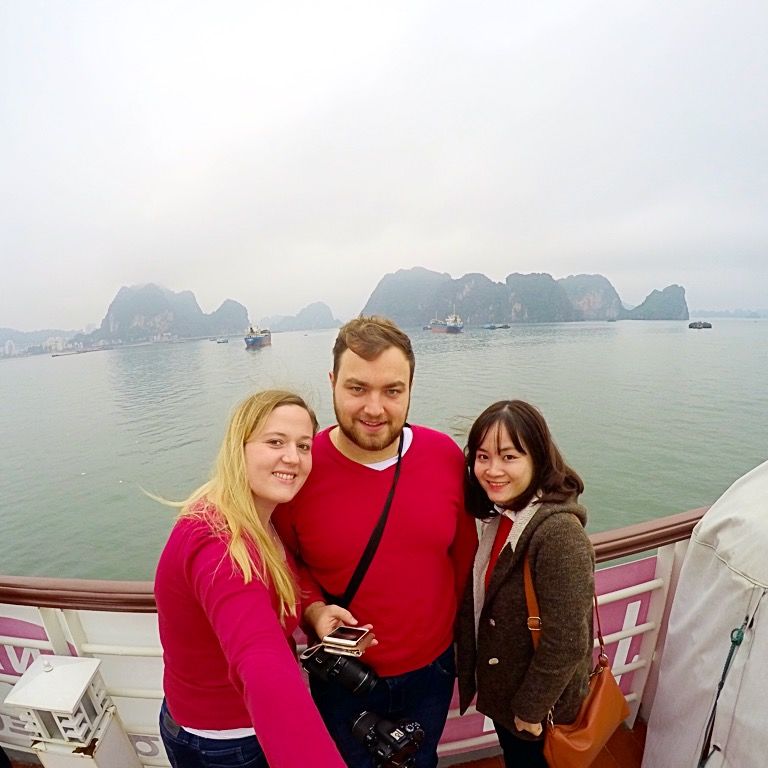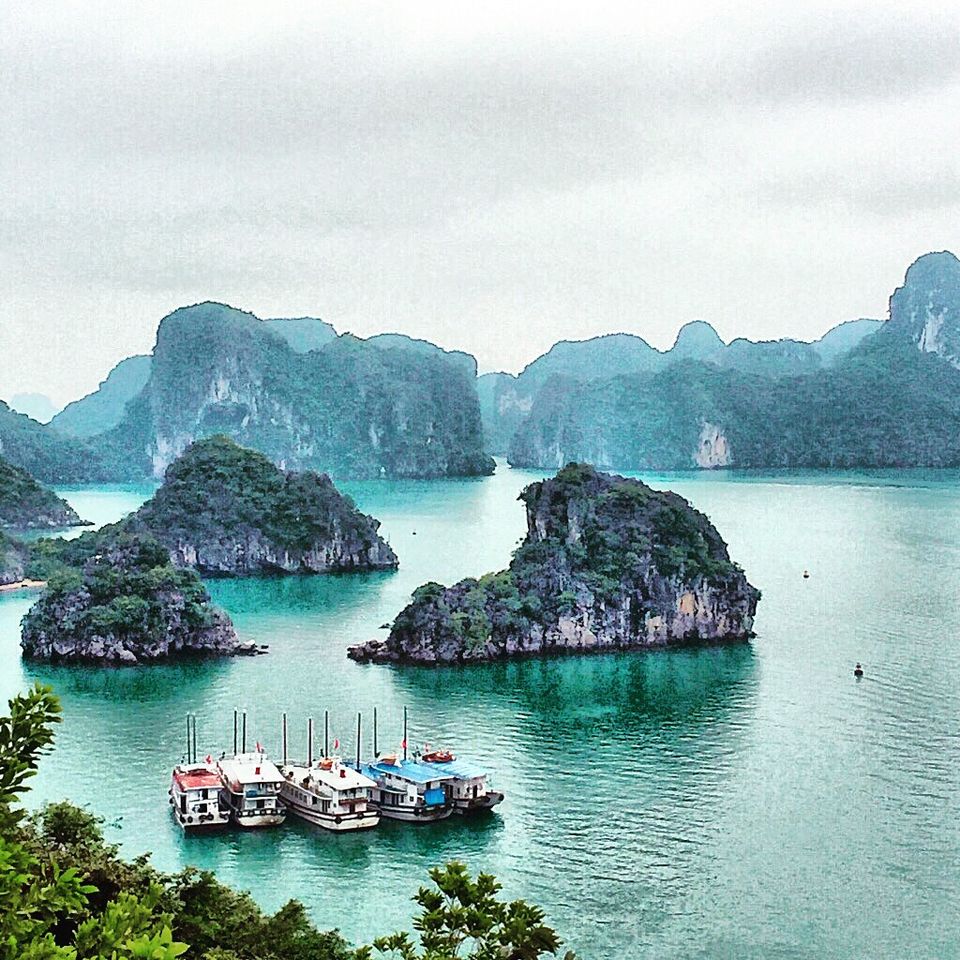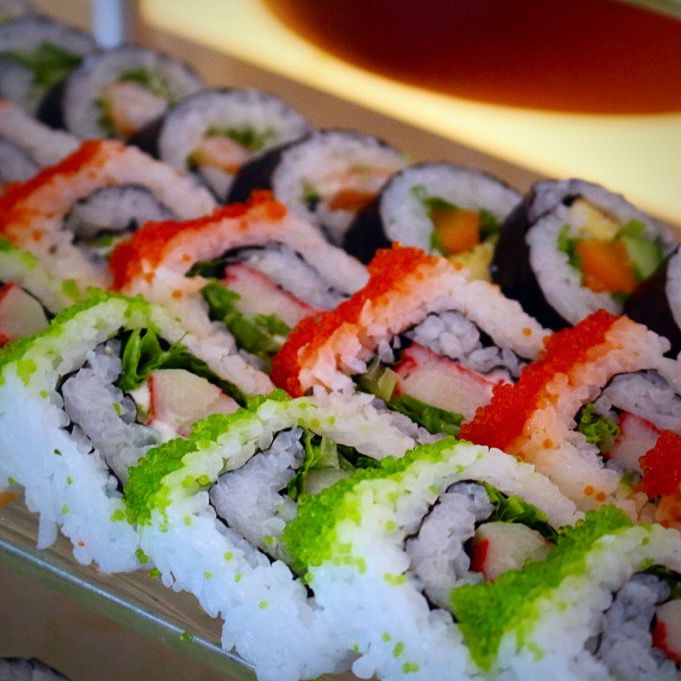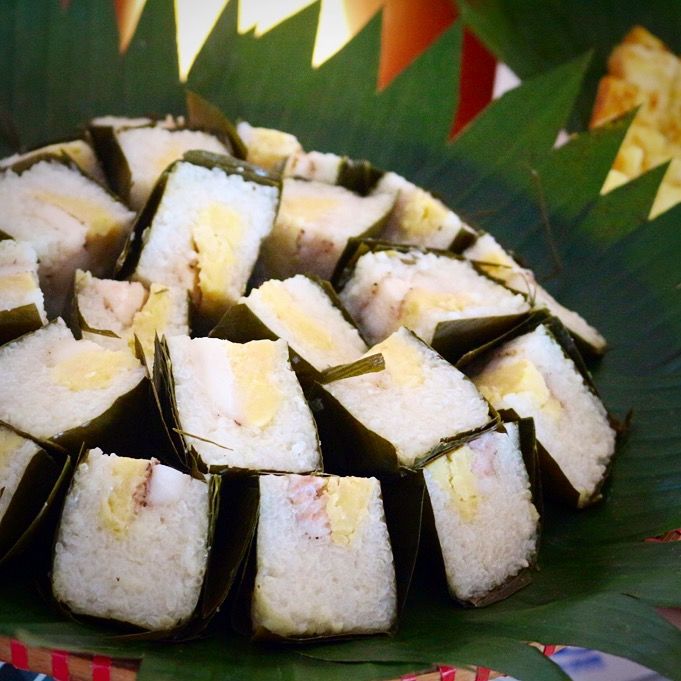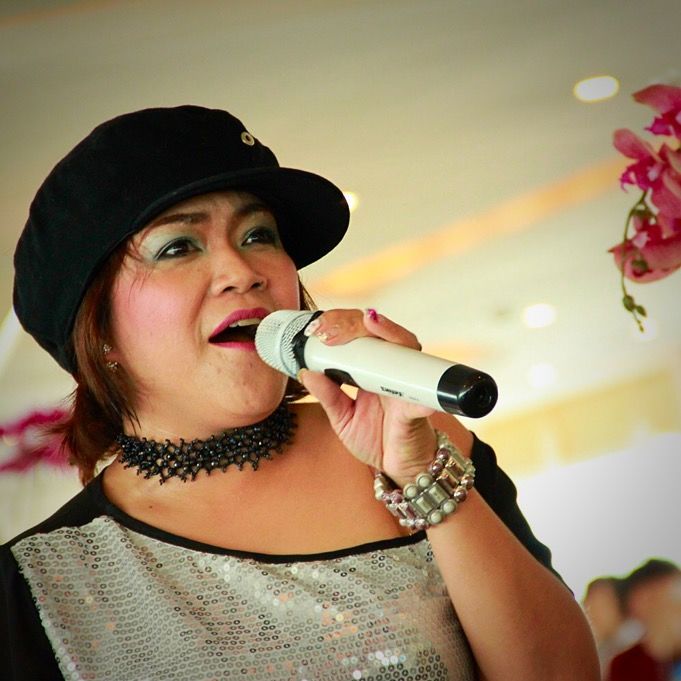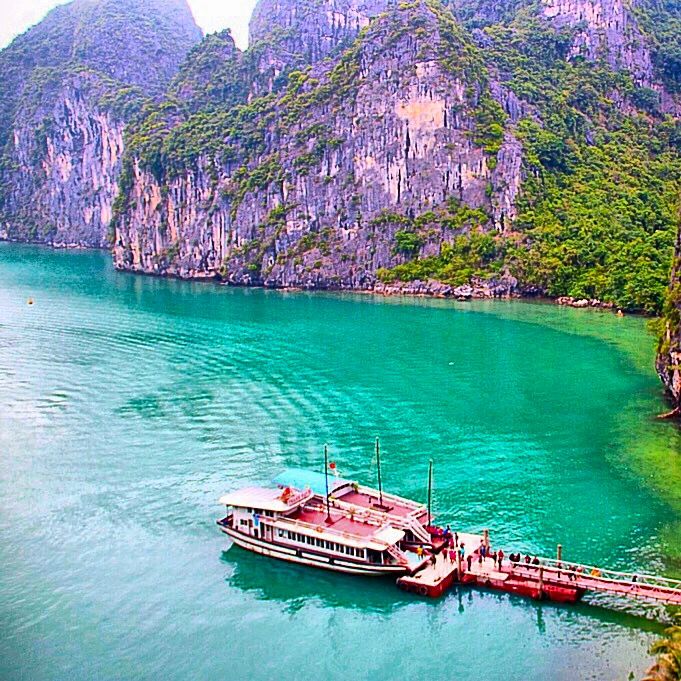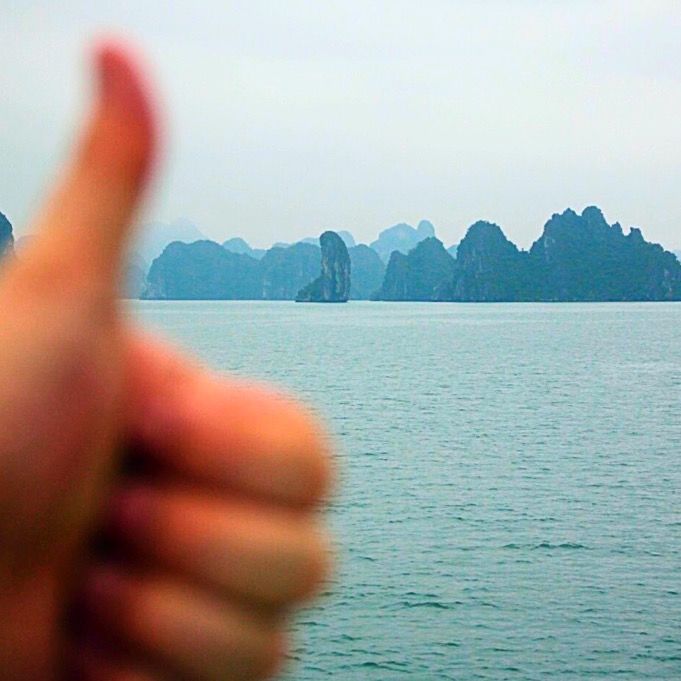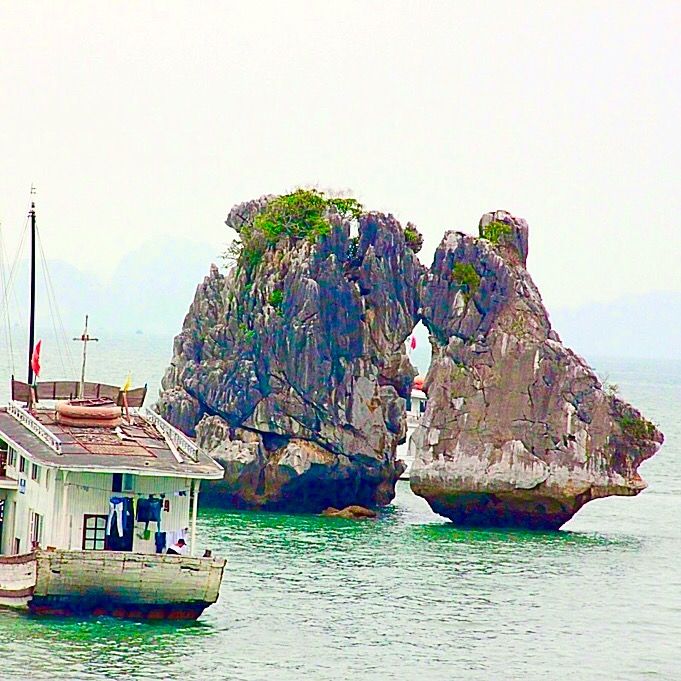 Halong Bay is considered as one of the most beautiful places in Vietnam. We were dreaming of going there and taking a Halong Bay cruise ever since we visited El Nido in the Philippines. They say that these places are very similar. And it is true! El Nido in the Philippines, Halong Bay in Vietnam, Krabi in Thailand and Guilin in China are all a part of the Sunda Plate. Their main features are huge rocks and cliffs extended out of the water.
The Sunda Plate is a minor tectonic plate that includes the Andaman Sea, the South China Sea, southern parts of Thailand and Vietnam along with Malaysia and the islands of Borneo, Java, Sumatra and part of Celebs in Indonesia, plus the south-western Philippines islands of Palawan and the Sulu Archipelago.
All places mentioned above are incredibly beautiful! No wonder that they were inspiring artists through ages. We have been to more than 30 countries in the world, and we must admit that limestone karsts and isles on the sea are the best things we have ever seen. Cliffs and rocks are the best to see from the ship. Of course, they are also visible from the land but not all of them. So Halong Bay cruise is the best thing you can do while visiting Northern Vietnam.
Halong Bay Cruise
There are so many companies to choose from in Halong! We prefer travelling in a luxury, so we were searching for something which is the best. After looking at many offers, we chose Princess Cruise. Why? Mainly because they had one-day cruise. We didn't want to spend a night on the ship because we had already booked a hotel. Princess Cruise also had great reviews on TripAdvisor, so we decided to give it a try.
The trip started early in the morning. The ship was so huge that it couldn't go directly to the pier. Small speedboats took passengers to it. We must admit that Halong Princess is the best ship we have ever been to! It has three floors and very luxurious interiors. We were very excited about finally seeing the Halong Bay! After five days of non-stop raining, we couldn't wait for the cruise to start.
The views from the ship were breathtaking. There are hundreds of small rock islands in Halong. We couldn't stop taking photos of them. Our first stop was the Surprise Cave (Hang Sung Sot). It was nice, but we think that this name is exaggerated. There is nothing surprising in this cave. We enjoyed it mainly because of our lovely guide- Jane. She was telling us awesome legends about Halong Bay.
What is the meaning of the name 'Halong Bay'? It is literally: the 'Bay of Descending Dragons'. The legend says that long time ago Viets were attacked by foreign aggressors. Vietnamese God, also known as Heavenly Duke (The Jade Emperor) asked Mother Dragon to help save his people. She, with her band of Child Dragons, were attacking foreigners from the sky when Viets were fighting on the land.Dragons were spitting out innumerable pearls which changed into jade stone islands right at the moment they had touched the water.These islands had linked together and formed citadels. It helped Viets to win a fight. After an amazing victory, Mother Dragon and her Children decided to not coming back to Heaven. They stayed on the battlefield. Halong was the place where the Mother Dragon landed.
Bai Tu Long was the spot where the Child Dragons came down. The place where dragons wriggled their tails violently was called Long Vi. With the help of dragons, Vietnamese people kept their land safe and formed what later became the country of Vietnam.
Our second stop was Tip Top island. It was amazing- we were able to see the entire Halong Bay from above! We had to climb 600 steps, but it was totally worth it! The view from the top was breathtaking. In the summertime, tourists can enjoy sunbathing, kayaking or swimming in the sea. It was very cold in Ha Long Bay during our stay, so we were just walking around the island.
TIP: Wear comfortable clothes and shoes on Halong Bay cruise. Climbing may be very tiring. It is not recommended for elderly and people with heart problems to go upon the hill.
After few hours of walking around, we were very happy to come back on the ship. It was time for a lunch! We were surprised by the variety of food to choose from. Buffet included Vietnamese, Japanese and American food. It was so delicious! We didn't manage to try everything but, as big fans of Asian food, we only ate Japanese and Vietnamese food.
Desserts were delicious as well! Puddings, cakes and fruits were extremely tasty. Food on Halong Bay cruise looked great. It was a pleasure to take photos of these amazing dishes. It is great when the food both look and taste well.
The thing we absolutely loved about Halong Bay cruise was live music! An awesome Philippinian band was singing songs in English, Vietnamese and Chinese languages. The people were dancing and singing with them. It was just awesome! Halong Bay cruise ended at three p.m., so we still had some time to work and sightseeing.
Halong- general information
There is a difference between Halong and Halong Bay. Halong is basically a town. There is really not much you can do in Halong.
Halong Bay is mainly inhabited. There are only a few fisherman villages in the bay. The only way is to get there is to take Halong Bay cruise or hire a small boat to take you anywhere you want.
We were planning to stay 1-5 week in Halong, but we came back to Hanoi earlier. Halong was too boring for us and also the weather was very bad.
Halong Bay tips
1. Mind the weather.
It may be VERY cold in Halong Bay, especially during winter (November- March). We were pretty disappointed by the rain and cold. Most hotels are not prepared for the winter, so we were freezing all the time.
We wouldn't come back to Halong Bay in winter. It was difficult to take good photos because there was no sun during our weekly stay. We were lucky enough that two days before we left when we were on the cruise, the weather was better. The sun wasn't shinning, but it wasn't that cloudy either.
The best time to visit Halong Bay is summer (April-October). You can enjoy swimming in the sea, sunbathing or taking awesome pictures.
2. Rent a motorbike.
Driving in Halong is quite easy. Streets are not crowded, and the topography is very nice. When you travel on a motorbike, you can fully explore the place. Halong is quite big, so you won't be able just to walk around and expect to see everything.
TIP: Halong is separated into two lands that are connected by the big bridge. It is worth to see both sides of Halong.
3. One or two day trip is OK.
All you should see in Halong Bay is… Halong Bay.
There is no point in staying there longer than two days. We wish we could know it before because we were very bored during our week-long stay in Halong.
We think that the best way of traveling to Halong Bay is to book 1 or 2-days trip from Hanoi. Most hotels have Halong Bay cruise and Halong Bay trips on offer. You can also use one of the local agencies to organise your travel. There are plenty of them in Hanoi's Old Quarter area.
4. Find out the names of the islands.
There are hundreds of small islands in Halong Bay. Some of them have funny shapes and names. For example, there is a Thumb Island because it looks similar to human's thumb.
The most famous are 'The kissing islands' (some call them 'The Fighting Cock islands'). They are small and situated very close to each other which is quite unusual in Halong Bay.
Halong Bay in numbers
There are 1969 islands in Halong Bay.
HaLong Bay is 500 million years old.
Halong Bay has an area of around 1553 square meters.
There are only 7 fishing villages in Halong Bay (sadly, fishermen and their families are extremely poor, so the government sends them on the mainland; Halong Bay fishermen villages are slowly getting extinct)
Halong Bay is home to 14 endemic floral species.
Ha Long Bay was listed by UNESCO as a World Heritage Site in 1994.
Halong Bay is home to 60 endemic faunal species.
Halong is situated about 180 kilometres east of Hanoi.
More than 220,000 people live in Halong.
There are only three places like Halong Bay in the world (El Nido in the Philippines, Krabi in Thailand, Guilin in China).
This trip was originally published on karolinapatryk's website