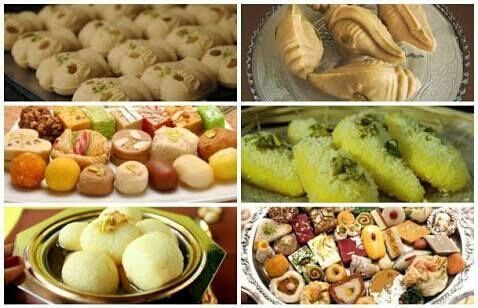 "Oh ! That's so sweet..like a rosogolla"- sweetness in India is synonymous to Rasgulla / Bengali rosogolla. The soft spongy ball of elixir is the most celebrated sweet of Bengal. No trip to Kolkata is complete without sampling on sweets. As a proud Bangali someone visiting Kolkata ( not a bengali) I always recommend certain sweets, Rasgulla, mishti doi & Sondesh  ( with an "O").
How I wish my readers gets to taste these. Nevertheless, I can try & bring in some sweetness here. Moving aside the celebrated ones. We have -
1. Shar Bhaja/ Shar puriya - Perhaps the most sinful of desserts to have originated in Bengal, the shar bhaja or shar puriya is not for those who count their  calories while digging into this mishti. These deep fried layers of malai that drip with sugar syrup and are layered with khoya or chhana (cottage cheese) are reserved for festive binges in most households.
2. Joynogorer Mowa - This winter delicacy received a much-needed sweet shot last year when it received its geographical indication tag. Made with puffed rice grains of a rare kind (Kanakchur) and Nolen Gur (seasonal date palm jaggery), poppy seeds (posto) and cardamom, this soft laddoo is simply melt in your mouth.
3. Jalbhara - A close cousin of the celebrity Sondesh. About a hundred years ago, a moira (member of the clan of sweetmeat makers) named Surjya Kumar Modak was commissioned by the local zamindar to prepare something special for a grand feast. After several attempts, Modak came up with the idea of pouring a sweet syrup – rose or nolen gur – into a case/shell of sandesh. Thus was born the 'Jalbhara', a stunning, indigenous variety of a soft-centered Belgian chocolate, if you please, and among whose fans, apparently, was Rabindranath Tagore.
4. Lyangcha - I remember bringing this from Kolkata after my trip to home. My foreigner colleague 's reaction was "Oh a sweetened sausage", the bong community in office made sufficient fun of her. This sweet has a history. An anonymous British officer is inextricably bound to a sweet that is hugely popular among Bengalis. Lyangcha or Langcha (a colloquial variation of the word Langra or crippled in Bengali), which is named after a crippled, nameless "gora sahib" who fell in love with the sweet at the first bite, was the invention of a certain Khudiram Dutta in Saktigarh, Burdwan, the state's rice bowl.
Unique cylindrical, deep fried chhana mishti that swims in sugar syrup.
5. Mihidana & Sitabhog - The roshogolla and the mishti doi might be the undisputed stars in Bengal's sweet firmament, but the mihi dana and Sita Bhog, too, sparkle brightly. And, both were first made in Burdwan. The former is a sweet caviar made of besan and moistened with sugar syrup, and Sita Bhog is vermicelli-like strands of rice and pellets of deep-fried chhana. The story goes that Bijay Chand Mahtab, the maharaja of Burdwan, once hosted the infamous Lord Curzon at his palace. The sweet dish prepped by moira Bhairab Nag received an instant endorsement by the royal guest and went on to become a raging favourite among the rest.
6. Monohora - Many wouldn't have heard about this sweet. It has a lyrical name & an equally prominent taste. According to local-lore, a moira was entrusted with the task of preparing something special for a zamindar family patriarch who was returning home after a long trip.The zamindar got delayed and the moira, worried that the sweet would go bad, dunked the sugar-coated malai-rose-cardamom laddos in sugar syrup to preserve them. The result was the monohora, a name apparently given by the patriarch himself. A handful of family-run establishments sell the sweet today, but look for Kamal Moira near the bazaar. Kamal flavours his monohora with cardamoms. Here's a sweet secret: the best way to appreciate the Monohora is to bite off the crisp sugar coating and go right into the heart of the 'one who steals the heart.'
7. Nikhuti - Chenna, flour, ghee and cardamom are kneaded together and deep-fried in the shape of oblong balls. After keeping them immersed in sugar syrup for few hours, dip them in condensed milk and savour after chilling. Happiness.
8. Chandrapuli - Chandrapuli means white cake. It is a little sweeter than other Bengali sweets. Made from cottage cheese, khova, scraped coconut and jaggery, chandrapuli is a fabulous treat for any occasion. The crecent moonlike shape has imprinted design made of wood mould.
9. Kacha golla- the lesser sweet sibling of rosogolla. Tender soft juicy balls of fresh cottage cheese or chhana with the subtle aroma of rose and just the right amount of sweetness which neither overpowers nor feels bland , Rose Flavored Kancha Golla is one of the most elegant sweets you will come by . It is an amazingly simple recipe which uses some freshly made Chhana or cottage cheese . These delicate sweets have a very small shelf life but considering how yummy they taste, it really never poses to be a problem . Kancha Golla is a speciality of the Bengali art of sweet making and this is probably the simplest form of cottage cheese sweet that can be crafted .
10. Darbesh - Bengali style Boondi Ladoos are called Darbesh. Soft & squishy & moist. This more colourful than the motichoor.
By the end of reading this I am watery eyed & watery mouthed. The offerings in Bengali sweets are versatile & unique. That's why we are sweet ! Khoob bhalo.. 😋
Photo courtesy - Google images