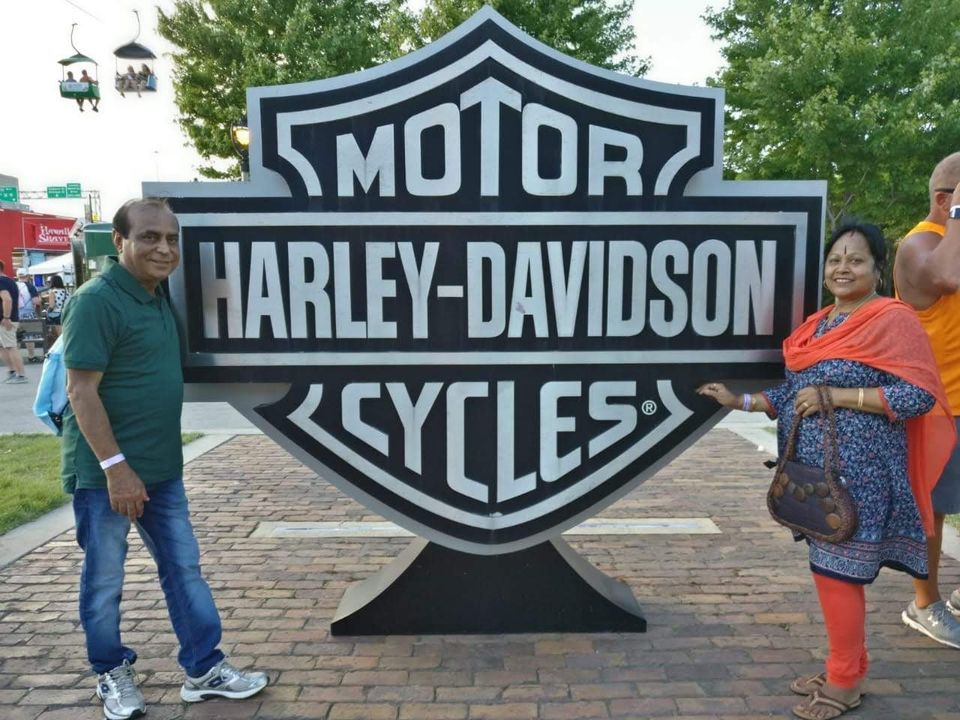 Our daughter and son in law invited us to visit the United States of America. We were very excited to visit our 3 year old granddaughter. However we required Visa to travel to USA. Our children started working on training us to face the visa interview. We felt like we were kids preparing for exams again. But we had strict teachers this time. We travelled from Bangalore to Chennai for the interview. The interview was during morning hours and we reached the Visa office ahead of time. There was a long queue. Our preferred language for the interview was Hindi. The queue for Hindi language wasn't as crowded. When our turn came for the interview, we were greeted by an American officer and he said "Namaste" to our surprise. He then asked us a few questions in Hindi. My wife, being a Hindi teacher told the officer "your Hindi is very good!". He probably didn't expect this from the interviewee and laughed aloud "Ha Ha Ha". He then looked into his computer and said "your visa has come". We were very happy.
Our flight from Bangalore to Chicago took off at midnight. It was going to be a long journey with a distance of 13745 kilometers. It was the last week of May month. The flight attendant requested us to fill the immigration form before landing. We wrote the date in dd-mm- yyyy format since that's the format we use in India. We had to do the form again as the American date format is mm-dd-yyyy. And this was just the beginning of the differences we were going to experience. At the Chicago airport, immigration checkpoint, the officer asked us "how long are you going to stay in Wisconsin?" We had just landed and he was asking our return date. We showed him our return tickets before he let us enter the country. At the airport luggage belt, the officer came to us and asked "Have you brought mangoes"? We said "No". The idea was not to carry seeds from outside into US. The airport experience was a good starting point for us. As Wisconsin is a very cold place, our children had advised us not to come out of the airport until they arrive. The cars and inside of the airport are well heated.
Coming from India, we are in the habit of early morning walk. While morning walk everyone greeted us "hello". In India we are taught not to speak with strangers on the road, so this was a big cultural difference for us. We also reciprocated back "hello" here as otherwise they would get offended. We liked this culture. In the evening we decided to go for shopping. In US we KEEP RIGHT. Driver seat is on the left side. After parking, we stopped while crossing the road but to our surprise the driver of the car stopped for us and waved at us to go first. Preference is given to pedestrian, it was a good feeling to see this culture. We also noticed someone talking over at the crossing and the cars waited for them to finish and cross and still didn't honk at them. In US, we hardly heard any vehicle horns. If you hear one means something wrong has happened. There were no traffic police at the signals however there are cameras installed everywhere. The grocery stores are huge and have all the items. We purchased some vegetables and went to the billing counter. Apparently these are self check out counters. There was no body at the billing counter. We ourselves weighed vegetables and did the billing. This was a very thrilling experience to us.
After grocery shopping, we had to refuel the car and there was no person to fill petrol at the petrol pump. We ourselves have to fill petrol. In US, people are very self sufficient. A lot of people live with dogs. When we were coming back we saw some people walking on the road with dog. They treat dogs like their children. They were having one glove in hand to lift pet waste and dump in pet waste container. At Halloween we saw people giving pet food to pets too. Another strange observation we made was that there were hardly any beggars on the roads. We found one person in New York at Time Square holding a board which stated homeless, however he was wearing a pair of goggle, t-shirt, jean and new pair of shoes. A phenomenal difference from the beggars back in India! There were no banners on road. We did not find persons cleaning road because no body puts garbage on road. We did not find cattle roaming on the roads either.
In summer days are longer. Sun sets at 8.15 P.M. We took dinner while there was still sunshine. In US people sleep early so that they can reach office early in the morning. In night there is no noise. No loudspeakers are allowed. No fire works is allowed. Wisconsin being cold place people like summer. It means enjoyment. We went to see Summerfest. People were dancing. Summerfest is the world's largest music festival. Whenever we felt hot we stood near water sprinklers. All the local communities, state department also participate in Summerfest. The sponsors have a lot of give-away as well.
US has six time zone. From west to east there are Hawaii, Alaska, Pacific, Mountain, central and eastern. While touring USA, we had just travelled 100 miles, It was 2.00 P.M. Suddenly time zone changed to 3.00 P.M. And on a funny note, as most buffets close by 3 PM we could not get buffet lunch at 3.00 P.M. and we had to make do with pizzas and burgers. Well once in a while we do try to enjoy non-Indian food :)!
The history of US is 500 years old as compared to India which is more than 5000 years old. Christopher Columbus went to America in 1492. Great Britain, Spain, France, Dutch, New Netherland started settling. The control remained with British. On July 4, 1776 people from 13 colonies agreed to United States Declaration of Independence. In 1781 American victory led British to stop fighting and give up colonies. July 4 is celebrated in US with great pomp and show. We went to see the famous 4th of July parade. We saw a lot of local vendors participate in the parade. They were throwing chocolates, balloons, other gift item on the road for children. It was amazing to see such a glorious parade. Some participants performed acrobatics, gymnastics etc. There were also best decorated kids bike contestants held by the local police department. My grand daughter won 2nd place in the contest. At night, there was the famous 4th of July fire works in the park. It was a sight to watch and enjoy. It lasted for about an hour and was glorious.
We also celebrated 15 August independence day. The Indian community in the locality had organised this. It was a big celebration with a lot of performances by kids and elderly. The chief guest for the event was the Mayor of Milwaukee. First American National Anthem " The Star Spangled Banner" was sung and then our national anthem "Jana Gana mana" was sung. It was our first experience to celebrate our independence day in the foreign land. It indeed was a proud moment for us to see a lot of Americans join in the celebration too. We even took photos with the Mayor.
During our stay we tried to do a lot of activities. One such day we decided to go for vegetable picking from farm. A lot of people had come in cars to pick vegetables. We ourselves picked fresh vegetable like ladyfinger, beans, brinjals, cauliflower, corn, raspberry, strawberry and pumpkin. They are big farmers. They have farm house with all modern facilities. Farming accounts 1% of GDP. 1% of US farms are considered to be small (less than 1000 acres.) In India we call a small farmer having land 5 acres. Agriculture employs 17% of US total workforce. In India 70% people are dependent on agriculture. The leading US exports are grains, feeds, soybean, livestock and horticulture products. If you base it on just cows milk alone India is second only to US. If you base it on both cows, buffaloes and other mammals species then India is number one in milk production. The area of US is roughly four times bigger than India. Present population of US is 35 crores and India population is 135 crores. Per person land in US is 16 time more than India.
One of our other trips was to Madison capital of Wisconsin and the university town. We saw the Capitol where legislative assembly is held. We had the privilege of getting a guided tour. Our tour guide explained the details of every room. He told us that where ever we see yellow it is gold. About one billion dollar gold was in Capitol. Another interesting fact he told us was about his wedding which also took place in one of rooms in Capitol, which he showed us too. While we were touring, we saw that there was another wedding taking place on a different floor. Very few persons, mostly family members were there. In US they invite limited persons. No dance and fireworks. Simple weddings with limited guests.
US is one wealthiest nation in the world.US has per capita of more than $55000. GDP is $ 21.3 trillion. The largest banks are J P Morgan Chase asset $ 2.74 trillion, bank of America asset $2.38 trillion, Wells Fargo asset $1.89 trillion, Citigroup and Goldman $ 1.96 trillion. Federal Reserve supervises and regulates banking institutions. In general, saving bank interest in US in less than 0.1% while India its 3.5%.
Religion in US is diverse with Christianity being majority religion. Various religious faiths have flourished. English is dominant language. Other languages are Spanish, French and Chinese. There is no official language. US culture is western original from Europe. Its culture is like melting pot. Africans, Asians, Native American all have contributed. Americans have preserved nature very well. We did not find dust. Mulch is put around trees. Greenfields are seen every where. We went for boating in Michigan lake. Water was very clean too.
US is a country of cars. Almost every one has a car. We went to Niagara Falls, New York and Denver. We took rental car. There is a provision to drop off the car at other city too which was very convenient as we took a flight back. The car washing is another experience in the US that we really liked. It hardly takes less than a minute, the car is put on the washing area belt on neutral and is pushed automatically through the cleaning garage which puts shampoo, water and hot air to clean the car. After washing we can see our clean car in the exit mirror. Its a very interesting experience.
People in the US are very punctual. We visited the post office around closing time (time was 5.52 P.M and closing time was 6.00 P.M.) There was just one lady at the counter. She was receiving parcels. They work as per time schedule and do not wait. At sharp 6 PM she closed the office. Even parties, gatherings begin on time and end on time unlike our social gathering which starts towards the end :)!
We spent the winter in Wisconsin this time around and saw a lot of snow too. On one day the temperature was about -25 degree Centigrade and there was about 4-5 feet of snow all over. We went out to experience the snow but could hardly stay out for just about 5 minutes and walked back into the house. I needed a cup of hot coffee after this experience. It was the Halloween and Thanksgiving time of the year. Our grand daughter took a bucket and went out with her friends in the freezing weather. Every one gave chocolates or rather they call it candy here. People decorate houses for Halloween with either scary or pumpkin (harvest) decor. They keep candle in pumpkin outside. Pumpkin is major crop in falls. Thanksgiving is to be a day of heartfelt thanks, with filled stomach. On black Friday lot of discount is given in malls. We went for shopping. There was huge rush at late night. Post this December was Christmas time, letter to Santa, cookies for Santa, breakfast with Santa and Mrs Clause, tree lightning and Christmas lights and decor everywhere. Santa gave gifts to children, and also took photos with the kids. My granddaughter enjoyed this and kept convincing me that Santa is for real all through this time. Now, I too believe in Santa :)!
Email: rameshckalra@gmail.com