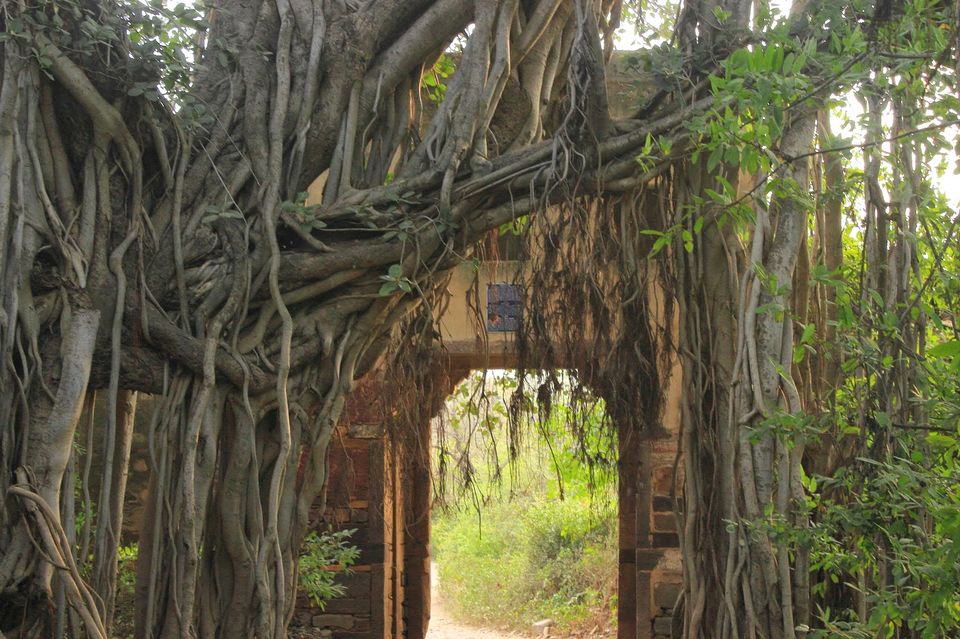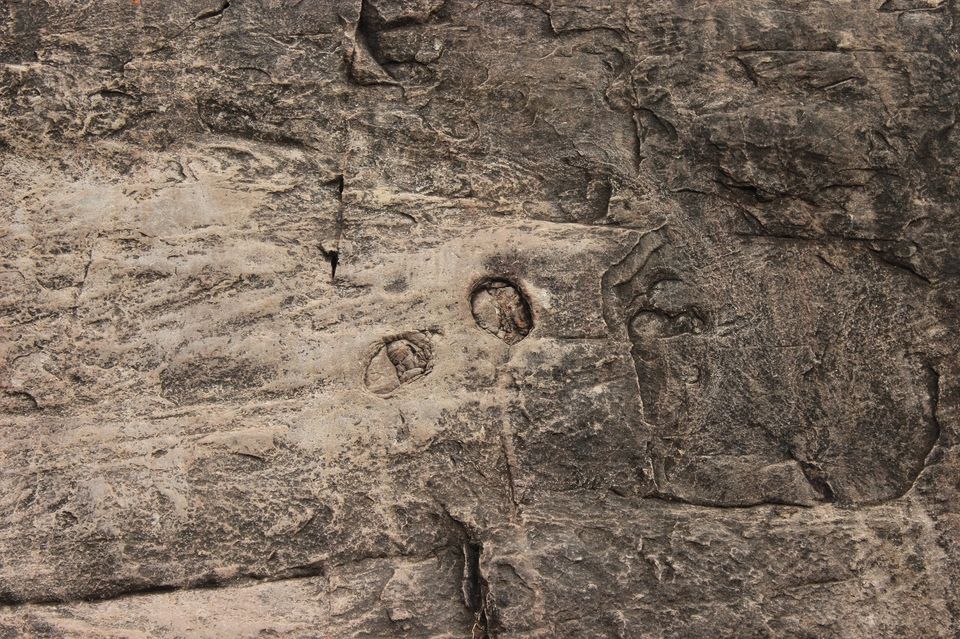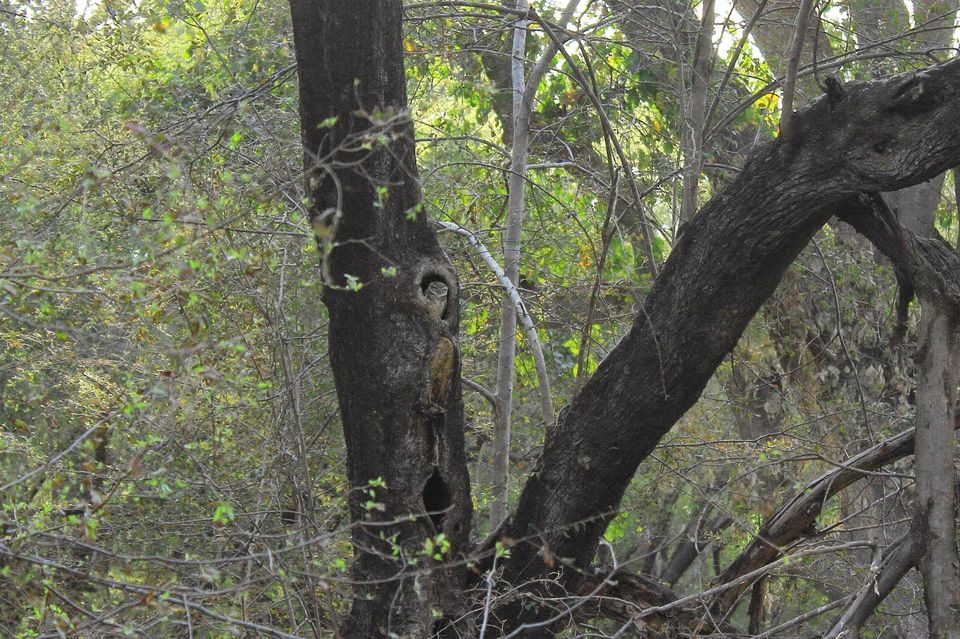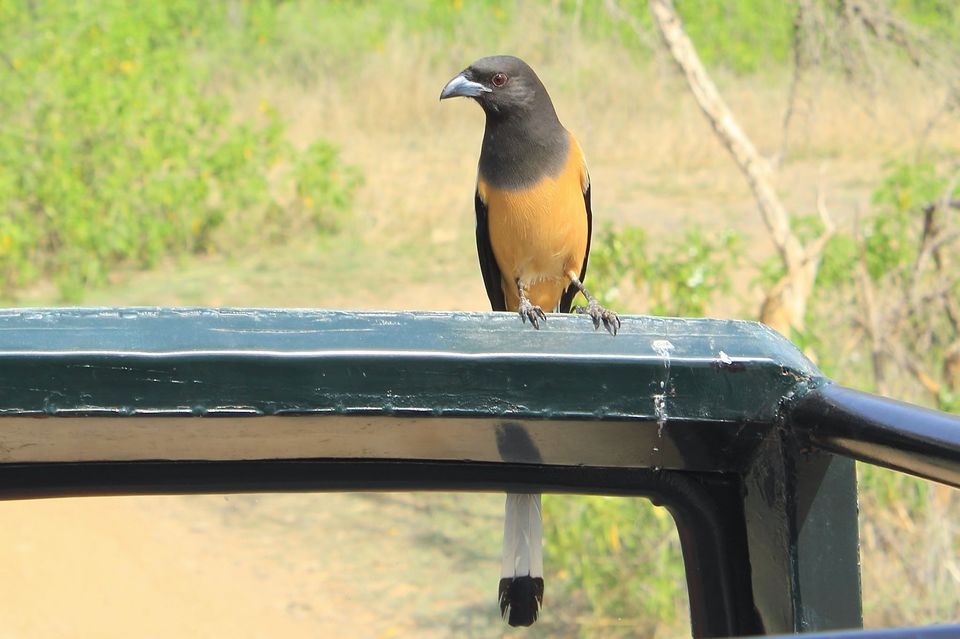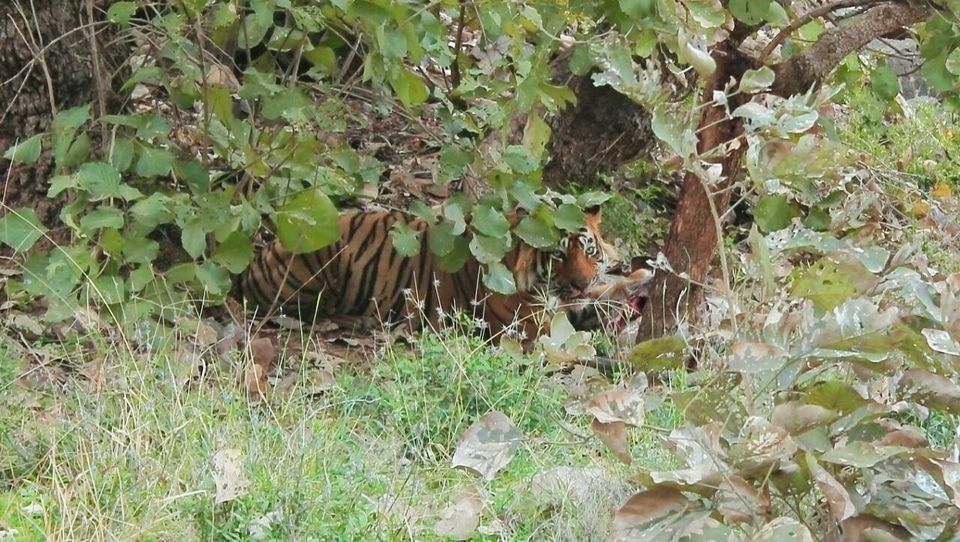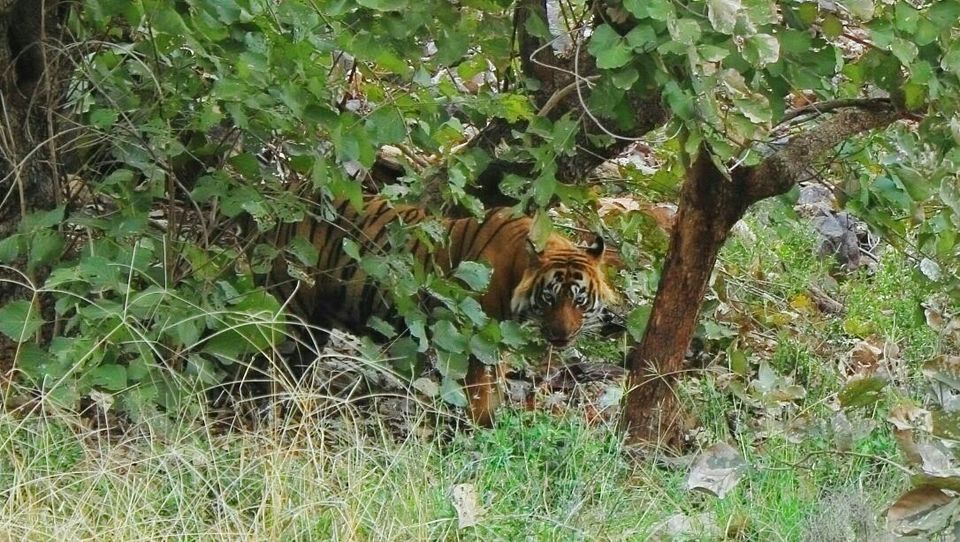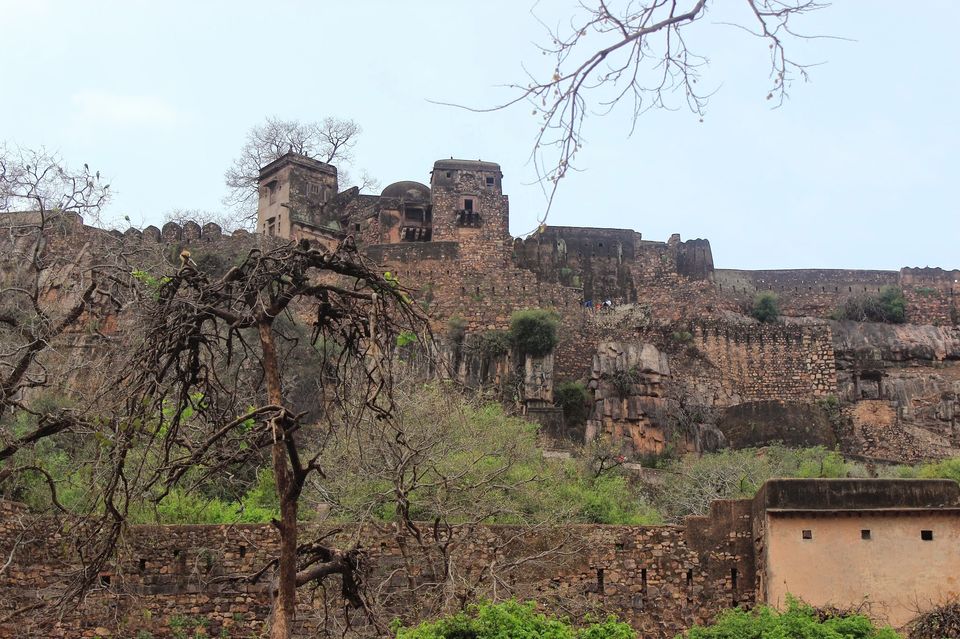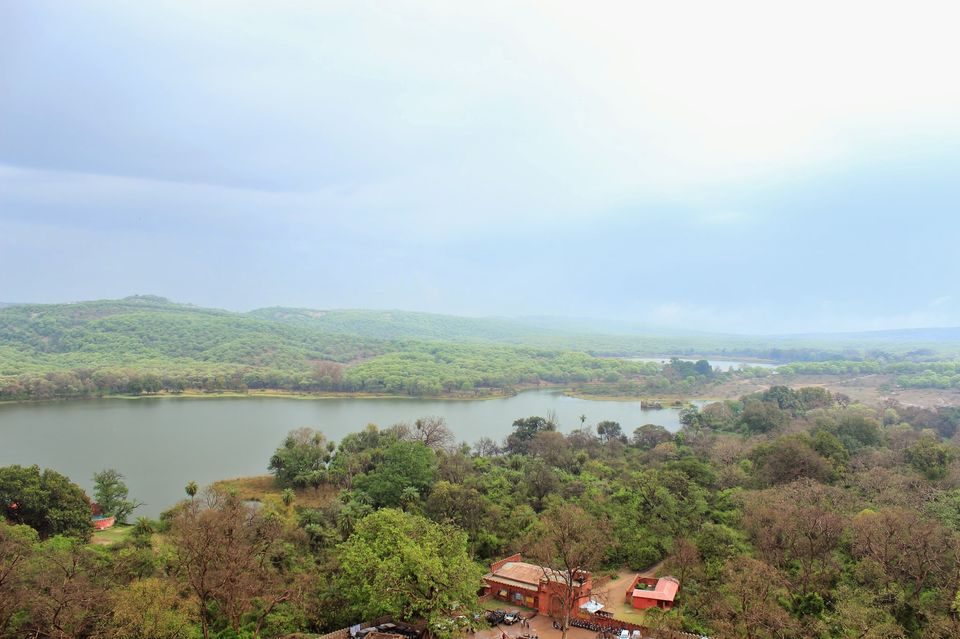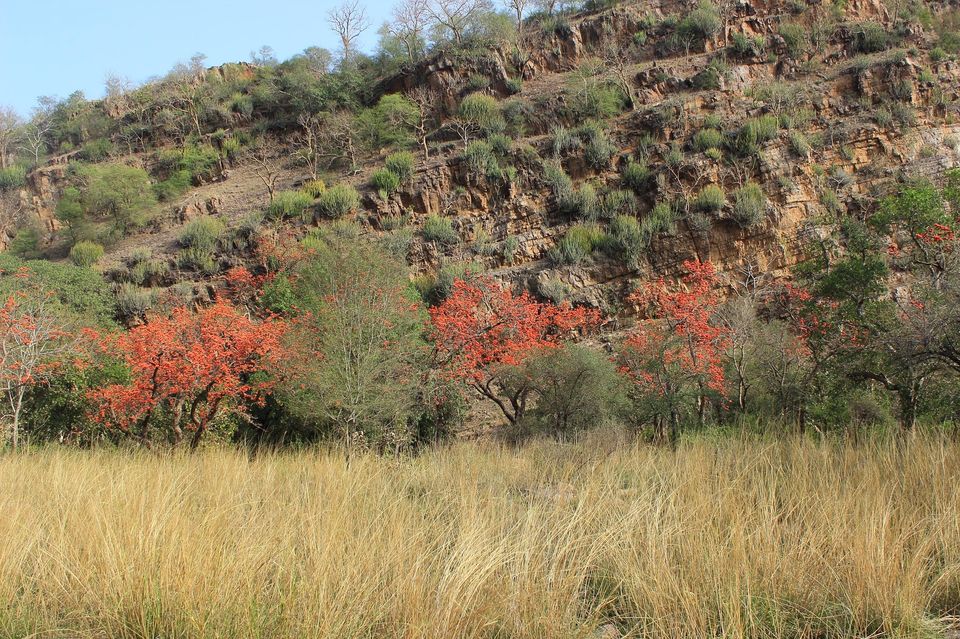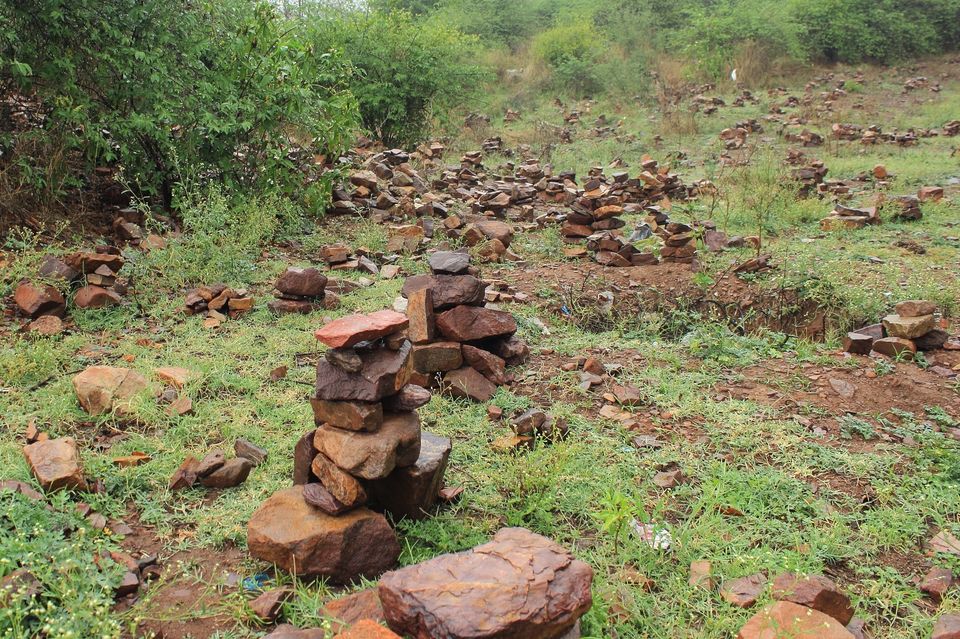 This was my fifth visit to the Ranthambore Tiger Reserve. Second with my husband. I am from Sawai Madhopur, the nearest rail-head to the Reserve. 
They say you stand a better chance of spotting a tiger if you are in a gypsy against a canter, or near the lake, or in morning against an evening safari, or during summers, or if have a all-zone-no-time-limit permit. Do not trust them. You see it only if you are destined to see it. And once you see your first tiger in the wild, the episode keeps playing in your head, for quite some time. 
We were lucky to spot the majestic T-24 relishing its (well-deserved) kill, a sambar deer. Fondly called 'Ustad', he's accused of killing at-least 3 humans at different occasions, the most verified one being the attack on the Forest officer Gheesu Singh. And if we would have spent a minute longer, we would have been the next. 
Once you have tracked down the elusive Bengal Tiger, you can start paying particular notice to the other elements that the jungle has to offer. We spotted a fair share of other wildlife - wild boars, sloth bears (rare to spot), serpent eagle, white breasted kingfisher, mangoose, spotted owlet, sambhars, deers, and of course monkeys. The 'Least concern' IUCN category bird Indian treepie was quite comfortable of being in close contact with our species. Palash trees were in full bloom. 
We trekked to the Ranthambore fort. Global warming was taking its toll and it was drizzling throughout our climb, in the Month of April. Some had warned us of the hot summers of Rajasthan, haha! Explore the history associated and current day beliefs. It is said that if you create a stone house replica, you will own a real one soon..
Trip details:
Ahmedabad to Sawai Madhopur - overnight train journey - Reach at around 11:30 AM.
Took the Evening safari at around 3:30 PM - Zone 4 - Didn't spot a tiger. But the zone route is amazing. In my opinion, better than zone 2 and 3. 
Took the Next day Morning safari 6:30 AM - Zone 2 - Tiger spotted - Mission accomplished.
You can trek to the Fort same day, but since it was a Lunar eclipse and the temple was closed, we kept it for the next day. For the rest of the day, Roam around in SWM - Gorge on spicy kachoris and kadak jalebis. 
Pre-book all your safaris. In peak seasons, a sane person cannot grab a ticket from their booking office. 
Cheers!
Abundant wildlife. Starkly beautiful landscape with surrounding Aravalli hills. Tiger sighting is an icing on the cake.
Very easy trek to Ganesha temple on top. Good views of Padam talao and the next-door Tiger reserve. Take binoculars, and you can spend a good 3-4 hours here.