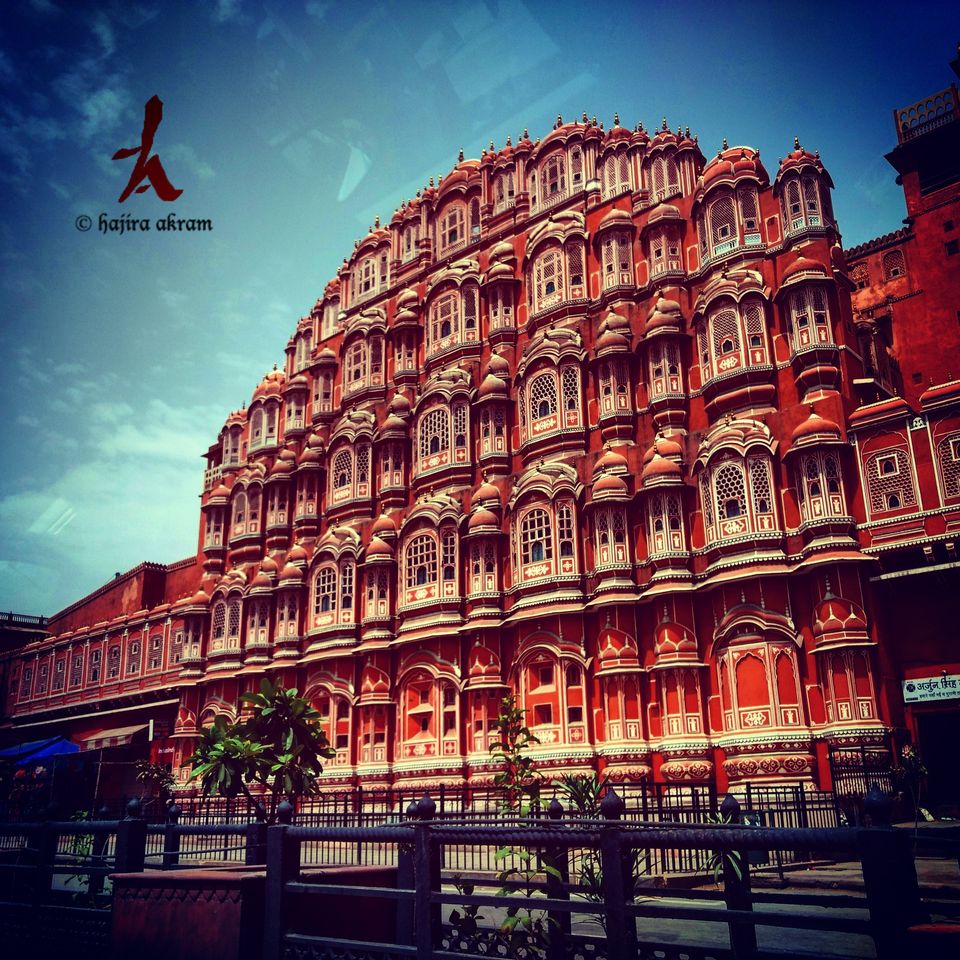 It all started with an abrupt talk with my father about the culture and alluring architecture of Rajasthan and not to forget the very famous Ajmer darga. So, we decided to plan for a short trip to Rajasthan from Bangalore for a duration of 3 days.
Finally, the day arrived and we were all set for our family trip after like ages..
The flight journey took approximately 2:30 hours, and we reached our destination Jaipur. I was very apprehensive about the heat waves and super hot weather of Rajasthan, thanks to my friends and colleagues who warned me that the trip time was mid summer and it was a wrong idea to travel there to get sun burnt.. Thankfully, Rajasthan welcomed us with a 38 degree Celsius weather which was normal (Bangalore weather touched 40 degree during that time), and it seemed comparable or better than Bangalore weather. Amused? Yeah, even I was…
Coming back to our trip, we then boarded a cab to the hotel which costed around 500 bucks to the hotel. We reached the hotel with our stomach growling and craving for food. Freshened up and ordered some Rajasthani food – Kachori and Khichdi. I must admit the food was yumm. I have never tasted a mouth smacking Kachori like that before..
In the evening we headed out for a city tour through a cab which I had booked through the hotel. We visited Birla temple, saw the Dungari fort located next to the temple(this fort is closed for public), Albert hall, lots of statues around on the road and yes, of course yes a lot of pink buildings – all government offices are pink in color, no wonder its named the "Pink City". We then headed to a factory outlet that does a lot of  traditional block printing and Bandhini work on clothes, lot of handicrafts and hand made jewelry, and not to forget the very famous mojhri sandals. The prices were ridiculously low, which obviously made me make my wallet less weighted :D.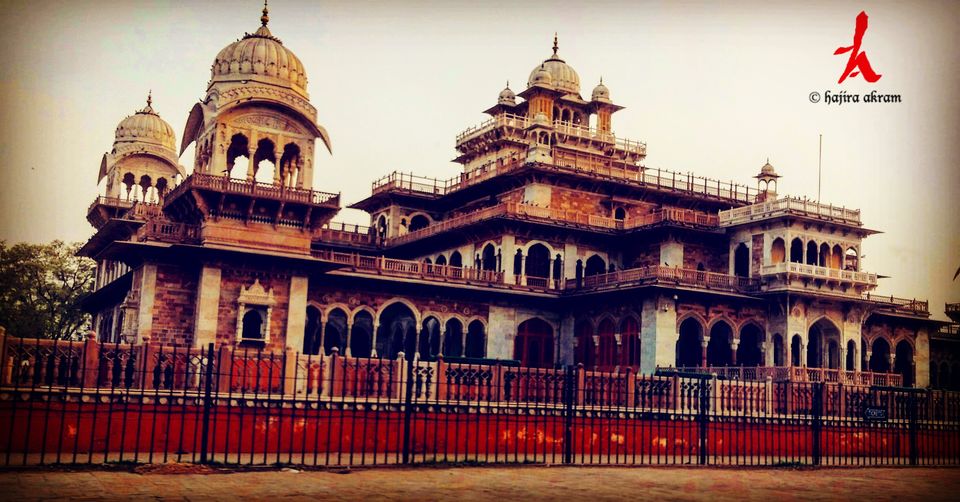 Pic: Albert hall
Then it was the time to visit Choki Dhani resort for dinner. We reached there around 6pm and took food and entry coupons to the traditional village themed resort cum restaurant. The entrance looked very serene, a lot of lamps lit around giving it a very peaceful ambience. We headed inside, and I must say the place has preserved or it has brought the traditional Rajasthani culture alive – right from folk dances, to palmistry, to traditional songs to bullock cart ride to camel ride(a decked up camel) to fire show and what not. One can spend an entire evening out there. We were already tired and headed our way for dinner. I was amazed when I entered the dining room. We were asked to leave our slippers outside and there was a person waiting to wash our hands. Once you enter the room which is massive and beautifully decorated, you are asked to sit on traditional gadda(cushions) and food is served in the peepal leaf made plates and cups. They started serving dishes one by one and it was like a never ending process. Traditional Rajasthani churma, dal bhati, the different rotis, khichdi, jelebi, lassi.. Ahh a sumptuous meal, which makes you, your tummy and your heart smile.. daaaahhh :D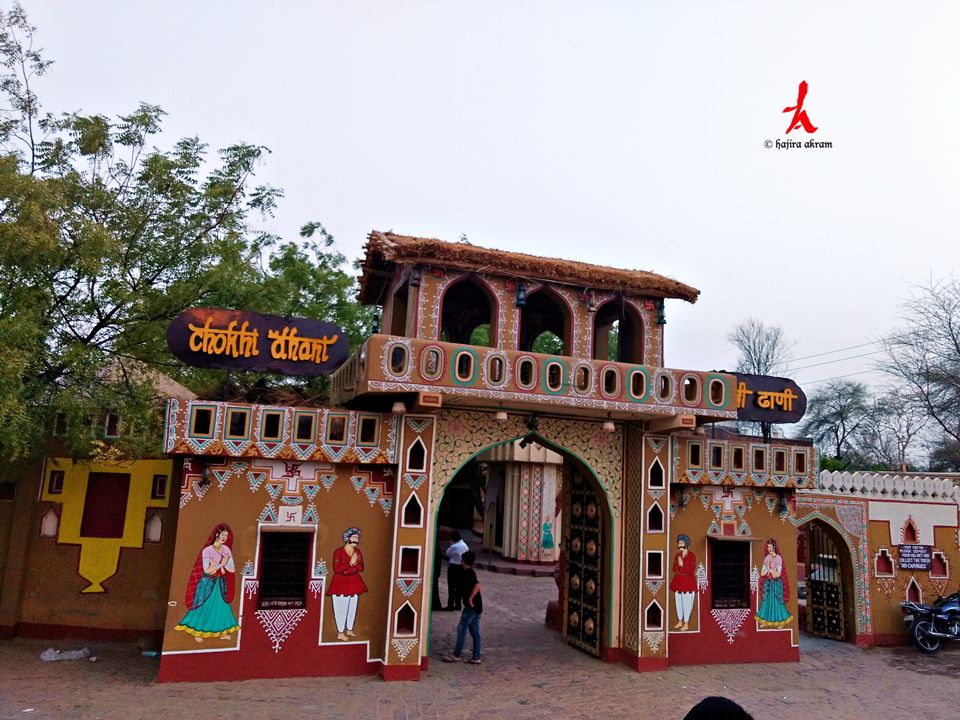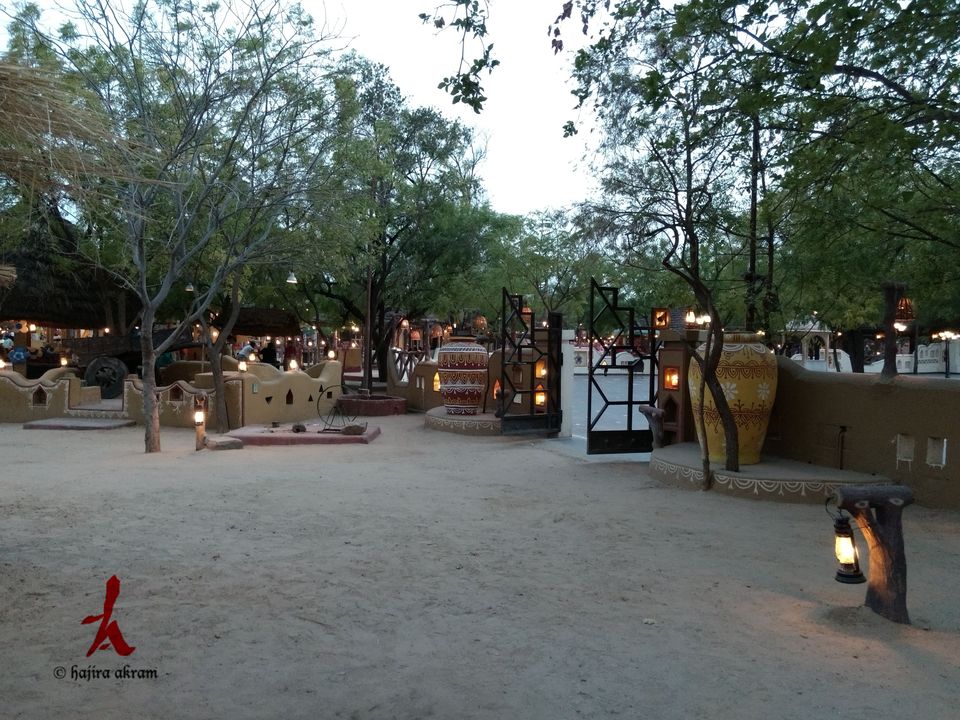 After the heavy dinner, we headed to the hotel to rest our ached feet and get some rest.
The next day was planned to visit Ajmer and Pushkar. As per plan, we left the hotel around 8am to start off our journey to Ajmer by road. We reached Ajmer at around 11.30am which included a stop for snacks. Next we had to walk around 0.5km through a narrow road to reach the darga, no cars allowed in that road. We walked inside bought flowers and chaddar(cloth) to be put in the darga's shrine, finished the rituals and sat there for a few minutes to see whats happening around. We could see a group of people gathering around and singing khawalis, lot of other folks clicking pics(clicking pictures is usually prohibited in such places) and many others just chit chatting.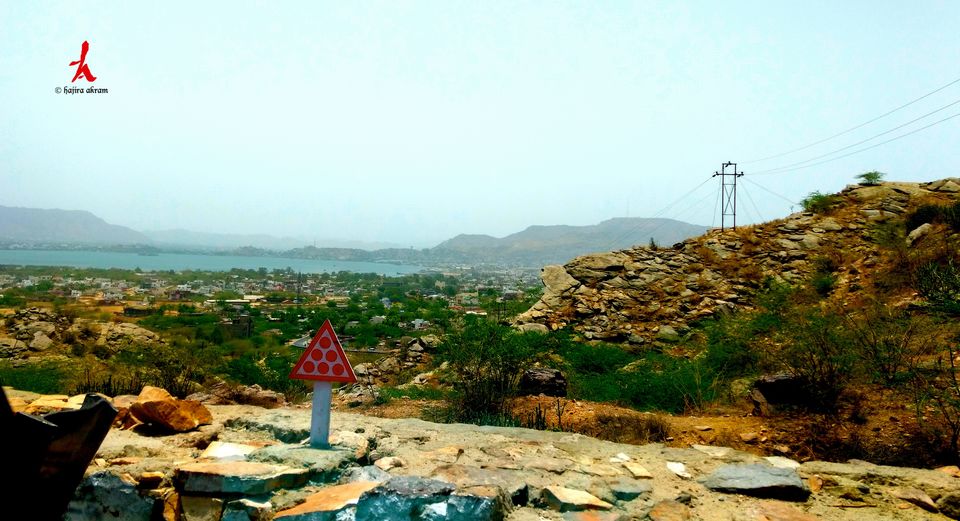 Pic: Ajmer lake
We then left the places and headed towards Pushkar. I was skeptical whether to visit Pushkar or not but since it was just 9kms from Ajmer we decided to visit. On the way we saw the Ajmer lake which is a very normal lake and passing by few deserted area we reached the famous Pushkar ghat cum Brahma temple. We were told about the significance of the water in the ghat and the temple. Then we headed out to our way back to Jaipur. Tired souls were wishing for good food and we did have a mouth smacking Rajasthani thali at a hotel on the highway.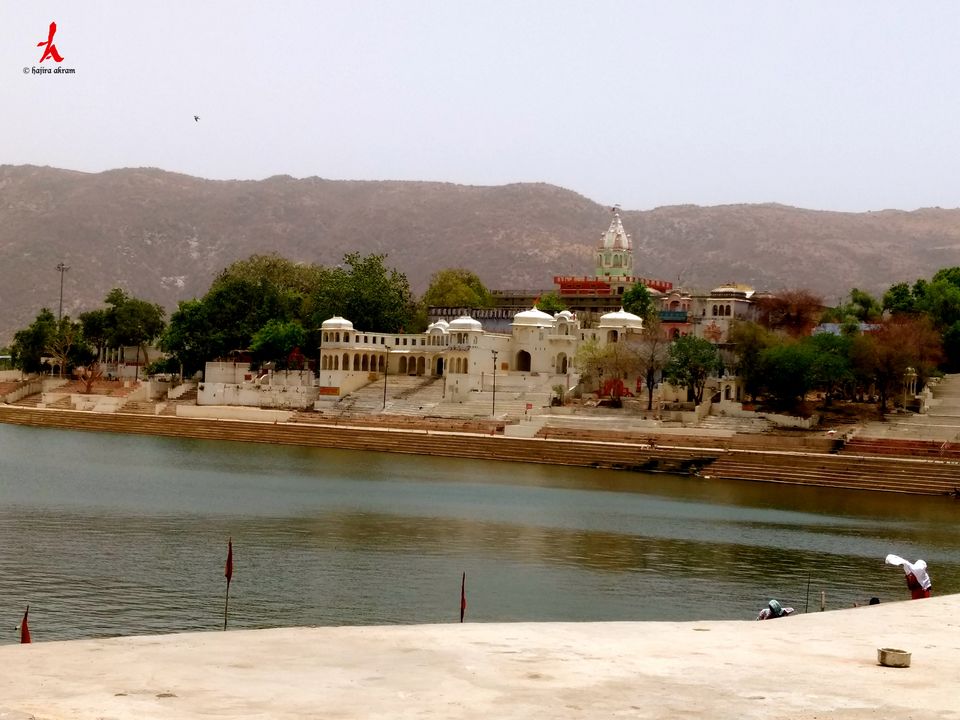 Pic: Pushkar Ghat
Started our journey back and after about 2:30 hours we reached Jaipur. We then visited the very famous Jaigarh fort which was built by Maharaja Jai Singh to protect the Amber Fort in case of an invasion. Marvelous and massive architecture, I was spellbound sighting such a large fort. Then we headed to Amer or Amber palace. One of the finest palaces of Rajasthan which also houses the very famous Sheesh mahal(palace of the mirrors). It takes about 2-3 hours to visit the entire palace but since we were short of time we kind of hurried. This place is best visited in the mornings before 11am via an elephant ride which takes passengers from bottom of the hill to the hilltop.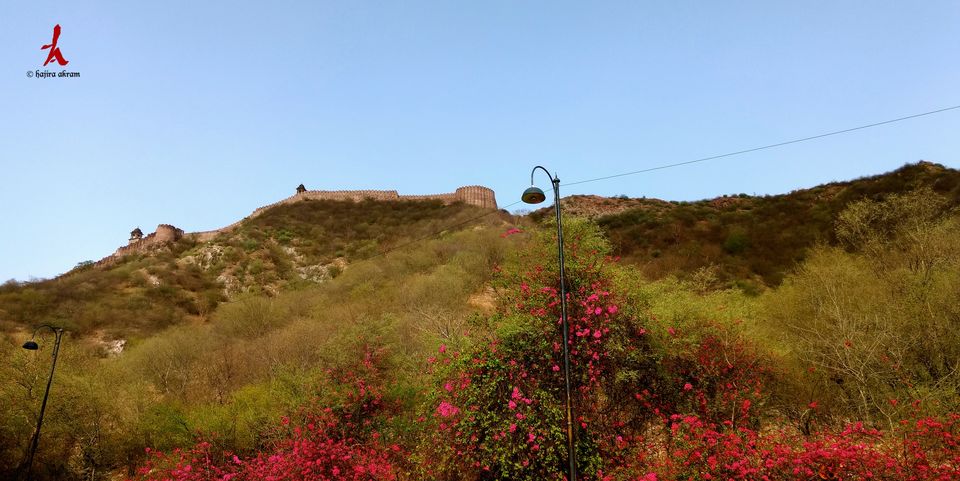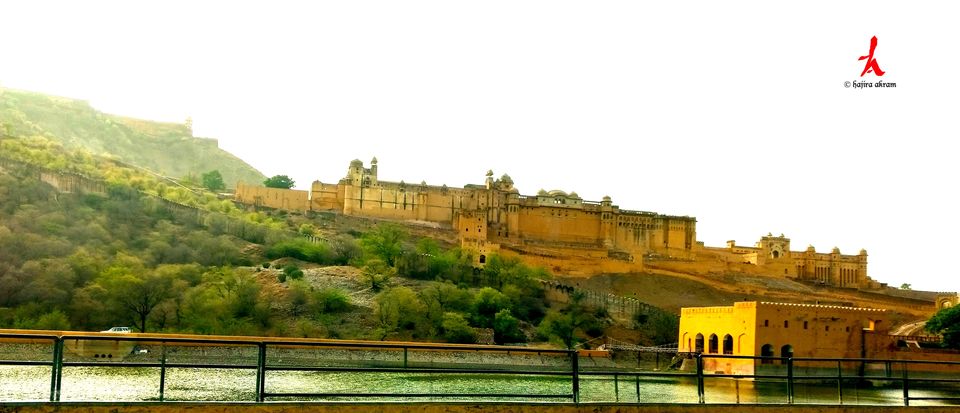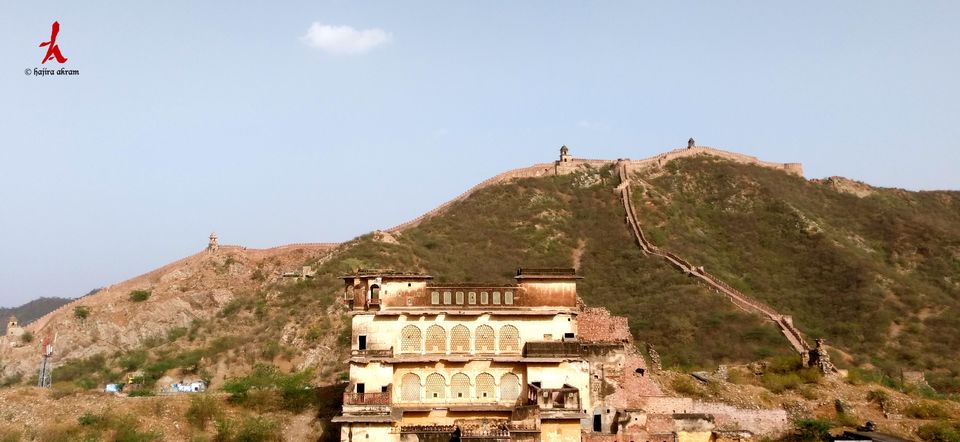 Pics: Amber fort and Jaigarh fort
Next we visited Jal Mahal which falls on the way, it is a beautiful palace whose one floor is submerged in water. There used to be boating around the lake before, but now it has been stopped and also visitors are not allowed to enter the palace. Next we headed straight to the hotel to get some sleep after a long tiring day.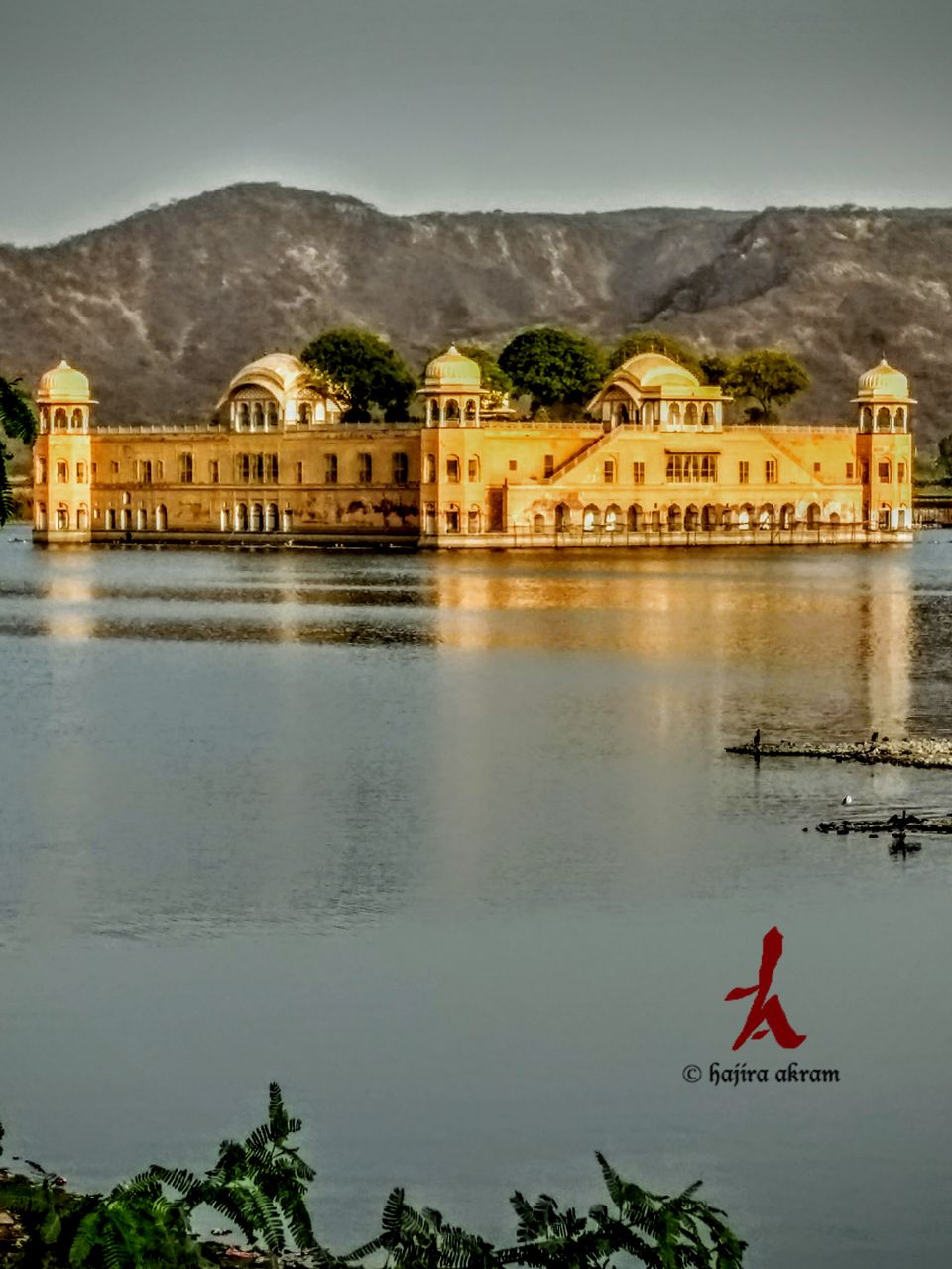 Pic: Jal Mahal
The next day we started off at 9am to visit old Jaipur city which has almost all buildings in a wrecked state in the color of pink. Pink pink everywhere!! We went straight to City palace which opens at 9am and costs about 150INR for entry, it is a so so palace maintained by the Maharaja there. After a walk around we exited the palace and crossed the road to enter Janta Mantar.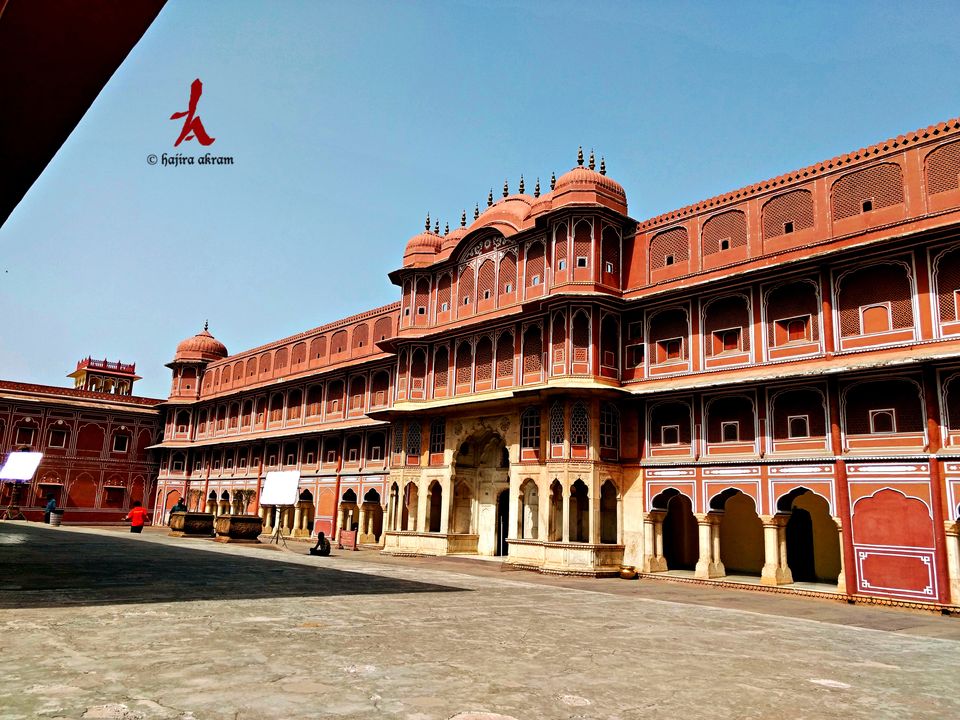 Pic: City Palace
Jantar Mantar has a collection of astronomical instruments build by the king then, it is also a UNESCO World Heritage center. Interested people can walk around and see all the instruments and hire a guide to get an in-depth explanation of each of the instruments. Others could just sit on the benches under the trees to get cool breeze and relax for a while or just walk around to click pictures. The place is beautiful and for the folks who are interested in astrology can click a picture with their birth sign structure present there.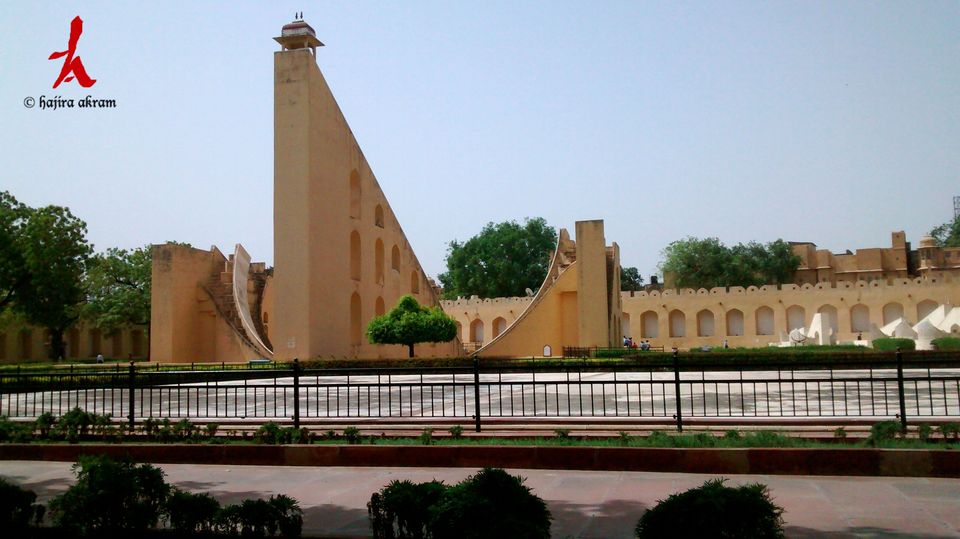 Pic: Janta Mantar
Next we went to visit the famous Hawa Mahal. It is truly a brilliance in architecture and design, it has several windows and was built for the royal women folks to see the events happening on the Jaipur streets. Nothing much to see there except to be awed by the building's structure.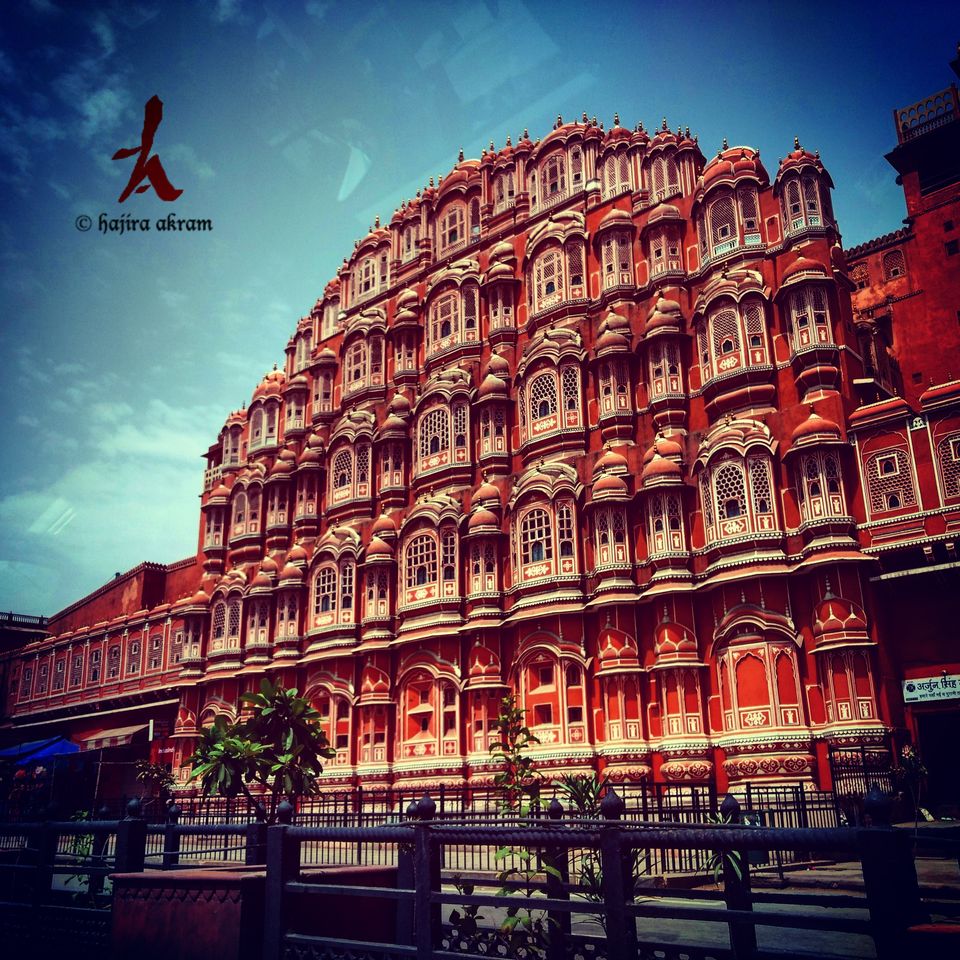 Pic: Hawa Mahal
Then we headed for a last Rajasthani meal of the trip and not to forget shopping in Johari street.. We headed back to the hotel freshened up and left to the airport. My shopping had taken up a lot of time and we ended up reaching the airport just while the flight was being boarded (sigh..!!!).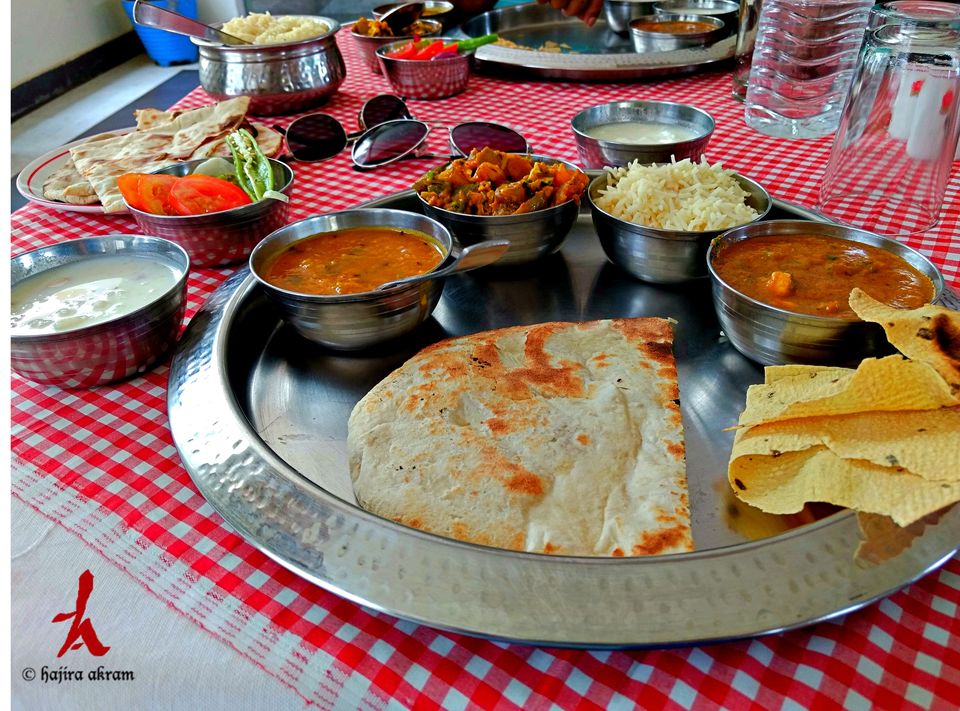 Took about 2hours to reach Bangalore which was half an hour less than the stipulated time. It took close to 3 hours to reach home from Bangalore airport. I reached home contemplating that I could have gone back to Jaipur in a much less time than it took to reach home situated in the same city :D... Namma Bengaluru traffic woes I thought and ended my day with a tranquil and unruffled sleep on my bed(which I had missed for the two nights). This sums up my 3 days trip to Rajasthan – the city of colors and culinary food and architectural abundance.
Tip tip tippani…
Full Jaipur can be visited in 1.5 days if properly planned. Most places have timings to visit 9am to 4-5pm, make sure you visit during those timings.
Rajasthani food is something you should look forward to while in Rajasthan, and of course keep your diet charts at home while in Rajasthan
Shopping – traditional clothes, shoes, bags, handicrafts and jewelry. Get some extra cash, I am sure most of you would end up spending more on these.
Ajmer, if visiting Darga try to visit before 1pm, as its less crowded in the mornings.
If visiting Pushkar, plan to visit in November which is the time for the famish Pushkar fair. Do enjoy the camel ride.
Do visit Choki Dhani to experience the village ambience and of course the fooood.