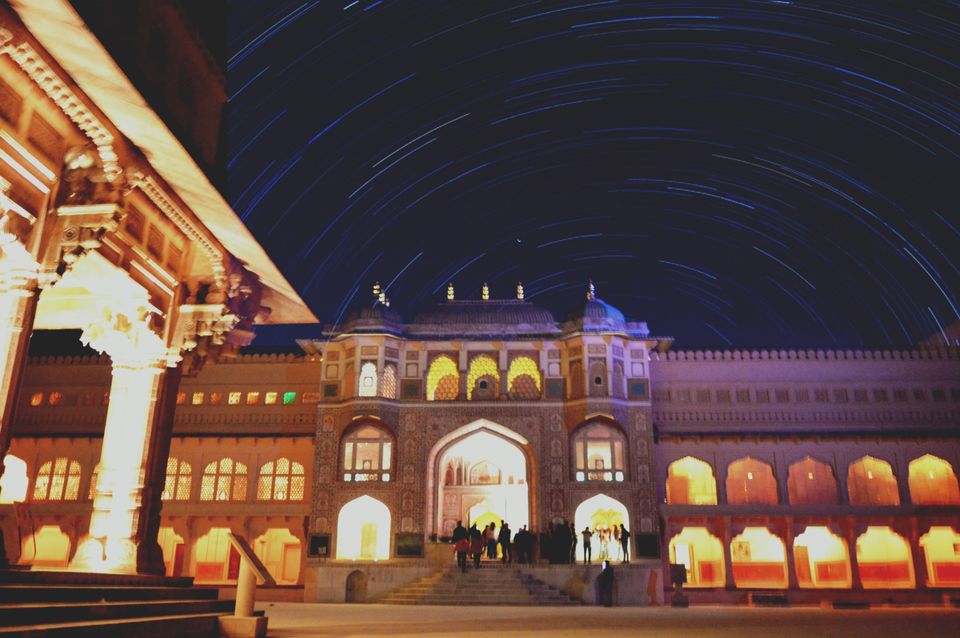 J A I P U R Diaries ..my pink city Diaries( 850 hotel,1209 royal Enfield,250 lunch, 200 entry fee, 1350 for luxury dinner at Choki Dhani)
"Doused in an appeasing pink, Jaipur has, over the years, come to don the title of India's "Pink City." Rich in its historical heritage, every corner of Jaipur holds an interesting antidote and touch of old-world charm. The color of the city, too, has interesting stories & theories behind it."
Arrived Jaipur airport on 28th Dec midnight from Bangalore .Took cab & straight headed to Le Pensioner's Backpacker Zostel (Rs 850/day, complimentary breakfast).
Morning booked Royal Enfield from drivezy for entire day @ 1200 with full tank petrol and coverage of 150km.
Started around 10 am and went straight to Hawa Mehal ,while driving to Hawa Mehal had got chance to bypass Albert Hall Museum and witnessed why the city is called PINK. Spend 1.5hrs at Hawa Mehal and then arrived at Jantar Mantar.Wrapped Jantar Mantar in half an hour and whirl driving to Nahargarh Fort stopped en route at Guru Kripa Shakahari Dhaba to have lunch.After having authentic Rajasthani Veg delicious lunch started my drive to Nahargarh Fort and what to say about Nahargarh Fort...the view from the Window of entire Jaipur is just mind fucking awesome.Due to time crunch skipped sishmehal at Nahargarh Fort and rode to Jaigarh fort to witness World's largest Cannon .By the time I came out of Jaigarh fort it was almost dark evening and someone told that Amber fort is mesmerizing in night so I kept Amber fort for end of the day.I arrived Amber fort around 8:30 and I was am I really seeing such mesmerizing architectural beauty.Spend around 2 hour at Amber fort and then for Dinner I thought to let go to choki Dhani to grab authentic Rajasthani food.enroute stopped by JAL Mahal. Food and ambience at Choki Dhani was mind blowing I would have imagined that I would ever have such pleasant dinner with live Gazal .After having dinner drove back to Zostel and hand over the Royal Enfield to Zostel owner to give away the bike to Drivezy next morning.
BANGALORE TO JAIPUR : Late night boarded flight from Bangalore and arrived Jaipur airport around 12:30 am.
P U S H K A R -- A J M E R ( 350 bus,1050 hotel,900 cab for roundtrip Ajmer Pushkar Ajmer, 1500-2000 at Dargah(solely depend upon individual which chadar of what range he want to offer I took 1500 chadar,300 dinner,400 bus to Jodhpur)
Took Rajasthan Govt Volvo AC bus to Ajmer(RS 350) at 7:30 am morning and reached Ajmer around 10:30. Headed to Hotel which I had booked at make my trip ,it was walkable from Ajmer Sharif Dargah.After putting down my luggage at hotel since early check-in was not allowed as hotel was complete booked.Took Rickshaw and headed straight to Ajmer local market to have some local breakfast.Got chance to eat delicious kachori and Lassi.Came back to Hotel and asked hotel guy to arrange round trip cab to Pushkar.They charged 900 for 5 hr.I find it economically good deal and started straight to Pushkar.Reached Pushkar(40km from Ajmer) around 1:30,Pushkar Main temple was closed from 1-3PM so I sneaked for some traditional Rajasthani outfit photoshoot and camel ride.The guy who took me on camel ride showed Karan Arjun movie shooting places and the place Karan Arjun's Mandir ..hahahaha
After done with camel ride I went to Pushkar temple ,sat beside Pushkar lake for half an hour.Few pandit tried to loot me by doing some Puja in Thier own but when all was done he asked to donate which I strictly denied,then that Pandit baecam furious and left in between ...hahaha.Beware of such loot pandit at Pushkar.Started back to Ajmer around 5 PM and reached Ajmer around 6. Hotel I booked at Ajmer was offering VIP darshan to Dargah Sharif. Before leaving to Dargah I put back all my money , everything at hotel only and took my phone that was very scared as have heard that Dargah is place where lot of pickpocket happens..I kept my Smartphone in my shirt pocket and zipped it under Zara Jacket hahaha...Took 1500 chadar and went ahead to offer chadar at Dargah...it was quite crowed and thankfully my Hotel was offering VIP darshan.. done with Darshan in 15 min and then I sat around the place where Gazal was happening.It was quite soothing and peaceful .Had dinner in local Ajmer Sharif Dargah Street and went to Hotel.Releaxed for 2 hour and then moved to Ajmer bus stand as Jodhpur awaits .
J O D H P U R --- Indigo City(2300 hotel 2 days,500 food,650 OLA,200 Mehrangarh Fort,3500 New year Eve,600 bus to Jaipur)
Reached Jodhpur on 31st Dec morning 6 am and went to pre booked hotel.Had sound sleep of 4 hour and booked OLA 8 hour rental . Started for Mehrangarh Fort .What to say about Mehrangarh Fort and Indigo city of India. Spent around 4PM visiting Mehrangarh Fort , understanding Historical facts and architectural beauty. After Mehrangarh ...I opted to visit Umaid Bhavan .What a beauty speechless...just beyond epic beauty. Old luxury vehicle museum was add-on at Umaid bhavan and it took around 2hr to cover up Umaid Bhavan .On my way back to Hotel I stopped by Clock Tower.Had amazing local street food . Returned to hotel around 7 PM
S A N D D U N E S & New Year in Open Sky (Oasis)
Situated 80-90 km away from Jodhpur,started 9PM from Jodhpur in state govt bus and reached Oasis around 10:30 .There Camp person was waiting for me to receive me.Headed straight to sand dunes where new year party was on roll and I quickly went to my pre booked Sand Dunes tent room and settled my backpacks and hit straight to the party and got indulge myself with Jodhpur's elite class crowd ...enjoyed alot with them over Whisky and some beer.Full dinner and snacks was arranged,Lal mansh was esp delicious and it was quite beautiful elegant to witness new year in open sky in mid of dessert with open arms spread welcoming 2019.
Spent entire night in tent and gosh temp went down to 4 degree in dessert around 3 am.wokeup around 9 ,had breakfast and then headed to small Jeep Safari ..(included in new year Eve package..RS 3500).After Jeep Safari they dropped me at Bus stop,took States Bus and reached Jodhpur Hotel.Evening roam around Jodhpur local street got Jodhpur saari for Maa and Jacket for Papa. Took overnight bus to Jaipur.Morning boarded flight to Bangalore.
Entire trip costed around 25-30k including flight ticket to-fro from Bangalore