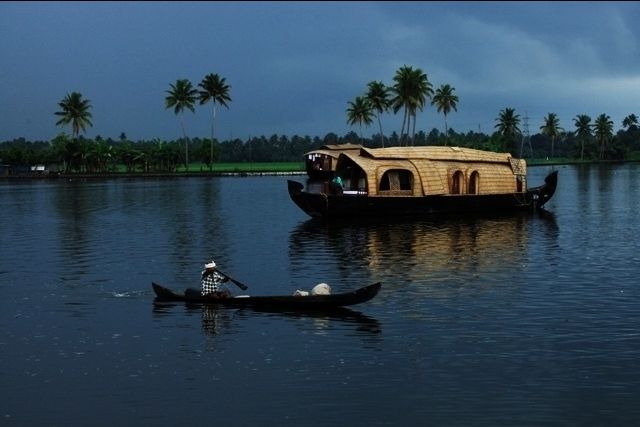 सोचो के झीलों का शहर हो
लहरों पे अपना एक घर ❤️ हो
Translation in English
Think if there was a city of lakes
And that we had a home ❤️ on those waves.
Although this line is taken from a movie but this song lines comes true when first time I saw this small beautiful village surrounded by lakes, Nedumudy situated in southern part of Kerala in Alappuzha district.
Lot of people suggested me that best way to experience these fabulous backwater is by opting a house boat. But It was too costly and out of my budget. So I choosed to take a super cheap way (Rs. 40) to boat on the backwaters of Alleppey: the local ferry system to get mesmerizing backwaters view by sharing a seat with local people, many of which was very happy to talk. I felt the reality of local life.
Then on the way I felt like a village, Nedumudy is too beautiful that deserves a walking tour. So, here is my feelings in lines...
I was not dreaming
Slowly, and leisurely drifting
Into a world so mesmerising!
The backwaters were charming
The wind on our back soothing,
I could see fish in the water wiggling
While tall coconut palms stood waving.
In our busy life it is very rare to sit peacefully doing nothing but beleive me there was a moment I enjoyed this "doing nothing" phase thoroughly.
I've met hundreds of travellers who have almost every second of their journey planned from transport schedules to accommodation options, right down to what restaurant they want to eat at. I can understand why some people choose to travel like this. Naturally you don't want to miss out on a 'must-see' attraction, or end up stranded at some bus station with no idea of where you are going. However by having everything set in concrete, are you actually missing out on so much more?
Travel is not about proving a point or make someone jealous or scoring a few more likes on Instagram. It's about finding your bliss - your travel style, your life philosophy, yours perspective. It's about keeping yourself afloat in an ocean where not every fish matters.