Our road trip starts from Hyderabad. It was a sudden plan and without taking a step back, we approached to our destination.
We friends of 3+1(me), as usual started at devil hours i.e 3am as it was our first time(3am) we are excited. Taking the route through ORR and moving along the way feels to be excited.
As we are moving ahead, sun began to rise it was a beautiful opening of the day.
The wide 4lane road NH7 making our day more thrilling, as there was no such traffic which gave us to speed up at 160km/hr. I know it's not safe to drive fast but to reach and explore the place we have too.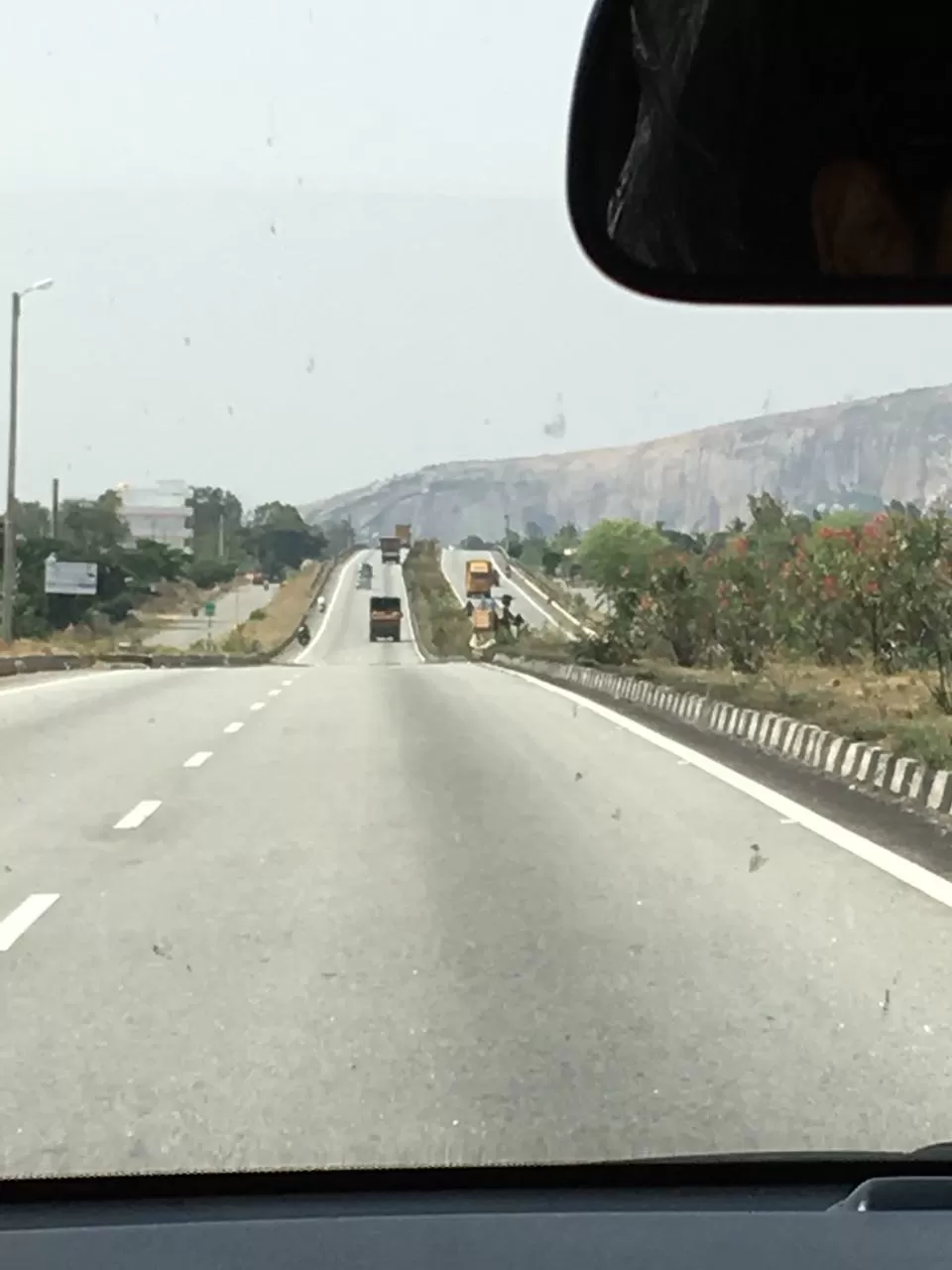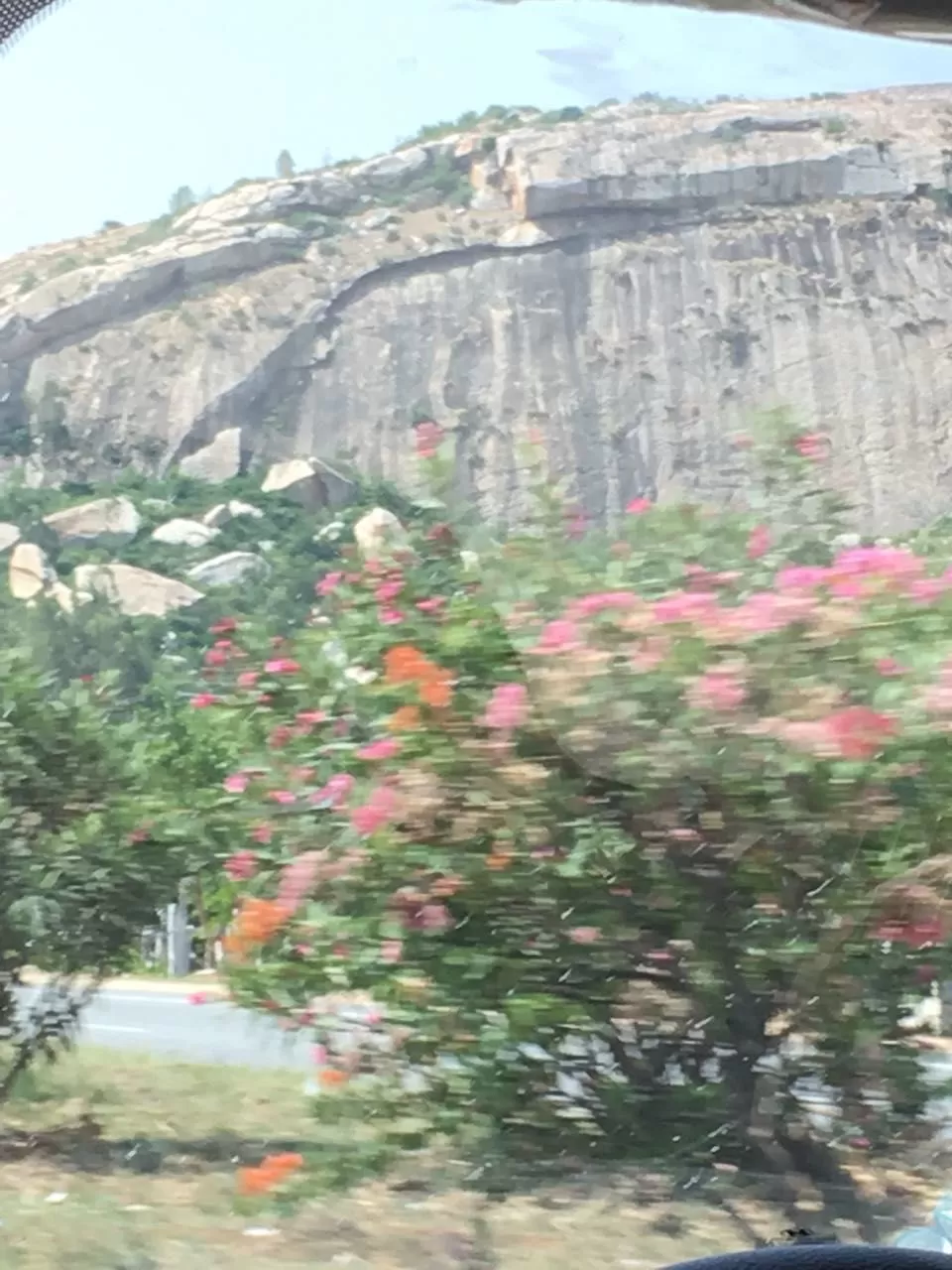 The way towards Bangalore is good but at the same time the temperature started heating up... !
The rocks surrounded the area makes more hotter. We started to watch-out for the breakfast. There are not much budget friendly restaurants on the way but some how we managed to get a restaurant. We had a decent breakfast and moved towards Nandi Hills.
On the way you will find KIA manufacturing plant, which is very big it is situated in Andhra Pradesh.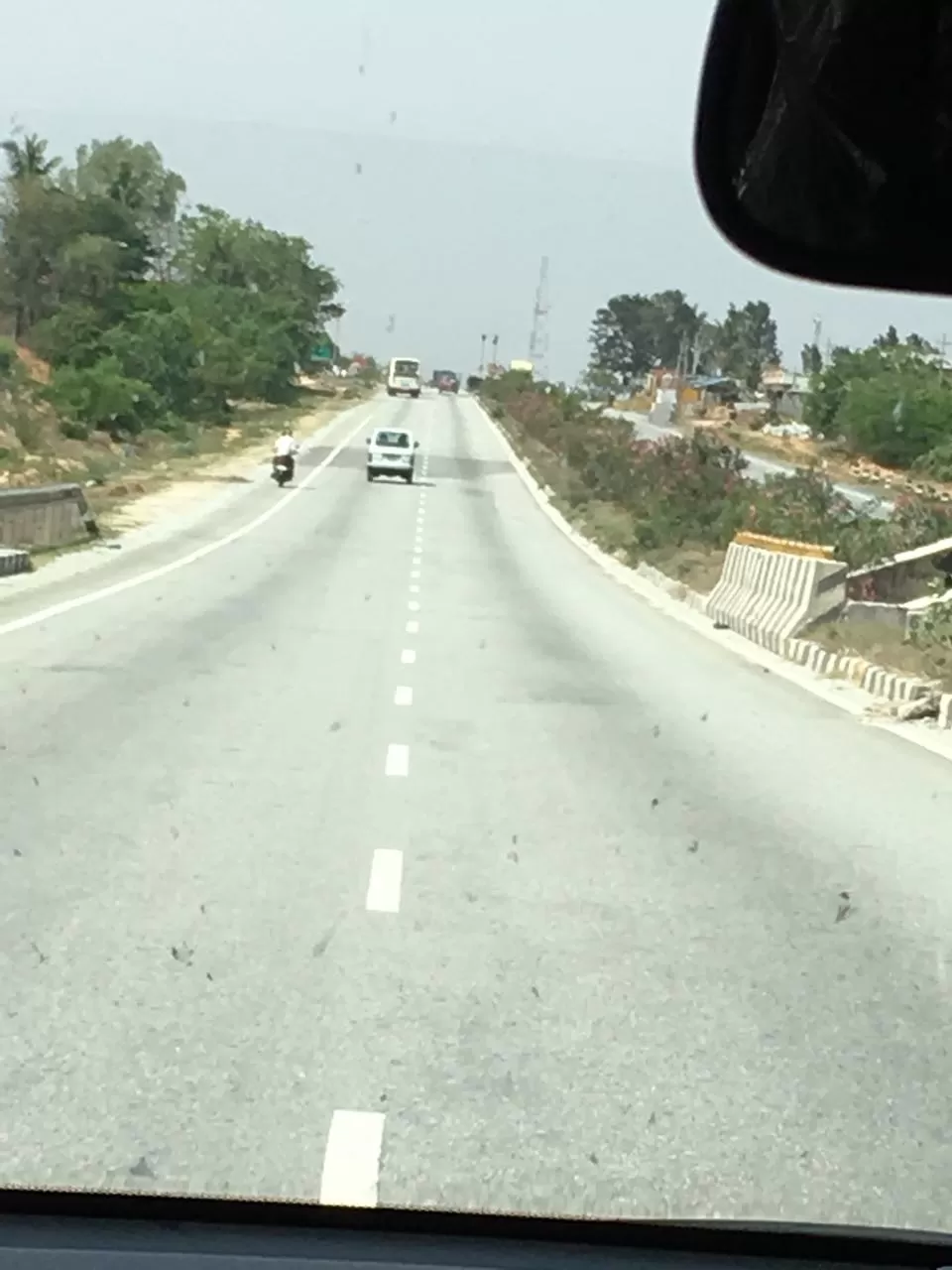 As per our plan, we already booked the Home stay but after entering the surrounding was like a farm stay feeling but when we saw the rooms it was like "Horror".There are Monkeys more than people. In advance we paid Rs500/- instead of asking for money we escaped from there and started finding for the good hotel. We asked few locals so they have told us a hotel which was satisfactory and near to Nandi Hills.
Finally we reached Hotel at 10:30Pm and took rest till evening.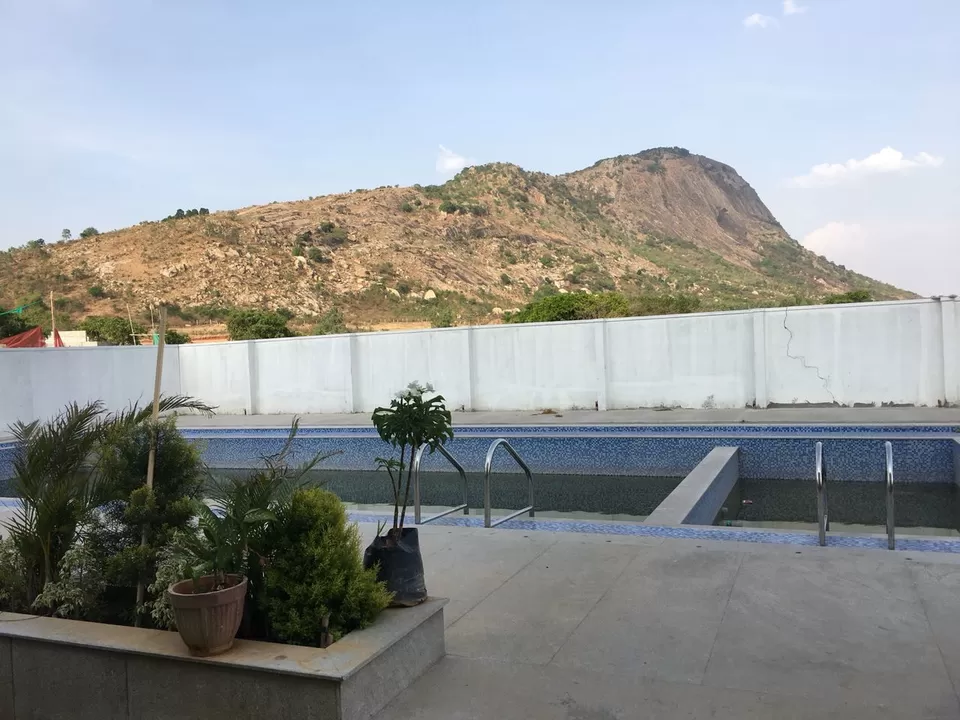 It was 5pm, so decided to visit temple which was built many years ago. The way towards Nandi Hills is exciting but be careful, as you will find 12 hairpin bends and 40 curves to reach top. The temple was old and very peace. There are many travelers coming just to see the view from the top.
If your planning to take car you have a chance to take near the temple. The entrance cost is 100bucks single entry only.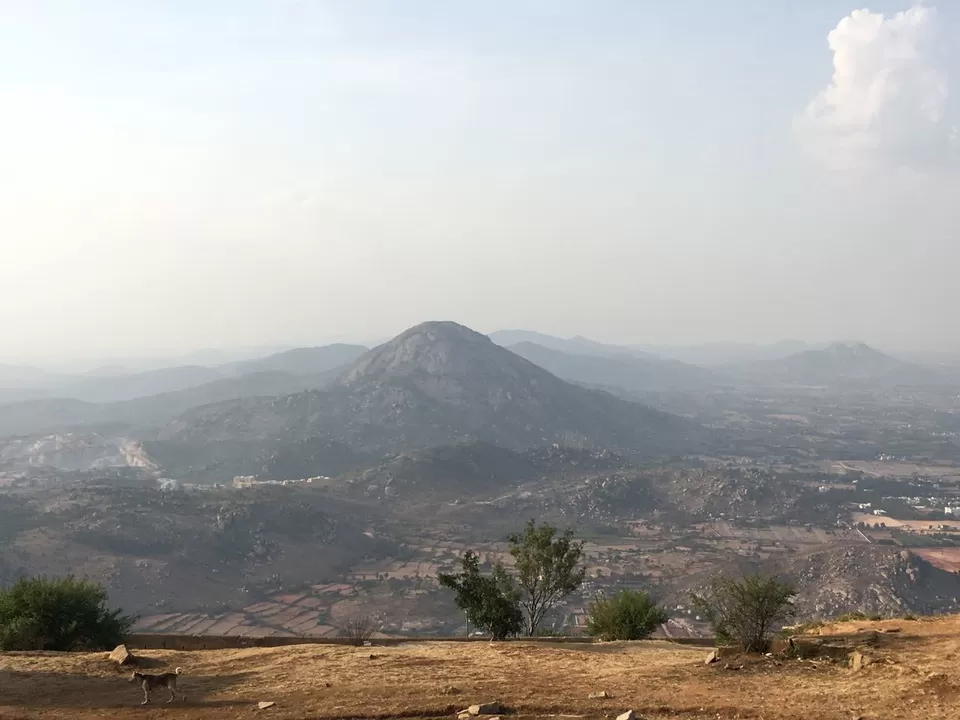 The spectacular view in the evening makes you feel relaxed.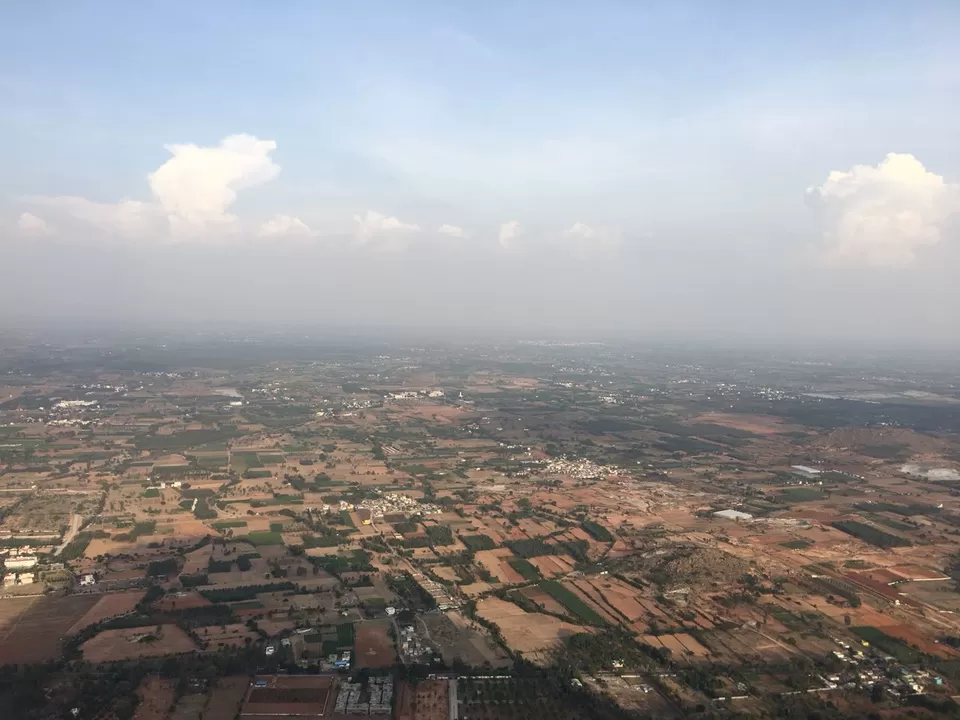 The hill is situated at 4548Ft which is WoW.! It makes a perfect weekend trip.
To enjoy we had evening snacks like Pakodi, Bhelpuri and Thumps Up but unfortunately monkeys also felt thirsty it snatched away from my friends hand -_-. Be careful with the monkeys.
Later, we decided to have a dinner at NH7 Refuel which is located at the highway towards Bangalore situated 12km from Nandi Hills.
The restaurant is absolutely stunning from outside with live music.
Here's a pic :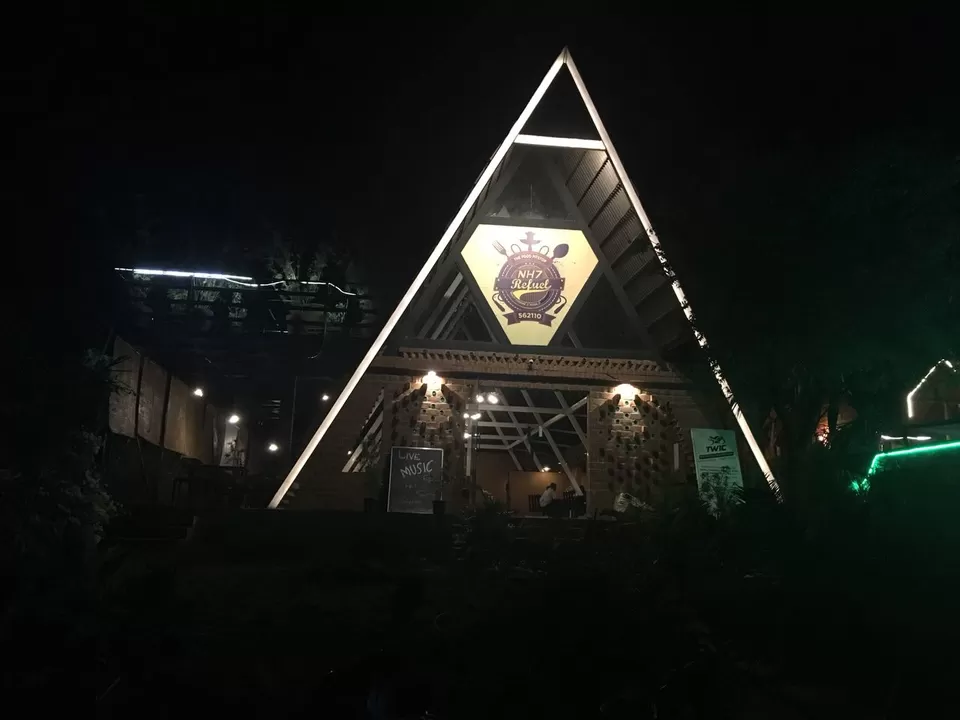 We ordered food it was yum but before that don't forget to order Patiala Lassi which is like Awwwwwsome .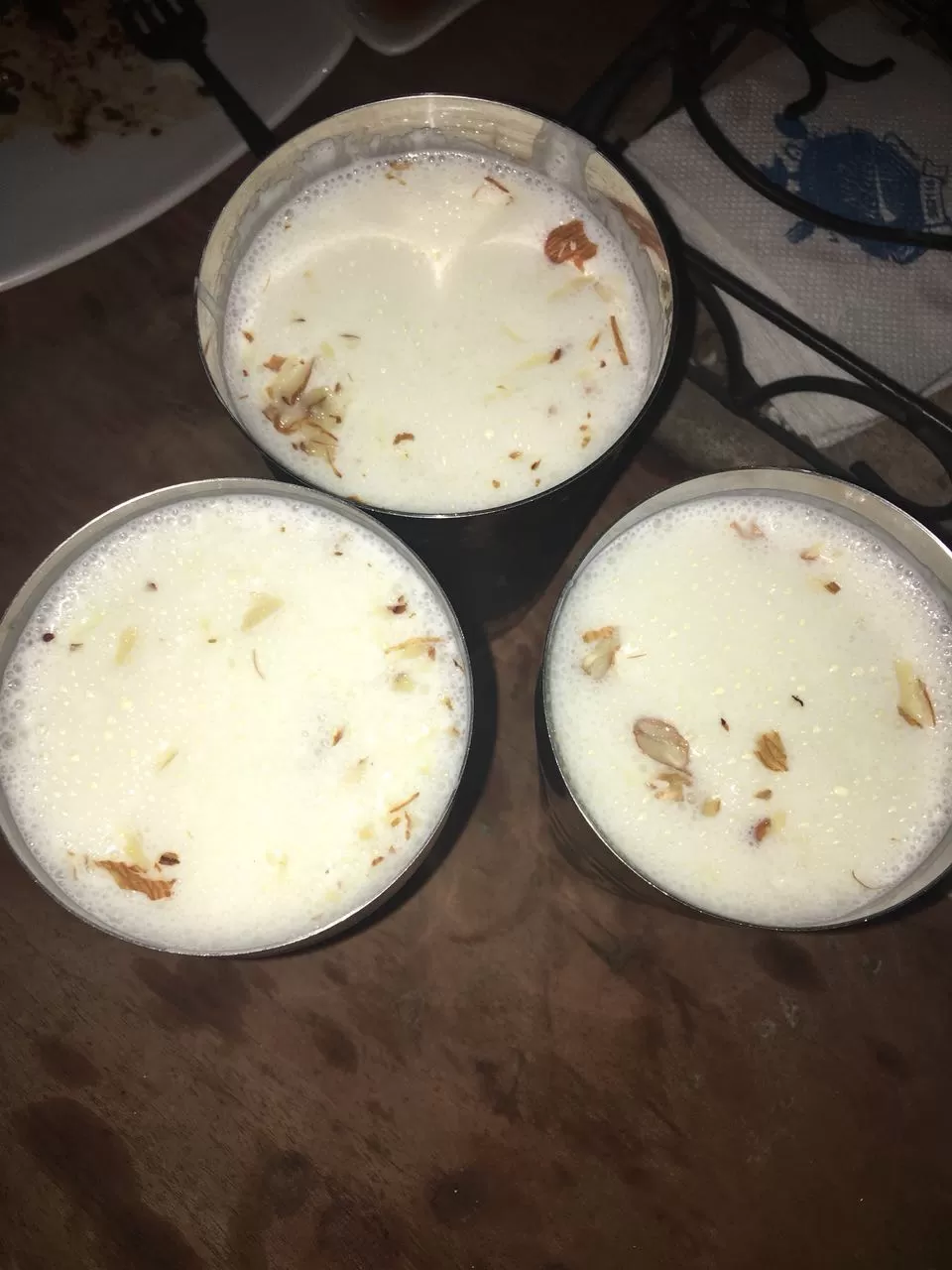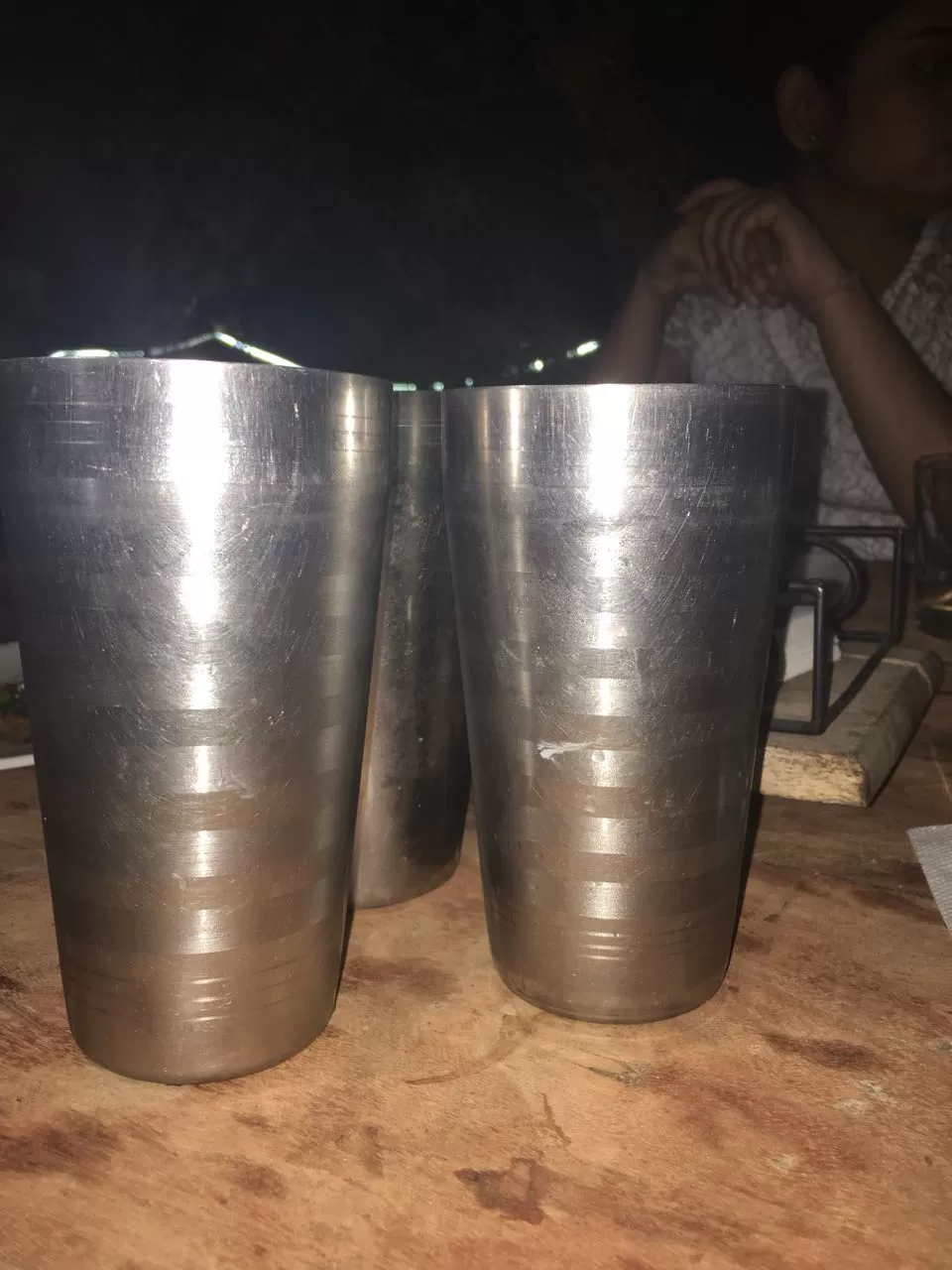 The large glass of Lassi makes the tummy full.
We 4 enjoyed a lot of it, the food was amazing and taste wise also the price is affordable. They provide Hookha you can chill and Relax.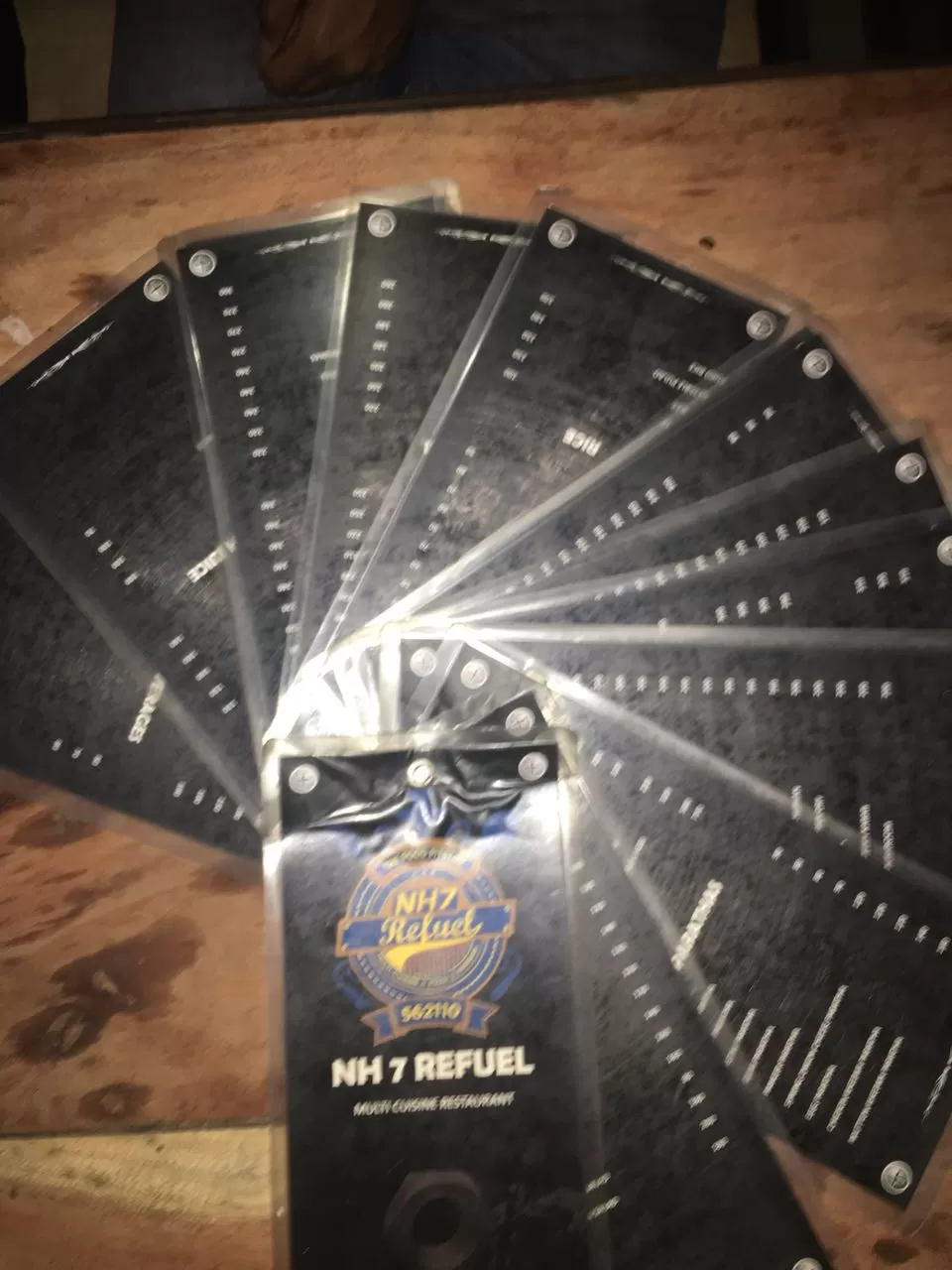 Then we headed back to hotel and back to rest .
The next day early morning at 5am we started back to Nandi Hills top to see the early morning sunrise. As it was Sunday many people from Bangalore come to view the sunrise.
The bike is the best option to enjoy and feel the ride. As we went more ahead to watch the view, the clouds were filled and it was amazing experience. As the sun started to rise clouds started disappearing.
We came back to hotel packed our bags had breakfast and started back to Hyderabad. On the way you will find many grapes you will like it.
As we started at 10pm, the temperature started increasing and we moved ahead leaving Nandi Hills behind.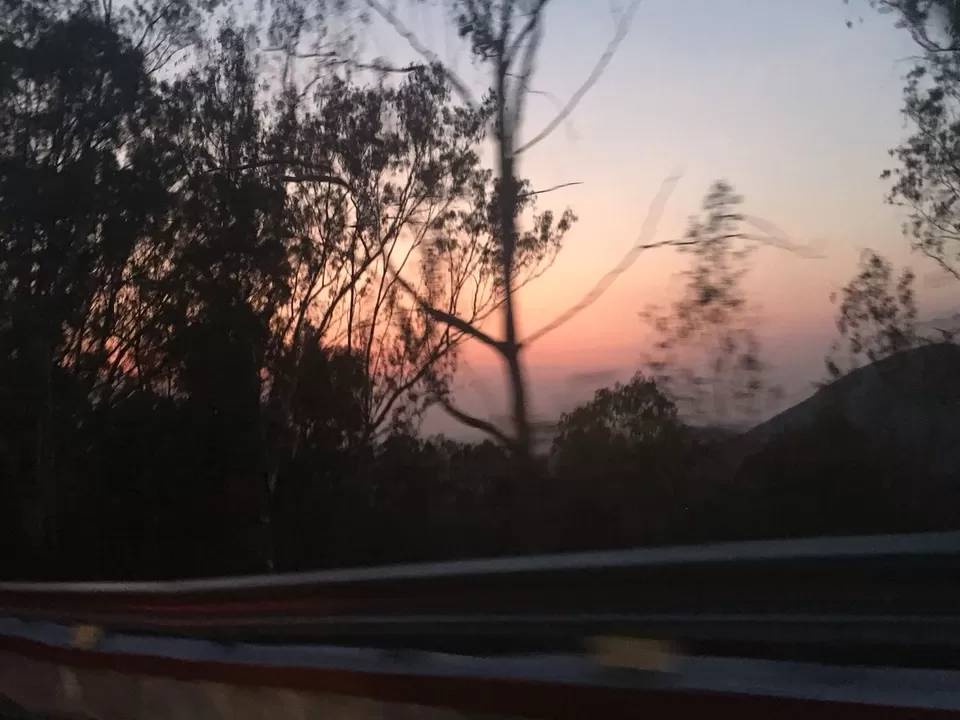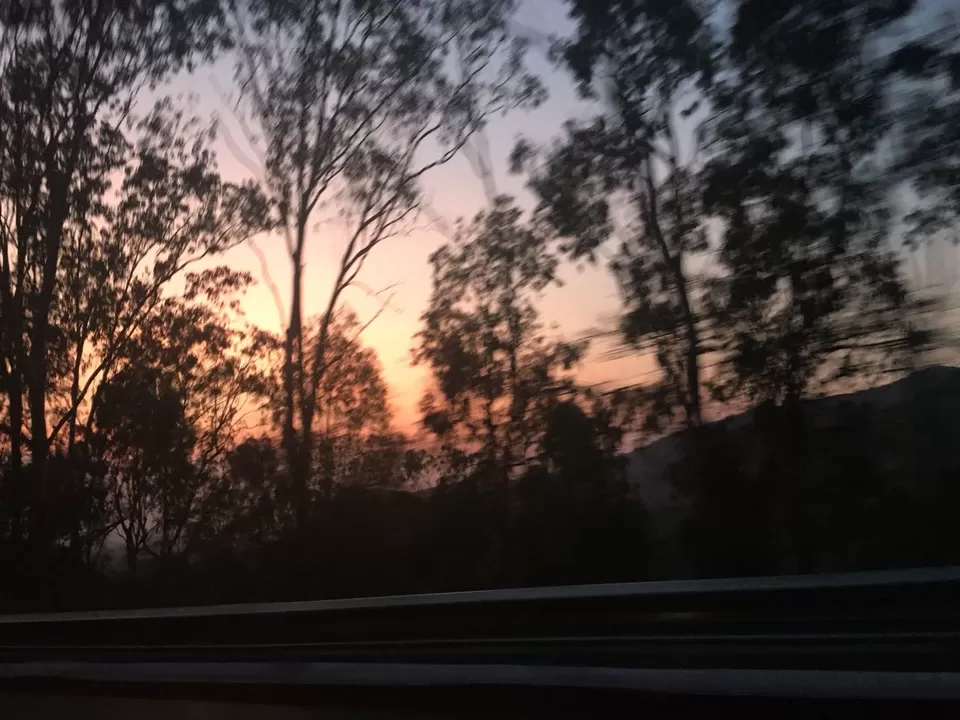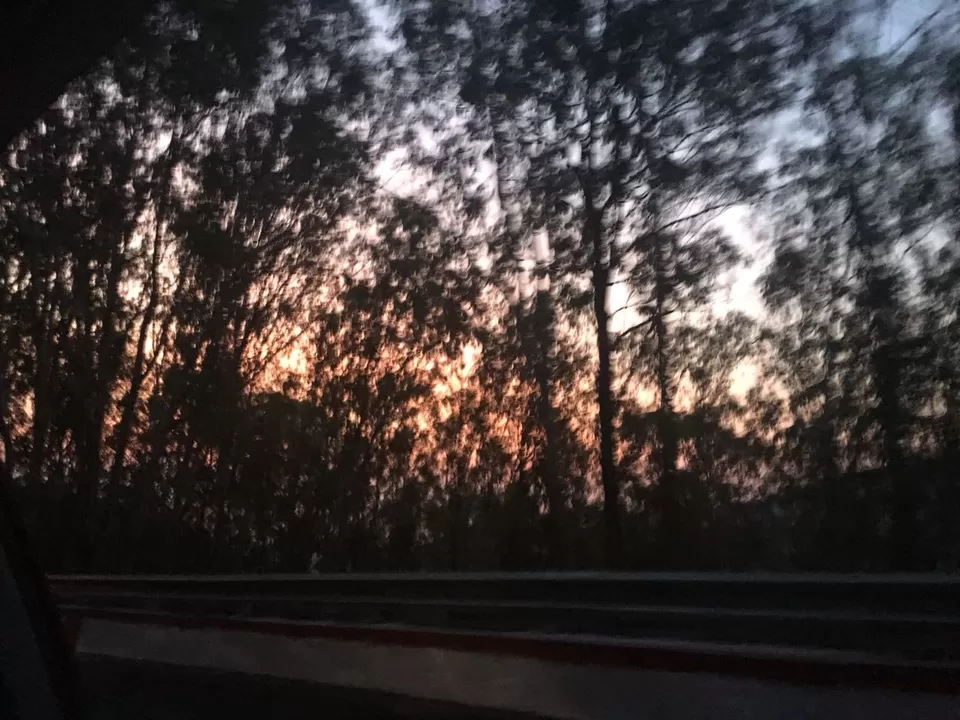 We started going in 2hrs, I covered around 275km has been covered. On the way we want to take a small break and little rest for my Goofy. We stopped at Anantapur for a quick snack bite and the temperature was 43 degrees. We started back to Hyderabad.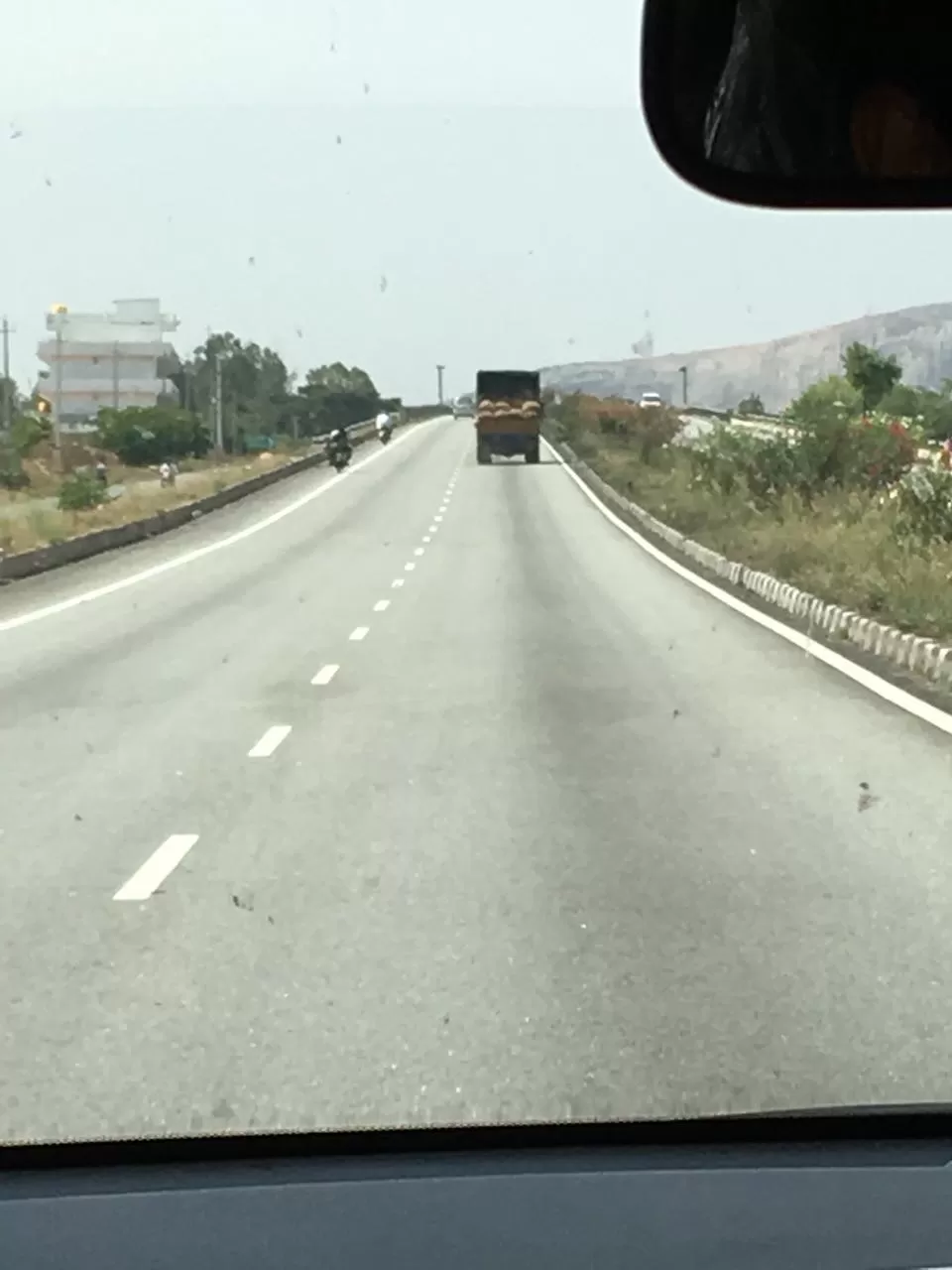 Suddenly, it started raining so heavily we had to go slow. After sometime we stopped for Lunch around 2pm. It was a heavy "Rayalseema Thali". It was good taste.
After long 7hrs journey we reached home destination.
Note: Tolls from Hyderabad to Nandi Hills costs Rs600(one way).
Frequent searches leading to this page:-
hyderabad road trip, bangalore hyderabad road trip, hyderabad to goa road trip cost, road trip from hyderabad