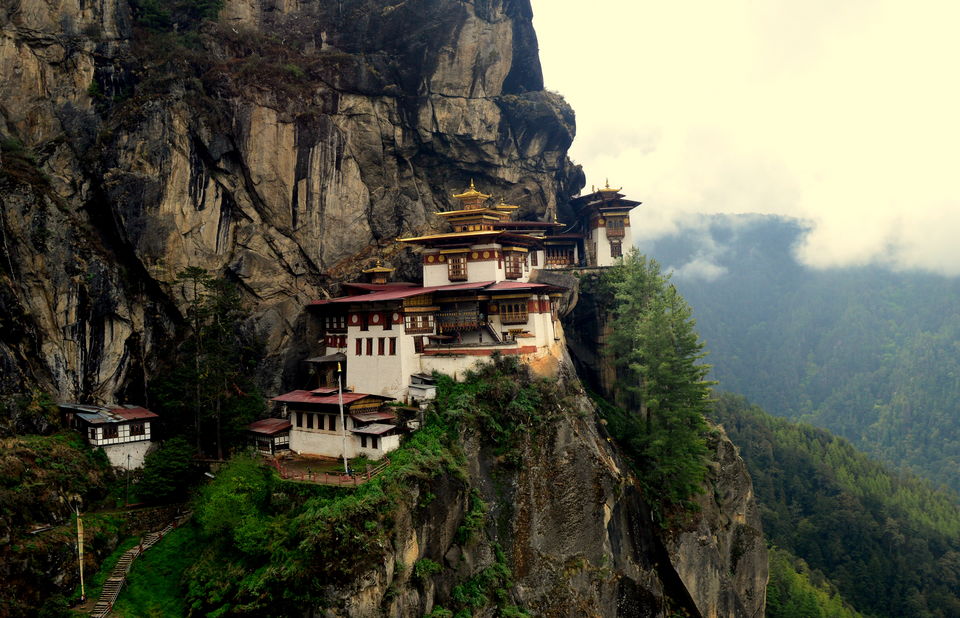 The Royal Kingdom of Bhutan or The Land of the Thunder Dragon has seen a surge in popularity as a tourist destination in recent years and my curiosity related to the country finally resulted in planning a trip in May 2017. The tiny country is considered to be the one of the 'happiest' countries in the world and it was in my mind for quite a while to see what the real fuss is about.
Day 1: Delhi -> Bagdogra -> Phuntsholing
We, a group of seven people had finalized our Bhutan trip in April. As four of us stay in Delhi and three were coming from Kerala, we opted for landing at Bagdogra Airport and then taking a cab provided by our travel agent to cross the border gate and reach Phuntsholing. We reached Phuntsholing in around four hours around 10 PM and instantly the unique and intricate building designs let us know that we have left our country behind. We went to our hotel to sleep, eagerly waiting for our trip to kick start properly the next day.
Day 2: Phuntsholing -> Thimpu
We woke up early on Day 2 and met our guide Sangay who took us for our immigration process. We took around 3 hours at the Department of Immigration to get our permits and then after lunch we were off to Thimpu. There was initially some concern about the weather but the rain wasn't heavy enough to spoil our plans.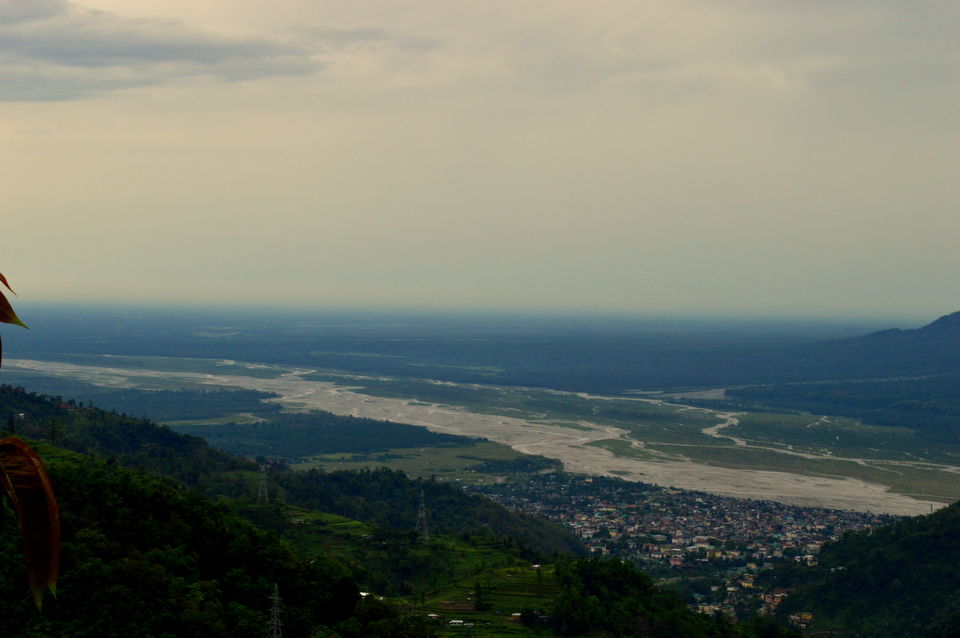 We reached Thimpu at around 8 PM and decided to explore the area have dinner somewhere near our hotel. We had no idea that this decision would give us one of the best memories of the trip. After someone's suggestion we reached Chh'a Bistro & Bar which was about to be closed but after some insistence they did let us in. This restaurant was beautifully decorated with bikes, tyres etc. The owner was super friendly and the best host ever. He told us about his motorcycle stories and spent time with us when we were having our delicious dinner. The loveliest gesture by him was after dinner when he gifted us a bottle of wine for our trip ahead.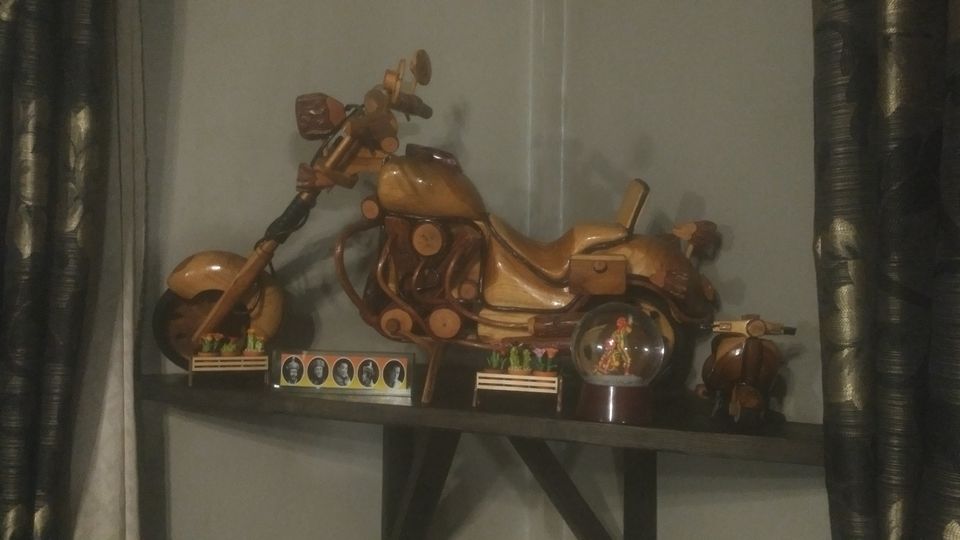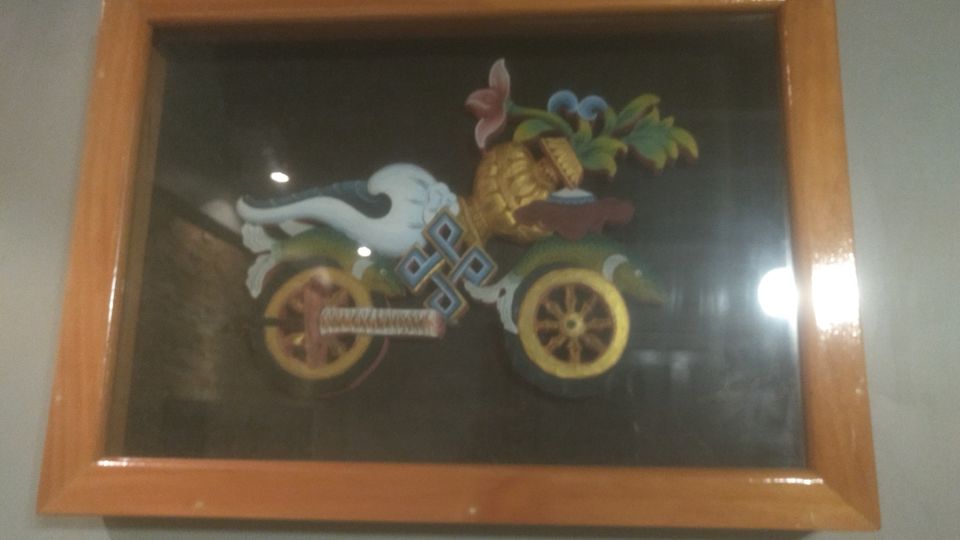 Day 3: Thimpu -> Punakha via Dochula Pass
On the third day we traveled to Punakha and visited Dochula Pass on the way. At Dochula Pass we saw the beautiful 108 stupas known as "Druk Wangyal Chortens".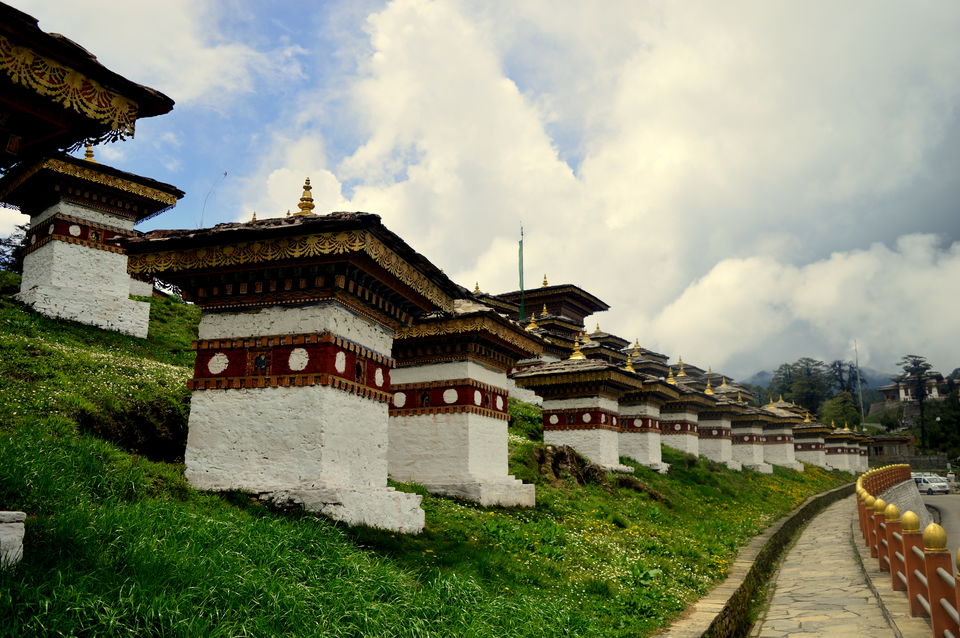 After spending some time at the serene Dochula Pass we also went to Lamperi Botanical Park. The park is a must visit for anyone who wants to spend some time in peace and enjoy the nature.
Once we reached Punakha in the evening we visited Punakha Dzong which was built in the 17th century on the confluence of the Po and Mo Chu Rivers. There is only one word that describes the view of Punakha Dzong: Breathtaking
Day 4: Punakha -> Phobjikha Valley
Easily my favorite part of the Bhutan trip! I can fall short of superlatives to describe this valley. Before we went to our lodge we did a nature trail of Phobjikha Valley which lasted around 2 hours. It would have much shorter if the Rain Gods had spared us.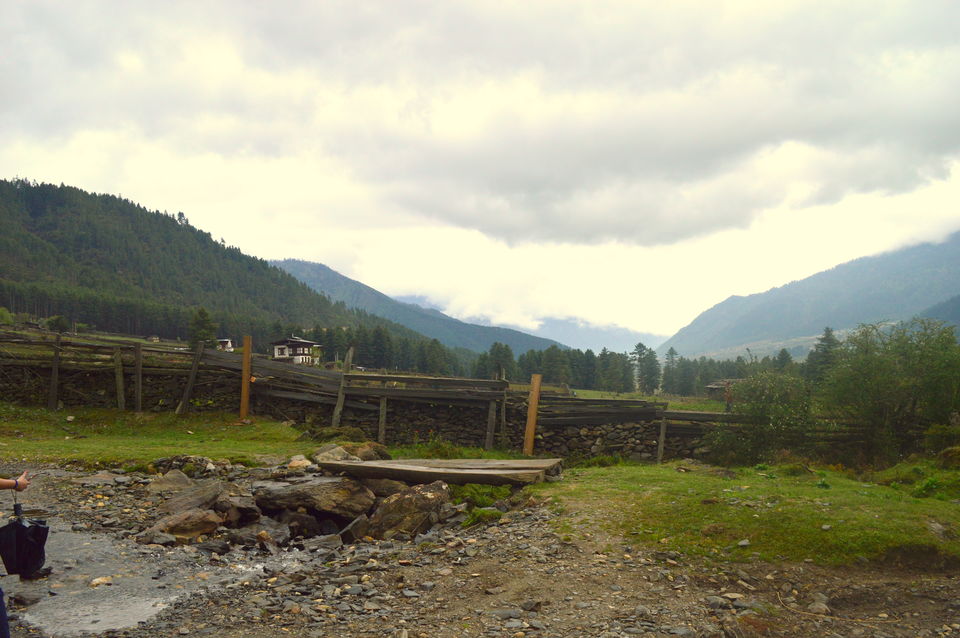 Absolutely drenched (not that anyone cared), we reached our Lodge and from inside the wooden rooms we were treated to this view -
Day 5: Phobjikha Valley -> Paro
Another long drive later we reached Paro in the evening. We went to the market in Paro and did some souvenir shopping. After an evening of constant bargaining the Bhutan shopping was done. We slept relatively early as the ardous journey to Tiger's Nest awaited us next morning.
Day 6: Paro -> Phuntsholing
They say no Bhutan trip is complete without visiting Tiger's Nest/ Paro Taktsang. Legend says that a former wife of an emperor, known as Yeshe Tsogyal, willingly became a disciple of Guru Rinpoche (Padmasambahva) in Tibet. She transformed herself into a tigress and carried the Guru on her back from Tibet to the present location of the Taktsang in Bhutan. In one of the caves here, the Guru then performed meditation and emerged in eight incarnated forms (manifestations) and the place became holy. Subsequently, the place came to be known as the "Tiger's Nest".
The trek to the top of Tiger's Nest is no child's play. Its advisable to use a stick and do it slowly. Its not a race! I personally was huffing an puffing in the first 15 mins (carrying my heavy bag was a big mistake) but then once I got used to the rough steps I managed to reach the top of the monastery in less than two hours. The entire physical effort was totally worth it. The monastery was stunning from inside too and we spent some time meditating in the monastery and then we went back down to the city for our final lunch in Bhutan.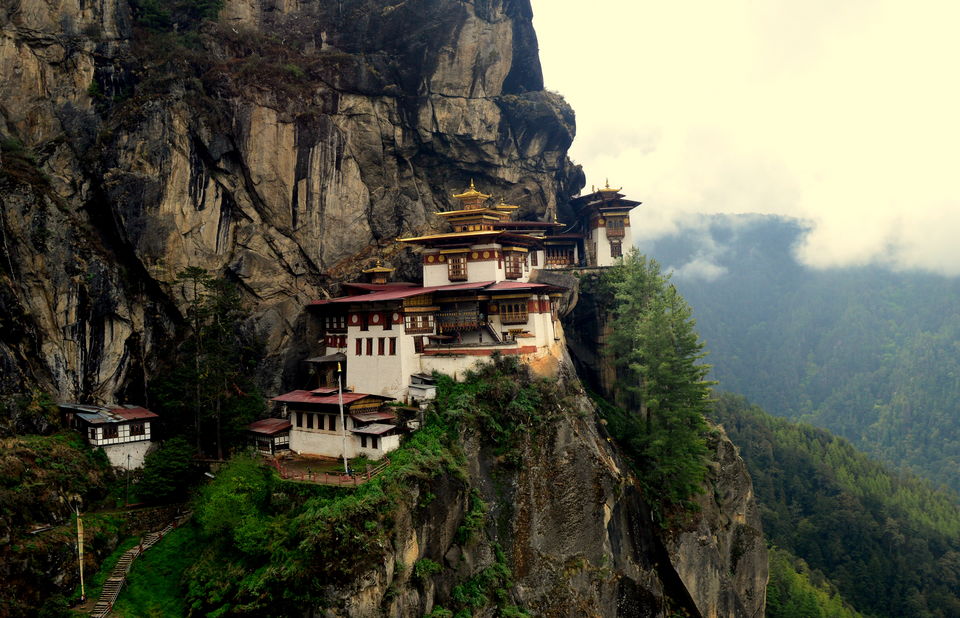 After lunch we headed back towards Phuntsholing. After reaching the hotel we said goodbye to our guide Sangay. A special thank you to Sangay without whom our trip would never have gone so smoothly.
Day 7: Back Home
We woke up early and said goodbye to Bhutan and headed towards Bagdogra to catch our flight to Delhi.
The Bhutan journey easily ranks among my favorite trips ever. Not only was the trip memorable but the Bhutan culture and lifestyle also gave me several life lessons. Bhutan is a land of beautiful monasteries and even more beautiful people. One thing is certain that this was not my last visit to Bhutan. I shall be back in the Land Of The Thunder Dragon for sure.
Frequent searches leading to this page:-
Weekend getaways from Bhutan, Weekend getaways near Bhutan, Weekend getaways in Bhutan, Romantic getaways in Bhutan, Top Bhutan tour packages with price, Best places to visit in Bhutan in march, Best things to do in Bhutan