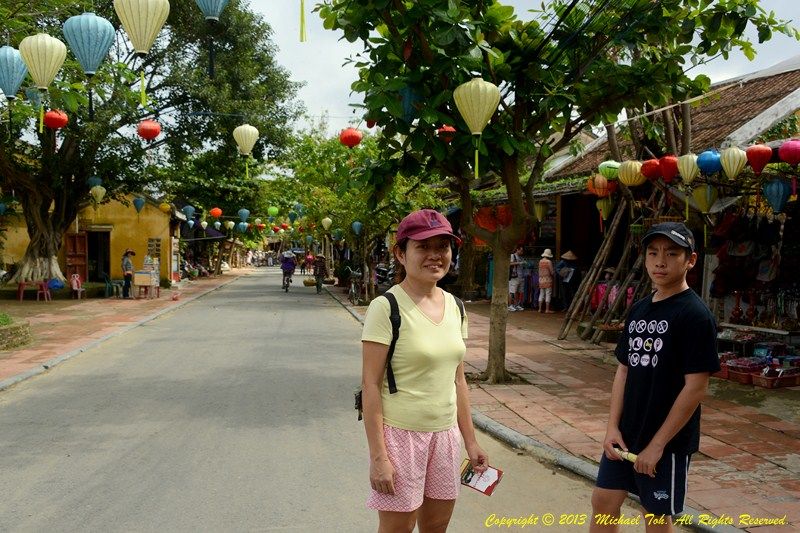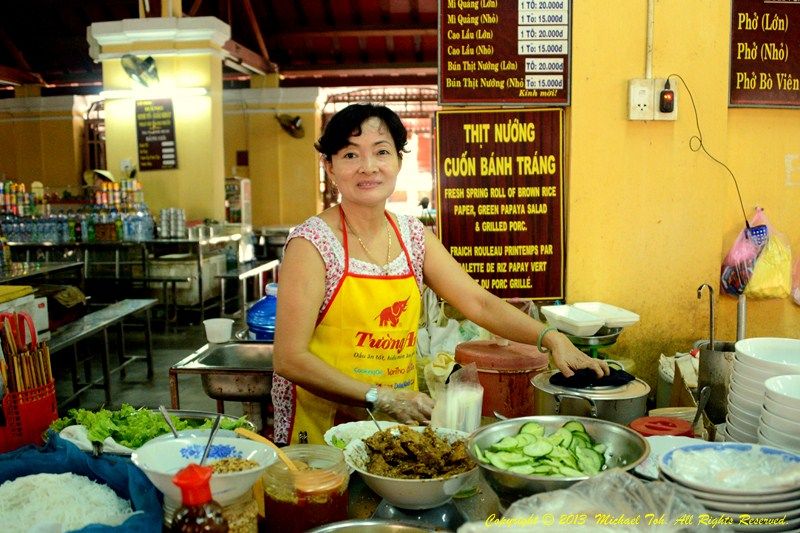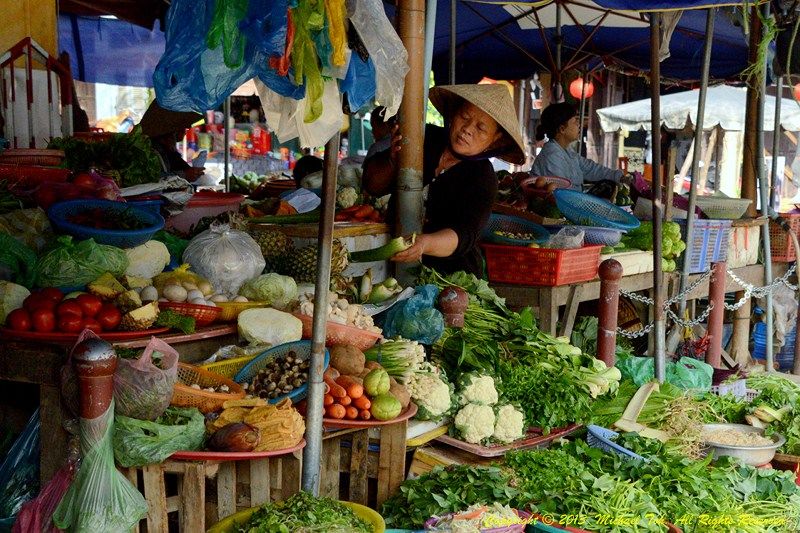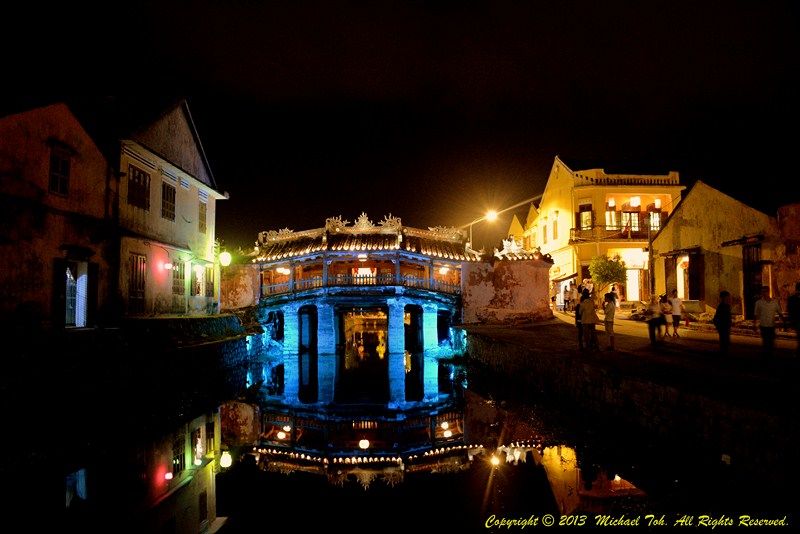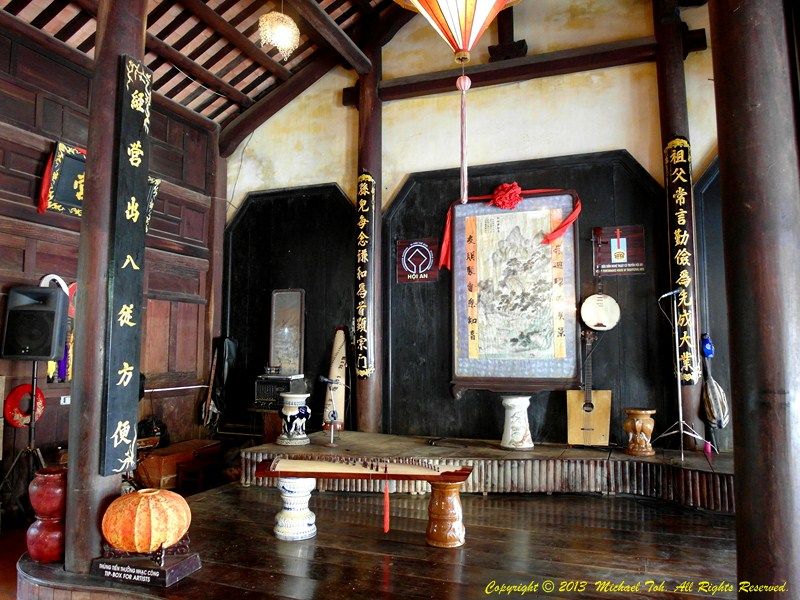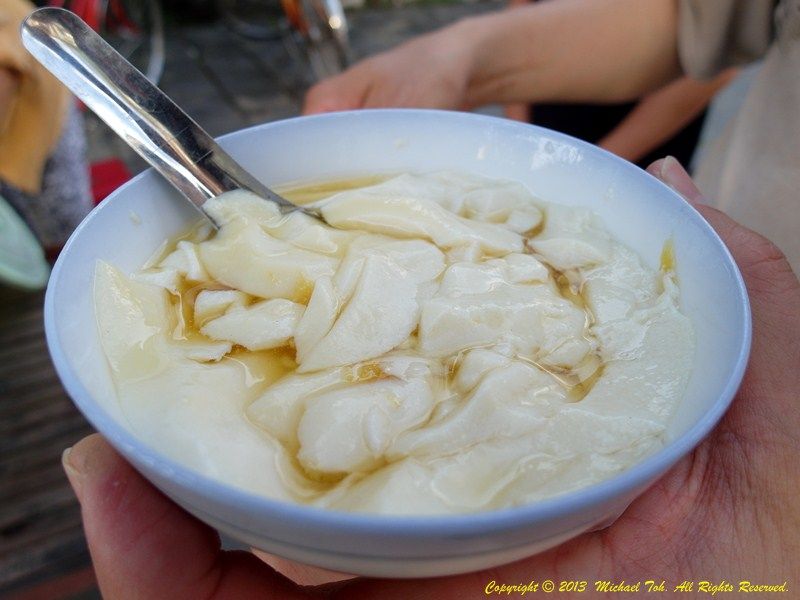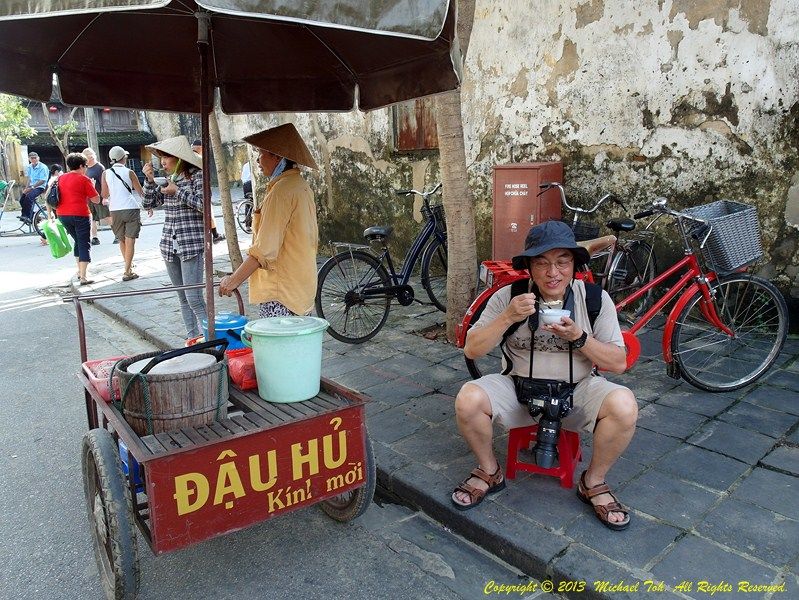 I have been to many UNESCO World Heritage Old Towns in China and Malaysia. While the houses have been well-preserved, most, unfortunately, have been turned into commercial enterprise catering to tourists, and it's like a big shopping mall housed in an old town. Hoi An is very much like that. Thus, sometimes I prefer to visit quiet kampongs instead.
Hoi An, being a UNESCO World Hertiage site, one has to purchase tickets at the gate which allows entry into three of the many sites which need tickets. The colourful lanterns lining the street added to the festive atmosphere for the town, which I can't decide if it beautifies the place or makes it fake.
Chinese, predominantly the Hokkiens (where my ancestors originated) from Guangdong province descended here in 1600s, bringing with them their religions, customs, and architecture. thus, I see familiar temples and buildings as we walked along the streets. Most of the houses have been turned into souvenirs shops, cafe, art galleries, restaurants and handicrafts showrooms. Those that are not in the above categories are designated heritage houses where you can visit with your ticket.
I went into three owned by merchants, one of whom traded in Chinese medicines. The long interior reminded me of my grandma's house at Cuppage Road (which has been turned into a restaurant as well). The indoor courtyard allowed light into the otherwise dark terrace house. Narrow stairway leads upstairs to the what were bedrooms before but now a lantern workshop.
We were told about the annual floods and how the heavy Chinese furniture had to be moved upstairs via a pulley system from outside the house. Marking of the floods are proudly displayed on the pillar, with the month and year clearly stated, with the most recent dated Oct 2013, merely a few days before we arrived. The town is situated next to a river which facilitates trading in the olden days, and these were the inconvenience living next to the flooding river.
To really walk the complete town, one needs a few hours. A better way is to cycle as the whole town is closed to traffic. Most hotels in the vicinity provide free bicycles for guests. Unfortunately, my husband thought it too dangerous to cycle from our hotel due to the traffic outside the old town.
One of the more interesting location for me is the market at the opposite end of the entrance. There, one could try local food for cheap instead of eating at the restaurants or cafes. Much like our hawker centres, one could choose to eat a wide variety of local food there. We chose to try a local noodle stalls. It was delicious. The stall owner had a menu with photos and we just pointed to her.
Much like the wet markets in Singapore, this market also houses a dry area selling dried food, coffee powders and yes, souvenirs for tourists. Further in is the meat section which has been cleaned as business hour was long over.
s we walked along, we see vendors selling snacks along the streets and river banks. I was excited to see a soya custard (served hot) seller on wheels and even though it's not my favourite snack on a hot day, I wanted to eat it for nostalgia sake. This was probably how it was sold in the old days in Singapore as well. (Nowadays in Singapore, it's retailed in pre-packed plastic bowls in chillers.) It tasted the same as in Singapore.
As dusk approached, the lanterns were turned on and the whole town transformed into a fairy land.
Frequent Searches Leading To This Page:-
vietnam tour package from ahmedabad, top vietnam tour packages with price, top vietnam tour packages with holidays, cheapest vietnam tour package, vietnam tour package in indian currency, vietnam tour packages itinerary, holiday package for vietnam