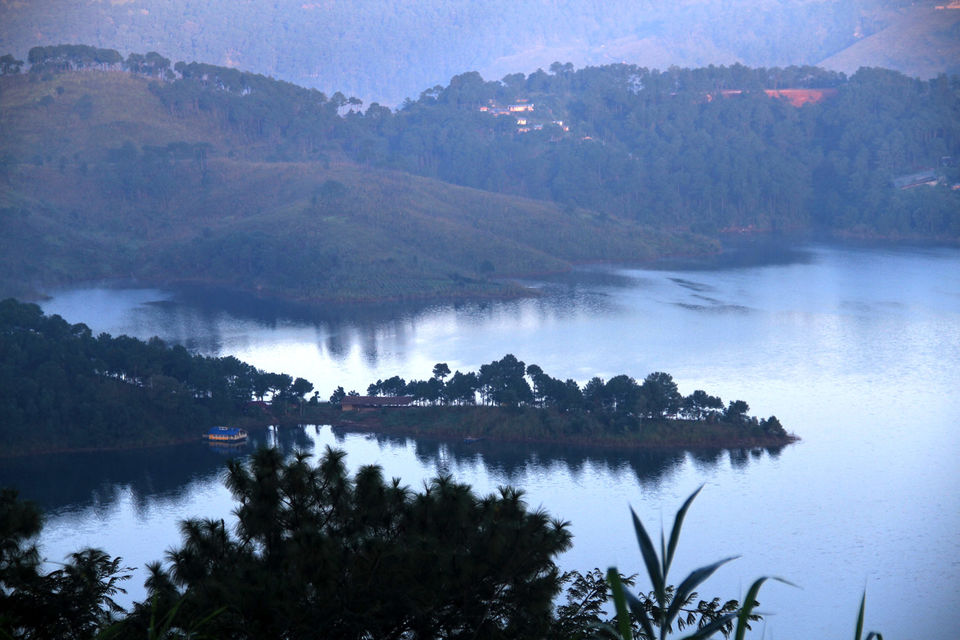 The train reached Guwahati on time at exact 7 PM. The sun had already set and there was hustle and bustle at the railway station. I took my luggage, bid adieu to everyone and got off the train. That feeling when I first set foot on the land of Assam can't be described in words. I for the first time in my life felt like a dream had come true, like it was a déjà-vu moment, as if I was experiencing something that I had already planned to experience long before I was born. For the first time in my life, I felt like I was in a foreign land, though it was my very own country. For the first time in my life, I felt how I had always thought it would have felt when I used to read and hear people describe their travel experiences.
I got off the train, called my friend Pritamjit and told him about my arrival in Guwahati. He instructed me on how to get out of the station step by step like a careful guardian. I was amused. I got out of the exit gate and noticed that it was drizzling outside. It was kind of pleasant. I could hear the crowd noises. There were people hustling outside the station as well. Pritamjit told me about a hotel nearby, which was about 10 minutes rickshaw ride away from the railway station. I took a look around & decided to reach out to the police-guys nearby to ask how to reach the hotel. The policemen themselves seemed confused. They gave me weird instructions which I couldn't really interpret. So I decided to follow my own instinct and went on road to find a rickshaw or auto. I was finally able to convince a rickshaw-waala uncle to take me to the hotel in 50 bucks (Pritamjit clearly instructed me not to pay more than 50). There was traffic jam on the main road. I could see a hanumaan mandir and an adjoining Shiv mandir along the road. There was a Bengali poetry recitation function going on on the other side of the road. A little ahead, I could hear Bengali songs being played. I loved the rain. I loved the traffic. I was enticed by the amalgamation of feelings happening inside my heart. I was excited, scared, thrilled, curious, happy, liberated and what not all at once. I had a good 15 minutes delightful conversation with the rickshaw-waala uncle about the rains, the monsoon, the music, the people, the traffic, the railway station and what not; all about the city. While crossing a flyover, I saw a few hotels on the way, about which I had read on TripAdviser, HolidayIQ, MakeMyTrip and some other such websites during my internet research about affordable accommodation in Guwahati. In another 5 minutes, I was outside the hotel. I got down, gave rickshaw-waala uncle his bucks and went straight in. I checked in the hotel (for the very first time on my own! Still love the feeling!), took my luggage to the room and had a good look around and found nothing that would breach my privacy. Hidden cameras was what I was looking for. Ya right! I then changed and took out my laptop to check if the internet was working. It wasn't! :\ I later realized that bringing my laptop along was a total waste. I was super lazy and hence decided not to go out for dinner & eat whatever titbits I had in my bag. I called Pritamjit and told him about my 'safe' check-in at the hotel. I spent some quality time contemplating about what was happening at that point in time, obsessing about how thrilled I was to be where I was and how if it had to it could also prove really fatal to roam around thousands of kilometers away from home, all alone. I chatted with some friends on WhatsApp, told my best friend about my whereabouts, put an exciting status update on WhatsApp and an even more exciting one on Facebook and then decided to go to sleep, so as to wake up early next morning. The last thought that I possibly remember crossing my mind before sleeping was; "I love it when people don't stare at you like you're an alien." I was already in love with the journey that had just kick-started.
Next morning, I woke up fresh. It was one of those mornings, when you're happy waking up, which apparently never happens, but I was fortunate enough to have had witnessed such mornings during my trip. Each morning was refreshing and each night I had the best good night sleep ever. I did a rough estimated division of time into things I was going to do starting from pooping till reaching Shillong. I called Pritamjit and asked him about how to reach Shillong. He gave me some basic instuctions (in detail) step by step from taking a shared taxi to reaching Shillong. I checked-out of the hotel and asked the manager about where I could possibly find a shared taxi/cab to Shillong. He indicated towards the taxis standing right outside the hotel. I thanked him and started walking out. In the meanwhile, one of the guys who I noticed in the hotel lift while coming down, passed me by in blazing speed, whispering "Is taxi mein mat jaana." in my ear. I was stunned for a few seconds, not being able to comprehend what had just happened. He turned back in a slow motion while continuously walking fast like a dramatic secret agent. I was unable to make out anything out of this encounter. I postponed the idea of taking taxi from outside the hotel as an instant follow-up action to my gut feeling. I kept walking. A regular weekday chaos ruled the roads. I was scanning everything that came in the way of my eyes like a mindful observer. After a 2 minutes walk from the hotel, I finally found the taxi stand I was looking for. I had my favourite breakfast (omlette & chai) in a dhaaba accompanied by a 15 minutes chit chat with Pavitra on the phone. I noticed all men sitting in the dhaaba constantly watching me. I later realized there were no women there. I was the only one talking in my usual loud, shrill punjabi accent and laughing like a maniac over our crazy non-sense conversation on the phone. I finished my naashta and went out to take a taxi, which I instantly found right outside the dhaaba across the road with regular people already seated. I seated myself in the taxi, adjusted my luggage accordingly, & had a good look at all the people sitting in the taxi. They all seemed quite 'genuine' and the taxi ride quite 'safe' as per my mind's conclusion after a good 'rational calculation'. It was a 2 hour taxi ride till Shillong. I plugged in my earphones and seated comfortably enjoying the views outside. It was drizzling pleasantly. When we reached the breath-taking Umiam lake also known as Barapani, I called Pritamjit. His mom was about to reach the spot where I was supposed to be picked up by her. It was at the Umiam lake that I had my very first most intimate encounter with the clouds. I was thrilled to know that I was actually, literally passing through the clouds. I sneaked a peak at my fellow passengers and saw no signs of excitement on their faces. That was a spoiler for a few seconds. I thought to myself, routine makes the human mind dull & monotonous. I was drunk in beauty all through till I reached Shillong. My body was in the taxi but my spirit was flying outside amongst the clouds. I felt like I could almost touch them and it was kind of heart-breaking to know that the clouds were nothing but just some equivalent of fog. I looked at the clouds floating and flirting with the mountains right in front of me, like a freshly fallen in love teenager. I remember how as a kid I would fantasize and imagine myself riding the clouds.
It was chilly. We were in Shillong now. The taxi was passing through little streets and fascinatingly green & clean roads. I had never in my life seen so many north-eastern faces in one go. It almost felt like I was in a different state altogether (which I was for that matter). I was awestruck thinking about the existence of so many diverse sections of people in a single country. For the very first time in my life, I felt like I was an outlander. I got off the taxi and the first thing I witnessed was a local rock performance going on. I took another taxi and reached Buddha temple, near Polo Bazar, where aunty, Pritamjit's mom was waiting to pick me up.
Courtesy my blog post: http://travelsofanindiangirl.wordpress.com/2014/09/25/guwahati-to-shillong/
Frequent searches leading to this page:-
meghalaya tour packages from shillong, meghalaya tour package price, meghalaya tour package cost, meghalaya tour package