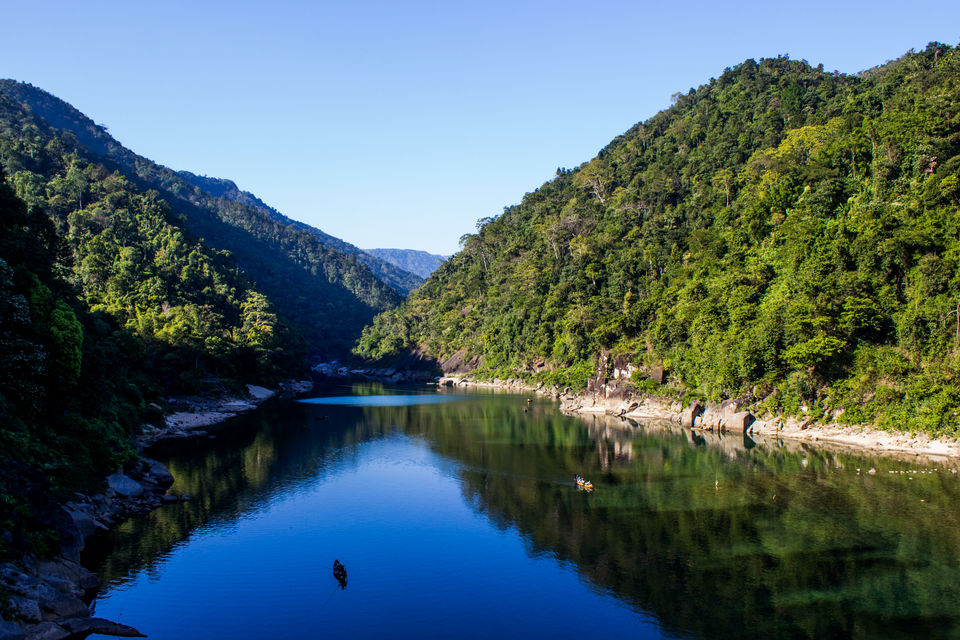 I had successfully managed to not go to NH7 Weekender so I could save up for this musician I had freshly discovered- Eric Martin, who was going to perform in India in November. Eric Martin happens to be the vocalist of a well known band called Mr. Big and has this unique raspy voice that had me hooked for good. After a huge confusion between Guwahati and Shillong, given that the musician was performing in both the cities on consecutive days, I decided that I'd go watch him in the former and then go around exploring Shillong.
We were supposed to reach Guwahati by 11 am on the day that the concert was supposed to be. However, the train kept getting delayed after having started off late and reached Guwahati at around 9 pm. The concert was most certainly over by then. I was disheartened, certainly, but I looked forward to making it work the next day in Shillong.
We left for Shillong next morning, hunted for an inexpensive hotel and decided to split, for it was just one of my friends and I who wanted to watch Eric Martin eventually. I was on a really tight budget and didn't want to spend on front-row tickets, yet, I wanted to be able to watch him up-close and possibly meet him. So I decided to try my luck and gave one of the organizers a call, explained my situation and convinced him to let me click pictures for them in return for free entry. To be on the safe side, the two of us reached the venue hours in advance and waited patiently for the organizers to turn up. I had no idea how the guy I had talked to looked like, his number stayed busy and I had no option but to wait outside the gate. Finally, one of the other organizers took notice that I had been hanging around for exceptionally long, asked me what was up with me and on hearing out my story, handed me an All Area Access volunteer card, almost frustrated.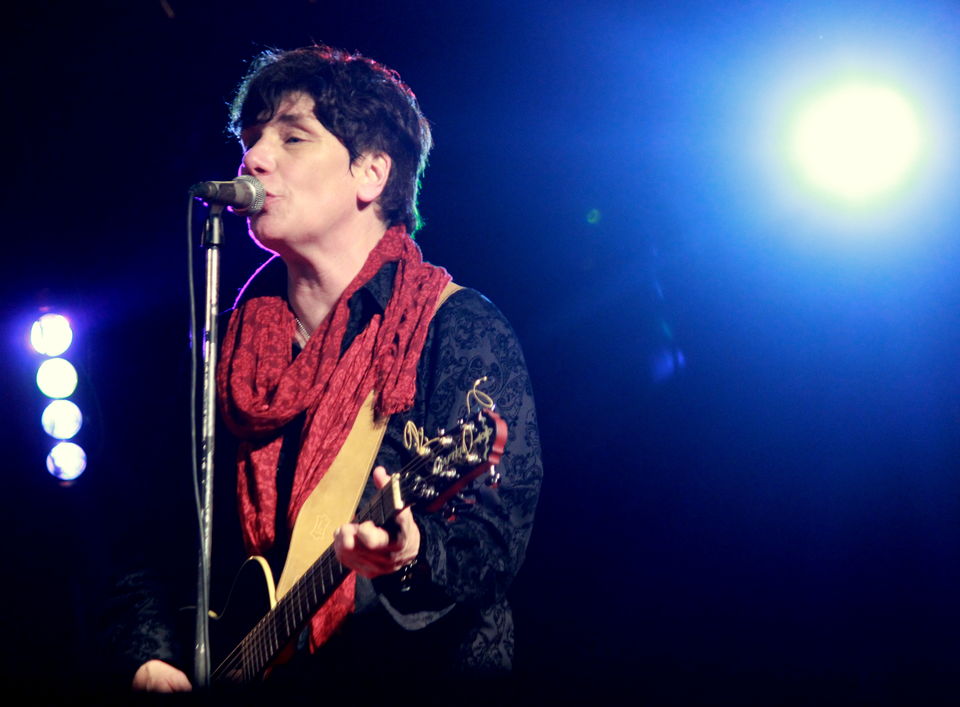 I was beyond thrilled; all my patience had finally paid back and I was all set to have the night of my life. Flash forward to the performance, I remember standing right off the stage, the crowd held back by the cops behind me and sang along while Eric Martin performed some of my favourite songs. My hands shivered in the overwhelming winters of Meghalaya, but I kept clicking. And meanwhile, made friends with a cop on duty, who was also a huge fan. After the concert, he helped me get access to the backstage and meet Eric. I was overjoyed to have my CD of Mr. Big autographed by the singer himself. The adventures that night came to a halt after my friend and I were offered a ride back to our hotel by the cops in their Gypsy, for it was way too late to find public transport.Another incidence on the same trip happened on our last day in Shillong. We set off for Dawki, which is popular for its crystal clear river and a neighbouring village called Tamabil, situated on India-Bangaldesh border. We got off at Dawki, asked around a little and managed to take the contact number of a taxi driver before starting to walk towards the border. It was heart-warming to see the locals crossing the border freely and trucks from Bangladesh entering India without a check. Visitors, however, could not go beyond a certain mark some 150 meters off the border.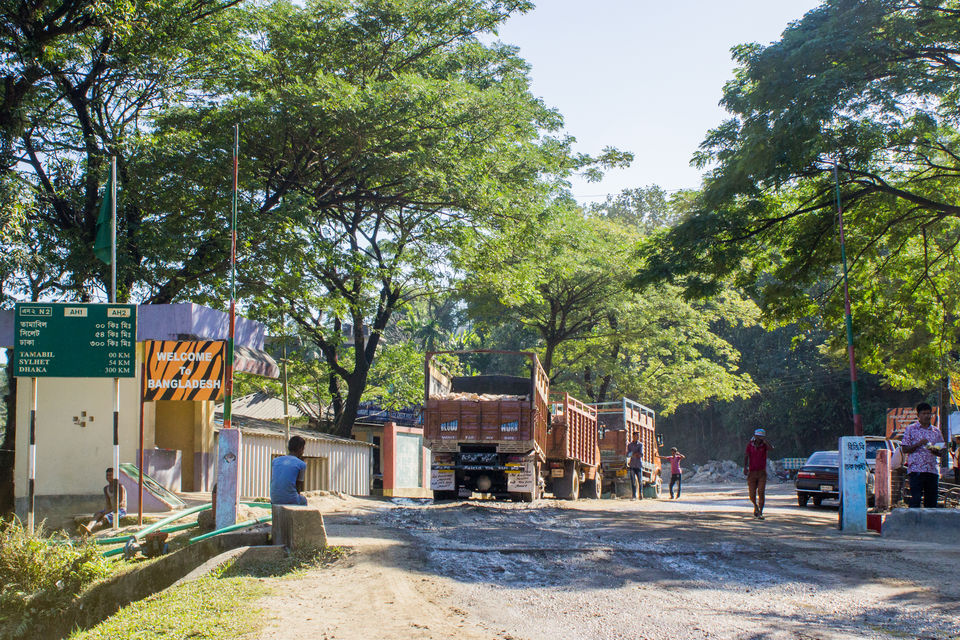 Time flew quicker than we could realize and soon it was almost 5, the sun was about to set and our driver claimed we would not be able to find any transport back to Shillong except the over-priced private taxis and suggested we camped there. We could not have afforded to pay for a tent and let the hotel back in Shillong charge us for the night at the same time. I listened to my intuition again, took a chance and we came back to the taxi stand. I had to talk to a big number of drivers before I found one who settled for a modest price. On our journey back, with Khasi rock songs playing in the car and a starry sky above, we finally asked him the hard to pronounce name of the place we had visited. After a few failed attempts, our driver finally spelled it out for us and we learnt how to say- 'Shnongpdeng'.
Frequent searches leading to this page:-
shillong meghalaya cherrapunji tour, assam shillong meghalaya tour packages, guwahati shillong meghalaya tour packages
When it was time to give the taxi driver a call, the three of us realized that none of our phones had signal. After a little hesitation, I walked up to one of the policemen at the check-post and asked for help. He gladly complied and gave his cell phone to me. Once the taxi arrived, we found ourselves negotiating with him for a gamble. He claimed there was a place roughly seven kilometers uphill which was far better than Dawki, which he could take us to. Again, there was a split in opinions; one of the guys didn't want to go but the other one and I had a huge gut feeling that it is worth a visit. We somehow convinced our friend and less than thirty minutes later, we found ourselves gaping wide at a view that cannot be explained in words.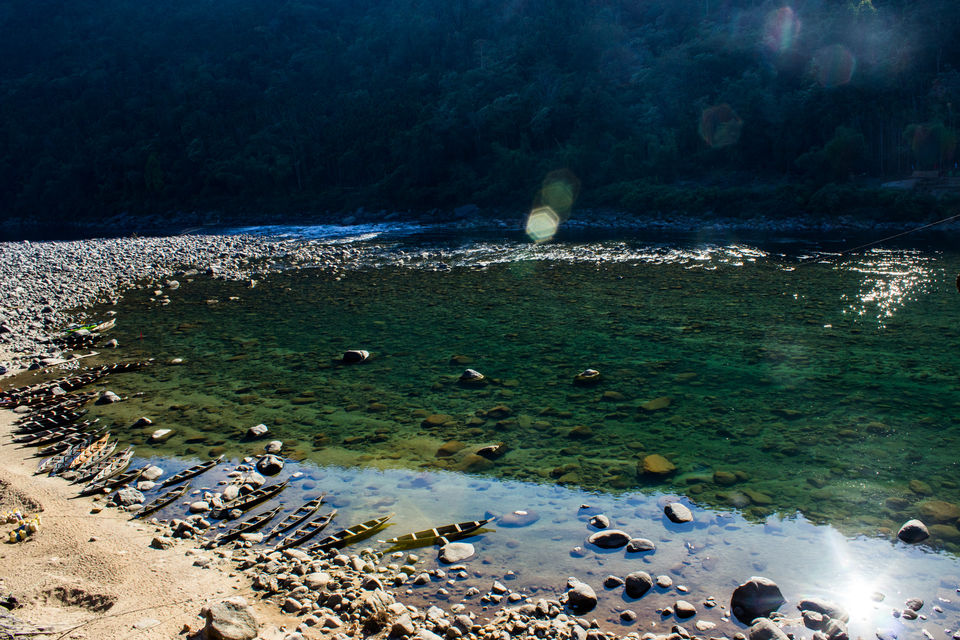 A suspension bridge that started off our feet connected this side of the cliff to the one across. Under it, flowed the clearest waters I had ever seen, of river Umgnot. The tiny boats appeared to be floating on air while the bed of rocks under the water could be seen with utmost clarity. The fact that there was hardly any crowd as compared to the overly crowded Dawki served as icing on the cake. Our originally reluctant friend was now thankful that we brought him there.