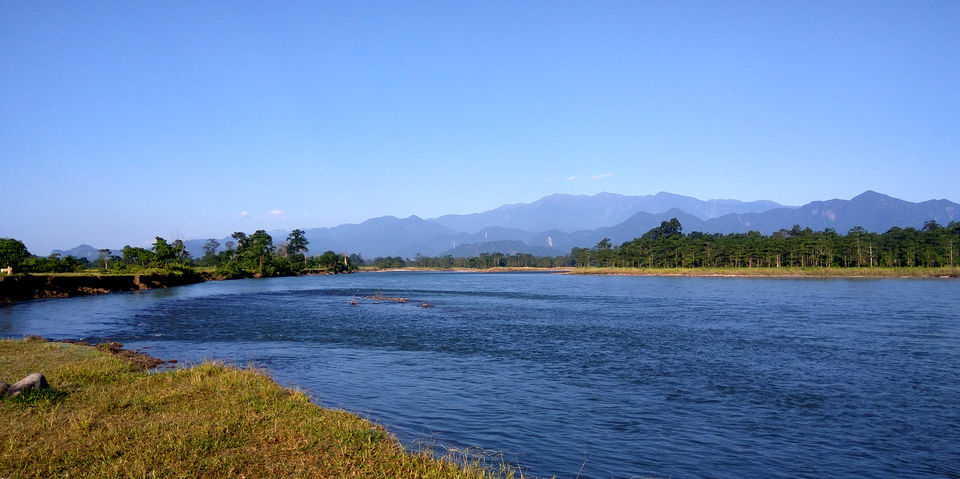 Nameri is around 200 kms from Guwahati and we reached in 4 hours (with a single stop for tea). We were hoping to get rooms in Nameri Eco Camp. I have heard about this Eco Camp for the past 13 years! And yet, didn't have a chance to visit it.
Also, on account of knowing that it is a government property that is over a decade old, I expected it to be a little rundown. I was so mistaken!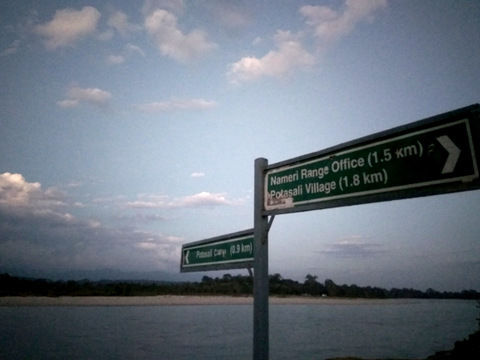 Nameri Eco Camp is taken care of relentlessly by a group of villagers/staff. The receptionists took an effort to dress well in their mekhela chadors and were efficient in providing information. We were also quite lucky because the camp was fully booked (we hadn't pre-booked); and we got rooms only because a party cancelled their reservation.
The camp-site itself is quite lovely. Well-kept lawns, tables, chairs and tree stumps placed at intervals, a set of swings, a bonfire place, a restaurant, a lounge area and well-equipped tents.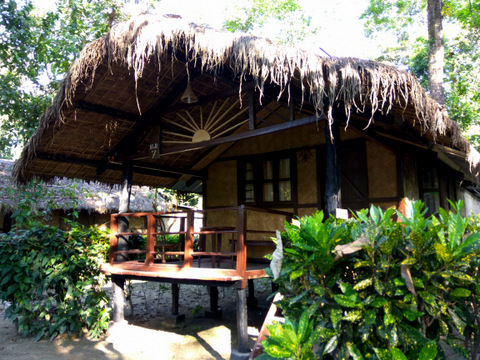 Each tent had a permanent structure as its base, had two beds with attached washroom and changing room. They get a lot of foreign tourists, so facilities such as western toilet and toilet paper are provided. The room itself is cozy and sufficient. Each tent also has its own 'verandah' with a set of chairs and coffee table. And the cost?
Rs. 1400/- per night for a couple (around $20).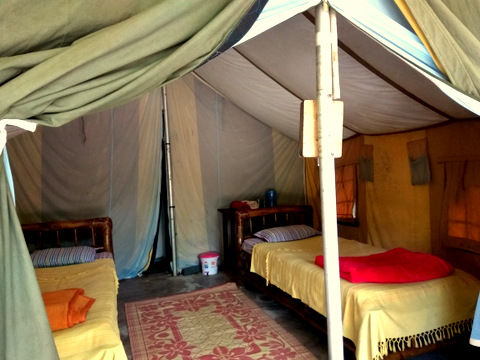 I found the price too "reasonable" to tell the truth. I have stayed in thread-bare tents for double the price!
There are safaris and angling and rafting to do in Nameri.
But we came there as a family to catch up on each others' lives. We are four members living in four different cities. It takes effort to find time where four of us are together. So, this trip was mostly to bond and make up for lost time.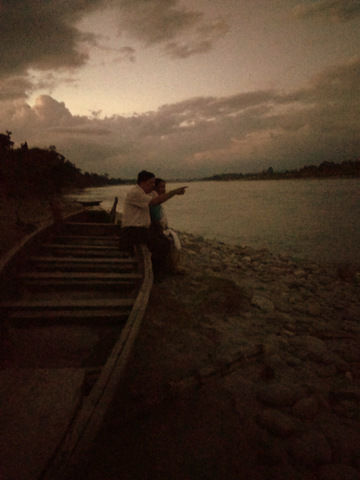 So, we sat around, drinking endless cups of tea and talked. At dusk, we went to the river bank for a while, then came back, sat under the stars and chatted. After the longest time, I saw the night sky without a single obstruction. It was a wonderful feeling; to be with your loved ones in a setting where the outside world can't reach you. (yes, mobile network is sparse!)
Next day, we went to the river banks and took up rafting. By the way, it is technically just boating in a raft! The flow of the river isn't for white water rafting. Four of us were given life-jackets, put on a raft with two local boys oaring for us. The ride lasted around 2hours. Well, the situation was perfect for family bonding. What else do you do when you are put in a boat with your family in the middle of a river?! (Rafting costs Rs. 2800 for four)
We were coming to the end of our stay. Before we left, we bought handloom knick-knacks and brother and I bought a lot of pickles to distribute to our friends! These stores are run by the locals at the camp property.
My sole motto of this quick trip was family time and this quick trip gave us the perfect opportunity to catch up on each others' lives.
And yes, I will come back soon!