I've been to Bali twice. The first time was 4 years ago when I wasn't a blogger, not even as much of a traveler, more of a tourist. I didn't have two weeks in Bali then, just 5 days, and I did see some pretty spectacular places in Bali, but my experience wasn't good enough for me to want to talk about it. The second time, I was (am) both, a traveler and a blogger, so my approach to travel - be it stay, exploring, food, drink, whatever - was different, and I had SUCH a lovely time that I actually want to live there now (considering it for real).
Why?
First - It just spoke to me and accepted me as a part of itself. It's so different from India, and yet so similar. Just two weeks in Bali, and I felt like I was at home. I recognised certain elements of home and I think that made me feel really comfortable there. It also really helps that the place is gorgeous - the lush of the emerald green that surrounds you, the luminous waves that crash against the pristine sands and hypnotise you with their music, the soft puffs of white floating against a clear blue sky... The natural beauty is enough to captivate your senses and have you feeling completely immersed.
Second - it's cheap. Bali is SO cheap. I live in Mumbai. If I were to compare the cost of eating out, a normal dish in a basic restaurant in Mumbai costs the same as a meal at an expensive restaurant or cafe in Bali.
Third - the people. I found a friendly face wherever I went. The locals are some of the kindest, most helpful people I have ever met on my travels, and they go the extra mile to make you feel at home. The Balinese really, really love Bollywood, so don't be surprised if they quote a Shah Rukh Khan movie out of nowhere, or maybe even break into a bit of a jig.
So what can I do in my two weeks in Bali?
Alright, two weeks in Bali. TWO WEEKS IN BALI? Is that all you're doing?
I was faced with this question so many times by travellers I met, that I stopped saying it altogether. I saw what they meant though.
I've spent a total of 3 weeks in Bali, so this is by no means an 'ultimate guide', because if it were, you would probably need months to see everything this jewel has to offer. When I left, I left wishing I had that kind of time.
What I will put down here, though, will give you a wonderful experience in some of the best places in Bali So if you've only got two weeks in Bali, or less, you'll find everything you need right here.
Bali is pretty big, so basing yourself in one place for the entire duration of your trip and exploring from there will not make much sense - you'll spend forever traveling and won't even get enough time in each location. So pick areas you want to focus on and book your stay there for a few nights each.
Where to go
Here's how you can split your two weeks in Bali -
Kuta / Seminyak / Legian - 2 nights
Canggu - 3 nights
Nusa Lembongan / Gili - 3 nights
Ubud - 3-4 nights
Yogyakarta (Java, not Bali, but worth a visit) - 2 nights
Kuta / Seminyak / Legian
This is THE most touristy spot in Bali, but I'm mentioning it because if you're traveling to Bali for the first time, it's probably a good place for you to orient yourself. Get used to the life, the people, the food, and maybe meet some fun travellers you can get out and explore with. Being smack in the centre of the city, it is a hotspot for travellers who are looking to shop, eat, party, and chill.
My advice: If you only have two weeks in Bali, spend maybe a night in this area, or two tops.
This is where you'll find the best nightclubs, popular food spots, and some amazing shopping options.
Some great clubs -
Potatohead Beach Club - A gorgeous property in Seminyak which has a lovely pool and opens right into the beach. You will need to make a reservation, and you can do so right .
La Favela - one of the most popular nightclubs in Bali, it's a good idea to get here early, because the later it gets, the longer the line to get in. It stretched for close to 500 metres when I was there and I was glad I didn't arrive that late.
Canggu
Canggu is like a little bubble. It's the new, hipster hotspot in Bali. Moving out of Kuta and Seminyak and Into Canggu, you'll find an immediate sense of 'chill', owing to the laid-back lifestyle residents of Canggu adopt, which is probably what attracts so many of us.
Head over here to slow down, spend long days at the beach, chase that healthy lifestyle you've always wanted to, and do it all at your own pace. It's a great spot to learn surfing, or if you know surfing, then to catch some waves. Hang at Old Man's cafe, where the young crowd gathers, or visit one of the markets over the weekend.
Canggu is also home to popular nightclubs. Spend your days surfing, and your nights partying. The good life.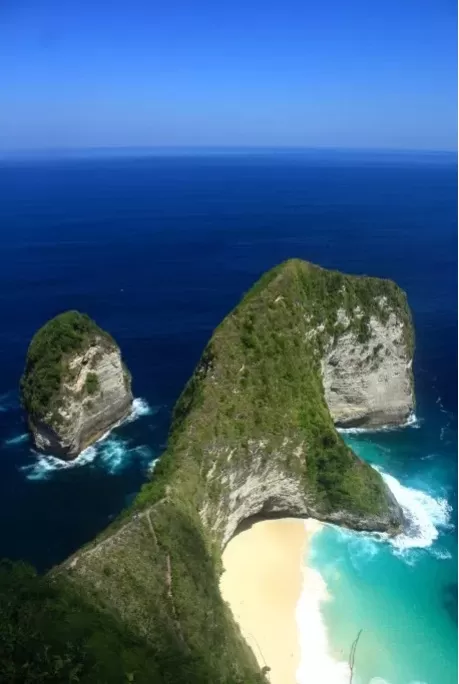 One of my FAVOURITES. Turquoise water, pristine beaches, stunning sunsets, and fewer crowds make this an ideal place to explore at your own pace. Choose to soak in some rays, or hike to a beach, or go snorkelling with manta rays. Base yourself in Nusa Lembongan and explore the 3 islands - Lembongan, Ceningan, and Penida. You could even spend all of your two weeks in Bali right here!
Gili Islands
The 3 islands - Gili Air, Meno and Trawangan - are in the Lombok district of Bali. Air and Meno are quieter, and favoured by those looking for a relaxed, languorous, luxurious vacation, whereas Gili T is the infamous party island. Hire a bike or a scooter and whizz around! Oh, this is also where you find the famous water swings. Prepare for your Instagram to blow up.
Ubud
I wanted to spend all my time here. Ubud is famous for its rolling rice fields and terraces, and you will notice a marked difference between this little part of Bali compared to others. Flush with things to do, you can easily spend a week here exploring the city and the areas surrounding it, but sadly, I only had two weeks in Bali! I went chasing some of the most beautiful waterfalls I have seen, chilled with some monkeys, got my foot stuck in the rice terraces (lol), and met some beautiful people over here.
Go walk among the rice terraces and speak to some of the farmers there. Take yourself on some of the popular hikes. Gift yourself a luxurious spa treatment at one of the many spas.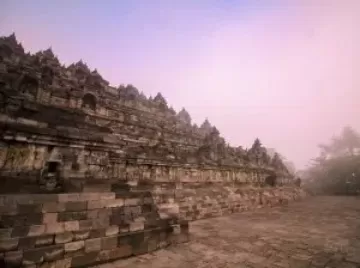 Okay, so this is not Bali, this is Java. Jogja is an hour away by flight, and if you've got two weeks in Bali, I would HIGHLY recommend giving a few nights to Jogja. It's SO different from Bali. You will experience a completely new culture, be it in terms of architecture, temples, customs, food.. And you'll love it. I wanted more time in the city so I could explore the natural wonders surrounding it as well. Check out my post on Jogja - 3 days in Yogyakarta - for a whole piece detailing how to get there, what to do, where to go, what to see, what to eat, the works.
How to get around
Scooter is by far the most popular and easiest way to get around. You can rent one for Rs. 250 - 350 a day (~$4-$5) depending on where you are.
Bicycles are also available for hire, and I would recommend taking one in either Nusa Lembongan or Lombok. I did hire a bicycle when I was in Nusa Lembongan, but the island is made of slopes, so while whizzing downhill is a lot of fun, struggling up is rather arduous. Scooters are a better option, and definitely much quicker too!
If you're traveling in groups of 4-5, you could also book a car for tours. It will work out to roughly the same per person, plus you get to chill (literally) in an air-conditioned vehicle without tiring yourself out with all the driving.
Accomodation
Here's one thing I LOVED about Indonesia. You will ALWAYS find great accommodation, even if you're booking just one night before (guilty). Bali has an array of hotels and hostels to choose from, but you also get the option of choosing a private villa. Here's the lowdown -
Hostels
Hostels are among the cheapest you'll ever find. A GOOD one will cost you anywhere between Rs. 500 - 750 ($7 - $11) per night. You'll find them well-maintained and well-located, with friendly staff and a good bunch of fellow travellers. One of the things I love about hostels is that the staff will ALWAYS help you out with things to do, and you don't need to book anything in advance. Just turn up and ask, and you might even find some local gems that a website won't tell you ????
Here are the ones I stayed at -
Seminyak - Karisa Pods. Clean, compact, has a pool, great location, helpful staff, fun people. Toilets are tiinnnyyyy though, so be prepared for your knees to be jammed up against the door if you're anywhere near 'tall'.
Ubud - Griya Sugriwa. Clean, well-kept, super helpful staff, walkable from Ubud centre. Lembongan - Lembongan Hostel. Slightly out-of-the-way, but great accommodation. Scooters available for hire, and helpful staff make it a decent budget option for Lembongan. This is where I'd suggest you take up a villa, though. Worth it.
Hotels
The usual. International chains largely maintain their standards of service, so if you're a flash packer or someone who prefers luxury, you'll know what to expect. I would not recommend staying in a hotel in Bali, though. It doesn't feel as organic as the life there. So if luxury and service is a priority, hop on to the next option!
Villas
Oh, they don't do villas anywhere like they do in Bali. Private villas are usually in quiet areas, surrounded by lush greenery, and come with their own private pool (sometimes an infinity pool) and private staff (you may have to pay extra for their services). These villas are kitted out - luxurious bathrooms, sundecks, a bar, a pool - everything you may require for a relaxed vacation. There's a villa for everyone, depending on your budget. Remember - you've got two weeks in Bali, and pampering yourself for one night at the very least is something you DESERVE. Book one of these. You won't regret it.
I stayed at Serenity River Villa in Canggu. It was beyond beautiful. Spacious cottages, a private pool, a fancy dining area, you name it and you had it. Super helpful and friendly staff who whipped up fantastic food. Couldn't ask for anything more.
What to eat
I LOVE BALINESE FOOD!
There. I said it.
I also love how Bali has something for EVERYONE, so don't fear if you're a vegetarian or a vegan, you'll find something, and it will be GOOD.
Warungs
The local 'warungs' or 'small restaurants' serve the BEST food. Try the Nasi Goreng, or Mie Goreng. Vegetarians can try the Gado Gado or the Cap Cay for a taste of the local cuisine.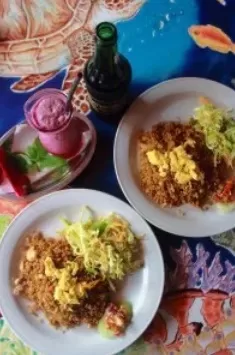 Cafes
Indonesian coffee is known to be delicious, especially the Luwak coffee, which is prepared by roasting coffee beans that have been digested by a Luwak (or civet). Grab a cuppa!
Smoothie Bowl Cafes
I LOVE the smoothie bowl culture in Bali! Bali has some of the sweetest fruits I have ever eaten, so this was an absolute delight. A lot of cafes that specialise in serving smoothies and smoothie bowls are largely vegan, right from their coffee to their desserts. I'd say try them out, whether you're vegan or not.
I actually wrote an entire post on the food you should be trying in Bali, and where you can find it.
(If you have two weeks in Bali, EAT SOMETHING NEW EVERYDAY!)
STREET FOOD!!
BEST. Satays, nasi goreng, cut fruit, juices, shakes... You'll find everything on the streets itself, and it doesn't get more local than that. Nor cheaper.
Word of advice - Bali Belly is a real thing. I didn't fall victim to it BECAUSE of street food, but if you have a sensitive stomach, exercise a bit of caution and / or carry medication.
I can't wait to go back to Bali. It might be insta-famous, it might be a tourist hotspot, but it's all with good reason. I hope you have a wonderful time there too! Send me a picture from Bali when you get there.
This blog was originally posted on Peppy Travel Girl.
Frequent searches leading to this page:-
Top Bali tour packages with price, Bali honeymoon package from Delhi India, top places to visit in Bali for honeymoon, best places to visit in Bali for honeymoon, best places to visit in Bali Indonesia for honeymoon, best places to visit in Bali for bachelors, best places to visit in Bali for singles