Koramangala has had an interesting journey from being an outskirt settlement post-independence to the most desired area for living in Bangalore after the technology boom. Today one of the most hip areas for the young at heart, its boulevards are not just lined by trees, but innumerable cafes, bistros and rooftop bars. Close proximity to the Electronics city and many colleges along with a posh neighbourhood, always keeps it in business and abuzz with city-energy. Let us explore some of its best cafes, to give you a break from that regular Café Coffee Day and Starbucks…
Dyu Art Café
A charming mixture of a Kerala home and a Portuguese Villa, this café surely has an English soul. Cozy spaces and lush surroundings with no wifi, encourages you to really be with yourself. Read from their mini-library or if you are lucky interact with an artist; we were lucky to have a caricaturist drawing for us.
The in-house art installations keep changing every 3 months, with some quirky fixtures like the upcycled old manual tailoring machines that serve as tables.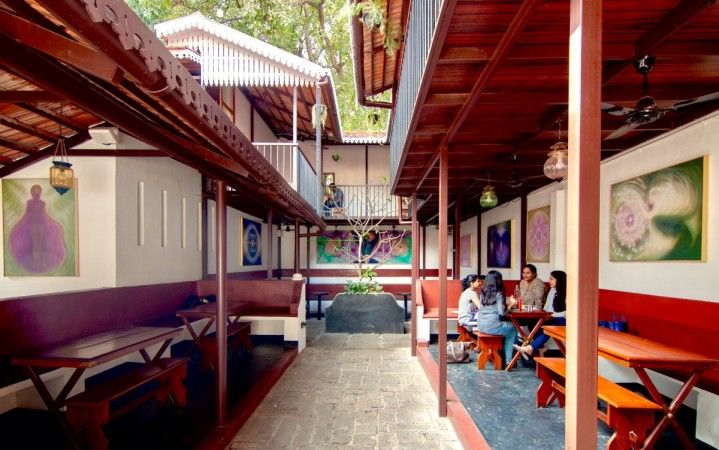 The café smells of its perfectly baked loafs, no wonder, they have an all-day breakfast menu that is best-selling along with a rich menu of toasts and Sandwiches. The most delightful thing is the equally wide choice of hot and cold drinks – and an eclectic mix of Coffees, Teas, Limes and even an Ayurvedic Concoction amongst them. Italian food again has equally enticing choices in both veg and non-veg across Pizzas and main course. Pies are sinful with Banoffee topping the charts, literally!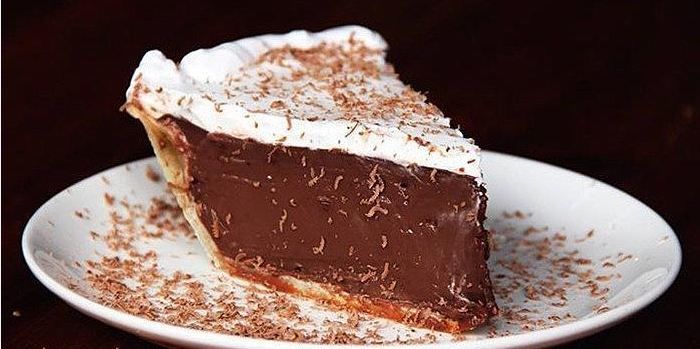 Cost: INR 1000 for two including taxes
Cuisine: Fast food, Italian, Cafe
Standout dishes: Banoffee Pie, Coffee, Carrot Cake, Cheese Balls
Timings and location: 10 am to 1030 pm; Koramangala 5th Block
Contact: 9742076685
Om Made Café
Ambience makes all that difference to a café, and so we talk about Om Made Café. It's a rooftop lifestyle cafe, perfect for a date night with candle light – romance spawns poetry I guess.. An all-white décor, serenely lit rooftop in the perfect Bangalore weather, caressing breeze and some nice wine, you are all set. It surely is a sanctuary in the midst of the Koramangala buzz.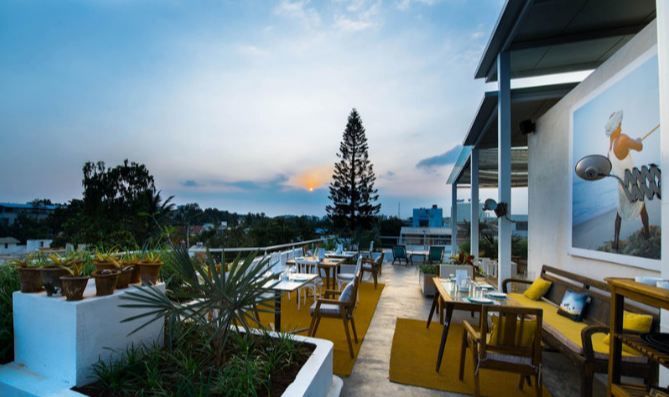 Weekends, they have music nights, featuring music artists from across India. My favorites are their Sangria Sunsets (Saturday evenings), sounds inviting and serve just the right for a Saturday unwinding.
You can start with some fresh cane juice, served in lot of blends – something unique to this café. They do claim to work with only organic food suppliers and hence some vegan variants of traditional recipes like lasagna is available too. Indian and Imported Wines with a bubbles only selection sounds like a good amount of choice. The menu is elaborate with European choices in breakfast, snacks, main course and desserts. Try the Chilli Chai or the saffron Kahwa for something different.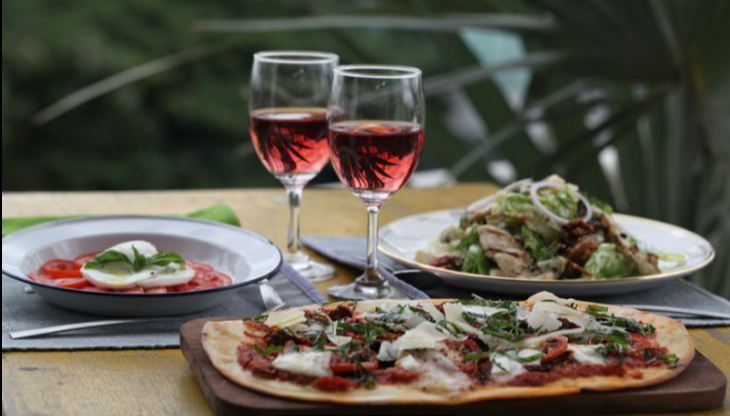 Service is quite personal and the staff will be happy to suggest you drinks and food as per your mood and with good detailing of what goes into it. The food may seem a little over-priced but the ambience makes up for it completely – so here, you are paying for the experience, not just the food.
Cost: INR 1700 for two including taxes
Cuisine: European, Fast food, Cafe
Standout dishes: Selection of Wine, Chocolate Fondue, Flat Bread, Bruschetta
Timings and location: 12 pm to 11 pm; Koramangala 5th Block
Contact: 080 2553 3369
Dialogues
We all know that feeling when you just want to linger on and on in a café without worrying about what to order, how frequently and the fact that you have to order because you are claiming the space… Well, at Dialogues just forget about all this and linger on…. The space is yours, whatever it is you want it for – endless conversations, a project that you need to complete or just plain mindless unwinding.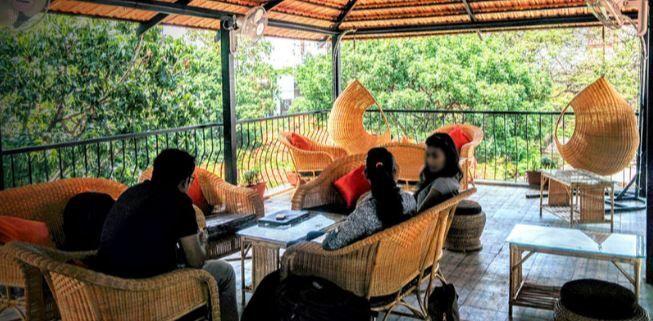 Here, you are charged for the time you spend, not the food! Or anything else for that matter. You just pay by the hour and rest everything is free. They have tailored different packages for Individuals, Entrepreneurs and Businesses and have made them and also give out weekly and monthly passes.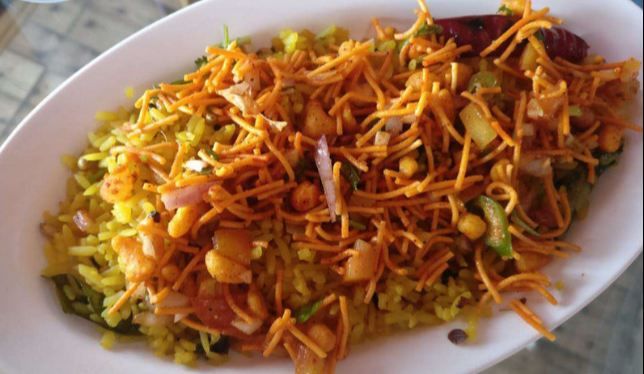 Because space is the focus, they have created many – lounge on the bean bags or sit up on the bar stools; get comfortable on a cane sofa or a wingback – you have ample options. There are open air spaces, and the environment is calm and peaceful. Wifi is free, what more can you ask for! They even have a mini-library to keep you engaged, and keep conducting interesting events for you to look forward to.
Menu is limited and is changed every day; not exceptional, but good enough to keep your cravings at bay.
Cost: INR 380 for two for 1 hour excluding taxes
Cuisine: Fast food, Cafe
Standout dishes: Poha, Pancakes
Timings and location: Opens 10 am; Koramangala 4th Block
Contact: 9811974842
Atta Galatta
Sticking to the places that have tried to stand out by either creating a concept or providing something exceptional, we come to our last café review for now, Atta Galatta. Other than serving some really nice coffee, they serve you with a choice of over 10000 books, in regional languages as well as English – so we are talking about a nostalgic Library aroma along with Coffee's.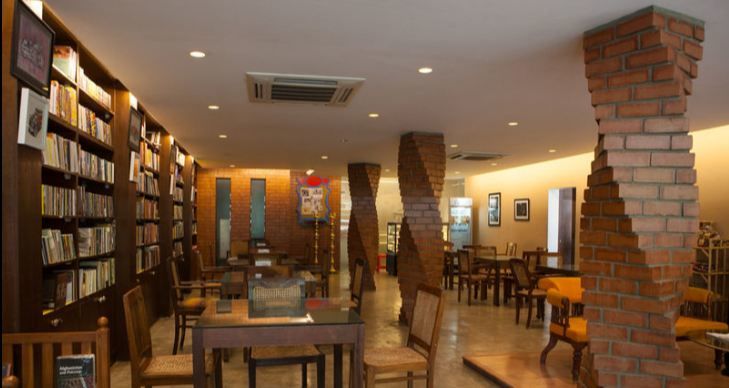 Carrying an old world charm that goes absolutely well with the books all around you, Atta Galatta keeps arranging interesting events like Theatre performances, poetry sessions, book readings, seminars, kids and pets workshops etc. etc. making it more than a café – an engaging space for like-minded people. Weekends are made particularly interesting, keeping in mind the number of participants that can turn up.
The café has even started organizing 'Bengaluru Poetry Festival' and has had 2 successful editions of it already, featuring internationally recognized poets and performers.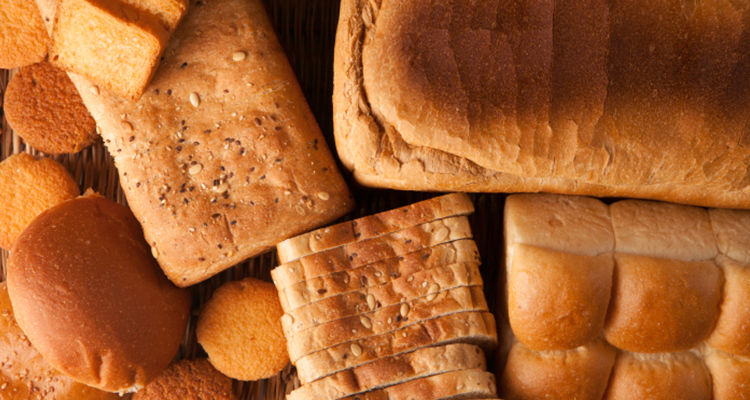 For such a quiet place, so many interesting events and a plethora of books to be read for free – the place is a steal!! Food is very reasonably priced with limited options – but totally justifying its 'café' title.
Cost: INR 200 for two
Cuisine: Bakery, Fast food, Cafe
Standout dishes: Masala Chai, Chicken Burger, Hot Chocolate
Timings and location: 11 am to 8 pm; Koramangala 5th Block
Contact: 096325 10126
Other cafes worth exploring in Koramangala
Claytopia – Paint a ceramic while sipping on a coffee
Coffee on Canvas – For that unstoppable sketcher in you and great food!
Onesta – Best Pizzas on a budget!!
Hole in the Wall Café – For the breakfast lover!!
Dice and Dine Café – 200 odd games including board games