"Mountains are cathedrals where I practice my religion" -Anatoli Boukreev
The initial plan for trekking Kuduremukha was in the month of February 2016, but due to forest fire, the Forest Department stopped giving permission, and we changed our destination to Makutta-Pattimalai. The desire to trek Kuduremukha was still unfulfilled and we were looking for the right time. Though I had opportunity to visit India during May, I did not have a free weekend. During the visit in October, there was an opportunity and I informed the team. Hari was quick enough to arrange the trek on the weekend of 8 th and 9 th October. As the aspirants were more, we had to go for a 20 seater vehicle.
This time we had decided to leave early and reach early so that we can have some rest before the trek. But it happened so that the Bangalore traffic made it impossible to leave on time and many of us had to wait for long in our respective pick up points. Once again, it was quite late by the time we left the city.
The journey was a bit cumbersome as the space in the Swaraj Mazda was cramped for 19 people. But we were excited. We were 19 and had three father-son pairs. The team was Pramod K and Chinmay, Hariprasad and Poornachandra, Bhargav and I, Sujith, Guruprasad, Gururaj, Anantha, Rajendra, Pramod R Gudigar, Varadarajan, Srinivasan, Pratap, Bharat, Yatish, Vinayak Pai and Guru.
For those not familiar, Kuduremukha is a mountain range in the Western Ghats located in Chikkamagaluru district, in Karnataka, India. The name in Kannada is due to the view from side of the mountain that resembles a horse's face. It was also referred to as 'Samseparvata', historically since it was approached from Samse village. Kuduremukh is Karnataka's 3rd highest peak after Mullayangiri and Baba Budangiri. It is a popular trekking spot and there is a town which is a hill station. The home stays at the base camp make it convenient for trekkers.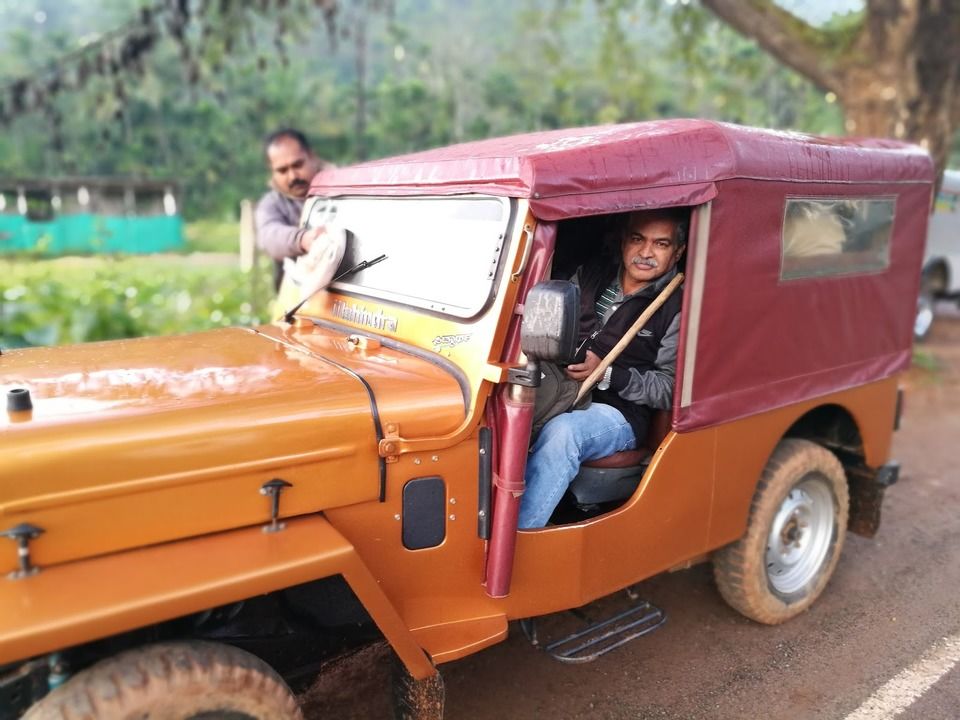 We reached a small village called Balgal at 6.15 am and were taken to Mullodi by jeeps. The jeep track was really slushy as it might have rained there. The distance was 6 kms. We were at Raju Gowda's home stay at Mullodi by 6.45 am. We freshened up and had breakfast of pulao. We were also given packed lunch to carry. The view from there was amazing. From here, we get to see many peaks around and the Somavati River. By 8.15 am, we were ready for the trek and headed to the forest office for permission and seek the guide. Prakash, the guide, was a very nice person. They told us that we had to leave early so that we can return from top before 2pm. It also seemed that hundreds were trekking that day. It was 8.30 am when we started the trek and the trail was very scenic with hills, forest, grassland and streams. There were many wild flowers around. Though we saw few leeches, it was not as comparable to the earlier treks. Many of us were also wearing leech-proof socks.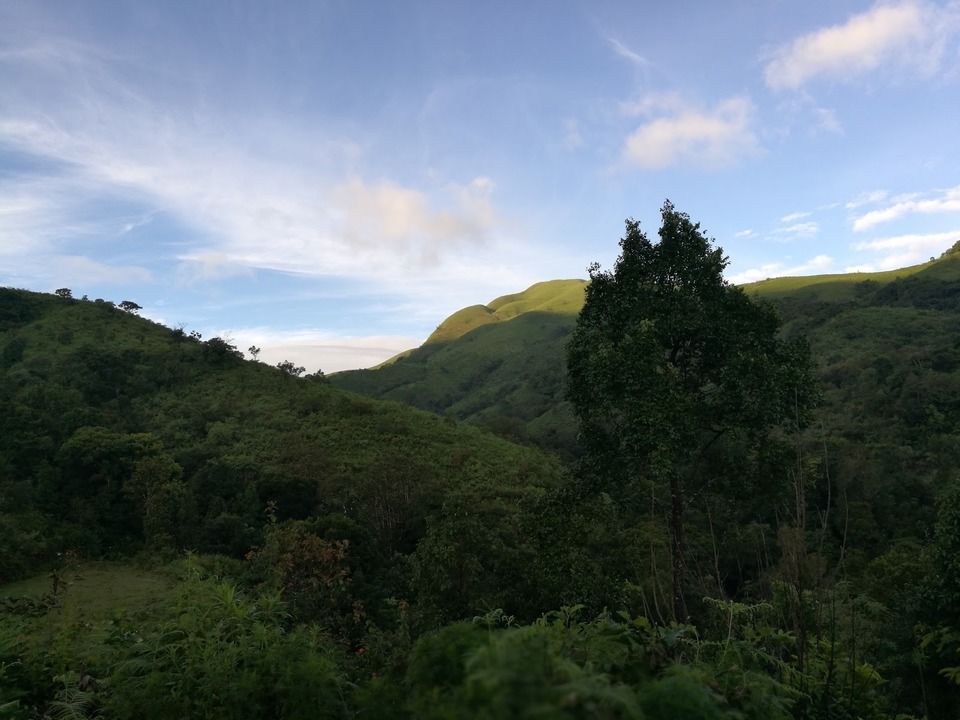 We arrived at a large meadow around 10 am where we stopped for group photo. With about 10 minutes break; we moved forward crossing streams and forests. The young legs of Bhargav and Poorna were clearly fastest. The trail was moderate. We get to see ruins of a house that is supposed to be belonging to the maharajas of Mysore and also an old church. Around noon, we were at a place called "onti mara", a single tree, from where we were supposed to see the horse face, but the dense fog made it difficult.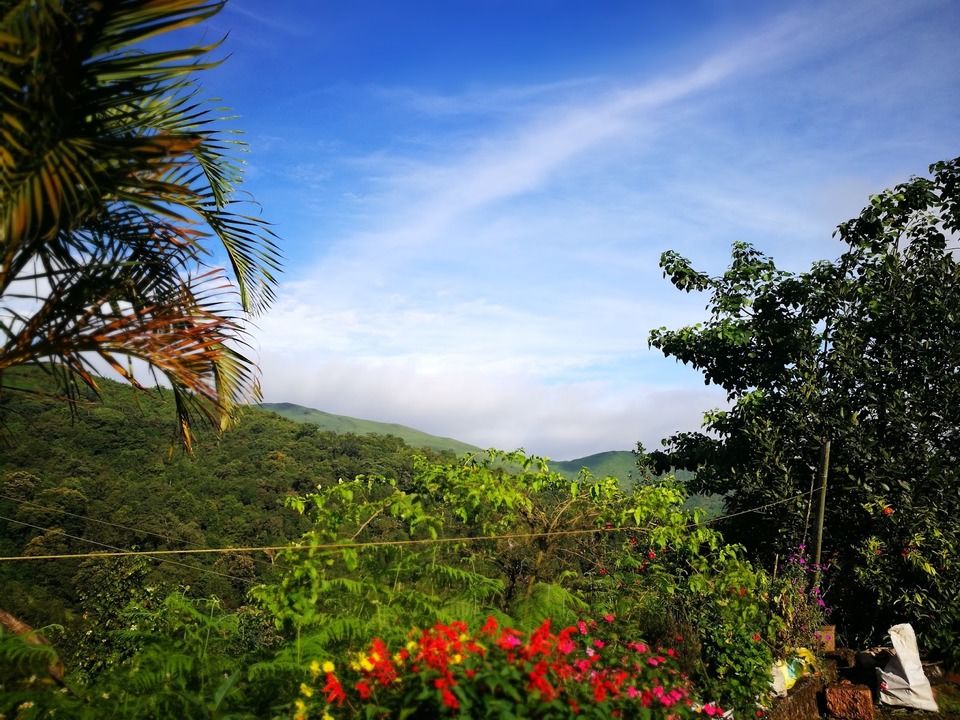 The next trail was again through shola forests, crossing a creek and steep grasslands through zigzag path.Water from streams was very refreshing. We were on the peak around 12:30, and there was jubilation. We had summited one more peak! The view all around was amazing with clouds running everywhere. We got a glimpse of Beltangadi town from the top.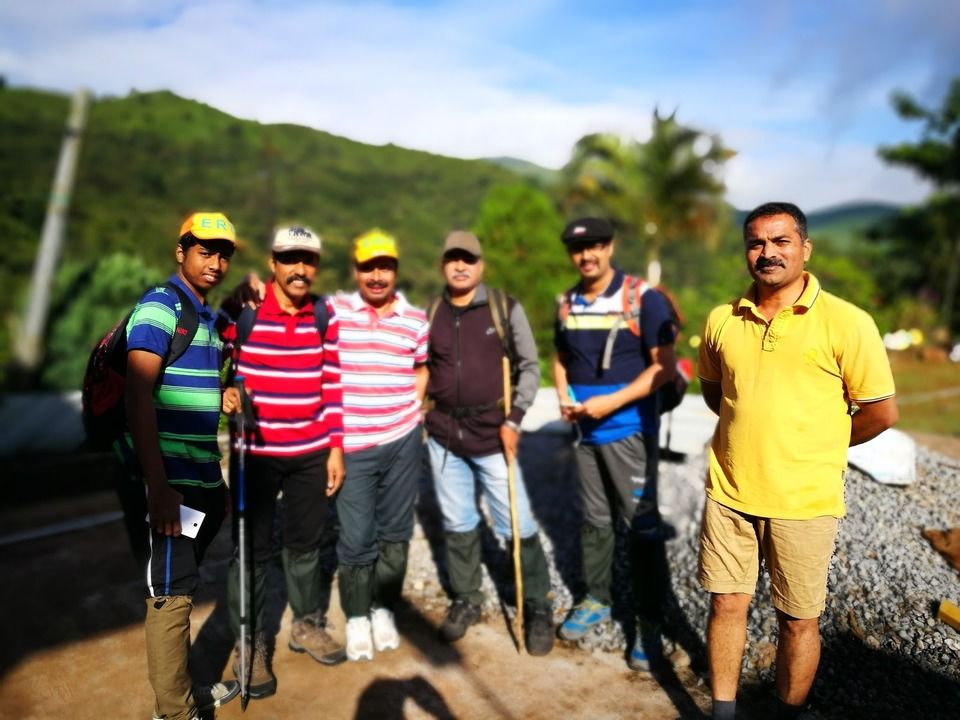 We had the packed lunch, jumped around, posed for photographs for some time and started descending at 2pm. The descent was steep and tricky at some places. Most of us reached the forest office by 5:30 pm. Notable thing was the whole trail did not have plastic or trash which reflects improving awareness among the trekkers.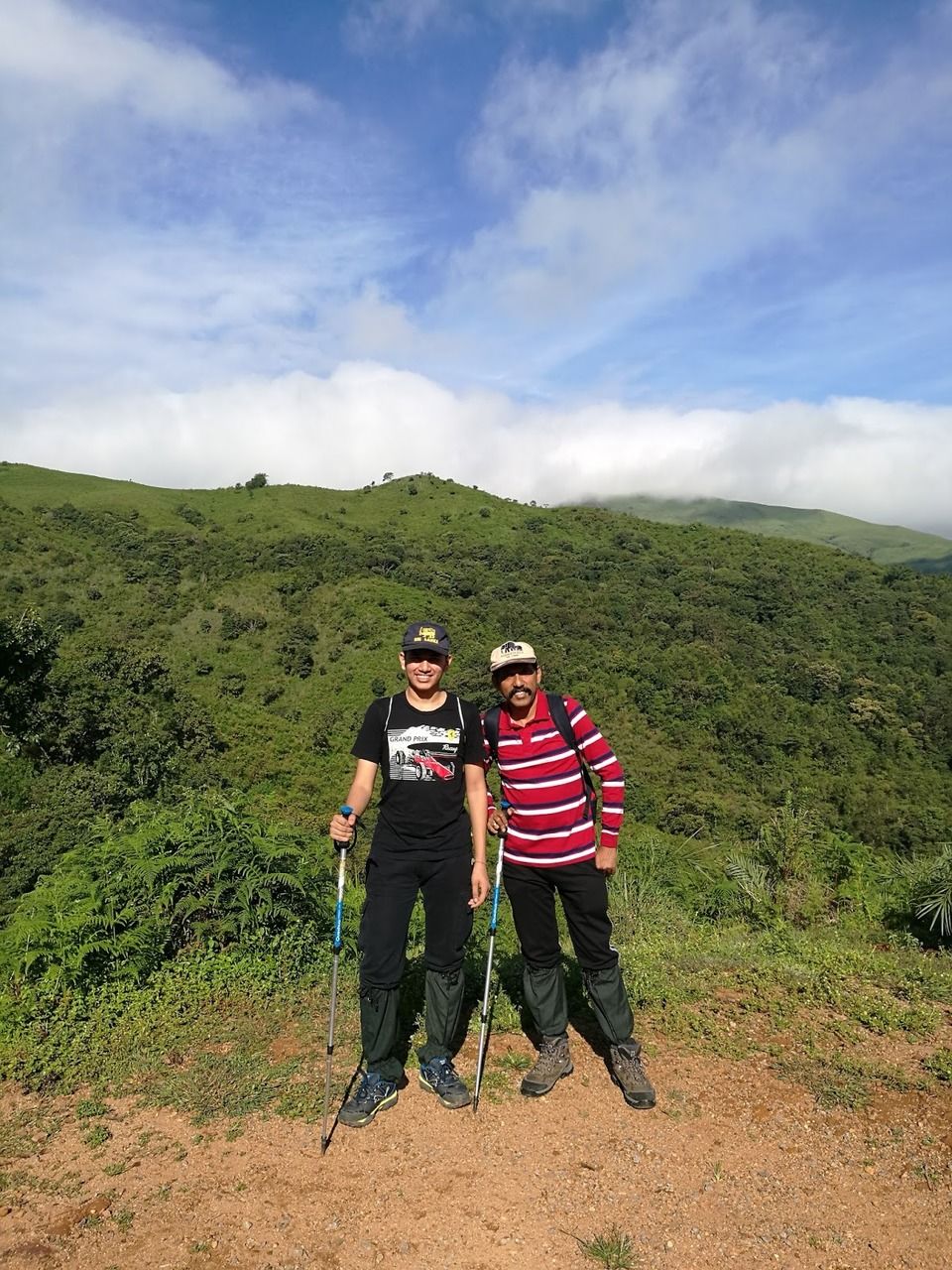 Guruprasad and Sujith got delayed and came much later, leading to some anxiety for us, but there were other teams returning in the darkness of the forest. Around 7pm there was campfire set. There were so many groups. We were given the rooms, but we realized that there were many who stayed in tents; some provided by the home stay, some had brought their own. There was merry time all around and people were singing. At times it sounded like jugal-bandi between different groups. It was a chilli night and the owners provide enough blankets. We had good sleep and woke up early the next morning. The sight of sun rays falling on the peaks in front of the home stay was enthralling. There were nice paddus (rice balls) for breakfast. We had sumptuous food and went for a bath to Somavati river by 9.30 am. The water was cold and refreshing. Sitting below the full force of water was a nice experience and we thoroughly enjoyed the shower.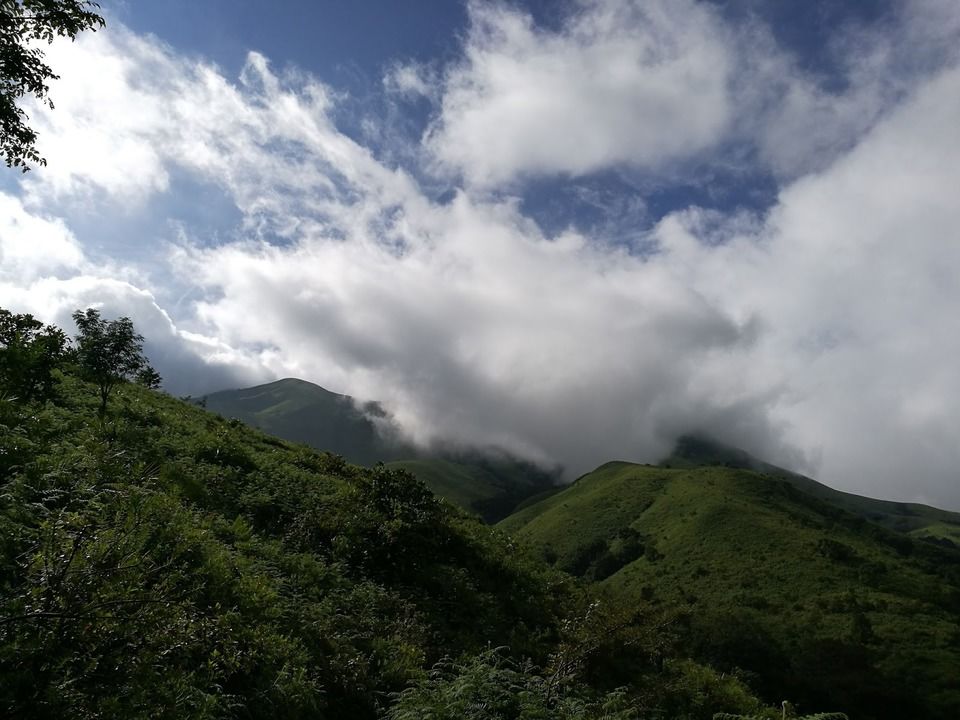 Around 11.20am, we left Raju Gouda's place by jeep for Balgal. We had lunch at a small restaurant in Kottigehara town. On the way back, we played dumb charade in the vehicle and it was lot of fun. We stopped for tea around 2.15pm and were home by evening.
It is nice to keep going close to nature again and again and celebrate the beauty of nature as responsible trekkers. I wish to thank Hari for excellent organization and all my friends for a fantastic company.
This post was originally published on Balu Treks.