January 2018 -The long weekend of 26th January was coming up and Goa being too crowded, I decided to give this offbeat place called Gokarna a chance. My friend also wanted to accompany me on this trip of 3 days. Redbus told me direct buses are available till Gokarna from Pune since I stay in Pune, so the only thing left to do was looking for a hotel/hostel which is not that costly. Our first choice was Zostel but it was already full and none of the other available options were really attracting us as we wanted something close to the beach. So we decided to take a leap of faith and find a place after reaching Gokarna.
Gokarna? Where and Why?
Gokarna is a small town in Karnataka formed by few connected beaches and can easily be covered by walking or on bikes.
In India when we hear the word "beach", the first place that comes to our mind is Goa. But if you are looking for a cheaper, quieter and more serene alternative then head to Gokarna. These are also the reasons why you will find a lot of foreigners there. The best part about Gokarna is that most of the main beaches ( Kudle, Om, Half Moon, Paradise) are connected so if you start walking from Kudle beach you can reach Paradise within 3-4 hours. That might seem a bit long to you but trust me the views and scenery that you get along the way makes it absolutely worthwhile.
How to reach?
If you are taking a flight then Goa airport is the closest and from there you can reach Gokarna by bus or car in 2 hours.
If you are taking a train then closest station is Gokarna Road (8 km away from the main city) but it being a small station is not well connected from major Indian cities. However, Gokarna is connected by rail from Karwar, Ankola, Hubli, Mangalore, Kumta and Margao.
You can get direct buses from Bangalore, Mumbai, Pune to name some major cities.
We boarded a sleeper bus from Pune at around 8pm that reached Gokarna at around 6am.
Day 1
Took an auto from Gokarna bus stand which we shared with two other girls and reached Kudle beach. Now we had the task of looking for a hotel. Since it was early morning and most places were closed, so we decided to wait till 8 and then start searching.
After 8 we took an auto and the driver said we might get accommodation near Om beach. Namaste cafe is the most famous hotel cum restaurant in Gokarna due to its location (right on the Om beach), the beautiful cottages and the amazing food. Since it was the peak season, we absolutely had no hope of getting a room in Namaste Cafe but decided to just try once. Luckily we were told that one cottage will be available from 11am for 2000 rupees per day. So we booked it, kept our bags in the reception and headed to the restaurant of Namaste Cafe for breakfast.
The restaurant is right on the Om beach. Since it's frequented by both foreigners and Indians, their menu has both Continental and Indian dishes.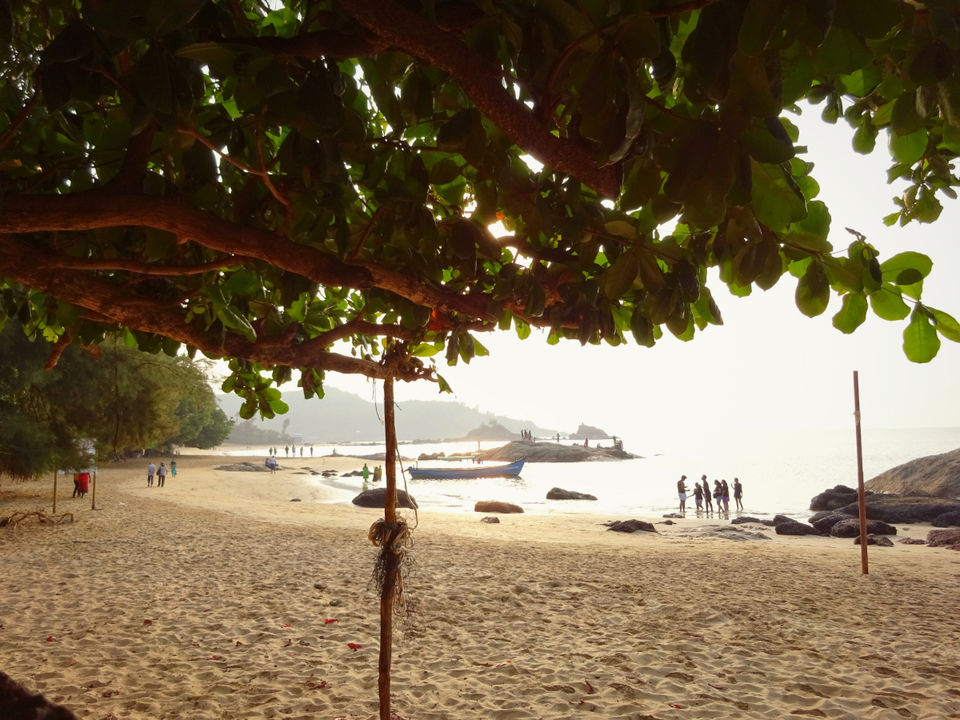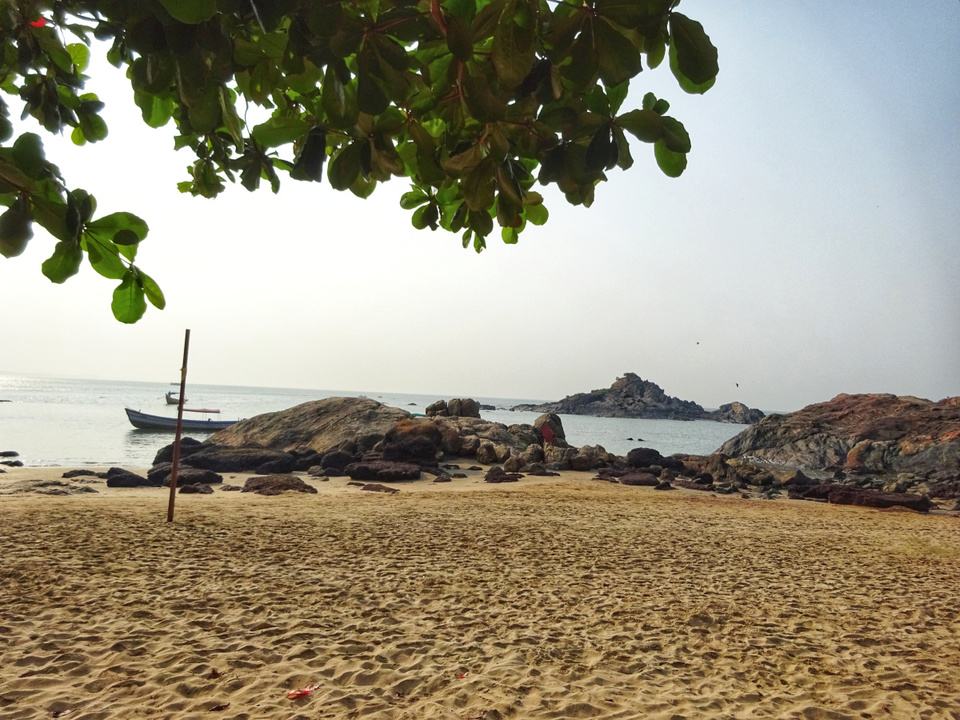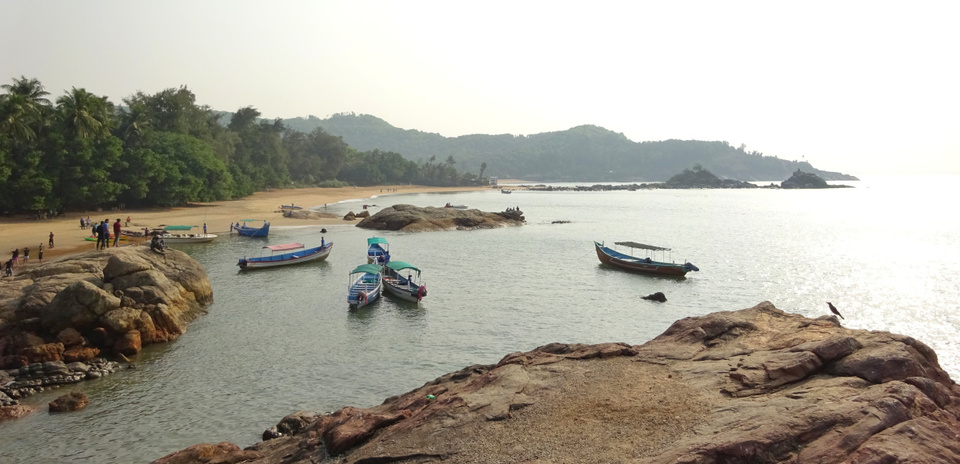 After breakfast we decided to do a motorboat ride which promises you of dolphin sighting. The cost was 300 per person. It starts from Om beach and takes you till the Dolphin point near Paradise beach and back. We did see quite a few dolphins jumping. I just hope their habitat is not too disturbed by the tourists.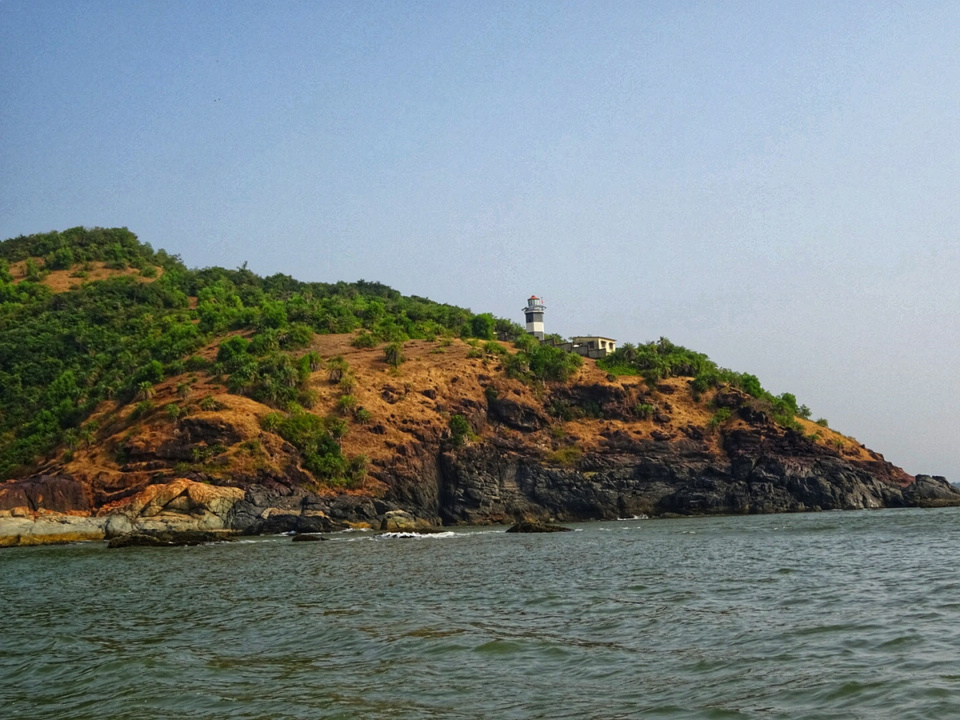 You absolutely cannot miss the sunset in Gokarna and we also got proof why Om (ॐ) beach is named so.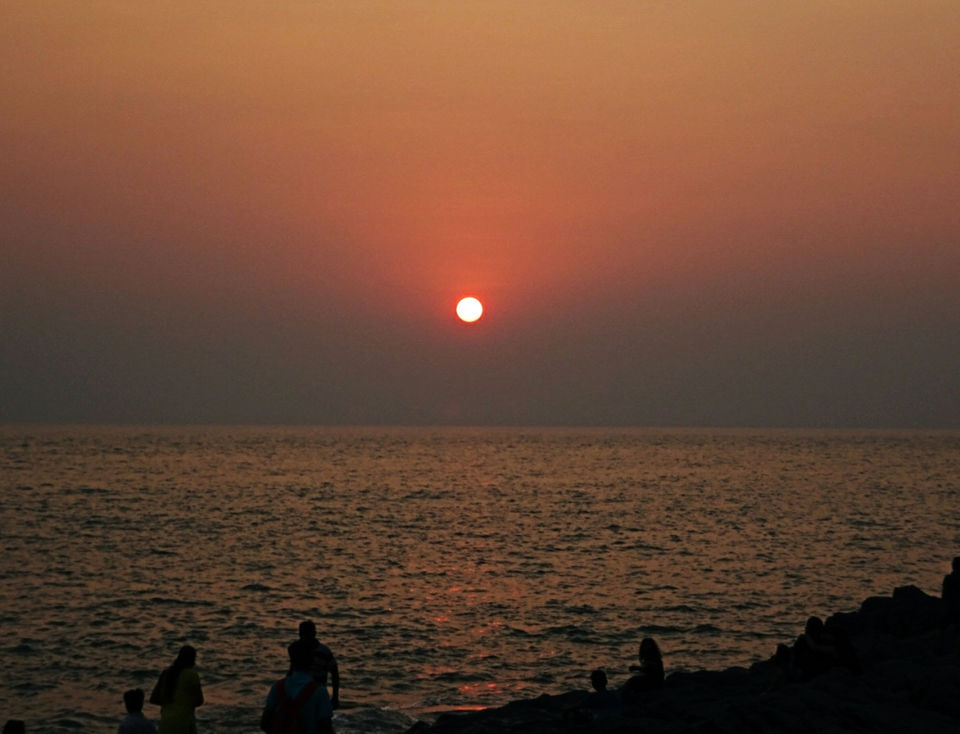 Day 2
Since all the beaches are connected you can easily trek from one to another, so we decided to trek from Om beach to Half Moon beach. The way is a narrow trail through the forest and the view from the top of the cliff took away our breath.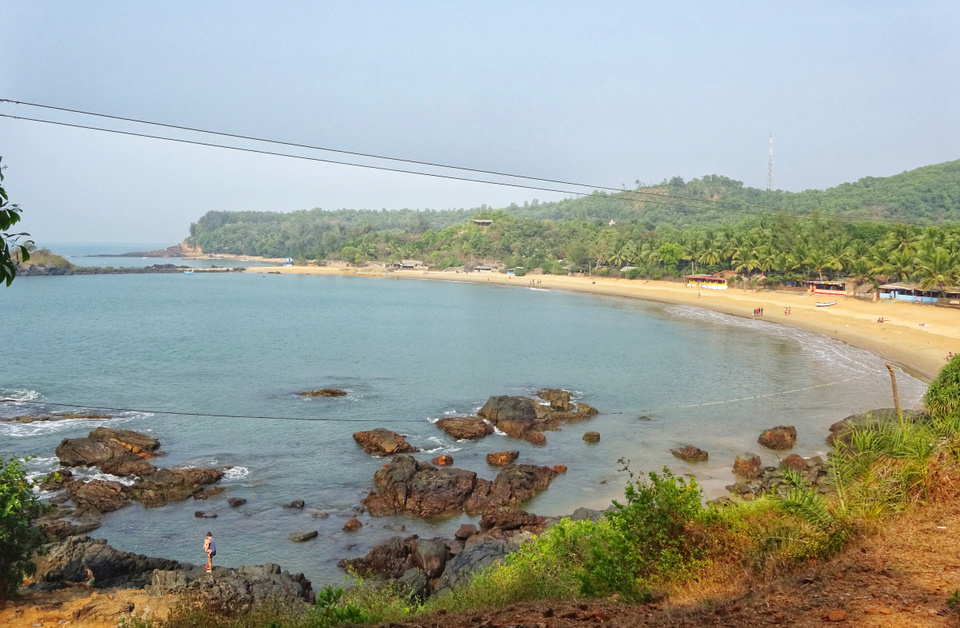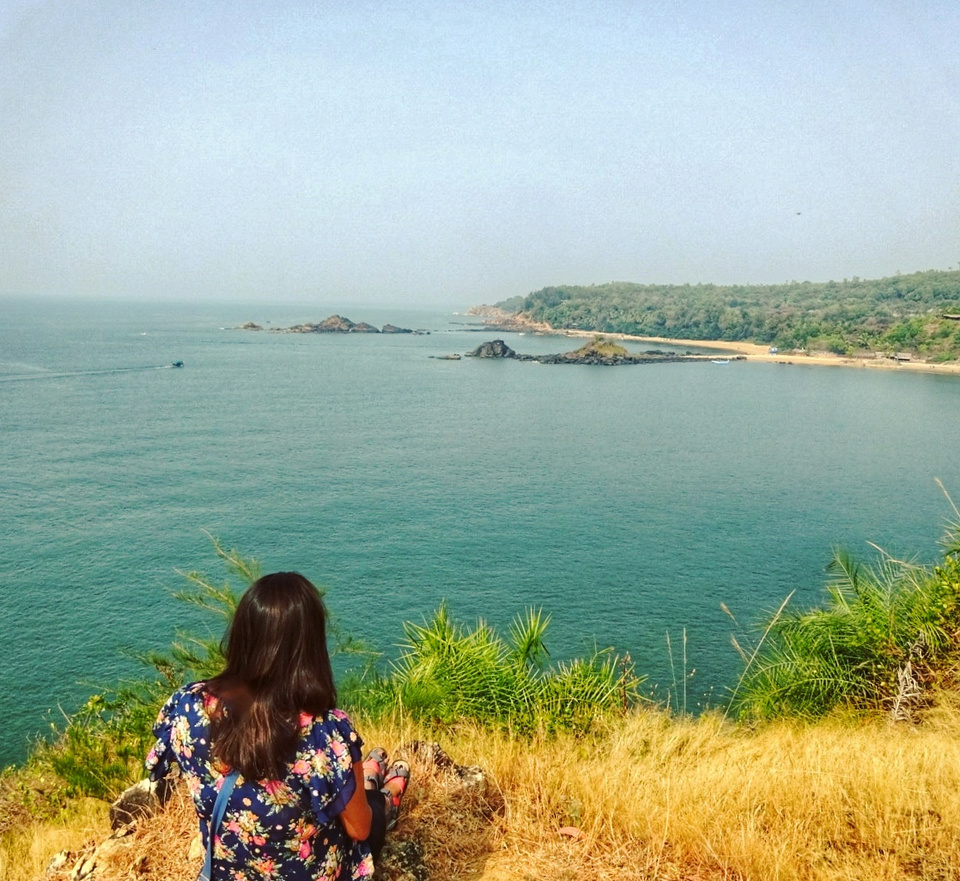 Half moon beach is not connected by road, so the only way to reach it is by hiking. The beach has plenty of rocks and a small sparkling clean patch of sand. There's a shack on the beach where we relaxed till it was time to head back.
Near Namaste cafe there was a Ayurvedic massage parlour so in the evening we decided to head there and the cost was 900 rupees per person for a head to toe massage.
Day 3
We checked out from our hotel, walked till Kudle beach (this road is wider than the one to Half Moon) and chilled in a shack till evening when we had our bus back to Pune.
Visit Gokarna before it gets crowded and as commercial as Goa. The serenity of Gokarna will make you want to come back again and again.

Trip Cost
Bus fare( to and from Pune) + Hotel + Auto fare + Food = 14000 (for 2 people)
Network connectivity
In the reception we had wifi and my Vodafone connection was intact most of the time.
Language
Most people speak Hindi or English. So if you know either of them, it won't be a problem for you.