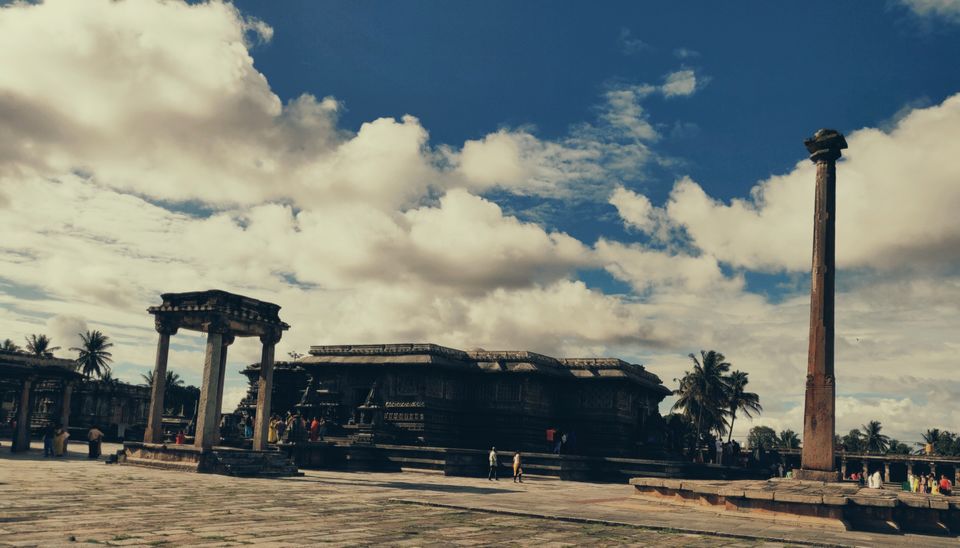 It's Saturday afternoon, four days of Diwali vacation has begun and I didn't plan anything.when you move to a different city and start living by yourself these festival times are worst times you feel empty.still staying alone has taught many things.I met wonderful people along the way and one of those was to enjoy your own company. Well it's easier said than done.but over the period I am learning about it.so that day I planned to go alone for the trip.I was really short on time,as I wanted to leave the very next. I started browsing through nearby locations and I decided to go to belur and chikmaglur. I didn't want to spend so much time travelling, I just wanted to go somewhere and relax. At night I booked my accommodation and bus ticket.Because till then I was still contemplating on whether to go or not.I always wanted to go on a solo trip but I am also very a lazy bug who love her comfort zone. But I wanted to try it out. When you always do something which are not comfortable to you and when you accomplish it, you feel like why was I so afraid I should have done that earlier with a broad smile on your face.
6.00am I am on my way to Majestic bus station. I got my bus at 7.30. I planned to stay at Belur for one day and then chikmaglur.I was searching for KSRTC Airawat, as in my head I had booked AC bus. Finally somehow I realised that it's non AC and I am waiting somewhere else. I was disappointed how I missed to make a note of it. But it was good that I booked it online as it was almost full.its going to be around 5hrs journey. I was really happy that I am doing something instead just sitting back home. This Diwali I wanted to make it different. Bangalore to belur, if you want to do a road trip surely do it. It will not disappoint you.
I and my fellow passenger just started talking after a while and got to know that she was from chikmaglur only.when I told her that I am going alone,she was quite surprised because for me I have seen so many people travelling alone.Actually yeah until then I was in her position.
Around 1 I reached at Belur bus stand. from there I took auto.Talking to auto guys is the one thing I hate here.They try to chat you even if you know their language/distance or not, just doesn't matter.
I reached at my hotel, it was a decent one as I had done my booking last minute I was little wary about it. Hotel is the most important part if you go alone especially for a female traveller.
So my plan for this whole trip actually is to do nothing and just relax. I didn't want to go to every touristy places. May be I find joy in missing out as opposed to FOMO.
Receptionist was helpful, he got me arranged the auto to belur temple.The chennakeshwara temple is World heritage site. It was built in around 12th century by Hoysala dynasty.It is dedicated to Lord Vishnu.It took around 100 years to build this temple.If you look at the gravity of it for all the heritage buildings people took so many years build one particular monument and that's how they perfected their art.generations after generations were doing the same work.but today's scenario everything has become so fast that we are forgetting consistency in doing one thing can lead to a marvellous thing. But somewhere we are losing the patience in life.just few days back everybody was eagerly waiting for the Ayodhya verdict. I felt why can't this judgement be on humanity's side irrespective of religion. When can we go beyond these things to give and accept solutions. Why can't we build something which can be beneficial for the humanity as whole.So the same piece of land will unite people and not divide them further. Of course it is going to take time. Let's just be positive about it.
I was glad that it wasn't that crowded although it was a holiday. So I just picked up a spot and sat there observing the surrounding and temple itself. And yeah observing people as well, has become my favorite pass time over the time. And now people clicking photos/selfies is actually so much fun to watch.
I reached at Zostel at around 1. I met Navin who was managing that property. So in chikmaglur, as it is a hill station, lot of places such as Mulayangiri peak, Bhadra wildlife sanctuary, hebbe falls etc but as I decided this was going to be a lazy vacation. So I just decided to go to Hirekolale lake. So through Navin I booked one auto. It is always easy when you have your own vehicle but nevermind being in zostel I felt I might find some company but that time I couldn't find anyone. Even I was alone that place offered very friendly vibes. You know sometimes even new places do not seem stranger to you.
Ride through a thick forest, tall magnificent trees on either side of the road covered with creepers and coffee plantations beneath was mesmerizing.
Lake surrounded by breathtaking mountains was just like a perfect wallpaper.
Approach to the lake was a straight road and end of it were some steps leading to the water.
My perception of it was instead of giving just a straight road, it could have been interesting meandering paths and some seatings overlooking the lake. This area lacked seating areas. The straight road exactly parallel to the lake wasn't giving justice to the beautiful lake.
I sat there on steps and was just enjoying the tranquility which it was offering. Water birds were adding the beauty to the scenic picture frame. There should have been boating or kayaking so the experience of the huge surrounding mountains could have been explored.
So there I was just seating and reading my last Shiva triology book. It was a different experience reading there, I wish all the people could have disappeared from that place 😬..
My lazy vacation had come to an end. I was gonna head back to Bangalore. My first solo trip was fun and good thing was I never felt bored or alone. I really enjoyed especially coming out of my comfort zone.
One should be able to do both, enjoying with a group of friends/family as well as your own company. So just go ahead and plan your first solo trip. When people cancel on you, don't just sit back and sulk.
Now I am gonna go write this as one of my achievement..😊