I had hardly woken up when I got a call from a friend asking if I'd like to join him to Suryalanka Beach. I looked at the electronic wall clock - '1215 hrs' it read. I yawned wildly and got back to the phone."It will be fun bro, I'm booking tickets now. Answer quick," he screamed frantically over the phone.'It will be hot and sultry at this point in time in that area,' I thought. Nevertheless, I agreed and spontaneously.A little past noon the next day, we caught our train - Sabari Express that takes around 7 hours, halting at different stations, most of them unheard of. You can find the list of trains from Secunderabad to Bapatla and beyond, in the table below.
Click to enlarge.
It was an eventful journey with my friend and I conversing about girls (at our workplace, in the train and every possible girl we knew of), about how Suryalanka would be and about the movie production venture we were coming up with as business partners.
Bapatla - District: Guntur
It was around 1935 hrs when we reached the town of Bapatla in Andhra Pradesh (India). The train was late, not that I was surprised. My friend suggested we head to the beach directly. So we took an auto that cost us INR 150. He spoke in Telugu, the local language of Andhra Pradesh; did not speak Hindi or English languages, most of the autowallahs there, do not. He was in constant conversation with my friend. I did not understand so I paid no heed to it.We reached the Suryalanka beach in 30 minutes flat; headed to a beach-side hotel (Haritha Beach Resort) owned and run by the state government tourism. Darn! No room. One of them commanded a sum of INR 3000 to allot a room the next morning. I gave him dirty looks as we walked back, dejected. We did not have a room to stay and there were no autos in vicinity to go back to the tow either. I dialed a few numbers only to hear "no room sir". Very casually, I asked my friend to make up his mind to sleep on the platform that night. He stared at me and got a 'I cannot help it' expression. Another problem was the lack of autos; it was closing time for visitors on the beach and finding an auto did not seem much of a possibility. 'Hotel Seatel' - read the ad on the wall. I immediately dialed the number and was happy to find a room there. Within seconds, we also saw an auto approaching us. WHEW! Its a good day. Paying another INR 150, we reached the hotel.That night, we ate a little more than what we could accomplish, drank few bottles of Budweiser and slept like a log.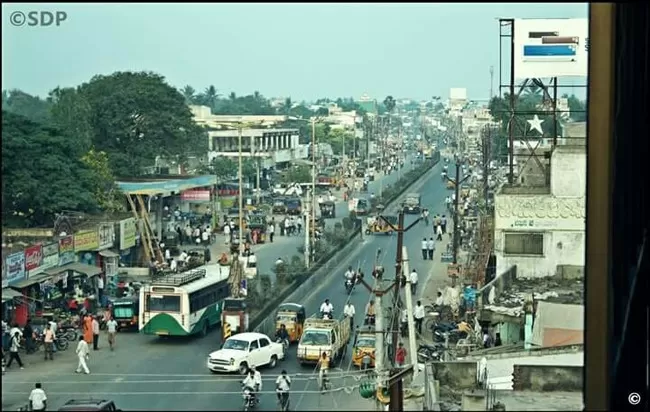 Bapatla Town - view from Hotel Seatel
Suryalanka BeachWe headed to Suryalanka Beach next morning. We were wiser now so took a shared auto to the beach. It cost us INR 15/ person which did not pinch at all.The beach was crowded given it was a Sunday. The crowd mostly consisted of locals and from nearby areas. Tourists like us, were few in numbers. We came across tiny crabs, huge number of them. They live inside the sand on the seashore and play hide and seek with you, as you walk.It was sultry and the sun was at zenith but the sea-breeze made us feel better. We ate at the nearby Haritha Resort restaurant which was economical and the food was good too. Street food in Suryalanka wasn't an option for me considering I'm an eggitarian; the fare consisted of dried and fresh fishes of different kinds.We stayed on the beach until sunset when we knew we have to catch the bus back home. The sun going down was a beautiful vision.At around 2000 hrs, we took a bus back home, along with a lot of memories we made in the last 2 days of our quick stay at Bapatla / Suryalanka.
Places to stay:
Hotel Seatel
Old bus stand, GBC Road, NH214A, Bapatla
Telephone# 08643-222269 / 9502299664
Room tariff : Double Room (what we paid) : INR 1100/day
24 hours checkout time.
Verdict: For what you pay, you get a decent air-conditioned room with attached bathroom. The minions also provide you room service - food and liquor for a very small convenience fee. Recommended for backpackers.
Haritha Beach Resort
Suryalanka Beach
Telephone# 08643-224616 / 9948399759
Room Tariff: keeps changing; rooms can be booked online (suggested)
Verdict: Good rooms and the perfect place for a vacation. It is by the beach and hence the proximity. Pricing may not suit backpackers but is the best option around.
Important Notes:
Apart from the Suryalanka Beach, the main attraction and the Bhavannarayana Swami Temple built by the Cholas in 465 AD, there is no other notable place to see in Bapatla. It is the beach that attracts most number of people.
Language could be a problem if you're a tourist from any other state in India or from an international destination. Hire a guide or contact someone locally who can take you here. The main language spoken here is Telugu and a few people speak Hindi or English.
The beach closes by 2100 hrs (9 PM) so if you do not have your own car and are staying in the Bapatla town, it is good to plan to leave early.
Staying at the Haritha Beach resort is a good option if you do not have budget constraints and want to enjoy a view of the beach, for a peaceful stay.
As told by a reliable source, you get good non-vegetarian food here. There are less pure vegetarian restaurants here.
Distance from Bapatla to Suryalanka = 12 kilometers or 7.5 miles
Best time to travel : between October to February when the weather is cool and comfortable.
Clothes: Light clothes. Skimpy clothes not suggested.