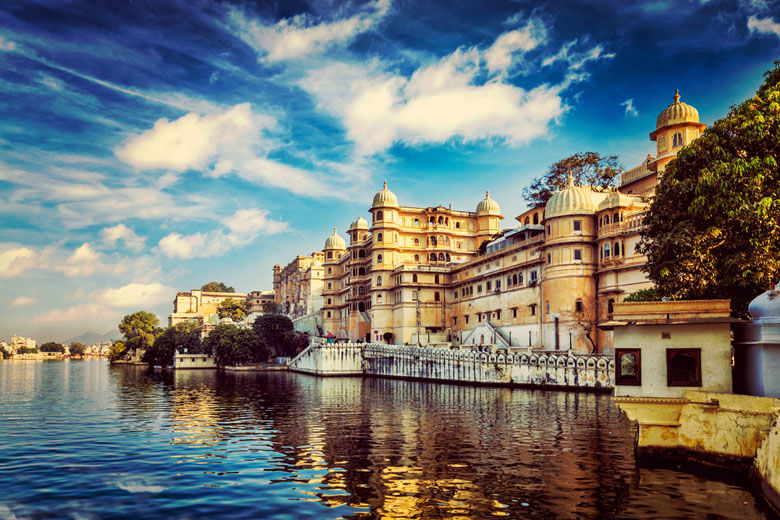 Most awaited and a long overdue trip to udaipur finally happened on 23rd of January. I reached Bhilwara a day before and was relaxing after a long exhausting trip from jaipur by rajasthan roadways bus and my trip people started nudging me to book the room and plan the trip with all the amazing things. At first I said let me have some rest and we have good enough time so please don't be in a hurry but then finally they convinced me to book the room.
We had limited budget to spend on this trip and there were 2 girls on this trip so considering both things I started with little expensive and more secure places but then we couldn't. With little skepticism in mind I opened zostel and other budget accommodation websites and finally book banjara hostel dorms for 4 persons. Now, the next thing was to book travelling tickets. At this time I didn't book anything and put travelling things in the good faith of Rajasthan roadways again. :P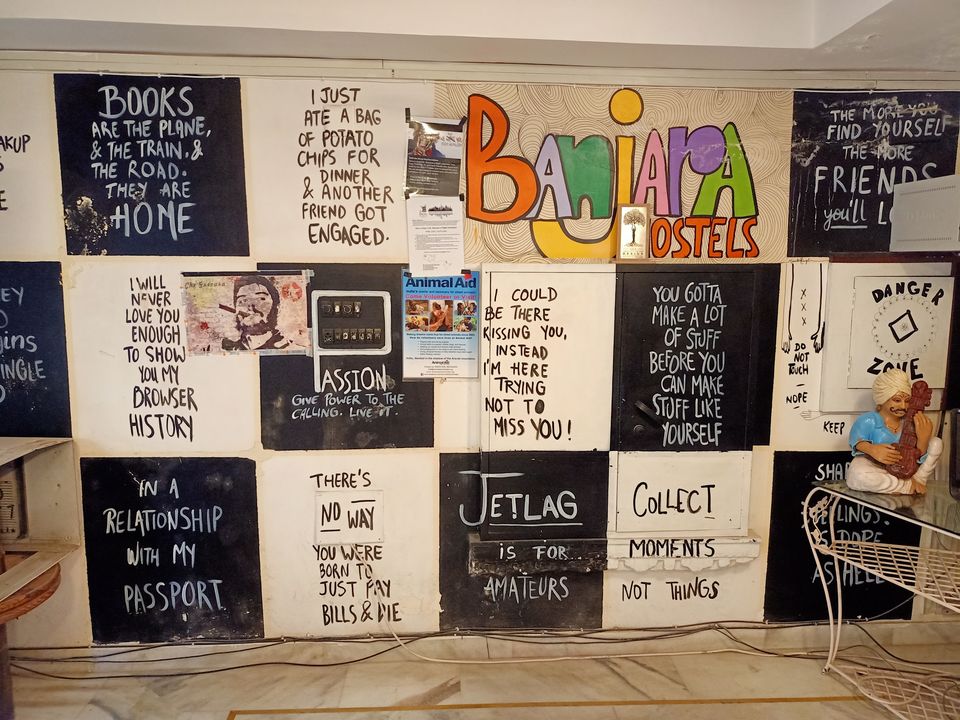 So, finally on 23rd of January we started our journey at 8:15 in the morning and reached udaipur at 1pm after a long bumpy ride. We went straight to our hostel from the bus stand and took a rest for some time. Rooms were affordable, cozy, clean and comfortable with a good view of old udaipur city.
After putting our luggage and picking essentials for the day tour we headed for lunch at a nearby restaurant. From there we were accompanied by 3 more people on our trip and then we started on an amazing, unforgettable trip.
Our first destination was karni mata temple. It was a temple on the hill top at the bank of lake pichola and the best way to reach here is by ropeway. It was just a 5 mins long journey but the view was mesmerizing. On the top there was a good market, restaurant and fish spa facility. We spent around 2 hours there.
Cost :- 70/- per person
After then we came down and enjoyed boating in lake pichola. It was evening and the sun was about to set. While going down, for the last time on that day sun rays scattered on the water surface looked like some laser show by nature. Skyline was in copper color and mountains were shining like some freshly erupted volcano. It was an indescribable magnificent evening. With lots of photographs, selfies and chit chat we said bid adieu to lake pichola.
Cost :- 150/- per person
It was 7 in the evening and we were hungry, tired and a little exhausted. Now it was time to try some local delicacies. Luckily out of the 3 people who joined us during lunch time, one was localite and she knew all the unique places to hang out, enjoy food etc. So, she took us to RK chinese restaurant which was on the road side enroute to fateh sagar and was very crowded. We ordered manchurian, noodles, momos and enjoyed our food for around one hour. Rates were reasonable, food was tasty and spicy as we wanted, it was in good quantity. Altogether it was a great experience.
Cost :- 65/- per person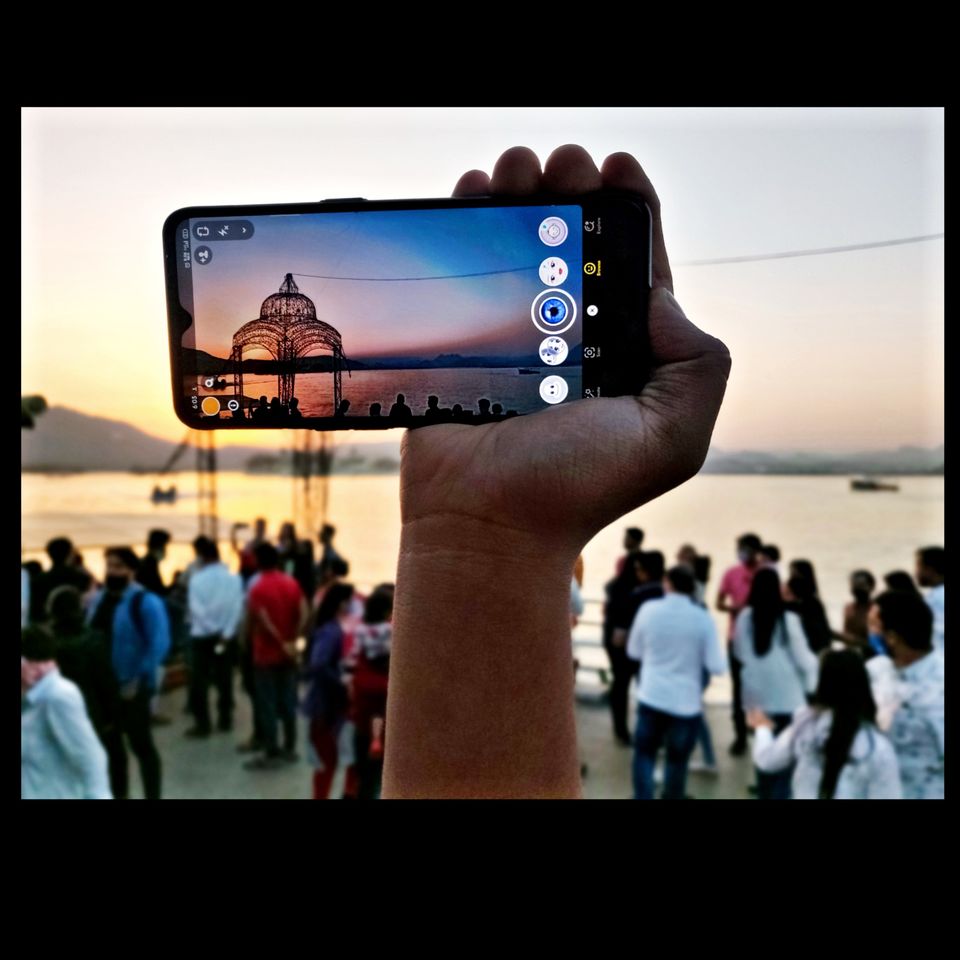 As they say, "Life is beautiful at the lake". Indeed this was true at fateh sagar. In the night, water was all still and all the food vendors with colourful lights on their stalls along the lake side looked like some kind of necklace worn by the lake. No doubt this place is a mini marine drive of rajasthan. Life is beautiful at fateh sagar and you can feel all the calmness, cool breeze and good food here. Soon after the weather turned a little chilly and we had to go to our rooms but wait there's more.
During our way home we stepped down 2 kms away from our hostel and started walking on foot. We didn't want to miss anything by sleeping early and waking up late in the morning, so we minimised our sleeping time and were still wandering in udaipur streets late at night. So during our walk we decided to have some booze but it was 11 in the night and it was hard to get the liquor. We were very little hopeful but soon after when we were looking like a shady person a random person asked what do you want and finally he got us what we wanted. We went to our hostel and started enjoying it. After almost half an hour, we were all drunk and we wanted to see more. We went to the roof of our hostel which was on the 5th floor and the whole old udaipur city was visible from there. It was so breathtaking and out of the world view that we felt so lucky to be there at that moment. After sometime we came down and still didn't want to sleep, so we came down in streets which were totally empty .. obviously.
So, streets were empty but our spirits were still wanting more and more and hence we came to Gangaur ghat which was just behind our hostel. We sat there and started looking at the beauty of the well lit decorated hotels in old architectural style. It was so peaceful that we forgot our tiredness and felt so much relaxed. We also met with a random localite there and smoked up. He shared lots of stories about udaipur and then finally after promising to keep in touch with each other we said goodbye to each other and went to our rooms. It was 1am in the night.
Cycling at the FS lakeside is altogether a different experience and it seems like it was different in the night. In the night it was all in party and happening mode but in the morning it was more of a jogging place with the full of some kind of magical freshness to start a wonderful day.
Cycles at FS could be rented out in as little as 60-80 rs. Per hour per person and it comes in all variety as in for single and couple riders. We spent around an hour and half there and were totally amazed by this place.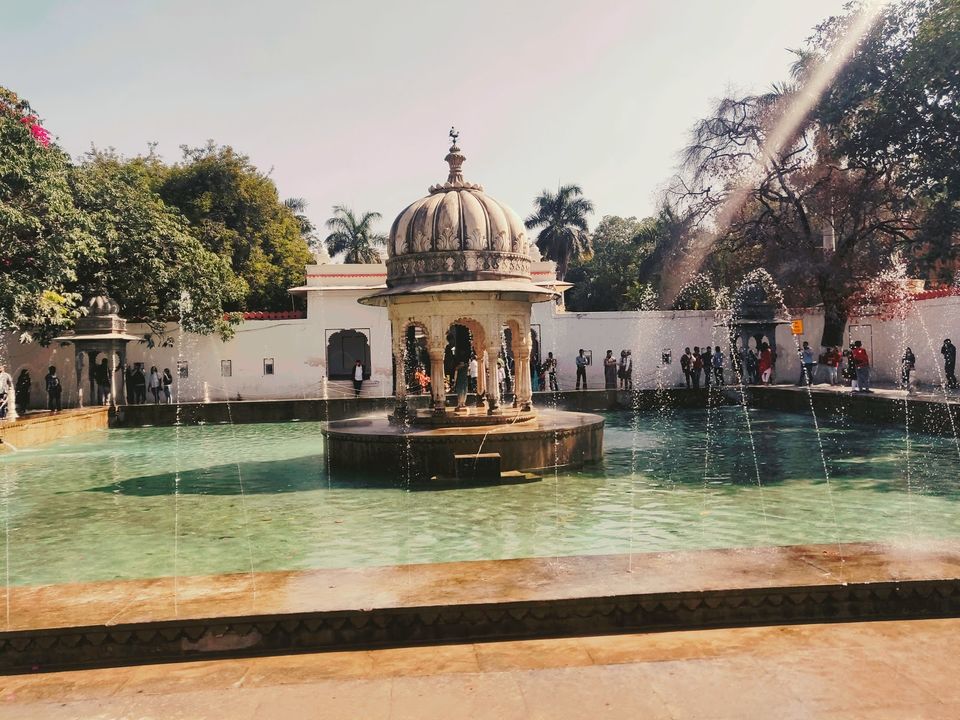 After having tasty breakfast at the hostel roof sitting on the window side on the 5th floor, looking at the tiny streets and age old huge houses/hotels we clicked a few photographs and checked out from the hostel. We went to Saheliyo ki badi which was built by mughal emperor for the family friends of the royal ladies. With the variety of the flowers and fountains in the middle it looked like some kind of palace in itself. The colourful flowers not only delight you but also give you the calmness mixed with fragrance. After a long tiring day, you just come here and you are recharged within minutes.
Cost :- 20/- per person
After that we went to the celebration mall which was also built in mewari architecture. It was very huge, clean and would go to place if you want to buy anything in a single market.
It was an unplanned destination in our long streak of the places that we wanted to visit but it was a very nice, authentic rajasthani experience. Lok kala kendra is reserving the old lost artforms of rajasthan like different dance forms, musical instruments and others. It also trains people in some of the artform so they can teach others and tell stories about the rich history of rajasthan. Fortunately, we all experienced a live puppet show depicting different stories that existed here but for those 15 mins it seems as if it is happening right now. Sometimes unplanned things aren't that bad.
Cost - 50/- per person
Here comes the last destination of our trip before leaving udaipur temporarily with heavy hearts, large bags of enthralling experiences and rock solid promise to ourselves to return back to this place. Rose garden was a routine park with a variety of plants and was close to the station so it was a good place to sit and unravel all the memories that had been collected so far in udaipur.
Accomodation Cost - 350/- per person per night including breakfast
Local Transportation Cost - 150/- per person on sharing basis
Food Cost - 50(breakfast)+100(lunch)+100(dinner)