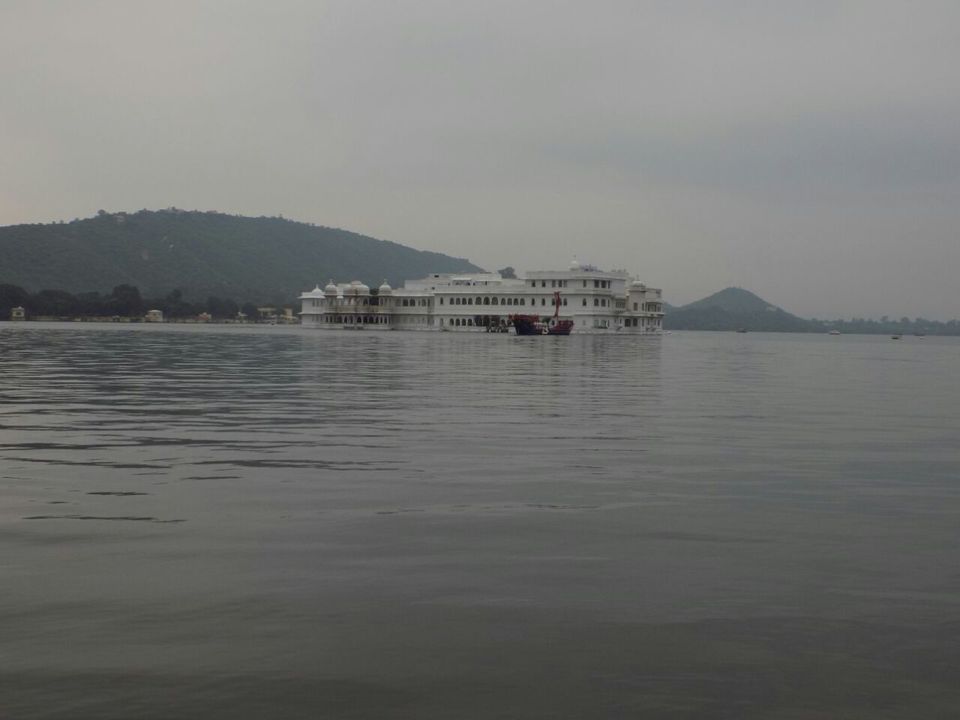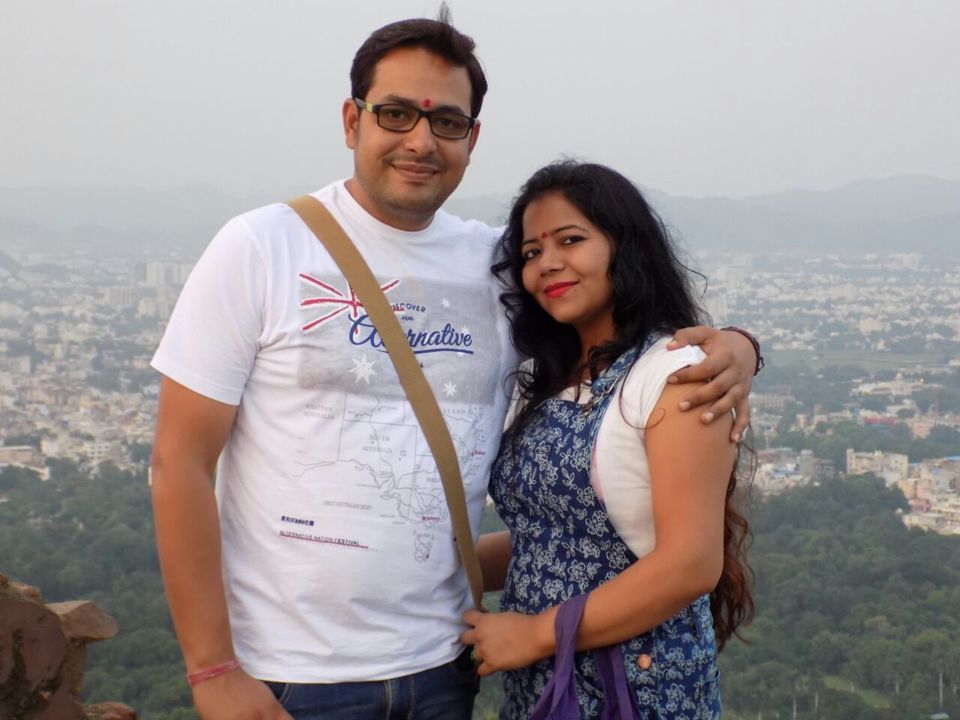 #RememberRajasthan. Myself Priyanka Dixit and my husband Sanjay Dixit traveled to Udaipur and enjoyed three days trip only in 2330 Rupees. Here I tell you how. People says that winters are the best time to visit Udaipur but in my personal opinion I will say its Monsoon, Yeah you heard it right. It might be off season for all but a person like me who loves rain and pleasant weather with cool breeze will surely love it. Its a must watch place.
We both started our journey on 20th of September because it was friday and we wanted to spend most of our weekend time in Udaipur so we took an overnight train. Mewar express starts at 23:58 from sawai Madhopur and reaches Udaipur at 7:20 in the morning. So by traveling this overnight train you can use maximum of your time. Sleeper class ticket cost us 247 each. My Childhood friend lives in Udaipur so here we were all sorted for our stay, food, vehicle and maps. My friend picked me up from railway station, we got freshen up, had our breakfast and got a packet for our Lunch. We took my friend's husband's bike and started our lovely unforgettable trip of Udaipur.
Started our day with some spiritual vibes
Luckily the weather was so so so pleasant and the cool breeze was making the dark cloudy day more romantic. If you are not lucky as us you can get a bike or a scooter to roam around, and I will suggest a two wheeler only instead of a cab because the old city has narrow streets and it will be easy with a two wheeler. And you can easily rent a bike or scooter just for rupees 250 to 350 per day. first of all we reached to Jagdish Ji Temple, its in the old city. Even you can walk by these narrow streets and trust me you will love it, even me and my husband walked so long and there is something in this old city you will find it so refreshing and calm. You will find some lovely cafe here on streets if you feel hungry feed your stomach or just grab a tea. after that we reached Amet Haveli followed by Bagore ki haveli it is situated on the cost of lake Pichola. After that we went to Maharana Pratap Monument, Museum just beside the monument. We saw the models of different Forts.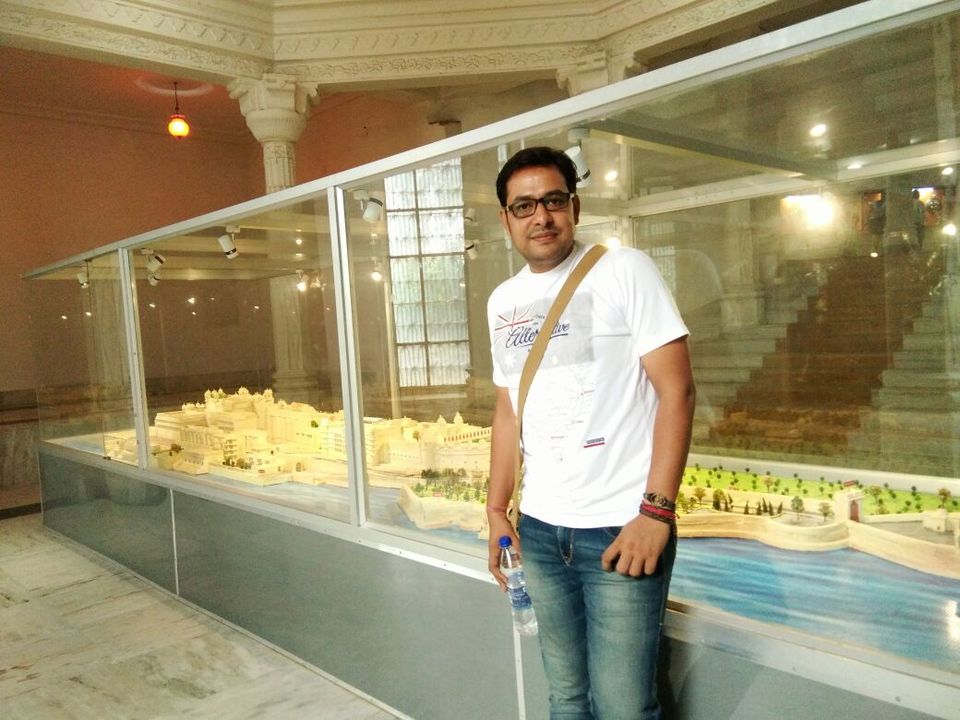 After seeing the museum we went to the Fateh Sagar lake. On the way to lake we saw the lake water was coming on the road and I was shouting in excitement. We enjoyed a boat ride for 30 rupees each. You can ride motor boat in 100 to 200 rs and speed boat in 200 to 400 rs per person. In Lake Fatehsagar there is a island and its known as Rajeev Gandhi Park, you can reach there by Boat. We reached there and had our lunch in the park. There you can see the aquatic Under the Sun where you can see different type of fish and water creature. It will be a fun for your kids.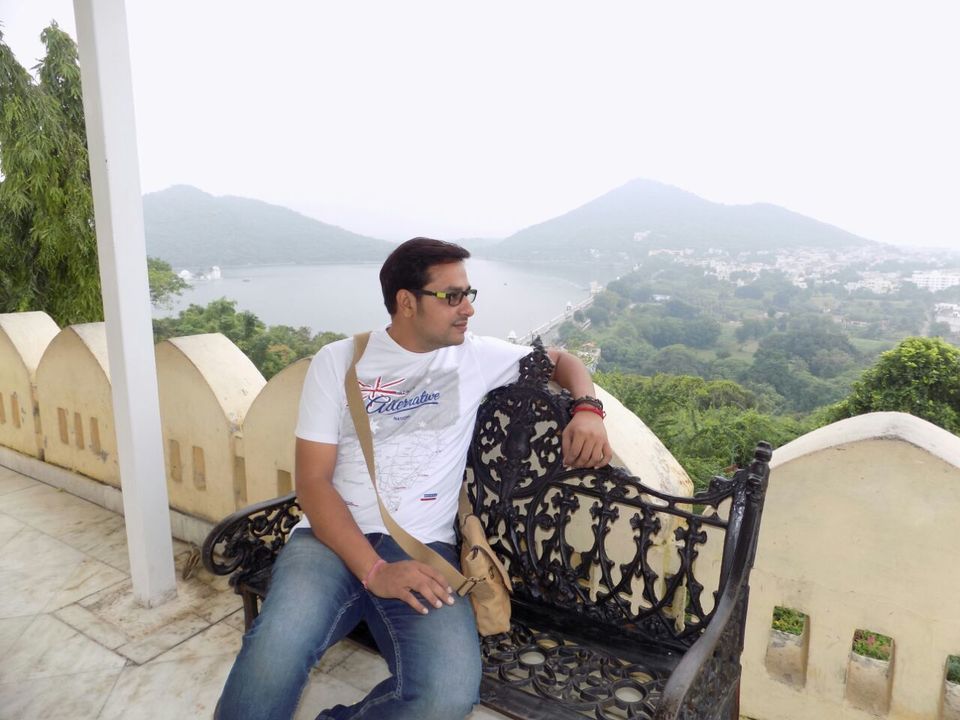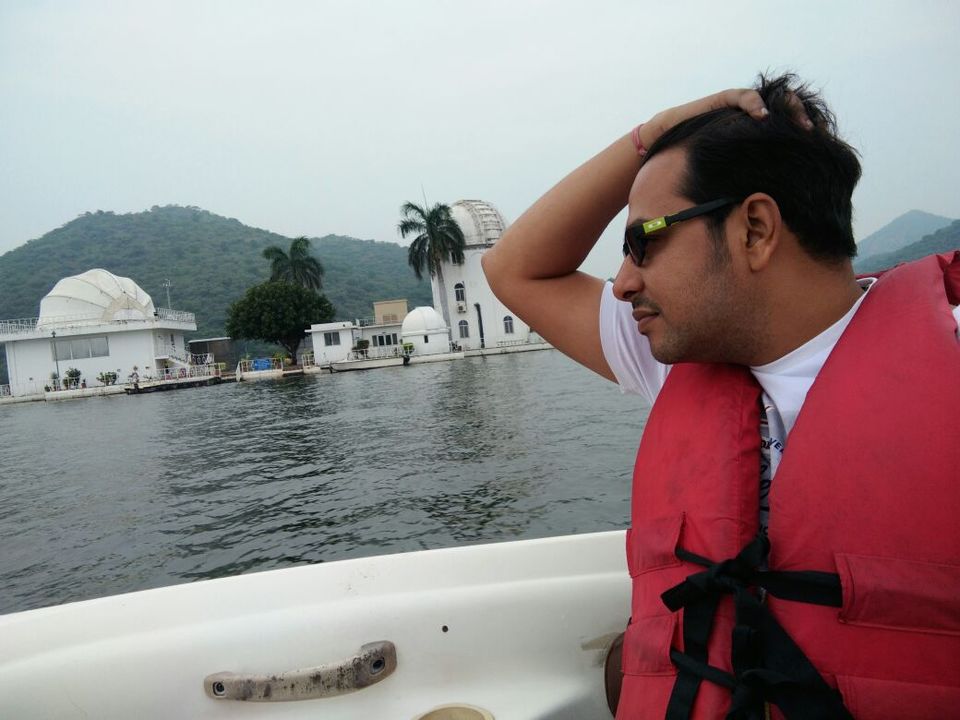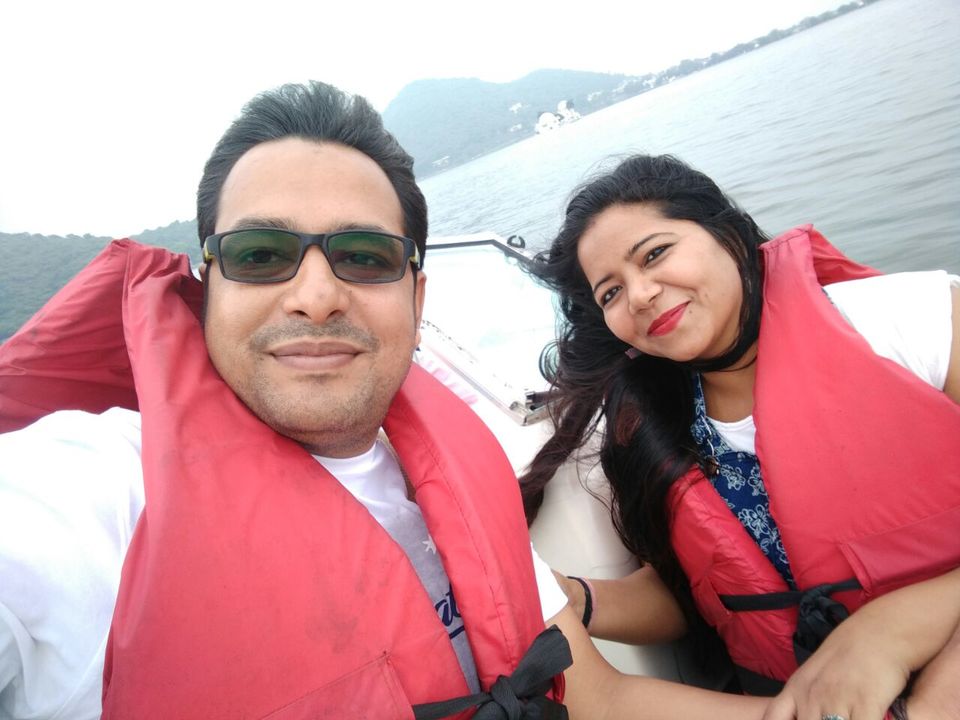 We did not have any route plan so we randomly picked places of our choices so our next destination was Vintage car museum, there you have to buy tickets to see the cars and there is a place just before the entry where you can get totally home style rajasthani food just for around 250. We did not buy the tickets to see those 10 - 12 cars and just took some pictures and a glance from outside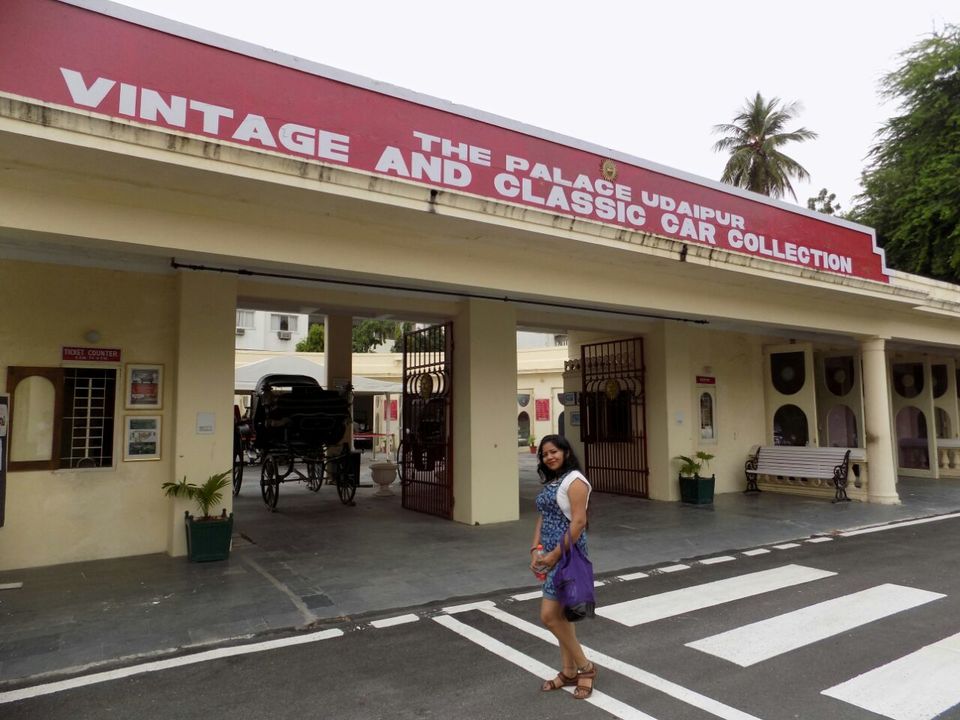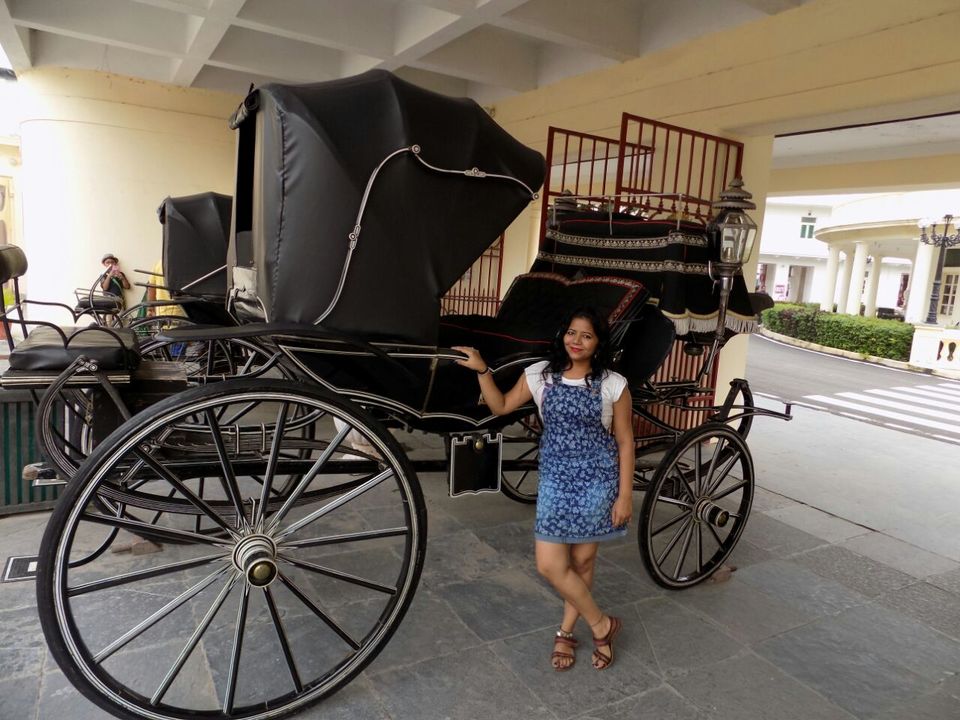 Then we headed to Karni Mata Mandir. On the way you can see Doodh talai. There are two ways to reach there, you can reach there by stairs or by Rope way. We chose Rope way. It cost around 75-100 Rs. per person. We enjoyed the beautiful weather, Scenic and sunset from the temple. There is a telescope to see the different shooting spots and you have to pay him 10 Rs for a minute. We stayed there for some time to enjoy the view of Udaipur. There you can get dressed in Rajasthani attire. and if you feel hungry you can have something in the restaurant up there. that's all for our first day of the trip.
Second day started with City Palace visit
Second day we went to city palace, the beauty of the palace is beyond words. You need to spend couple of hours from here we took a boat to reach Jag Mandir, it is famous for destination weddings, boat tickets cost 250-350 per person. This place is amazing you feel like a royal in the middle of the lake. You can spend time over here as much as you want because there is no fix time to return, you can take any boat which is going to the palace. after that we went to Lok kala Museum and Shilp gram here you see the rich culture of rajasthan. Our last destinatin of the day was Sajjangarh Palace.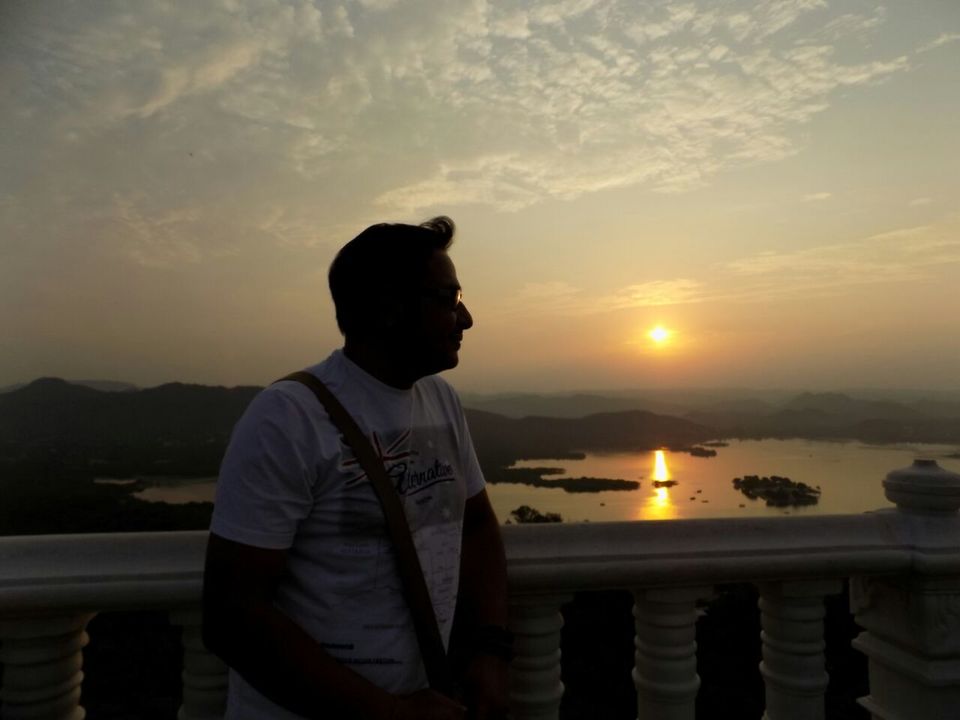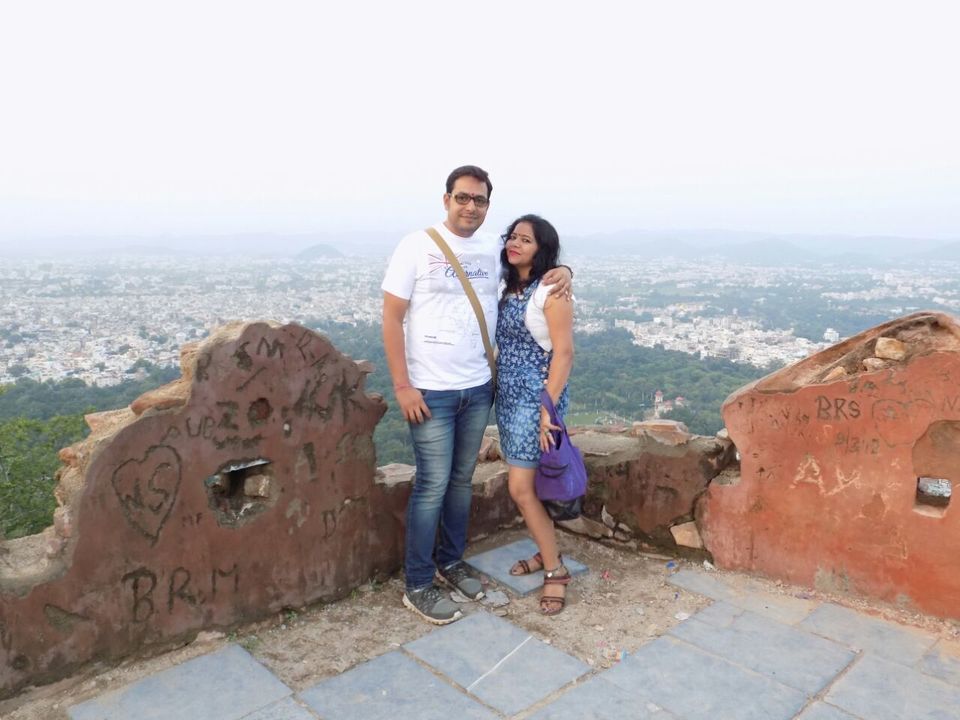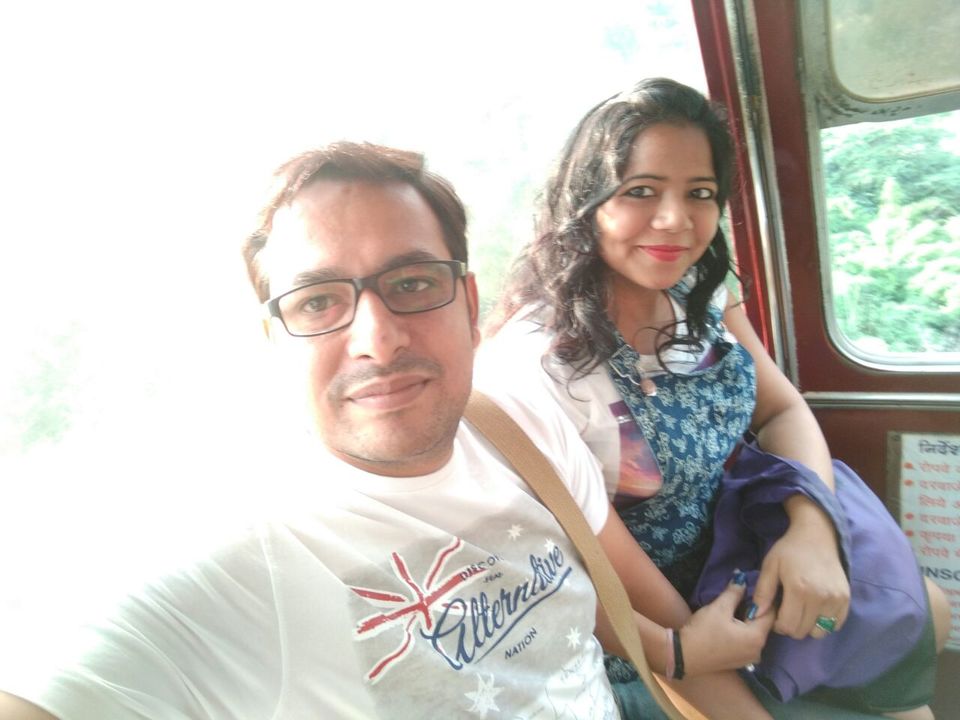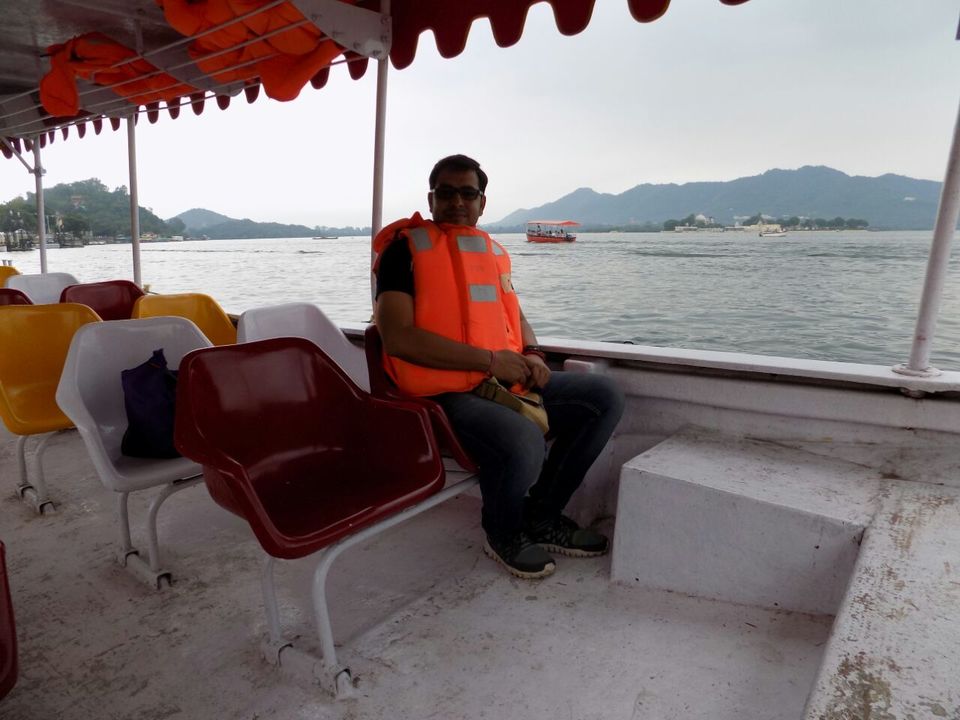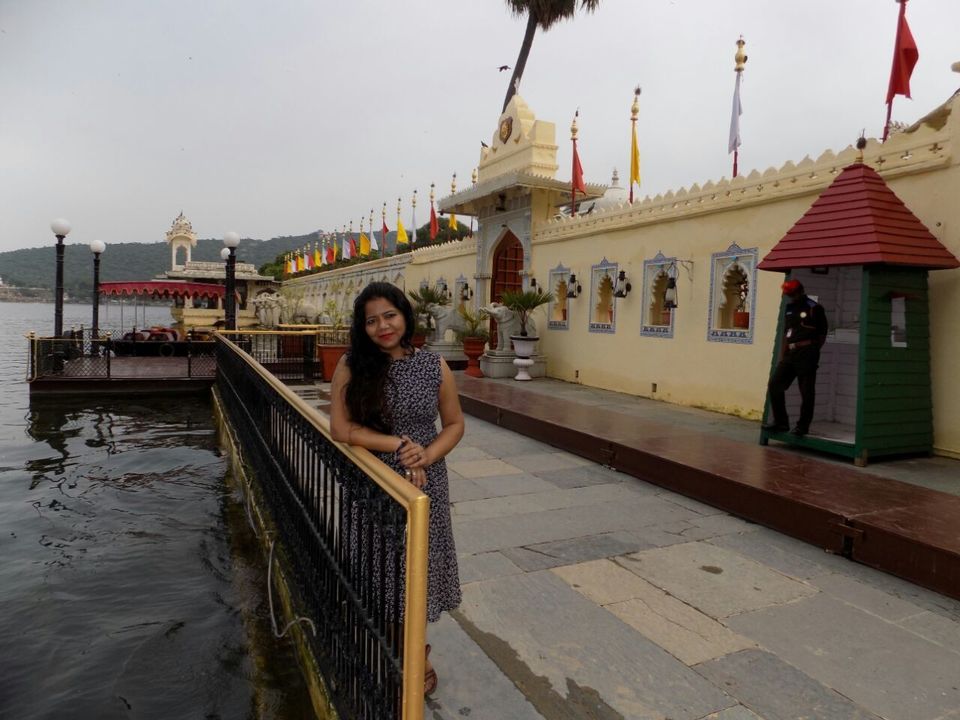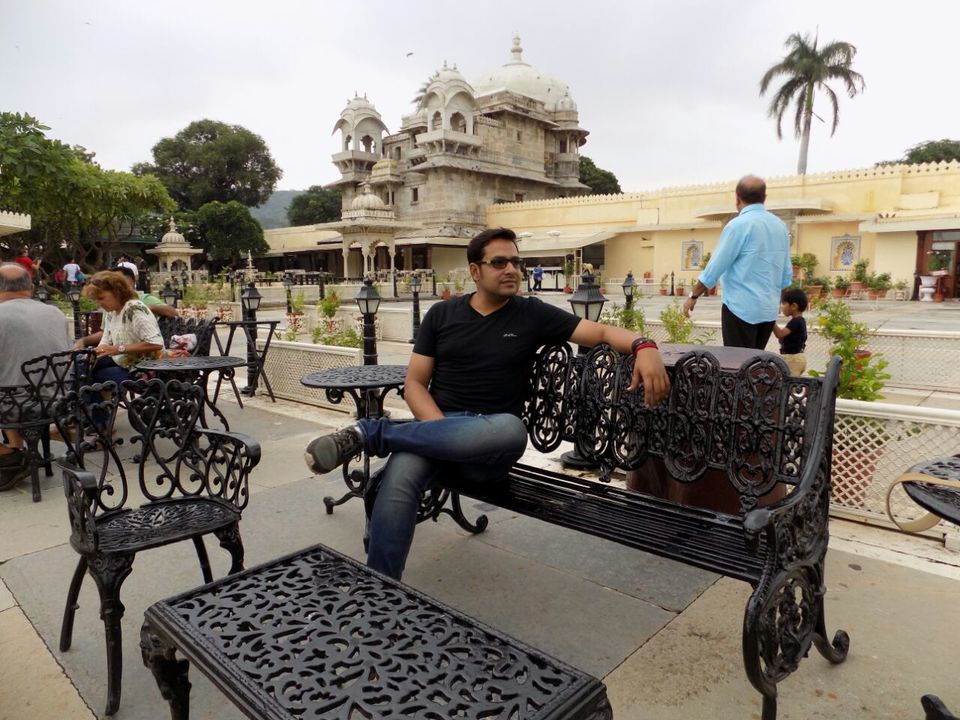 Our second day started with beautiful scenic view from Hotel Raasleela, our friend took us there. and if you want to sit and enjoy beautiful lake view you should go there, it is a beautiful romantic candle light dinner place. Its a boutique resort so if you are a luxury lover you can book a room there coasting around 5 - 6000 per night.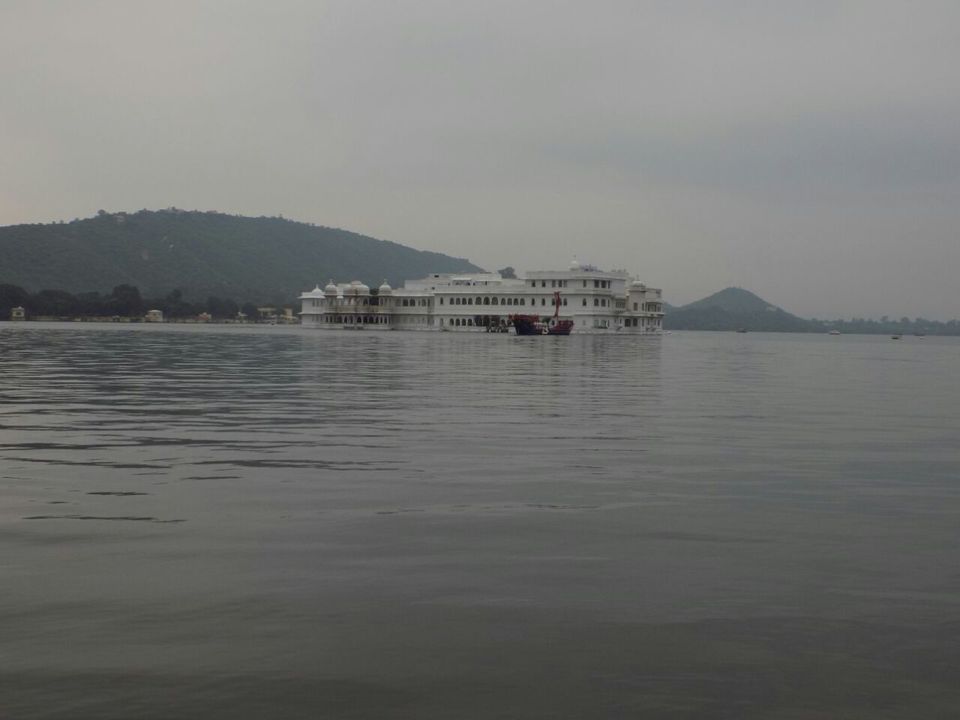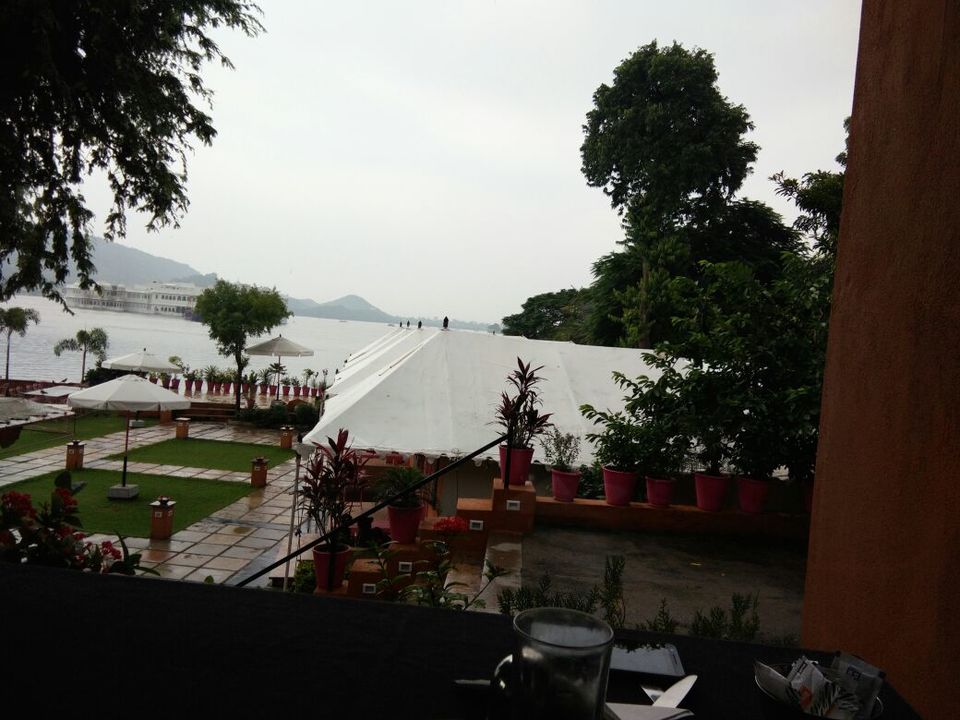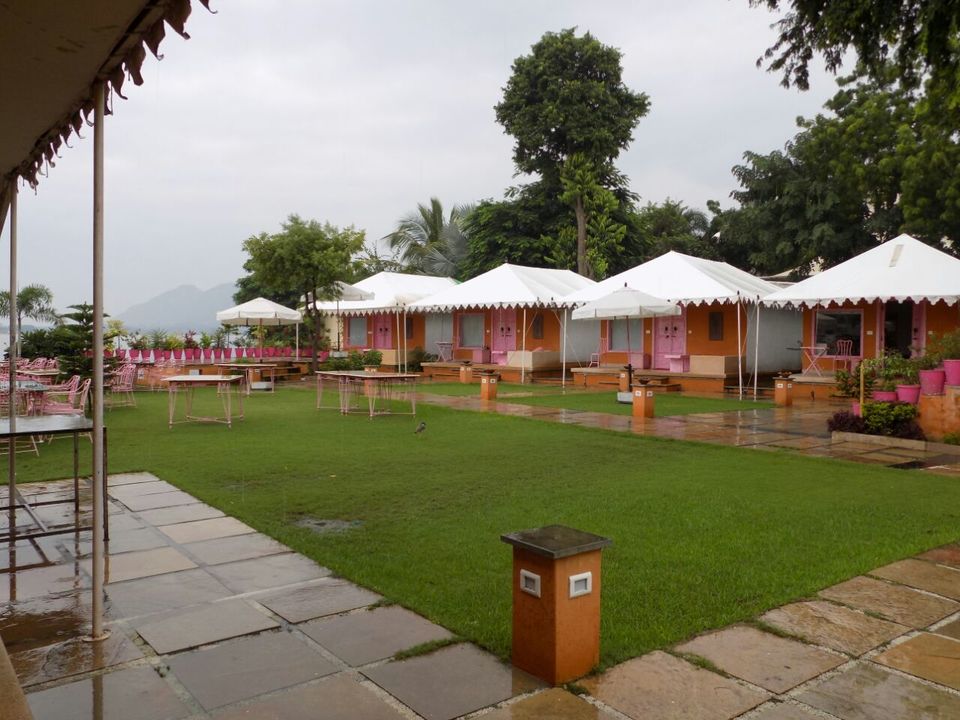 You will get almost same view from Ambrai restaurant. This is the place where Bollywood Movie Dhadak was shoot. Our next destination was Jaisamand Lake, Badi lake and Eklingji Temple which is about 22 Km. away. That's how Our Second day ended.
On third day we again went to some of our favorite places like Ambrai Ghat, some lake side cafe and fatehsagar lake. We just calmly sat beside the lake and enjoyed the leisure. We returened back on third day by Mewar express train, train starts at 6 in the evening and reaches 12:30 Am at Sawai Madhopur.
Train Tickets cost us around 950 Rs , Tickets for Boats, Palace, Roap way and museums cost us around 1000-1100Rs and some coffee and roasted Corn cost us around 100 Rs. And as I earlier told you that We have our Childhood friend here so we got night stay, breakfast, Lunch, dinner and vehicle for free. If you want to take a full day tour you can hire a auto for around 800 Rs and a taxi about 2500 Rs. it may vary according to the choice of foour wheeler.
You can spend your time according to your priorities. There are still so many places to see. Sukhadia Circle, Gulab Bagh and Zoo, Saheliyon Ki baari and if you have some more days to spend in Udaipur then you can go to see Kumbhalgarh, Haldighati, Nathdwara temple, and if you are going to nathdwara dont forget to enjoy the famous mint tea. Please take your Sunglasses, Scarf, Sunscreen and hat to beat the heat and Loose and comfortable clothes because you have to walk too much.
Distance from Udaipur to Nathdwara 45 Kms. Haldighati 40 Kms. Kumbhalgarh 85 Kms. ChittorGarh 161 Kms. Maount Abu 171 Kms. #RememberRajasthan
Frequent Searches Leading To This Page:-
tour of udaipur, udaipur travel blog, how many days in udaipur, udaipur to mount abu, udaipur mount abu 5 day itinerary, weekend trips with family to udaipur,  luxury resorts for 2 days in udaipur, 10 things to do in udaipur in 3 days , memorable trip to udaipur, places to visit for couple in udaipur