Geothermal energy is a byproduct of volcanic activity. Bathing in geothermal pools do more than just rejuvenate. They can do wonder to the skin and boost blood circulation; help with respiratory problems and provide pain relief to aching muscles. The blue lagoon is undoubtedly one of the most popular geothermal pool in Iceland. But if you want to avoid the crowds and try some offbeat alternatives, keep reading.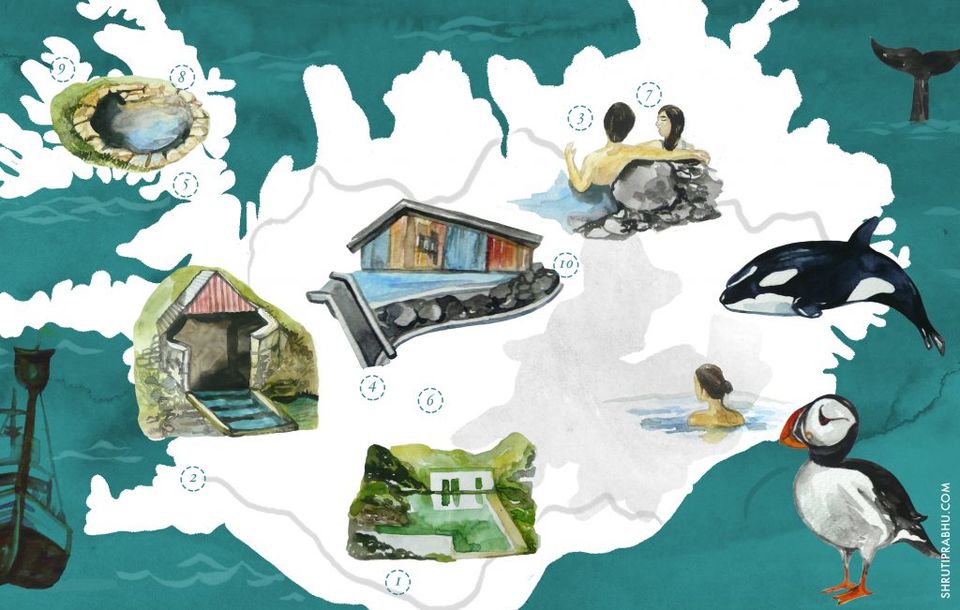 1. Seljavallalaug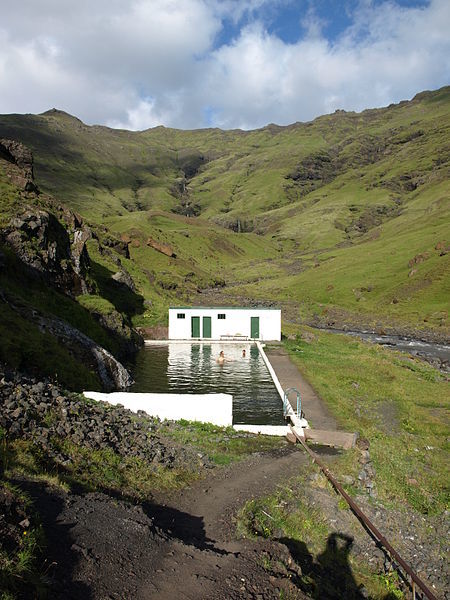 Photo Credit: Wikimedia Commons
We thought of starting this list with the oldest man-made pool in Iceland which was built in 1923. Seljavallalaug is at about two hours driving distance from Reykjavik along the south coast and a 20-minute hike. It is a natural spring and is surrounded by a stunning valley at the base of a mountain. Nothing fancy here, just a small, make shift changing room, with no other services.
2. Reykjadalur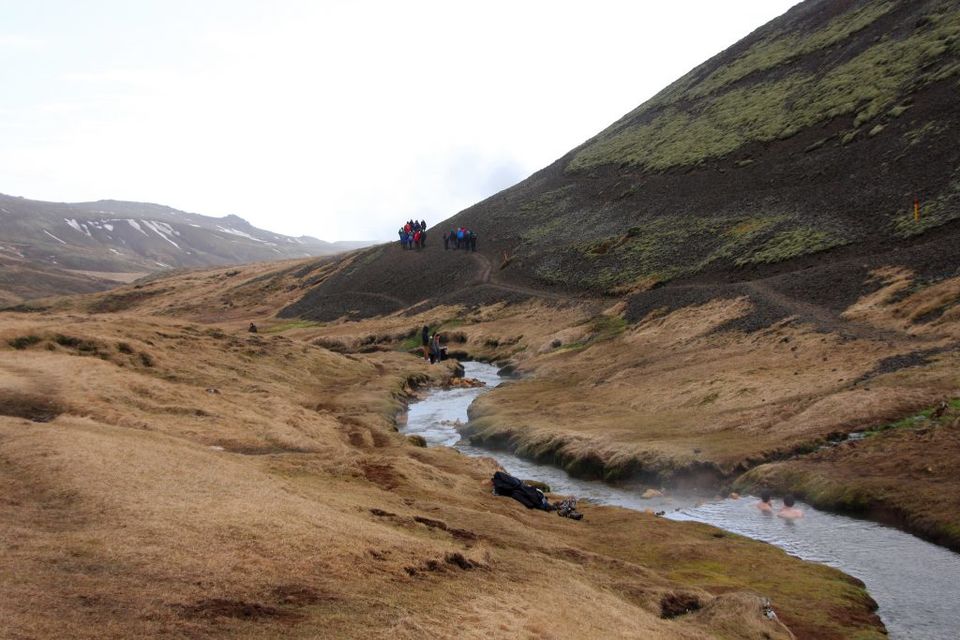 Photo Credit: Azuaje | Flickr
The name Reykjadalur means Steam Valley and rightfully so! It is full of hot springs, mud pools and hot river. Hike a long but an easy trail and pass a waterfall and you reach Reykjadalur. With the steam rising, it will be difficult to miss it, just in case you were wondering. Walk down from the hot pools and you will end up at the river. In the summer, it is quite popular especially with locals. The further you go down the river, the less hot it is. Depending on how much heat you can withstand you can choose a spot to relax.
3. Mývatn Nature Baths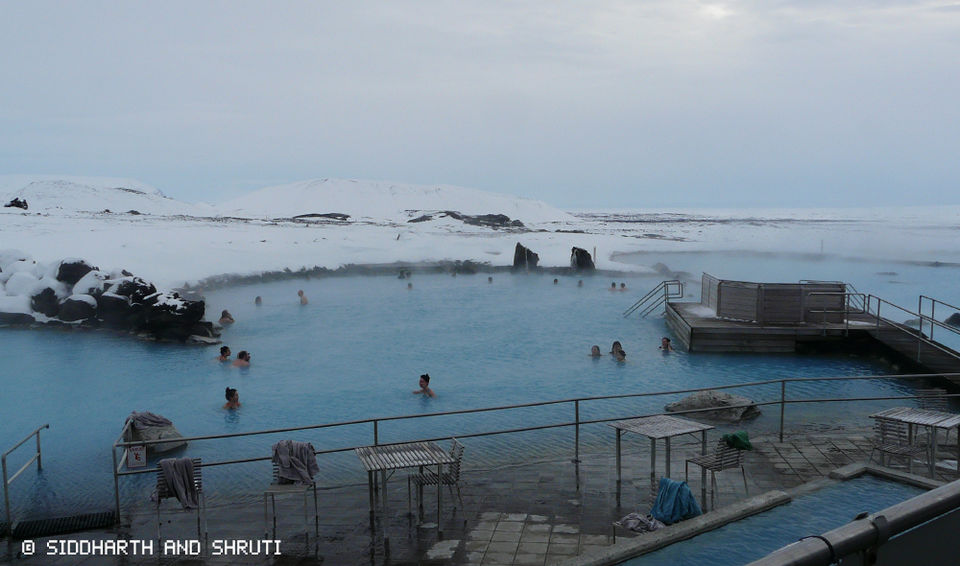 Surrounded by mountains and easy to drive to, Mývatn Nature Baths is perfect to soak weary muscles. There are two pools of varying temperatures and a hot tub. The facilities include a change room with showers, and a restaurant. The feel of the place is quite modern, perfect for the boutique luxury traveller.
4. Laugarvatn Fontana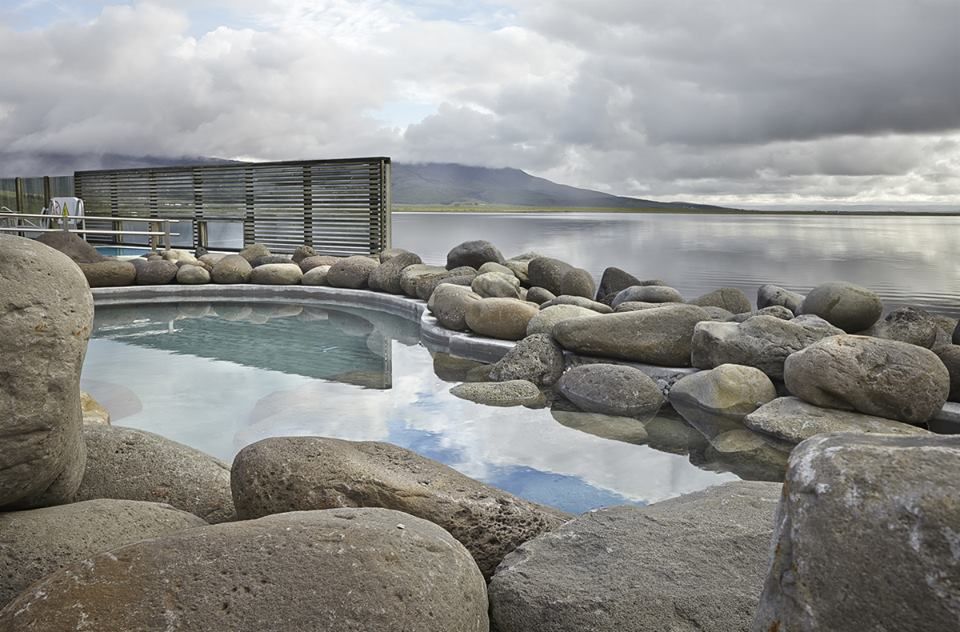 Photo Credit: Laugarvatn Fontana
Unlike the Blue Lagoon, or the Mývatn Nature Baths, Laugarvatn Fontana is located right next to a lake. You can gaze onto the beach and lake as soak in the hot tubs and pools. Built in 2011, it is situated within the area of the Golden Circle. If you are going on a short trip (which we do not recommend) and just have enough time for the Golden Circle, step into this peaceful retreat and refresh yourself.
5. Grettislaug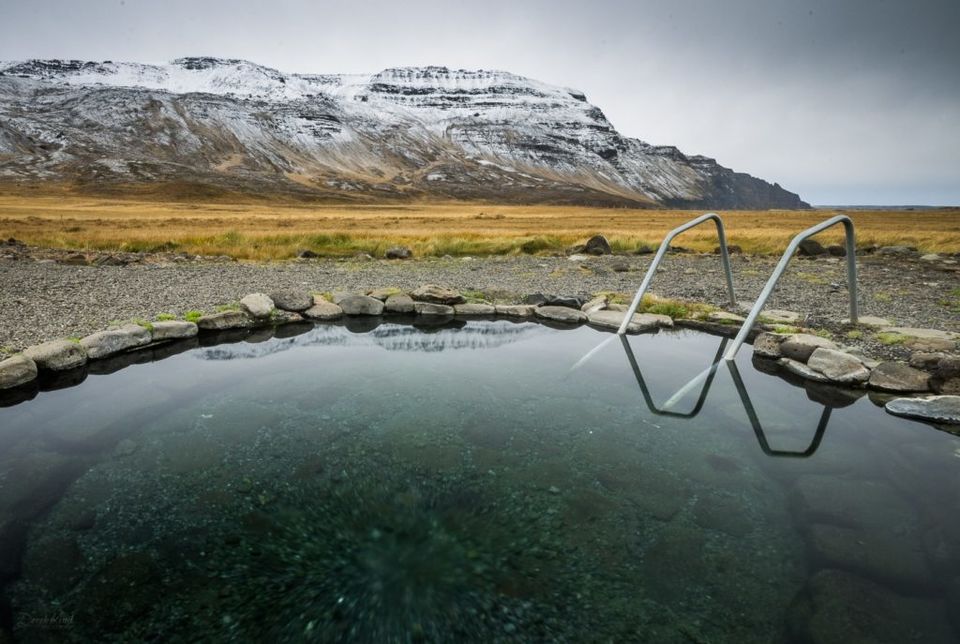 Photo Credit: My Visit Iceland
The hidden gem of Grettislaug is a geothermal hot spring near the sea on Reykjaströnd. The legend is that Grettislaug is named after Grettir the strong because in this pool, Grettir relaxed, disappeared in a storm in 1934. A 25 minute drive from Sauðárkrókur, there are two small rustic rock pools. If quaint and remote is your thing, then this is a must do!
6. Secret Lagoon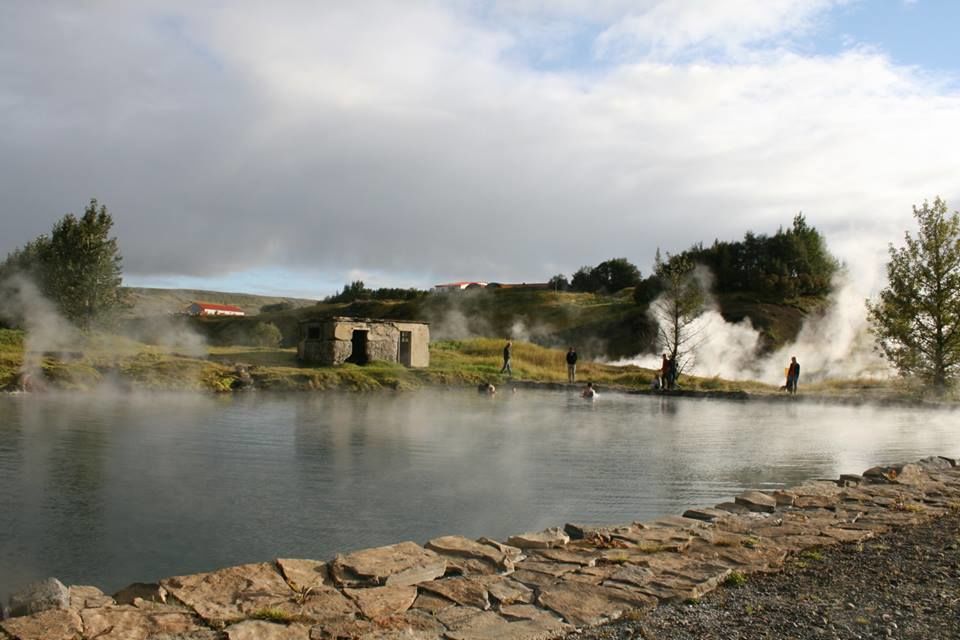 Photo Credit: Secret Lagoon
Like the Laugarvatn Fontana, the secret lagoon is also located in the Golden Circle region. In 1909 the first swimming lessons took place in the Secret Lagoon and they continued to take place every year until 1947. It was only recently that they reopened it. The rustic surroundings make the experience quite surreal.
7. Grjótagjá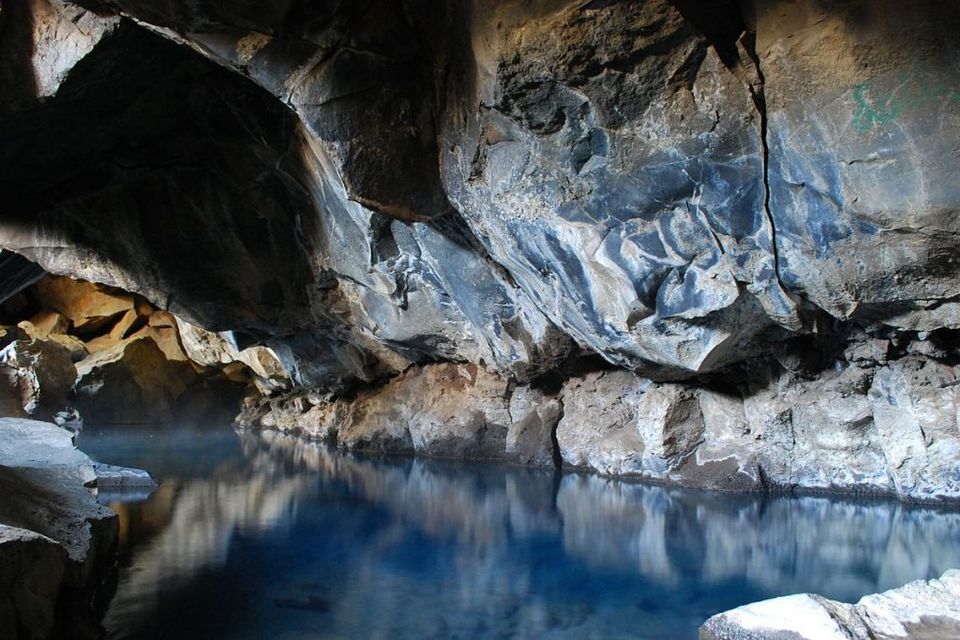 Photo Credit: Wikimedia Commons
If you are a Game of Thrones fan, this may sound familiar.In case you don't know what we are talking about, it is the cave where Jon Snow and Ygritte get it on. As crazy fans, we promised ourselves we would visit and this turned into one of our misadventures. More about this later. Bathing in the cave dates back to the 18th century. The Krafla eruptions from 1975 to 1984 caused the water in the cave to rise above 50°C. Eventually the water temperatures came down and you can bathe in the water. However the entrance is quite tricky, especially in the winter and better to be done with a tour/local.
8. Gvendarlaug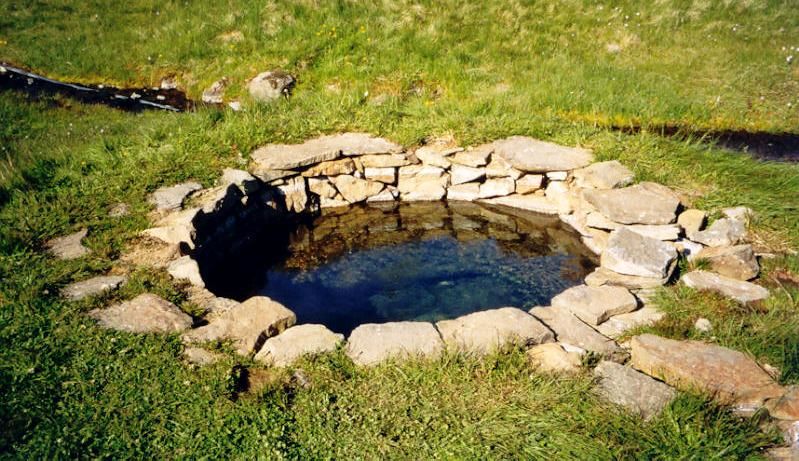 There are two natural thermal pools at Gvendarlaug. One of them is medieval and is being preserved as an archaeological site. The other is close by and next to it is a modern swimming pool. It is located in southern Strandir district, north of Drangsnes Village in eastern Westfjords.
Geothermal pools in Iceland that are not the Blue Lagoon Click To Tweet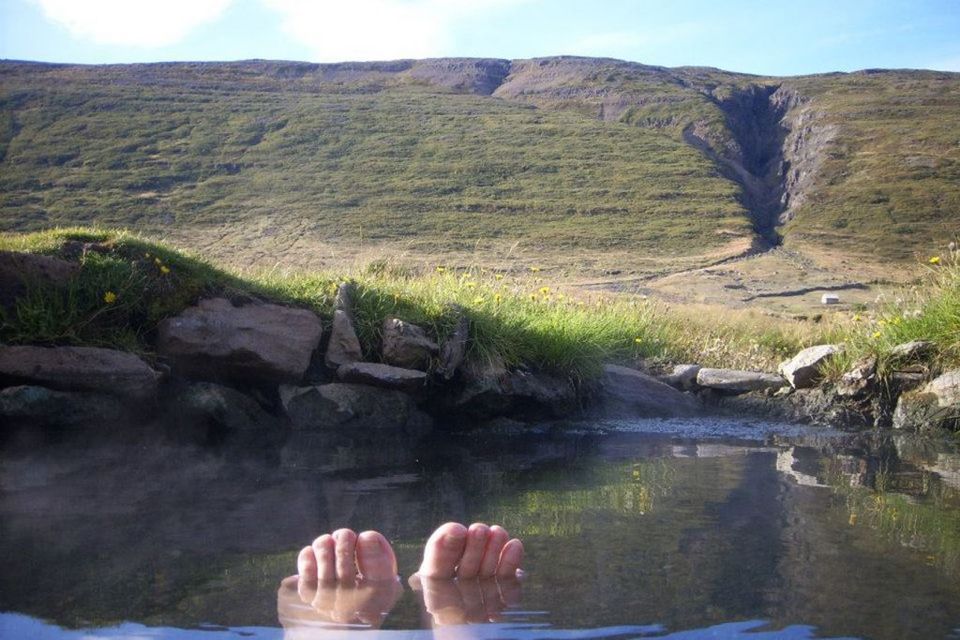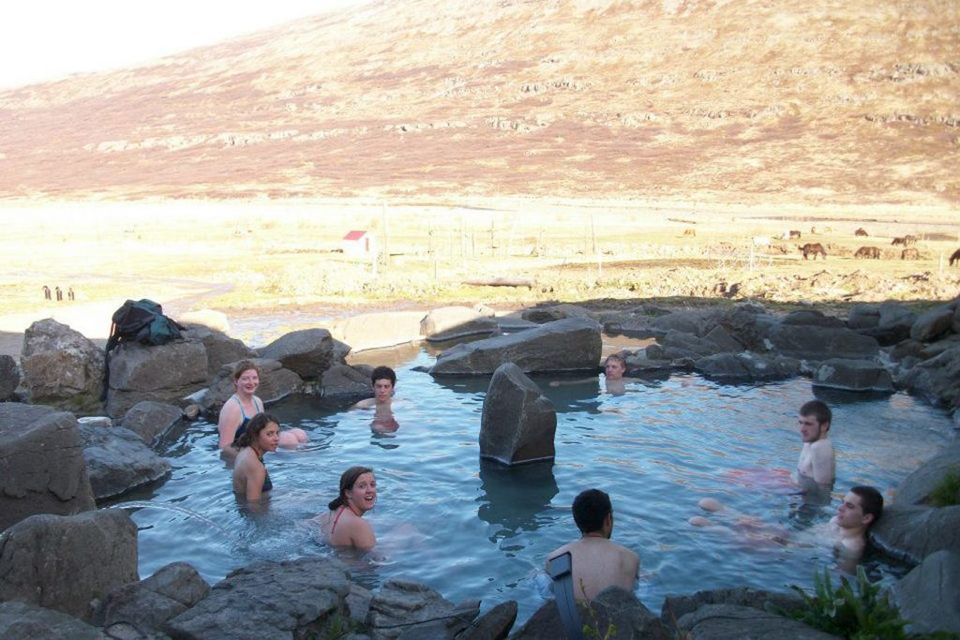 Photo Credit: Heydalur Guesthouse
Heydalur offers up 3 unique hot pool experiences. One is a manmade hot pool, one is a swimming pool in a greenhouse (yes, really!) and the third one is a hole in the ground. No joke, it is a middle of nowhere hot pool. The changing room near the hole is now defunct. So be prepared to shed your inhibitions and bear with the climate. To make use of any of these, you have to be a guest of Heydalur guesthouse.
10. Laugafellslaug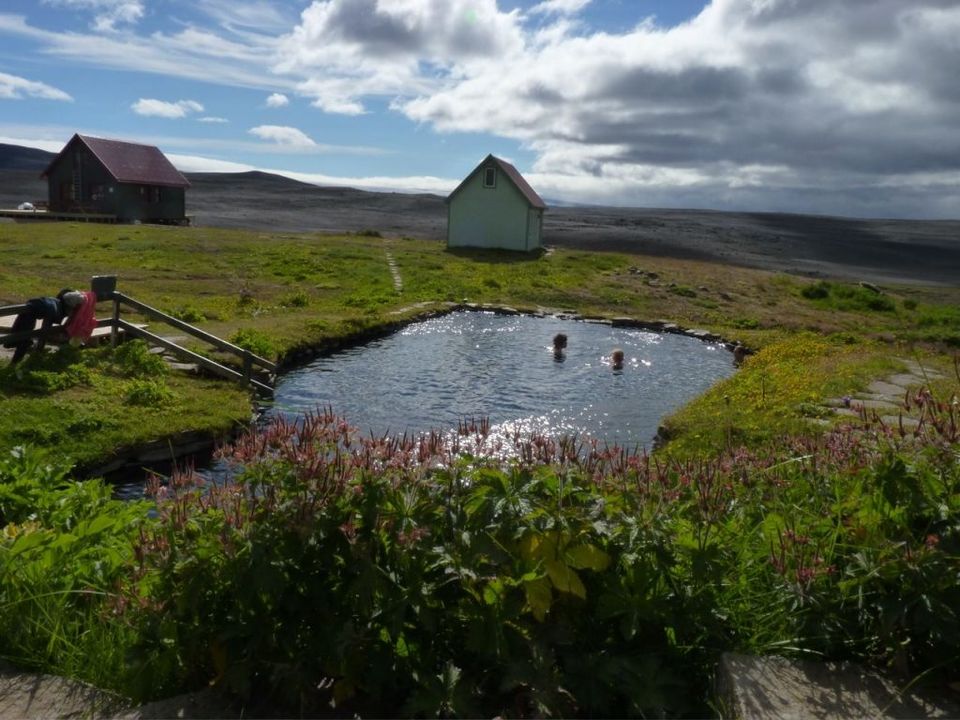 Photo Credit: My Visit Iceland
The Laugafell geothermal pool is located on the northwestern slopes of Laugafell Mountain. There is a folklore which tells the story of Þórunn the Rich, a chieftain's daughter from Eyjafjörður. She fled to the mountains with all her household to escape from the Black Death Plague. She stayed in Laugafell for almost one year and everyone in her household was spared from death. The hot spring is made two rivers-one hot and the other a bit colder which mix together. You need to get the permission from the farmer nearby to step into this beauty.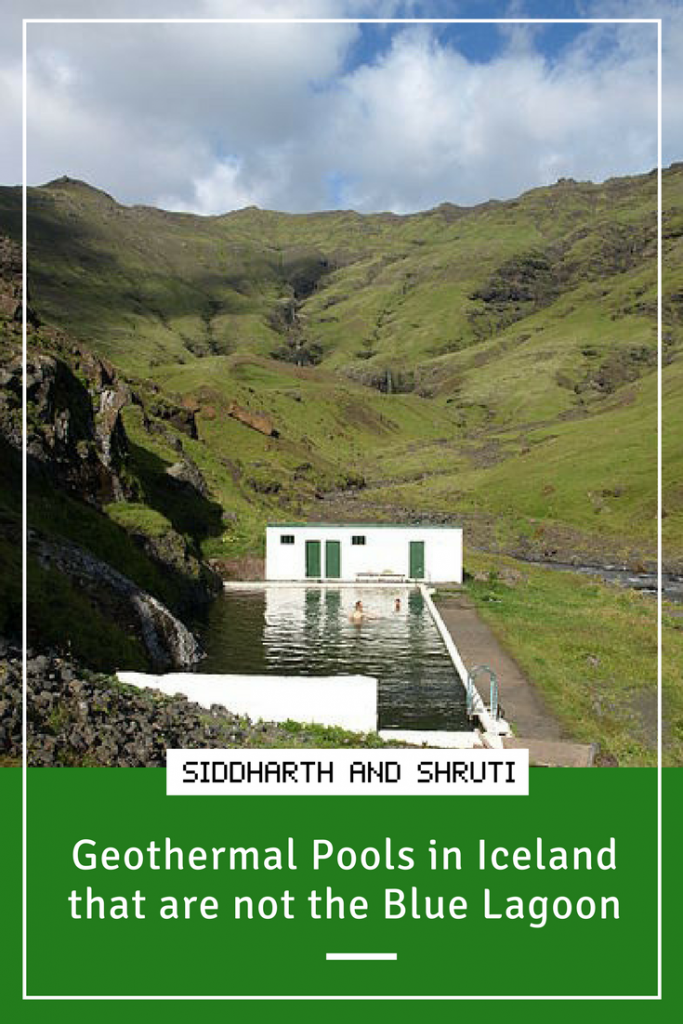 This article was originally posted on 'Siddharth and Shruti'