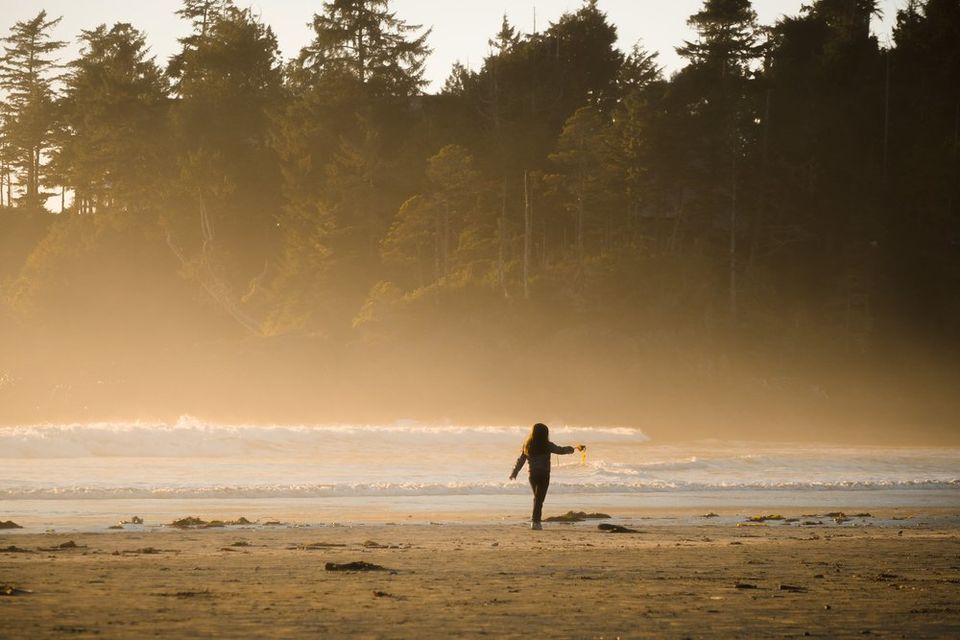 Tofino is a small seaside town on the western coast of Vancouver Island, and there are so many amazing things to do here.
Surrounded by water lying on a peninsula it is a prime destination for lovers of the outdoors. It's located in the sprawling Clayoquot Sound and is the entrance-way to the multitude of trails and natural experiences.
Due to how easy it is to reach the Island from Vancouver in Canada's mainland, this is a great destination for a quick weekend away for both locals and tourists to the country.
Let's take a look at some highly rated things to do here in Tofino!
Walk along the beaches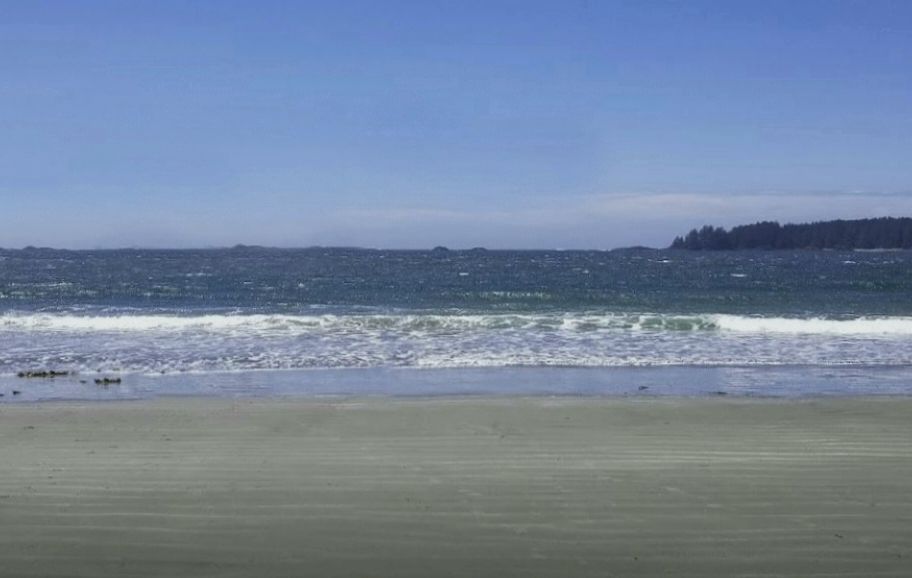 Because Tofino is on a peninsula, it is surrounded by water on all but one side. This means there is an abundance of beaches to choose from!
With 10 official beaches to check out, you really are spoiled for choice here. Some of the most popular (and therefore slightly busier ones) are Chesterman Beach & Long beach. You can expect to see many people taking part in water sports on both of these beaches!
If you really want to avoid people, and would prefer to find smaller and quieter beaches then you'd be better off going to one of these below:
Third beach which is located almost at the "top" end of the peninsula. This beach is a small inlet with rocky terrain either side of the sand. A perfect place to get away from the hustle and bustle of the larger tourist beaches.
Surfing
We've spoken about the best beaches, but where are the best places to go surfing? One of the most popular things to do in Tofino is go surfing and they definitely have some of the best conditions for the sport right here!
The best time of year to test out the waves is definitely the fall as that is when the water is at its warmest. The summer sun would have kept the ocean warm all season and it wouldn't have had time to cool off yet.
That's not to say you can't surf the rest of the year, because you definitely can. It will just be VERY cold. Are you brave enough to give it a go?
Another plus for surfing at this time of year is that there are much less tourists so you have more of the beach to yourself.
Visit a brewery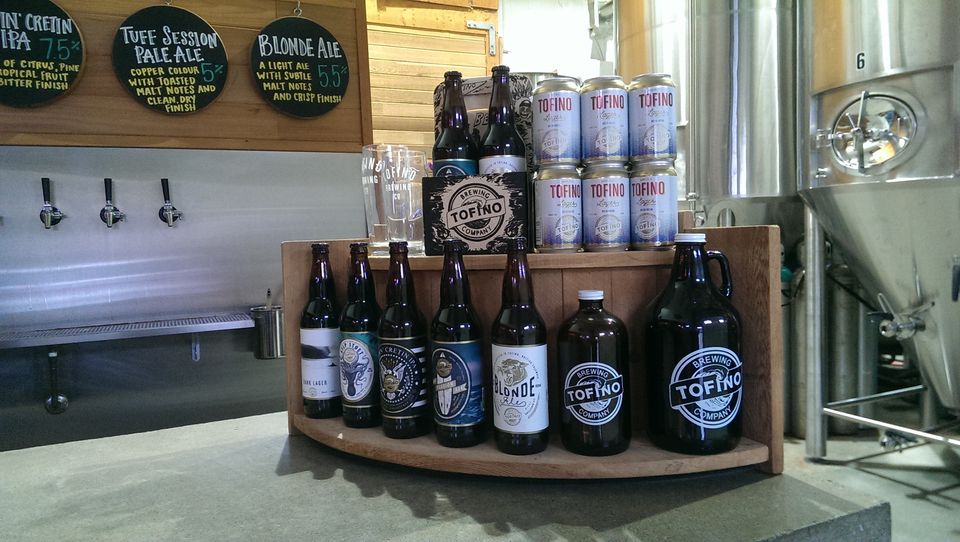 Tofino Brewing Company is often listed as one of the best things to do because (almost) everyone likes a drink!
As one of only 40 craft breweries on the entire island, and the only one actually in Tofino, this is a must visit. This has been rated as a popular place to visit after a long day at the beach and there's nothing quite like a cold drink to wake you up.
The Brewery has a limit on the amount of beer they can serve in their tasting room but have no fear. You can purchase customisable crates with a mix of their flavours, kegs and merchandise so you can remember your visit.
Bear watching
Not satisfied by just seeing Whales? What about going out bear watching too?
Many of the tour companies that offer Whale tours are also in charge of helping you find bears in a safe and sensible manner. The most common bear you will find here (and across most of the province of British Columbia) are Black bears.
These are the smallest of the three bear species to be found in Canada and are found all over the island. By joining up with an official tour company you'll be much more likely to see bears as they're the experts who have learned the bear's seasonal patterns.
Rainforest Trail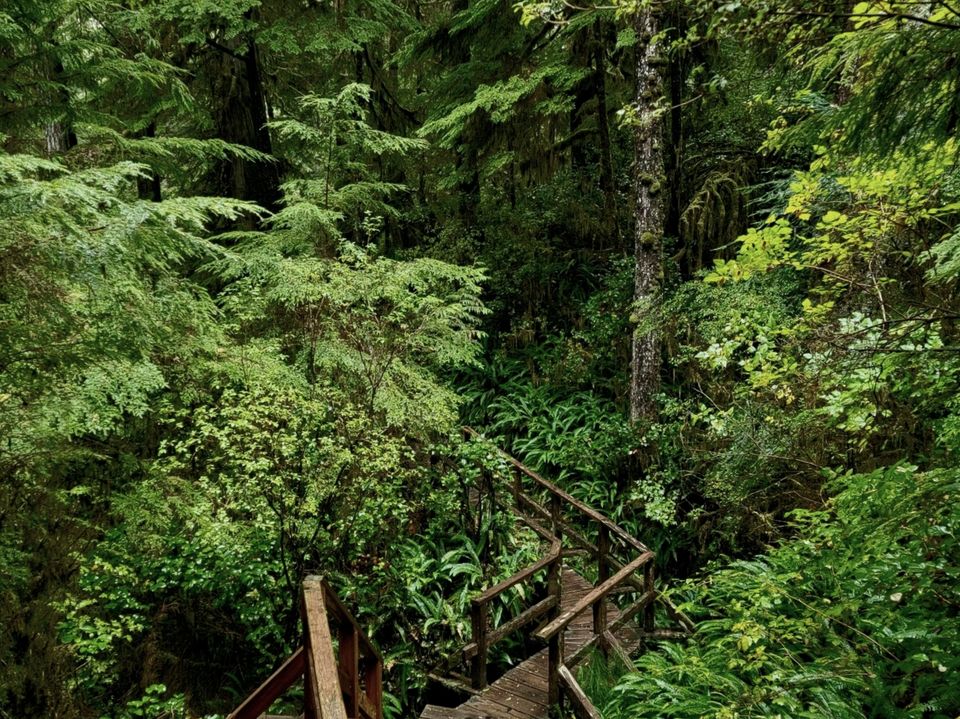 Located in the neighbouring Pacific Rim National Park, the Rainforest trail is arguably the most popular walking route in the area. Technically this route consists of two trails as each one is situated on a different side of the highway.
There is an elevation gain so you'll probably experience a bit of a thigh burn whilst climbing up the 731 steps but the forest trail is worth it. If you complete the hikes you'll be rewarded with luscious forest views in every direction along with a few sights not to be missed.
Along with unlimited foliage along the boardwalk trail, you'll also be able to see a few small viewpoints and creeks and the main feature - a giant tree double the size of all those around it. Trust me, it's worth the walk.
Storm watching
If you crave storms and dramatic weather, then why not visit during the winter months to go storm watching?
Due to the temperate weather here on the Pacific coast, it doesn't get as cold as the rest of Canada. With the warmer winter temperatures (sometimes as warm at 6 or 7 degrees C) comes much more chance for impressive weather changes.
Think dramatic sunsets, sideways rain, extremely fast winds and giant waves. Everything the active storm watcher is looking for. Although storms can be enjoyed all across the tofino region, one of the best spots is Chesterman Beach due to their huge waves! (Please don't go surfing during a storm!)
Whale Watching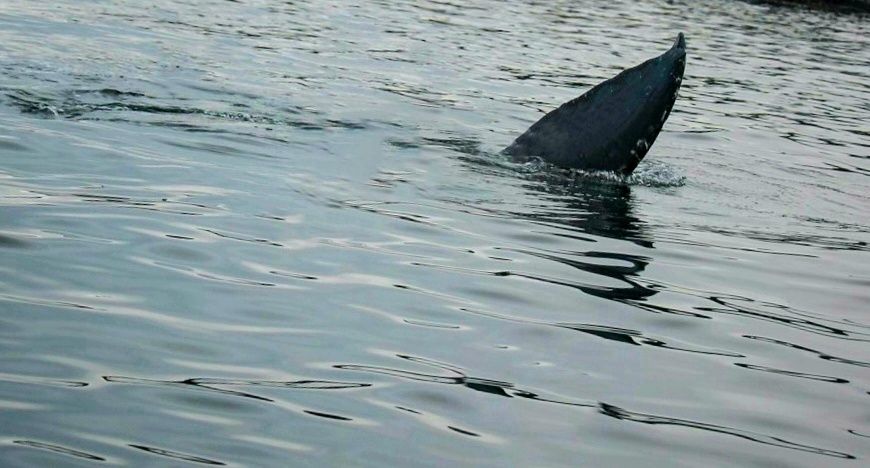 If you're prepared for the slightly colder weather, you can head over to Tofino for the start of their Whale watching season in February. The season usually stretches through to April & May when you're more likely to see the females and their calves swim past.
Grey Whales are the most common species of Whale to be found in the waters surrounding the peninsula. The western coast of Tofino is along the migration route that the Whales take every year from the warm Mexican ocean up to the freezing Arctic seas.
In the early months of spring, the Whales are known to feed during the protected bays here which is why this is such a great time to spot them. Multiple ethical tours are available here to safely watch these animals from a safe distance.
Visit the Hot Springs
What's better than visiting a natural hot spring? Due to the location of the geothermal activity under the earth's crust here, there are some natural pools that we can sit in - without being cold! There aren't many places where you can sit in water in Canada that don't turn you into an icicle.
You normally have to visit the hot springs as part of an official tour rather than independently, but that's mostly so they can protect the local environment.
When you visit the hot springs you can relax, all while enjoying the stunning natural forest landscape around you.
Virgin Falls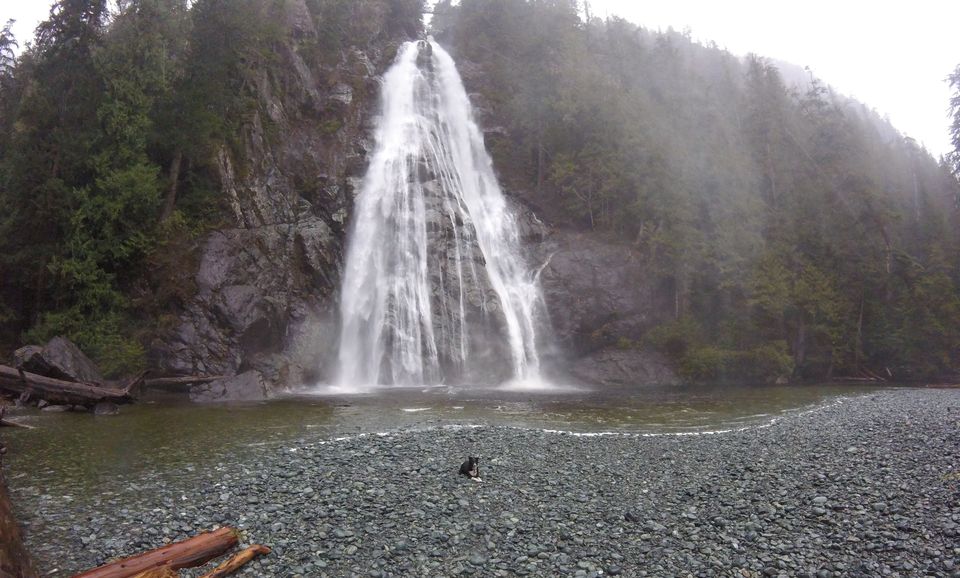 So Virgin falls is technically outside of Tofino but it's such a hidden gem & I highly recommend visiting if you're in the area. It's a great place to set up camp and even take a dip if you're brave enough!
It's located in the Pacific Rim National Park and is a powerful 53 metres tall. A pretty impressive waterfall with no crowds at all.
To reach the falls you will need to travel through the ancient rainforests and narrow logging roads. This is an active region for logging trucks so you will need to be careful while driving through.
There isn't much phone service but this just adds to the peace and quiet of the National Park and being in such a remote location.
And there we have it, 8 natural sights in the small town of Tofino (and one not so natural) for you to enjoy on your visit. A beautiful place with nature at every turn on the Western coast of Canada.