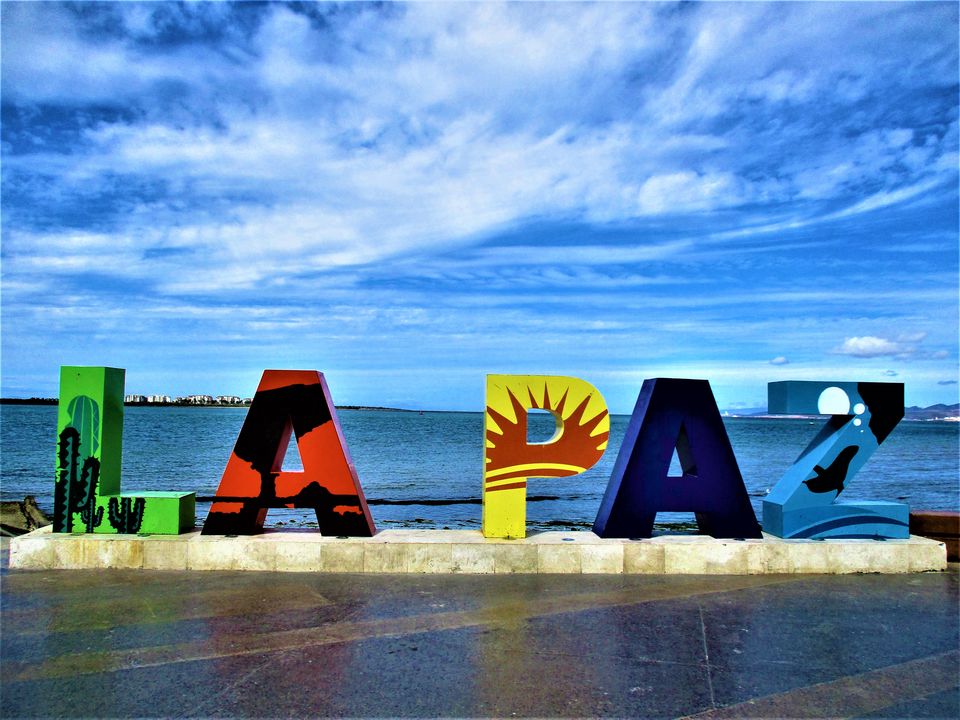 La Paz - Between the Mountains and the Sea
We spent a couple of weeks in La Paz, Baja at the beginning of this year and thoroughly enjoyed its relaxed vibe. The city is situated in a stunning position between the Sea of Cortez and the Sierra la Laguna mountain range. If your budget stretches far enough, La Paz is an ideal place to enjoy a wide range of water-based activities and attractions. The city is blessed with easy access to incredible marine life and beautiful desert landscapes. Swimming with whale sharks, whale-watching and snorkelling are just a few of the cool things to do in La Paz.
Staying in an Igloo
The coolest thing we did in La Paz was to stay in a fabulous concrete igloo which we found on Airbnb! Although it was in a residential area, a half hour's walk from downtown, it was a great place to stay. Not only did it have a kitchen, but there happened to be a huge supermarket nearby. Consequently, we were able to do our own cooking much of the time. The small compound included a concrete tipi, three A-frame chalets and a tiny pod on wheels. Additionally, there was a friendly dog who greeted us each time we returned to our igloo abode.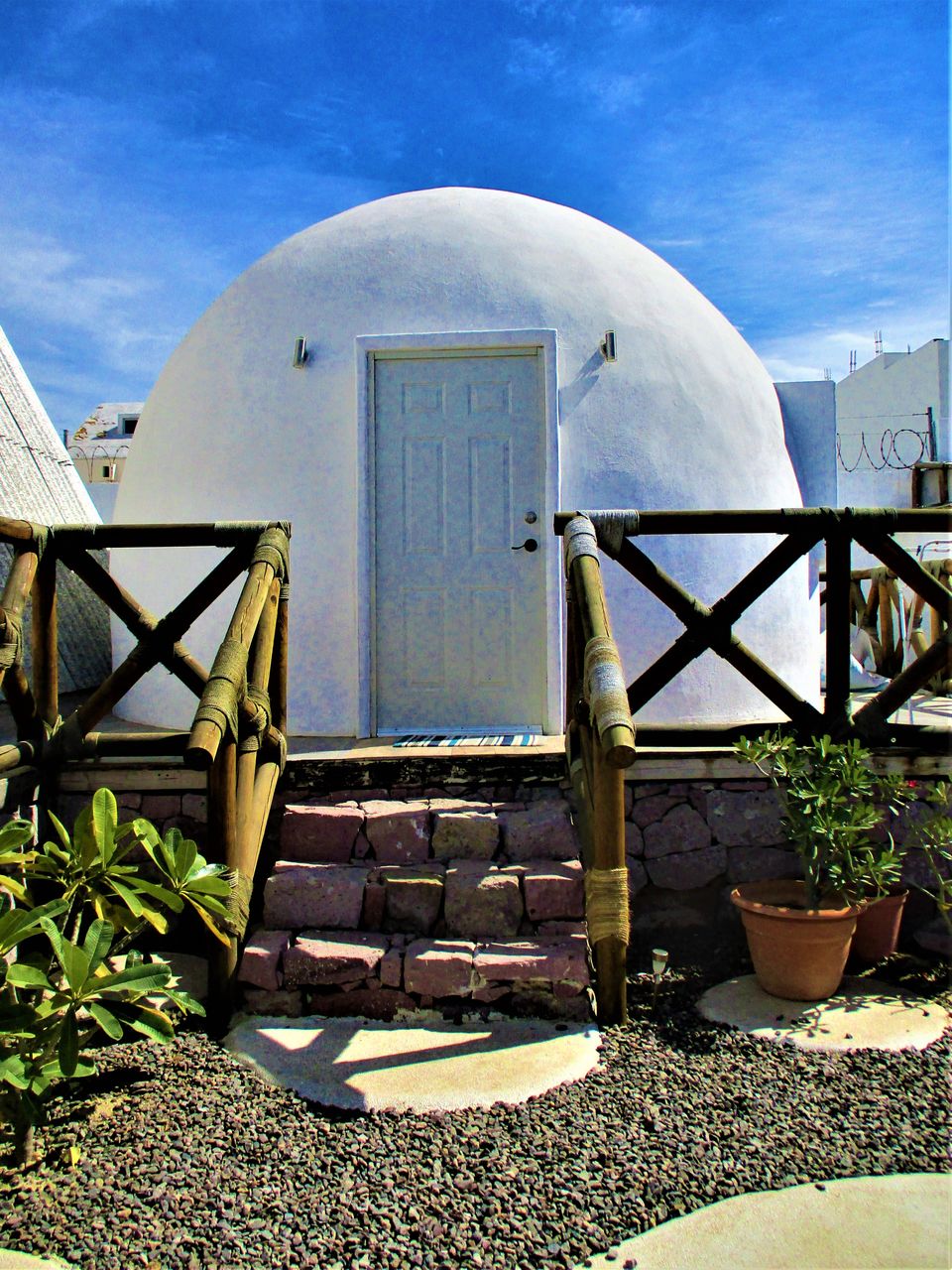 Laid-Back La Paz
Although La Paz is pretty low-key, we found plenty to keep us busy throughout our stay. We discovered colourful street art and quirky sculptures, cycled along the malecon and watched pelicans swooping into the sea to catch fish. We took a local bus to beautiful Balandra Beach and discovered a wonderful traditional restaurant with a view of the Sea of Cortez.
Unfortunately, the downtown area was being dug up while we were in town! However, under normal circumstances it would be a pleasant area to explore, with a cathedral, spacious plaza and a couple of small museums. These include the Whale Museum and the Museum of Anthropology.
In all honesty, you will have an amazing time in La Paz if you can afford to take advantage of the range of fantastic activities that are available. However, even on a backpackers budget, La Paz is a laidback place to hang out for a few days. Here, we have chosen nine cool things to do in La Paz.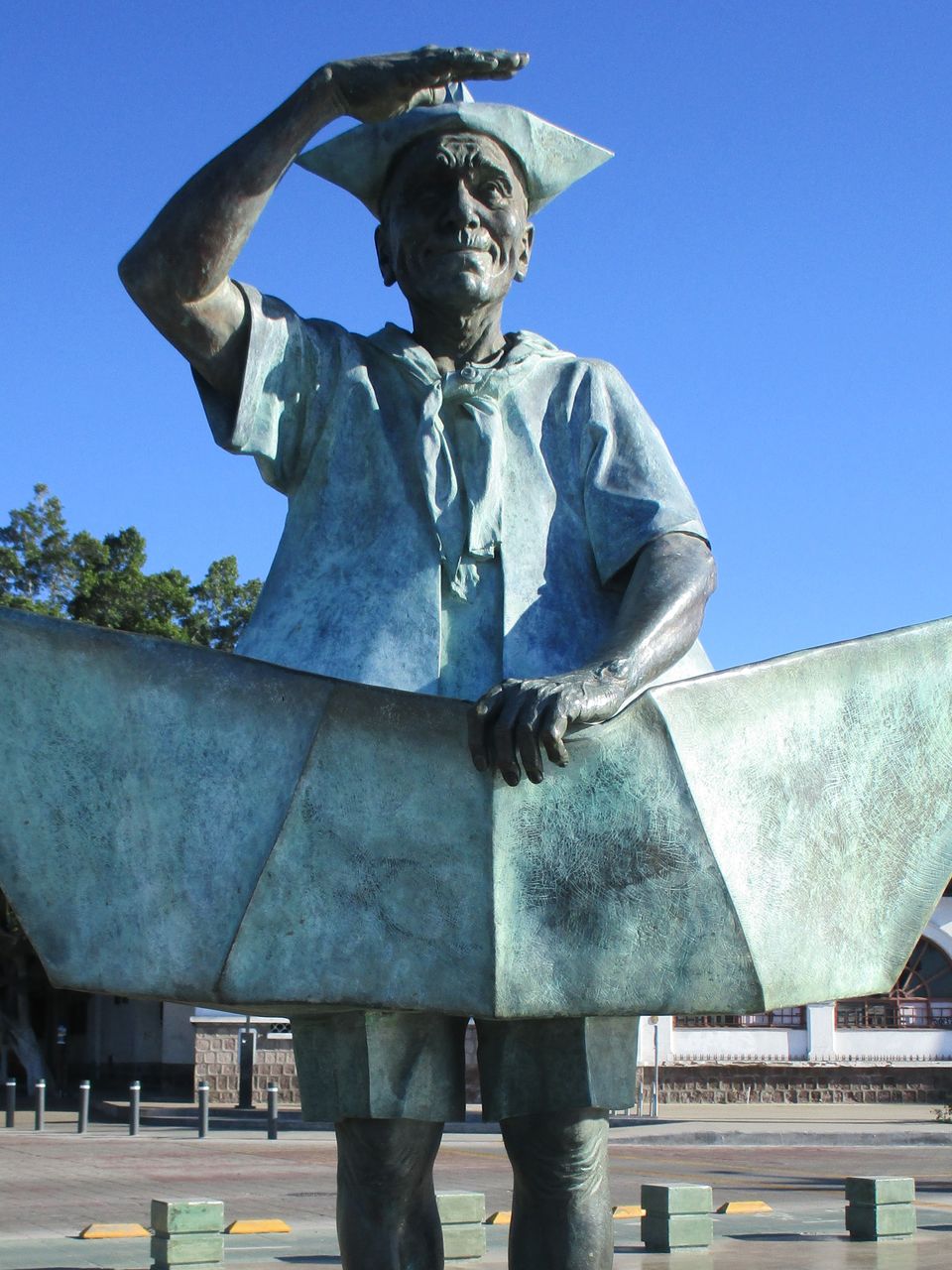 1) Swim with Whale Sharks
Swimming with whale sharks is probably the coolest thing that you can do in La Paz. From the harbour, it's only half an hour's boat ride to the spot where the whale sharks are found. Tours include a guide and all the equipment required. Good-natured whale sharks are perfectly safe for humans to swim with and spending time in their company is an awe-inspiring experience.
The sharks are drawn to the Bay of La Paz for its abundant food and also for breeding. Sadly, whale sharks are endangered. In fact, there are only a few places in the world where it's possible to swim with them. In La Paz, you can experience swimming with whale sharks between October and April. There are several good tour companies to choose from.
2) Cycle the length of the Malecon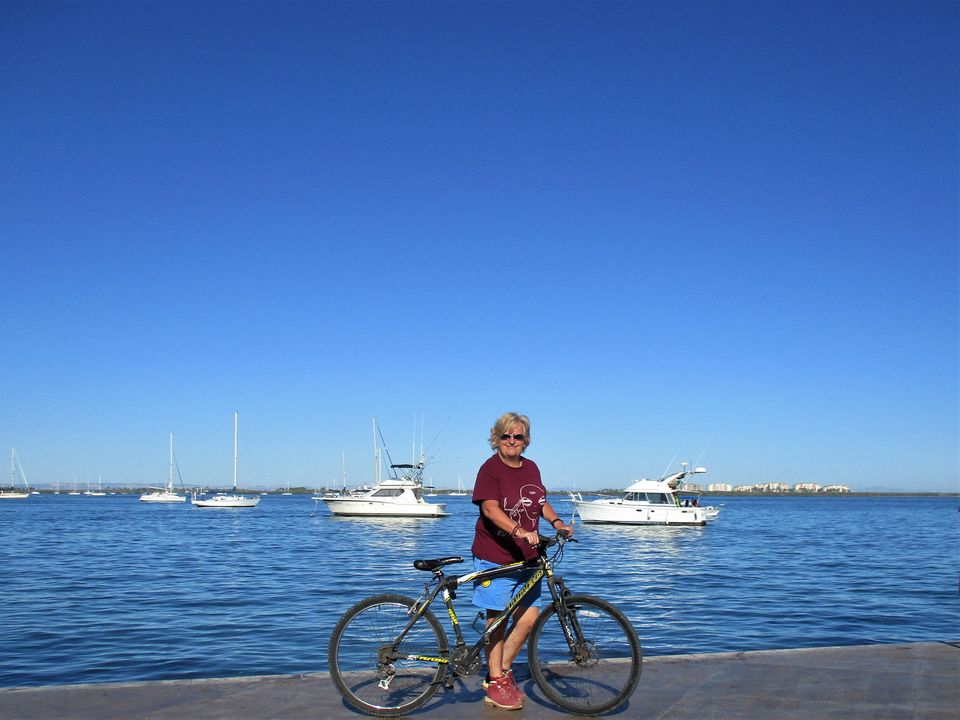 The Malecon (seafront or promenade) in La Paz stretches around 3.5 miles and bike lanes run the length of it and beyond. Consequently, it's perfect for exploration on two wheels. The path hugs the harbour and and it's a great spot for people watching. We borrowed bikes from our Airbnb, but it's also possible to hire wheels of all types from cruisers to mountain bikes at TIM. Additionally, they can organise bike tours.
One of the main features of the Malecon is a series of sculptures which are situated along the wide pedestrian walkway. From whales to Mermaids, all of the sculptures are related somehow to the ocean. There are plenty of seats on which to take a break from cycling under the hot Bajan sun. Additionally, cafes and restaurants line the malecon and consequently, there are plenty of options to grab a bite to eat and a drink.
3) Catch the Beach Bus to Balandra
Balandra Beach is often referred to as the most beautiful beach in Mexico. Once you have been there, it is easy to understand why. What is more, getting there from La Paz is easy. There is a regular bus, which costs just a few dollars for a return ticket and leaves from the bus station. From there, it only takes twenty minutes to the beach. The large crescent shaped bay of crystal clear water is enclosed by a mountainous desert landscape. Furthermore, the sea is so shallow that you can walk from one side of the cove to the other.
When we arrived, we climbed a hill which overlooked the bay. We then walked down a rocky trail and through sand dunes to the beach on the other side of Balandra. From there, it's possible to walk to a volcanic rock formation known as El Hongo (The Mushroom). From Balandra Beach, you can walk through the water and around the rocky headland. The rock has become an iconic symbol of La Paz. On Balandra Beach, kayaks and snorkelling gear can be hired - the best snorkelling is close to the rocks. There are palapas to shelter from the sun, and vendors walk up and down the beach selling fruit and snacks.
4) Go Whale Watching
Baja is known to be one of the best whale-watching spots in the world. Indeed, from La Paz you are well-based to see a wide variety of whales if so inclined. Gray whales can be seen in the Bay of Magdalena, which is located across the peninsula. This tour can be done in a day trip from La Paz. The whales migrate from the Bering Strait in Alaska to feed, play and give birth in the warm waters. The gentle giants are friendly and inquisitive and frequently approach the small boats for a close encounter.
The Sea of Cortez was referred to as 'The World's Aquarium' by Jacques Cousteau and is incredibly rich in bio-diversity. In addition to humpbacks, fin, sperm and minke whales, the elusive blue whales can be seen between the months of January and March. There are numerous tours to choose from that leave from La Paz for either the Sea of Cortez or the Bay of Magdalena.
5) Take a Day Trip to Todos Santos
La Paz is only an hour's drive from the delightful desert oasis of Todos Santos. In fact, we loved this little town and decided that we would like to live there one day! It's colourful streets are full of cute restaurants, art galleries together with a number of independent shops. The pretty plaza is home to the original mission which was built by Jesuits in 1933. Additionally, the Hotel California happens to be in Todos Santos. Although it's apparently not the hotel referred to in the Eagles famous song as originally believed, it is nevertheless atmospheric and worth dropping by for a beer or cocktail at the bar.
Todos Santos is also situated close to miles of unspoilt beaches. In the winter, you can see whales breaching from the shore and turtle hatchlings being released into the ocean. Additionally, there are some great surfing beaches nearby. Buses for Todos Santos leave regularly from the bus terminal on the malecon at La Paz.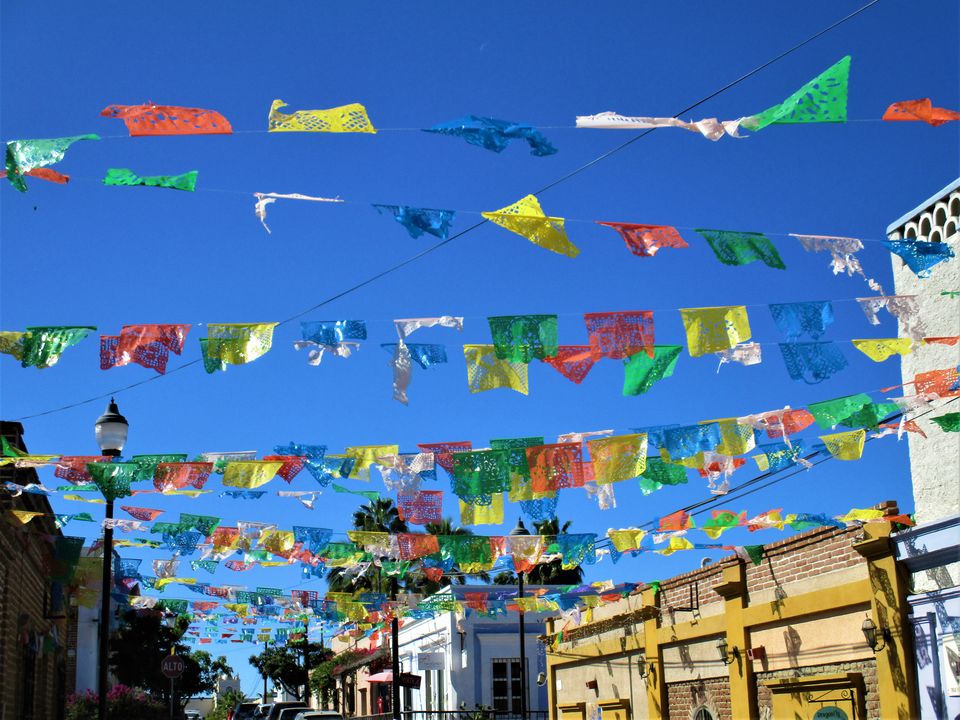 6) Take a Boat Ride to Espiritu Santo Island
One hour and fifteen miles north of La Paz, the island of Espiritu Santo is home to a diverse array of marine life. An UNESCO World Heritage Site and national park, Espiritu Santo is a beautiful island, surrounded by a pristine reef. It's an incredible place to go snorkelling. In fact, you are likely to spot rays, parrotfish, Moorish idols and even an occasional turtle or two. Additionally, you may even be lucky enough to witness dolphins, sea lions or whale sharks from the boat, depending on the time of year.
The island itself has an abundance of white sandy bays, walking trails, impressive volcanic rock formations and cactus aplenty. The contrast between the turquoise colour of the Sea of Cortez and desert hues are stunning. Whether you decide to swim with sea lions or explore the rocky trails, a trip to Espiritu Santo is definitely a highlight of any trip to La Paz.
7) Have a Night on the Town
La Paz isn't a party town like Cabo, a couple of hours to the south, but it has its share of bars and the vibe is altogether more chilled. Most of the action takes place along the malecon, which is lined with bars and restaurants. La Paz is known for its spectacular sunsets and conseqently is the place to head to in the evenings. It's an ideal location for a margarita or two as the sun sinks into the Sea of Cortez.
Some of the venues host live bands, and mariachi bands often make the rounds. Harker Board is one of the most popular hang-outs in town. What's more - the pizzas and burgers are delicious. From the terrace, there are panoramic views of the bay. The crowd consists of a healthy mix of tourists and locals. The malecon gets particularly lively on weekends when the bars are full and the air buzzes with atmosphere.
8) Check out the Street Art
La Paz is home to some colourful street art and being the street art enthusiasts that we are, we couldn't pass up the opportunity to check some of it out. There are more than eighty murals situated throughout the city, created by artists from all over Mexico. Most of the street art can be found a block back from the Malecon and also around the downtown area.
For those who want to delve a little deeper into the stories behind the urban art, Street Art LPZ run guided tours. They are an hour and a half in duration and run by Amelie Meadows, a French anthropologist/journalist who has lived in La Paz for many years.
9) Sample the Local Cuisine
As you would expect, seafood is the star of the show in La Paz and the fish tacos are as good as they get. Whatever you eat, the emphasis is on fresh, locally produced ingredients and there are plenty of options, even for vegetarians. Indeed, one day we had lunch at Capuchino, a veggie café serving meat-free sampler dishes which included empanadas and falafel tacos.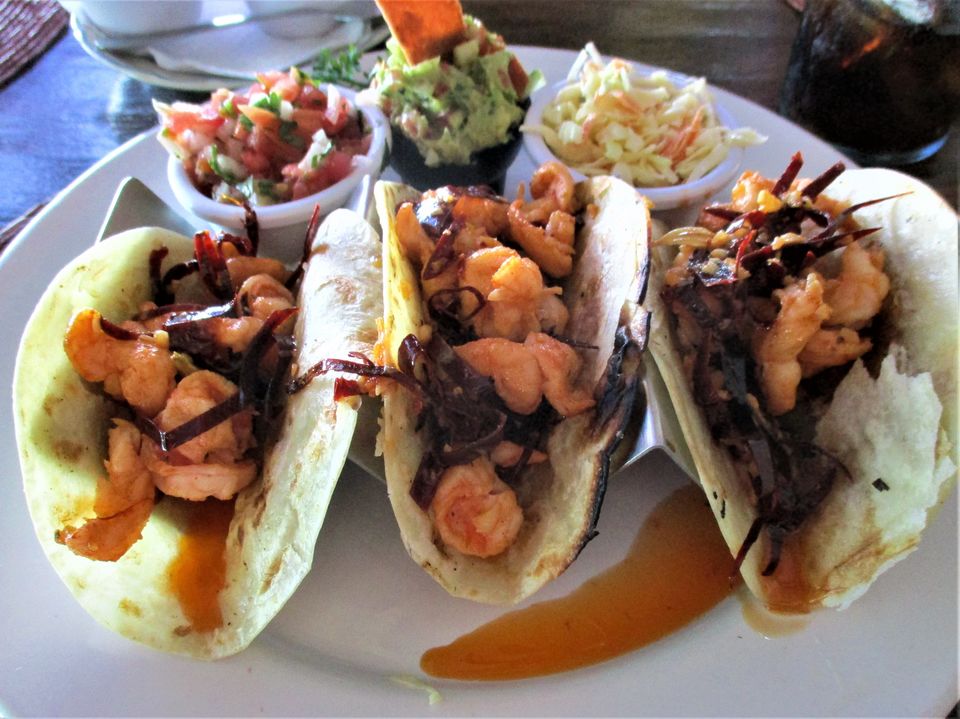 Many of the restaurants can be found along the malecon and our favourite was the colourful and traditional Mariscos los Laureles where the delicious shrimp tacos came with a view of the bay. While you are in La Paz, be sure to sample chocolate clams, a local speciality. Named after their colour, they are sometimes baked with garlic and cheese or alternatively used in chowders.