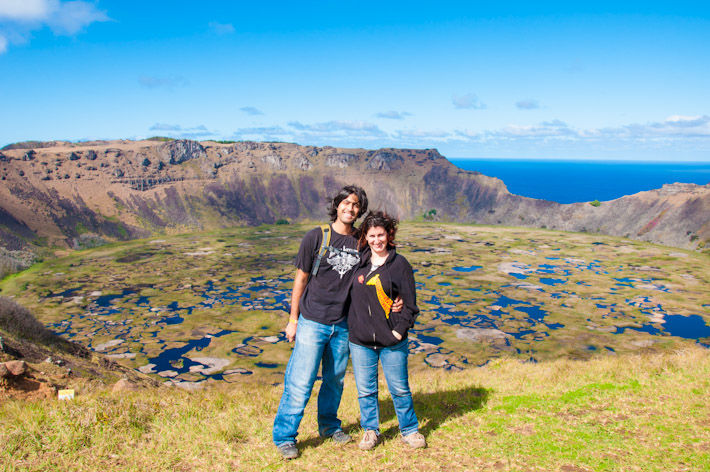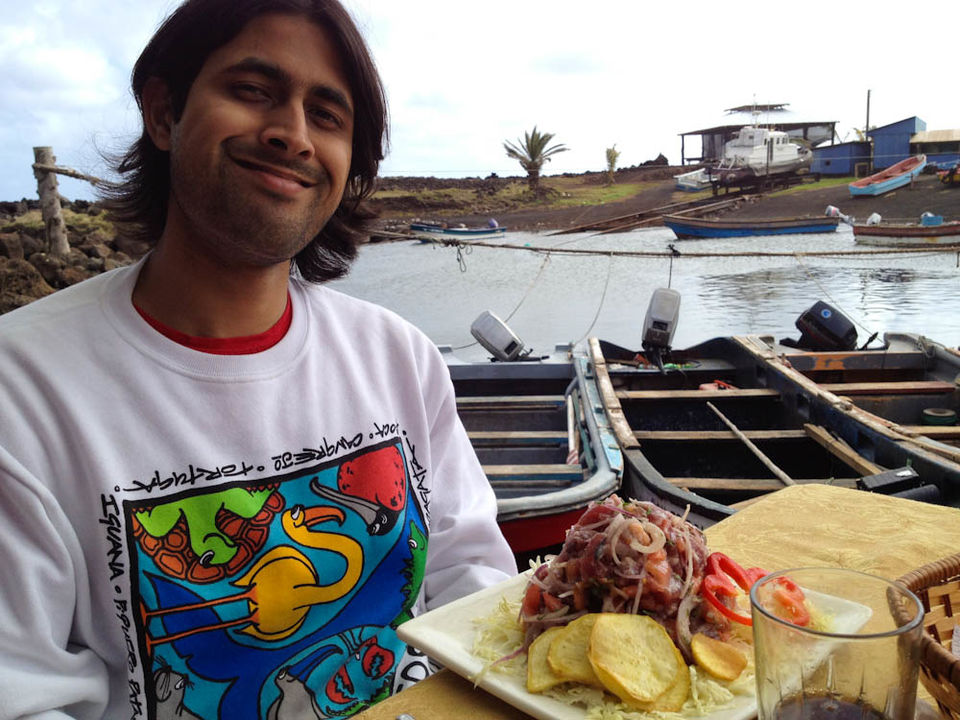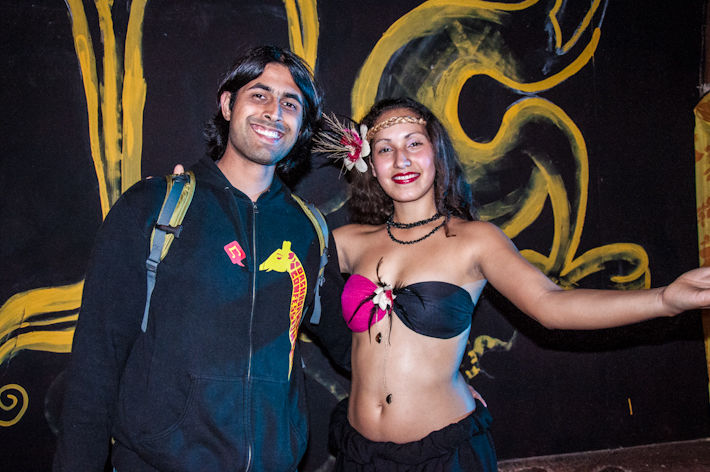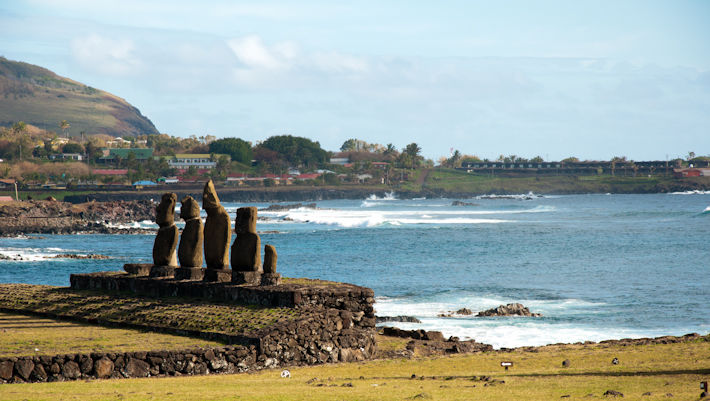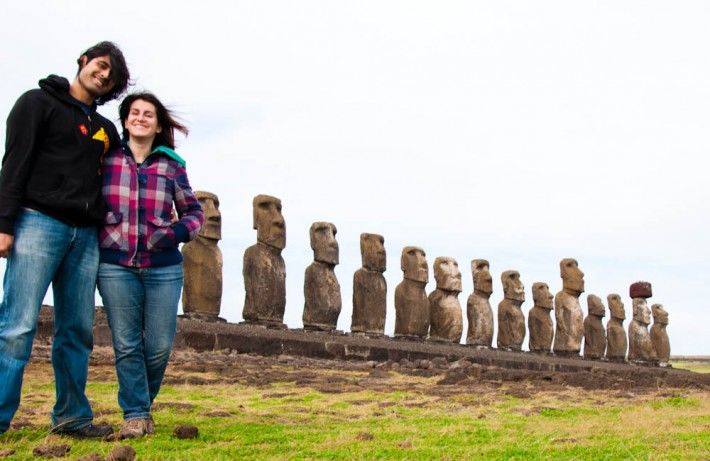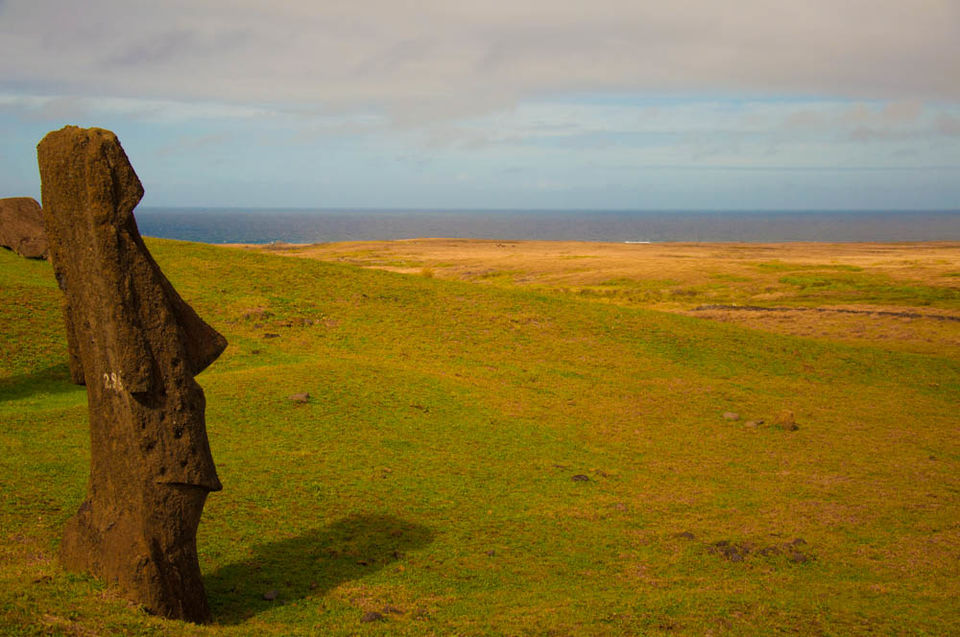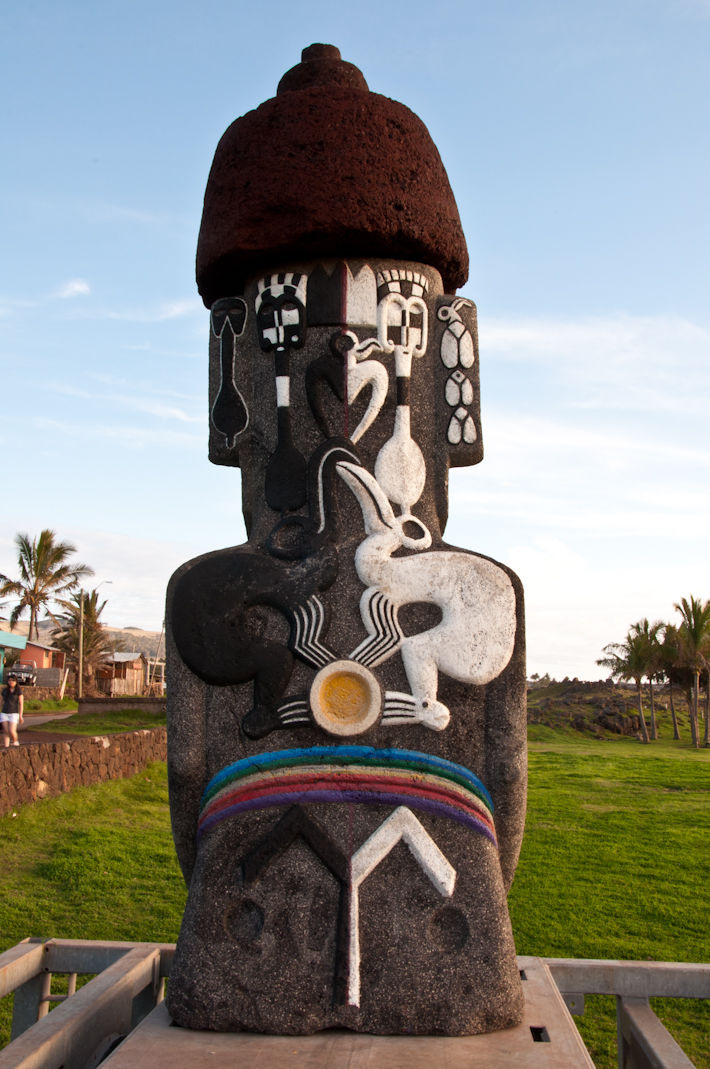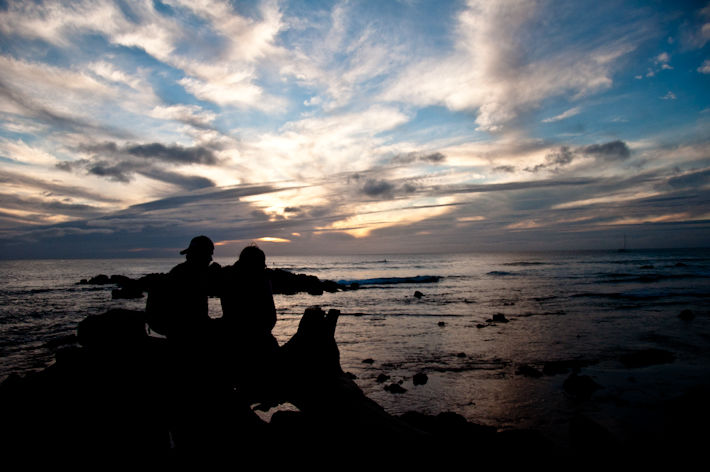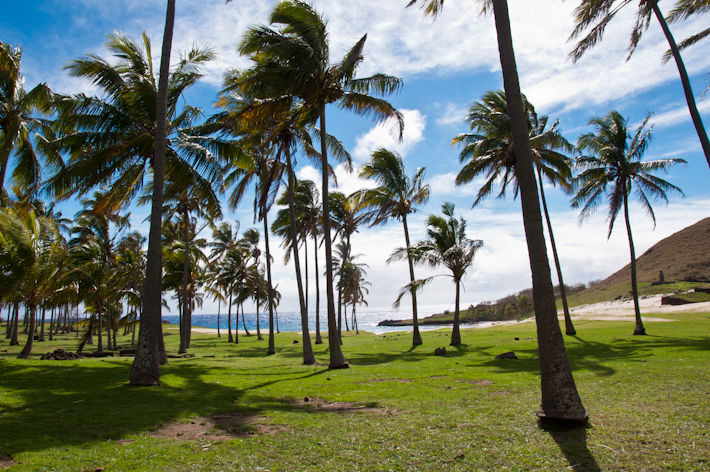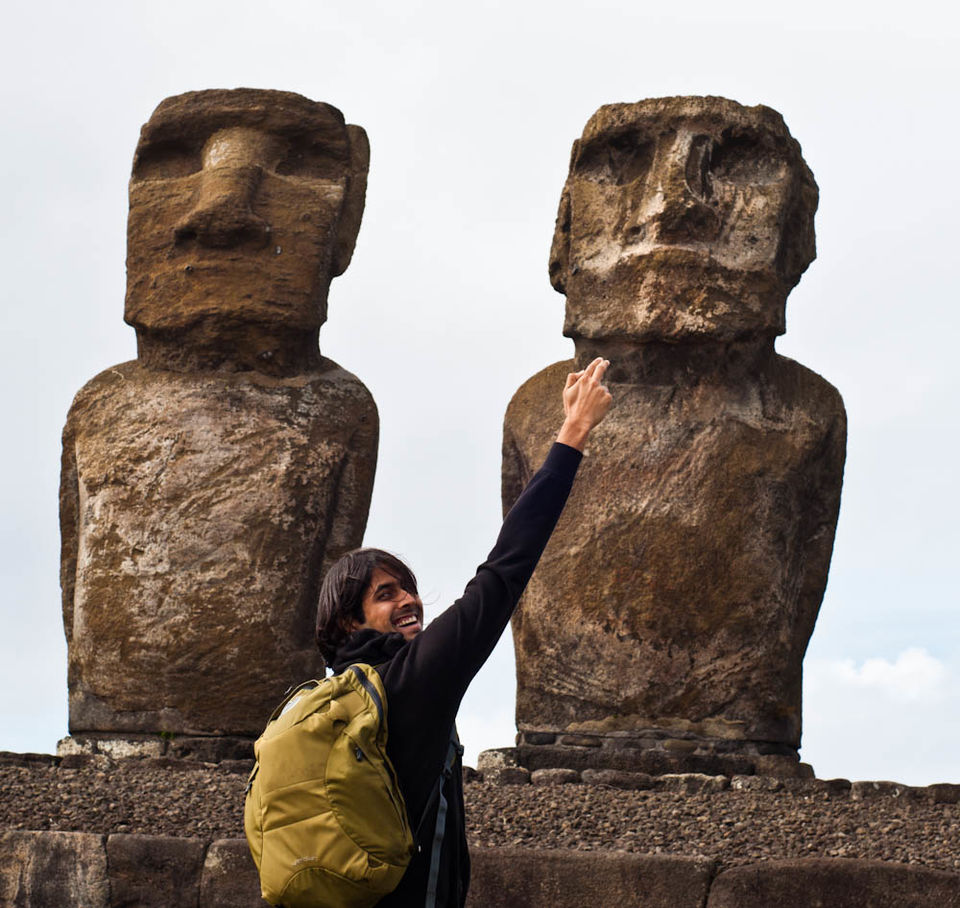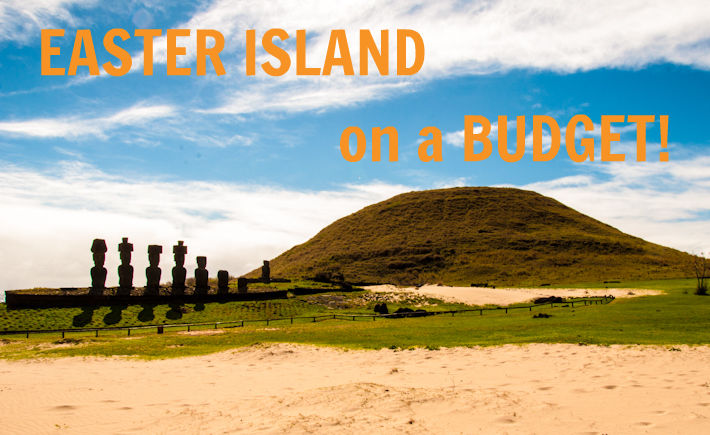 First of all, allow me to say:

There is no such thing as "Easter Island on a budget"!
So, before you accuse me of writing a misleading title, let me explain that what I meant to say was "how to make the most of Easter Island while spending less".
We all work hard and save money to travel. And that's why I think we should make the most of our bucks while exploring foreign lands – because saving on money doesn't mean cutting your experiences short!
Here are some recommendations that will help you keep those expenses under a tight leash!
- Fly to Easter Island on low-season
Flying to the Island itself would be one of the main costs to take into consideration. By planning your trip avoiding the high season (December to March) you have a greater chance of scoring better flight deals. LAN is the only airline that flies between the mainland (Santiago de Chile or Lima, Peru) to Hanga Roa and, having the monopoly, their tickets are expensive.
The more your dates are flexible, the better chances you have to get a cheaper flight. And last minute doesn't tend to be a good idea either. In July 2012 we paid around USD600 per person – same ticket would have costed us about USD900 only a few days earlier but the flexibility of dates allowed for a saving of USD300 per person!
Don't worry if you think low-season is not the best time to visit. I can guarantee you it's lovely and the fact that there are way less tourists roaming around the archeological sites makes it considerably more charming – it's even easier to take photos of the Moai statues without all those human heads around!
- Do not book accommodation from abroad
Sleeping in Easter Island can easily cost you USD80/night for the least expensive options. It might be a good idea to look around once you are in town, as budget accommodations do not have the same on-line presence as bigger guesthouses and hotels do.
You might want to book accommodation for one night so that you have your first day in the island covered, but you can take it from there once you are in Hanga Roa. Particularly if you come during low-season, there is no shortage of options and you can try to negotiate rates in person, depending on the length of your stay.
Choose a "cabana" instead of a hotel - this rustic style housing is very common, tends to be cheaper than places that go by the name "hotel" and still are very comfortable and convenient. And there are some good looking options on Airbnb too! If you stay at a "cabana" you would normally have a kitchen, instead of just a place to sleep at, like you'd have at a hotel. This means you have much more autonomy when it comes to preparing your meals and this can save you some serious money. Simple meals in town easily cost USD20 and with that much money, you can purchase food for several days if you have somewhere to prepare it.
- Buy your supplies at the right place!
If you decide to cook some of your meals, buy your ingredients where locals do. In the mornings, trucks stop by the main road (Atamu Tekena) selling produce and even meat. Not only this is cheaper than in supermarkets but also there is much more variety when it comes to the vegetable side of things.
It might be a good idea to bring some basics with you from the mainland – for example, I always carry my spices, condiments and small bottle of olive oil wherever I go. This kit makes me ready to cook-set-go!
- Eat in restaurants outside the main road
Most of the expensive restaurants are, obviously, on the main road, as this is where all tourists head by default. Roam around secondary roads and you are likely to come across cheaper options. Also, some restaurants offer "menu" or "menu del dia", which are set menus that include main dish, bread and drink – this would cost around the same price as a main dish on an average place, but will include a drink and sometimes soup. Extras are always welcome!
Empanadas and sandwiches are also great cheap eats! Oven empanadas (the ones purchased at bakeries and supermarkets) would normally cost $1500 Chilean pesos (USD3) and 2 of those, with minced meat or ham & cheese, are very filling. Fried empanadas (the ones restaurants normally serve) could go for $2500 chilean pesos (USD5) but most people would settle for 1.
Sandwiches cost $5000 (USD10) in many places and although this sounds like a lot, these sandwiches we are talking about here are massive monsters filled with meat/fish and salad.
- Take only one tour
Easter Island is the kind of destination where it is worth it to take a tour (click here to see the details of the guided tour we joined) – this will allow you an insight on the local history and traditions that goes beyond guide books. Local people would normally be the guides and can contrast the scientific theories with their local oral traditions.
But the truth is that, if you take a one day tour that goes around the main archeological sites, this would be enough to give you that introduction that will make you understand and appreciate the history of the island.
After 1 tour (full day tours tend to cost at least USD60, excluding lunch) you can take it from there and explore the rest of the sites independently. The internet is a good source of free information. Read before you take your trip and save some materials to read while you are in Easter Island (but don't count too much on reading online once you're there, as internet is not 100% reliable).
- Hitchhike or rent a car/bike in the small shops
It is very common for tourists to rent vehicles to explore the island: having a car or motorbike, you can go all around and see the main sites in one day even! But vehicles and bikes are extremely costly: I refuse to pay USD20 a day for a bicycle!
When you come across Insular or Oceanic rent-a-car shops just walk past them. Yes, they are the most well-known and you will see their name printed on maps given away for free around the island. But YOU are the one paying for that advertising. They have the most expensive prices and they won't look at you with a nice face if you try to negotiate their rates – believe me, the voice of experience is talking here. So, if you MUST rent a vehicle, look around the souvenir shops that have a "rent-a-car" sign on their window shops. These tend to be more flexible and will sometimes have older cars that work just fine and are simply cheaper – still, be ready to pay USD50/day for a 4×4 or USD 40 for a scooter. Fuel, at least, is not more expensive than on the mainland.
We rented an older 4×4 for a day while in Easter Island: it wasn't the smoothest ride ever but enough to get around and did save us 1/3 of the total price!
Hitchhiking in Easter Island is easy and very safe. Particularly if you are heading from the outskirts into town, it's easy to hitch a ride in 4x4s and pick up trucks. Locals are very willing to take you for free and this is something we really appreciated during our stay.
- Do not buy souvenirs in the stores
Along the main road in Hanga Roa you will come across the Handcrafts & Vegetable Market. Here, souvenirs cost considerably less than in most souvenir stores and, at the end of the day, they all sell pretty much the same. A little Moai figure that costs $2000 in the market, generally goes for $3500 at the shops, and the same price difference applies to other articles.
- Avoid dinner when you go for a cultural show
One of the things most tourists do in town is going to a cultural dance show in the evening. This kind of event starts at USD20/person for a show that lasts about one hour. Some companies combine the dance with a pre-show dinner but this can cost about USD75. You are better off going for a show alone and, as you can see, you'd still have an opportunity to take photos with the attractive dancers:
I hope these tips come in handy if you plan a trip to Easter Island (aka Rapa Nui). It might not be the most pocket friendly destination, but I can hands down say, being such a unique place, it is worth the expense! And, after all, you do not have to have an exorbitant amount of cash to truly enjoy it, if you spend your money wisely.
RAPA NUI AWAITS YOU!
Zara @ Backpack ME
bkpk.me