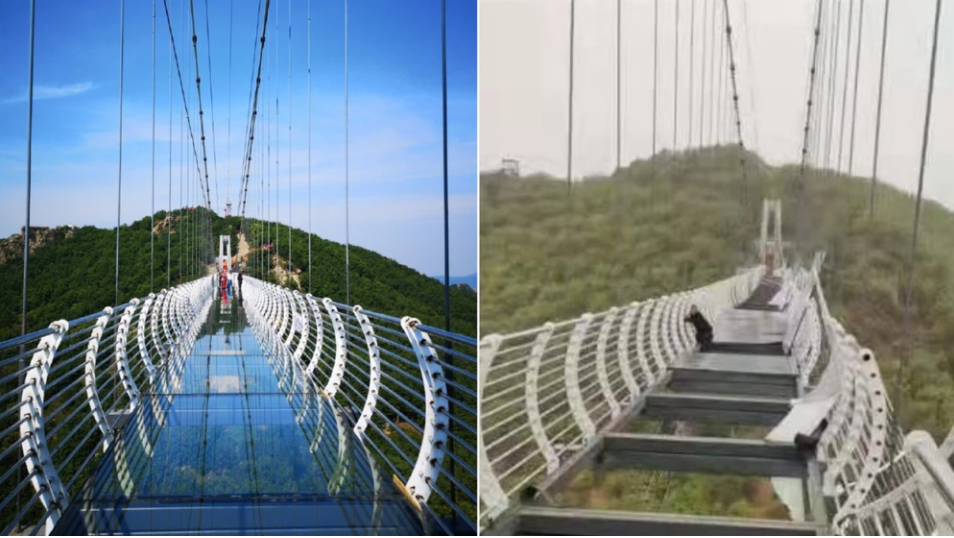 Travelling is all about unexpected thrill and adventure, but often, life throws us off with its surprises... sometimes quite literally! In a bizarre turn of events, a tourist was temporarily stranded on a glass-bottom bridge in China!
As per news report, the incident took place last Friday at a resort built on Mount Pian in the Chinese city of Longjing, when strong winds blew off the glass panels of the bridge, and a tourist was left dangling 330ft in the air.
According to the media, the man was stuck on the bridge for a brief period of time, after which a rescue team of firefighters, police, and forestry and tourism personnel helped him successfully crawl up and saved his life. Thankfully, no casualties were reported.
The pictures have gone viral since then, and have been shared all across social media. This is not the first time glass has been involved in accidents. In 2019, one person was killed and six others were injured when a glass slide fell in Guangxi province.
Let's hope the person recovers soon from the trauma of this incident.
Ready to travel for free? Earn credits and redeem them on Tripoto's weekend getaways, hotel stays and vacation packages!
Think we missed out on something? Tell us about it in the comments below. Or write about it here on Tripoto and earn Tripoto Credits!