If you ask any Bong from Kolkata what comes in mind with China; answer would be "Chinese food, Tangra, Communism, Leather Stores of Bentinck street and Dentists". I grew up in a cosmopolitan neighbourhood in central Kolkata, and among different communities, we had some Chinese families living there. So, I had opportunity to see their culture more closely. Most memorable one was traditional dragon dance on beats of big drums during Chinese New Year! Oh, boy I was scared like hell and used to run around to find a place to hide myself from dragon ????
Once Kolkata had sizable Indian Chinese population and still has only China Town in India. But the picture changed after Sino-Indian war of 1965. Majority of them left country to avoid hostility and in search of better future. But still Kolkata is home for many Chinese families who consider themselves as Indian yet maintain their distinctive culture.
Needless to say when I got this offer to have an office trip to Weihai, China; I was more than excited!
Weihai or formerly known as Weihaiwei is a major seaport by Yellow Sea. This is in eastern most part of Shandong province and has a long maritime and military history and has seen some of the fiercest battles. It was even colonized by British for 3 decades. Presently apart from being a major port and fishing harbour it has presence of many hardware and production industries. Due its proximity to South Korea, Weihai has presence of many Korean business houses.
When plans go wrong!
Weihai does not have a direct flight from India and one has to travel to some other big cities like Shanghai or Beijing and take a domestic transit. Based on availability and other factors we decided to pick Bangalore <>Hong Kong <> Beijing as international leg from Cathay Pacific and Beijing <> Weihai as domestic from Air China.
Flights from Bangalore to Hong Kong and then to Beijing were good. CP served good food and wine and their hospitality was nice. We had around 6 hours of layover at Beijing before taking that domestic leg and things were working fine as per plan.
I took out some money from ATM and got a Chinese 4G sim card ( this was a life saver I realised later) and was roaming around. My colleague went to Air China to checkout the gate numbers etc and came back with a shock. Our flight to Weihai was cancelled by Airline! They notified the same to our travel agent, but some guff up happened, and we were completely unaware of it! Though we booked our tickets from Air China; flight was operated by Shandong Airlines. So, they kept on passing buck to each other. Airline personals at desks had very limited knowledge of English and it was literally impossible to make them understand what we want. It was like running from one airline desk to other! After wasting 2 hours we came to know earliest flight Shandong Airline could accommodate us is after 2 days. I had a cutover in next 4 days at a mission critical factory site and must reach Weihai on that very night to make the final go live plans with local IT Engineers! We started calling our Chinese colleagues to explore all possible ways to travel, road, train, sea, walk; whatever!
They suggested we go to Yantai, which is another city 100 KM far from Weihai and take a cab from there.
We called our travel agent and spent 1 hour on call to make them understand the situation and what to be done next. This time my decision of taking a local SIM paid off, otherwise it would have been a deadlock!
Beijing to Yantai flight was late and I landed there around 1.00 am. Luckily one of our colleagues had sent a cab. I tried to strike a conversation with the cabbie but again he could speak only two words "Yes" and "No".
Journey to Weihai took a little more than an hour. That's 100 KM of drive through pitch dark highway. That's the way Chinese highways are, one and drive effortlessly even at high speeds!
Reached my hotel at 2.30 am and woke up receptionist for check-in. The process was smooth despite of her limited knowledge of English.
Just changed and dropped like a dead meat on bed. That's what I wanted to do at that time after 25 hours of travel, 3 flight changes and all drama that happened.
Work, work and Work
Next few days and weekends I was buried under work. Normal days were 12 hours at office and during cutover worked non-stop 21 hours including running across the factory floors! It was intense, it was insane!
Places I visited
Huanchuai Tower
Despite of that I managed to see some of the famous spots around Weihai, though many are left. Maybe I would get a second chance ????
This beautiful tower right at city centre district providing wonderful 360 degree view of Weihai and its coastline. Built in 1931 , it was rebuilt on 1981 as original tower was burnt down by Japanese troops.
The tower is surrounded by beautiful parks and number of cultural exhibition areas. One can either go directly to the tower by stairs but recommended to use ascending walkways that cut across the park and woods. The walk is calm and very peaceful. You may also enjoy free performances of local artists if you are lucky.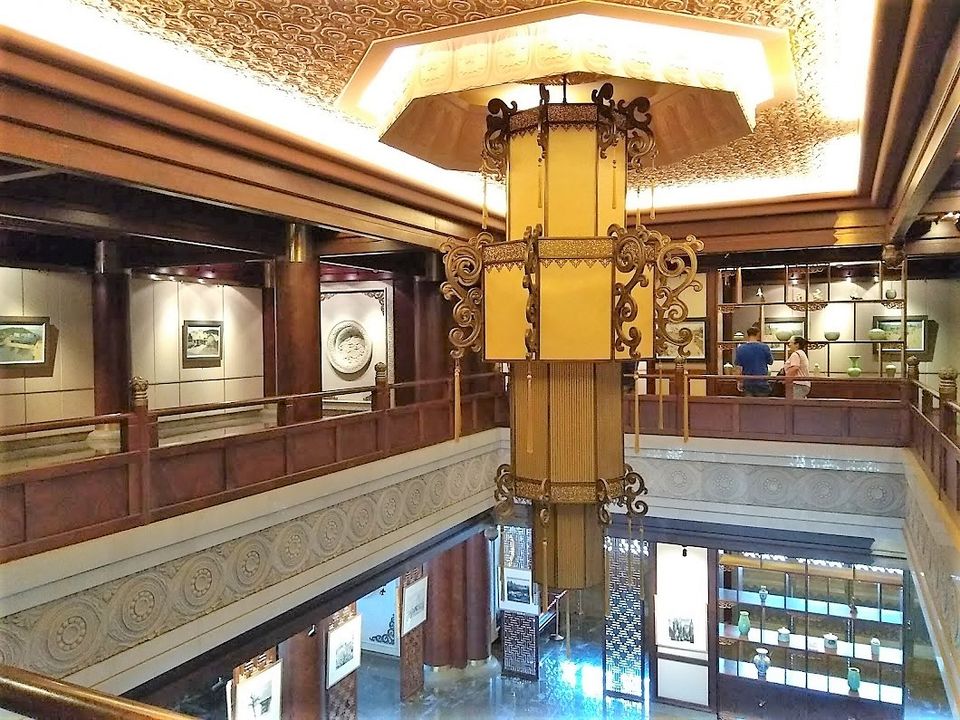 Apart from spectacular view, Huanchuai tower has different floors of galleries and exhibition halls. Top one is dedicated to Sino-Japan wars and modern history of China while rest are for modern and postmodern arts. I strongly recommend spending some time here, collections are splendid and so is the view from top!
Please carry your passports (in original) which must be shown in information centre to get free entry tickets to the tower.
Xingfu Park
This is one of the beautiful parks in the city, situated by Yellow Sea and favourite spot for tourists! Not only due to impeccable view of the sea but also due to proximity to city centre and some of the big shopping centres.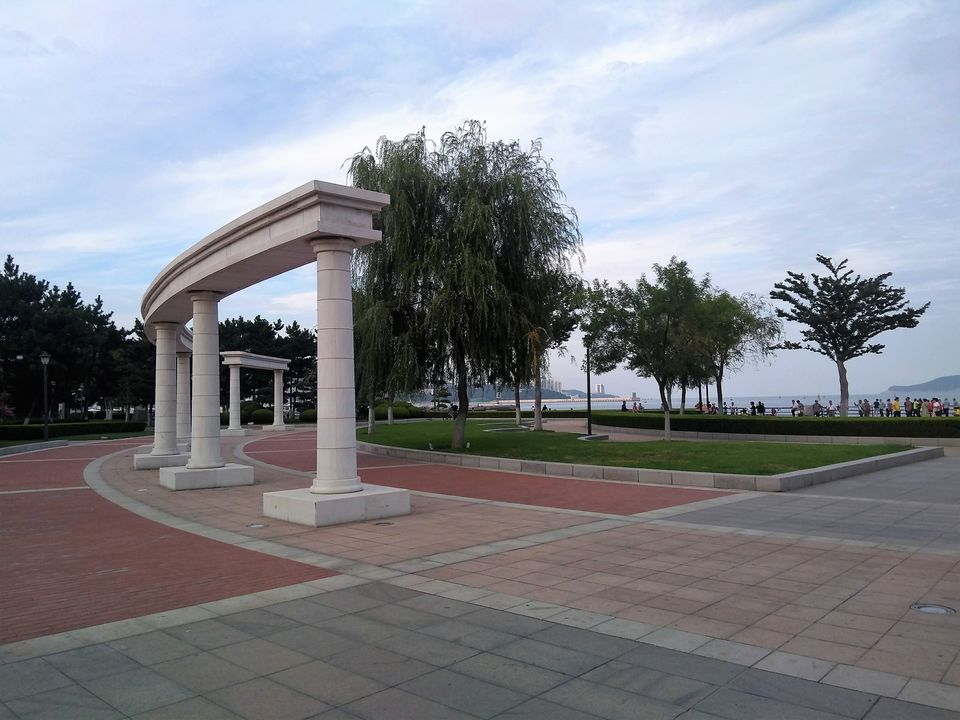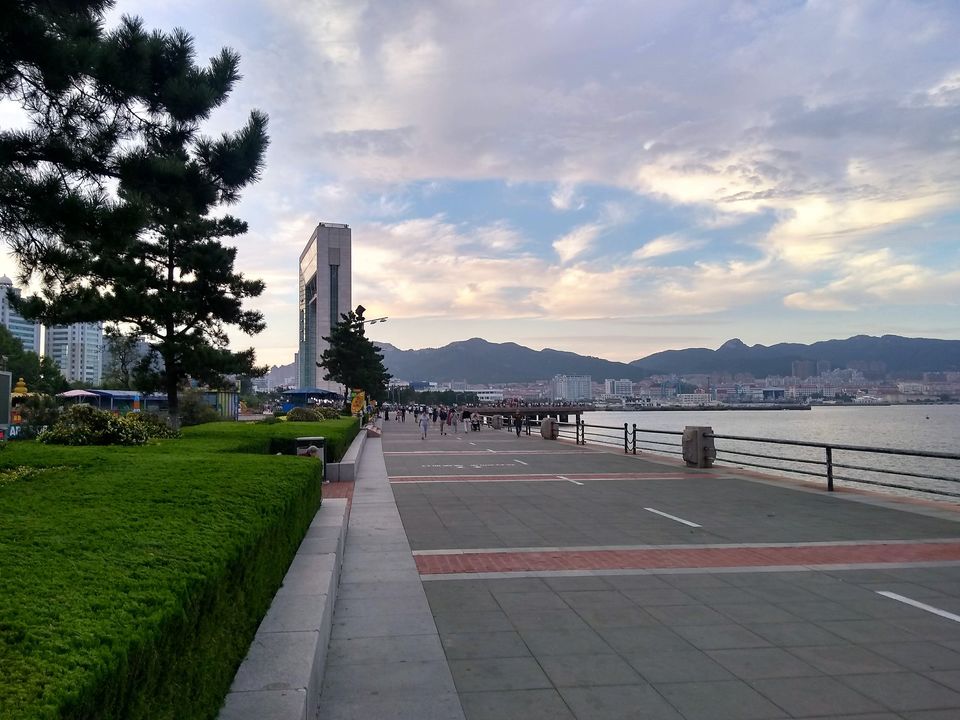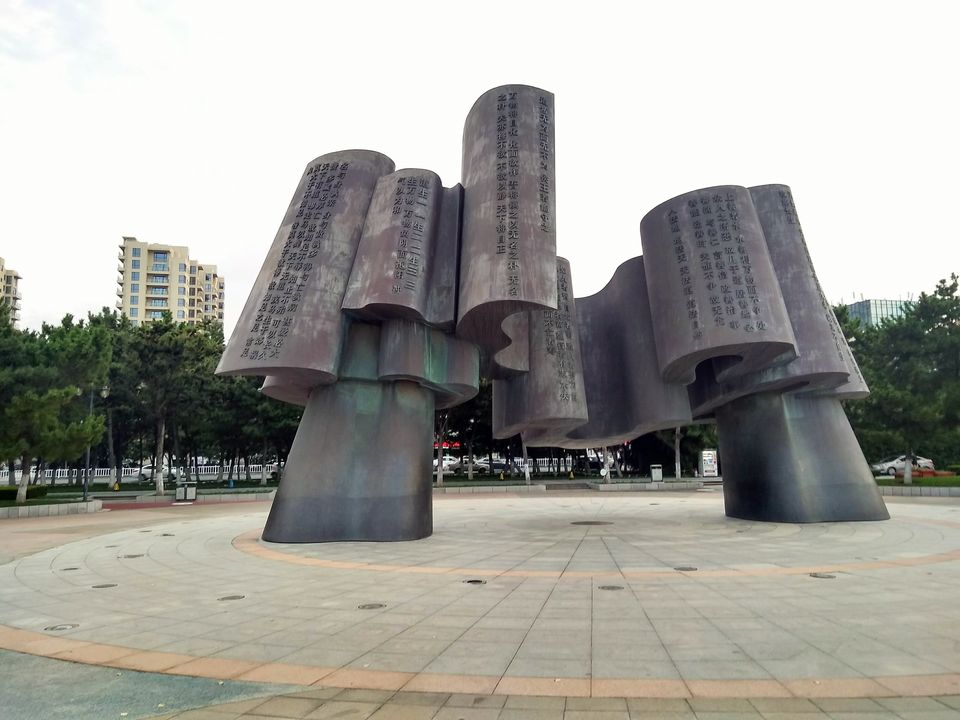 The park is well maintained one and has number of sculptures and artefacts. We had been there during dusk and found the place flocked by large number of tourists. This is a nice place for spending one or two hours with friends and grab some food from local stalls.
Weihai Happiness Gate
Happiness gate is right inside Xingfu Park and a major tourist attraction of Weihai. Opened in 2006 , this gate has two decks at the top. Upper one is enclosed and has restaurants and lower deck is open. View is spectacular from top! In the right side there is glorious downtown Weihai and wide view of Yellow sea is in the left long with Liugong Island. We could even see evening patrol of Chinese coast guard. Tickets are costly, but I would highly recommend to come to this viewing deck.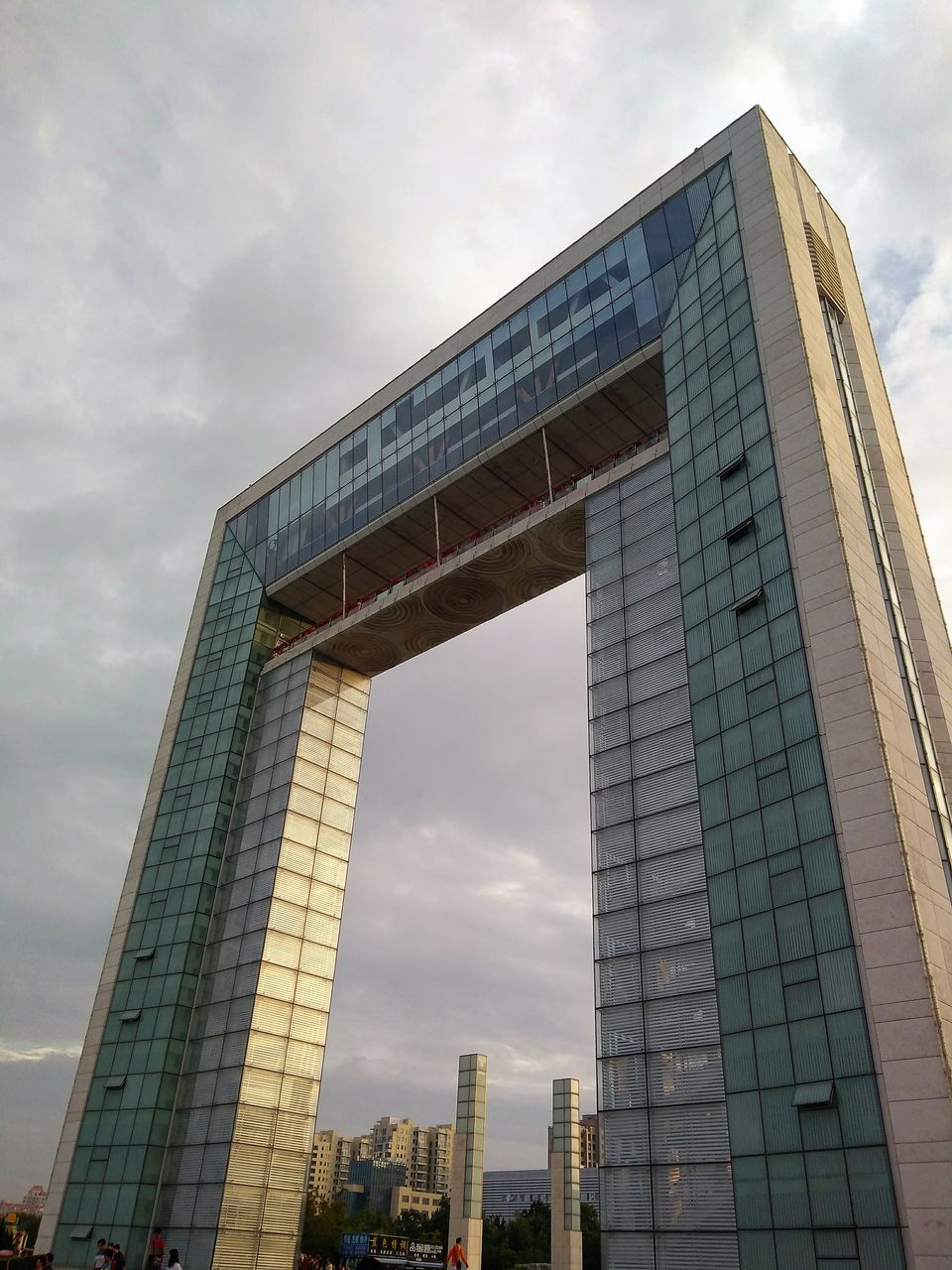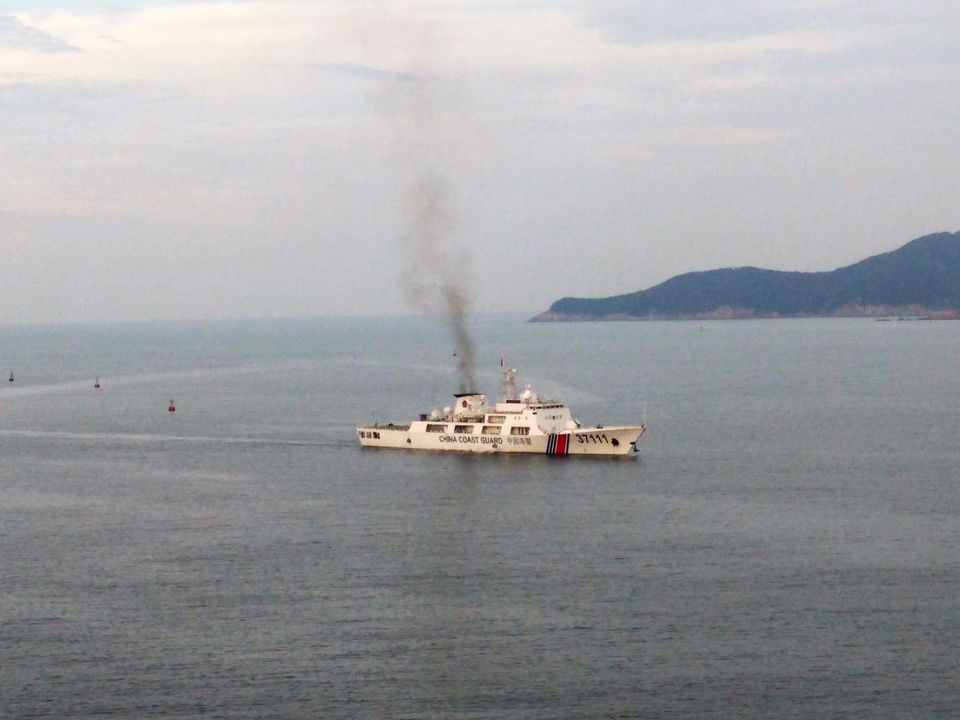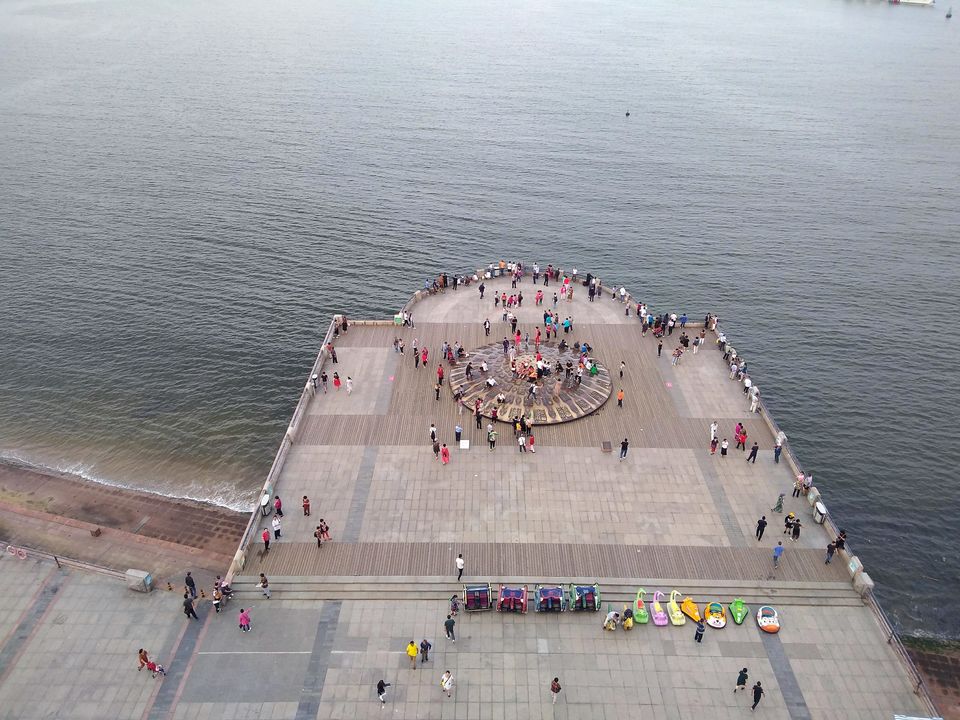 International Bathing Beach
My Hotel was just next to this beach, so I witnessed number of spectacular sunsets. Though Weihai is surrounded by Yellow Sea from three sides, this is only popular for swimming and water sports. This is a long stretch of beach which attracts large numbers of domestic and international tourists.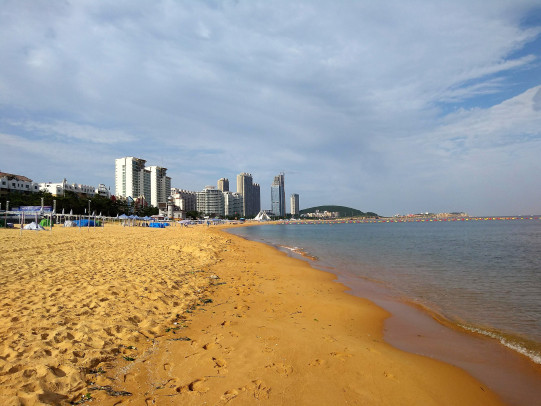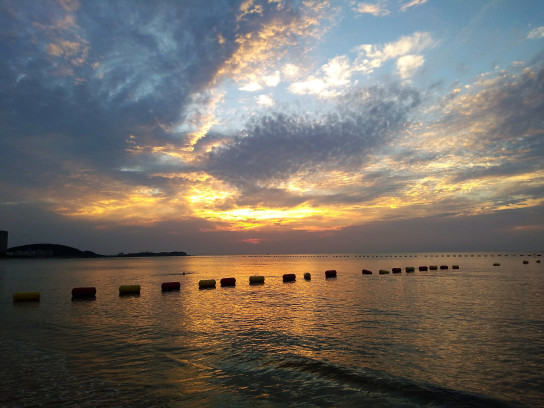 Fine sand, nice and safe water along with beach side stalls and restaurants make it a very popular beach vacation destination. Sunset is marvellous here and one should not miss it.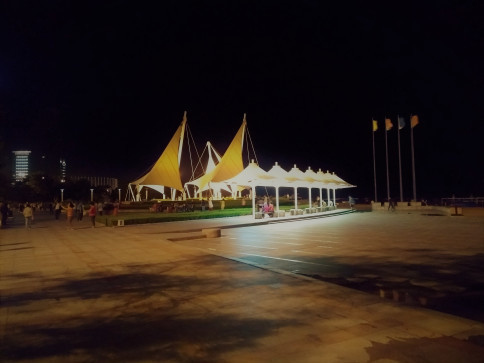 Linhai Park is at western end of International Beach and has the landmark pavilion. If you go there in morning or evening to witness displays of Taiichi, dance or free street performances. This is a popular place for local artists to do free performances.
We also visited Liugong Island and spent a day over there and a separate blog is needed for that. Stay tuned!
Exploring Local Food
Every Indian eat Chinese ( or what they believe Chinese food) pretty regularly but the fact is we have Indianized that cuisine. If you are expecting to see Gobi Manchurian and Chilli Paneer in menu card, you will be disappointed ????
I am open to explore new food wherever I go, but getting right food is a real challenge as almost none of the restaurants near office had menu cards written in English and neither they could speak other than Mandarin!
First Day I went to neighbourhood arcade for lunch, but I could not make any of the eateries understand that I am looking for food! Finally, I found one small restaurant where they had pictures of all the dishes printed on big flex and pasted on wall. I used offline mode of Google translator (google is banned in China ) to translate words like noodle, rice, chicken, pork , beef , food and showed the guys and then showed pictures of some items from the flex and finally I picked one and pointed " go grab some of those". This is literally like hunting your own food!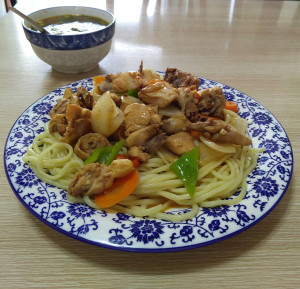 We found one more restaurant nearby which had similar setup. Interestingly those places were owned by Chinese Uighur Muslims, so there was no problem for our Malaysian friend , who needed Halal meat. I tried different items each day and paid average 15-20 RMB for full course lunch.
Our hotel had lots of local dishes ( apart from continental foods) in buffet breakfast which I tried regularly , liked some, did not like few; but overall experience was quite good. I especially liked different types of soft and spongy breakfast buns and dumplings.
One evening we went to food street and walked around that area. There were loads of food stalls selling different varieties of food being enjoyed by localites. Most of the things were too exotic for us, like the one below.
We settled for some excellent Mongolian lamb kebabs.
Local Booze
Local liquor is a must try for me wherever I go, and China was not an exception. Most famous local spirit in China is rice wine. And I tried various forms of it , ranging from 30 to 56 % of alcohol content. Those were good, but I personally would not prefer rice wines over my regular ones.
Rather I liked Tsingtao beer more. If you have liking for beers with rich aroma and balanced taste, you are definitely going to like it. It costs just 8 RMB (for 650ml) which is nearly 90 INR, any beer of same quality would cost nearly double in India. Give it a try.
Accommodation
Weihai is a booming city and it has tons of good hotels of different ranges. I did some research and zeroed in to Hotel Golden Bay. The primary reason was location. It is right on the southern tip of international bathing beach and literally touches the sea (they even have a private pier).
Golden Bay is relatively old and first I was not impressed by the looks. But rooms are huge and I managed to get sea view room at 7 th floor. It had a very large window overlooking beautiful sea and beach! That's the kind of accommodation I prefer! But the location is far from city centre and shopping destinations, so if you are looking for a vibrant and colourful stay, this is not your cup of tea.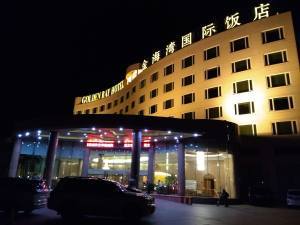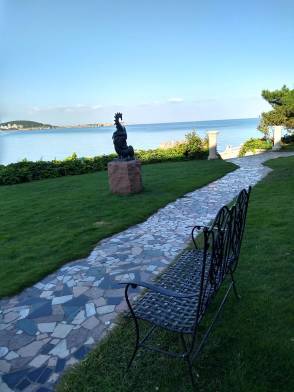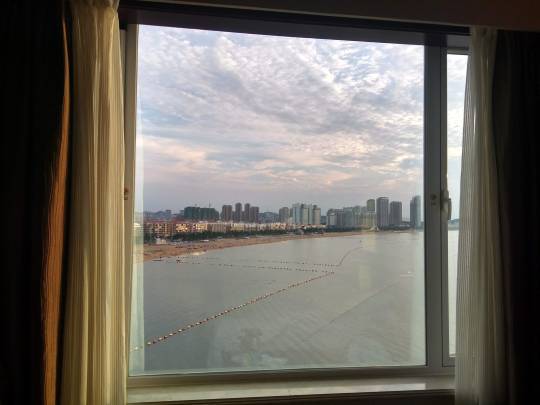 On the contrary I found the Golden Bay, calm and peaceful as per my preference. Breakfast buffet was pretty good offering huge selections of Chinese and western foods. Staffs are courteous and helpful. Even though very limited number of staffs spoke English, others made sure to get someone who could. Hotel has a very well-maintained garden and one can enjoy mind blowing sunset from there, specially with soft instrumental music they play 16 hours a day.
I would definitely stay there again during my next visit.
Tips and Tricks:
If you don't have an international roaming, buy a SIM card locally with international calling facility. One can get a China Unicom (as I write this) 4G SIM card @ 300 RMB which is valid for 1 year ( if you have balance in your account). 2 GB data is free afterwards it is charged as per usage and tariff is not very high. Even calls to India are cheap, 0.3 RMB/Min (nearly Rs 3.20 ). This can be a lifesaver if you are stuck somewhere and need to call for help.
Google does not work here, so if you want to use any Google product like translator etc, download Chinese language packs/ dictionaries before landing in China. Android users should download whatever apps they need beforehand because even Play Store cannot be accessed.
Flavours, taste and textures of foods can be overwhelming for even most adventurous travellers. So be open for everything. If you are not a gastro explorer and want to play safe, try to find KFC or MacD. If you don't find one go to any super market and pick up stuffs like breads, cakes, fruits , cupcakes , chocolates etc.
Very small percentage of general population speak English and this would be real challenge. Download some translator apps, which may be helpful.
Uber is not available in China, they have Didi. At least that saves one from explaining driver pickup and drop. But there are some recent controversies about security of passengers. Do check for latest updates.
China has very tight internet censorship and facebook, whatsapp, gmail , news websites ; in short, almost everything is blocked. You can try some VPN software but I found those highly unreliable. Some travellers say data roaming with non-Chinese sim cards can bypass censorship, but that is also matter of chance.
Please click below to see my travel vlogs here and subscribe to my Youtube channel.