We all were excited to visit Coorg and planning it for long time , so one weekend we set off for this trip from Infosys Mysore campus. It was November of year 2013, quite chilly and a good season to visit Coorg.
We visited Namdroling Monastery first, the environment was so peaceful ,it was very mesmerizing. We saw the monks in their maroon robes carrying on their day to day activities in peace.
A huge bell was placed at the entrance of the prayer hall, as we entered the monastery we saw three huge 50-60 ft in height statues of buddhas. It was a breathtaking sight ,we stood in awe of the statues.
Never before i had seen such huge idols inside a prayer hall.You could spend a whole day in such a peaceful environment.
We went for some shopping in local stores and headed to Nisargadhama Park. We trolled through the bamboo forest and returned without really finding anything just a few rabbits. But it is a great place to be in sync with the nature , Kaveri river flowing along the path of the forest. It had little tree cottages on top and a rope bridge across the river. You can go into the river at a few shallow points.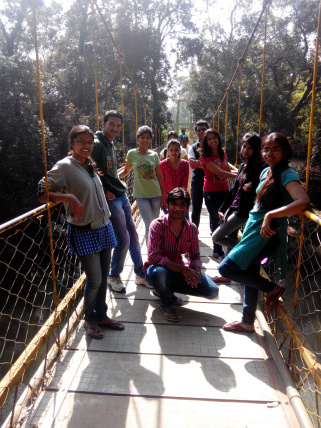 We went on to do river rafting next, where in we geared up with our life jackets and started rowing along with our trainer. we had quite a lot of fun rowing through really low tree branches and bending real low in the raft. Many of us stepped into the deep waters and played, but pulling them again onto the raft was a task in itself! we spent some time after rafting enjoying in the shallow part of the river.
We went to abbey falls next which was a splendid sight, they are very dangerous to go in but there is a hanging bridge laid across which safely takes you right in the middle of it .The gushing water in midst of all greenery adds to the majestic view.
We saw quite a lot of coffee plantations on our way up to the hill station and the climate went on being more pleasurable at the top.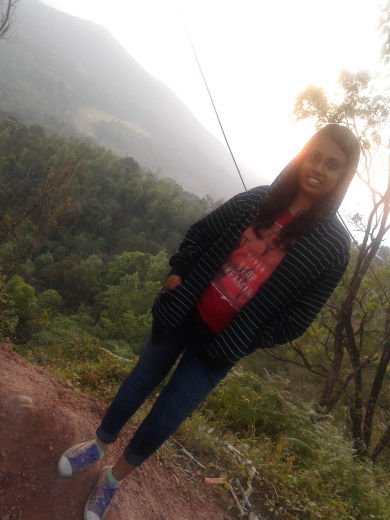 Before returning back we went to the sunset point known as the Raja's seat. There also a beautiful garden next to this point where you can enjoy a walk as the sunsets or have your tea in peace. All of us sat in peace and gazed at the lush green valleys and hills as the sun went down.
I have been to quite a couple of hill stations in south, but Coorg offers an unmatched experience!!
We started this journey as collagues but ended up being friends !
Trip first published on Bitten by travel bug