Wish to know about India's best secrets and hidden gems? Explore 'Mera Shandar Bharat, Safar Anokhey India Ka' to plan your next holiday!
The lush green and misty hills of Coorg are often compared to those of Scotland. Located in the western ghats of Karnataka, Coorg is famous for its scintillating beauty and rich culture. The undulating hills of Coorg are dotted with the coffee plantation, tea gardens, orange groves, and streams running around them.
The fresh crisp air of Coorg will engulf your senses and the flora and fauna are a feast for your eyes. One can experience a wide range of activities in the…hills of Coorg. The spectrum ranges from hiking in the hills to admiring them from the window of your balcony. You can get drenched under the cascading Abbi waterfall or enjoy the local cuisine at your resort.
The ideal weather of Coorg makes it a location that can be visited all-round the year.
Ideal for:
Coorg has some mesmerising properties to offer for a relaxing holiday you've been looking for. These resorts are ideal for a romantic getaway from routine life. The calm and peaceful environment of Coorg will take you away from the commotion of crowds and cities.
So, here is a list of the top 10 rated resorts tucked away in the haven of Coorg.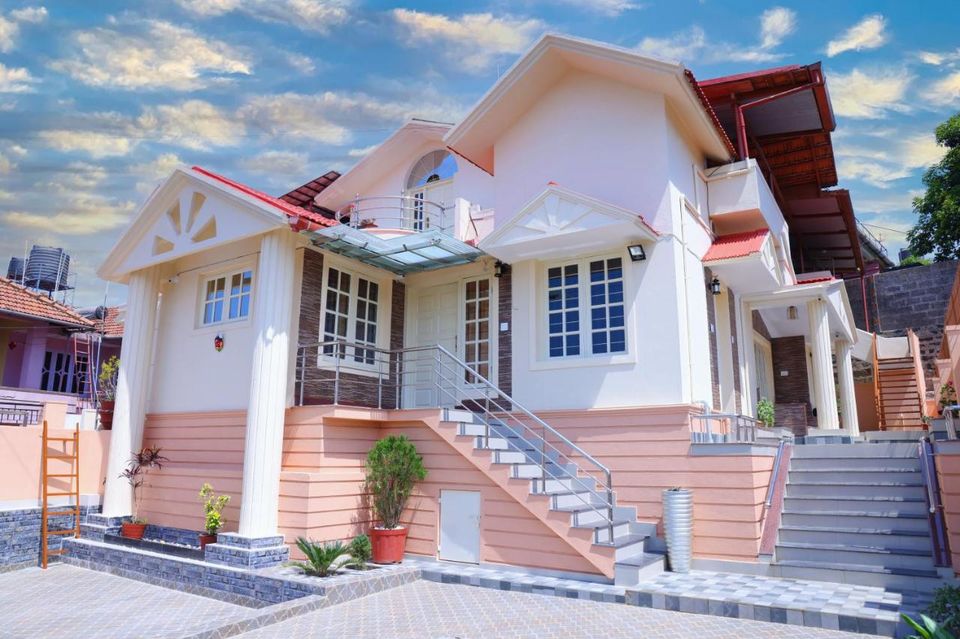 Living up to its name, The Coorg heaven provides rooms with mountain views and a terrace. The room comes with all the amenities that you would require to relax and unwind on this holiday.
To explore around the stay, you could visit the Madikeri Fort that is 1.2 km from, Roshan Lake that is 0,5 Km, and the Abbi Falls that is only 6 km away.
The stay provides a vegetarian breakfast buffet.
Price: 1200 INR/ Night for a Deluxe room.
Address : Mysore - Madikeri Road, 571201 Madikeri, India.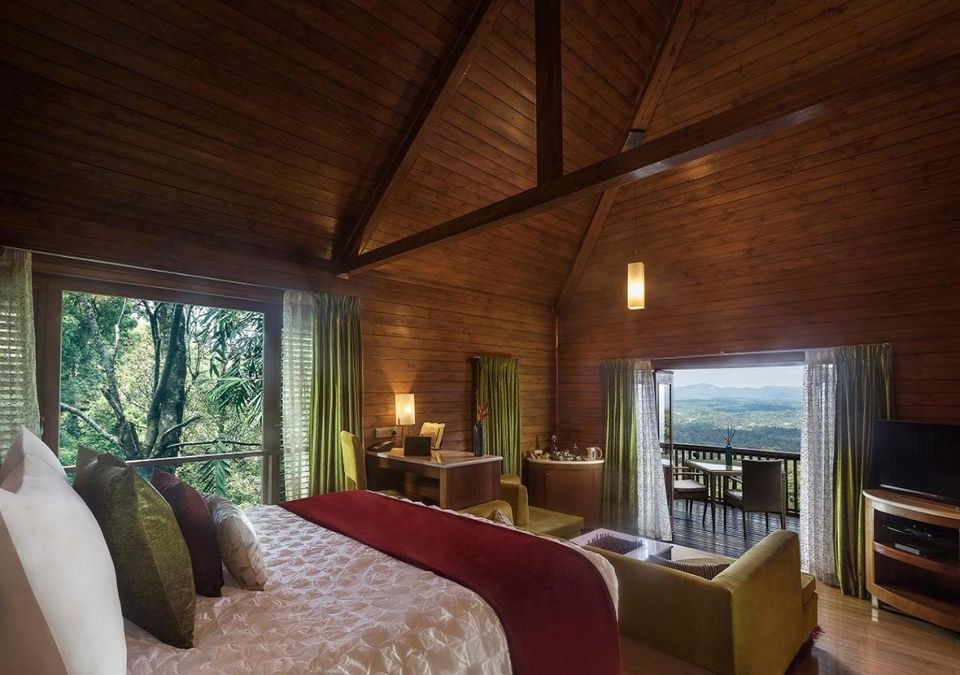 This five-star property of Coorg featuring a contemporary style stay comes with a balcony so you can enjoy your freshly brewed coffee with the smell of fresh air. The Tamara Coorg boasts multi-cuisine delights and unbeatable views.
The Tamara Coorg is 12 km from Iguthappa Temple27 km from Viraipet and 42 km from Talacauvery.
Price: 15,000 INR/night for their luxury cottage.
Address: Kabbinakad Estate, Napoklu Nad, Yavakapadi Village, Madikeri Taluk, Kadagu District, 571212.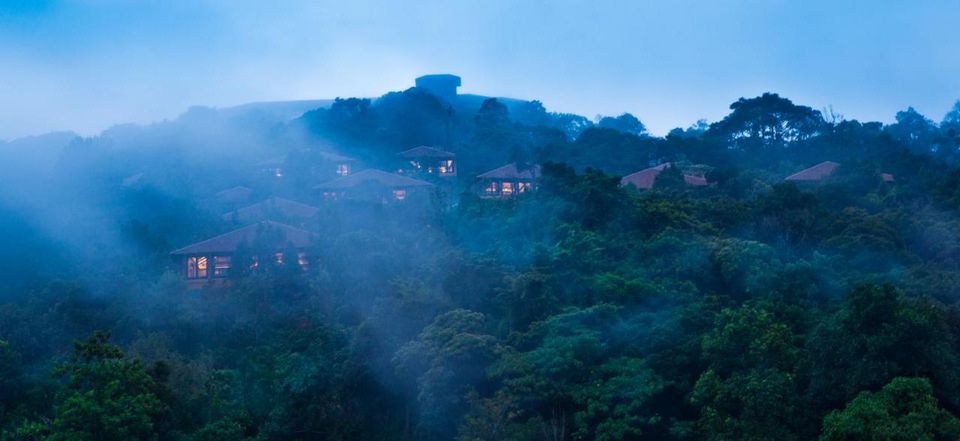 Perched at 1200 m, the Taj Madikeri Resort and Spa offers unmatched views of the picturesque rainforest hills of Coorg. From four different types of cuisine to an outdoor pool, the Taj Madikeri Resort & Spa is another name for luxury in Coorg. It also houses a fitness centre and a spa centre that stretches across three floors.
Abbi Falls are 3.5 km from the property, the Madikeri Fort is 6.3 km, and the Nahini hills just 2.5 km.
Price: INR 23,000/night for their deluxe cottage.
Address: 1st Monnangeri Galibeedu Post, 571201 Madikeri, India.
With rooms that open up to the misty hills of Coorg, the Coorg Wilderness resort is a one-stop for all your activities. Each room is cozily warmed and designed with electric fireplaces to make your stay extra comfortable. The resort offers an infinity pool, a fully equipped gym, and an array of adventure activities. The in-hotel restaurant, Vembanad, serves food from Coorg, Kerala and other coastal specialties.
The Abbi falls are 17.4 km from the property, the Madikeri Fort is 12.9 km, and the Raja seat just 12.2 km.
Price: 27,000 INR/Night for Hill view suite.
Address: Madikeri - Virajpet Road, 571201 Madikeri, India.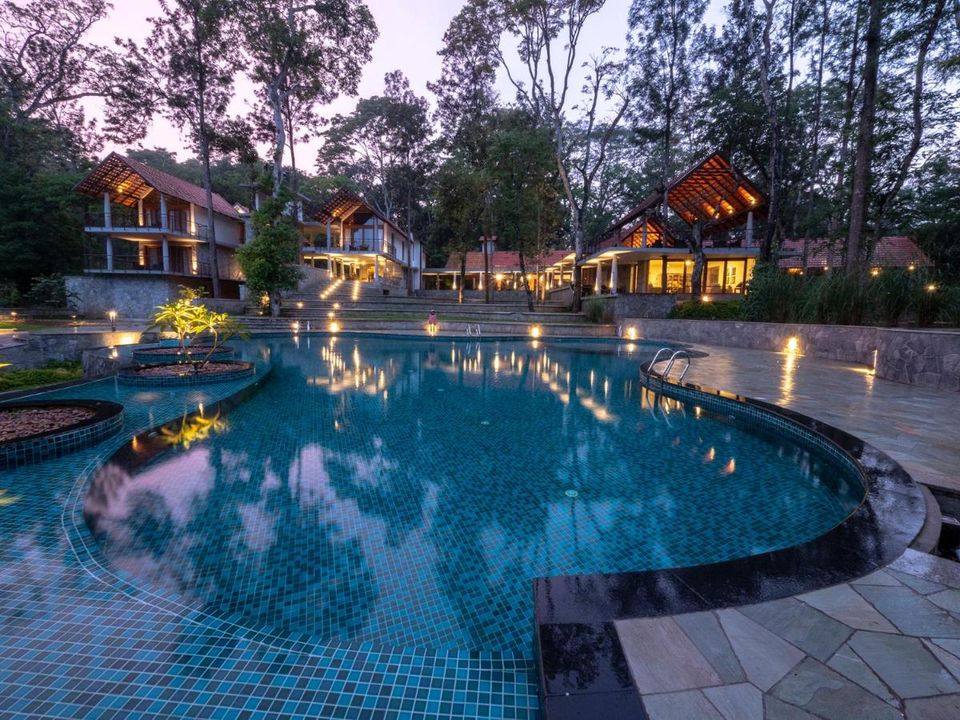 Located in the heart of the hills of Coorg, The Birchwood Retreat is the perfect escape from regular life. The location will transport you in the green dimensions of Coorg and engulf you in the smell of birch and coffee.
The Birchwood Retreat is situated 7 km from Madikeri Fort and 20 km from Abbi Falls.
Price: 11,000 INR/Night for King Room.
Address: Mysore - Madikeri Road NH 245, Suntikoppa., 571237 Madikeri, India.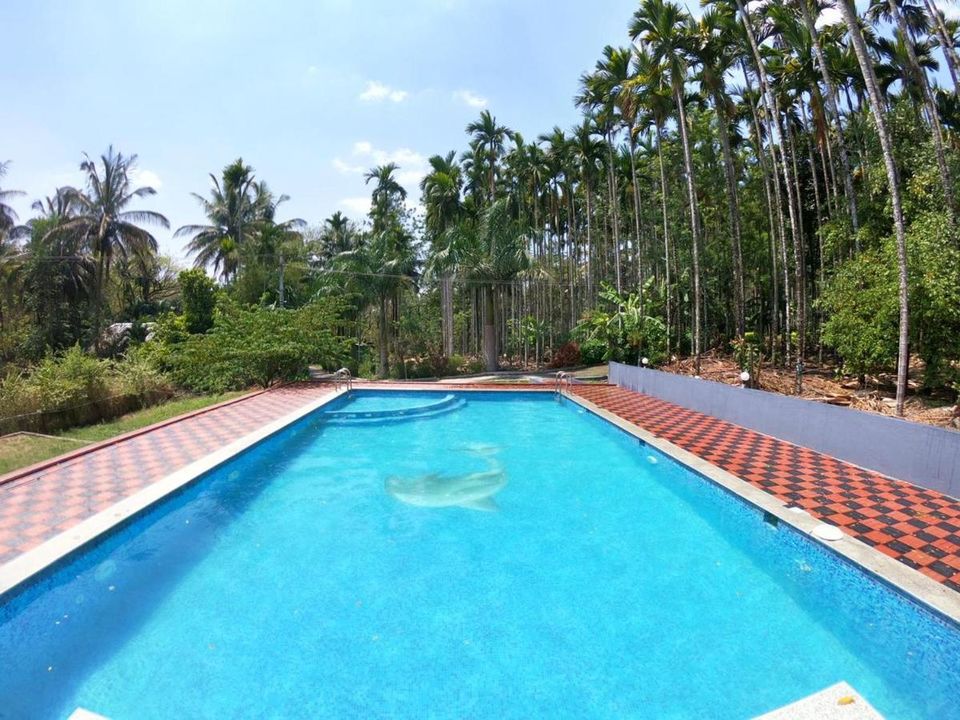 The Coorg Anekad Jungle resort is set in Kushālnagar is your home away from home in Coorg. The resort features a garden and open pool for its guests.
Madikeri is 19 km from the Coorg Anekad Jungle stay resort and, Gonikoppal is 28 km away.
Price: Price: 2500 INR/ Night for a Deluxe room.
Address: Basavana Halli, Kushalnagar, Karnataka, 571234 Kushālnagar, India.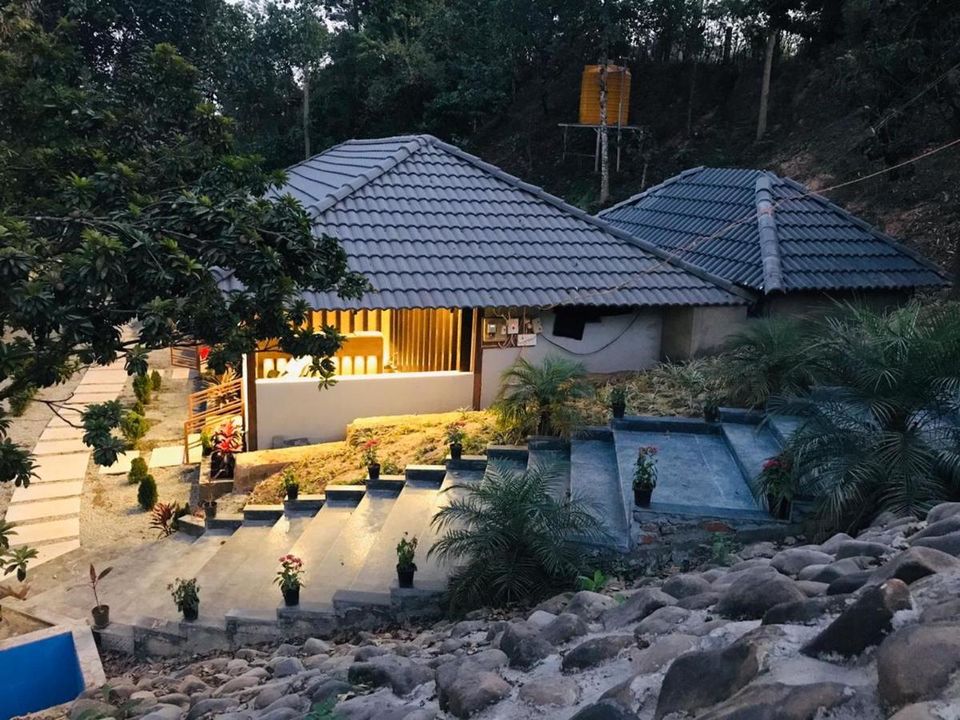 The Misty Rain Holiday Inn is a unique stay in Coorg. With a bonfire on chilly nights, you can cozy up next to your partner and relax amid the misty forests. The Inn provides its guests with gorgeous gardens and a terrace to enjoy your morning coffee.
Raja Seat is 2 km from Misty Rain Holiday Inn, while Abbi Falls is 3.5 km away.
Price: Price: 4500 INR/ Night for a Deluxe room.
Address: 99/3, Karnangeri, Somwarpet Road, 571201 Madikeri, India.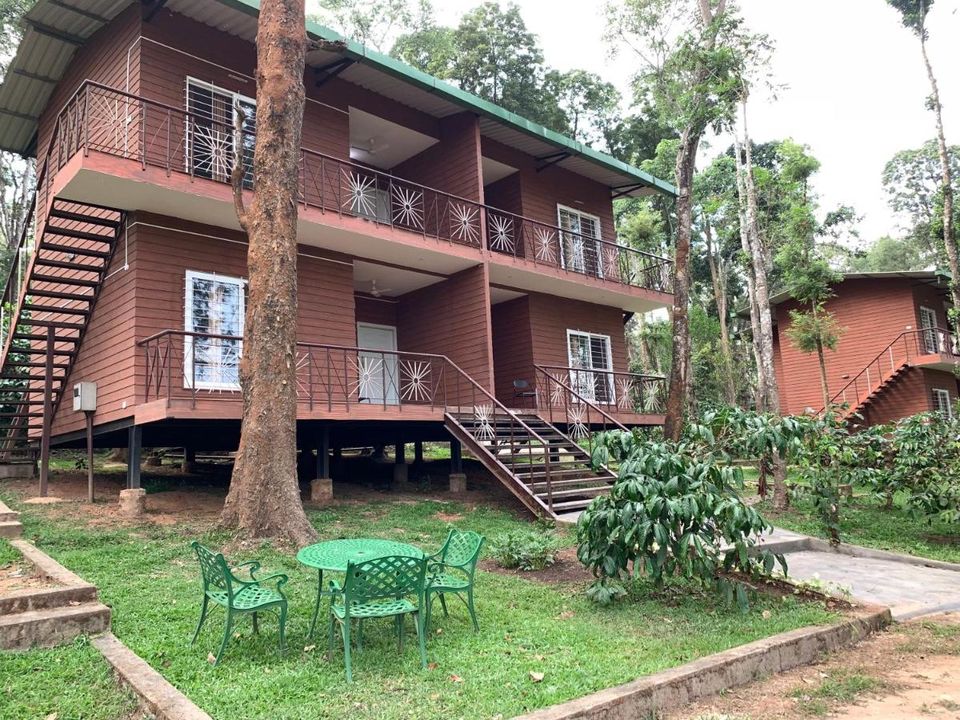 The Machaan Wilderness Lodge is located next to a coffee plantation site. The lodge has a great variety of birds and trees and you could ask the in-house environmentalist for further details on species. The Lodge has a limited number of cottages to give more attention to individual guests. Are you ready to be treated royally?
The Wayanad Wildlife Sanctuary is 9 km from the Machaan Wilderness Lodge and the Brahmagiri hills 10 km from the property.
Price: Price: 8000 INR/ Night for a cottage.
Address: Nagarahole Churicad, K. Badaga Village Srimangala, Virajpet Taluk, Kodagu District, 571217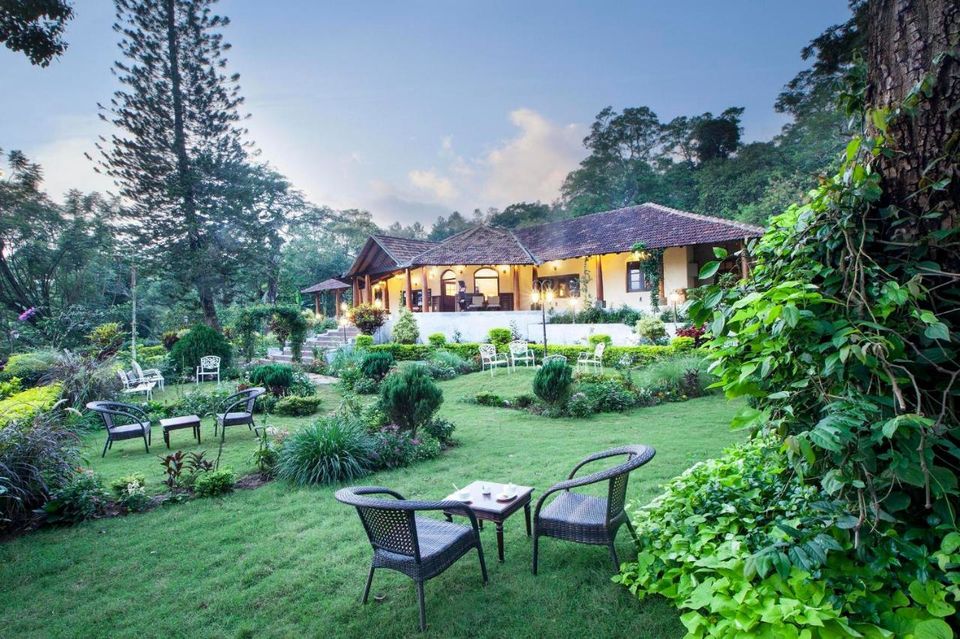 Nestled in the 200-acre coffee plantation in Suntikoppa, Old Kent Estate is home to a variety of flora and fauna. The Estates' specialty is their spacious high ceiling villas that have terraces that open in the garden. Gordos Saloon is their in-house dining restaurant. They offer intercontinental, Indian, and Anglo-Indian cuisines. Bonfires and BBQ nights can be requested with the management. Don't forget to try the estate's coffee!
Old Kent is located about 14 km from Mercara (Madikeri) and the property is a two-hour drive from the historic city of Mysore.
Price: 10,000 INR/Night for an English Cottage.
Address: Thaikappa Estates, Post Box No. 4, Horoor Post, Suntikoppa, North Coorg, 571327 Suntikoppa, India.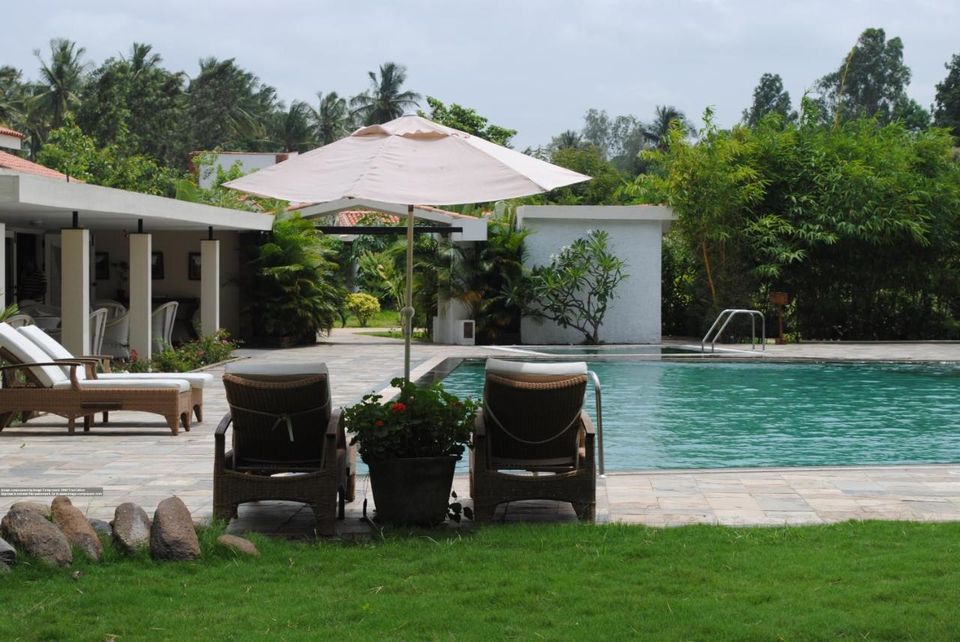 The Amanvana Spa Resort is located next to the Kaveri River and is a peaceful resort with an organic herb garden and a large outdoor pool. The mornings at Amanvana Spa Resort include freshly brewed coffee and the sound of chirping birds. The Amanvana Spa Resort offers multiple activities to its guests such as mini-golf, board games, and a spa. The indoor restaurant serves a variety of vegetarian dishes and the resort regularly holds outdoor BBQs next to the river.
Amanvana Spa Resort is 3 km from Kushalnagar Town in Kodagu District, Karnataka.
Price: 10,000 INR/Night for a one-bedroom bungalow.
Address: No. 21, Guddehosur, Kushalnagar, 571234 Kushālnagar, India.
Let us know in the comments which stay will you be heading to once travel is safe again?
.
.
.
For more travel info, follow me on Instagram
Ready to travel for free? Earn credits and redeem them on Tripoto's weekend getaways, hotel stays and vacation packages!
Explore the best of travel inspiration on Tripoto Instagram!