Having done a few treks in the Himalayas in Summers, I felt this deep urge to go for a trek in winters..! I wanted to feel the cold chilling winds while the mercury read negative sign with 2 digit figures..!! I wanted to experience complete snowfall something, which I had never experienced all my life..!! I dreamed to walk through snow clad mountains ..!!
And the quest to go for a trek in winters began in July as soon as I completed Brighu Lake trek in Manali region. I didn't had to look around for too long to decide on my next destination as I considered India Hikes and started evaluating my options ..!!
One beautiful thing about the website of India Hikes is that every single thing is clear and immaculately detailed. Looking for a winter trek in December, I came across Deorital Chandrashila and Kedarkantha treks and the moment I browsed through the gallery of Kedarkantha trek, my heart knew where it was headed to. I could see myself walking through a dense pine trees forest with the heaven gods showering snow.
Now that I was pretty clear with the most difficult decision of trek selection, I had to choose the dates. I wished to do something different this new year. Thus I decided to spend my New Year on a trek. What better than watching the Sunrise from the Kedarkantha peak at 12500 ft ?? Once being clear on the details of trek dates, I booked my train tickets and was awaiting December eagerly.
Meanwhile, every now and then, I got emails from India Hikes filled with details and knowledge on what will be the needful things for this winter trek, how you would have to work on your fitness programme to be able to easily get through the trek ENJOYING the WALK in the NATURE and not punishing and pushing yourself hard, how many layers of clothing would be necessary for negative temperatures and how you should go with your bag packing. And having done the trek now, I believe it was extremely helpful to be prepared for the challenge Kedarkantha posed.
DAY 1 : DEHRADHUN TO SANKRI Come December 26th and I was off to a trek that I was living in my head for the past 5 months. I was upset about the fact that it hadn't snowed in and nearby Kedarkantha as often as I would have wished. However, there was only a single instance of snowfall on 25th December which raised quite a few smiles but soon disappeared as it was all sunny, clear and shining after that.
I arrived at Dehradhun at 6am and it was really really cold..!! Coming from Mumbai with temperatures of 20° - 22° C which suddenly dipped and read 7° - 8° C. I was welcomed with some serious cold and I knew a huge challenge lied ahead for me. The group met at the station and were waiting for the Taxi to arrive which was arranged by India Hikes but we directly had to pay to the driver. The journey started at 6.30am and we travelled through some scenic and beautiful places like Mussorie, Naugaon, Purola, Mori ,Naitwar and Govind Wildlife Sanctuary to Sankri.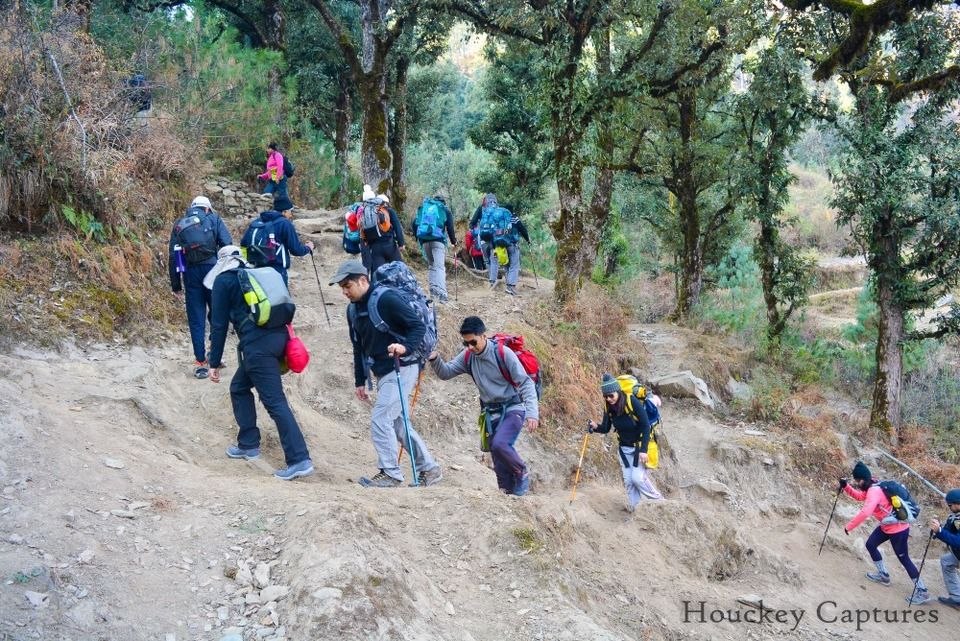 Purola was an important name as it was the place where we could find the last ATM as well as our cell Operator networks. Only people with BSNL network had their towers shining high after Purola. The drive from Dehradun to Sankti has to be one of the most craziest drives I have ever been in. Riding on Ghat's with a good speed, it was never less than an adventure. FYI : If you are crazy about riding or driving, you should attempt one in the lap of Himalayas and if you can do it here, you could do it anywhere in the world.. :P :D
As we reached Sankri, entered the hotel, we had this clear view of a huge mountain in front of us with the sun drooling down and bidding the day a good bye. It was one beautiful view which made me feel even more excited about the trek. Sankri also had this beautiful river TONS passing through it which is the largest tributary of Yamuna..!! It is a beautiful river with extremely clear water which was very chilled as well..!!
As we checked in the hotel, we were served with high tea and later had our medical checkup which involved checking of Oxygen levels , the pulse rate and the blood pressure. It was a mandatory check and it was very important to have the results within limits to be one of the members of the team which would start their trek the next day.
I feel it is a very good initiative taken up by India Hikes to have a tab on the health data of every trekker which, more often than not, would end up make it a safe trek for the leader and the participant himself.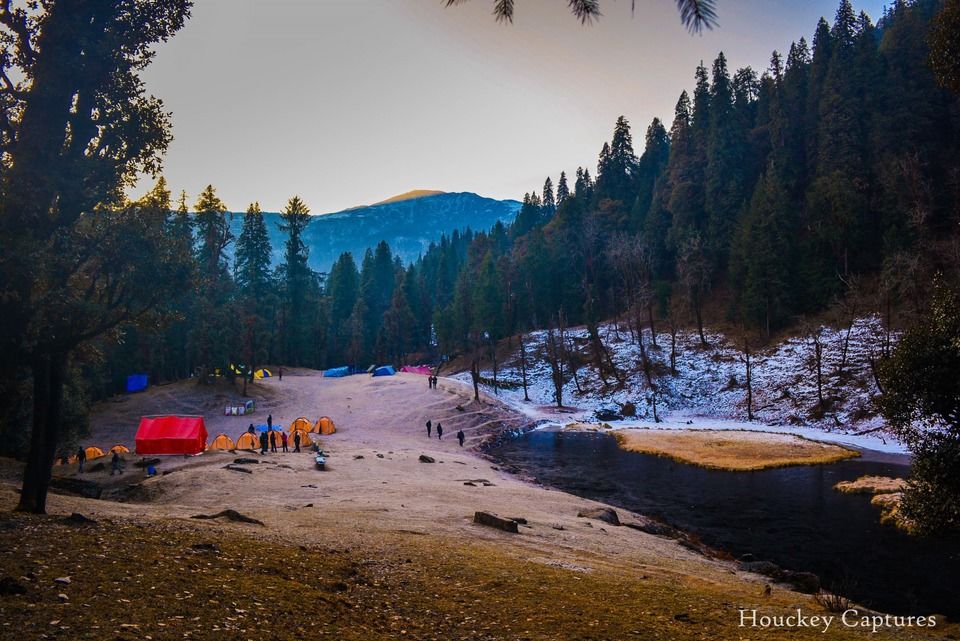 We had a briefing soon after the medical checkup where we met our Trek Leader, Mr. Tanmay Bain, a dynamic young personality, who was younger than most of us but with vast knowledge, experience and training with him. Along with him was his Guide, Mangal Da, ever so smiling personality, and his Co-guide Mohan , both of whom were local residents of Sankri itself.
The briefing was good to break the ice between the participants and the leaders where we were guided by the Do's and Don't of the trek with necessary details of what lay ahead of us for the next 4 days. And with the end of it, we had our dinner and called it a day awaiting the new morning to begin an extra ordinary journey.
DAY 2 : SANKRI TO JUDA KA TALAAB
The climate was extremely perfect to begin our trek with clear skies and a shining sun. We begun from Sankri (6400 ft) headed to Juda Ka Talaab (9100 ft) which was a good altitude gain.
Walking through forests, conversing with fellow mates , hearing different tales of different experiences one has lived, listening to various purposes of one being on this trek..!! Clicking pictures every now and then, sharing , caring for each other and expressing love for each other with various gestures like offering food, giving some help, motivating etc. No doubt why a journey is always more beautiful than the destination.
Between all this, we never realised how 4-5 hours of the journey trailed behind us and we reached our camp called "JUDA KA TALAAB". As the name suggests, the camping was just next to a pond which we found frozen to some extent. They say that this pond freezes completely at the top layer in winter at night and only breaks when it is sunkissed during the day.
We were blessed to have some snow patches on the other side of the pond where we clicked some pictures and then awaited for the medical checkup which was followed up with some entertaining games which made us remember and relate to every trekker.
Something that I loved about the place was we were surrounded with forest on all the sides. So we were in the middle, surrounded on all 4 sides which never let the wind booze around making it really cozy for many like me :P
The food, was really fantastic which was coupled with spending time with everyone in the Dining tent. The highlights of post dinner has to be having some really warm Bournvita..! ❤
As the clock kept ticking, it got really dark and everyone headed to get in their sleeping bags ..!! No wonders, in a chilly night where, for the 1st time, temperatures got to negative figures, nothing would have felt as good as getting into the sleeping bags because of the warmth it gives is really really pleasing..!!
The next morning as we got out of our tents, all we could see around was the frost.. On our tents, on the grass and the pond frozen completely. !! Having hot Black tea was the perfect recipe to begin the day with..!! And as we got busy getting ourselves ready, the sun soon hit us with its light which allowed the cold to fade away and filled our hearts with happiness...!! The highlight of that moment was when the rays hit the pond and the reflections it created, one's eyes could feast on a beautiful moment..!!
DAY 3 : JUDA KA TALAAB TO KK BASE (Talkhetri)
Soon, we were all set and ready to start our trek to Kedarkantha Base camp which was a short trek of 2 hours to reach at an altitude of 10900 feet..!! As we kept moving, we could get clear views of various peaks and one of them was Swargarohini Peak. !! Moving ahead, soon we reached the next camp from where we were able to view the mighty Kedarkantha peak which was covered with clouds all over it and we were badly hoping against not receiving any bad news like unadaptable climate or rains ..!!
Kedarkantha Base camp was a beautiful tenting location with plain table lands, a open view of mighty peaks on the front and Kedarkantha summit on the back..!! We settled ourselves in and had some delicious food which included Bhajiya dal and rice.. !! Later, we were all outside, hearing from our leader on how to work on rescuing a person and how to tie a stretcher with the help of a rope. It was a session full of learning and laughter as we literally made a stretcher, created a patient and rescued him :P. Everyone around us (Other trekking groups) were wondering what this group is up to and had their eyes on us all the time while this was going on.
The fun ended and we teamed up to play our next game which was to drink 1/2L water quicker than the opposing team..!! To gulp down that cold water in no time posed a challenge for many but the best way it helped us was it kept our oximeter reading high. One beautiful innovation by our leader to merge playing with acclimatization,. The evening was followed with playing Fire in the mountain where it was a treat for the viewer to find out how many people would ditch others to win :D We were in our dining tents where we had our dinner and our briefing for the next day which was a new year as well as our planned summit day.
And as the leader announced the details of our start time, there was a huge roar and cheer around, filled with claps. We were supposed to sleep that night by 8pm and the wakeup call being 12.00 midnight and moving time being 2.00am to reach the summit by 7am and view the 1st rays of the sun of the new year from the summit. The joy , happiness and excitement had no limits. Quickly we wrapped up everything and hit the tents and wrapped ourselves in our cozy sleeping bags.
DAY 4 : KK BASE TO KEDARKANTHA SUMMIT TO HARGAON
The towers of the clock met each other and all of us were out in the dining tent to have our black tea. We were given a surprise by India Hikes. A new Year cake Yayy Yayy :) :)
Managing to make a cake at this altitude in itself was a challenge and when they got the cake inside, we were all the merrier and joyous. Bidding a wonderful 2016 a good bye and welcoming a amazing 2017.
The celebrations were short lived and we had to get ourselves ready to move on the given time. Sharp at 2.00, everyone was out of their tents, ready to move ahead and experience a night trek in freezing temperatures. This was going to be my first night trek and I was so excited to clearly view a huge galaxy and twinkling starts, moving towards the peak. Slowly and steadily, the group kept moving in a single line, the pretty ladies at the front and the gentlemen at the back, motivating and cheering for each other..! Soon we reached a patch which was very slippery and we had a challenging time coming across that patch..!! And what lay ahead was a welcome break for us.. A break at a tea stall which served us amazing hot tea at 4.00am in the morning. I got a good time to click some pictures of the milky way, something that I was trying for the first time. And when the pictures came a little good, I felt so cheerful !! The idea of carrying a Tripod for the trek was successful..!!
I realised that at times, you'd have to carry extra luggage/ weight for a thing and if it works out, the pain of carrying extra weight age does disappear in thin air..!! We should never be scared to take hardships for they always have a beautiful lesson or a result in it.
We could see the summit in front of our eyes but what was weird is that with every step we took towards the summit, it kept on going far away and felt the distance only went on increasing instead of reducing..!!
One step at a time and we kept moving with our heads looking down , slowly and steadily, as the darkness kept on fading..!! The stars slowly disappeared and a clear blue sky took way..!! But also, the wind speed kept on jumping high with temperatures reading -8°C ..!! At that moment, removing the hand gloves to take a picture also felt a big ask as the hands were turning numb..
Every Mountain top is within our reach if we simply keep on climbing with a strong will and commitment.
The moment we stepped on the top, it felt as if the world was conquered. !! With only mountains, cold air and a bunch of hard working guys who were willing to break the jinx of partying on a new year and instead do something different, we heaved a sigh of relief with no further uphill climb. !! We waited for the sun to come up..!!
It was the same Sun that was going to rise that day but it didn't feel the same..!! That sunrise , along with itself brought new hopes of light for the one who felt hopeless, brought joy and happiness who didn't have lots of it the past year, brought curtains to a disappointing 2016 for many and most importantly, brought smiles..!! For, the Sun knew itself that he brought with him, belief which many lacked..!!
That moment, being at the top, was priceless ... Which we had earned with our hard work and determination to fight the conditions for the past 3 days..!! I'm sure none of us would ever forget that feeling which enlightened the heart and the soul..!!
The camera's too caught cold and hanged when I steadied it on a tripod to capture the sunrise in 100s of pictures..!! Due to the cold winds , the lens caught fog .!!
Slowly, the wish to capture pictures went away and I just sat there reflecting on what a wonderful journey it had been..!! Reflecting on how blessed I was to be a part of this group and having the opportunity to reach at the summit of Kedarkantha..!!
Some accomplishments win over every obstacle that we face and that day, cold, pain , tiredness was conquered with joy. !!
Soon, the happiness of enjoying the summit was cut short as we had to start our descend..!! The descend back down was a beautiful journey..!! As the journey uphill was done in the dark, we never realised about the beautiful landscapes we were surrounded with..!! With happiness and satisfaction in heart, the journey felt even more beautiful..!! We took out own time to descend, taking lots of pictures, throwing and jumping around in the snow... !!
And if it all wasn't enough, we were blessed with snowfall even before we reached Kedarkantha Base camp..!! We were on cloud nine..!! We couldn't ask for anything more ..!! Though it resulted in climate turning colder and our shoes getting wet, i was more than happy to live that..!! Fresh snow, so light and pretty, falling on us, was one of the best things i experienced..!! Soon we reached KK base , had our lunch and started our journey for our next camping location, Hargaon.
The journey from KK base to Hargaon is more of a flat walk which takes about 2 hours..!! It runs through dense pine forests..!! And as we kept moving, soon we had few inches of fresh snow below our feet and the weather gods had no plans to relax it off..!! The trees were covered with snow and that for me, was the most cherished moment..!!
The first time when I saw pictures of Kedarkantha trek on IH website, this view is what had caught my eye the most..!! And to live that moment, it was something special..!! Something that is and always will be very close to my heart..!!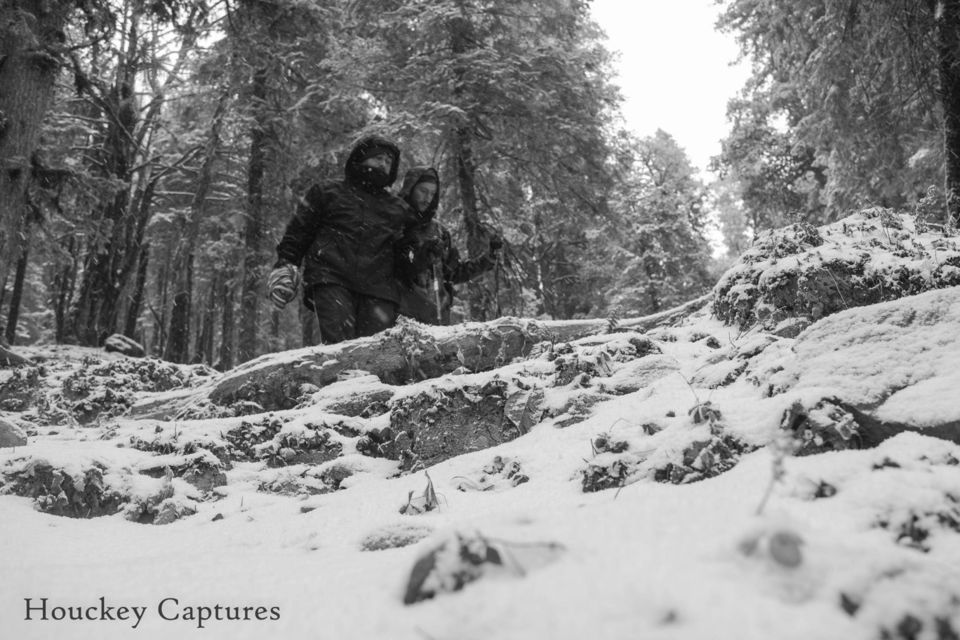 Find Strength in your pain because you never know how far you can go unless you try..!! I had never experienced negative temperatures for such a long time but it never scared me to live it. I lived it and raring to live it again..!
Soon we reached Hargaon base camp which was covered with 4-5" of snow with a small plain table land in the middle of a forest..!! It has to be one of the most beautiful camp sites I have ever been to..!!
We got into our dining tents, shared our emotions, more of joy and happiness and fulfillment..!! We were done with our mandatory medical checkup and were served with a delicious Schezwan Roll along with a cake for the success of our trek. Next, on the agenda, we started playing the most awaited game "Mafia". We got so intrigued in playing Mafia that we went at loss of the time and carried it out deep until 11pm..!!
Staying in Dining tent , we not only enjoyed the game but also the warmth because we had been all day long in negative temperatures with snow fall which didn't stop until 8pm..!!
Everyone soon ran to get into their sleeping tents and called it a day. !! I was over exuberant ..!! I decided to get the tripod out, click some pictures of the snow clad trees with the ever shining milky way..!! No matter how cold it was , I felt sheer happiness which was enough to keep me out of my tent to freeze those memories in my heart forever..!!
DAY 5 : HARGAON TO SANKRI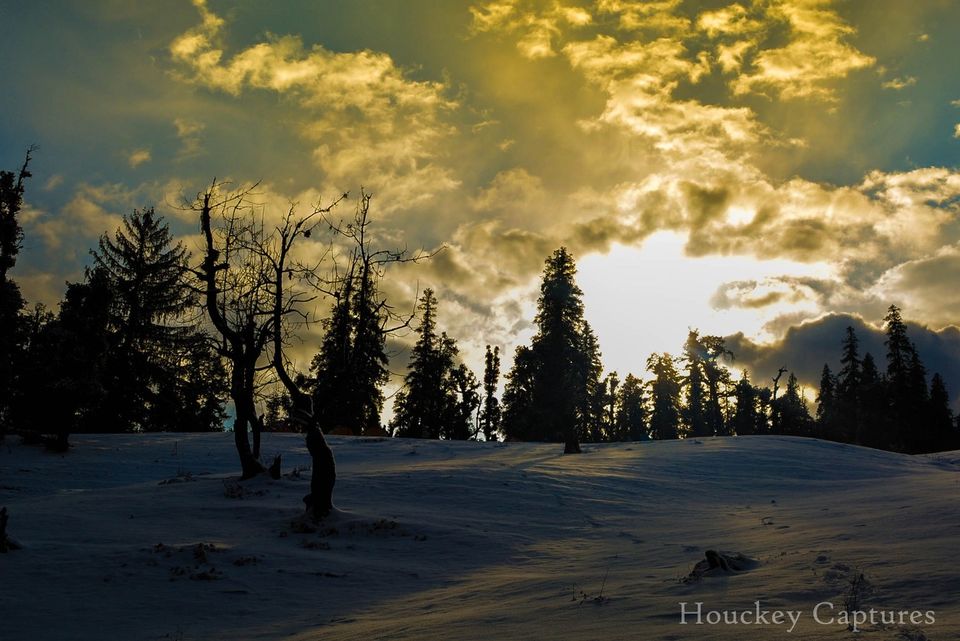 Come next day morning, the last day of the trek, the climate was all clear with bright shining sun , clear blue skies which gave us a beautiful scenic view of the Himalayas..!!
No matter how good the pictures come or how beautiful they look, they can never do justice to what the eyes witnessed.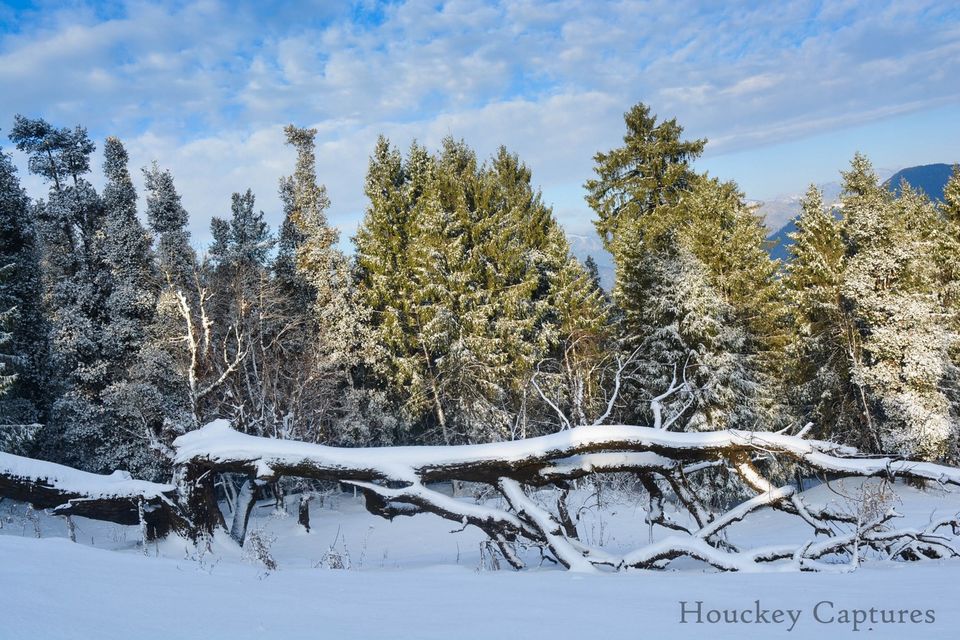 We took a few group pictures with a Mannequin challenge video and set on our journey to the base camp..!! Took us around 3-4 hours to reach the base camp..!!
On the downhill, we reached a place where the snow ended and mud and grass lands took over...!! Viewing towards the beautiful valley, we could see a forest, covered half in snow and the rest with shades of green..!!!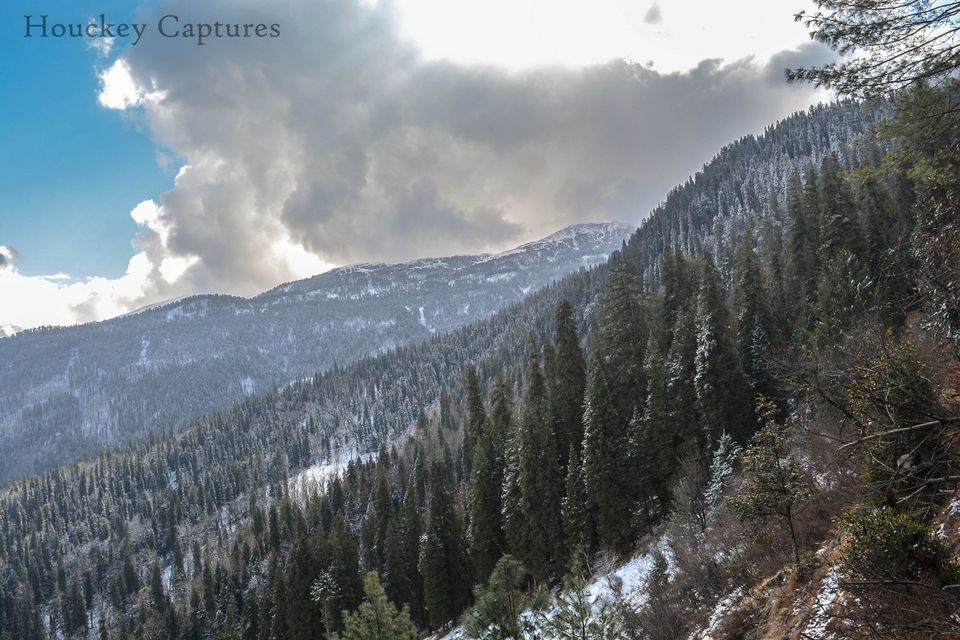 And as I kept walking towards the base camp, all I could think of was how beautiful and amazing the past 4 days have been.. I've spent an amazing new year with a night trek, watching the sun rise from 12500 ft and later, with showers of snow.. !! How my eyes witnessed something so beautiful and gorgeous that will remain in front of the eyes forever...!!
How glad I am to have selected to trek to Kedarkantha that gave me so much love, happiness beyond my wildest imagination and how grateful I am to be blessed with having such amazing people around for the trek.. !! Kedarkantha is done but I'm sure someday, when time permits, I'd come back to relive it all..!! Because it has really been a special trek with so much memories which won't ever fade away..!!
We reached Sankri, had our lunch and freshened up..!! We all gathered up in our briefing room where we all were given our completion certificates..!! Along with that, we were given a platform to express.. Express whatever the heart felt and those 3 hours in that briefing room moved me..!!
We all came from different places, all of them being strangers to me as i was travelling solo, with different life styles, different habitat, different cultures..!! But we were connected there with something common that was the child in us who was up there to fulfill a desire..!! A desire to climb a peak and be Mountaineers and not just another common person..!! Everyone had a different reason to come to this peak and hearing to them, i melted...! How a person looks up and stays on the outside but how he is on the inside..! How and what one feels within is what was expressed that evening..!! And i realised, we are no one to judge anyone ever and we should never do that because in the end, everyone's loving at heart and a beautiful human being..!
The next day, we all got in the cars and were off to the places we came from..!! Not even sure if i would ever meet anyone again, i bid good bye to all of them with a heavy heart..!! For, in a span of 5 days, they turned from strangers to family..! A family, who will always be cherished, remembered and evergreen in my memories..!! ❤ ❤
Thank you Kedarkantha and India Hikes. !! ❤ ❤
This post was originally published on The Medium.