Most people assume that winter sets in December. But real winter in India sets only in the middle of January. This little known fact makes the last week of December wonderful for trekking. The snow is not thick enough to prevent trekking, but the all-white landscape is perfect for a winter trek. Arjun Majumdar lists the Top 5 winter treks to do in India. Time yourself for the last week of December for most of them, though some can be done in Jan and Feb.
Best time: Last week of December; March and April
The four-day Kedarkantha trek in western Uttarakhand is like a whiplash, leaving you with a permanent scar of winter delights. Of all winter treks, this one's pretty camp sites are worth giving up your right hand for. Every campsite is a wonder. You camp in clearings surrounded by giant pine trees, you lie amidst 360° views of mountain ranges and you pitch tents on vast meadows. If that's not enough, the summit climb and the descent through an enchanting forest finishes off with an icing, the taste of which lasts long after the trek is over. The trail is easy enough for first timers, which makes it a perfect winter trek. Don't miss it.
Best time: Last week of December, first week of Jan; March and April
The Har Ki Dun winter trek is another in the same vicinity as the Kedarkantha. It is a tragedy that the trek is hardly done in winter — though I see an increasing traffic over the past two years. The trek in winter springs a surprise. The trek snakes through a superbly pretty valley with villages that have ancient Himachali architecture that is rarely seen. Now imagine the entire setting under snow. Majestic snow peaks rise on either side of the valley. At the end of the valley, when you get to Har Ki Dun, it is like you have arrived at an amphitheater of the gods. Walking through this snow laden paradise is a scene straight out of a fairy tale. I would push this trek high on your winter trek list.
Best time: Last week of December; March and April
In the last week of December, when the first bout of snow has fallen, another winter trek turns wondrous. The Deoriatal-Chandrashila trek in Uttarakhand climbs gently to a partially frozen lake. Across the lake, stretched across the horizon are views of the entire ranges of western Uttarakhand. They pop so suddenly that I have seen many trekkers just standing there, gaping. The effect is powerful. Climbing to the top of the Chandrashila summit on snow is a thrill no doubt, but what steals the show is the flawless view of all the highest mountains of India. Name a mountain and you'll see it from the summit, including Nanda Devi, India's tallest mountain. It is somewhat staggering to be there.
Best time: First week of October until April
Moving to the north-east, Sandakphu is best done in winter, though most people do it in other seasons. Too bad. For Sandakphu is the only trek in India that lets you see four of the tallest mountains in the world: Everest, Kanchenjunga, Makalu and Lhotse. In winter, when the air is crisp and there is no haze in the sky, the sight can bring tears to your eyes. When you punch in views of Nuptse and even Pandim, trekkers are spoilt for choice. These views aren't fleeting. You see the big mountains all through the day as you walk the ridge between Sandakphu and Phalut. The trek dips in and out of Nepal multiple times — sometimes you don't know which country you are in! You don't need a passport though!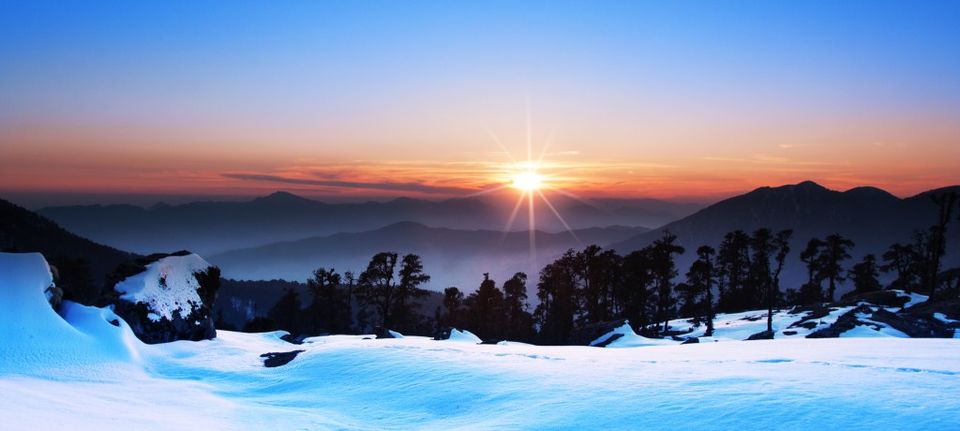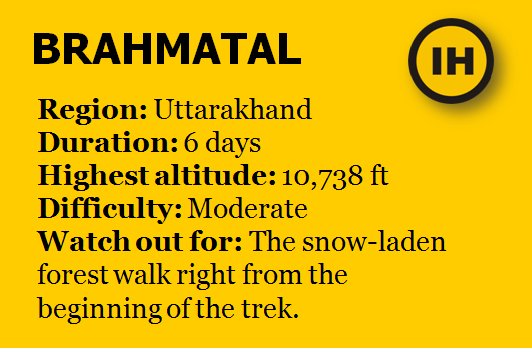 Best time: January and February
With high snow, not many treks can be done in January and February. Brahmatal is a rare exception. Even with good dollops of snow, the trail winds through waist high snow, climbing steadily to Brahmatal, a large tarn in a crater-like depression on top of a mountain. But it is not the lake you make the trek for. It is for the lovely setting along the trek — jungles with carpets of snow beneath the leaves, meadows with undulating snow cover all around. Snow that is powder to touch and the terrific all-round views when you reach the top. Brahmatal is a fairly new winter trek — but boy, it can give any of these other treks a run for their money!
For winter treks, timing is everything. Planning in advance is key.
Visit www.IndiaHikes.com for more information.