Distance from Bangalore - Roughly 240 Kms
Time Taken - 4 Hours 30 Minutes
Route Taken - Bangalore - Electronic City - Krishnagiri - Kaveripattinam - Dharmapuri - Nallampalli - Deevattipatti - Danishpet - Bommidi Rd.
Condition of Road - Good with some construction and renovation way underway.
Until my friend in Bangalore mentioned about Yercaud , I had totally forgotten about this hill station which is located some 240 kms away from the tech capital of India. There are way too many beautiful places in Bangalore's vicinity some boasting of coffee or tea plantations, some of scenic hill stations and and scenery and whereas others being historical capitals. Thereby, it is but natural that a small hill station like Yercaud shadows so much into oblivion.
Located around 240 kms south of Bangalore and some 35 kms from Salem, it took us roughly 5 hours to reach the place including a half an hour break. After exiting the Bangalore city from the Electronic City Flyover, we  hit NH 44 and the roads were 4 laned for most of the journey. We just stopped over for some lunch at one of the Bhavans and the only food they were serving were the South Indian Thali so we were not left with much choice as to what to order.
Except for a patch of road near Salem town where construction was on for a flyover to bypass the city, the condition of road and traffic was quite good overall until then and even further on.
Immediately after crossing Salem, we hit the foot hills of Shevaroy Hills and start the ascend on to them. Yercaud also known as the hill station with 20 hair pin bends and the first one we faced immediately after starting our ascend and the 2nd one came after a many good kms but the remaining 18 came in a very quick succession. And as soon as we crossed the 20th, we found ourselves staring at The Big Lake ( don't go by the name ) for which Yercaud is quite popular.
We headed straight to our hotel, Sterling Yercaud, by passing the lake which was around 2 - 3 kms from there. Sterling Yercaud is a huge property with around 69 rooms in the property and is perched on a rocky ledge overlooking the lush green coffee plantations . The property is a short walk away from some tourist attraction such as Lady's Seat, Gent's Seat, Children's Seat and the Rose Garden. After checking in our hotel rooms we rested for a while before heading for the main town.
We thought that we would do some boating in the Big Lake and enjoy the sunset while boating but little were we aware that the ticket counter shuts down by 5 30 pm and we ended up missing it by only a few minutes. Not much left on our agenda at that our we strolled around aimlessly around the lake for the next half an hour but the place is quite crowded out there with the local market. Our next mission turned out to find a booze shop to buy some beers and it wasn't very difficult finding our way to it as there seems to be only one Wine Shop in Yercaud and everyone seemed to be very well aware of it's location.
After finding our mojo for the night, we headed towards Altitude Kitchen and Bar located in Grand Palace Hotel. Probably it is one of the finest places to stay in Yercaud and definitely the restaurant has one of the best views to offer overlooking the Green hills.
After some snacks, we headed back to our hotel to relax and have the beer we had bought. We sat outside in the the balcony of our rooms and got an amazing view of Salem City lights at night . For dinner , we went to Zing ( In House restaurant of Sterling ) and the entire episode was quite a forgettable experience ( details of which I shall be updating in another post)
After dinner, we headed straight to our rooms and crashed for the night .
.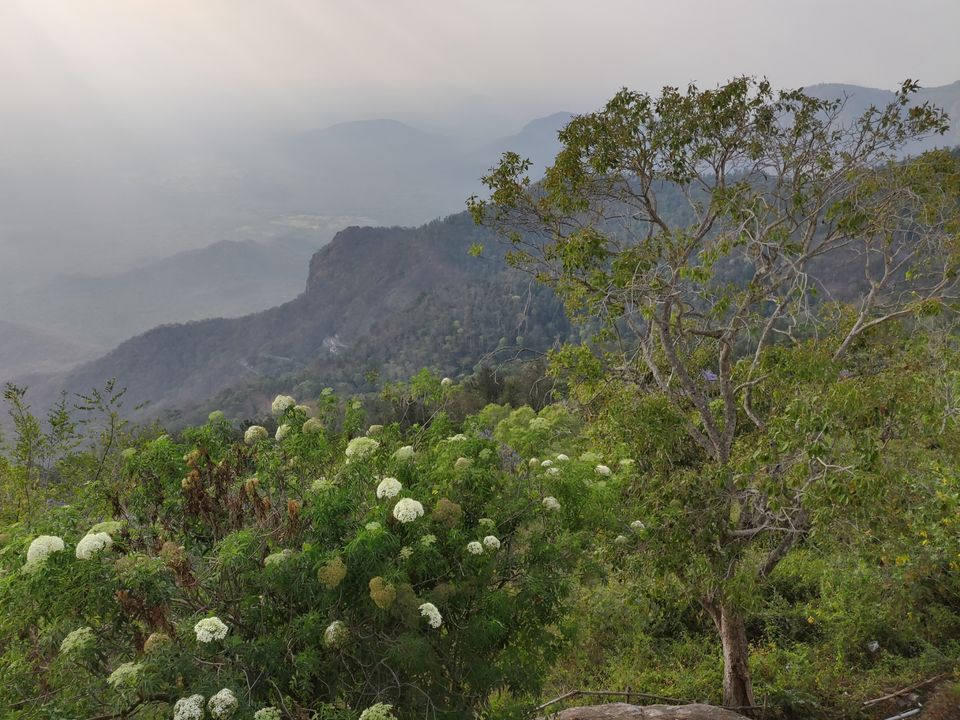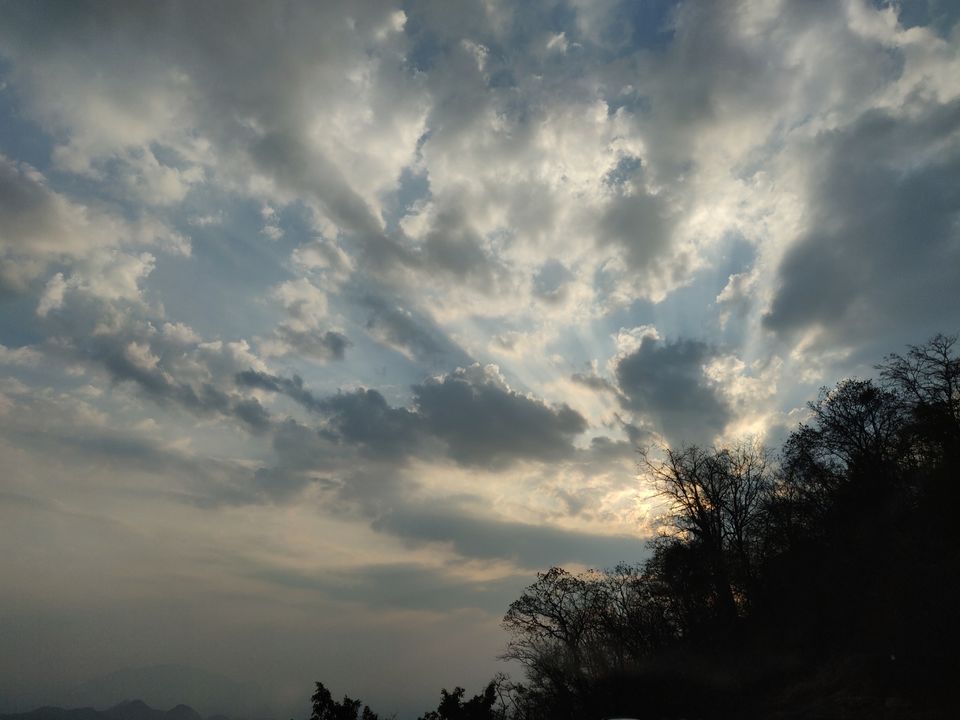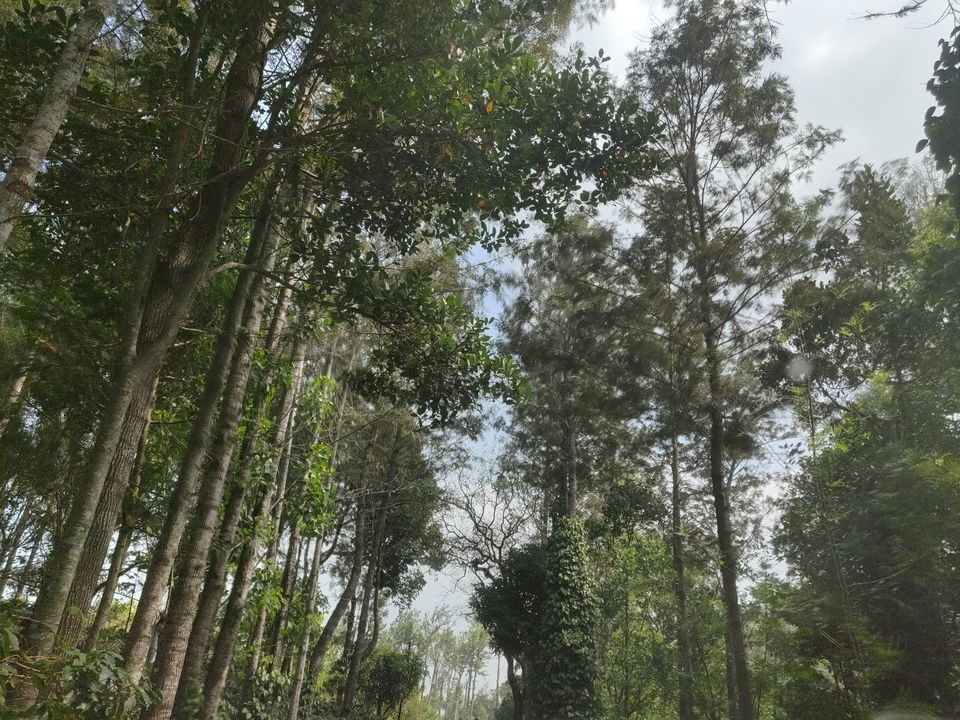 We woke up early in the morning as I had thought that I would go Manjakuttai View Point for sunrise view as the place offers the best views for Sunrise in Yercaud. But as I got up and looked outside from my window, all I found was a thick fog engulfing the nearby hills. So seeing that I chose to find some more comfort in my bed.
Highlight of the Trip - Coffee Plantation Tour
We got ready by 9 am and after eating breakfast at the hotel restaurant, booked a package for 3 for a coffee plantation tour. We booked the package of Gowri Estate plantation through our hotel travel desk itself and the cost per person was roughly around RS 550. The plantation was located roughly an hour away from our hotel and we were greeted by our guide once we reached the estate. The tour began with the guide giving us a brief about the various points and activities available there and the ones we would be eligible for and also the ones we would miss out on since we weren't staying there. He made us eat some coffee fruit as well as some cherry and thereafter we proceeded straight to the artificial man-made lake in the estate where we were to boat and thereafter try our hand at fishing. After these activities , he took us the various other points and finally took us through a 2 km arduous trek to a view point. There we rested and enjoyed the beautiful breeze flowing along with a cup of freshly prepared coffee.
This was perhaps the highlight of our trip to Yercaud. The fishing as well as the slightly adventurous trek to the view point. The entire series of activities took roughly 3 hours and it was already time for lunch and we had to head back to Bangalore also the same day.
From there we went to Brooks Resort and Spa for lunch about which I had read some great reviews and quite popular for it's Tribal Food especially Bamboo Biryani. Sadly for us, the Biryani was not available that day and they literally made us cry before getting our food on the table. It took us more than an hour at this place with their extremely slow service .
We rushed back to the hotel, rested for some time , then packed our bags and headed from Bangalore. We left around 5 pm and wanted to reach the foothills before sun down and successfully managed that. Thereafter we were met with heavy traffic near Salem and after crossing that the journey was more or less smooth. With one small tea break in the middle where we halted for some half an hour, we ended up reaching Kormangla in Bangalore by 11 pm just it time to place our dinner order.
Apart from its coffee plantations, Yercaud is famous for its various Gardens, View Points, waterfalls as well as Sunrise and Sunset Points. Away from the maddening crowd of Bangalore, it makes a great place to spend a weekend with either friends or family and has many a properties suiting all budgets