If you have been considering going on the Euro trip of a lifetime, but find yourself getting quickly overwhelmed by all the planning that comes with travelling abroad, this article will hopefully help you zero in on that perfect European destination that has everything you could ever ask for! We present a complete guide to Salzburg, Austria.
All About Salzburg, Austria
Sitting on the border of Germany and enjoying breathtaking views of the Alps, the fairy-tale Austrian city of Salzburg is steeped in history and culture, and is sure to sweep you off your feet with its sheer devotion to the arts.
Interested? Book your trip to Salzburg, Austria right now!
Offering a myriad of experiences for every kind of traveller, a visit to Salzburg, Austria is guaranteed to make you fall head over heels in love with it. So without further ado, here are 10 reasons why visiting Salzburg this summer will be the best way to satiate your wanderlust and possibly make for the most memorable trip of your life. So let the love affair begin!
1. Marvel at the grandeur of the Mirabell Palace and Gardens
If you're a history buff and and an architecture aficionado, a visit to the sprawling Mirabell Palace is sure to delight you. Gape at the Baroque-style architecture of this historical structure built in the year 1606 and marvel at the towering statues of Roman gods here. The beautiful Mirabell Gardens surrounding the Palace have been forever immortalised ever since they appeared in the classic American drama musical, The Sound of Music. These gardens have a bit of a past as well. They were only opened to the public after several additions were made and they were redesigned. Take a stroll here and luxuriate in the lush greenery around you.
2. Experience some marionette theatre!
If you like puppet shows, it would be criminal not to check out the Salzburg Marionette Theatre – a world famous theatre which set the base for marionettes around the world and is one of the city's biggest tourist attractions. A fun fact is that this theatre was inspiration for The Sound of Music which rose to tremendous fame across the world. Today, the theatre hosts some really big operas consisting of world-renowned singers and orchestras. Many of the operas have adult themes and cater to adult opera lovers.
3. Break into a dance at St. Rupert's Day Fair
Held in September every year, the St. Rupert Day Fair is an annual extravaganza organised next to the Salzburg Cathedral, to remember Saint Rupert. An absolutely spectacular display of community celebrations, this is a great opportunity to witness people from across the city and all walks of life unite to honour this man together. From fun carnival rides to beer tents and market stands to folk music, dance and fireworks, this is a never-ending party you cannot afford to miss on your trip to Salzburg, Austria.
4. Calling all ye Mozart fans: This iconic square is a must-visit
Proudly occupying a spot right in the middle of the Salzburg city centre is Mozart Square. A bronze statue of Mozart stands tall on a marble plinth which was donated by one of Mozart's patrons, and towers over passersby. Apart from being a popular tourist attraction in the Old City of Salzburg, Mozart Square is also the point of congregation for travellers who wish to go on guided tours of the city.
5. Revel in the treasures of the past
For all those who live and breathe art, a trip to Salzburg would be incomplete without taking a tour of the fascinating DomQuartier. This magnificent building stores art collections and treasures of the Province and Archdiocese of Salzburg. The galleries of this impressive museum maintain permanent as well as temporary exhibits. The DomQuartier sums up the last 1,300 years of Salzburg's history covering all aspects of its art, heritage and culture – from kings and rulers to forms of art such as music and architecture. Go well in advance, because this will be one hell of an extensive tour!
6. Explore the vibrant heart of Salzburg's Old City
In the heart of Salzburg's Old City is Mozart's birthplace, Getreidegasse, which is an unrivalled tourist magnet and frequented by travellers from all over the world. If you like to shop, you must definitely visit this charming and vibrant place lined with high-end designer boutiques and stores advertising international fashion brands. Also explore the rustic little lanes that lead to quaint homestays, eateries and taverns tucked away in little corners of Salzburg.
7. Contemporary art lovers can't miss out on this
Salzburg has something from every genre of art, and thus, is the place to be for every kind of art lover out there. Set in a minimalist building, Museum der Moderne is truly representative of that fact, and is dedicated to all the lovers of contemporary art out there. The museum has made endless efforts to preserve modern art in all its glory. Regular exhibitions, presentations and workshops, on local as well as international contemporary artworks, are organised regularly and on a large scale at Museum de Moderne. There are also cool exhibits of photography and graphics for those interested.
8. Head to the mother of all festivals, an experience of a lifetime!
This annual world-renowned festival of music and drama is suitably held each summer in the birthplace of Mozart – Salzburg. Every summer, for around five weeks, the city of Salzburg is abuzz with fervent celebrations, as people expectantly wait for the magic of music and theatre to unfurl. One of the most popular plays at the festival is the annual performance of the 16th century mystery play, Jedermann or Everyman by Hugo von Hofmannsthal, which also happens to be the unquestionable high point of this festival.
9. Succumb to this sweet temptation!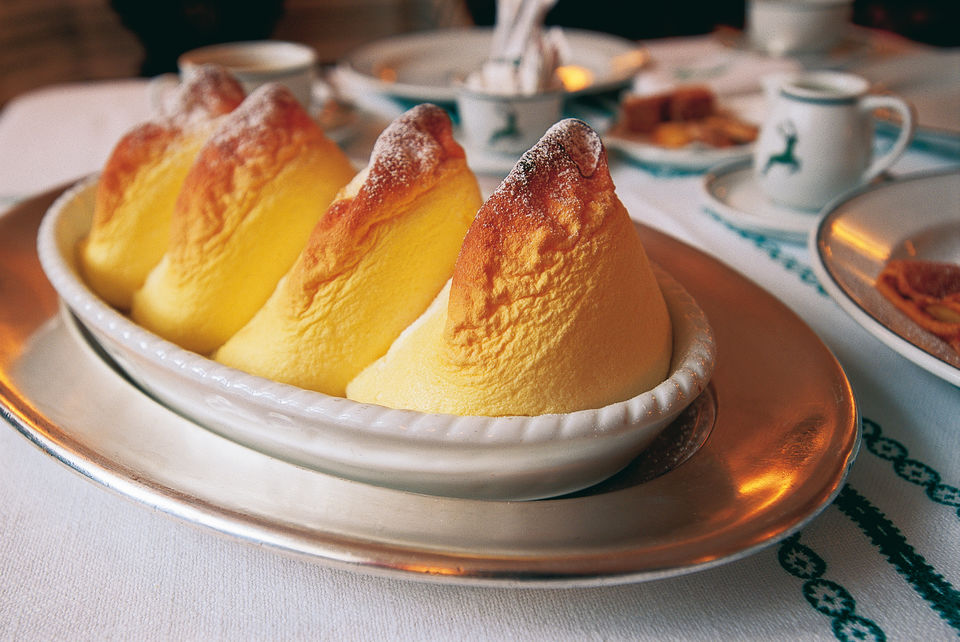 If you have a sweet tooth and you're in Salzburg, then you are in for a treat! This beautiful Austrian city will spoil you with a delicious speciality exclusive to Salzburg, which can be found in just about every cafe and restaurant here. The Salzburger Nockerl is a light and fluffy sweet souffle that is perfect for those who don't enjoy an overdose of sugar. Pleasantly flavoursome with peaks often covered in meringue and dusted with sugar, or drizzled with raspberry sauce, this dessert is a must try when you're in Salzburg, Austria. The little peaks represent hills around the city, and the sugar dust is for the snow that covers them.
10. Drink, dine and experience Austrian culture at Café Bazar
This centrally-located cafe enjoys a spot right by the Salzach River and has gained the reputation of being a cultural hub that exudes unmatched charisma. From the very beginning it served as a meeting point for poets, artists and philosophers, and now many celebrities frequent it. Known for its mouthwatering treats, the cafe successfully whips up some delicious breakfast and lunch specials. Throw in decadent desserts and a large selection of coffee specialties, and you're about to embark on a gastronomic adventure of epic proportions.
So these are the 10 reasons why visiting the culturally and historically rich city of Salzburg would be one of the best experiences of your life – one that would leave you wide-eyed and wanting more.
So don't prolong the wait, and click here to book your trip to Salzburg, Austria now!
What is your favourite European destination and why? Tell Tripoto all about your travel adventures and help a growing community of travellers plan their next trip!
In association with ezeego1.
Frequent searches leading to this page:-
salzburg austria places to visit, salzburg tour packages, salzburg vacation packages