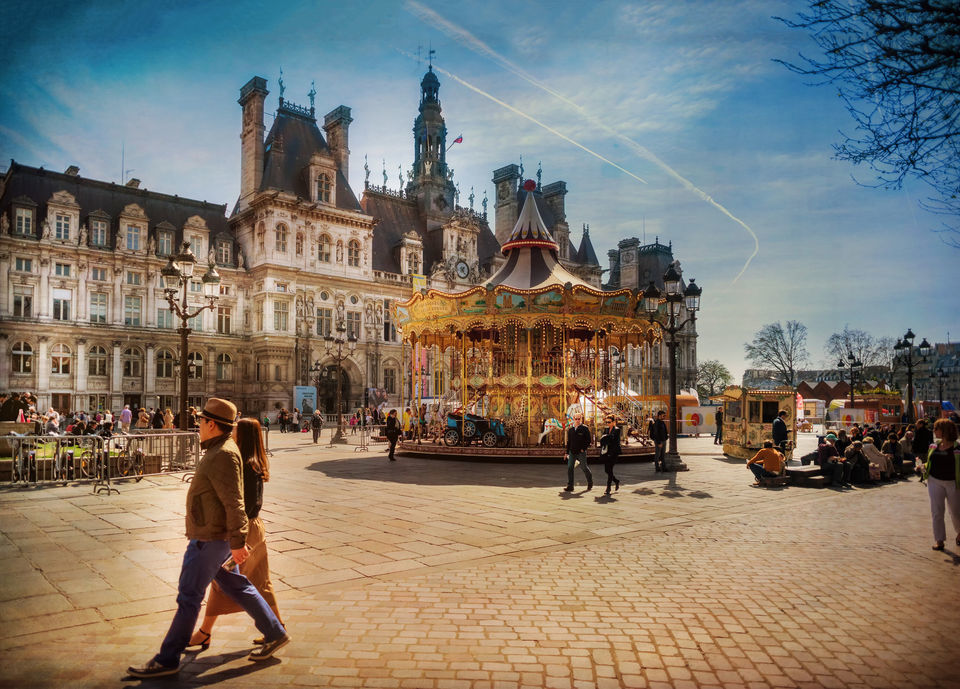 One of the million things that makes Paris the most sought after tourist destinations in the world is its food. The City of Lights has so many culinary delights to offer that they are sights in their own right. In fact, certain Parisian eateries are so popular that they shine as brightly on the map as the Eiffel Tower and the Notre Dame. Leaving the French capital without sampling their offerings is downright blasphemous.
1) Le Cinq
A part of the luxurious Four Seasons Hotel, Le Cinq is a celebrated restaurant with as many as three Michelin stars. Its tasteful interiors range from golden and grey upholsteries and ornate chandeliers to special chinaware and palm trees. The fare served here is quintessentially Parisian and notable names on the menu include the lobster fricassee, a meunière style thick veal liver and fresh strawberries with chantilly cream. A meal for 2 should cost around 300 Euros.
Location: Four Seasons Hôtel George V, 31 Avenue George V, 75008 Paris.
Opening Hours: Monday to Friday: 12:30 - 14:00; 19:00 - 21:30; 07:00 - 10:00; Saturdays and Sundays: 12:30 - 14:00; 19:00 - 21:30; 07:00 - 10:30.
2) Epicure
With Chef Eric Frechon at the helm, Epicure is a fine dining address inside the iconic Hotel Le Bristol of Paris. With three Michelin stars, the chef whips up authentic (and sumptuous) French fare with the duck foie gras and the black truffle stuffed macaroni being his signature dishes. The interiors exude elegance and the service is the epitome of professionalism. Expect to pay anything around 300 Euros for an unforgettable meal.
Location: 112 Rue du Faubourg Saint-Honoré, 75008 Paris.
Opening Hours: Daily: · 7:00 –10:30, 12:00 –14:00, 7:30 –22:00.
3) ASPIC
Chef Quentin Giroud's incredible gastronomic gift to the city of Paris, ASPIC is a tiny yet popular restaurant with creative offerings both in terms of flavour and presentation. Their seven-course tasting menu is fixed and offers no choices, something that the establishment takes pride in and requests guests to trust the capable hands of the chefs. Reservations are imperative.
Trivia: The name Aspic interestingly refers to pieces of eggs, seafood and meat that are coated in savoury jelly.
Location: 24 Rue de la Tour d'Auvergne, 75009 Paris.
Opening Hours: Tuesday to Saturday: 19:30 - 22:30.
4) L'Atelier de Joël Robuchon
With stunning black and red interiors and exquisite international fare designed and prepared by Chef Joël Robuchon, Chef Axel Manes and their fantastic team, L'Atelier de Joel Robuchon is a culinary dream come true. The open kitchen is a visual treat and so is the beautifully presented food. The most popular names on the menu include the foie gras, the baby lamb chops and a dish as simple as mashed potatoes. Their wine list is equally impressive.
Location: Hôtel du Pont Royal, 5 Rue Montalembert, 75007 Paris.
Opening Hours: Daily: 11:30–15:30; 18:30–00:00.
5) Restaurant Le Meurice
Hotel Le Meurice's two Michelin starred restaurant has an exclusive menu designed by Chef Alain Ducasse and is one of the classiest places to dine in Paris. The interiors are reminiscent of palaces and the food is downright heavenly. In fact, all of the ingredients are sourced organically and prepared while keeping their natural flavours in mind. The pigeon, lamb and lobster dishes stand out the most.
Location: 228 Rue de Rivoli, 75001 Paris.
Opening Hours: Monday to Friday: 12:30 –13:45; 19:30 –21:45; Closed on Saturdays and Sundays.
6) Café de Flore
A shining gem of Saint-Germain-des-Pres, Cafe de Flore is the oldest cafe in Paris and was once the muse of eminent philosophers and artists such as Georges Bataille, Ernest Hemingway and Pablo Picasso. Visitors can soak in the views of the streets and indulge in a good amount of people watching while sipping on their signature steaming cup of Chocolat Chaud. Their french onion soup is equally good. The prices are surprisingly reasonable despite the fact that the cafe is an institution of sorts.
Location: 172 Boulevard Saint-Germain, 75006 Paris.
Opening Hours: Daily: 07:30 - 13:30.
7) Carette
One of the oldest patisseries and tea rooms in the city of lights, Carette is a quaint yet imposing establishment in the touristy area of Trocadero. With airy macaroons and what is supposed to be the best éclair au chocolat in Paris, it has several takers. The revamped menu also includes delicious finger sandwiches and an array of brunch options. Founded in as early as 1927, it continues to be an incredibly affordable bakery.
Location: 4 Place du Trocadéro et du 11 Novembre, 75016 Paris.
Opening Hours: Monday to Friday: 7:00 - 23:30; Saturday and Sunday: 7:30 - 23:30.
8) Café des 2 Moulins
The "Cafe of the two windmills" is one of the most prominent eateries in Montmartre and derives its name from the iconic Moulin Rouge and Moulin de la Galette windmills. Movie buffs will recognise it as the workplace of Amelie Poulain from the film 'Amélie'. Apart from being a massive tourist attraction, 2 Moulins is also known for its divine Crème Brûlée and sinful Hot Chocolate. Expect to spend a relaxing afternoon swooning over its food and fangirling over Audrey Tautou's unsurpassed talent.
Location: 15 Rue Lepic, 75018 Paris.
Opening Hours: Monday to Friday: 7:30 - 14:00; Saturday and Sunday: 8:00 - 14:00.
9) Café Charbon
A spacious bar with a large selection of wines and basic French fare, Cafe Charbon is steeped in history as the building it is housed in was once the residence of a 19th Century coal merchant. The all wooden upholsteries and low hanging lamps only add to its old world charm. It is also a great place for breakfast or a wholesome plat du jour (usually some meat with finger food) for lunch.
Location: 109 Rue Oberkampf, 75011 Paris.
Opening Hours: Sunday to Wednesday: 8:00 - 14:00; Thursday: 8:00 - 16:00; Friday and Saturday: 8:00 - 17:00.
10) Coutume Cafe
Coutume Cafe is one of the relatively newer entrants into the Parisian Cafe scene as it was opened only in 2011. A minimalistic and rather industrial looking space, it serves excellent breakfast, lunch, artisanal beer and wine apart from the good old cups of freshly brewed coffee. Interestingly, Coutume also supplies roasted beans to around 50 coffee shops, bars and restaurants in Paris.
Location: 47 Rue de Babylone, 75007 Paris.
Opening Hours: Monday to Friday: 8:30 - 17:30; Saturdays and Sundays: 9:00 - 18:00.