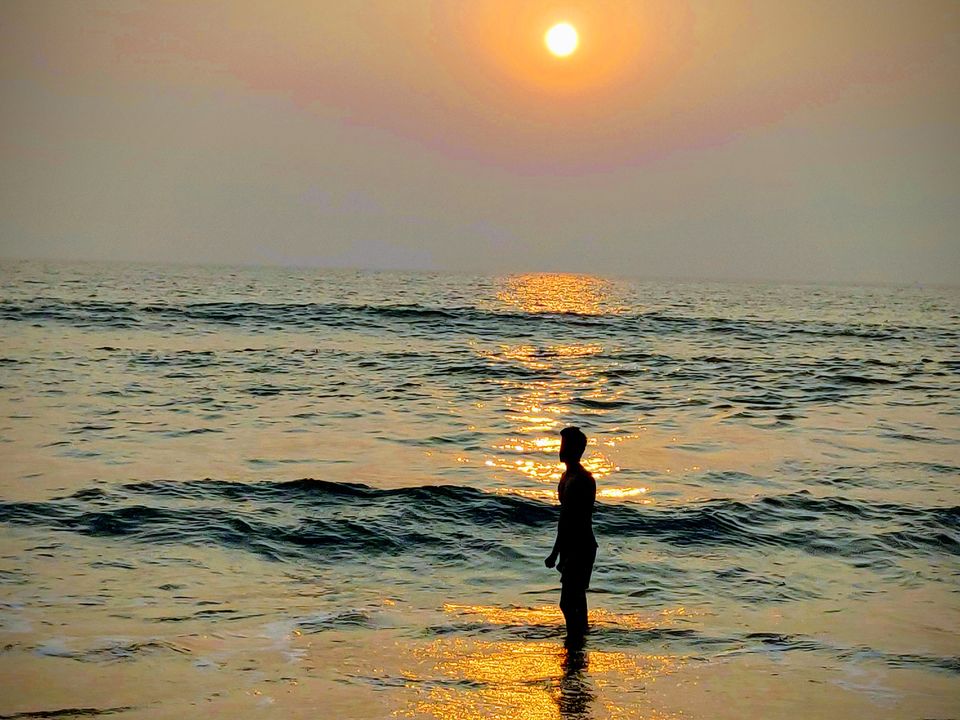 Every Indian teenager has one thing in common that he/she will plan a trip to Goa once with his/her friends. When we all start planning the trip, what comes to our mind first? Beaches, parties, nightlife, casino or just to hold your loved one's hand and seat at sea shore and enjoy sun set. Well, we all are aware of this sight of Goa; but there is one more sight that also makes Goa very special and that is the delicious food they serve across the state. Usually people are searching new place with help of Google map but for me my hunger drives me to my destiny. Before I started this article I want to inform my vegetarian friends may be this article can hurt your tummy's soul because Goa is heaven for non-vegetarians.
When we talk about non-veg food our mind start creating image of food with lots of masalas, some barbecue and typical smell but Goa all together has different style of delicious taste to offer. Goan dishes includes lots of Indian spices bland in coconut and cashew-nut curry. It's more ever like taste of Indian spice with portage's touch. So ladies and gentlemen get ready for watering your tongue with Goan foods.
Here we start our hunting journey with breakfast or you can say some munching food.
Choris Pao
Choris pao is one of the goan oldest and famous dish. It's kind of a burger made with pork petis and spicy goan. Choris pao is considered as local street food, also being served in small eateries, beach-shacks and restaurants in Goa. I found choris pao at Local street food corner in Miramar named D'Silva Caterers and Fast Food in panjim the capital of goa.
Sannas
Sannas is basically Goan Idli. Sannas are different from normal idlis, as it has sweet coconut flavored taste and is made out of Goan rice. Sannas compliment most of the Goan dishes. You can found it in integral area of Goa specially in small towns and villages. They serve Sannas with green chutney or with white coconut chutney.
Shawarma
I know many of you already had Shawarma in various part of India but in goa you will get different type of flavors in shawarma. You can get finger licking taste at multiple road side stall in Miramar, panjim at affordable price. They normally serves shawarma in two different manners either you can have a shawarma wrap like a hot dog or you can have it with roti type bread. All of these stalls have arrangement of a Meat roasting rod, which keeps rotating around semi circle barbecue grill. When you eat shawarma you can feel taste of well Blend of sausage meat and pao with raw salad, which gives you amazing new experience of Goan food.
Now we move on to goan special curries. Goan Curries make special space in every back packer's heart. Goan people are very picky about curry. Great combination of Portuguese food with magic of Indian spices. Now I am going to introduce some of them.
Cafreal
A spicy marinade made from a paste of chilies. Garlic and fresh coriander. Used for the famous chicken cafreal and other goan dishes
Xacuti
A spicy and creamy curry made of aromatic roasted spices and grated coconut
Recheado
A bland of whole rosted spices, kasmiri chillies. Coconut and vinegar . Used as stuffing and as base for many popular Goan dishes.
Goan Curry
Smooth creamy gravy made from coconut milk, red chillies, garlic cumin and tamarind for tangy finish.
Ambottik
A Portuguese influenced spicy and tangy fish curry. The word " Ambot" means sour and "Tik" means spicy.
I know craving start in your mind so Here some of dishes that I had in Goa. Pleasure tastes of these curries made me time travel to Portuguese time.
Crab Xacuti
Xacuti is very common in Goa you can found it in every restaurant or beach side shelter but one of my Goanies Friend suggested me Hotel Souza Labo at Calangute beach. This hotel is running since 1932. You can enjoy beach view with having authentic Goan food here. Smooth coconut curry blend with spices and it is perfectly cooked with crap. The ambience and its authentic food will make you feel mesmerize and send you back in time.
Chicken Cafreal
One of my favorite dish, Amazing combination of roasted chicken stuff with masala(Spices) and green chilly masala(Spies) curry . I got this mouth watering dish in Hotel Goan Spice at Calangute-Anjuna road. If you are true chicken lover try these dish without fail.
Amitache Sungtache Hooman
Curry prepared with coconut milk, mild spices, cooked with Prawns and Choice of ladyfingers. Sound Weird when we heard combination of prawns and ladyfingers but taste of these combinations even you could not imagine how amazing it is. They serve this dish along with butter, Portuguese breads and goan steam rice. I was very lucky to get chance to have these combination in Goa's one of the famous restaurant "Mum's Kitchen" at Panjim.
Bhareli Keli
One more Goan magic Moira(big) banana stuffed with green masala and semolina fried. You will get two different types of taste in one single dish. When you eat first you feel crispiness on upper side of banana with some amount of sweetness and after that you will sizzled by the taste of spices. These goan magic was recommend by the chef of Mum's Kitchen's.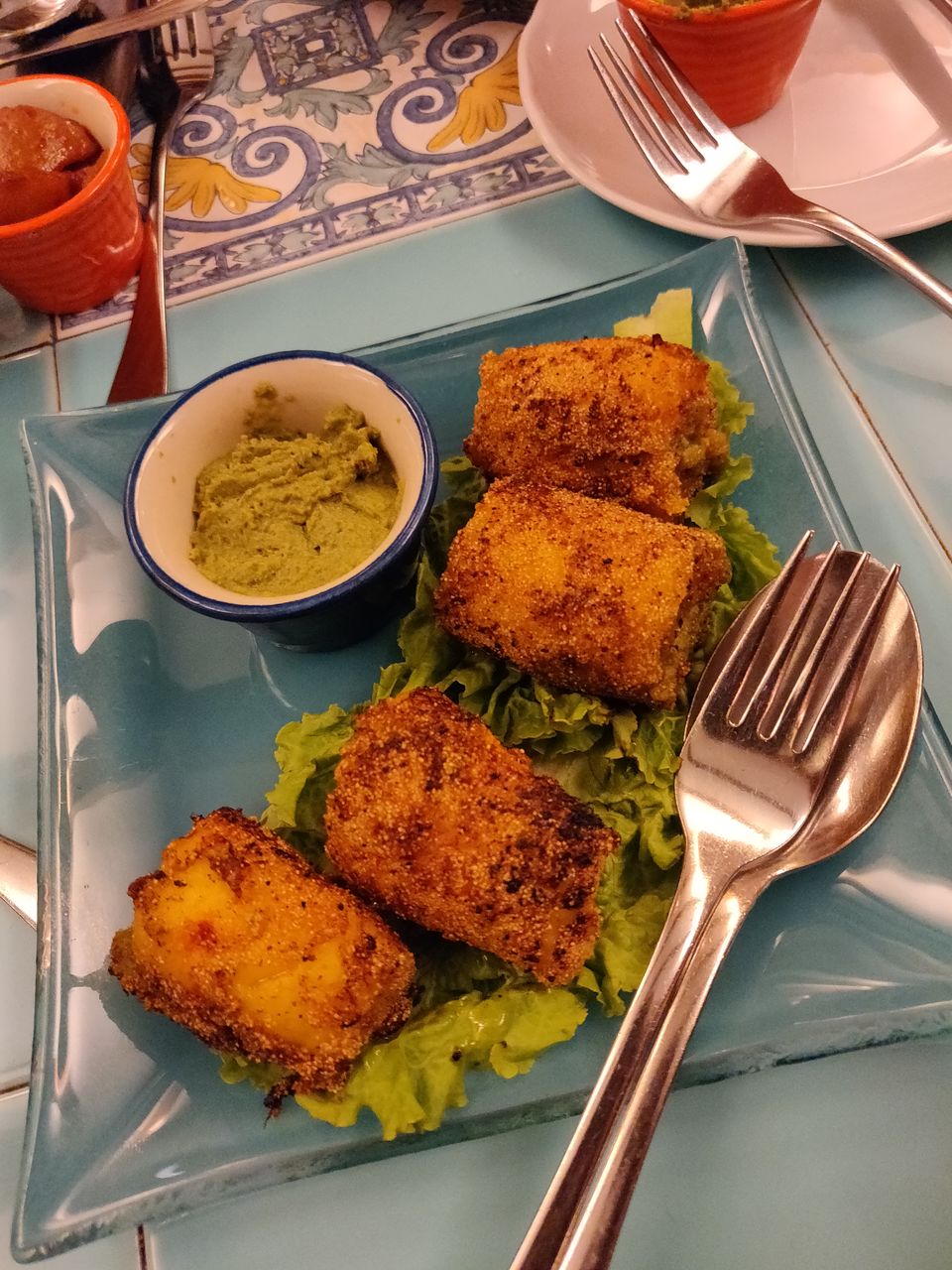 As we all know Indian meal never completed without a sweet dish and Goa has some extra ordinary sweet dishes. Definitely the distinct flavor of it will stick to your tongue for a longer period of time.
Rum Chocolate Ball
I have never ever tried alcoholic sweet. It was my first experience. It has been shaped like a Tennis ball, with lots of chocolate blend with Rum. Its mind blowing chocolaty flavor makes you to forget the best branded chocolate taste you ever had. You can get it from any good bakery.
Red Wine Brownies
I swear once you taste one bite you can't control on yourself to have another one. When you put it in your mouth its started melting, and within a span of second your mouth will be filled with chocolate, almonds and the berry inside the brownie. It will remind you your first date. This journey of this beautiful combination end with pleasurable taste of wine.
Rum Pastry
When you hear the name of it your mouth must be filled with water. But i am telling you the taste of it is much more delicious then its name. It is filled with yummy mouth melting taste will defiantly make you to fall in love with Goa. To convince your furious better half or to propose to your loved one, this pasty will never disappoint you.
Bebinica
Bebinca also known as Bebik. Its a traditional rich Goan dessert. It needs just four main ingredients- egg all purpose flour, coconut milk, sugar with a hint of nutmeg and ghee but it's the cooking process, that involves baking one layer at a time, which can take time up to four hours. Not just the taste Bebinica's layer by layer look also makes it more special. You can have it with vanilla ice cream or eat directly. Fabs babinica is one of the best place where you can get delicious Babinica which is located at Ribandar near Panjim City.
Without Drink how can we finish our Goan food hunting trip? Goa has its own delightful drinks
Feni
The two most popular types of feni are cashew fani and toddy palm feni. The name feni is derived from Sanskrit word "phena" which actually means froth. Well, there are many way to drink feni but I like to drink feni as per below mentioned recipe, which took me to the seventh layer of cloud and tang on my mind.
•60ml of Feni
•5ml lime juice
•1 Green chilli
•1 Teaspoon brown sugar /salt as per your taste
Urak/Urrak
Urak has a fruity, mild & pungent aroma of the cashew apple. Urak is the first distillation of feni and contains 15% alcohol. You can drink it with Limca or Lemonade