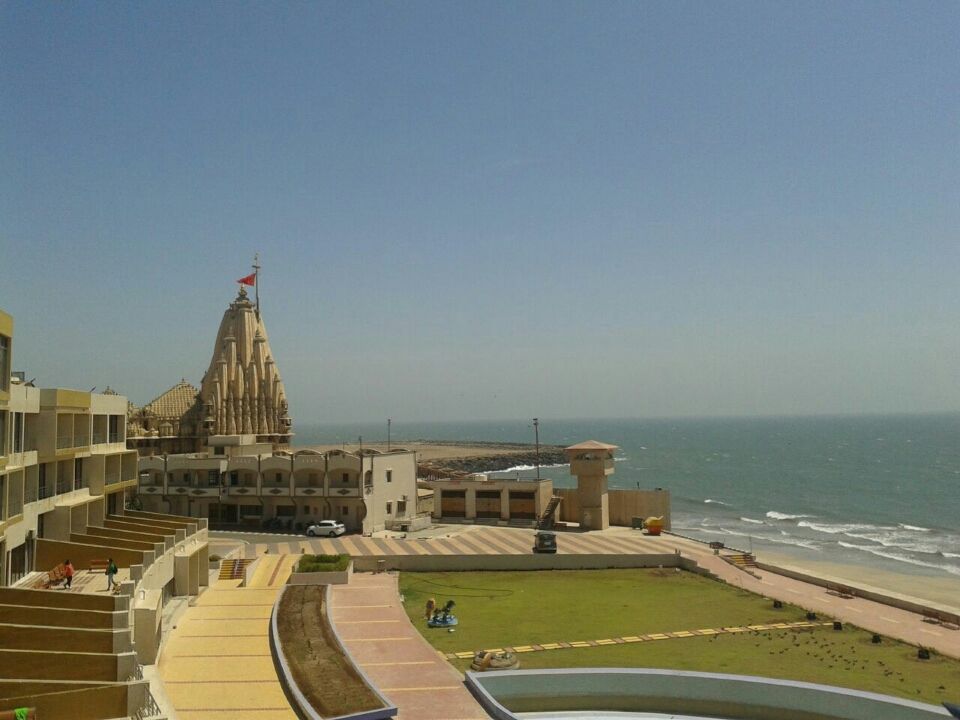 DAY 1
Somnath jyotilinga was in our bucket list since longtime but we wanted to make it a budget trip with least holidays at office. Hence we choosed indian railways as our mode of transport for night journeys and comfort. We boarded the train Saurastra janta express at 8.30pm from Vapi on Friday. It was quite surprising that sleeper coach was very clean.
DAY 2
We had to break our journey at rajkot railway station to catch another connecting train for veraval. The buffer time between the 2 trains was just 25mins so it was very much important for saurastra janta to reach rajkot on time or else we would had to find other options to reach somnath. To our surprise, our train reached Rajkot before time and we got enough time to catch our connecting train Rajkot Veraval passenger at 7.50am. We had asked one of our friend who lives in Rajkot to get the tickets for us, just to be on a safer side. It was well calculated risk by my husband which at last was rewarded with a smile on everyone's face. We got the seats easily unlike locals on Mumbai Ahemdabad route. Had our breakfast at rajkot station and we were off for another 4 hrs train journey towards veraval. We reached Veraval at 12.30pm. Veraval to somnath is just 3.5 kms for which we hired 6 seater auto to Somnath. On the way to Somnath there are many boat manufacturing workshops where one can see boats in various manufacturing stages. Within 15 to 20mins we reached our hotel Sagar Darshan by somnath trust. One can do the booking online through their official site. Hotel location was mind blowing. All the rooms are sea facing with balcony. If you are in Somnath then this is the best place to stay. Hotel is stone throw away from sea and walking distance from temple.

After bath and lunch at hotel, we left for Darshan. The queue for the Darshan was small due to summer and exam time. After Darshan we spent some time in the temple premises itself enjoying the cool breeze of the sea as we also wanted to attend the evening Arati and light & sound show.
Arati was the most wonderful experience in this trip and light and sound show was a good informative show giving complete history of the temple. This two things are must do in Somnath.
We had our dinner at Lilavati bhojnalay of somnath trust located at the walking distance from the temple. They provide unlimited gujrati thali costing just 60rs per plate. Food was light and good. Later we returned back to our hotel and had a good time sitting on the sea facings benches at the hotel and listening to the peaceful roars of the sea.
DAY 3
After wonderful experience of Arati we decided to attend morning Arati also. Arati time in morning is 6.30am. Its a good spiritual experience, the garbh(hall) was filled with sound of prayers and fresh floral fragrance which touched our souls. After having breakfast we went for sightseeing around Somnath.

It includes

BHALKA TIRTH
It is a place where lord krishna was mistakenly hit by the arrow of hunter and a peepal tree is planted at the place where lord krishna succumbed to his injuries. At present this place is under renovation and is taken over by the somnath trust.
TRIVENI GHAT
Its the meeting point of three holy rivers saraswati, kapil and hiran. It is believed that lord krishna visited this place when he was hurt by an arrow.
GEETA MANDIR AND LAXMI NARAYAN MANDIR
This temples are located on the bank of triveni ghat. The holy place of geeta mandir is belived to be the one where krishna and balaram sacrificed their bodies. All the 18 chapters from holy book geeta are imprinted on the wall of geeta mandir.
BALRAM CAVE
This is the place just beside the geeta mandir where Balram departed.
BAN GANGESHWAR
It is the place where hunter went to wash away his sin after mistakenly hitting the arrow to lord krishna.
Later we boarded the SOMNATH RAJKOT PASSENGER train from somnath station at 11.00am. Again train was not crowded one can select his seat or i would say coach. After 3 and half hours journey we reached virpur, the land of jalaram bapa. After peaceful darshan we went to panchvati hotel for lunch just beside the bus stand. Again gujrati thali, when you are in saurashtra then best option for lunch or dinner is gujrati thali with chilled chhas(buttermilk).
From virpur bus station we catched the state transport bus for gondal, luckily the bus was new so it was a comfortable journey. At gondal after bhuneshwari mata temple darshan we headed towards rajkot as our return train was from rajkot. Gondal railway station is beautiful, probably built in british era and was neat and clean with lots of little flower pots on the platform. We reached rajkot by porbandar rajkot express at 6.00pm. Our return train was at 11.30 from rajkot junction, so we had lot of time. We search for the clock room at the station. After long walk we found it but unfortunately we were not having locks for our bags so they didnt allow us to keep our bagpacks in clock room. Now its already 7.30 so we decided to go to swaminarayan temple and sit there for a while. The temple was too crowded so we left that place and started searching for rajkot famous rasik lal no chevado and siya ram na penda (sweet). We bought both the things and we had our dinner on the street of rajkot by having gughara(local food) and dabeli and ended it with thandai ice ceam. Later we catched the auto and reached station by 10.30pm. We boared our train somnath express and reached ahemdabad at 4.00am. From ahemdabad we had our onward journey to vapi by karnavati express to reach on time before office hours.
Altogether it was a good tiring budget trip covering more than 1600 odd kms in just a weekend.
Haapy travelling...!!!!