Before this trek, I always had this image of the Himalayas in my mind. It's covered with snow (obviously), it's romantic (because Bollywood) and it either snows or is sunny. These misconceptions about the Himalayas were far less harmful, when compared to my Himalayan trek ideas.And when I registered for YHAI's Bedini Trekking program, I wasn't a bit worried.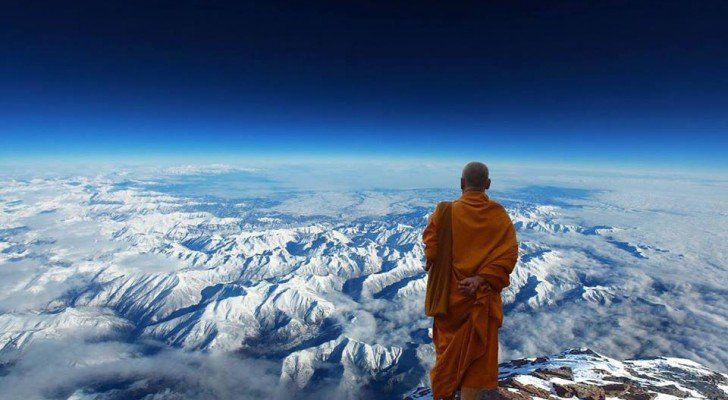 I started from Delhi, on the previous day and reached Haldwani Railway station in early morning next day. Gwaldam was my destination for the day and it was no easy task to reach Gwaldam. At around 7:30 in the morning we boarded a small public bus from Haldwani. Most of the passengers were locals and nothing was tourist like (or Himalayan like) along the way.
I got a proper window seat and I got bored after one or two hours. When I looked around, there was this local man sitting next to the driver(because the bus was full) on what seemed like to be the part of engine of the bus. So, I asked him whether he is cool with the idea of swapping seats and he gladly obliged. I Sat in there for another two hours and then went back to the 'normal seat'. After around eight hours and innumerable greetings from the locals, me and me bus reached Garoor, a big village. The driver informed that the bus won't go to Gwaldam and we can easily find jeeps and pool our way to Gwaldam which is only 50 km distance from there. Until this point, the topography of Uttarakhand looked like hill stations in South India. It's green and there was no snow! I was curious to know how much would the topography change in the next fifty kilometers. The bus ride costed me 215 rupees and the taxi would cost me another 50 bucks.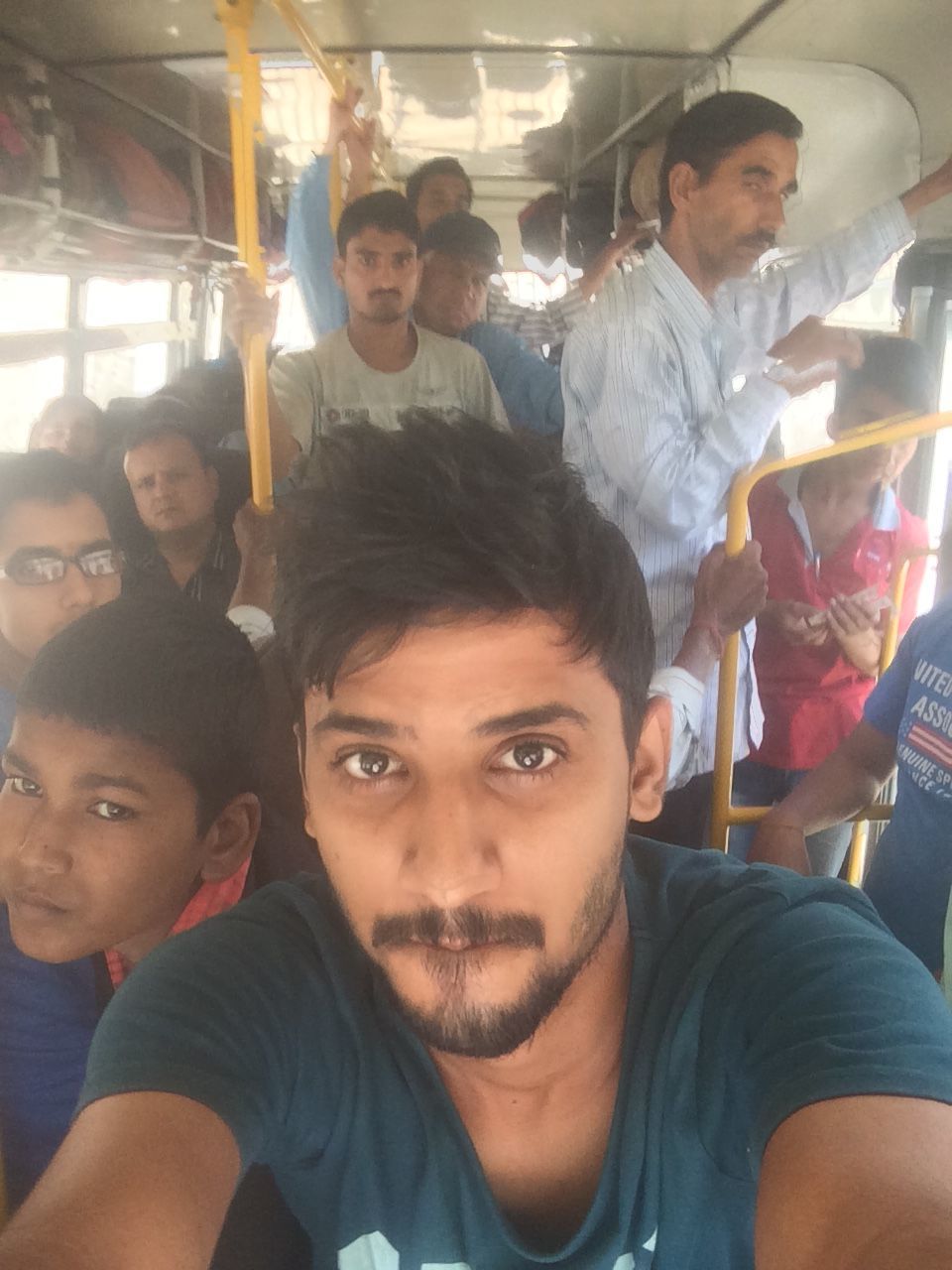 The jeep took us to deeper forest and I could make out that we were gaining good altitude. At around 4:30 we reached Gwaldam. From the village We had to walk for another one km to reach the base camp. The day was long. The road trip was tedious and tiring. I was already feeling like day to day life where even the slightest surprise can make you happy. And, then I saw the camp! The moment I saw the camp, I could feel happiness and excitement rushing through my veins, from head to toe. There are people talking about mountains, valleys, their travel experiences and everything else under the sun. The camp leader helped us to get registered and allotted tents to us. and just when I was standing at the edge of a cliff near the camp site, the fog just gave way to this magnificent view of Mount Trishul.
After the Tea, there was campfire (without fire), where people just sing and dance. I was feeling very excited and a bit left alone. The camp leader handed me the entire schedule and I didn't read much of it. It kills the suspense, y'know!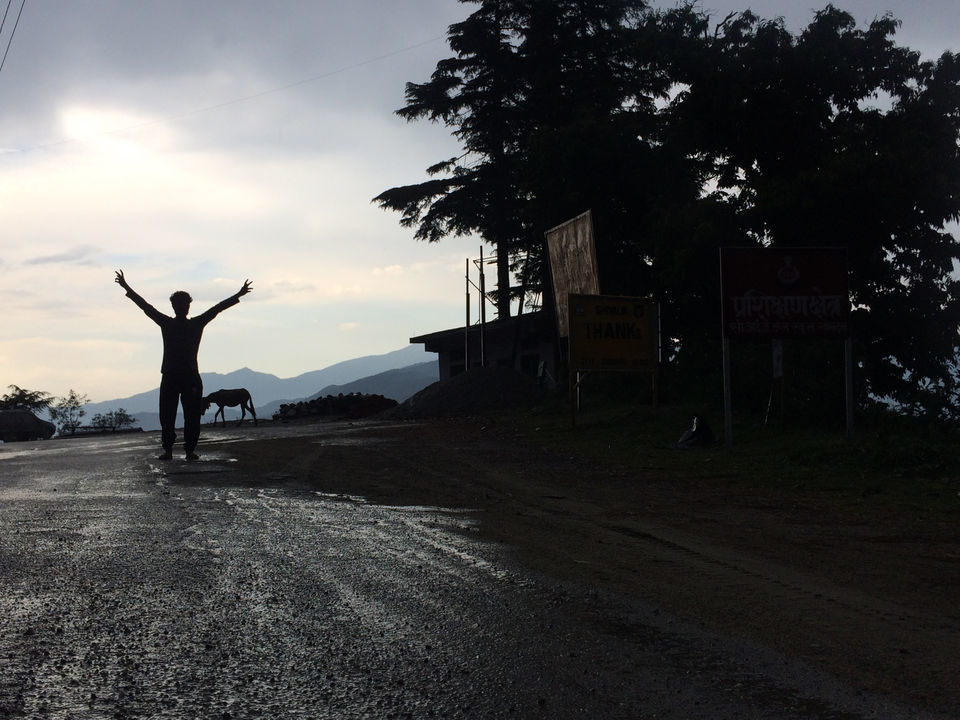 DAY 2
Woke up to the sound of the YHAI volunteer , shouting for everyone to wake up. It took the empty sleeping bags beneath, for me to realize that I was a little late. Ran to the washroom and freshened up, only to find everyone already assembled in the front. They were standing in rows of three. To my right, near the cliff, the staff was distributing tea. Now I have two options. Either rush and join the group or enjoy the tea. I made the ideal decision and found myself in the assembly with a cup of tea in one hand. The camp understood!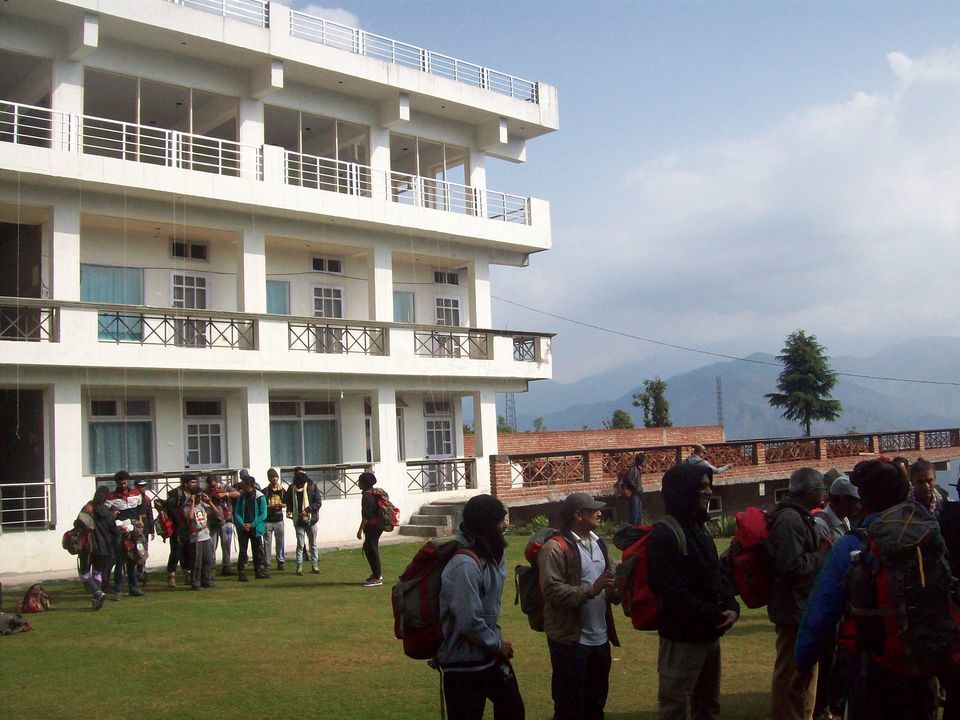 Day 3
"Dude, can you please switch off that alarm?, it's from your phone right?" These were the words, that woke me up for the first time. Next time I woke up, the sleeping bags beneath me were empty again, except my best friend's. The way he slept calmly, without any worries made me proud. I rushed out, grabbing my tooth paste and brush after giving a kick on his butt shouting 'wake up asshole' in the loudest of my voice. The moment I reached there, I had to join the line and I decided to keep my brush and paste in my pocket. Fast forward - Jogging, stretching , Yoga. Yes! Yoga, where the leader proudly announced, 'let's meditate!' It was beautiful. It was a serene morning. The chilling breeze, the chirping birds and then there is me, who hasn't brushed! The meditation was really good and I felt 'fresh' after that. On the way back, it rained cats and dogs.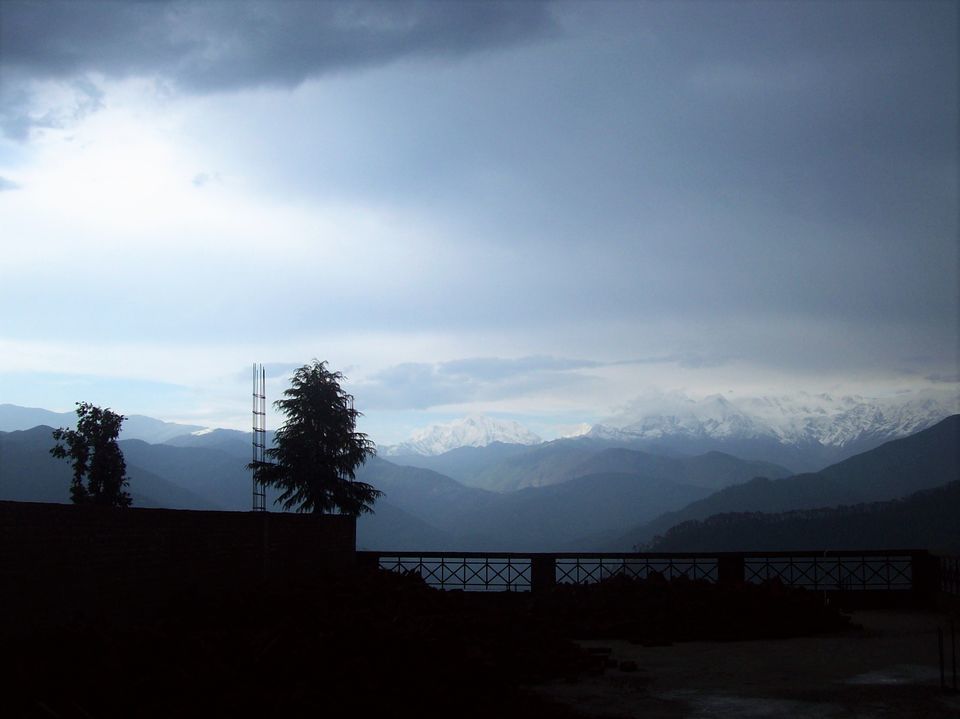 Day 4 Base Camp to Didna
Well. This is the day, to face which, we have been preparing for the past 3 days. The beauty of the day is that, I had no idea what would happen that day. Everyone assembled and the next batches were already present, to flag us off. They looked happy. (Good riddance, I can be a pain in ass, at times, or most times). Then came the chief. He looked at us, as if we were not gonna come back. I never knew sympathy was something his eyes could bear. He gave us a small speech about the trekking trail. The camp we are going to, is Didna. The first 3 kms will be descending and the next 2 to 3 kms will be steep ascending. The trekking would start from a village called Kuling, which was approximately 50 kms away from the base camp. I could hear the engines sputtering outside. We were supposed to have our packed lunch, after the first 3 kms. We were distributed with a packet of biscuit, a bar of chocolate and flavored beverage, which we have to use in day 5. He then personally asked everyone about their winter gears and rain coats. Everyone was ready with their rucksacks on their back, the gears, trekking poles and everything else. Chief seemed to be satisfied. Next, he came to me. He looked at me and I smirked. '"You can't trek without tying your shoelaces, and where are your socks?". I suddenly took my socks out from my pocket and told him that I'd wear it from the jeep, as punctuality was more important to me. Apparently his eyes could contain sympathy!.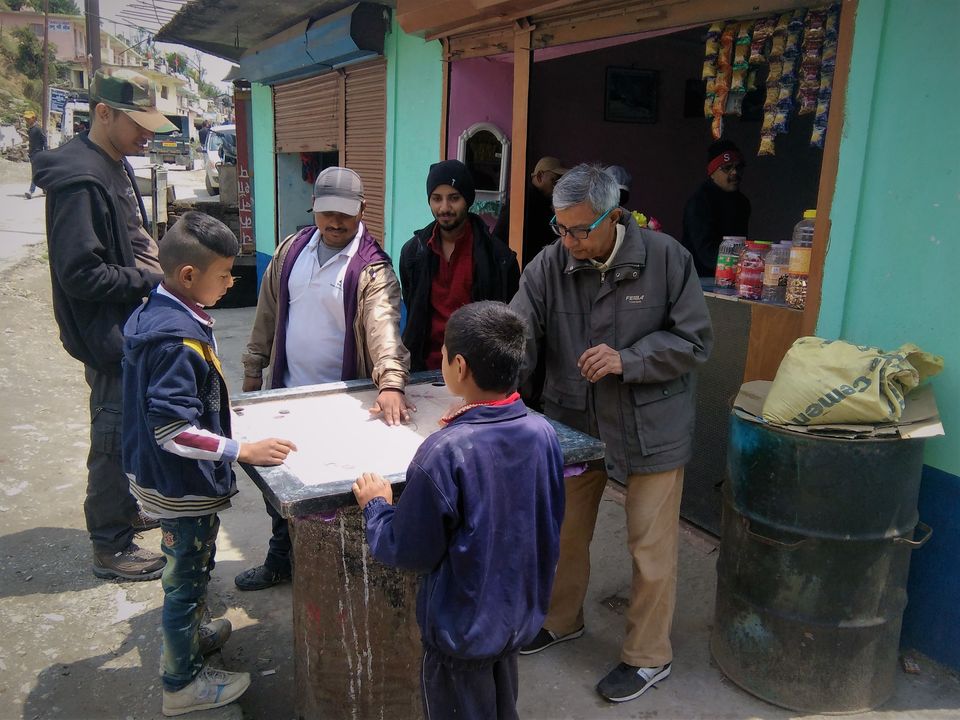 Bedini Trek
I woke up to the chirping sound of the birds around. I was surprised to see people already up and sipping their morning tea. I brushed and had my share of the tea. One could easily feel the waves of excitement in the camp. It's Bedini! We would have to leave as early as 7 am. We quickly had our breakfast, packed the lunch in the tiffin box and left Didna. The camp leader walked with us for quite a distance and bid goodbye to us. It is a 12 km trek to scale 12000 feet altitude.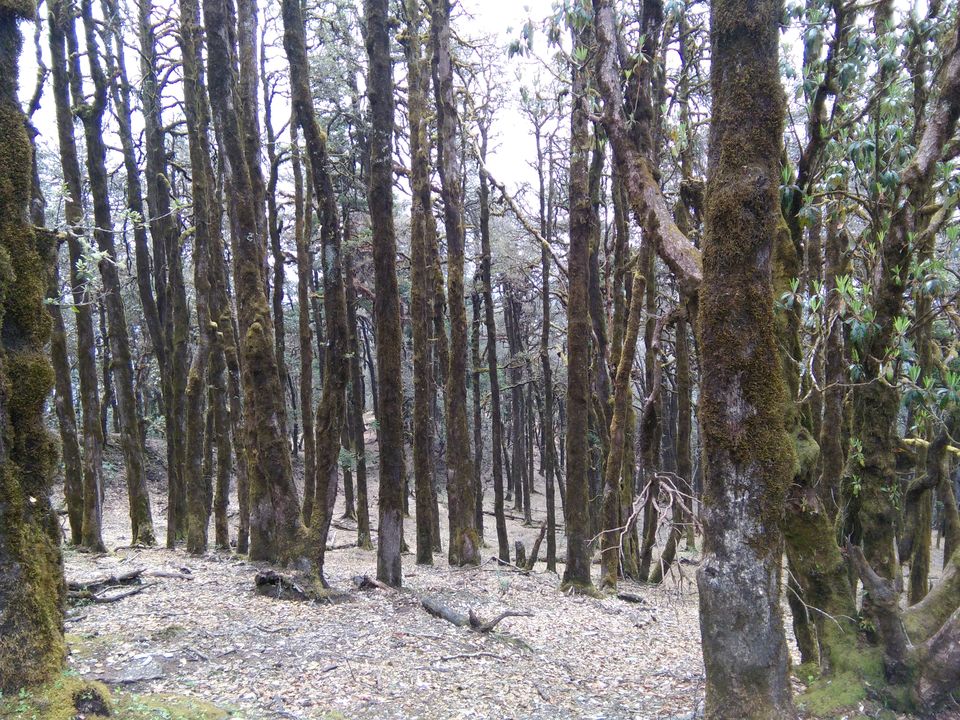 "It's morning exercise", whispered the girl standing behind me. Then, they all started jogging. Jogging was a piece of cake for me and I started showboating with my pace. After 1 km of jogging we were asked to enter the pine forest for practicing Yoga and other stretching exercises. Now, I'm serious about Yoga. I was so serious that, I was constantly peeking at everyone while the entire group was meditating, so that no one cheats. I observed closely how yoga is done! The camp understood! No one messes with Yoga while I'm alive.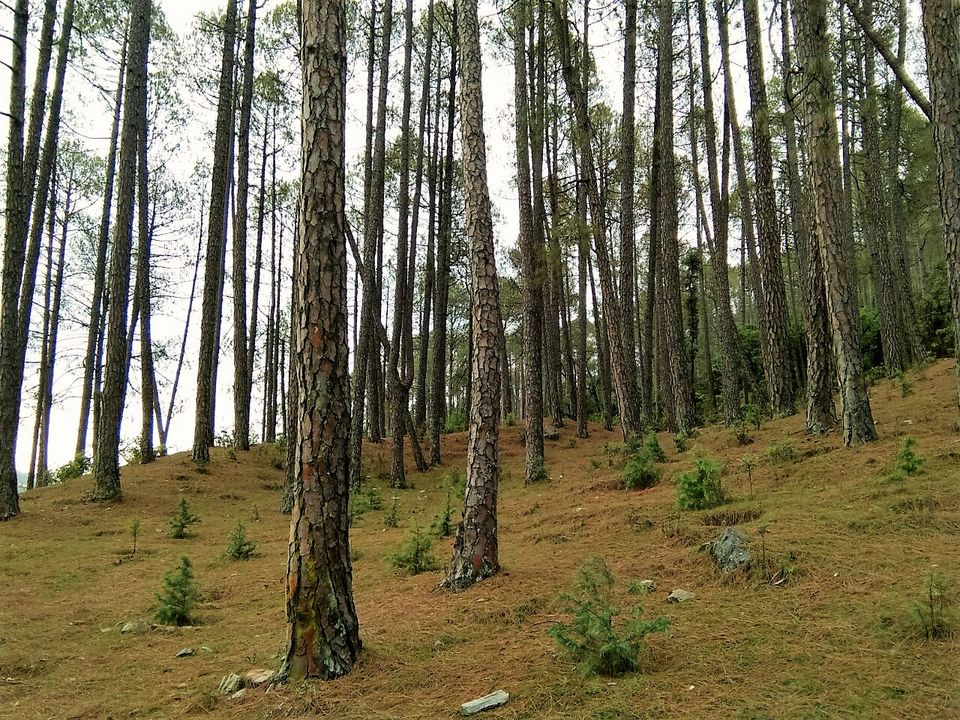 The Distance that I had covered showboating, I scaled it again walking. By then, I was courageous enough to talk to the intimidating strangers in the group. They're all nice people. The best part for me by then , was how unprejudiced I was about everything. I didn't have big expectations about things that were about to happen. Neither did I have any worries. That's what happens when you are at a place, filled with people whose eyes shine, when they talk about mountains. That's what happens, when every local, no matter how weary they look, gives you a smile, that is too transparent to hide anything other than happiness. Had chole battoore for breakfast. Yhai did a remarkable job with all the food they provided. ("The one who gives you food deserved to be loved like food" - Chef Vasu, Lakshmi Restaurant).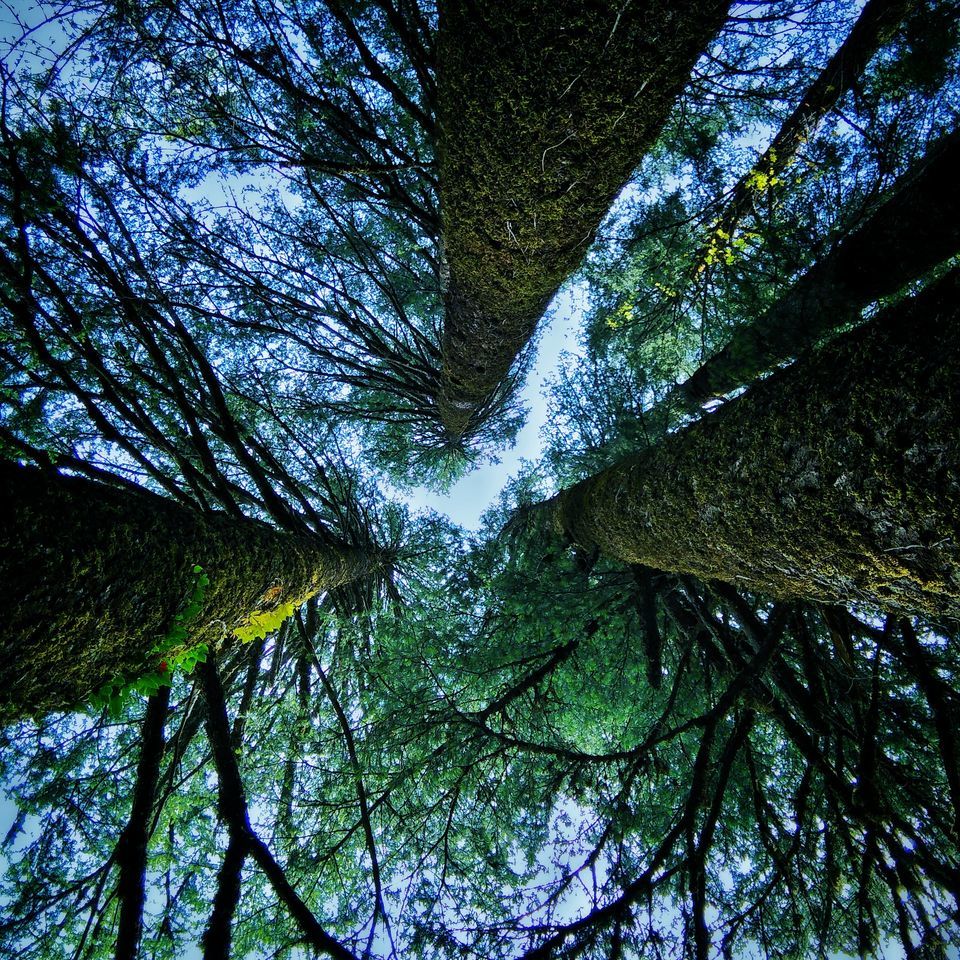 Now comes the big moment of the day - Acclimatization walk. Acclimatization walk is done for adapting yourself with the high altitude conditions, and is a preparation for big treks. (This defining thing, is an MBA habit. Even thought of making a PPT) We were asked to carry a raincoat, a bottle of water and two blankets. Raincoat for rain, Water for metabolism and blankets to make the rucksacks heavy. Lighter rucksacks were already provided at the camp.
At that point in the trek, there were three batches in the camp. BB 24, which is my group, BB23 - the group which is a day senior to us and BB 22 who were having their third day in the camp. Now it was BB22's turn to leave for the actual trek, so we all waved farewell to them, by clapping our hands in a specific rhythm. For BB 23, it was their second day and they were leaving for rock climbing and rappelling. No one really gave any shit about BB23. BB 22 were the heroes of the day, cause they were the ones who were gonna face the real deal.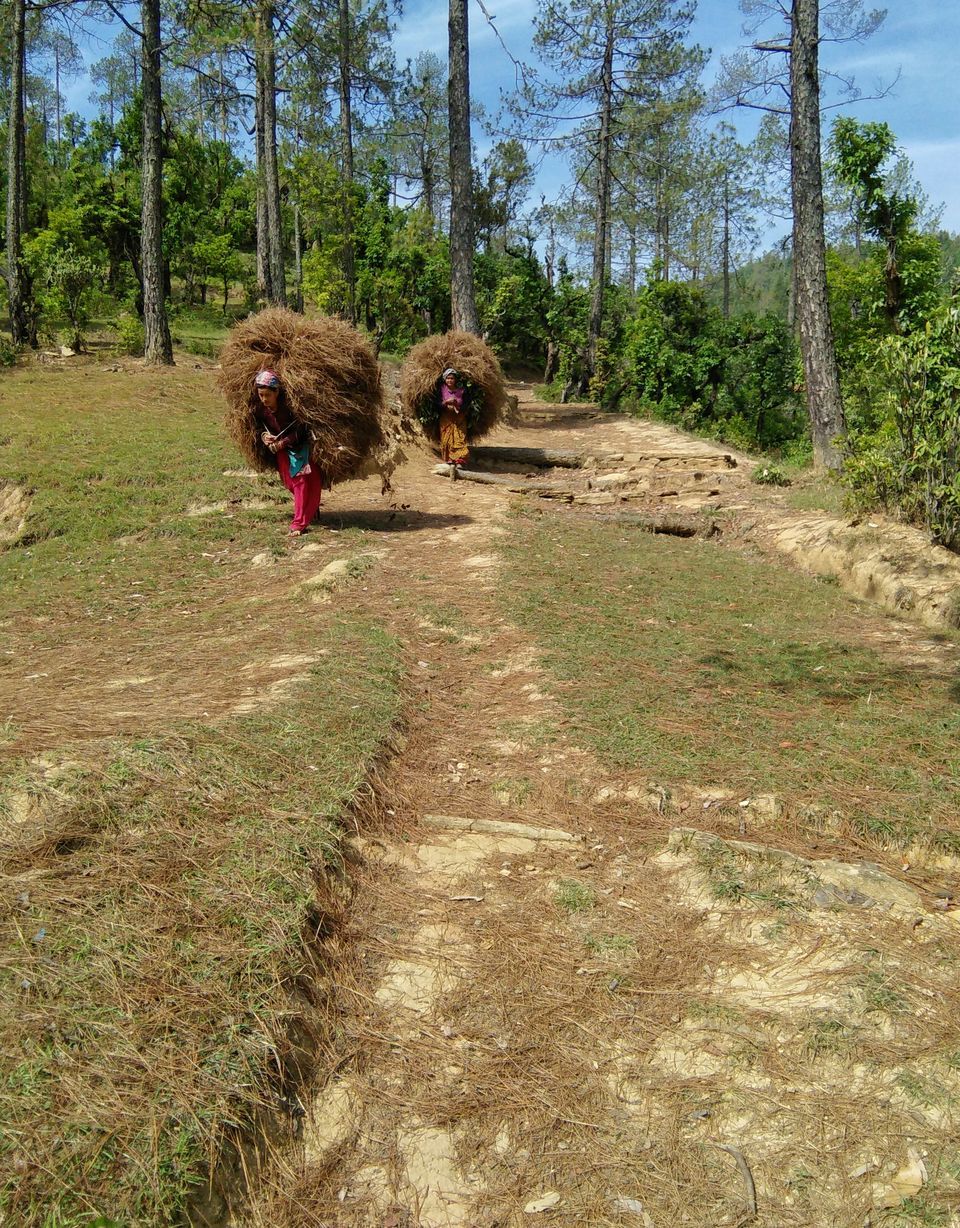 It took us around two hours to reach the top, where we all sat in a circle and introduced ourselves. I was keenly watching everyone, how they are different from each other, have different culture, languages, and then I was wondering about that one passion that brought us all together, on top of a small hill, in Uttarakhand on a Thursday afternoon. One of the camp leaders who accompanied us for the walk, gave us a small speech about his passion for trekking. Added to that, were some tips to survive there. You are supposed to try and breathe through your nose as much as possible, because respiration process through the mouth causes condensation which means less water in our body, which will eventually lead to lesser water in our bottles.
It rained on the way back. It was then that I realized, that rain coats are actually useful and I should have bought one. We reached back to the camp to find Rajma Chaval waiting for us. Later, we were forced to sit in an orientation class by the chief of the camp. He lectured us about Acute mountain sickness (Yeah, google it up), the chances of blisters, frostbites, shivering and everything else about Bedini. It was so interesting, that I found it hard to stop yawning. In the evening we went to the village for shopping. I was short of a jacket, a good pair of trekking shoes and a raincoat. I was terrified about the expenses I was about to incur. At the end of the day I bought the shoes for 400 bucks (That's right honey!), the jacket for 850 and a pair of gloves for 70 (though I'd recommend the waterproof gloves which cost around 150).
Later that night, my friends and I performed in the campfire and later commented shamelessly on every other performance. By this time, I got a taste of Uttarakhand mountains. There is no such thing as weather forecast here. It rains when nature feels like it. And she had been showing swift mood-swings. Lights were off by 9:30 and we all marched back to our tents. When I was struggling to put myself inside the bag, I knew I was going to wake up to just another day and not to a Friday.
The camp leaders were unsure about rock climbing and rappelling, which was a part of the day's schedule, as slippery rocks are dangerous for these activities. Well, the sky had a mood swing and it was sunny again. By this time, I had brushed(Oh I really did!) and had joined others for breakfast. We were asked to assemble in the ground, and started for rock climbing. Well! The lil girl changed her mood again, her face went dark and decided she'd cry the whole day. We had already hit the road and sought shelter in a building. After that, the group was scattered and we went to the market. I felt the need of disappearing and me and me best friend walked back to the tent, had our packed lunch together and slept off the entire afternoon. Later, I learned that the group went for some hiking and they had fun. I had no regrets. The sleep was great. Then, came the leader, a bit angry for the fact that we didn't inform while coming back. I looked at my friend who was still sleeping off the afternoon. I explained the camp leader, how he had a sudden stomach problem and headache, that I had to accompany him suddenly to the tent. The camp leader's face was filled with sudden regret. "Is he okay now?" "Well, Yeah.. guess so!", replied the innocent me. post half an hour, my friend woke up to find everyone sympathetically looking at him. "How do you feel now?" asked one of them. "I'm good, how are you?", he asked back, still puzzled. Then, he looked at me and I mouthed, "Couldn't resist mate"!
Baggage Inspection
What all should you take along, when you are leaving for the trek? To know this, you have to think what is a necessity product and what is a luxury, in mountains.Let's see some of them, that deserved a space in our rucksacks, that we carried to the higher grounds. Our bags were checked by the chief of the camp, primarily to ensure that we were not carrying any unnecessary weight
The selected ones
A good jacket(preferably one with fur inside and is waterproof), a poncho or raincoat, an inner sleeping bag, a rucksack cover(for rain), an extra t-shirt(full sleeves), an extra tracksuit, thermals, a pair of gloves(preferably waterproof), power banks, a pair of trekking shoes, three or four pairs of socks, a cap, undergarments, a tiffin box, a water bottle, a tumbler(light plastic cups will be better), a spoon, goggles, a steel plate, a hand sanitizer, and vaseline. Now, everything else is a luxury. In the above mentioned things, jackets and shoes should always be worn, so that your rucksack is free. Poncho can be tied to the rucksack, so that you're ready for mood swings. Inner sleeping bag and rucksack will be provided by the camp.
Everything else
These are the things that will casually add weight to your rucksack but will never be worth the weight.
Pair of slippers(Use your trekking shoes), Tablets and syrups(Yhai has a good reserve in every camp), Shirts(T-shirts are lighter, admit it!), Beauty products(You'll never use em, trust me), Earphones, blankets and everything else you had already brought can be kept at the base camp, so that your rucksack will stay lighter. Heavy clothes like jeans will make you uncomfortable, and will add unnecessary weight. Remember that, the weight of every extra gram will be felt in exponential values, during the trek.
Trek would start the next day. We felt fit, mentally and physically, fresh(because yoga) and excited. Meanwhile, the batches that had completed the trek already, has come back and were telling us stories. That night I interacted with a lot of new people. People, I might never see again in my life, and they gave us a lot of tips and insights on how to survive up there. It felt like a fairy story. I mean, a scary story. Some of them had to experience heavy hail storms and breathlessness. There were thrilling as well as terrifying stories. But, they all were happy and content. They didn't use a sweater when were wearing 3 layers of clothes and were still shivering. I felt ready to welcome day 4. Meanwhile someone offered my friend an ORS solution.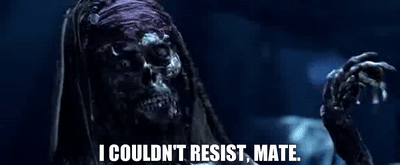 I got off the jeep to Kuling. It was a very beautiful and yet small village. I could see there were only very few people there. Some were playing carrom board. All were happy to see us and treated us just like one of them. We sat among them, played games with them, took photos with them and it strangely felt a bit like home.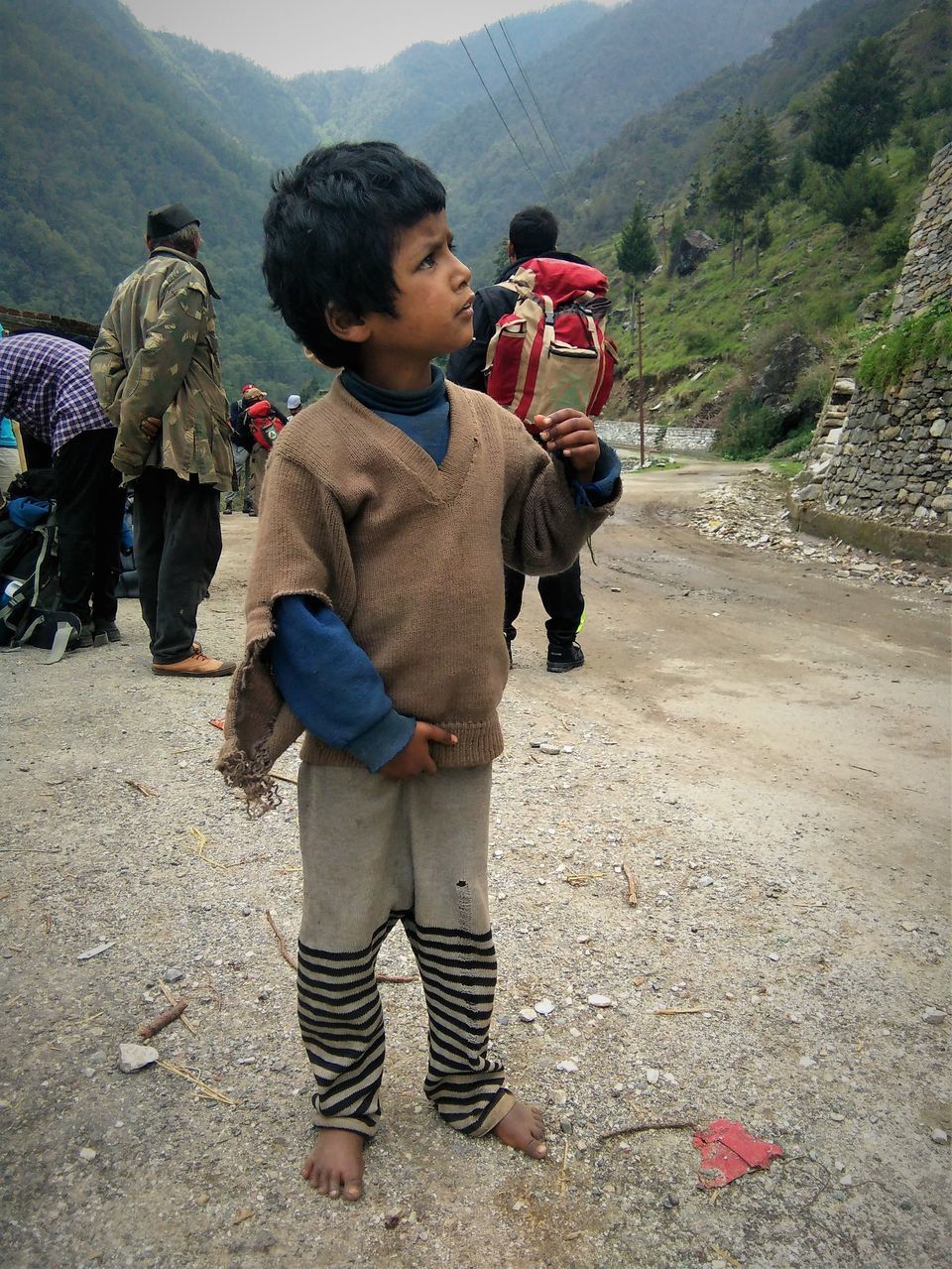 From the point we got off from the jeep, we had to walk down to the right, which lead to a descending trekking trail among the village huts. Now, these huts are beautiful. They were made by layering flat stones stones, in such a way that they look like lego houses. Some of the houses were very beautiful and made the place look like the Neverland of India.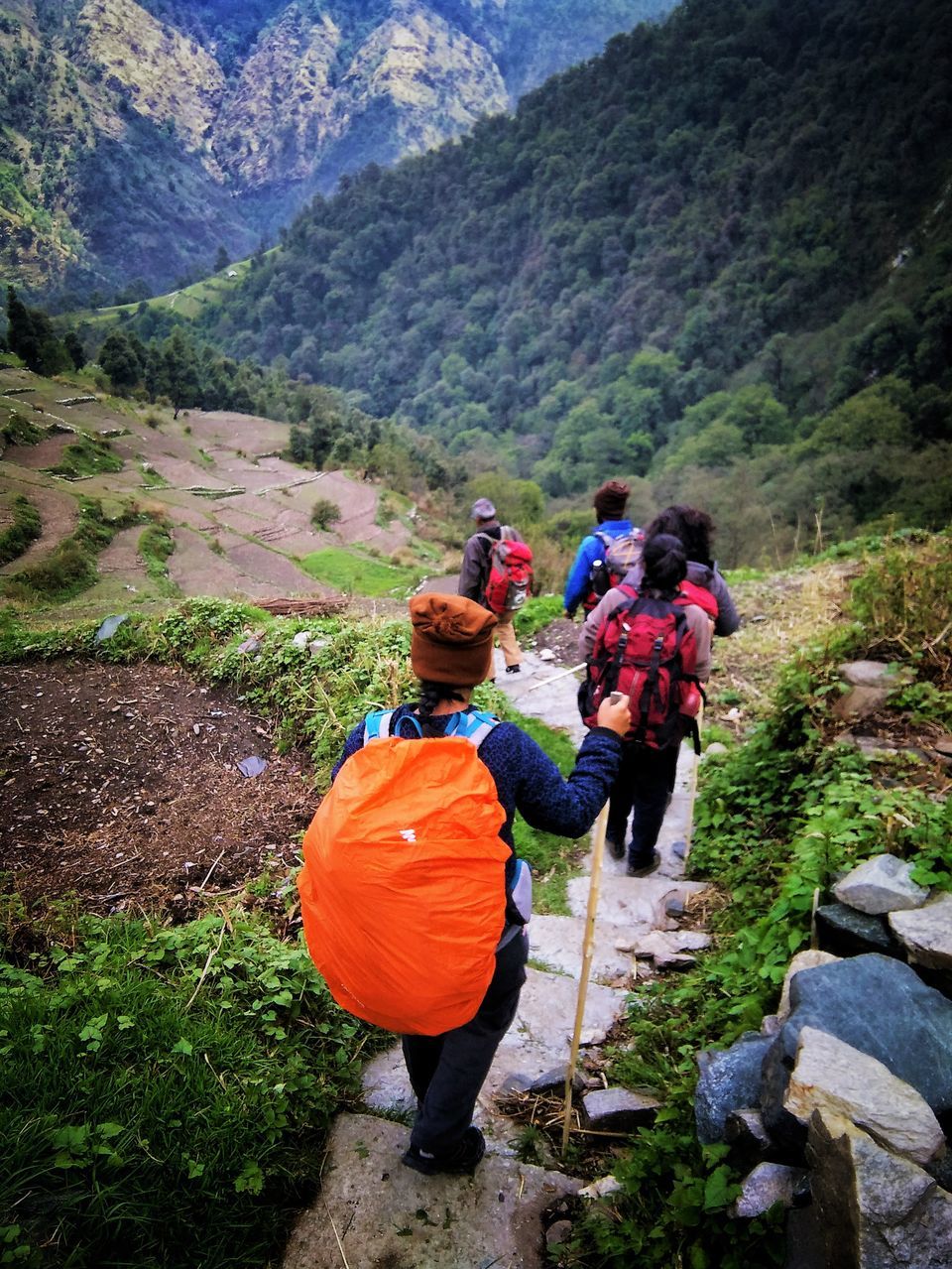 By 3 pm I saw a shape amid the fog, and It smiled when I was close enough to realize it's a human being. "Hi, I'm Siva. Welcome to Didna camp! The camp is 30 meters away and your welcome drink is ready". I still remember the warmth of his smile. I kind of rushed up after introducing myself. After what seemed to be 150 meters I reached the Didna camp. It was on the upper part of a valley and It looked over to the deep valley. Didna camp was not a tent, but was more like a wooden house. The camp leader gave us all the instructions and gave us tea afterwards. I roamed around the camp. Everyone was busy being happy. Some were discussing movies and religions while three or four were trying out their luck in bird photography. The camp leader pointed his finger towards a cliff, that was adjacent to us and asked us to spot a nest. There it was, below the peak point of the cliff, a small inward opening. It was the nest of a Himalayan vulture. The photographers tried their luck with it. After 1 glass of squash and 2 glasses of tea, the camp leader encouraged us to feel free and try walking up the valley to the Didna village. We slowly headed out in the crisp weather. I couldn't help but notice, we were surrounded by cannabis. They were too many in number that if they ever plan out on taking over the village, oh dear, we wouldn't stand a chance.
MomoKocho and the Villagers.
The streets in Didna were quiet and empty. There was a man, in front of us welcoming us with a warm smile. This is the time we have to greet them. Back from base camp, one of the senior trekker had taught us the pahadi word for ' hello'. I desperately tried to recall it. I made my little lazy brain work like a slave. After 15 minutes all I could remember was some marketing jargons and some Hindi slang words I picked up recently. Good job brain. I approached that guy and I said "MOMOKOCHO" with greeted hands and I bowed a little. The guy was puzzled a bit but then bowed back with greeted hands. Now, I've no idea what that word means and the local most probably might've thought this is how we say hi in South India, or wherever shitty place I'm coming from (Try Madras). The people who were with me thought Momokocho is a pahadi language, because they witnessed with their naked eyes, how they greeted me back with momokocho. In short, no one knows what momokocho means, but it made the world a less shittier place. I tried this with more people we encountered and some of them even went an extra mile and greeted me back by saying Momokocho!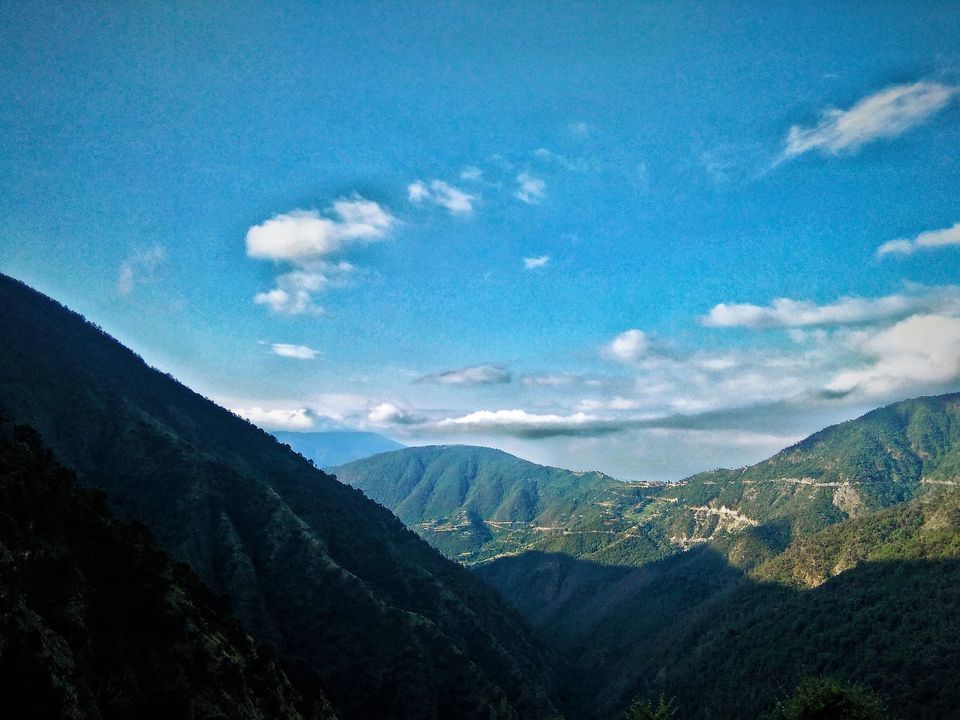 There were people in Didna, though it was not a motorable village. Later, I learned that Didna doesn't have any original inhabitants, but they are all from Kuling(the carrom board village) who does farming in Didna and will go back to Kuling during winter.Now the cannabis made sense.
Later that night we gathered around in the wooden house and started telling funny stories and singing songs. I still remember the passion in Gaurav uncle's voice when he sung an old Hind Gazal. By 6 we were given soup, 7, dinner and 8, a cup of bournvita. My sleeping bad was ready. I could hear people talking about the next day's trek. It is to Bugyal. A 12 km trek to one of the most pristine and serene location of Uttarakhand. A wave of fear followed by another of excitement passed through my body. Didna was around 8000 ft high and we are gonna scale an altitude of 12000 by the time we reach Bedini. I recalled, the times in Hyderabad, where I wouldn't sleep the entire night because it would bring the next day sooner. Well, here all I was trying to do was sleeping, because that sleep was all there was between me and Bedini.
Day 5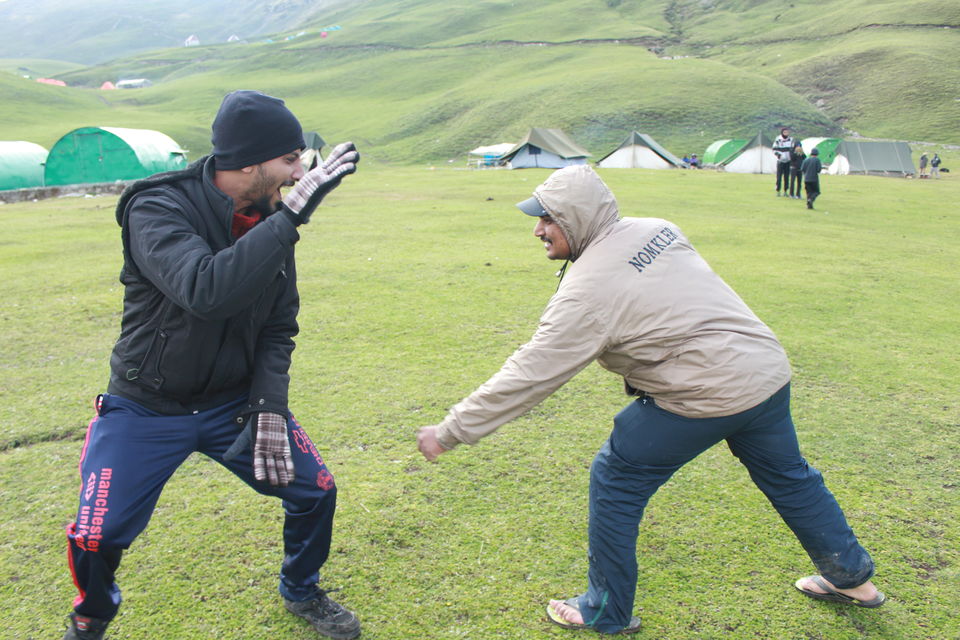 The trek had started and we inched our way forward. It was descending and was a narrow path.There were chit chats and whispers. We were walking down an open valley and after a while, I felt all those jackets I was wearing, as irritating. I had already started sweating. The valley is no more our trail now. It's a narrow path with forest in one side and a river on the other. The river was a bit far away and we could hear the sound of the running stream very clearly. After around one hour, the path curved to the right and the river was right in front of us. "Lunch Point!", shouted the guide. We sat in small groups and had our lunch. We were asked to fill the water from the stream. From this place, I met an old man, who was selling brass juice. He claimed it to be freshly plucked from the trees. For a guy, who has never had brass juice, I was more than willing to give him my ten rupees.
Everyone was done with their food. Now what? We looked at the guide and the guide pointed to the river. We have to cross the river. we found a shallow part of the river and used the rocks to cross the river. Now, its an uphill. This is the place where the group would have completely different paces. We walked inch by inch forward. I often found old and senior folks of the group taking short breaks and gasping for breath. The group as a whole was in no hurry. The chitchats were taken over by birds by now and we were inside a dense forest, going up and up. Now the interesting fact to know about climbing up is that, we always have a tendency to underrate the units of distances during an uphill. After a trek of what you feel like 2 kms, it would be heartbreaking to learn that, all you covered was around 500 meters. It rained very lightly that we had to wear our poncho. Poncho is the ugliest apparel ever discovered. I wonder how the product management team designed it. "Let's make something very ugly that even rainwater hesitates to touch it", and then they claimed that it protects you from rain. I wore the Poncho frowning and whining, more than a child who was about to get injected with a scary syringe. "It's for your own good. And it is not that bad" consoled the aunties around my hospital bed.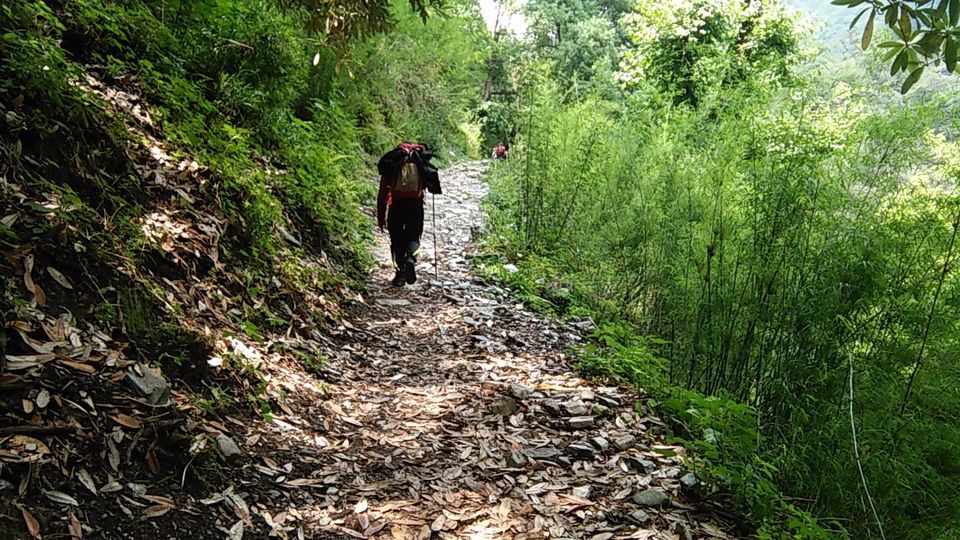 We walked up amid the lush green forest, brushing the leaves which were beautiful, with dew drops trying to take a dive from their verge. The first 4.5 kms were steep after which we had to take a left and trek for another 7.5 kms, where we would pass mountains after mountains. As we walked deeper inside, it was getting darker (just like me). The trails were slippery at places and we had to rely on tree roots and firm rocks for a better hold on the ground. The group consisted of 29 people and 2 guides. One of the guides will be walking in front of the group with the first person and the other one will be the last person, so that no one would be lost. Unlike Didna trek, people weren't sweating anymore.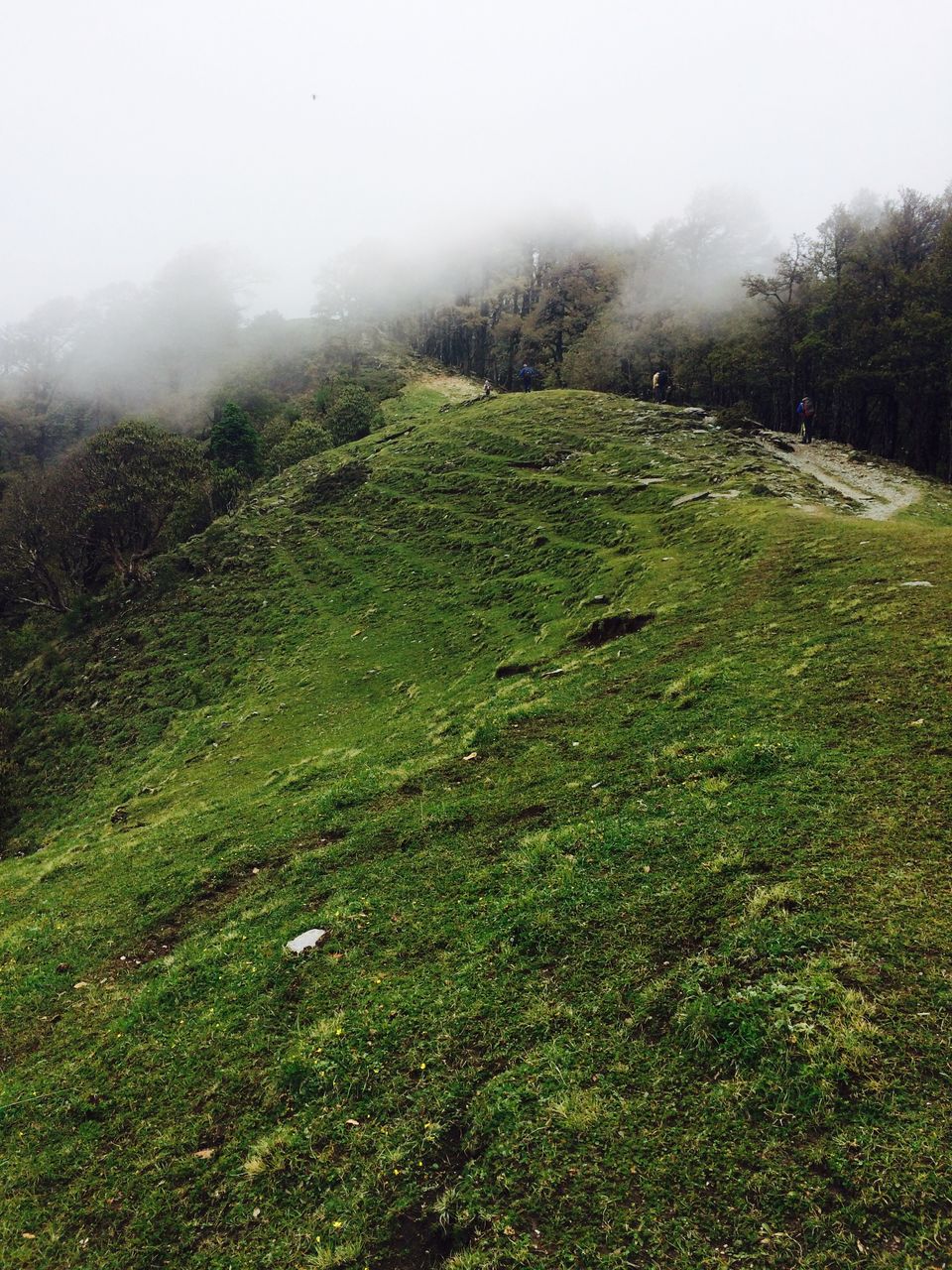 I was with a fellow trekker named Pranjal Joshi, whom I adoringly call as Pranchi. We passed by a lot of important places like, 'this is beautiful', 'I just wanna sit', 'water', 'more water''are we there yet' and 'how many kms so far'. In fact we visited the last place quite a few times. Then, we walked up to a clearing. It was the top point of the mountain. So the entire mountain is covered with trees except the top part which looked like a plain covered with lush green grass. It was noon and I then realized we had been trekking for the past 4 to 5 hours. We took some rest there and continued walking. Now we have to walk towards the left and we would have to pass mountains. I asked the guide, 'how many kms so far' and regretted it instantly.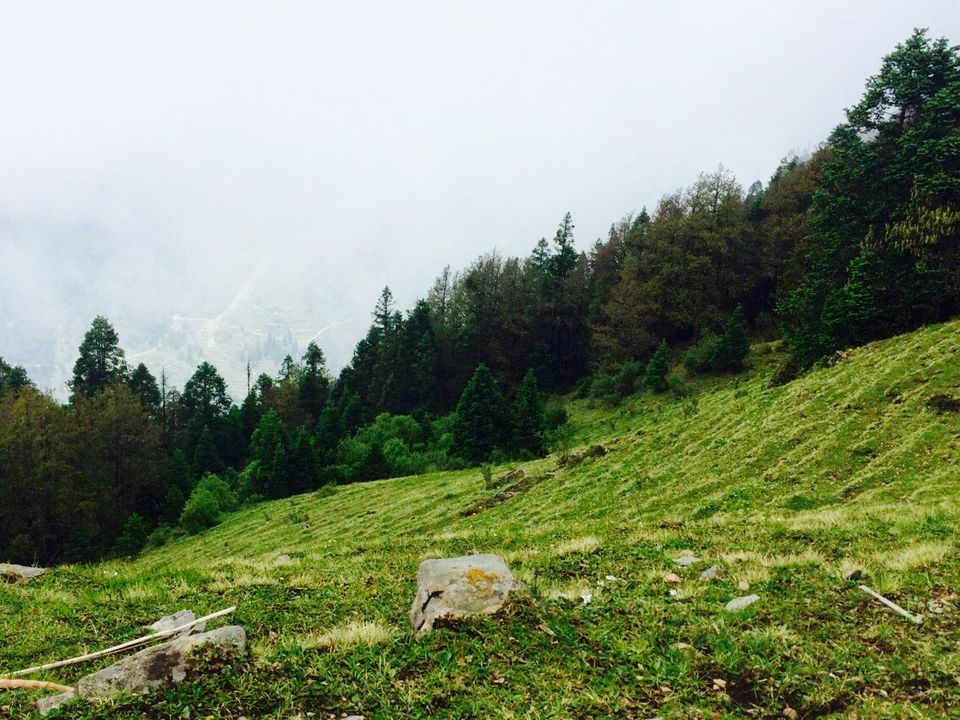 Now as we moved forward we couldn't help but notice how there were more meadows and lesser trees. Trees were left below on both our sides as we walked up the meadows. One of those meadows were chosen by guides to have lunch.
The geography has changed. No one wanted to narrate stories or sing songs now. Everyone walked in their natural pace, which made even the best of friends separate. The fog has started setting in. I could feel the temperature dropping gradually. meadows after meadows were waiting for us. All I could hear was the sound of myself gasping for oxygen. No more songs of birds and I had no idea where the hell Pranji was. The heart was beating faster now and i was feeling a bit dizzy. I took each step and waited for a minute before the next step. The pace was no better than a car, stuck in a traffic in Bangalore.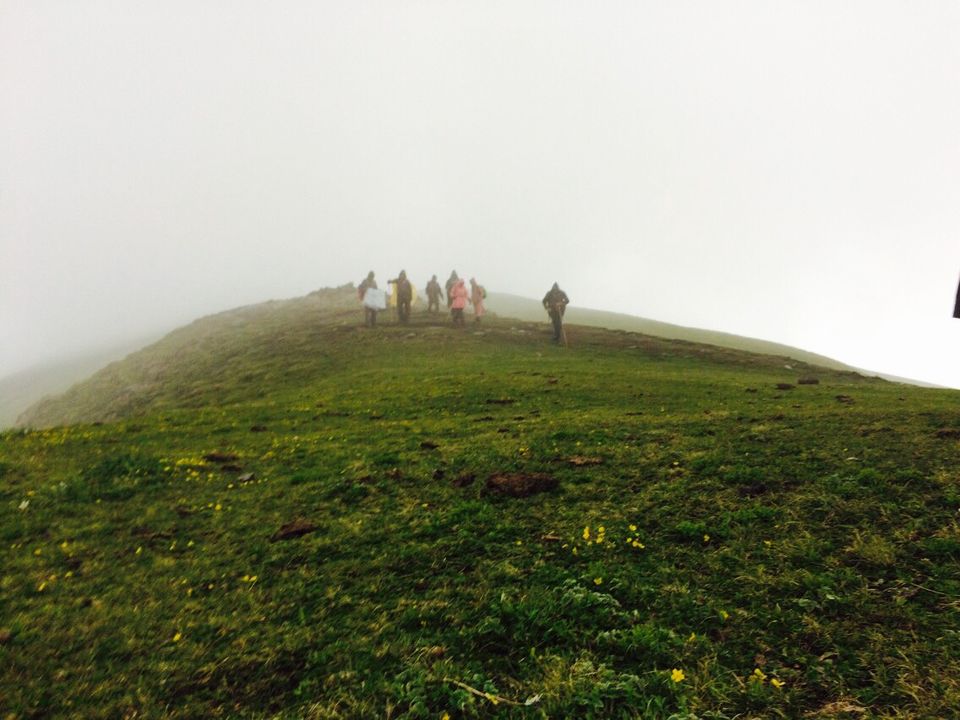 The fog is everywhere now. The temperature was very low that I could feel the the cold penetrating through my gloves. Now I'm alone up there and there was not a single soul, as far as I could see. I didn't even know where I was supposed to walk to. I just shouted and listened to the sound of my own voice dissolving into the void. I just turned around in 360° and was amazed to see the vastness of the green meadows around me. It looked like a sea, only green and uneven. I looked down the valley and made out the silhouette of the tree line far below. That is the point from where the oxygen starts depleting. Few hundred steps and hours later I found more 'oxygen consuming homo sapiens' waiting for the rest of the team. There are just too many people sharing the same wifi hotspot. I was advised by fellow trekkers to wait for 5 minutes after every few steps, so that I get adjusted to the wifi, sorry, oxygen level.
God must've been looking over us. He must've told his angels, 'my beloved creatures are up there on top of the Himalayas, suffering and struggling. Lets send em some love'. 'And how do you suppose we do that, Milord?', might've asked the dumbest of angels. "Well, Well, Well.. Let's go with the cliche".
It started raining. and the camp was ready with the poncho. We slowly started moving forward like a colony of ants. Poncho represents what the world says to the ugly people. "It's not the beauty (or the size) that matters. " We all kept our entire body including arms inside poncho. The windy drop, the strong drop, the fat drop, the weak drop,poor poncho bravely took it all.
"Milord, let's start throwing stones at them. " Said the Joffrey among the angels, smirking sheepishly. "What a terrible idea, Atleast make it white!"
"That's called a hailstorm" shouted some one in the group who knew what was going on. I felt like a chicken hiding inside the wings of its mother. I never dared to come out of the poncho. Thousands of crystal stones were dazzling in those vast green meadows. A scene to cherish. "Thank God!, it stopped, " exclaimed someone after half an hour. Love was in the air. Oxygen wasn't!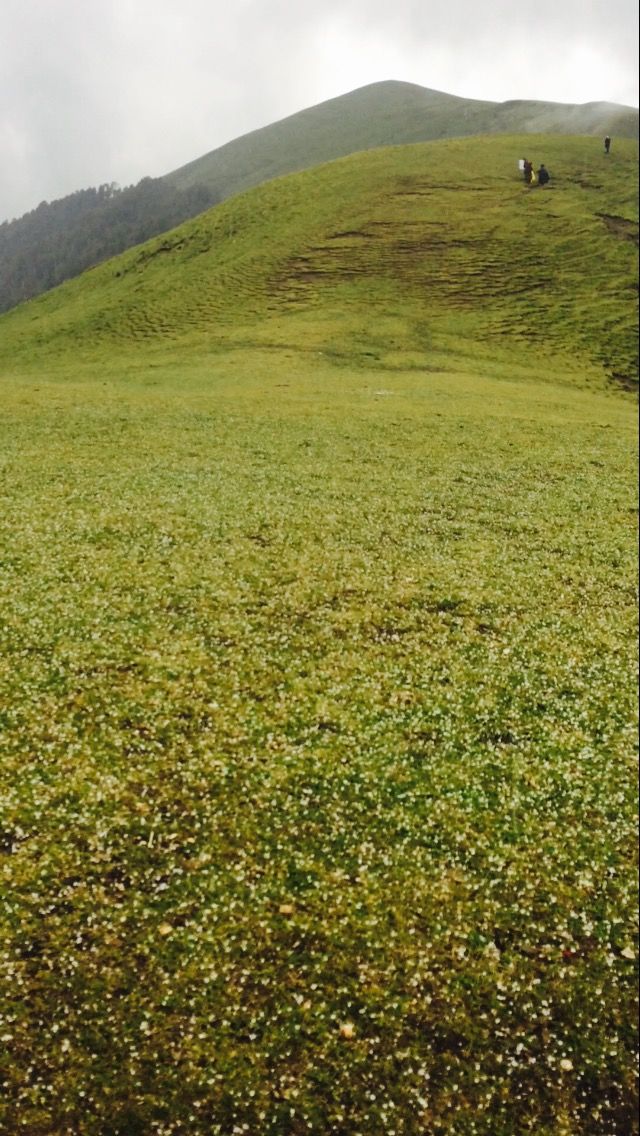 I was conscious of each step I take. Astonishing it was, to see all those big mountains disappearing beneath us, in the fog. I felt like I was standing above the clouds (still feeling miserable). The winds are stronger now, the pasture land still wet with God's love, hail stones are visible no more but slowly melting into love. (Isn't love hard).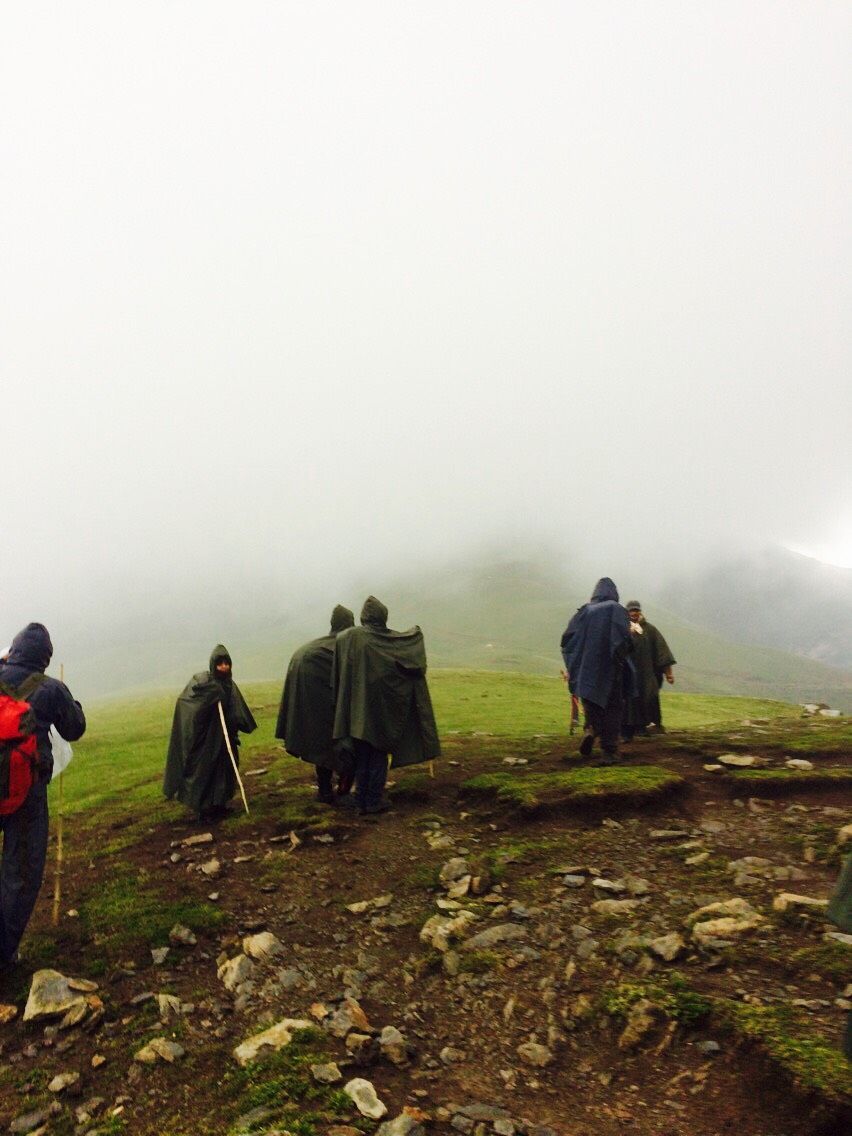 The trails are more clear now. It looked like narrow mountain passes and one could easily see these trails either disappearing behind a mountain or amid the fog. The headache was stronger now and I felt it really hard to breathe. I felt really weak and worse, embarrassed to see older people moving in a steady speed. The painful memories of morning jogs flashed in front of me. It took me forever to pass every 100 meters. All I knew was, if I fell sick I would be taken back to the base camp as YHAI really values your safety. Screw safety. I wanted to complete the trek.
It was around 5 pm in the evening and I was inching forward filled with the confidence, few gulps of electral solution gave me. Everyone was in their poncho moving scarily slow. I thought they looked like Dementors. There was a small deviation from the trail and we had to climb a small meadow. When I reached on top there was a beautiful green valley beneath, and I could see tents there. I rushed down the valley like how I used to rush to home after getting down from the school bus.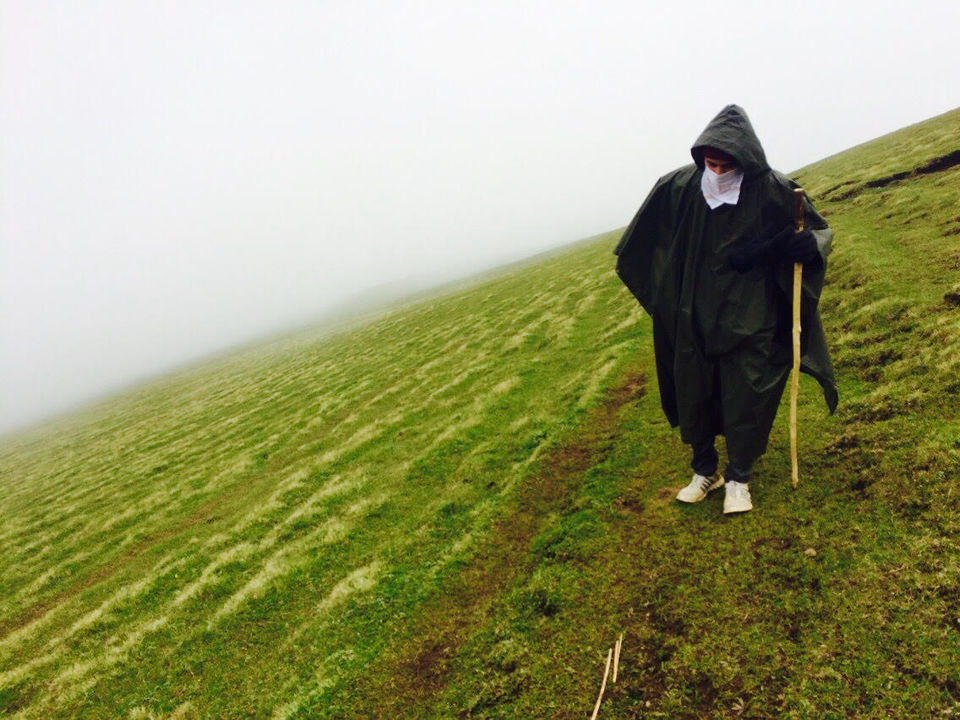 "Welcome to Bedini. I'm Sandeep, keep the rucksacks inside and stay out of tents after that. Your drink will be ready." I knew the evening was mind blowingly beautiful, but I was feeling dizzy and all felt like I could throw up any moment. As a trekker, you should never seek comfortability when you feel ill. I knew that. Eating or drinking was the last thing I wanted to do and I still forced few sips of hot tea down my throat. It tasted terrible. We were sitting as a group, laughing, sharing stories, singing songs and admiring Bedini. It was all perfect. Then I threw up. I felt terrible. I joined the chat again and someone asked me to drink some hot water. Body rejected that too, instantly. The camp leader was very helpful. He explained me exactly what to do, as he went through all this already. I was forced to take in some dinner. The sheer memory of having that, still makes me wanna vomit. Soon after that I took a pill, walked a bit and headed to my tent. I wanted to see nobody and talk to nobody.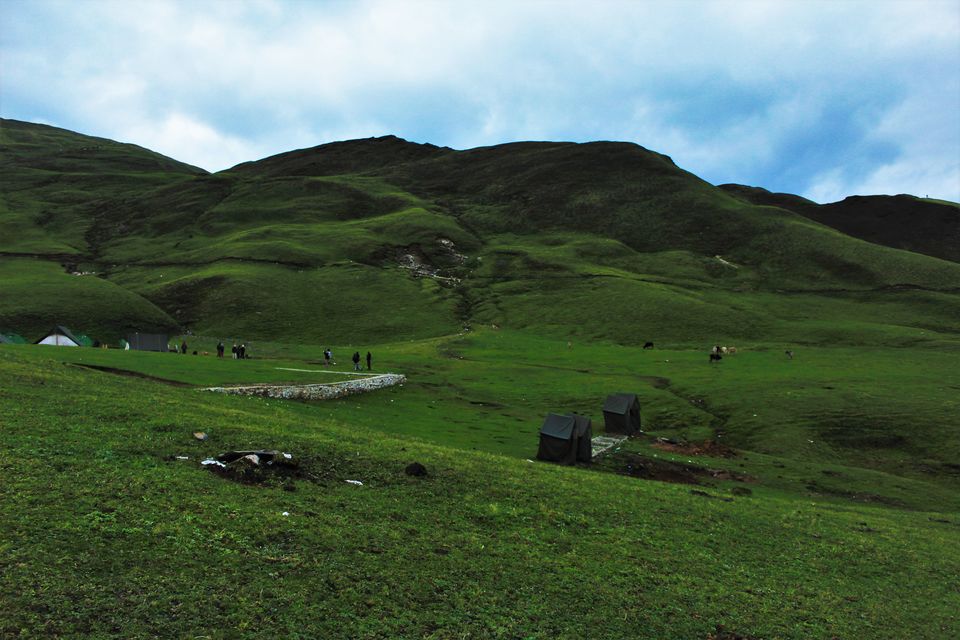 I remember the few seconds of relief inside the sleeping bag before falling asleep. Little did I know that this would be the day I would cherish later!
I woke up to the silence of the Bedini Meadows. The headache had gone and I felt fresh. After quickly brushing, I went out to have a tea. This was when I first appreciated Bedini. It was beautiful and the view was breathtaking. To enjoy a tea from there was one hell of an experience. The camp leader followed by few fellow trekkers, enquired about my health. I went to the edge of a meadow and tried to be conscious of the last bit of beauty and serenity, that covered Bedini. I could make out Mt. Nandagundi, Standing tall and mighty and still far away. 'That's where you'll be heading to', said the camp leader. We helped the YHAI workers, to fold and keep the sleeping bags away together. In the morning assembly, Sandeep, the camp leader, explained us, the schedule for the day. He shared one or two tips and a folk song from his collection, for us to sing later. It was then announced that three people from our group will be leaving back to the base camp, because of health problems.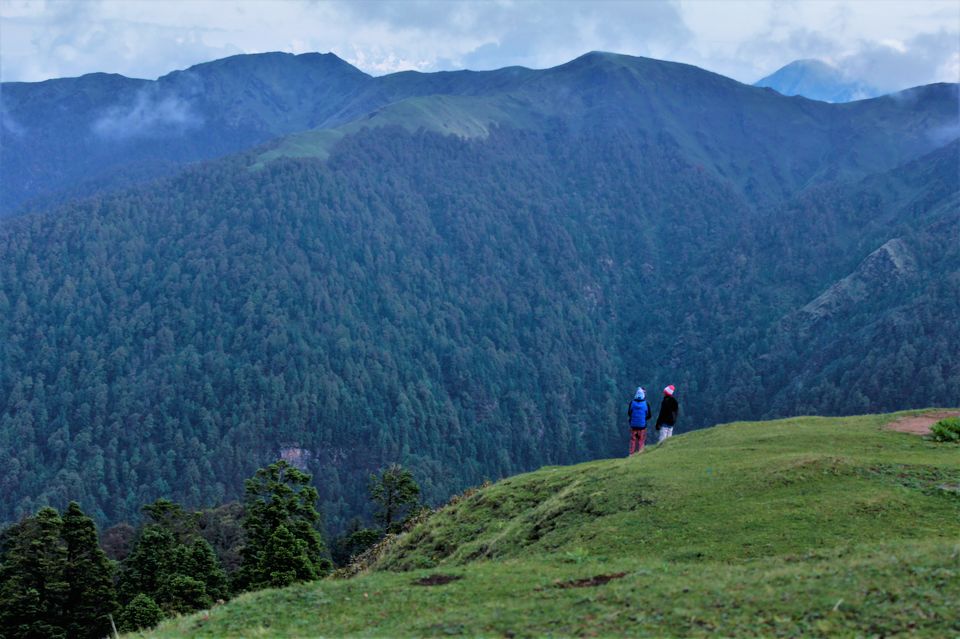 It is from Bedini, did I meet Charlie, the shepherd's dog. He was named so, by the camp leader, most probably when loneliness hit him hard. We bid farewell to the three fellow trekkers, the camp leader and the beautiful Bedini. Ha! Bedini!!
The trek was to Pathar Nachuni, situated at around 13300 ft altitude. First one km, was solely climbing a big mountain, in front of us and from there we continued in the narrow trekking trail. The weather was pleasant and better than last day. When I stopped for a five minute break, while climbing up, I could see three of the members struggling really hard to climb up. The second guide was with them, and that was a relief. The further we went, it felt like we were getting more and more disconnected from the outside world.

The trail looked like, the continuation of the last few kilometers of Bedini pass. Though it is impossible for tree line to survive at that height, i could see a lot of beautiful flowers on the way. Some of them had bloomed amidst rough dark rocks. With each step, I could feel how all those things, that once made my identity were lost behind. Friends, family, football, non vegetarian food, PPTs, the ugly Aaddhar card and the useless college Id, and everything else, was irrelevant up there.

When you are carrying a heavy rucksack, it is important that, you pull the straps tight, so that the weight is distributed evenly with your body. By the 3rd day, you wouldn't be surprised when you feel the rucksack as a part of your body. Shoes proved good, Poncho useful (still ugly), and gloves and cap, essential.1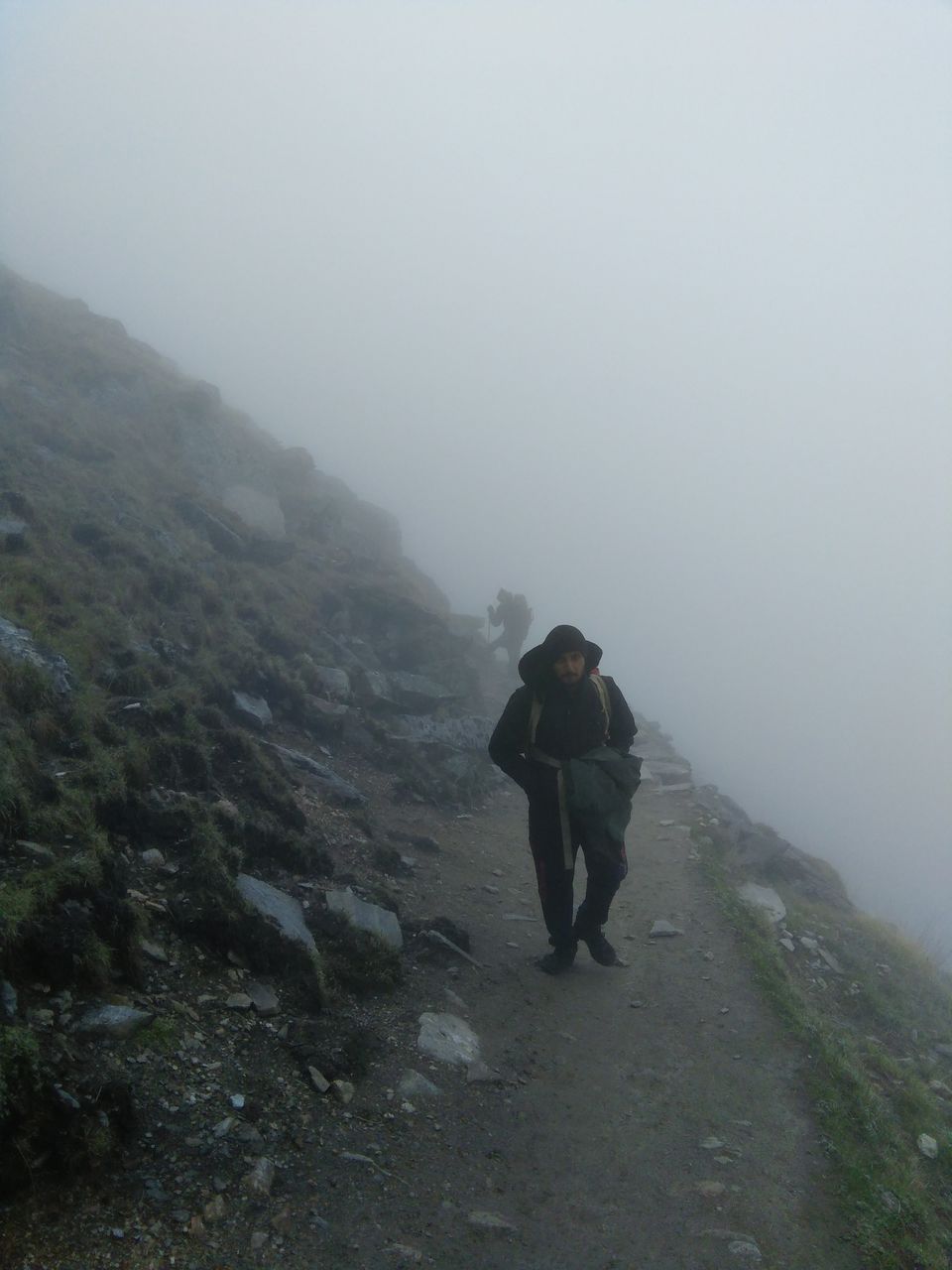 I was surprised to see, Charlie (the dog) to see beside me. I petted him, and he did walk with me, for few meters. Eventually he left me behind because he thought that our paces were different. (In my defense, he had four legs). I could see my friends struggling to capture those Himalayan flowers. It was around 3, when we almost reached Pathar Nachuni. I could see the camp, from far away. The landscape was mostly covered with thick fog. By the time, we had reached the camp, the weather changed drastically. The sky grew darker and it already looked like, we hit late evening. There were three tents for men and two for women. There was a common open tent, where food and drinks were distributed. We had the urge to go inside our tents and to never come back. But, the practices grow on you. Everyone sought shelter from the rain, in the open tent.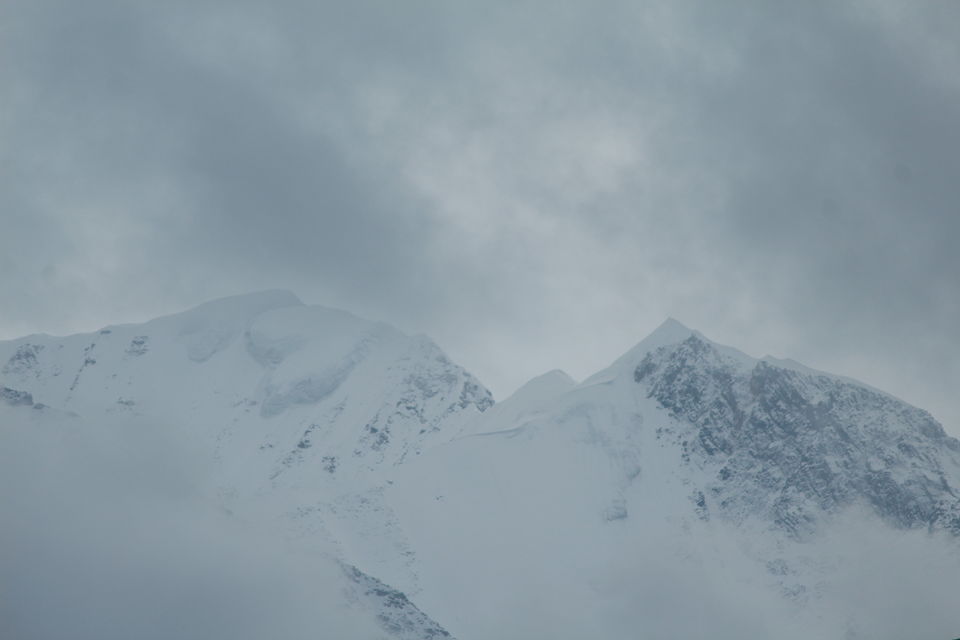 Pathar Nachuni, is a bit different from other camps. Unlike all the other camps, trekkers spend two nights in this camp. This is done, because, on the second day, we have Kalu Vinayak Summit, where you reach the top point and come back. So, apart from the night we reached the camp, we spend one more night there, after coming back from Kalu Vinayak. At any point of time, Pathar Nachuni accommodates, two trekking batches. One who reached that evening, and the second, who do summit that day. So, under the open tent, people from both the group gathered and stared singing random songs. Some people started beatboxing, while few others showed some moves. The winds grew stronger and Pathar Nachuni looked intimidating. Next day, we would have to scale Kalu Vinayak, at an altitude of 14100 ft. There was a small tent near the camp, where some people from Didna had put up a tea and maggi stall. We had a ea from there.One tea will cost you 25. (Still cheaper than Starbucks.)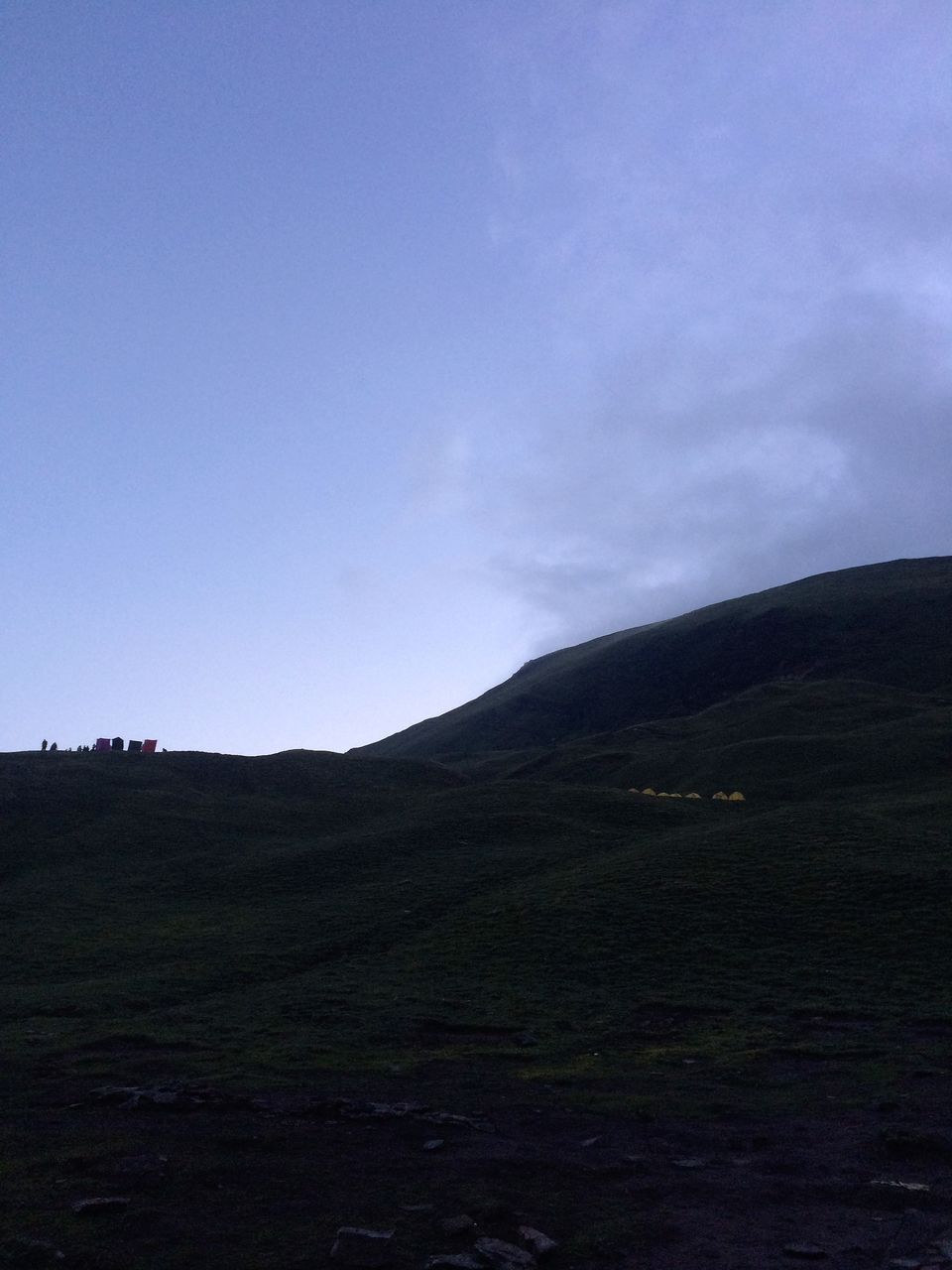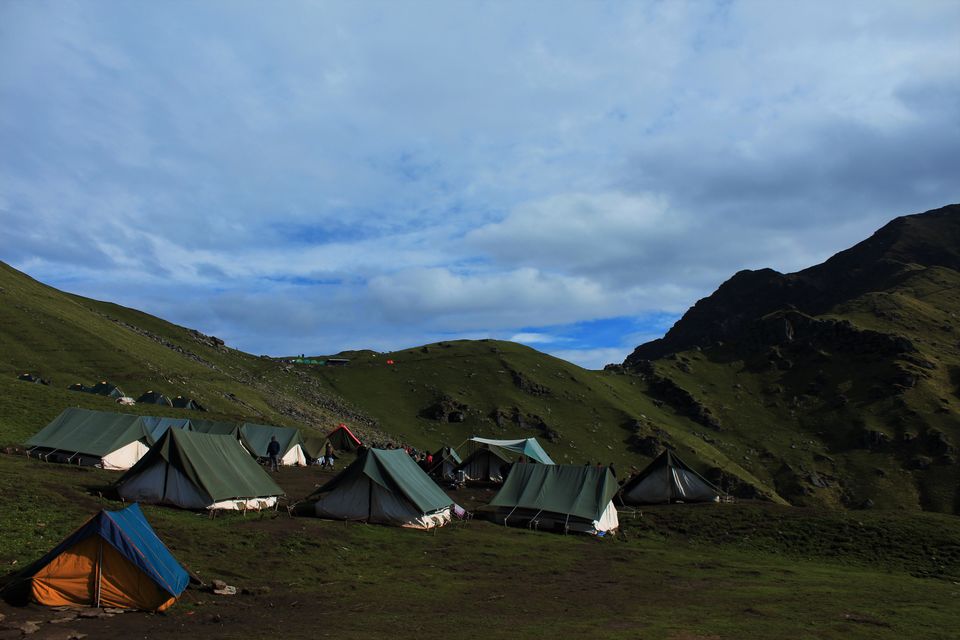 Day 7
The Kalu Vinayak Summit
I woke up around 7. Pathar Nachuni was a bit more crowded than Bedini, as it accommodates to batches at a time. This is a good opportunity to meet new people,in case you're bored of your batch mates.Well, luckily mine was filled with amazing people. We had good amount of time, before we took off to Kalu Vinayak. Kalu Vinayak is a temple situated at an altitude of 14100 feet height. This would be the most challenging part of the trek, and we were advised to be ready with the full trekking gear, including anti-fog glasses. We we tried our luck in photography as the climate was sunny and the surrounding mountains were visible. On one side of the camp is a huge hill, which has the trail we used to travel from Bedini. The camp is located in the valley of that hill. On the other side, there is Kalu Vinayak, which is 4 kms away from our camp. These 4 kms contains continuous steep ascend. After breakfast, we had some horses as visitors.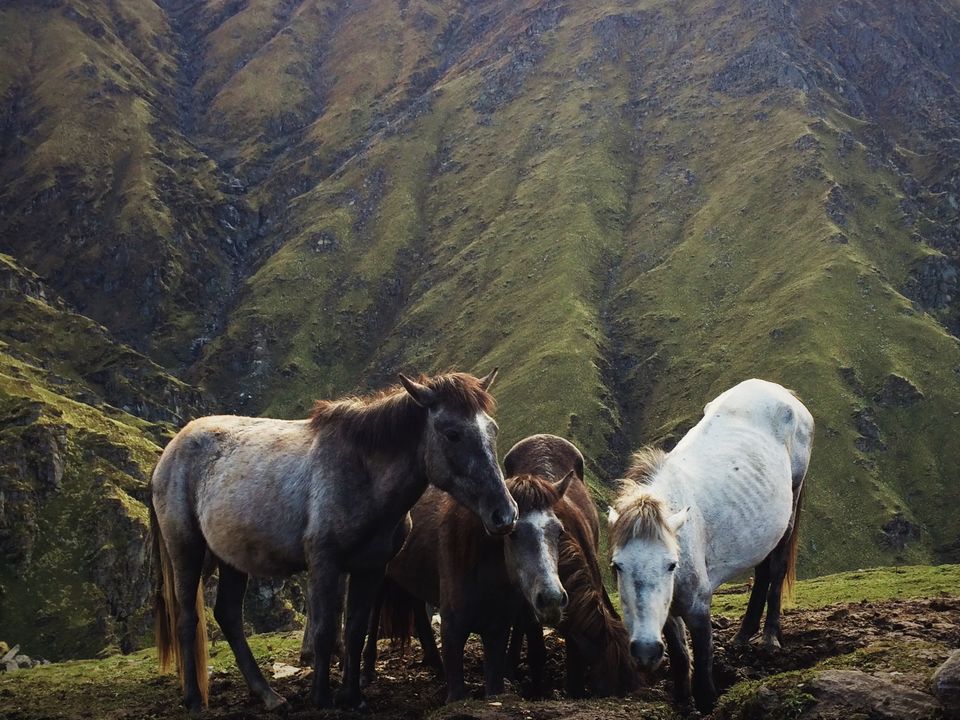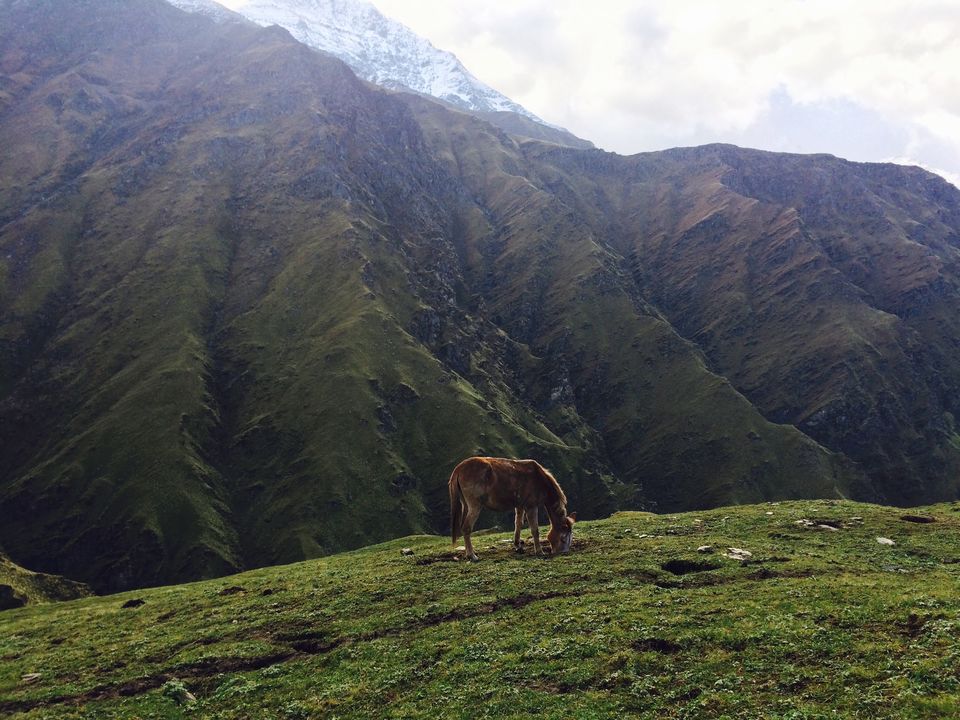 I wanted to go out and wait for an awesome view of the galaxy, but it was drizzling a lot. There, in the land of epics and silence, I tried to sleep. The fact that, I'd be climbing the highest altitude of all my life so far, when I wake up, sent chills into my brain.
I walked around in the meadows, checking out the depth from every cliff around. The hills did a good job in hiding the sunlight. I had been yearning for a good sunlight since I came to Nachuni. The hills did a pretty good job, in hiding most of the sunlight.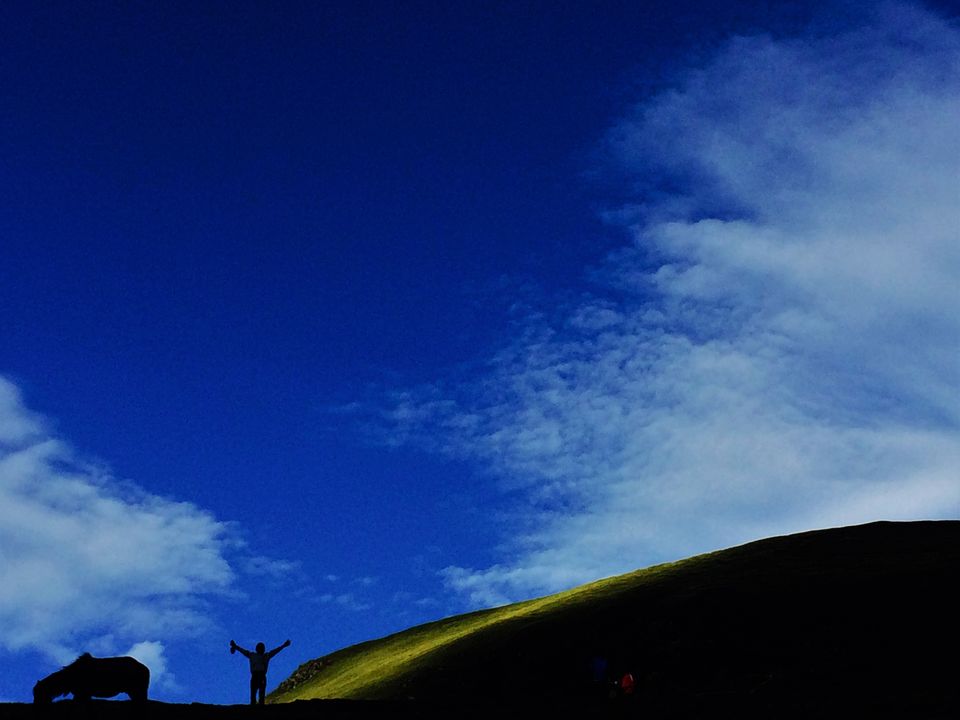 At around 8, we gathered near the open tent. The camp leader gave us instructions and both the second batch (BB23) left for Minfar camp. After that, we followed. The first few hundreds of meters were common, as the task in these distance was to climb up the valley and join the main trekking trail. Most of us were tired already in these distance. Once we joined the main trekking trail, it got divided into two. The one that went to the left hand side was taken by BB23, as that way leads to Minfar. Our trekking trail was visible for at least the next one kilometer. It sort of goes around the camp, with a terrifying height. We started slowly, and walked steadily.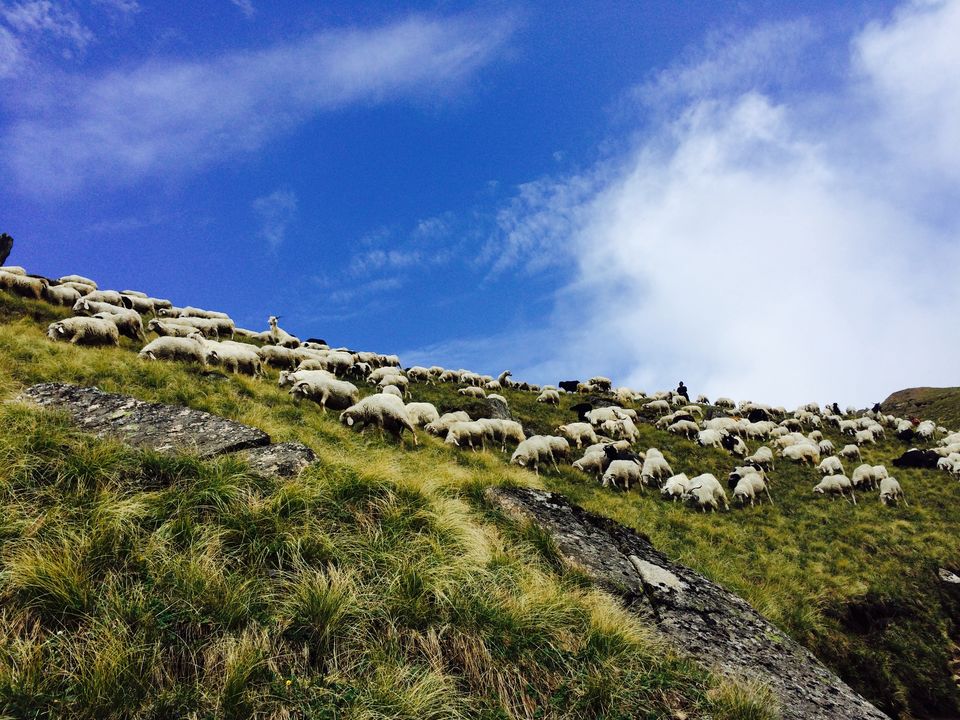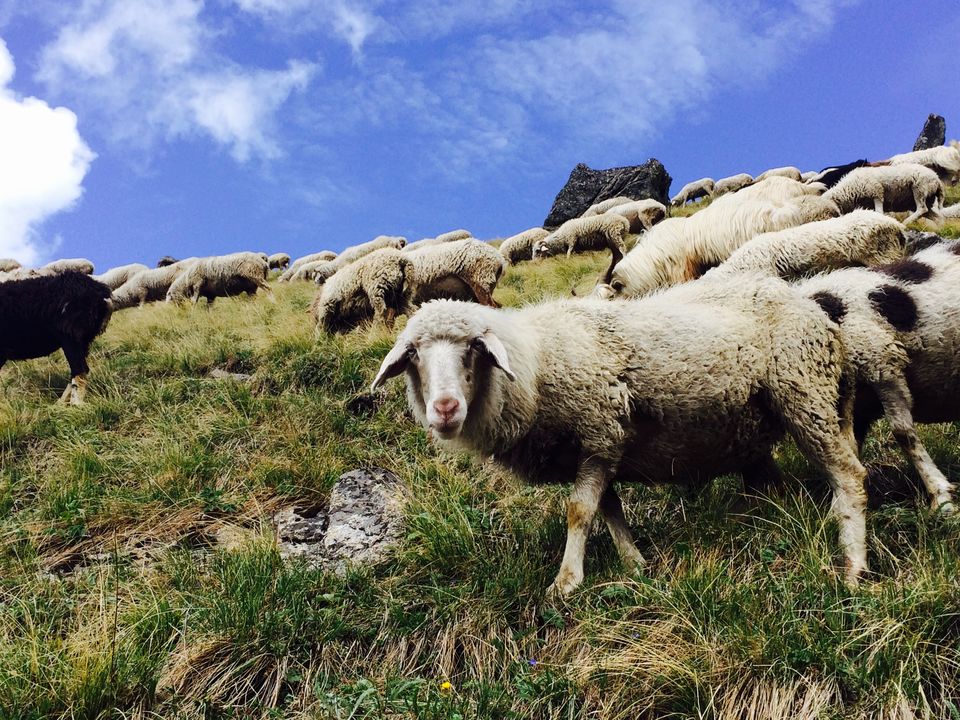 The first two two hours were good. Then the angle of climb increased drastically. We were taking breaks after every few meters. Some of the trekkers didn't have any problems and kept on walking at a steady pace. The oxygen was less in the air, and the sun was nowhere near to see. We were drowned in thick fog. Not a single person was talking and all we could hear was the heavy breathing of the self. Since it was a summit, we had the luxury to keep our main rucksack at Pathar Nachuni camp. That was a relief. 4 kilometers felt like forever. While we were slowly climbing up, trekkers who were coming back from Roopkund, tried and cheered us up. I still remember how cold it was and then suddenly a small hail storm started. The trek trail was really narrow, and one wrong step can end things. Adding to the misery were the horses and donkeys, who constantly navigated along the trail. Apparently they carry goods of trekkers.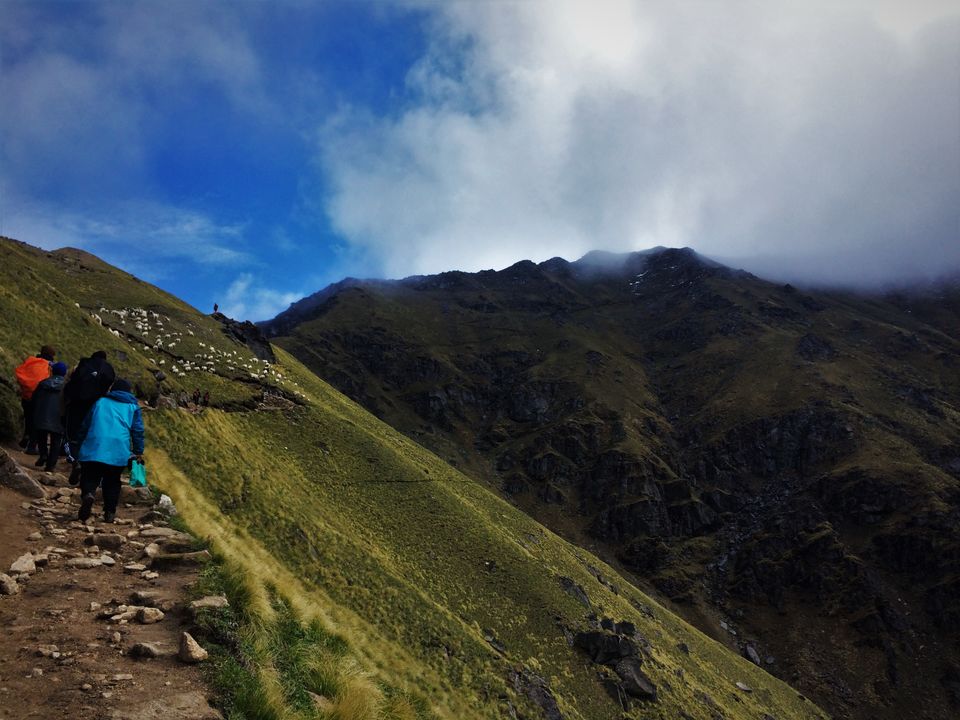 My walking pattern was simple. I walk slowly, take breaks, drink water and then walk again. I knew that my body wanted adequate time in between the climb, to pump oxygen inside. Even then, I struggled alot, by the time I reached the top. When we were almost there, we could see snow, in both sides of the trail.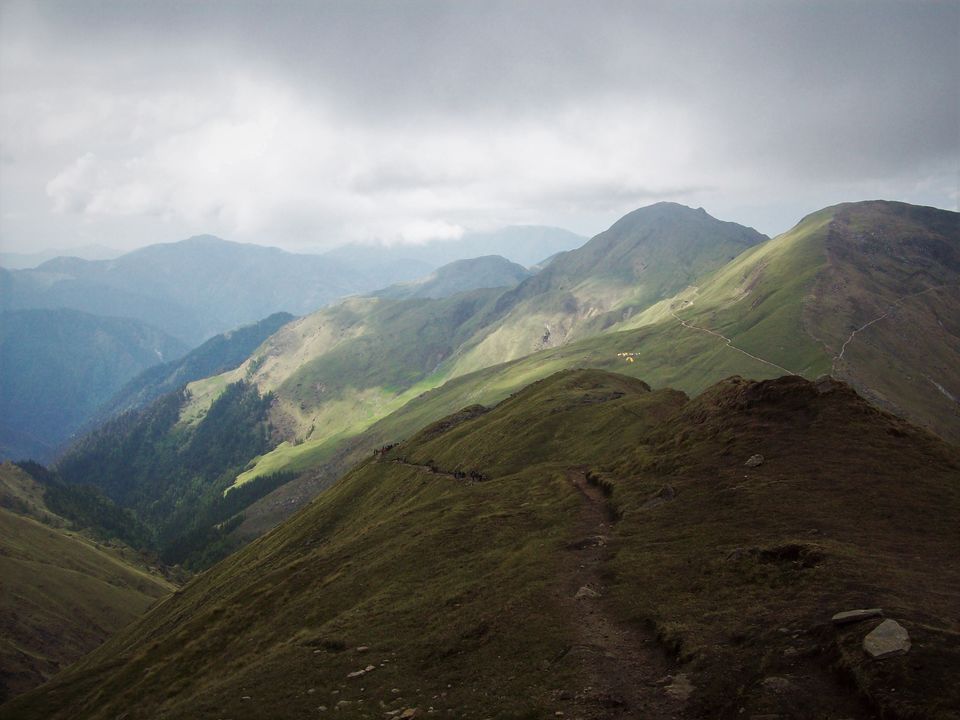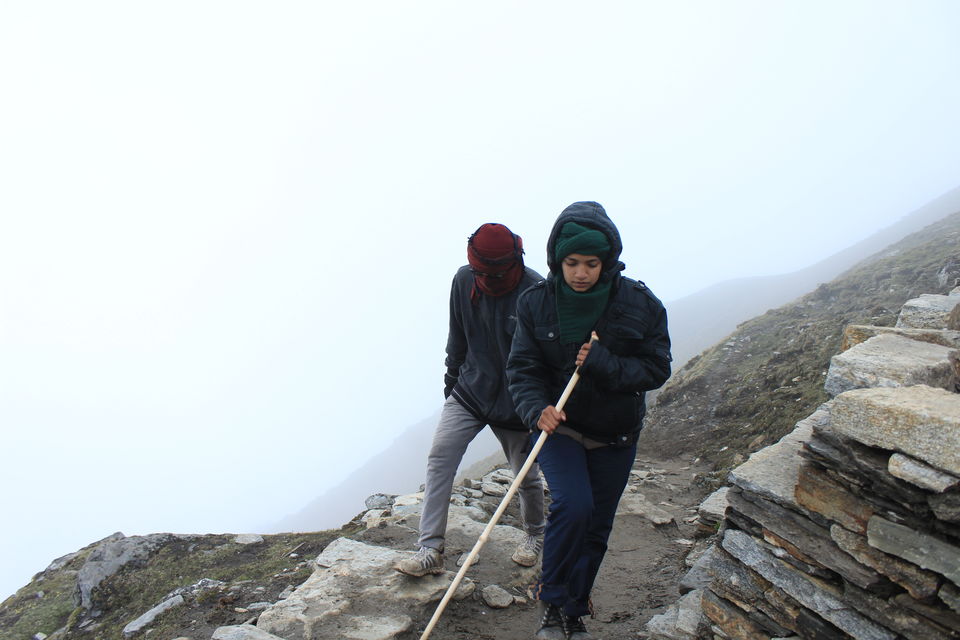 There was a small temple on top of the Mountain. It had a lot of bells in it. Nothing was visible from that place but thick fog. On one side, I could see a part of the mountain covered in snow. I sat there for some time.Then I had my packed lunch. A small headache had started, and this one felt familiar to the one in Bedini. I wore my Poncho, and kept my entire body inside, including my arms. Then It started raining heavily.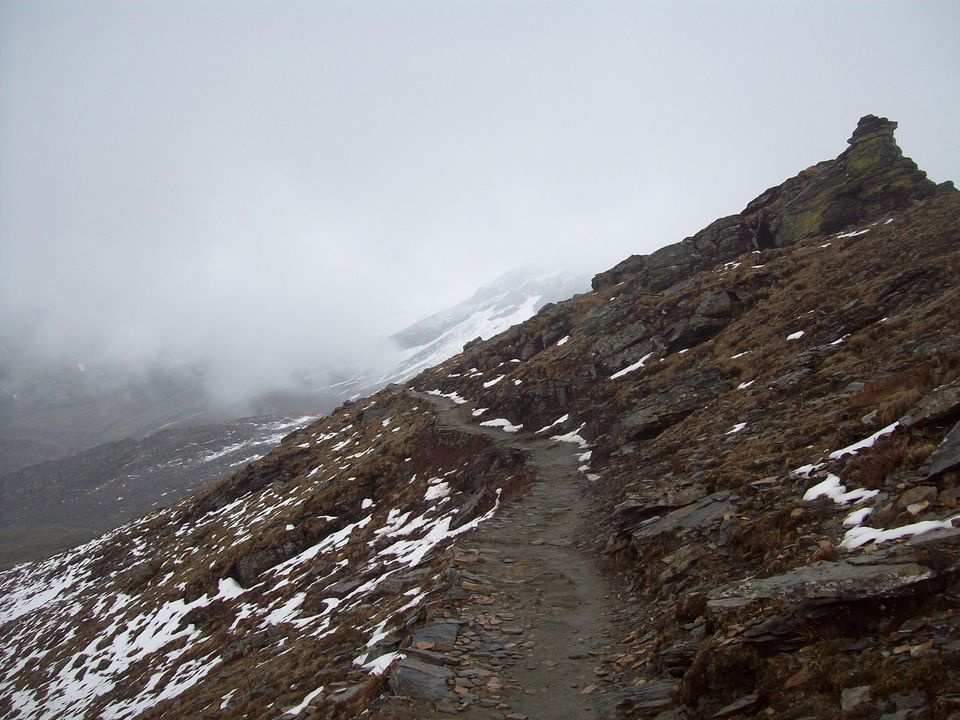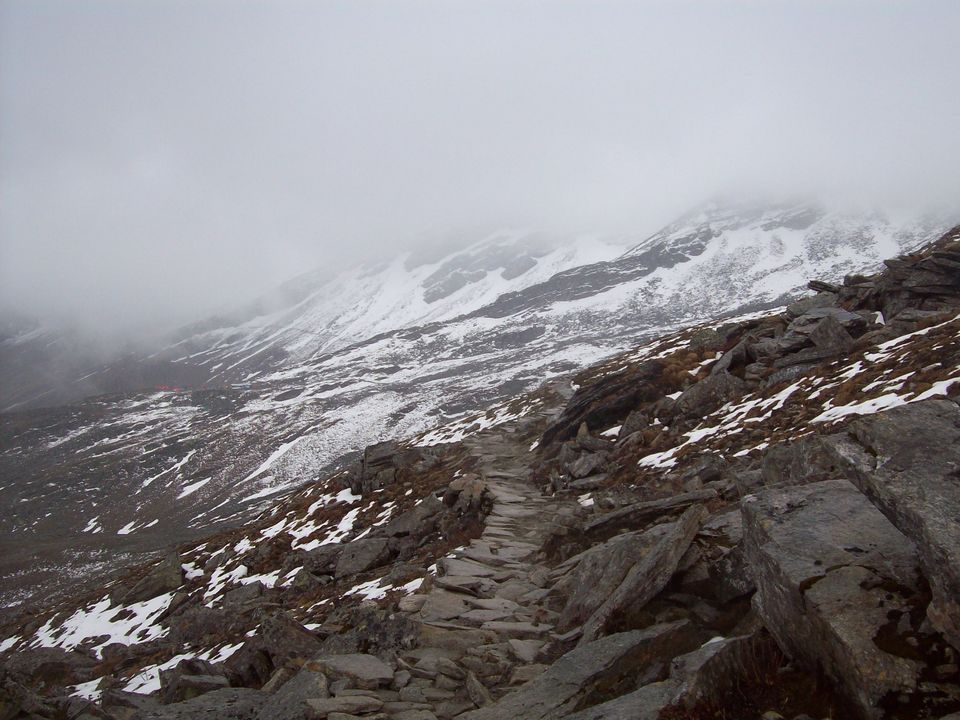 The weather was not good. So was my health. I felt feverish and informed the trek leader about it. He asked the team to get ready for the descend. I started early. I was scared that I would ass out while trekking down. There were two ponchos walking in front of me. The trail had strong streams of rain water flowing down. Most of the rocks were slippery and soil, muddy. I walked for the next two hours, focusing only on the next few steps. At one point I called out for one of the fellow trekker to walk behind me, so that, in case I pass out, I'd be safe. It rained continuously for hours.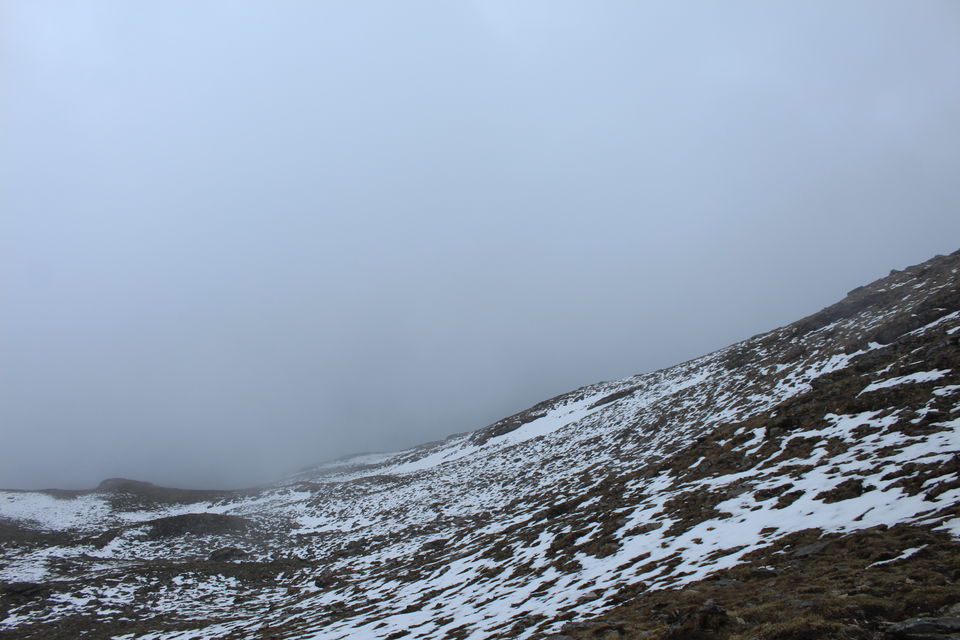 I don't exactly remember how long had it taken for me to reach the camp. I was just thankful that I reached back.I felt like I knew my body better then. I was sure about vomiting, when someone offered me the tea. Fortunately I didn't. Some of the trekkers had opted not to do the summit, and you can't completely blame them. I felt that sometimes it's okay to be wise than proving your strength to everyone.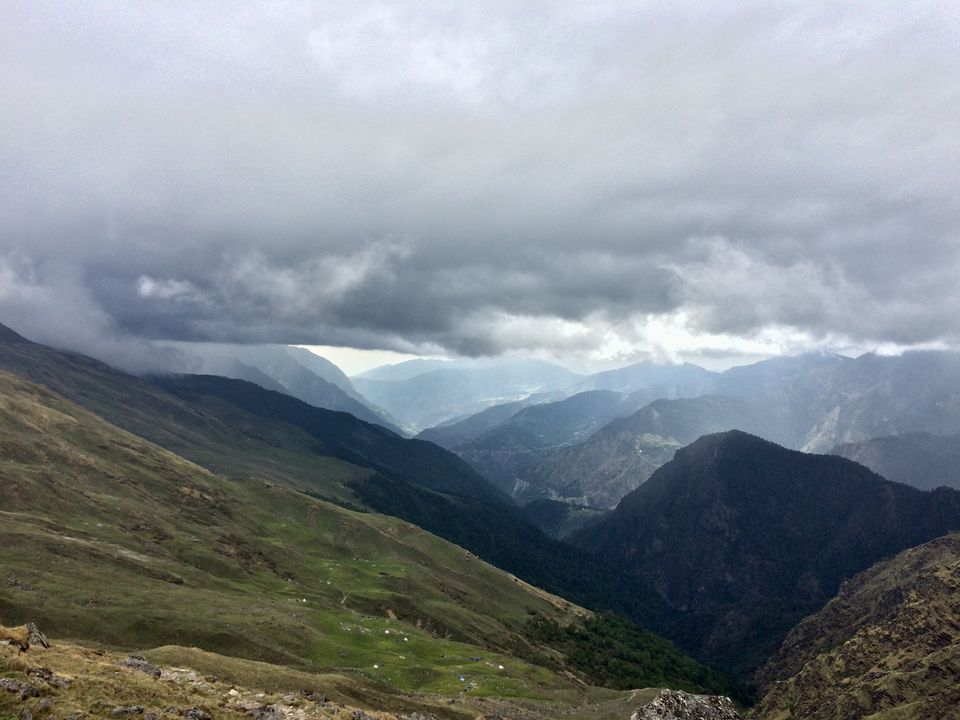 Epics behind the name 'Pathar Nachuni'
Pathar Nachuni literally means, 'dancing stones', in Hindi. According to the locals, this place is a part of Devbhoomi, where you are not supposed to sing or dance. There were many stories behind that. The two common stories I heard was about Rambha and Oorvasi, dancers according to hindu mythology, who danced to seduce Lord Siva, and suffered a curse from Parvati, the official partner of Siva. The curse changed these dancers to stones. There is another story where a king and his company sung songs in Devbhoomi only to face big hail stones falling from sky. Myths are that, the company vanished under the stones and there are big holes in the ground and rocks all around. Well, in both case, I really thought that Gods have to chill a bit.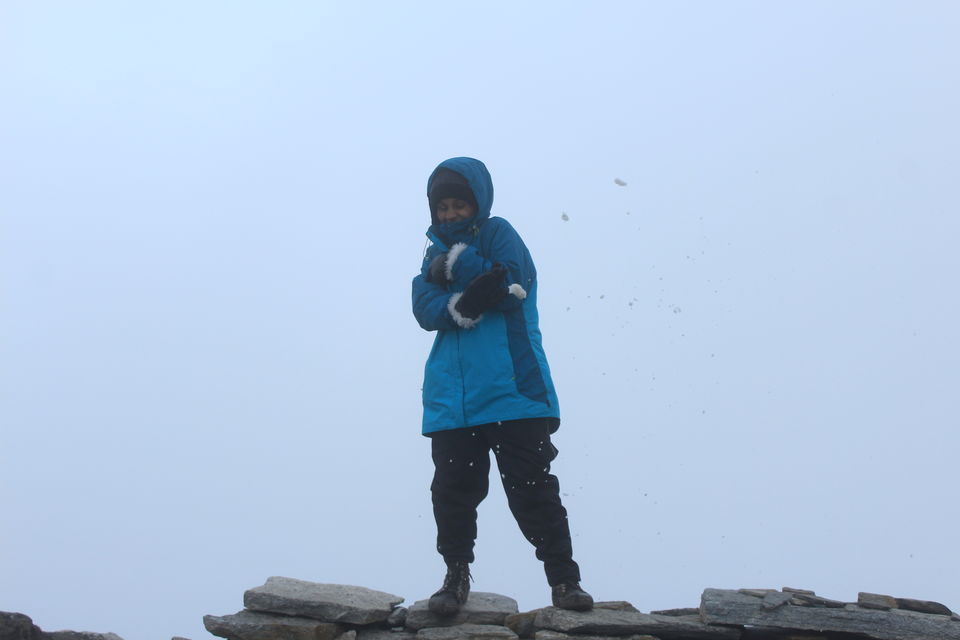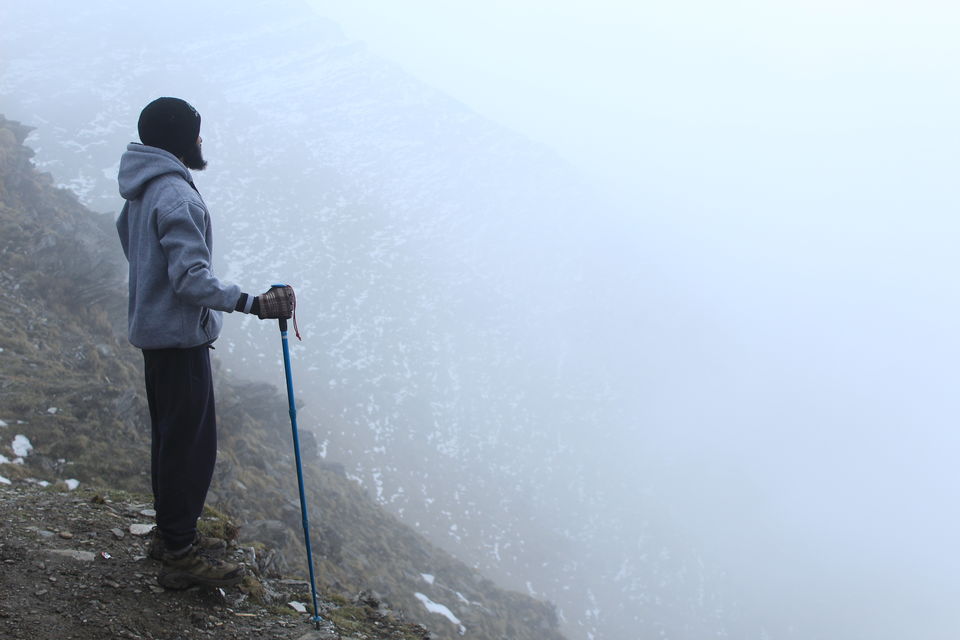 Frequent Searches Leading To This Page:-
Delhi to bedni bugyal uttarakhand, bedni bugyal to roopkund, kuari pass temperature in march, pangarchulla peak trek to kuari pass