#CoffeeWithTripoto
This trip is and will be one of the greatest moments to cherish in my life. Parash, is one of the beautiful souls that one can ever find. You must be wondering, who is he and why am I talking about him. Well, he is the one best friend that I have ever made in my life. We met during college in the year 2008, and we have been friends ever since. They say, if you are friends with someone for more than 5 years, you're probably going to be the same for life. He is one of those. After college, we got placed in different companies and separate locations. I was in Bangalore, while he was in Ranchi.
Around Jan of 2016, he broke the news to me. He said, he had finally found his love and was getting married. Hence, we started wondering, what is the best thing that we can experience together before he finally sails off in his cruise of love. And "a trip" was the first thing that came to our minds. We would be meeting after four long years and he gets to live his last days of bachelorhood in peace ;). A perfect re-union.
The destination that we decided to embark upon was Himachal Pradesh. A place of breath-taking beauty and rousing adventures. I am making it sound like a journey to Tolkien's fictional world of Middle-earth, Mordor. Well, it was that exciting.
The trip was for a period of 10 days, starting from 26th December, 2016 to 4 January 2017.
(26th December, 2016): We decided to head from our respective destinations and meet up in Delhi, before taking a bus to Mcleodganj. His flight was delayed so, I decided I will head to the bus station and wait for him there. It was late evening so the bus station felt the safest. I was so excited to meet him that I kept looking at the entrance of the bus station. The moment he entered, all I could see was a big, fat guy, who had gained a ton of weight. I had my share of laughs. So, we greeted each other and had a cigarette (Smoking is injurious to health) each before heading onto the bus. The bus we had booked was a Volvo, so I was pretty chilled to travel overnight. But, my calmness turned to horror when I entered the bus. I will give you all a tip, in Himachal Volvo doesn't mean the comfortable and posh Volvo that we are used to. It was like a city bus with zero level of comfort. This was the scenario in and around Himachal. So, if you are travelling in a Volvo in Himachal, make sure you are used to travelling in buses ;).
(27th December, 2016): We reached the next morning at Mcleodganj.
Place of stay – Hotel Pink house: http://pinkhouse.in/
Cost of stay/night – Rs.1281 (online)
Food – There are a lot of places to eat outside the hotel. Make sure you experience it. Tibetan Kitchen is the best place to have some good momos/Tibetan food. My personal favourite was the lamb momos. Make sure you try it.
Tattoos – There are a lot of studios here, but none are as great. However, you can have one if you want to have it as a memory. I got one.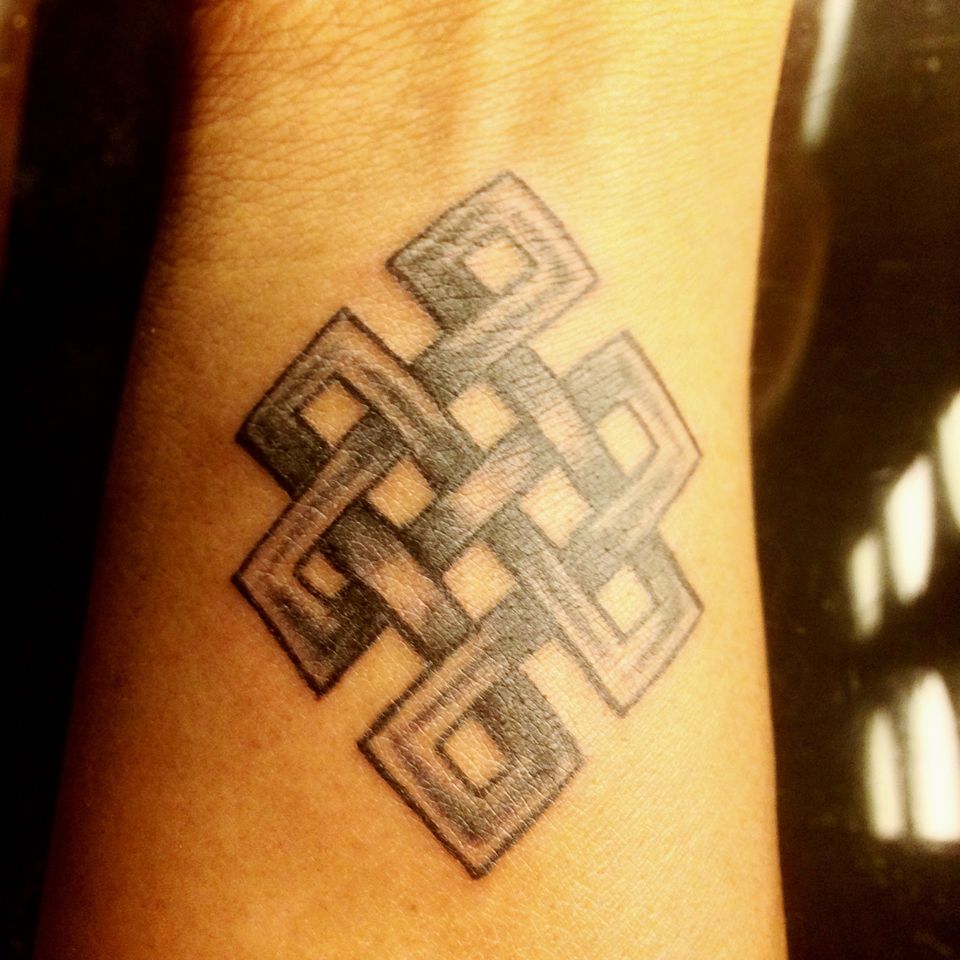 (28th December): Because of this delay our plans of the Triund Trek was completely whitewashed. Our plan was to come back to Mcleodganj on the night of 27th December but we were able to come only by the 28th afternoon. So, we ended up spending the whole day exploring the town. My friend headed off in his own way and me on mine. I ended up getting a tattoo, to keep it as a memory. I would like to get a tattoo to every new place that I travel to. I got a tattoo called the infinity loop (which means a life with no beginning or the end). Make sure to get a tattoo to which you can relate to. By dusk, we realised we didn't have a place to stay as our booking at the Hotel Pink House was only till the 27th. Hence, we started looking for a hotel. There was not a single hotel where rooms were available. After looking for an eternity, we finally found one, but it was a honeymoon suite (haha). I had to laugh. I am sorry. Anyway, as there was no option we had to settle for that. Best food ever had! and the view was breath-taking. I wish I had a home with this view. I would not give it up for anything in the world. You can find the link to the place below:
Accommodation: http://www.junglehutdharamshala.com/ - Hotel Jungle hut.
The night called for some drinks and we rightfully did so! Since so much had already happened, we decided that we would still do the trek. The only difference would be, we not camping there overnight! We were okay with it and decided to go ahead with it the next morning.
(29th December): The next morning, we left the hotel as the booking was available only for the night before. We were sure we would find one when we come back from the trek. We started our journey. I would rate the trek as easy to average level (this is going to vary depending on the fitness level). As great treks are a testament to some great ideas, we also had our fair share. We discussed on Arunima Sinha, who lost one of her legs in a train accident and still could do the unsurmountable. She climbed 6 out of the 7 highest peaks in the world; Everest in Asia, Kilimanjaro in Africa, Elbrus in Europe, Kosciuszko, Australia, Aconcagua in Argentina, Carstensz Pyramid (Puncak Jaya), Indonesia. She is an inspiration to us all. We decided when she could do it with one leg, why can't we?! This is the mindset that we require for anything that we do in life. Mind over matter is the only thing that makes us sustainable in the long run. It took us 2 hours and a half to reach the top. The guides below will say that you might lose the way and should take a guide with you. They will also tell you that it will take 5-6 hours to reach the peak. It is utter bullshit and a way to make money. I suggest if you are thinking of camp or just do a day's trek, go by your own. Carry your own tents. We reached the top, had some hot chai and a bowl of Maggi (there are shops at the top as well, so you don't really have to worry about food). We decided to take some time and admire the beauty that we were witnessing. It is surreal. Totally worth it to camp a night there. We spent about 3-4 hours on the top and decided to head back before sunset. By the time we reached the base, the sun had already set. Now it was time to look for a place to stay. This time we weren't so lucky. We didn't find a place to stay. However, we found a home where they were willing to let us stay till the time we had to leave to Manali. Our bus was leaving at 11pm, then again, a "Volvo". We managed to stay till then, filled ourselves with the awesome Lamb momos and headed off to the bus stand. Our bus was on time and we headed to our new destination – Manali. Our plan was to go for river rafting.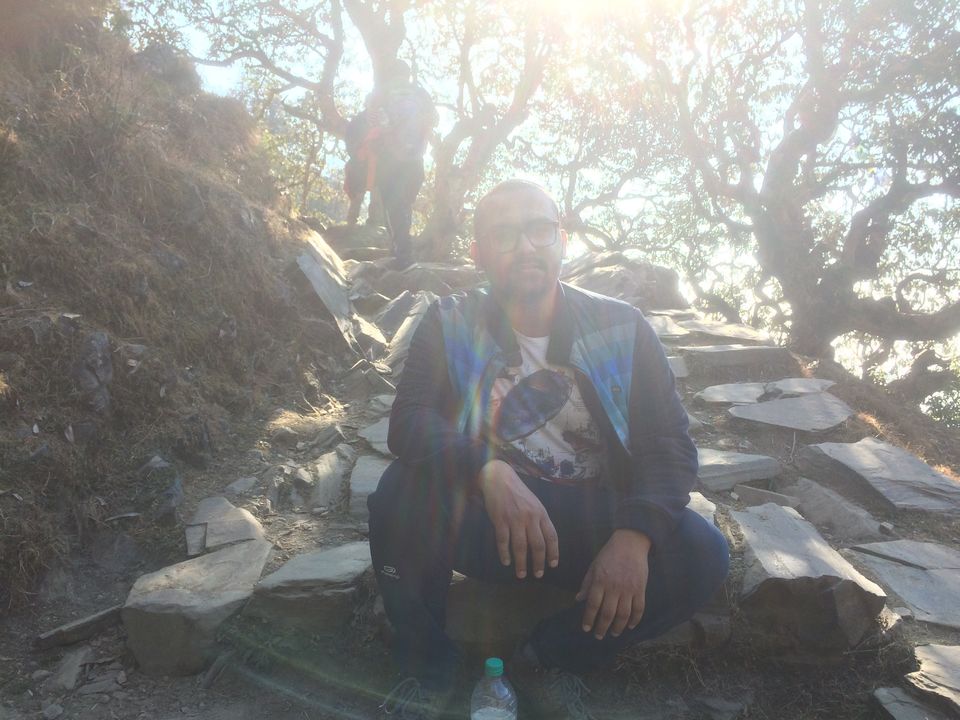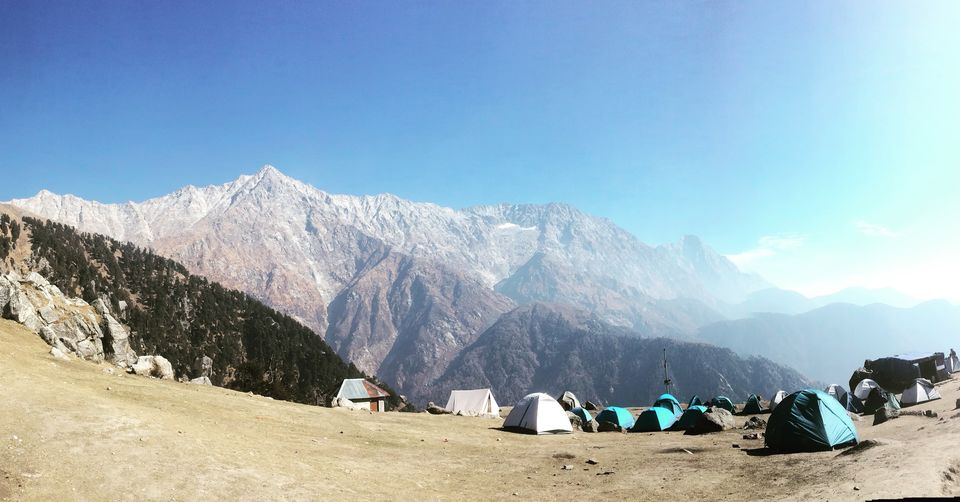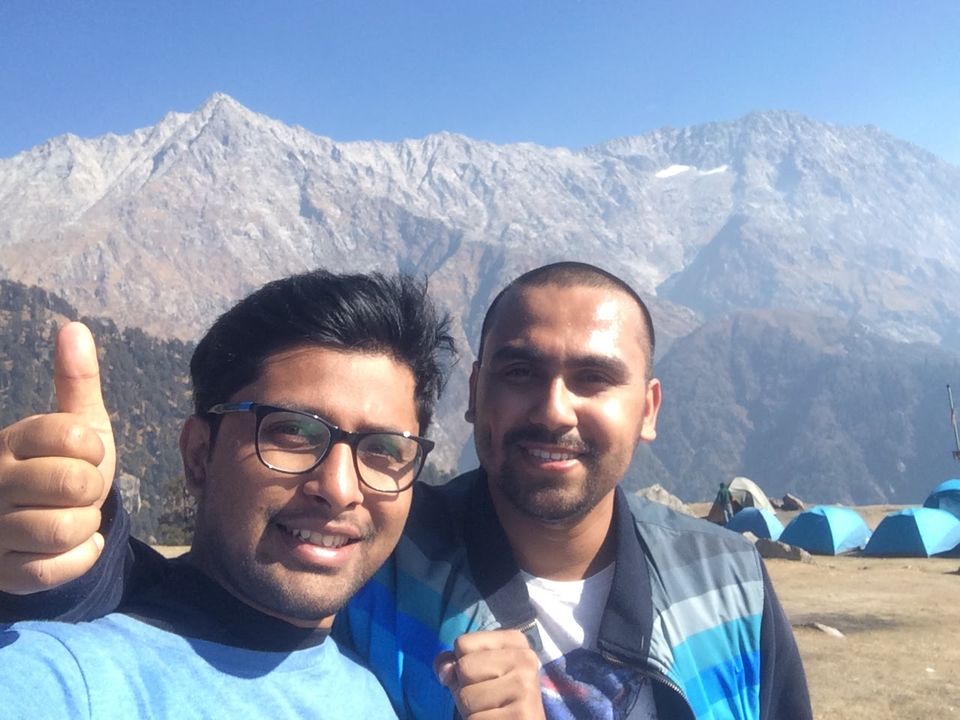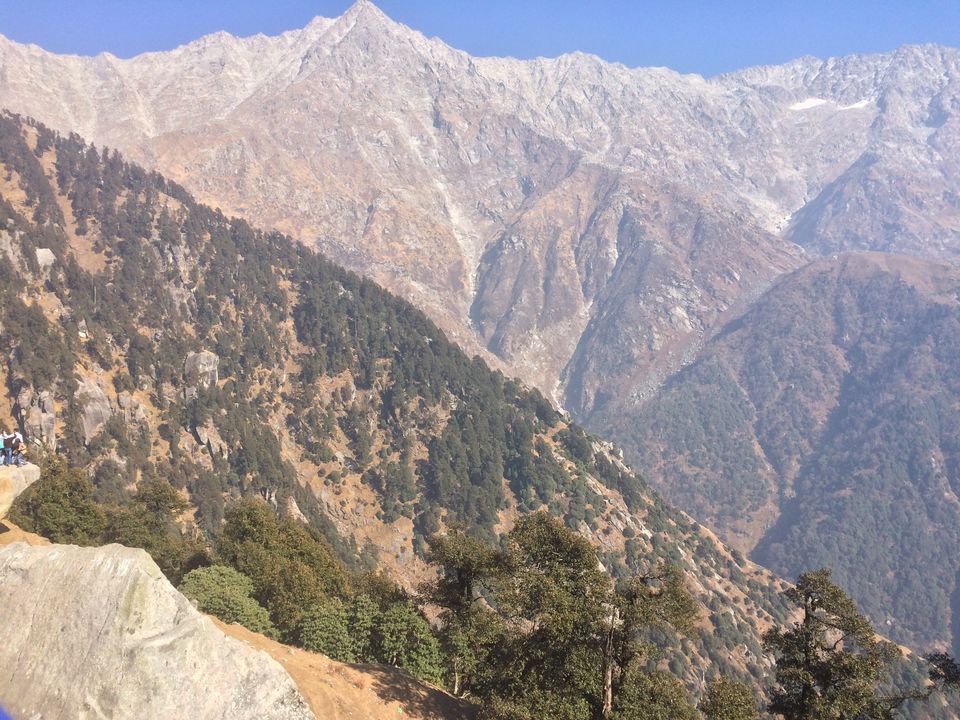 (31st December): We were again excited as the day promised some adventure again. The place where the river rafting takes place is called Jhiri, which is about 1.5 hours from the main town/ Bus station. I watched the River Beas flowing alongside the whole journey to Jhiri. As beautiful was to watch the river alongside, it dawned on us that there aren't enough rapids for the rafting to be exciting enough. However, we kept telling ourselves that the place where the rafting takes place should have good rapids. Our ambiguity turned into reality when we reached the place. There weren't enough rapids. There were rafts still being deployed anPd I could see school children and families enjoying that. However, the kind of adrenaline that we had experienced, rafting in calm waters wasn't going to satisfy our appetite. The look on our faces said it all. We were visibly disappointed. There was no option for us but to skip the rafting and plan it on some other trip to places like Rishikesh. We had a cup of tea and a bowl of Maggi and headed back. So, basically it ended up being an expensive breakfast :P.
We headed back and waited for sundown, as the excitement of celebrating the new year together was settling in. The atmosphere didn't let us down either. We could see that others were as excited as us to welcome the new year with their family and friends.
After welcoming the new year, we headed back to our Villa where a surprise was waiting for us. The hotel members and guests were preparing for a barbeque. We ended up having a wonderful time with the hotel staff and a few guests. The day ended on a good note.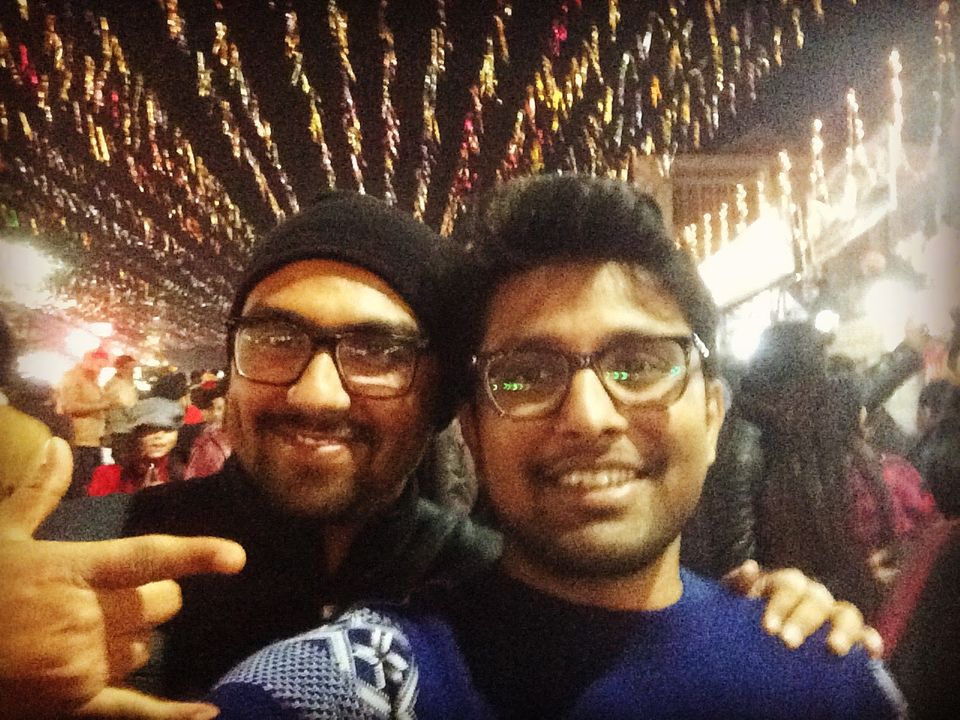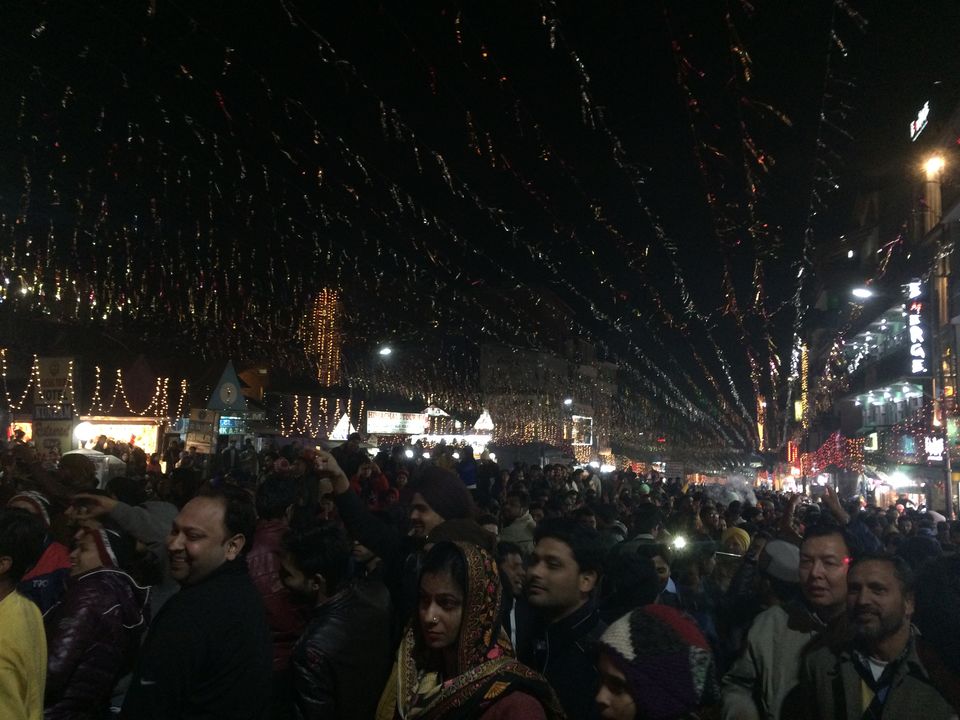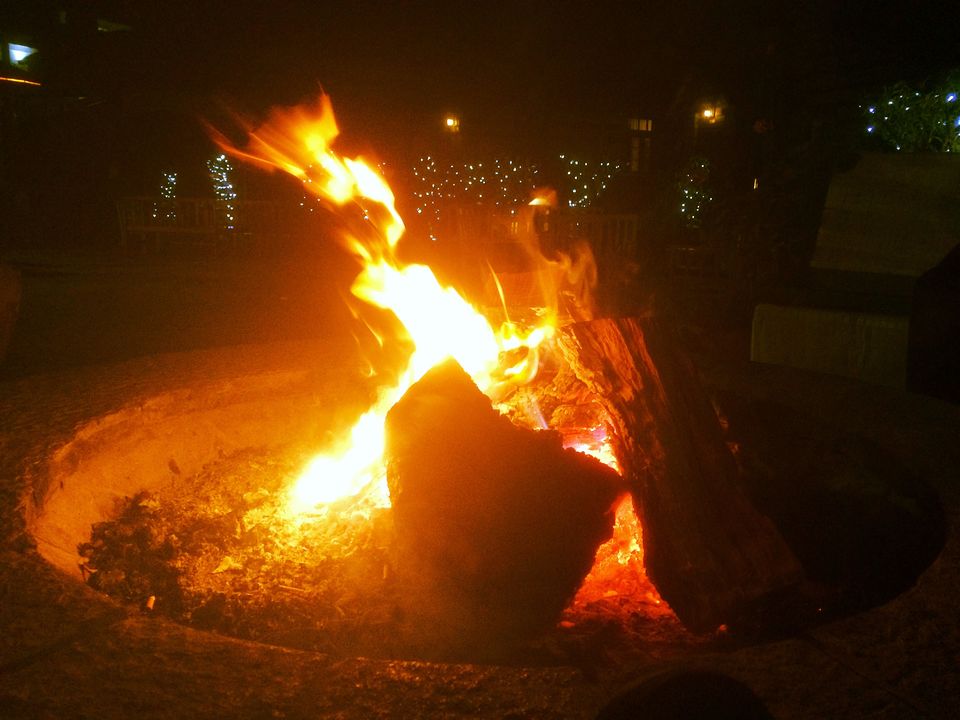 (30th December): We reached Manali, the next morning and the bus ride was nothing but annoying. Anyway, we were excited to be at the new place. The details of the place we stayed are as follows:
Accommodation: Bella Marina - https://www.makemytrip.com/hotels/marina_villa-details-manali.html
Food – 4 stars
View – 4 stars
Location – It is away from the city hence it is a less expensive and secluded. If you are someone who likes to surrounded by nature and in a calm environment. This is the place to be!
Our plan was to celebrate New year in this amazing place. So, we had two good days in our hands. We decided that we would explore the town today and then go for the rafting tomorrow. There are amazing food hubs here. First, we decided to try out a place called the Johnson's café. It a must try. Great environment and the best place to have some great conversation over a bottle of beer. The local food is good as well and great shops to buy handmade sweaters for yourself and if you'd like to gift someone. So, we spent the whole day chilling, having great food, drinks and watched the people passing by. In our busy lives, we hardly find time for ourselves and to just sit there doing nothing and gazing at people going by proved to be very soothing. Try it! After sundown, we decided to head back to our villa, where good food was awaiting us. The people at Bella Marina are very friendly and they do make you feel at home.
(1st Jan, 2017) : We got ready to head to our last and final destination, where we would spend the remaining days of the trip. My birthday was on the 2nd and what a better place to spend it in.
I would not mention the bus ride this time. I think by this time, it had become routine. By the time we reached Shimla, the sun had set and we were getting ready to feel at home. The details of our accommodation are as follows:
Accommodation: Hotel Chaman Palace (far from being a palace) https://www.hotelchamanpalaceshimla.com/
Type – Descent
Food – It is better to eat out, lot of places to explore.
These few days were about exploring the best places to eat. Because that is all we did. I will be listing the best places to eat in order of quality.
• Embassy Shimla – One of the best places to go to, if you are a fan of cakes. You'll be relishing on some lip-smacking home-made cakes. The bakery-cum restaurant is managed sole by the members of the family; A mom – who bakes, A son – who manages the finances and is the face of the bakery and a father – who cooks and serves you at the restaurant. It will be a sin if you are in Shimla and do not try it. Please do go!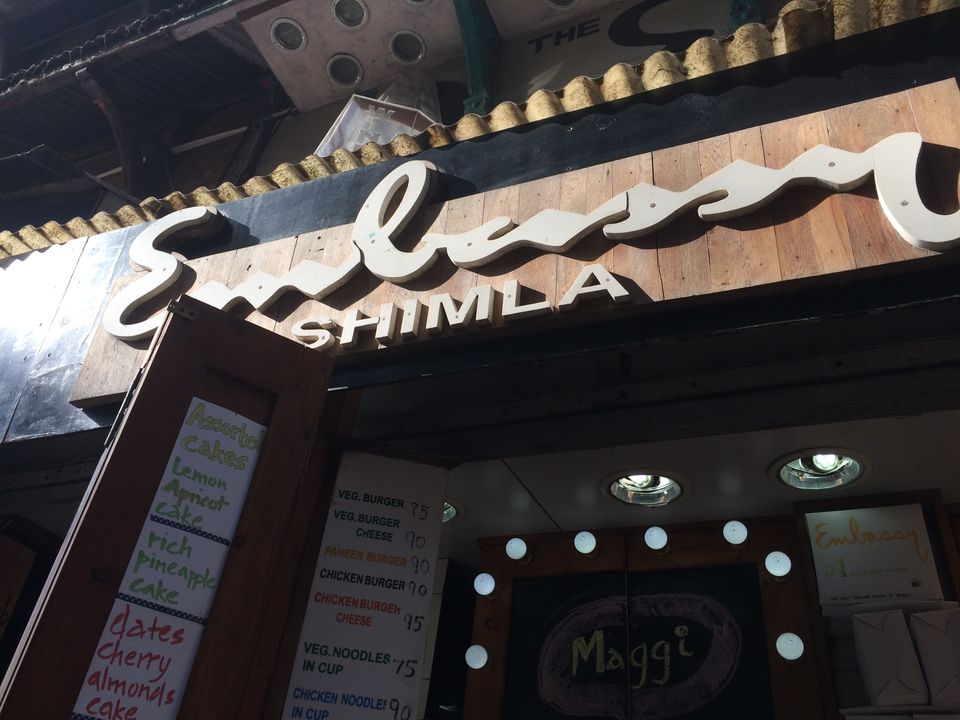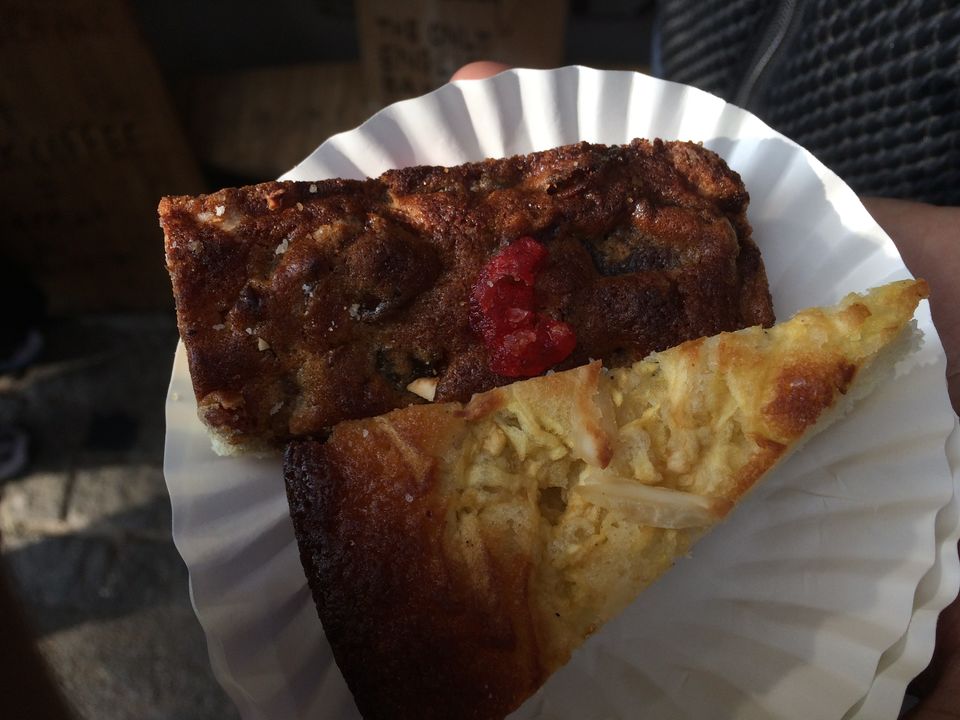 Condition of the room at the price – decent (not ideal for a couple on a honeymoon)
It is almost impossible to take a shower during the winter months in cold water. Hence, make sure the room has running hot water. We didn't hence, we had to go and take a shower in one of the empty hotel rooms. Not fun. The place is located downhill and hence, it is not a pleasurable experience to climb 200 steps whenever you go out of the place.
We freshened up, excited for the journey to begin. First in our list was to Paraglide at a place called Bir Billing. We had breakfast and headed to sort out our travel arrangements to Bir Billing. There are a lot of options available to go to Bir Billing. You can rent a car (with/without a driver), you can rent a motorbike or even a scooter. We chose to rent a bike. It will cost you 600-800rs. approximately. The terrain was new to us but we felt we would be able to manage the route using google maps. Almost halfway, we realised we have lost our way. My friend was visibly annoyed because he was initially of the option of hiring a car with a driver. Despite the time delay we finally could figure out the correct route, which was confirmed when we saw a few pilots gliding.
Bir and Billing are two separate locations. They are denoted together because Bir is the landing site and Billing is the take off point. Billing is located 15 mins uphill of Bir.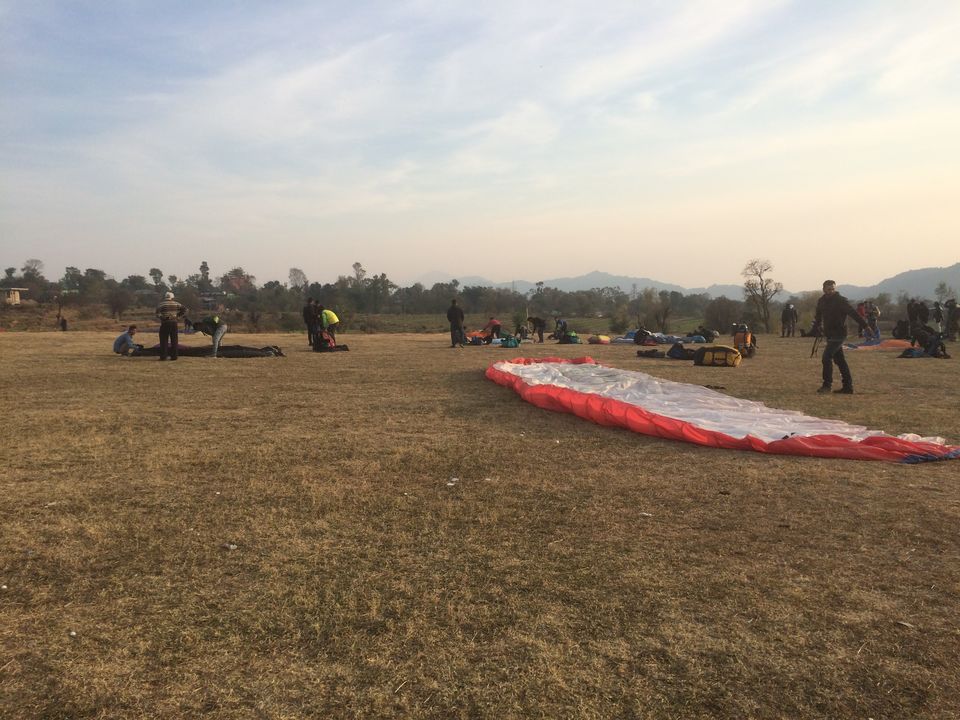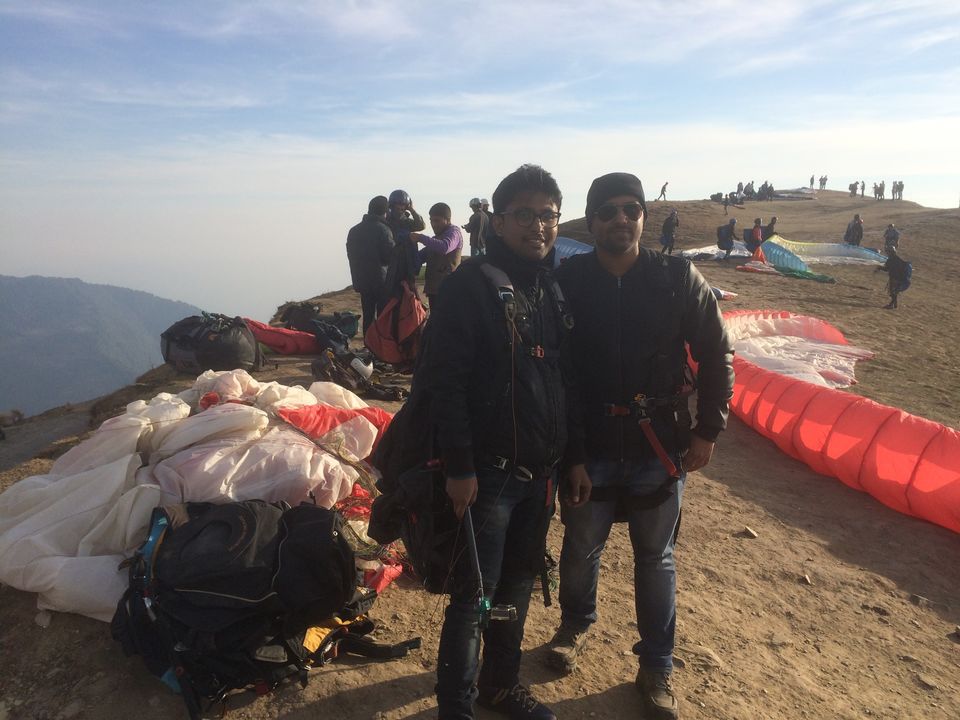 The details of the Paragliding are as follows:
Cost of Paragliding - ₹2500 +₹500 (to hire a cam)
Institute – Billing adventures - http://www.billingvalley.com/
Food – There are great food stalls nearby. ₹150-₹200 for a meal
So, we reached Bir and after completing the formalities of checking in and signing a waiver, we were ready the experience. As they were taking us to Billing, I can feel my heartbeat going higher. It was even exhilarating for my friend as he has Acrophobia. I could only be amused. We reached the peak and got our gear on. We waited for the winds to pick up. During this period, my instructor kept emphasising on the fact that once we are ready, all I had to do was run and not stop for anything, even for the wind resistance that comes into picture when we take off from the edge of the cliff. Note: Please keep running, without stopping because if you do, then you or the pilot is not in control and the wind takes over the shoot which can prove to be fatal.
We were both saddled up and when the wind was right, I was off the cliff with ease. To put my experience into words, it was like how birds would feel every time they are in the air. Some lucky life they have got, haven't they? The glide lasted for 20 minutes, which was very less compared to the time that I wanted to be in the air. After 20 minutes of intense trance, we had a touchdown at Bir. Now, I was standing there, waiting for my friend to touchdown and share our experiences. One hour tuned to two, and two to three and henceforth. There was no sign of him. At this point, I was perplexed and confused at what might have happened. The cell phones do not have signal, hence the only way of contacting him was through a radio. So, I asked my instructor to find out what exactly had happened. By this time, it was almost sundown and still he had not landed. Finally, my instructor told me that he had not gone through with the glide. I was anxious to find out why did he bail out at the last moment when he was the one who suggested me the idea in the first place. I had prepared a list of arguments which I was about to hurl at him when I meet him later. Finally, he came back in the same car that we used to climb to the top. When he said what had happened, nothing but concerned is what I felt. He had fallen two times during the take off. First time, he did not run right up till the edge where he was supposed to take off (as mentioned earlier, very important). He got dragged over the rocks, which is terrifying. In the second attempt, he managed to run and did everything right, but his instructor messed up and hit the brakes of the shoot and they fell into the trees. I must say, a major disaster was averted. He would have been dead and all I could have done was feel remorse. I was so thankful that he was well and alive apart from a few bruises.
But we couldn't give up on the adventure, the sole reason that we were there. So, we decided we would stay the night at Bir and glide early the following morning (We were supposed to go back to Mcleodganj the same day and had the hotel booked). Finally, the next morning he was able to do the glide successfully and this time with an experienced trainer.
It was after this that it dawned on us of what we had actually achieved. Bir Billing is Asia's highest peak for Paragliding. It has been the host of the 2015 Paragliding World Championships and continues to host periodic international competitions and events. If you are thinking of paragliding, this is the place you would want to be.
• Wake & Bake – Great food. There is a wide range of food here. From waffles, pancakes to pasta and various types of tea. Do try Kahwah here. You are free to explore otherwise.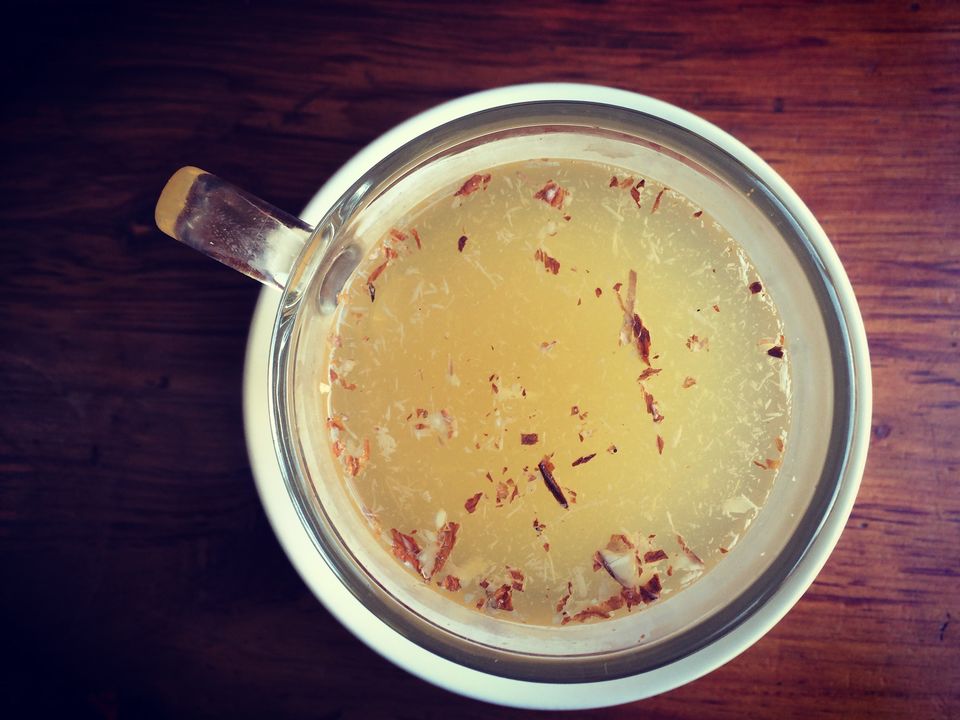 • Cafe Shimla times – Stunning atmosphere. The live music in the cold chilly weather makes it even more beautiful. I specially liked the local Himachali song he sang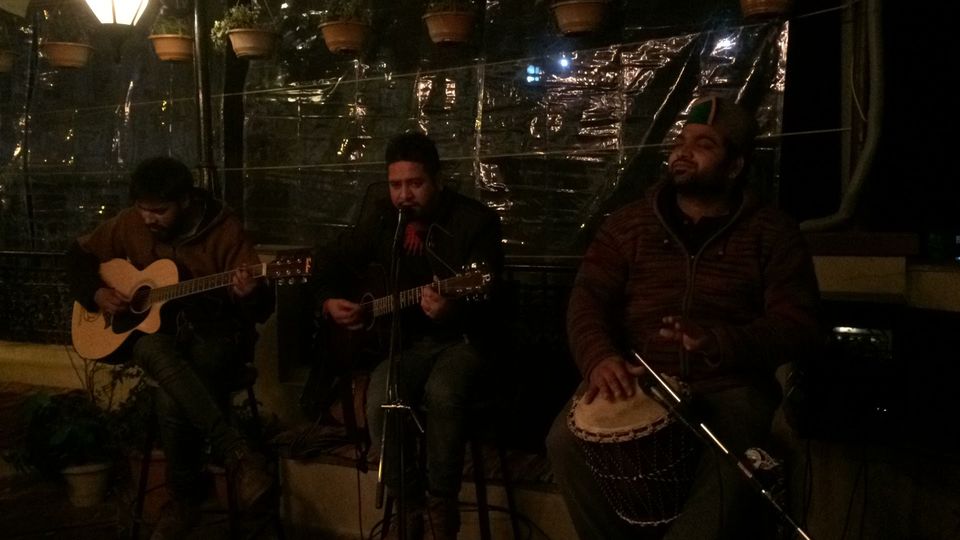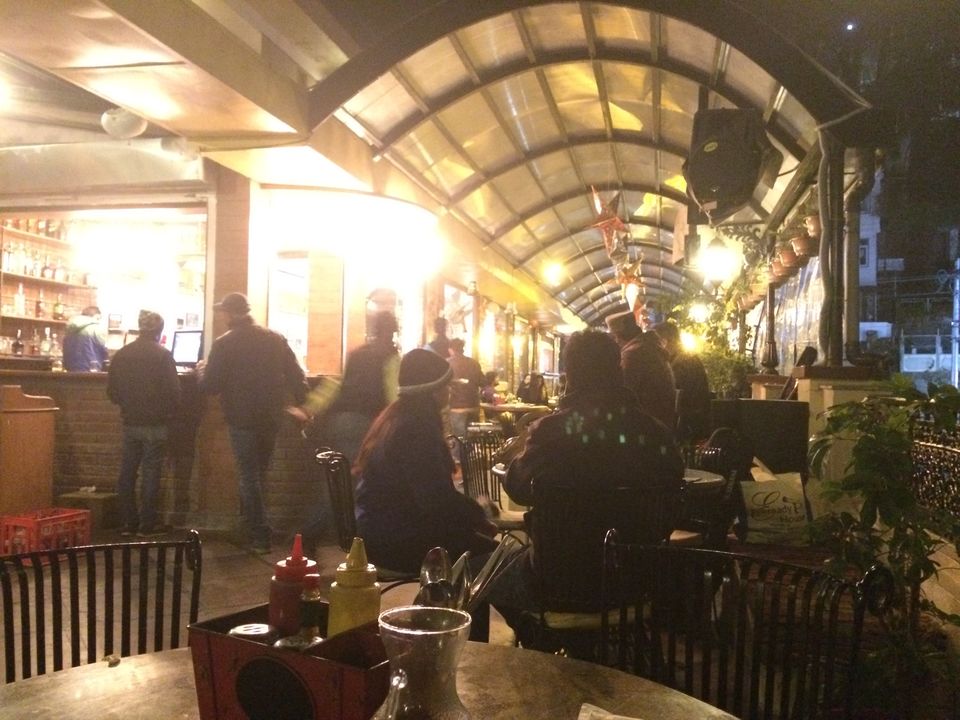 • Central Perk – The food is descent, cozy place. Since I am an avid watcher of F.R.I.E.N.D.S and hence the eagerness to dine in. I am sure any mad enthusiast of the TV series wouldn't miss this.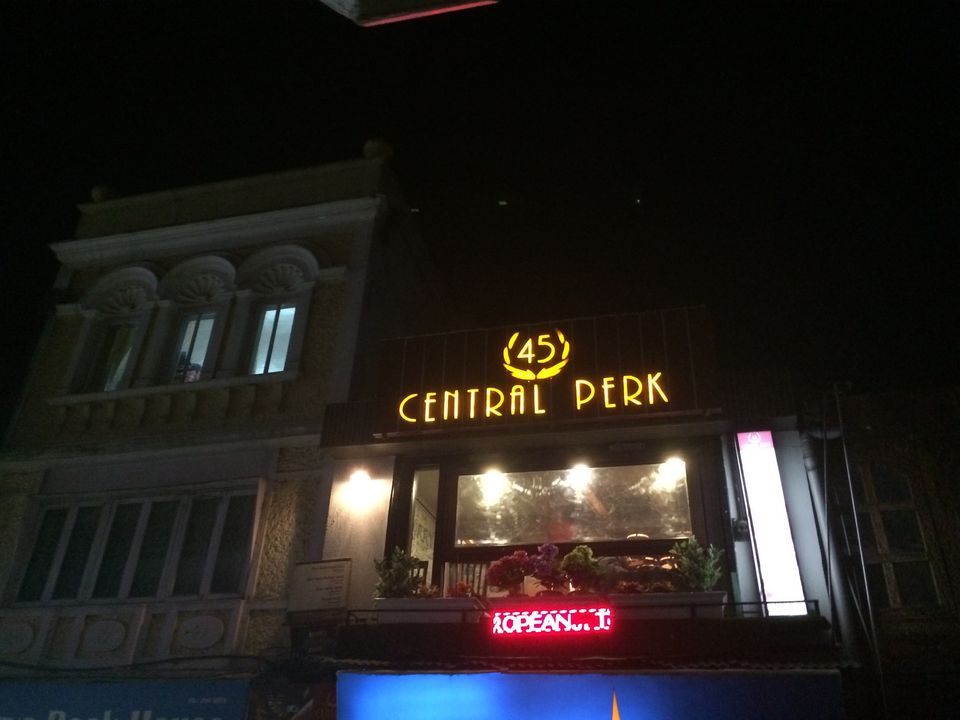 NOTE – DO NOT TRY THE DOMINOES. The pizza tastes nowhere close to what a domino's pizza should taste.
Do visit the Christ church and explore the open space available there. You can choose to sip on your cup of coffee and have some great conversations.
This trip was the best one till date. I am always going to remember the experience that I had in this trip. I wish my friend, Parash all the best in the future and a happy married life.
Travelling is the best investment that you can make in your life. Here it to adventure and lot more great trips ahead. Cheers!
Frequent Searches Leading To This Page:-
himachal tourism manali package, himachal pradesh offbeat places, himachal pradesh places to visit, himachal packages from pune, himachal tourism package, himachal pradesh visiting places