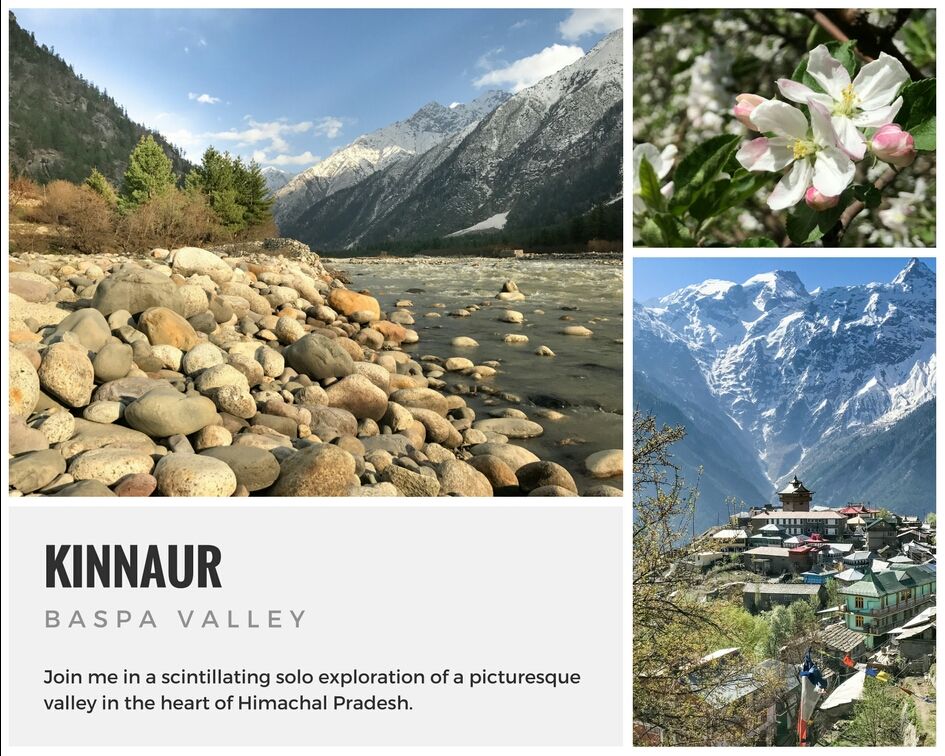 ​People grieve in different ways as loss hits you in the most unexpected of ways and at a time when you're the least prepared.
It hit me in the form of my grandma's demise. It only felt like yesterday when she sang me to sleep followed by waking up in her lap. Mornings will never be the same without her chai. She raised me like one of her own and hence the grief gripped me uncontrollably.
I couldn't shed a single tear but all hell broke lose as I bade her farewell during cremation. All I could do was stand there sobbing begging for her forgiveness for not able to spend as much time I wanted to.
The rituals lasted for 13 days while felt like 13 years, people passed on their condolences and I had no idea how to respond. As the home slowly transformed into a soulless house, I knew it in my heart I needed to take some time off to grieve.
I wanted to be as far from civilization as remotely possible with just one question in my mind-
Does it ever get easy?
Day 1
Shimla
Himachal Pradesh does not need an introduction, it has something for all kinds of tourists and even more for travelers. I caught an overnight bus to Shimla and opposed to every previous experience of mine, it did not hurt. The journey went by in a jiffy and I was embraced by the mountains immediately. The capital of HP is immensely touristy for my tastes but it is well connected to my next destinations via HRTC buses.
When you lose someone you can't replace, everything reminds you of them. As I gently traced my fingers on the age old iron railings on the Mall Road, I could feel her hands guiding me through the overcrowded markets, and also ensuring I don't pick stuff I'm not supposed to.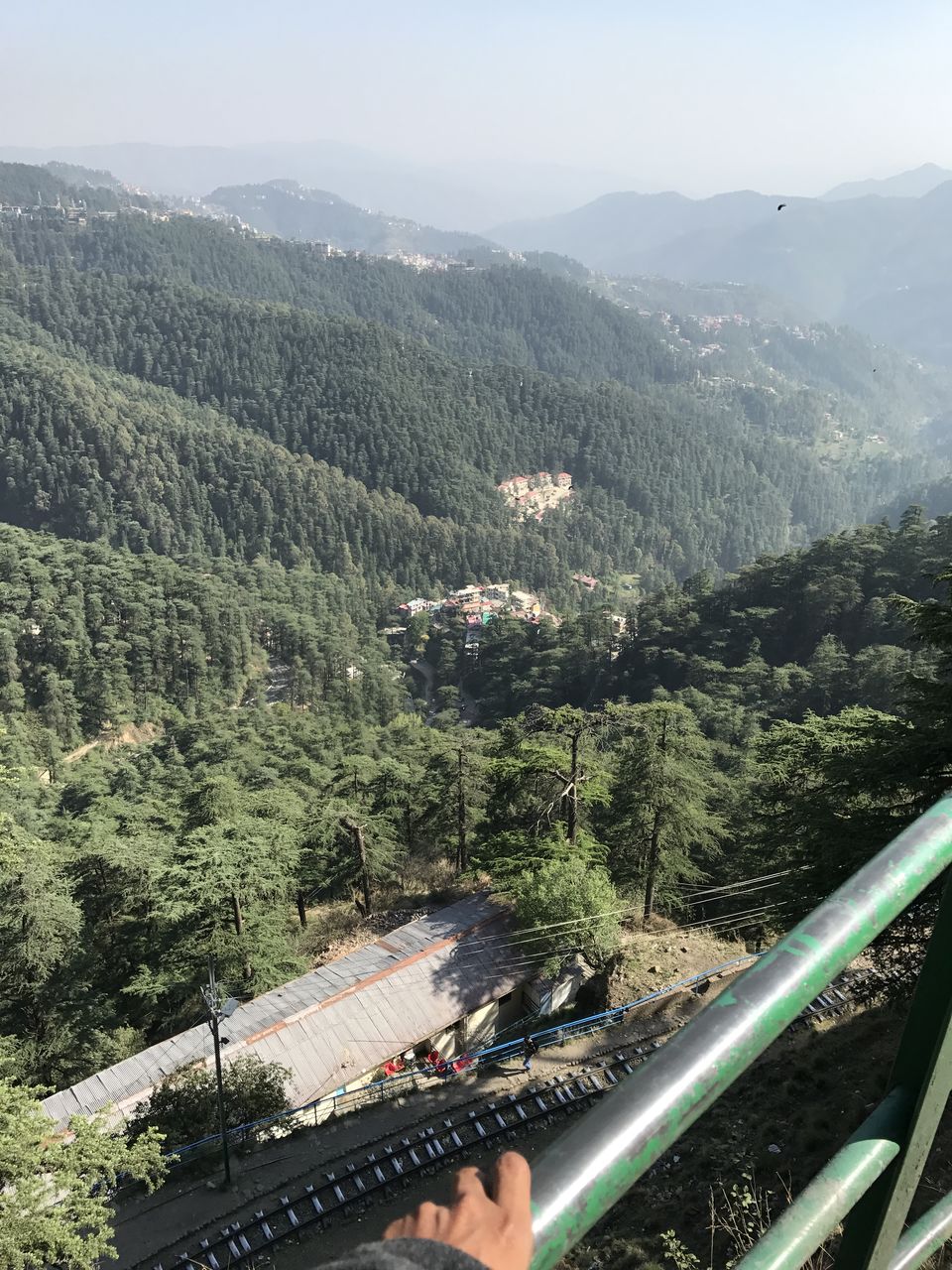 There is no dearth of hotels in this city and I was really impressed by the cleanliness which adds an extra star to this place.
​A friend of mine tagged alone for the day as we decided to see a couple places before we go our separate ways. We started off with a stroll down the Mall Road towards Christ Church.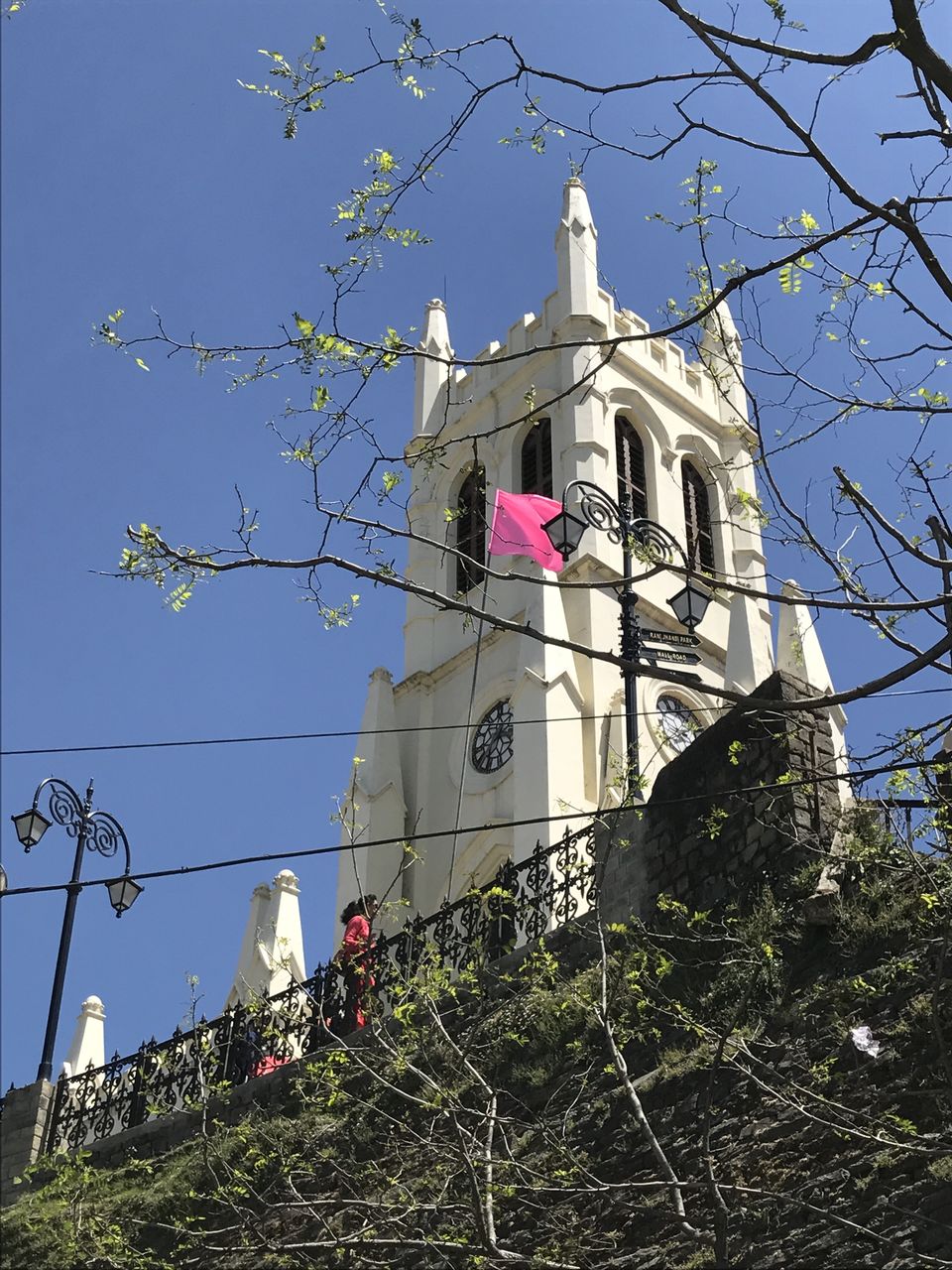 It was a comfortable 25 degrees and it was soothing to stroll around observing all the happy families around scattered around honeymoon couples.
This is life in its cruelest form which shapes us, makes us stronger. We don't have a choice and we have to accept it. Keeping this in mind it took every shred of courage in me to write this up without bringing her memories up. I hope you like going through my story and gaze at some of the pictures I took.
I am sorry to frame the tone of my story towards grief but I don't know any other way to ease the pain. Making connections always felt like a task to me and this community is one of the positive things in my life.
..
We checked out the Lift to Mall as I needed to replicate a specific picture I had received that day which was taken ten years ago.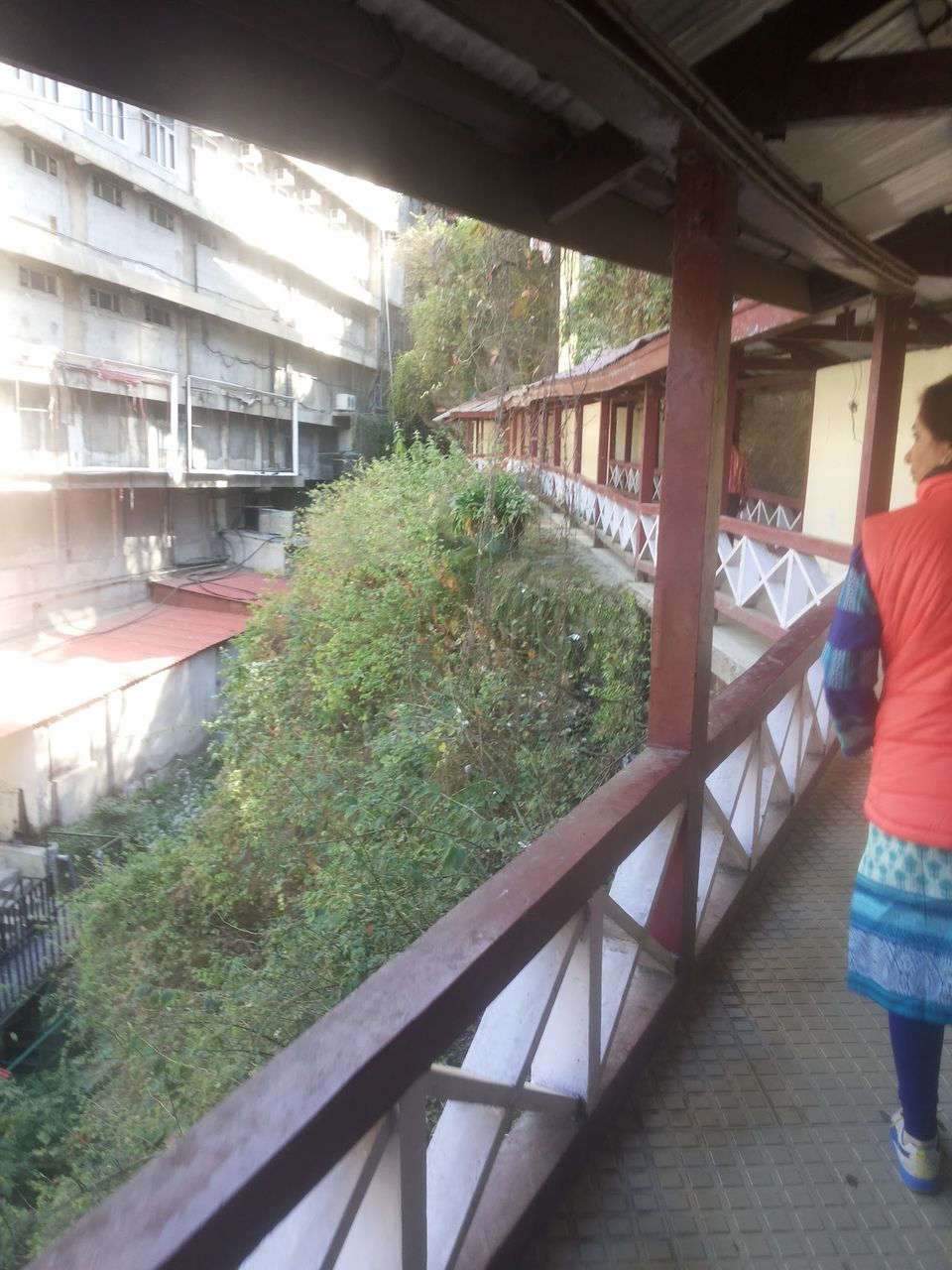 As expected, she was ecstatic when she laid eyes on the attempt which took me multiple attempts to get it almost right. It's the little thank-yous that help you get by the day when going gets tough.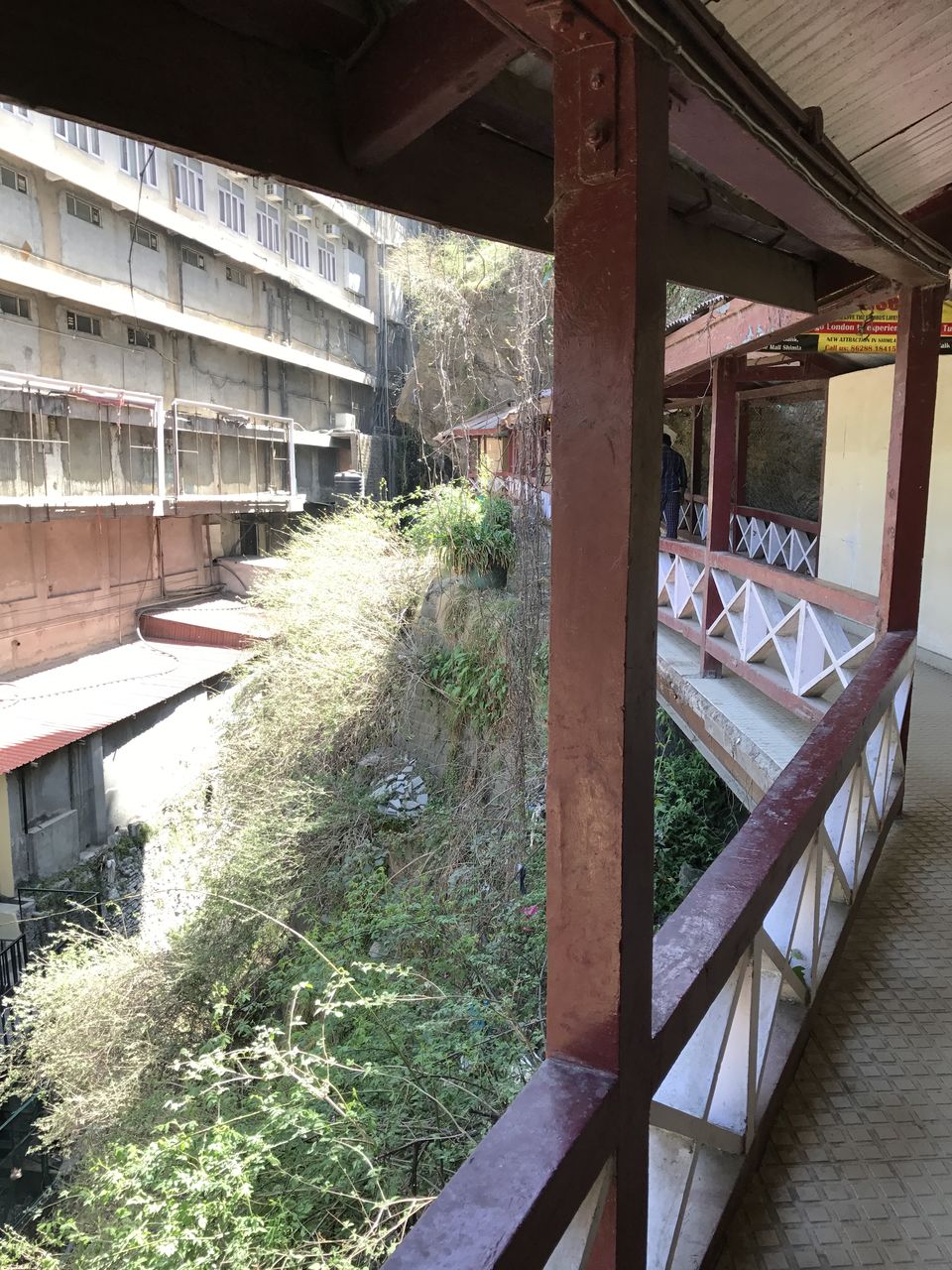 This is Shimla for you -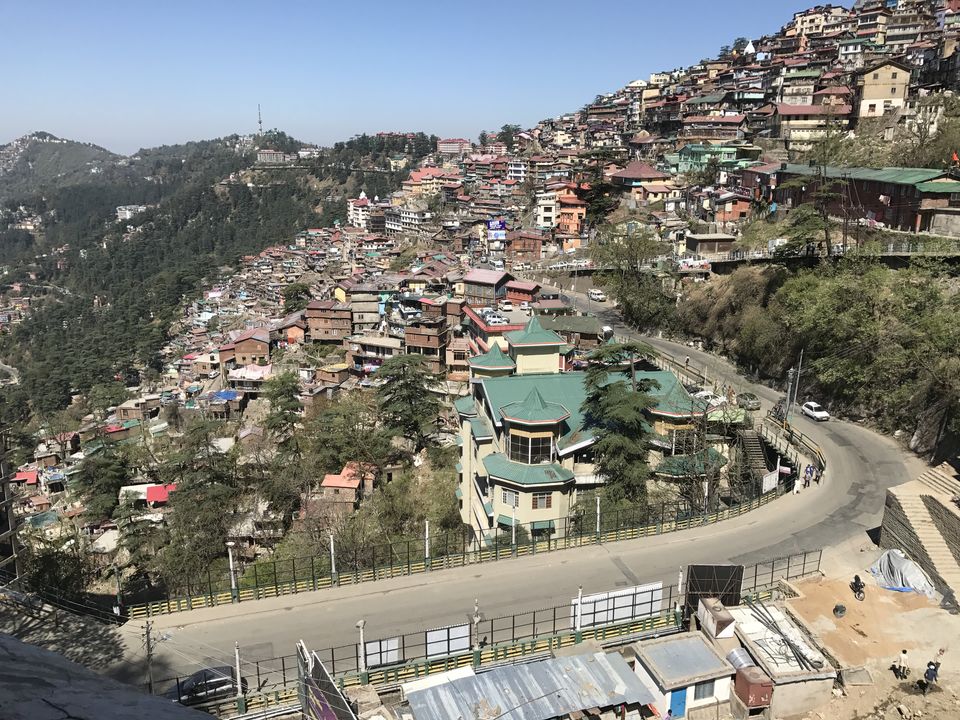 We made our way towards the newly opened wax museum to see some statues which seemed like cheap rip-offs of the ones I saw at Madam Tussaud's.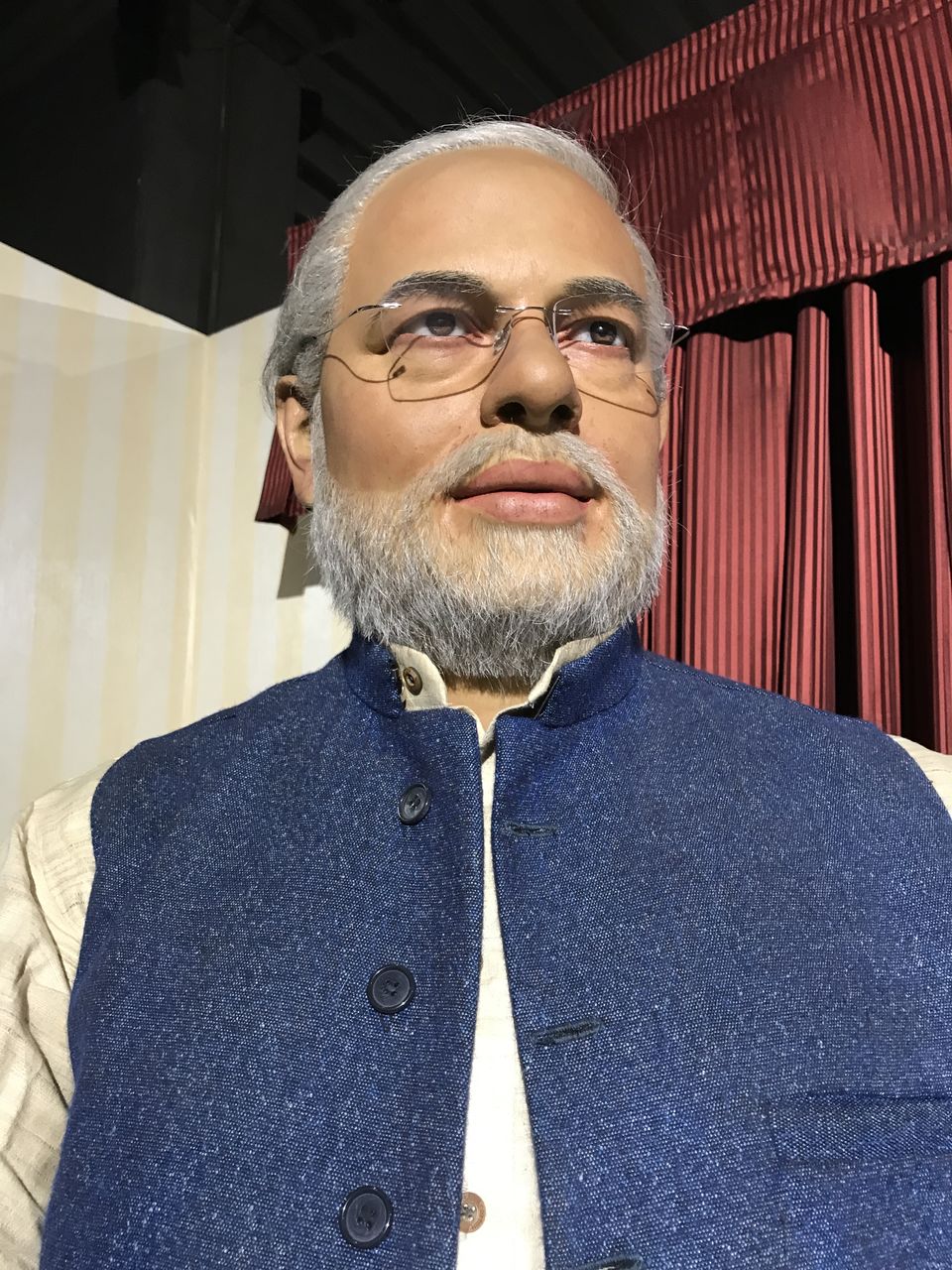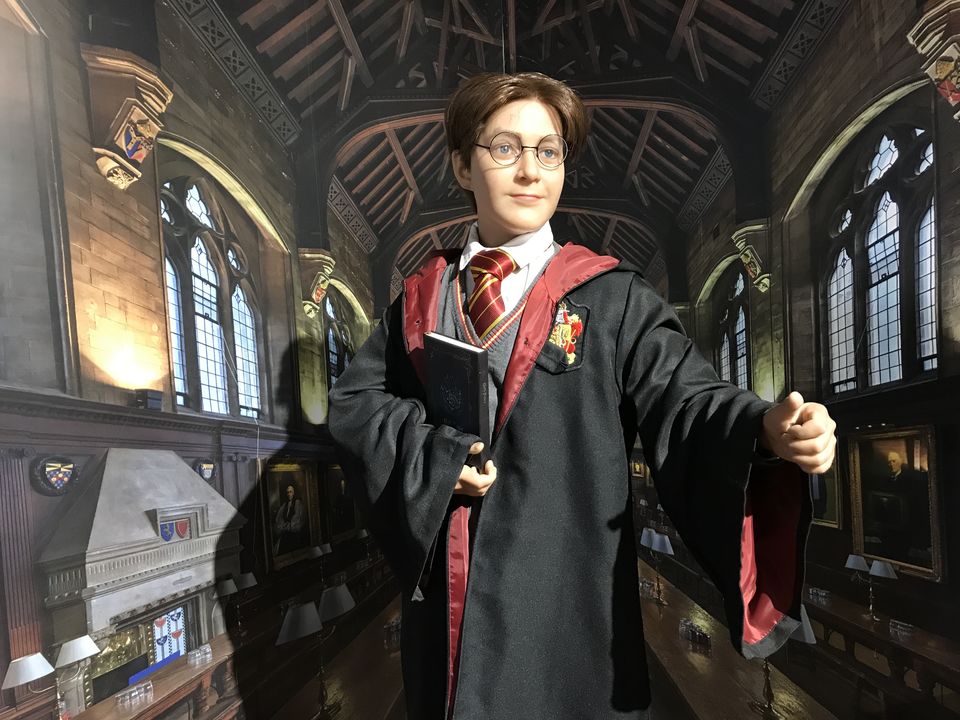 We returned to the hotel to get some sleep and then made our way towards Jakhu Temple which boasts of the highest(altitude-wise) and tallest(beats Christ The Redeemer) Hanuman statue. The temple has an interesting history - Hanuman allegedly rested here whilst he was en-route fetching Sanjeevni for Lord Rama and that's why the hill went flat due to his weight. But of course I'm not here for a history lesson, I'm here to share experiences, something you don't get on a Wikipedia page.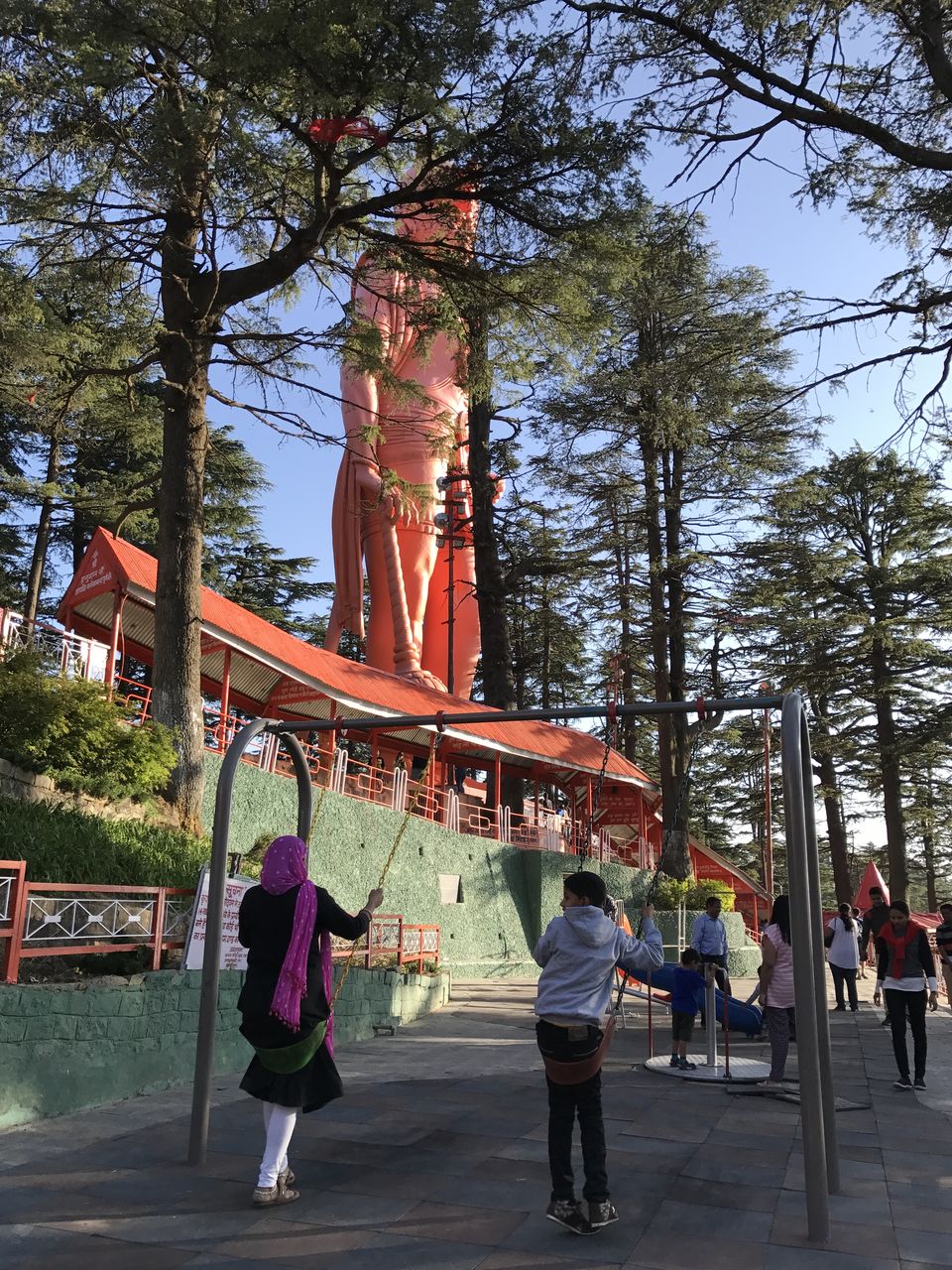 Another attraction at the complex is the army of monkeys which are constantly on the lookout to con you of your valuables. One of the mischief mongers quietly sneaked on my friend and took off with his sunglasses. Impressed by the monkey's antics, I requested my friend to forget the sunglasses as such skills should be rewarded- so what if the glasses costed upwards of 4000 INR.
TIP: Shiny things attract monkeys. Be vigilant of the things you are holding/wearing. Avoid keeping any eatables in your hands. They are the land version of seagulls.
Come evening and I rushed towards Christ Church to replicate another picture and although I beat the quality, I had already lost to her response when she saw this.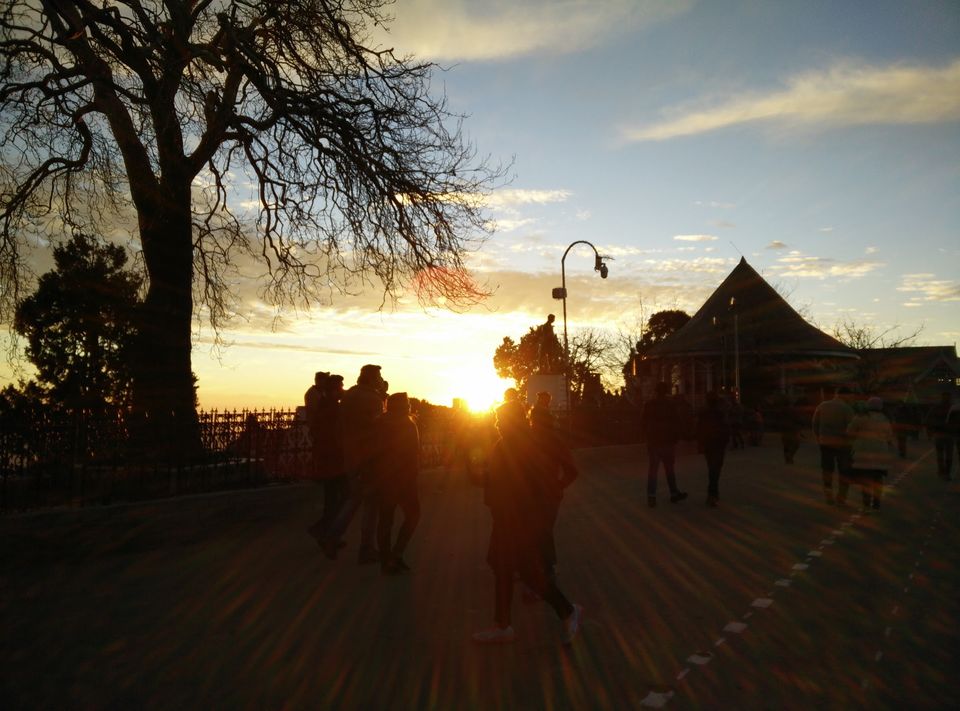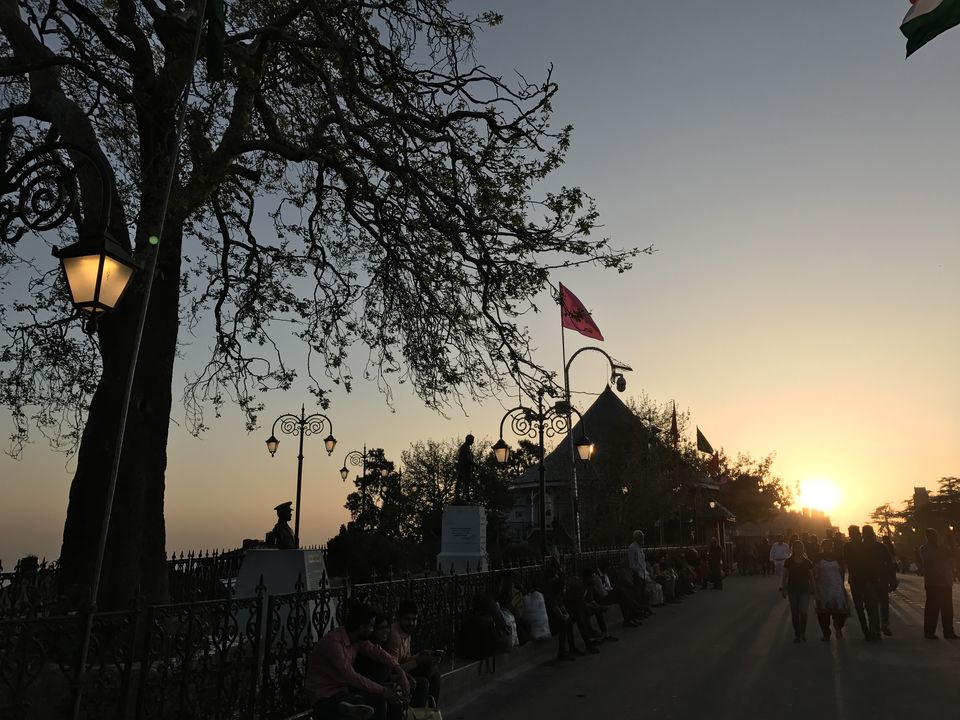 Day 2 - Even Paul Walker gives way to HRTC drivers
Kalpa
I woke up at 6 am to a chilly sunny morning and every inch of my wanted to stay in the bed. After heavy negotiations with myself, I hailed a taxi from the hotel towards ISBT and boarded an HRTC bus towards Reckong Peo.
TIP: The HRTC website does not mention all the buses so it's advisable you manually inquire about the bus timings a day before.
I asked about shared taxis but got a negative response. I was internally happy that I wanted to travel in their renowned buses anyway. The journey of 9 hours is grueling and even more so in a state owned bus but till now the buses had accepted me as one of their own. I drifted off for a minute only to be awakened by the driver yelling at another vehicle. I knew it wasn't our driver's fault hence the opposition was silenced in a matter of minutes.
"Empty tummy bus ride mein ultiyan karoge." You'll puke if you travel in the bus with an empty stomach.
ni hoti, HRTC and I go way back. (No I won't. HRTC and I go way back.)
Er.. I puked so bad. I should've listened to her.
As luck would have it or was it something else, the bus broke down shortly giving me some time to calm my growling stomach.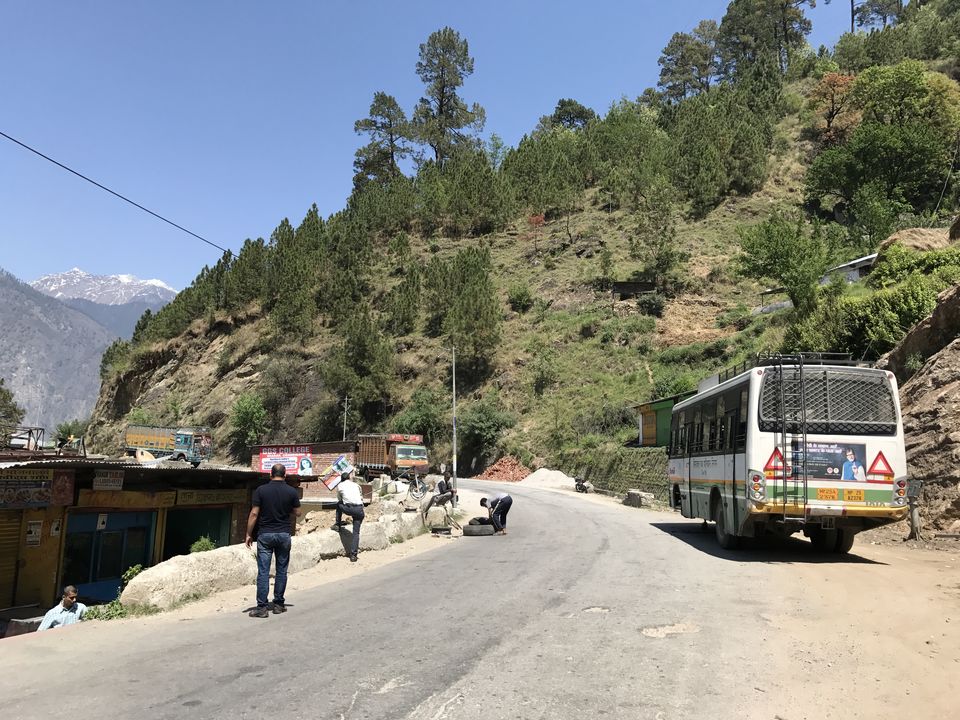 TIP: You better listen to the women in your lives. They might not know their way around the roads or technical things but they help us get by with their love and care.
Tapri is another interesting place to bunk for a night or two as it sits comfortably on the banks of muddy Sutlej river overlooking mountains full of pine and deodar trees. The elevation of this small town is not much for you to feel completely enveloped by huge mountains on all sides.
The constant cluttering of the windows as the driver tames the treacherous turns of the majestic Kinnaur Valley is an experience you won't get in a Taxi.
As the bus entered Reo, I could not help but gasp at the proximity of snow laden mountains which seemed at an arm's length. As I alighted the bus, I thanked the driver and the conductor for a safe and a comfortable 9 hours long journey which put a smile on their exhausted faces.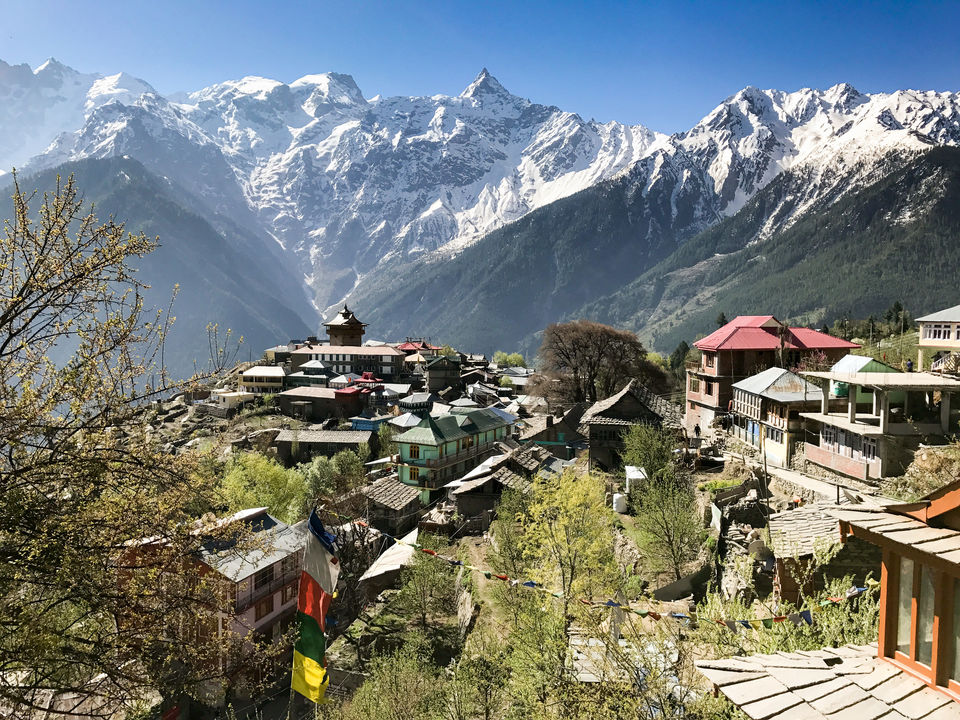 A little girl caught my eye as she was frolicking towards home with her school bag flaunting her naturally pink cheeks.
I had to board another bus towards Kalpa which took another 45 minutes and the drive had some of the most royal vistas of Kinnaur.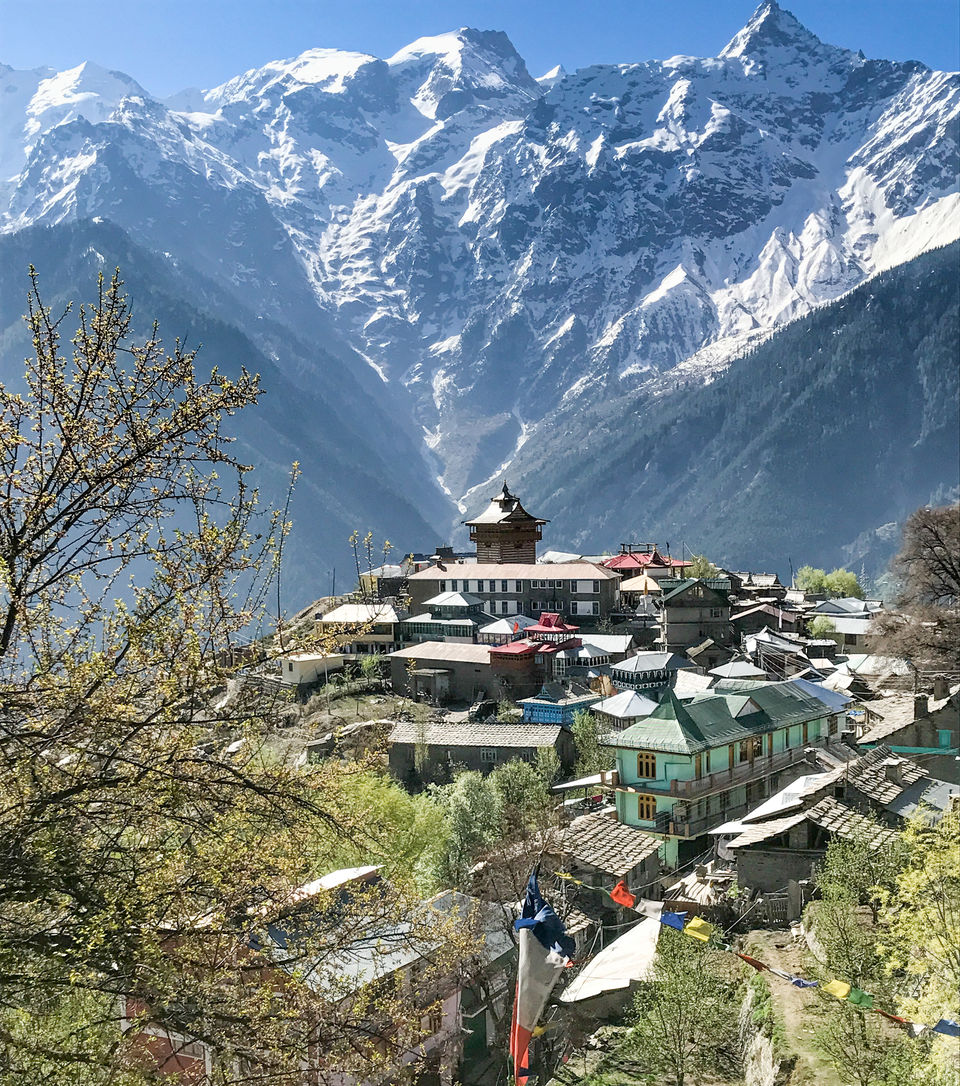 TIP: The bus towards Kalpa doesn't enter Reckong Peo Bus Stand, you'll have to catch it from the entrance near the Post Office.
I shortly checked into the hotel which charged a nominal rate and the receptionist was really kind and helpful. He answered all my questions with patience and I immediately extended my stay for another night.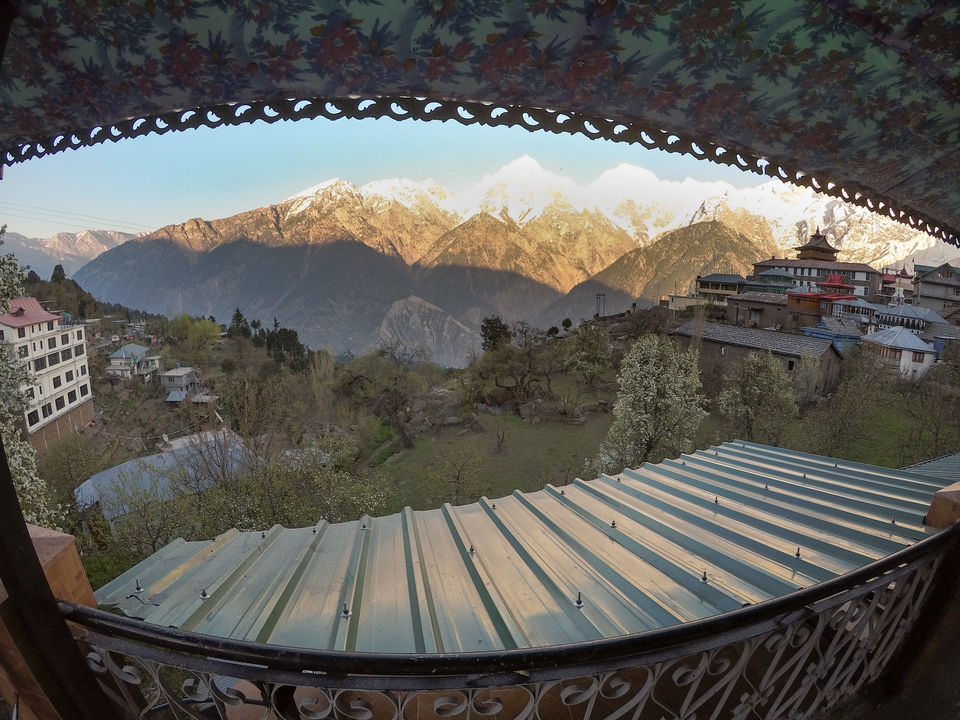 The mountains make you feel belittled, and you need a chai to soak in the beauty they have to offer.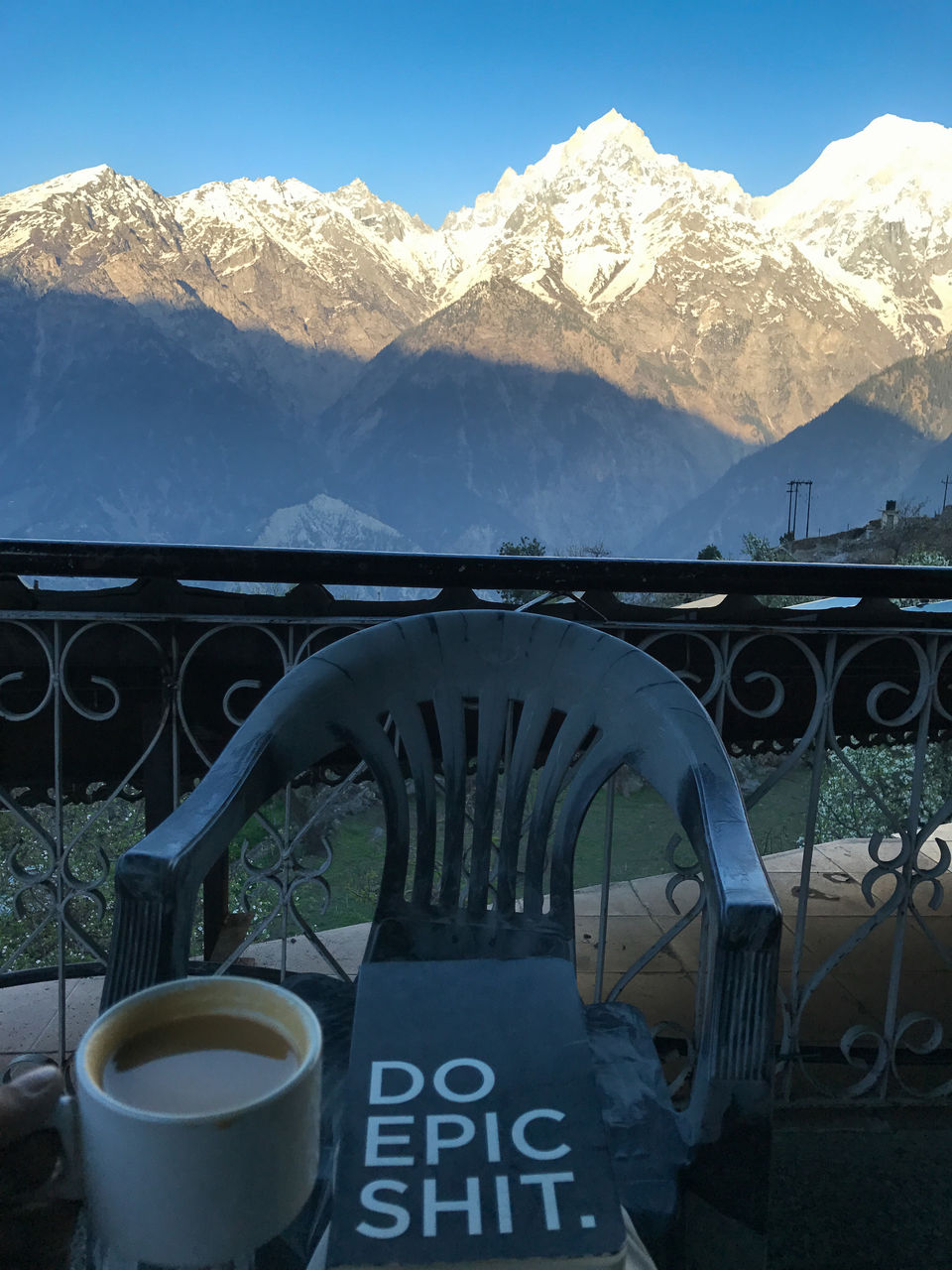 As I strolled through the streets of Kalpa, I knew immediately that it was a good decision making this beautiful village a part of my itinerary. As the sun set with a promise of a better tomorrow, the golden hues on the mountains reassured me that everything will be just fine.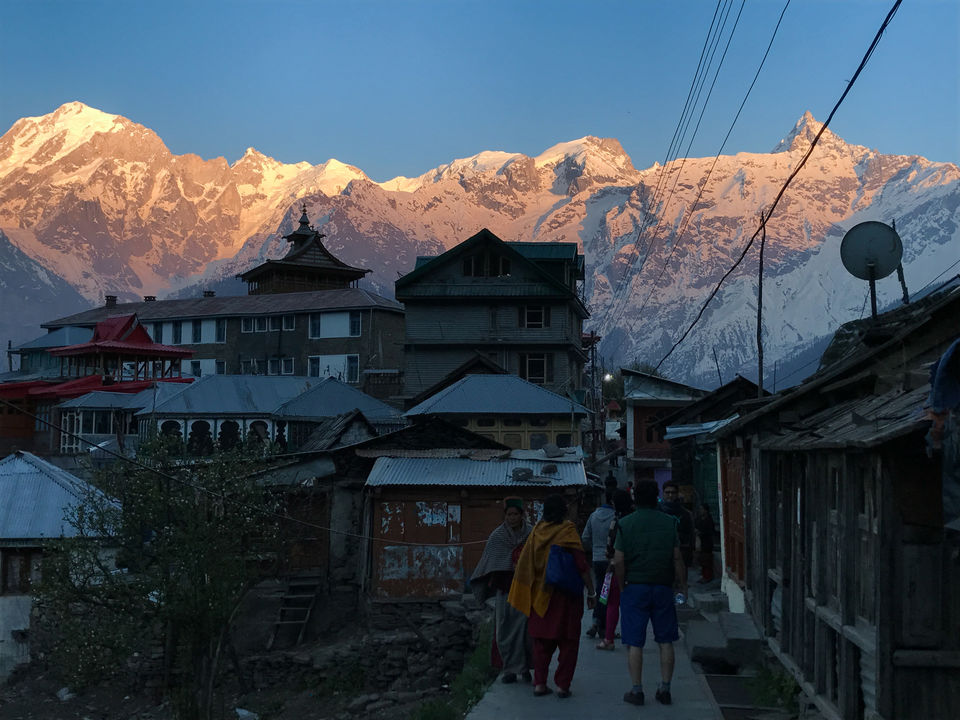 Kalpa reminds me of the nonchalant days I spent in the lap of Parvati Valley last year in a remote village called Tosh. Only the times were a little different, better to be precise. Loss shapes you into your stronger self, makes you realize how nothing lasts forever. The only that lasts forever is how you treat people who can't help you in return.
Sigh.
There is a small monastery just up the road and I spent a good hour observing little kids busy with the prayer wheels. There are park benches placed in the front where it's advisable to spend some time and thank the heavens for everything we have.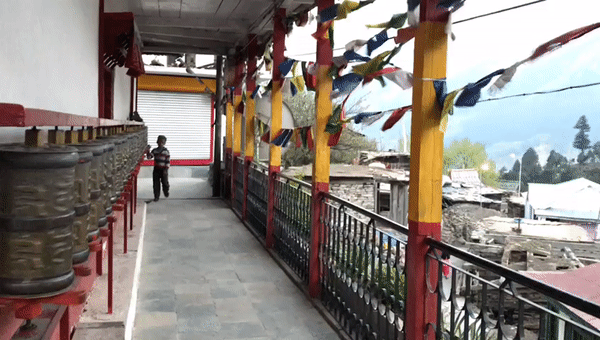 Dinner in a good restaurant was on the cards but instead I chose a small dhaba just by the monastery and ordered their vegetable soup which warmed my insides for a bare INR 20. The host greeted me with a smile and made sure that soup was OK, which it was.
TIP: Please refrain from eating in fancy restaurants when you're visiting remote villages like this one. Locals appreciate when you visit their humble abode.
No seriously, for all the introverts out there - and no I'm not talking about the aimless mention of that word in your Instagram bio and also what in the name of god is ambivert, why is that even a word? ambiverts remind me of vegetarians who only eat egg, ya - the reason we come out of our shells is to interact selectively, carefully but completely when we feel at ease. This is what Kinnaur gifted me with, a warm welcome from everyone I interacted with. ​
Day 3 - Glacier water > Hema Malini's Kent RO purified water
Chaka Peak, Kalpa
I managed to grab a sound sleep and woke up refreshed to a warm cup of tea served by a little boy. I asked him to buy me some essentials and he messed up, he ran to replace them and I laughed at his innocence as I asked him to keep the remaining money. He smiled and ran back. I knew the day started on a positive note.
I started hiking towards Chaka Peak which was highly recommended by the hotel staff a night before. It's a day long trek which starts from the stairs at the main market. It's advisable to hire a local/guide as the trail along the water stream, which you are supposed to follow strictly, disappears at time leaving you clueless how to proceed.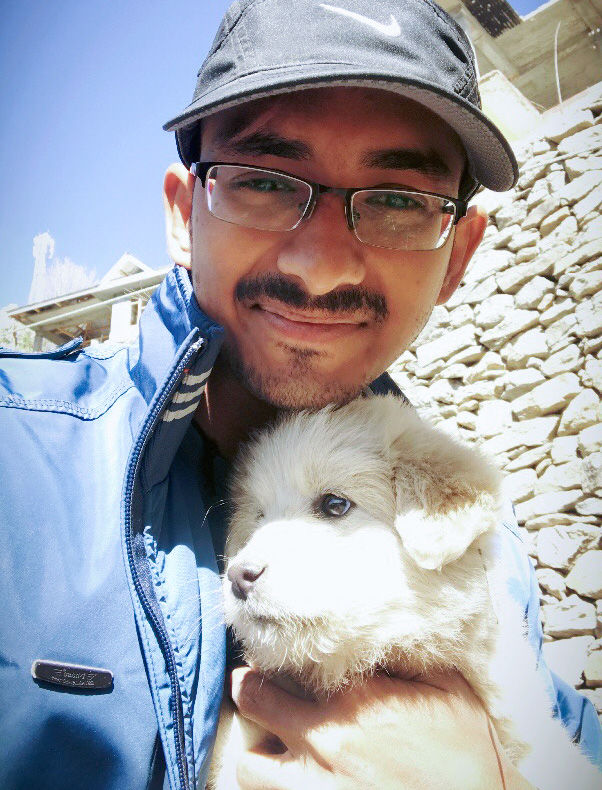 The trek is of moderate difficulty and I would advise a good pair of outdoor shoes. I kept following the stream but as the hike is mostly steep, I had to stop every half hour to catch my breath and grab a sip of the crystal clear water the valley had to offer.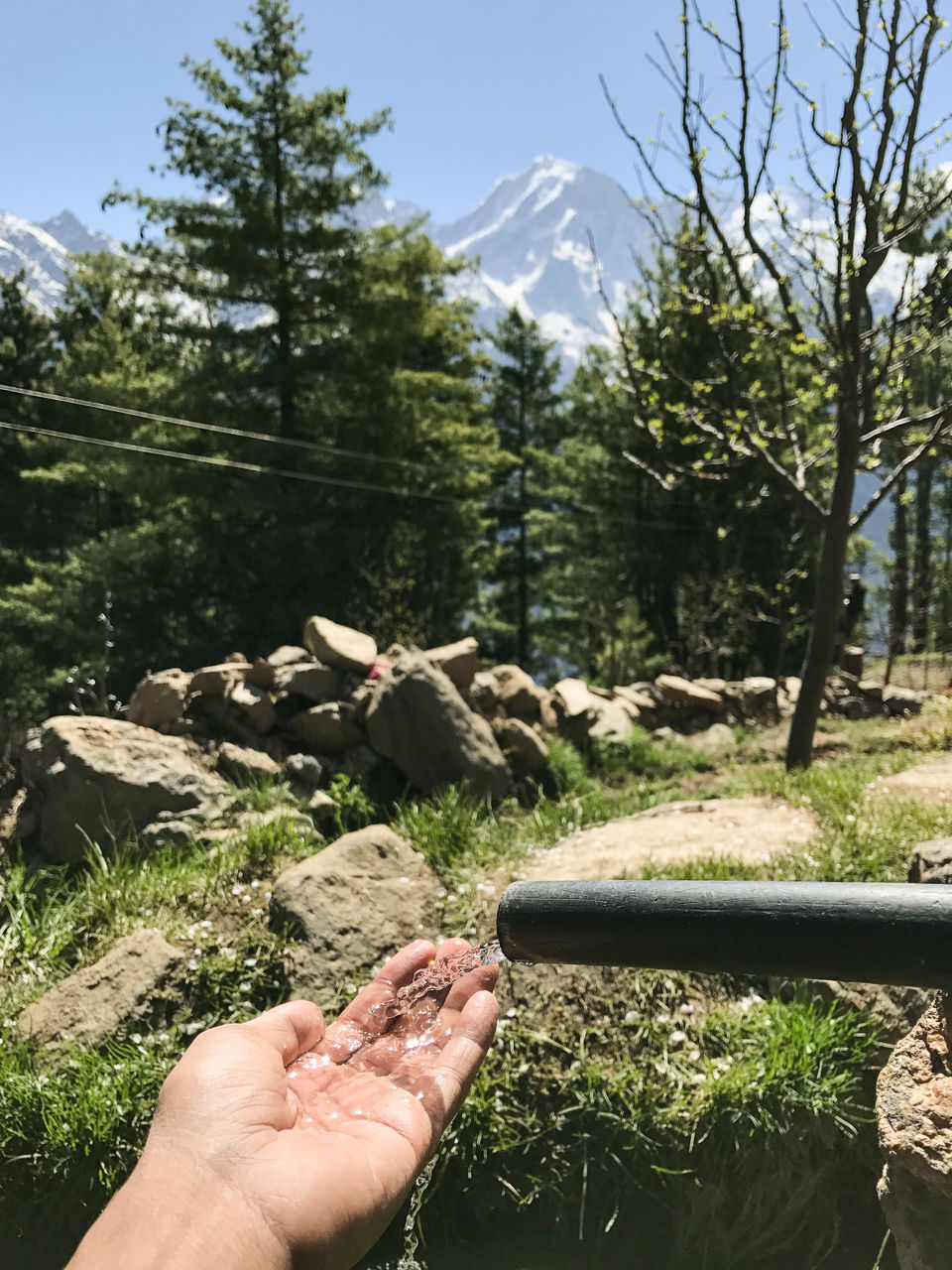 TIP: Dip your face in the icy cold stream and take a few gulps of water down your food pipe, if that doesn't help you ward off your deliverables, I doubt anything can.
The mini droplets of water dancing on the stream complimented the fluttering wings of numerous butterflies on the trail. I wished one of them would sit on me but even they found me repulsive.As you breath in the essence of the green woods, you know you missed it. The sound of your breathing gets overpowered by the constant chirping of birds and the hum of chilly mountain winds. It had been an hour and a half and I couldn't spot a single tourist on the hike, only locals who smiled and nodded as I passed them by.
One such local, offered to make me a cup of tea as I passed by the stream.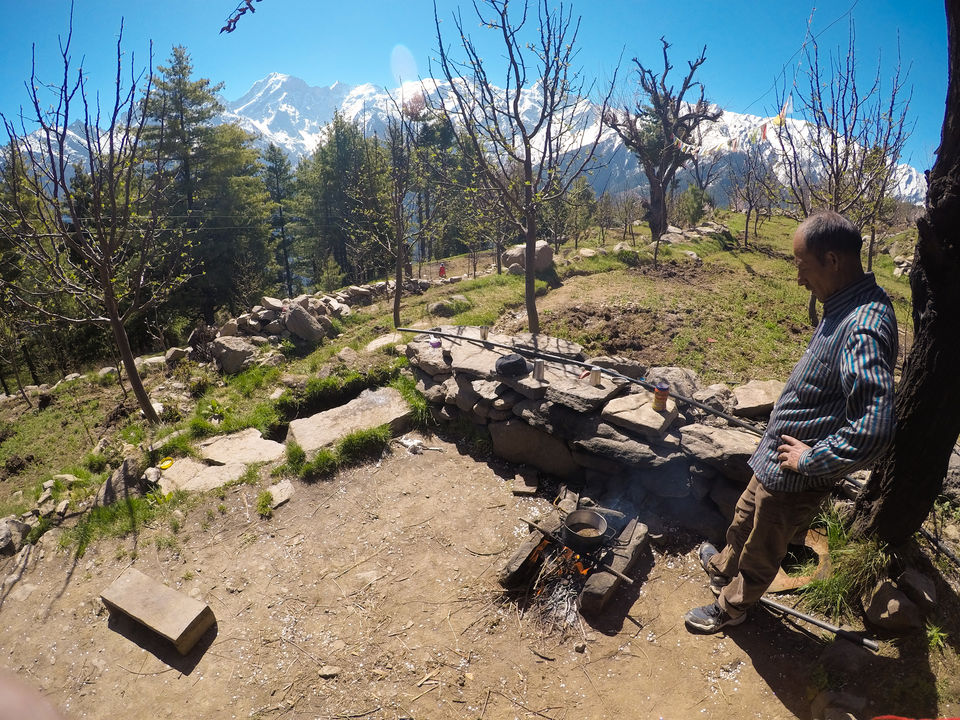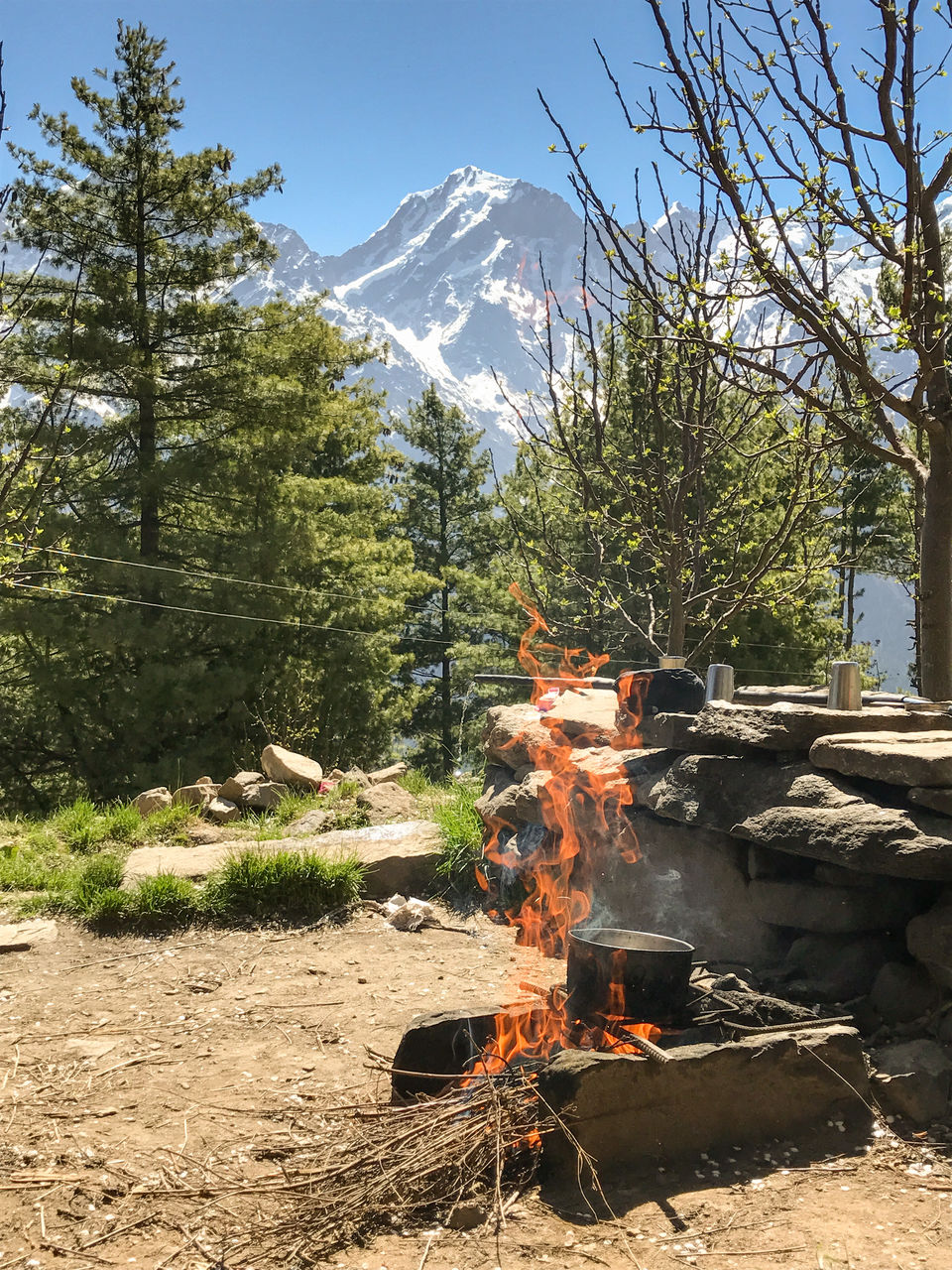 We conversed about how they grafted the apple trees for longevity. Apples are cultivated in this small village heavily and you can spot them quite easily. More on this subject as I take you deeper into the valley.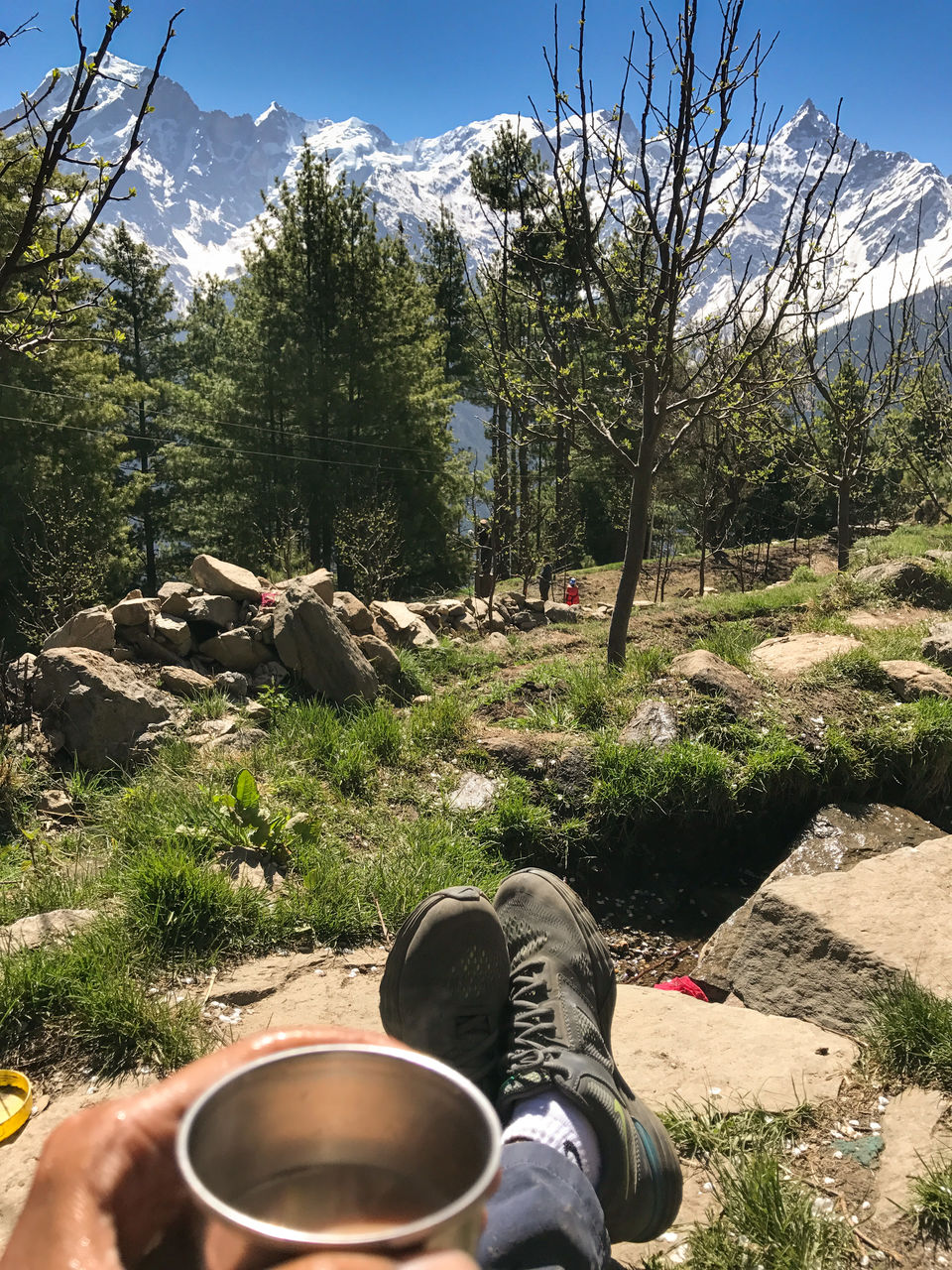 There is no dearth of fresh potable water in this town as it's blessed with a constant stream of water from a glacier above.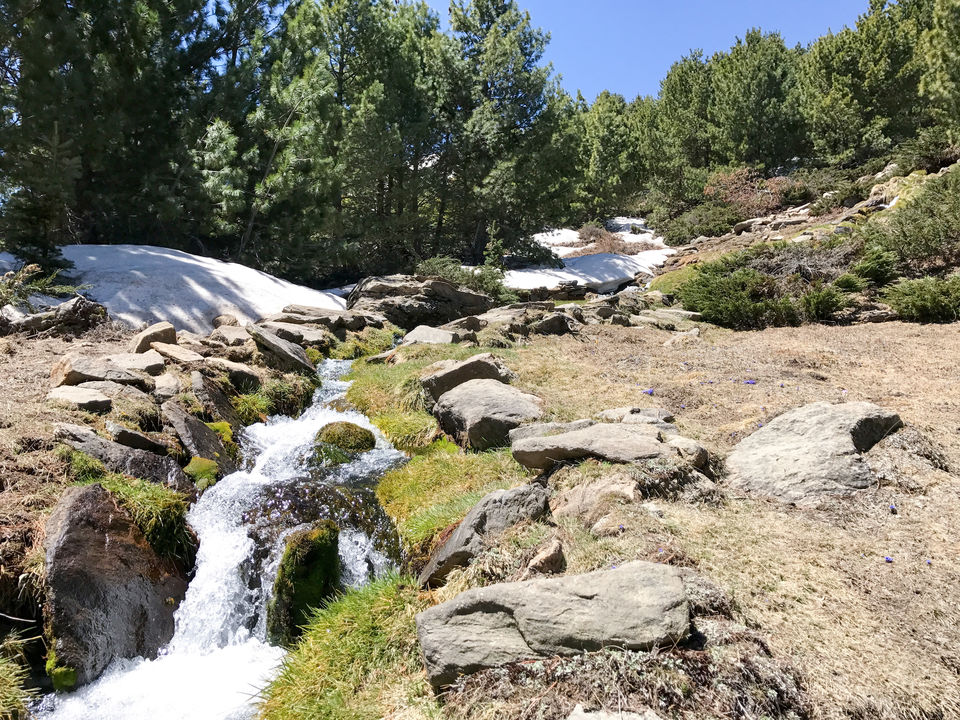 The hike is blessed with dense pine trees where you can sit with a nice book and a thermos full of your favorite hot beverage.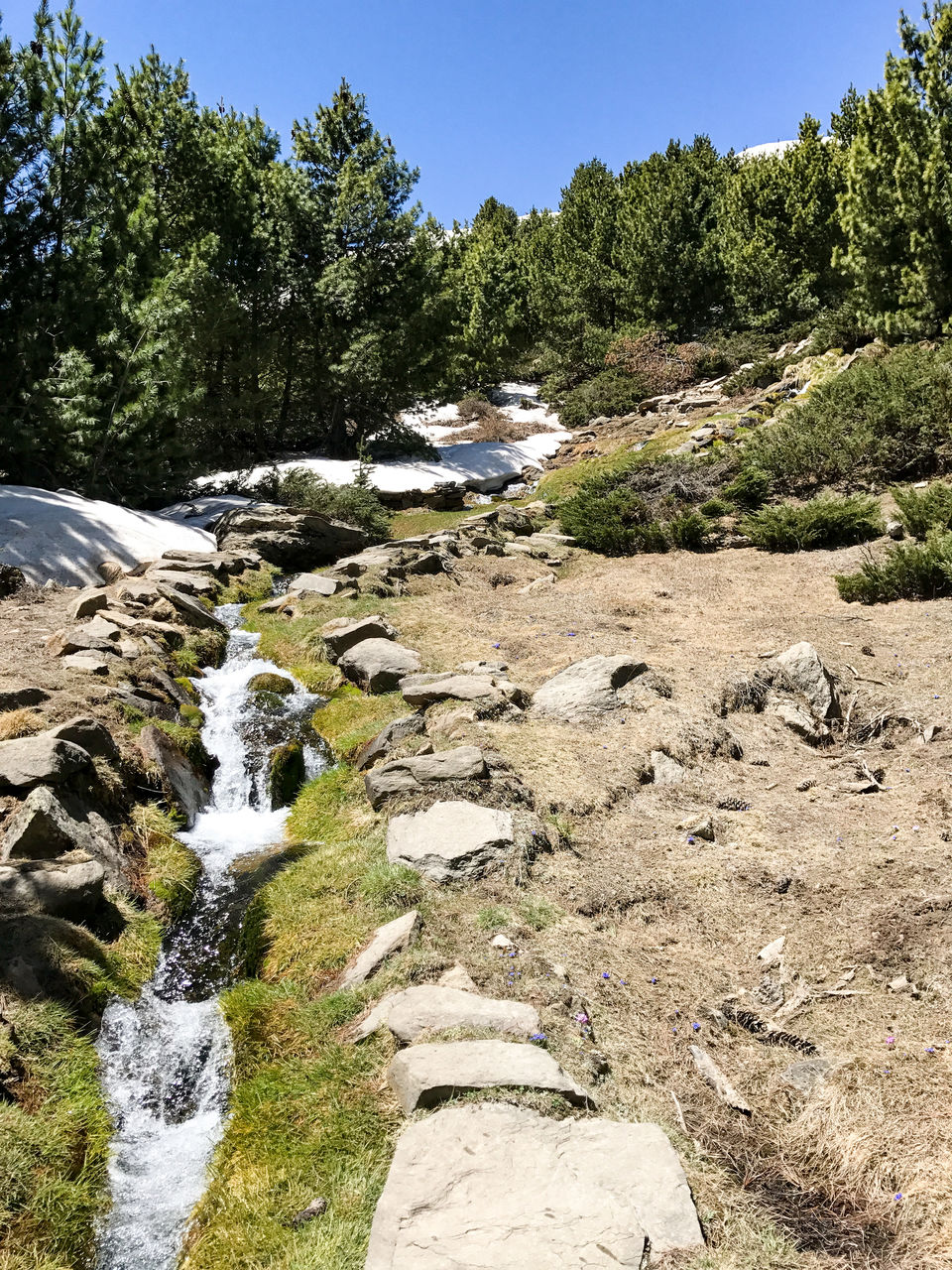 Soon after he left to lend a helping hand to his friend who was struggling to get things done. He smiled and asked for my leave. I knew he wasn't expecting any money for this kind gesture but I anyway put some money under my empty glass and bid him farewell from a distance.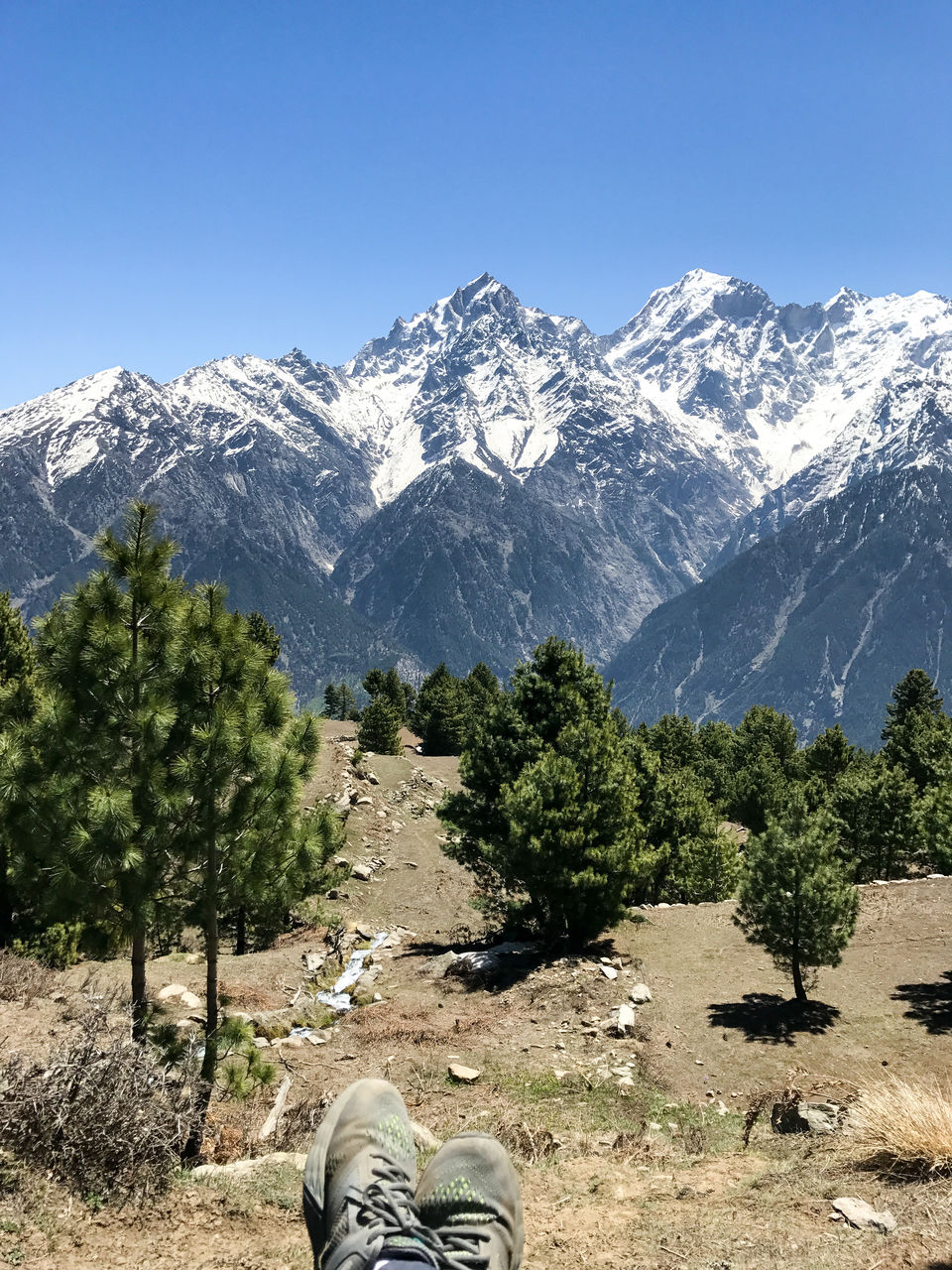 I thought of giving up many a times during this hike but grandma didn't raise a quitter. There'll be tougher treks to come and I'll die before I quit.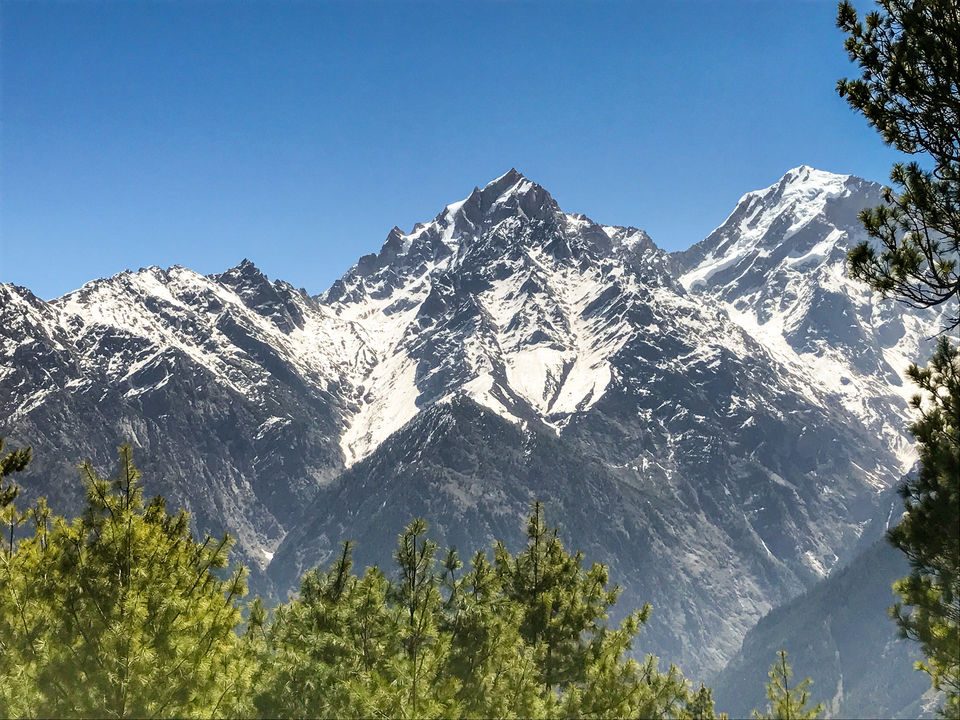 I tried to follow the stream and shortly reached the peak. As opposed to the pictures I've seen of this place, it hadn't snowed much there but the absence of human life made up for the stale snow.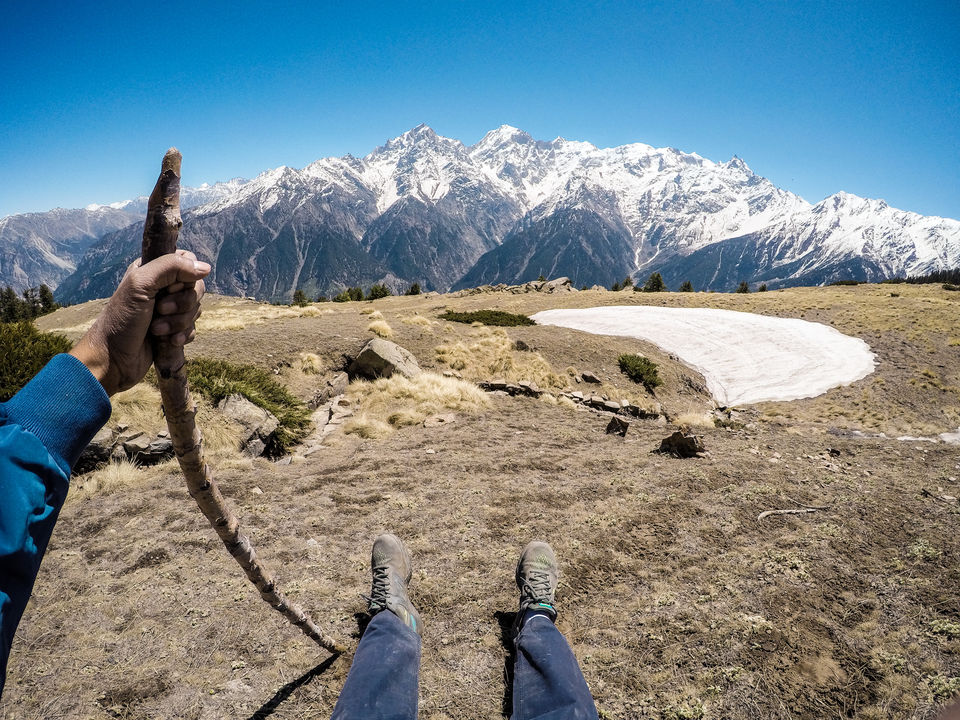 I played soft music and lay down on a cliff to stare at the grandeur of sparkling blue skies has always been a luxury for city-owned corporate rats like me.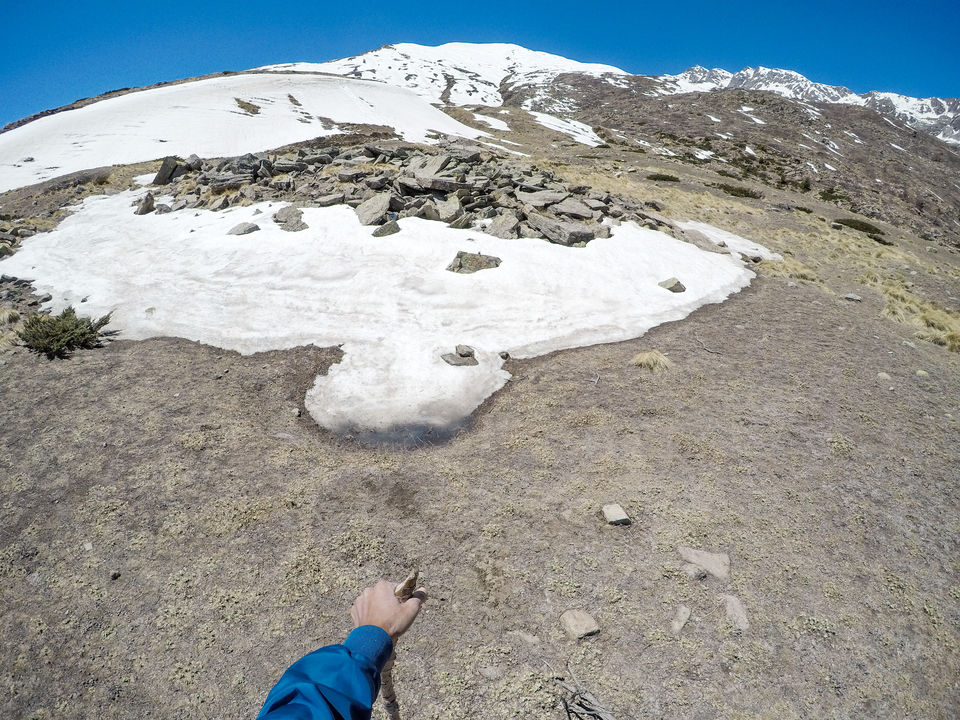 It took me more time to return to the town than it did while hiking upwards. I wandered through the gardens hosting apple trees as trespassers don't get shot here, they get welcomed with a cup of tea followed by a pleasant conversation.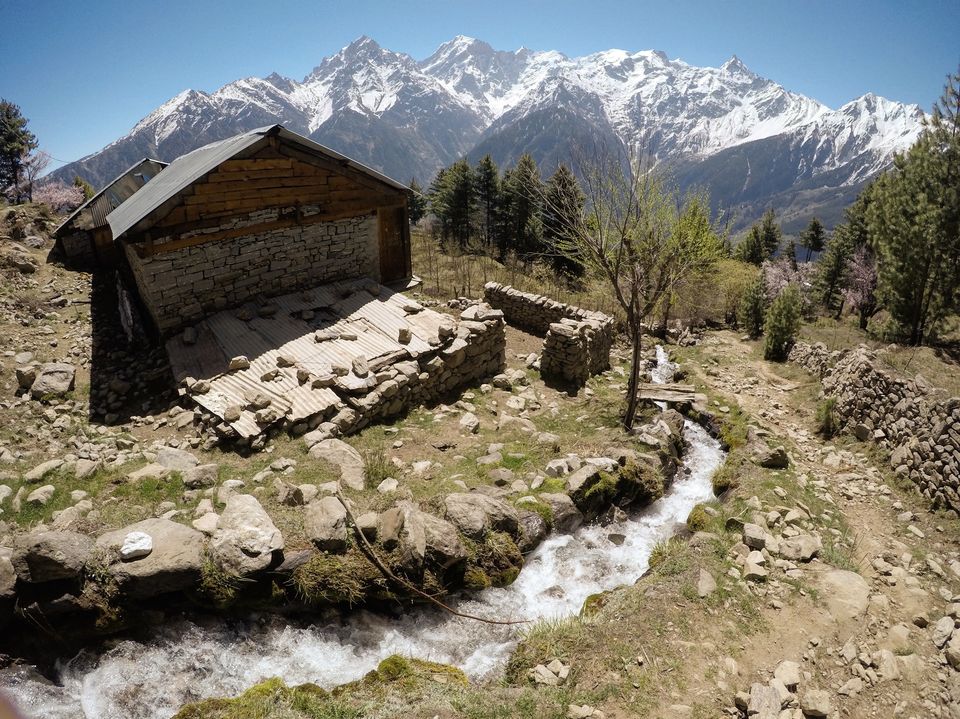 To my surprise(actually not) when I reached the ground level, I was stranded on the outskirts of the town almost half a kilometer away!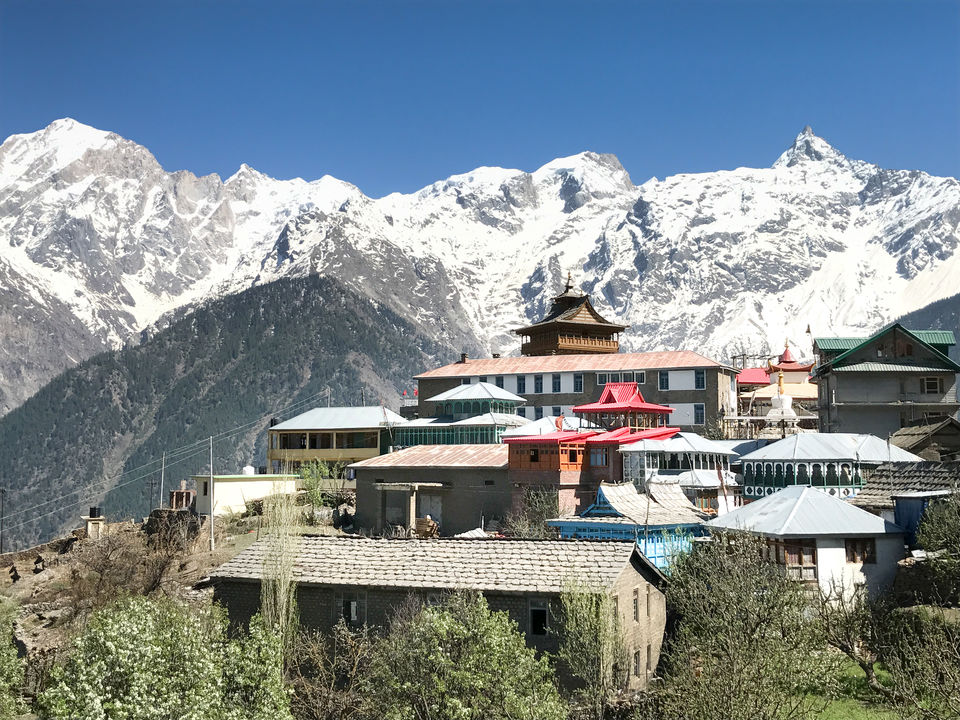 I don't cope well with horror movies or even stories. That being said, I don't want to witness it first hand to believe, I just do. Earlier today I was told a horror story which I safely tucked in a corner of my mind but the universe had different plans for me.
It was 11 PM and I was safely tucked in a couple blankets in my room. The placement of the dressing table with a huge mirror kept bugging me and every time the wind howled, every hair on my body shrieked in horror. To add to my misery, a cat started meowing just outside my door. I gathered some courage and opened the door only to see pitch black darkness and two shiny green eyes staring at me from a distance. I shooed it away and quickly ran to my bed. I wish this was the end to the series of strange events.
A couple minutes later someone knocked. I did not even request to ask who was it and carefully opened the door to find the hotel personnel holding a jar of water with a smile on his face. It was a huge relief to see a familiar face at that moment.
..
"Sir, agar raat ko pyaas lage." In case you get thirsty during the night, Sir.
..
I was moved by this small gesture of his as he must've noticed I had only picked one water bottle since morning.
Fortunately, the rest of the night was uneventful.
Day 4
Rakchham
I woke up 10 minutes before my alarm rang to freshen up with a chai. Oh the sweet mornings in the lap of nature, crisp mountain air capable of making you forget every single worry in the world. When its chilly outside and you still refrain from putting on a sweater because you want to be uncomfortable. Nobody remembers pleasant moments.
"Remember the time when we hugged warm water bottles to sleep in a chilly night at Diskit"
Deadlines can wait, meetings can be rescheduled; bills can be paid later; that giant TV can wait, stealing some moments for yourself - can't.
A 4 hour long journey to Rakchham was due today and I requested for a quick breakfast to which they gladly obliged. I boarded a bus to Reckong Peo from where I caught a bus to Chitkul and requested the conductor to drop me at Rakchham.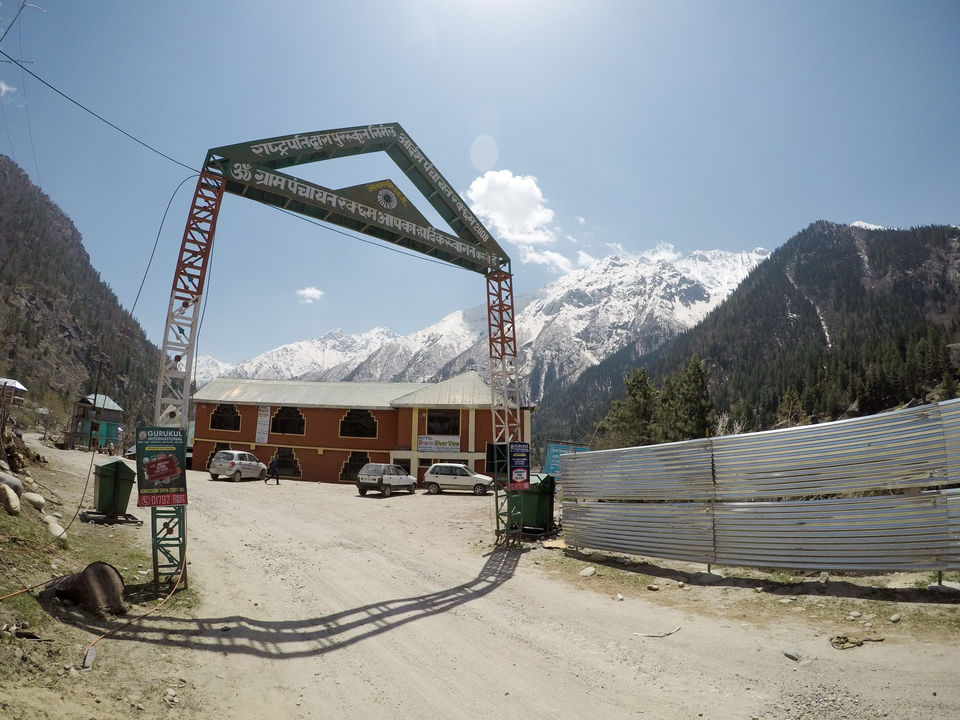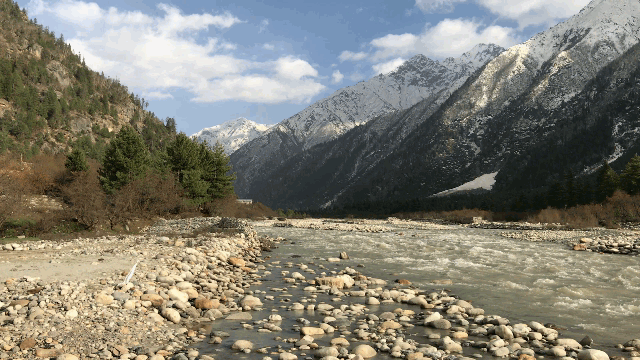 My neighbor for the next 4 hours was a local with a 5 years old in his lap. The kid was well mannered and didn't give his seemingly exhausted dad a hard time. The conductor shortly reached out seat and he handed a couple 100 INR notes to him.
..
Conductor: "Sorry, this note won't work, it's soiled.
Local: "I'm sorry I just have this other 10 Rupee note with me."
He tried to scrounge his pockets but then looked at the conductor helplessly.
Local: "When I de board at Rakcham, I'll pay you."
Conductor: "How will you pay when you get there? It's a very small halt."
..
I immediately swapped his note with mine and I could see the gratitude in his eyes. It doesn't change the world or it's a major favor, but in my eyes it does restores his faith in society without which it'd be chaos.
"Everything's not lost. ~Coldplay"
I passed Karcham Dam which was fortified like a military base.
The road to Chitkul is not for the faint hearted, in fact most of the roads in Kinnaur are too narrow to make your heart jump every time your vehicle takes a turn.
The bus stopped briefly at Sangla and I couldn't help but smile when I saw sacks labeled Indian Post being unloaded from our HRTC bus. India never ceases to amaze you, the village life in the mountains even more so.
I had a cup of tea at a small shop and like deja vu, he asked me all about my solo travel and exchanged surprised looks. As he opened the cash drawer to return the change I saw a currency I had not seen before. He gladly let me keep the Bhutanese 1 Rupee and I forcibly paid him the conversion.
The smiling faces of Kinnauri women in their Kullu caps, as they waved to stop the bus are one of the finest memories etched in my memory. Life isn't easy in this Valley and looking around me I could see they are doing a fine job - be it raising a kid or making a house into a home.
Time and again we used to get stuck due to an incoming vehicle and the expert maneuvering of the driver took us out of a jam in a jiffy, making it look like a child's play. The bus made its way through the labyrinth of mountains like a crocodile through the endless papyrus jungles in the Nile river, effortlessly.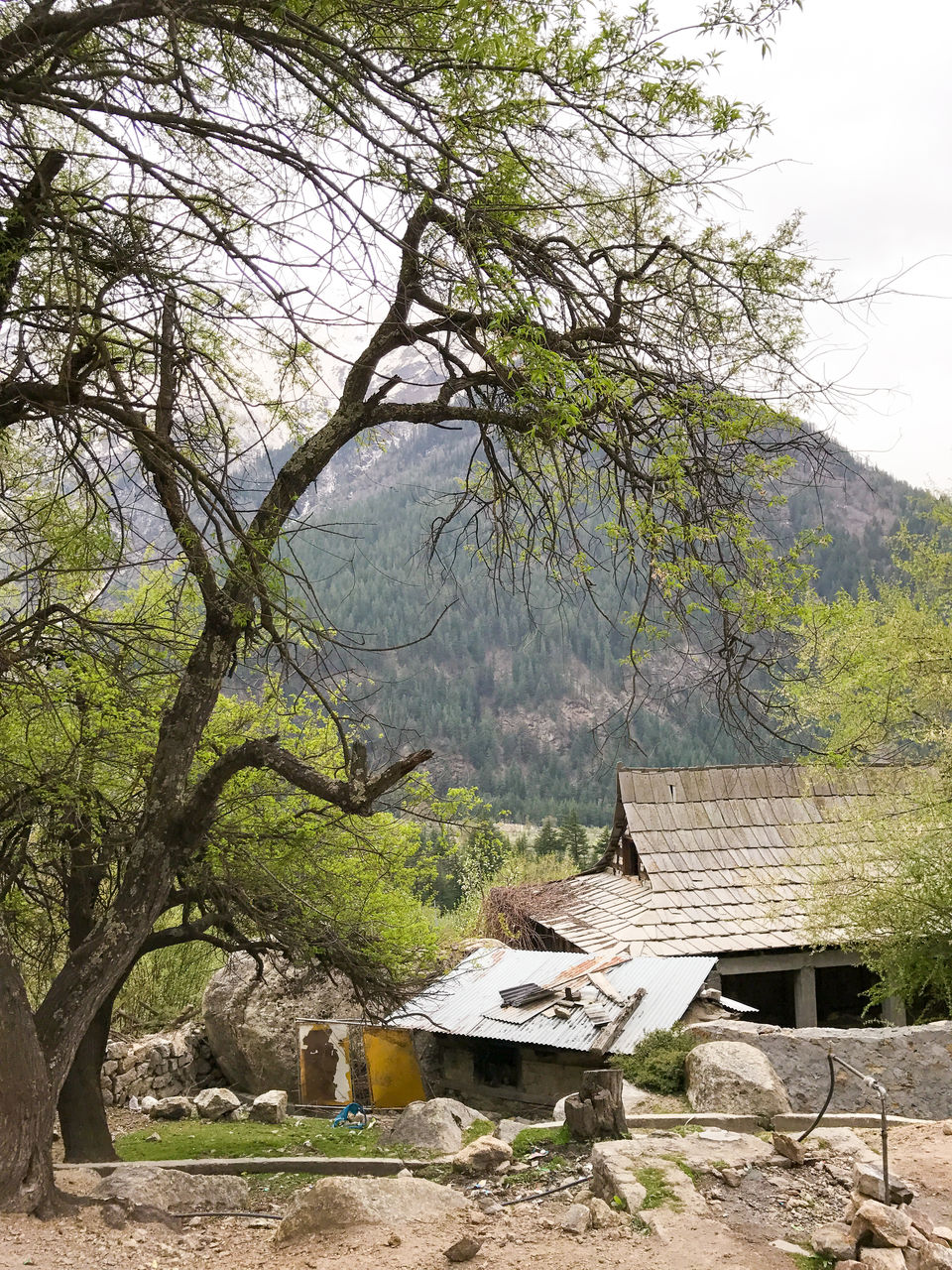 The charm of a place like Rakcham is that there's absolutely nothing to do. Even the most mundane of tasks can be done at your own pace. I took an entire hour eating my beloved plate of Rajmah-Rice looking out the window lost in my own thoughts, only to be interrupted by the noisy Baspa River which overlooked this small but picturesque village.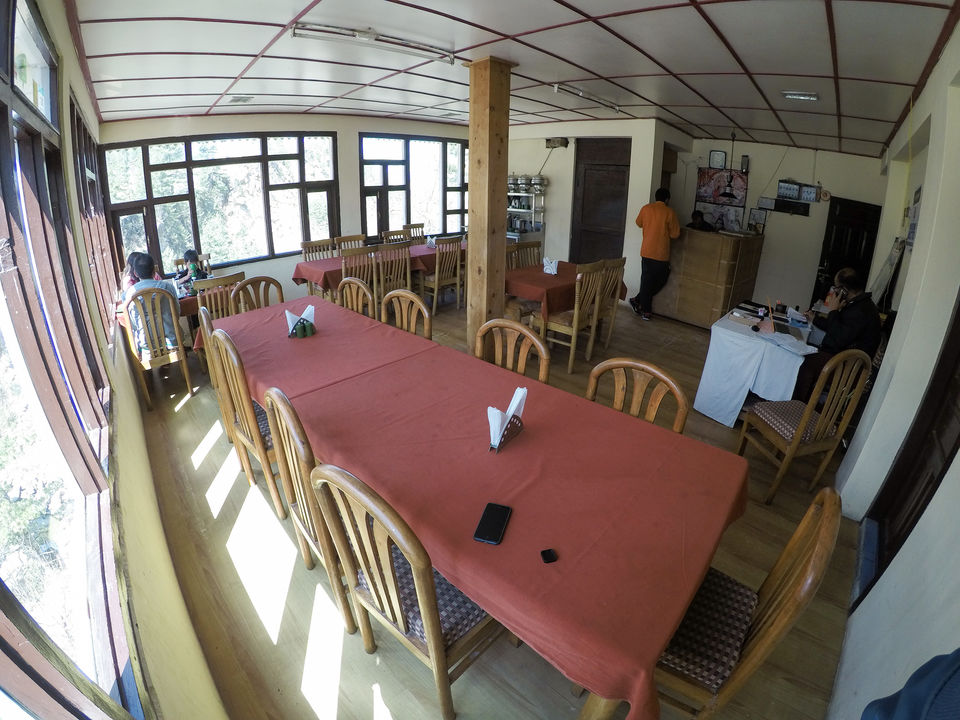 The sun constantly played hide and seek with the mountains and the birds soared high and low. This place reminded me of my time in Diskit only this time I did not have the fortune of staying with a pleasant family eating home made bread waiting for the evening to strike when we would light up a bonfire and gaze at the stars for hours.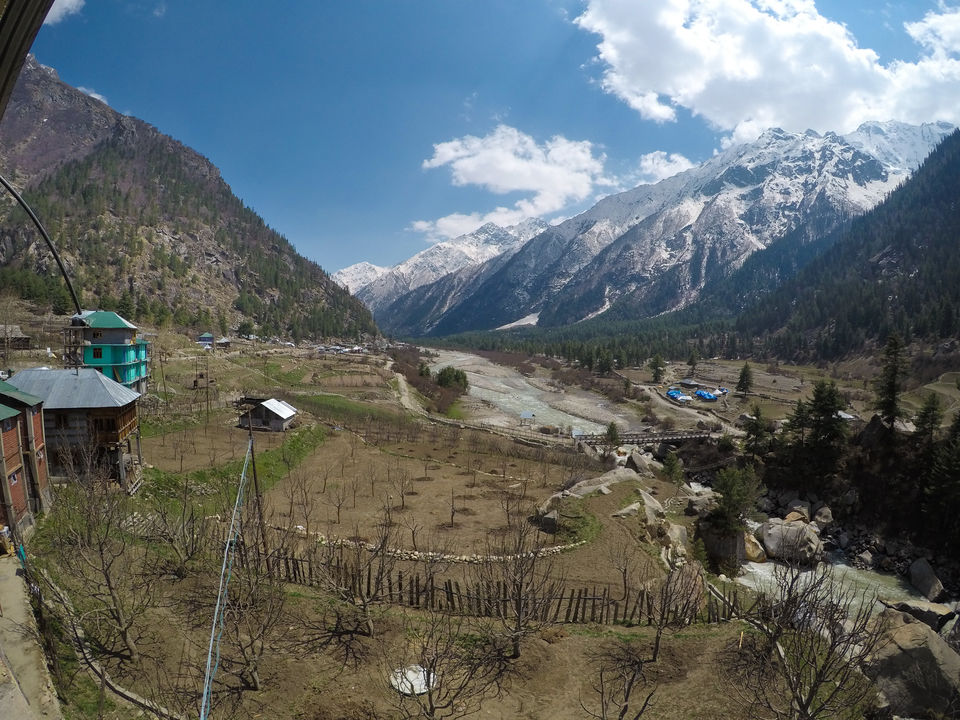 Electricity went out shortly after I finished watching Animal Planet's 'Bites' where in the topic for today was - Rat Love Making Marathon. It was funny yet educational in its own way.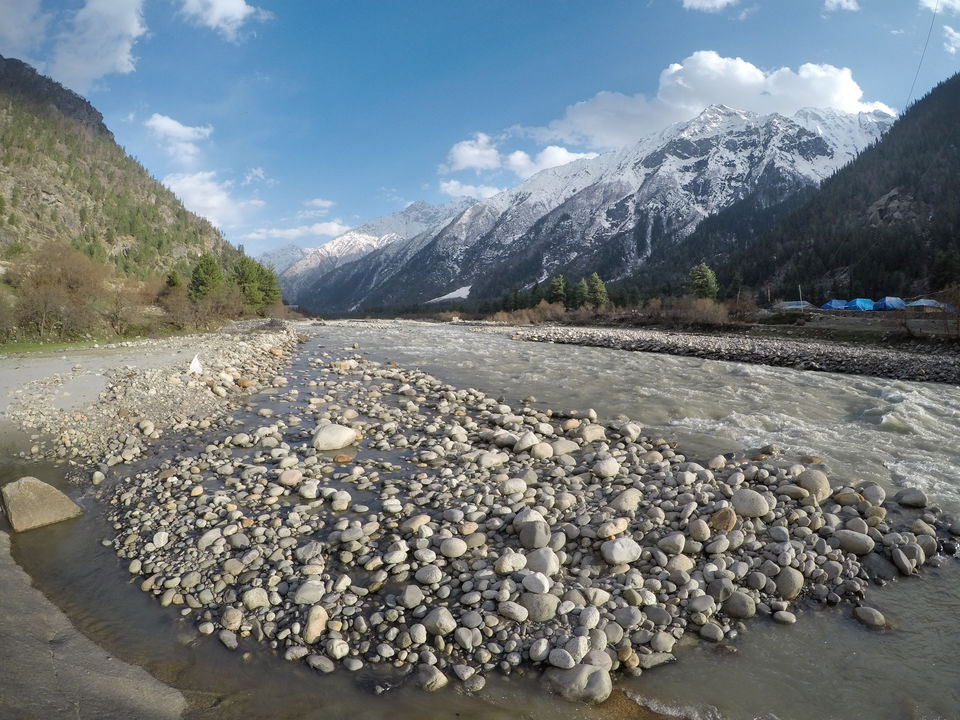 I walked the entire length of the village and wished to dip my feet in the chilled Baspa River. But as soon as I put both my hands in the river, I knew I'd lose my feet if I followed through with my original thought.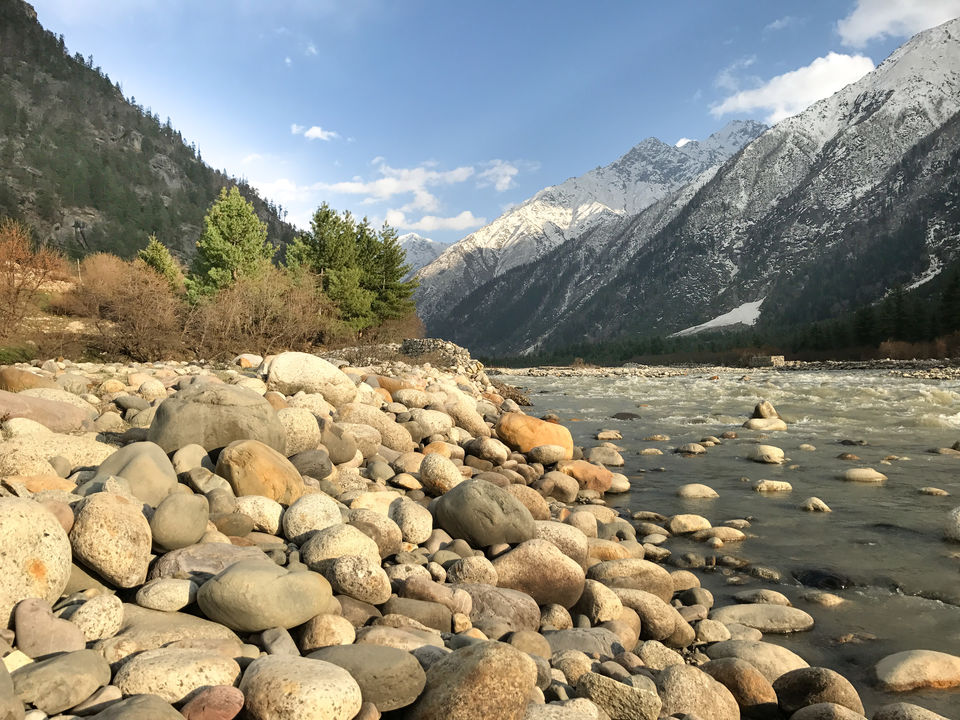 Rakchham melted my heart in many ways. Local dogs in these areas have fur in abundance and can work as blankets in case you run out of one. Be it this doggo who put his paws on me as a signal to rub his belly after which he drifted off to sleep.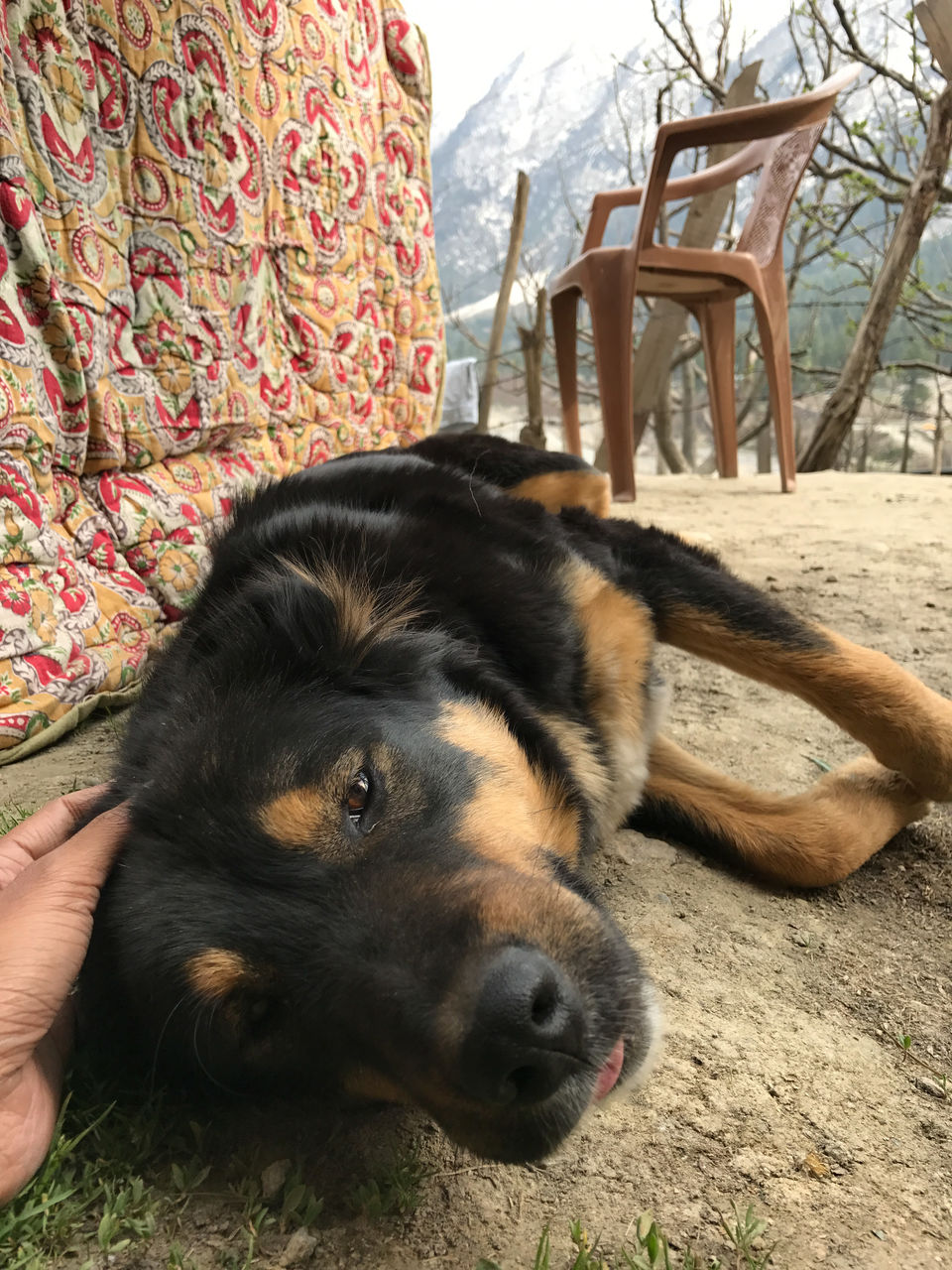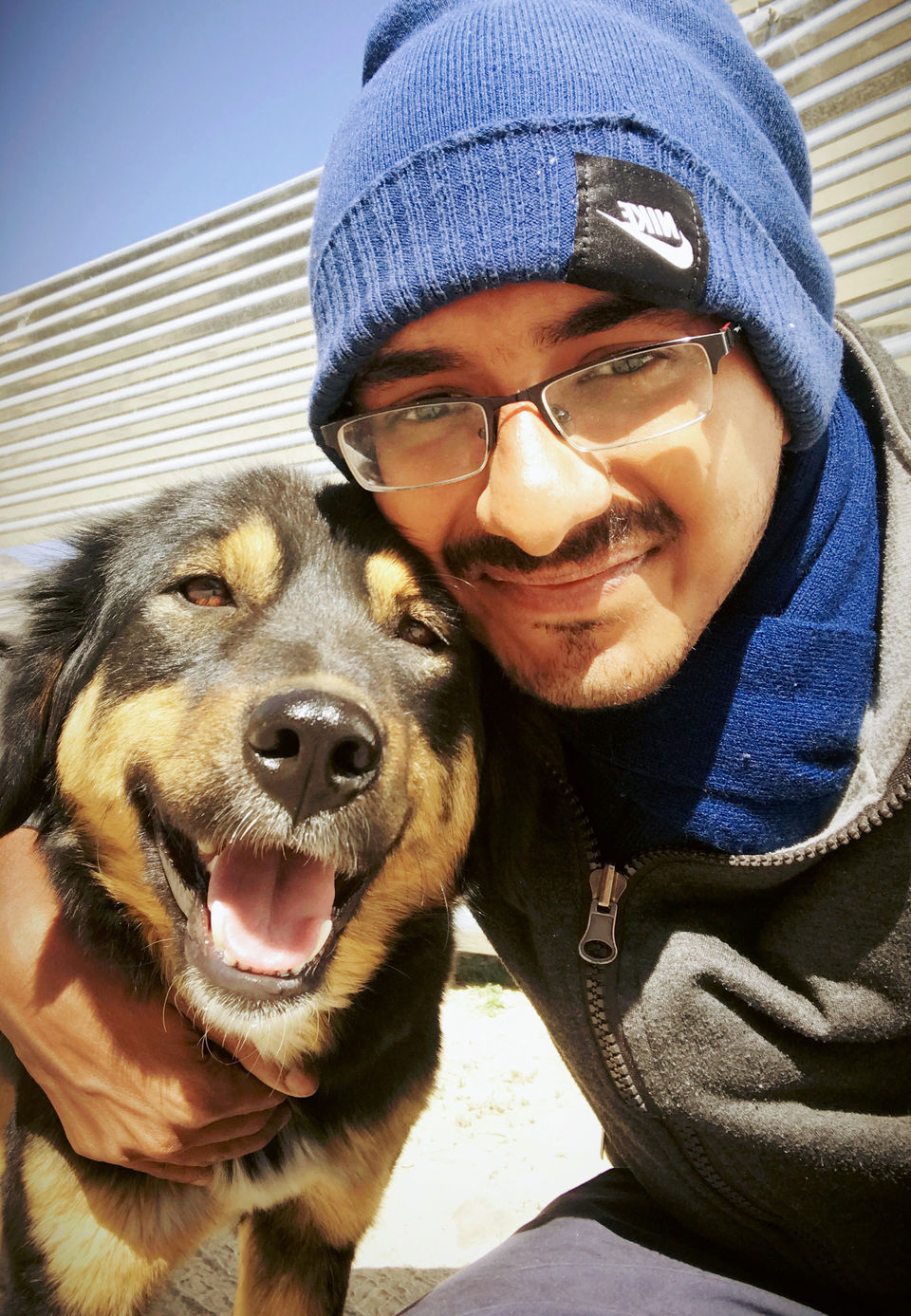 Or the inquisitive toddler who came near me and stared for a while with a million questions in his mind.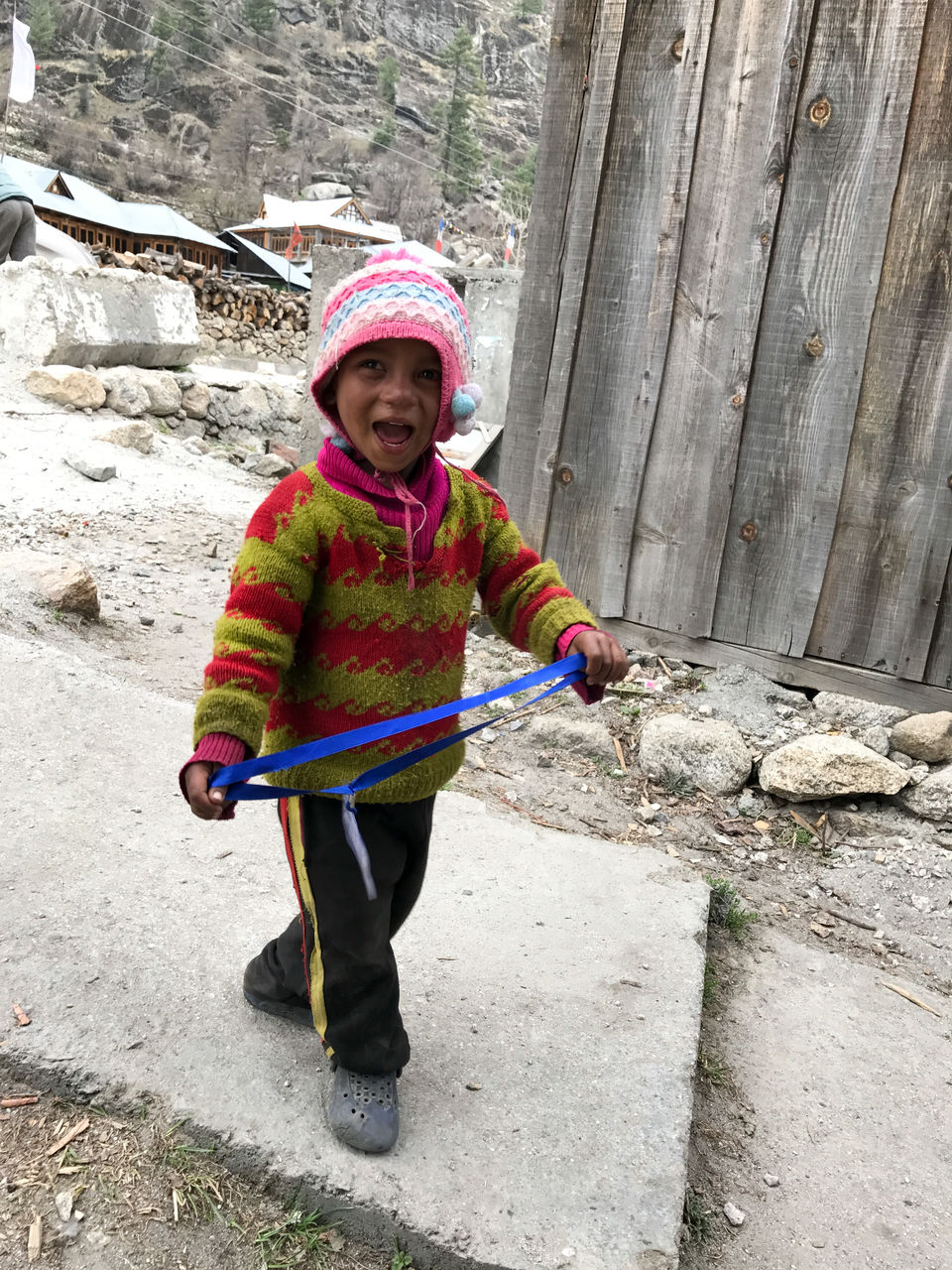 As I waved to him, he passed a smile and off he want frolicking.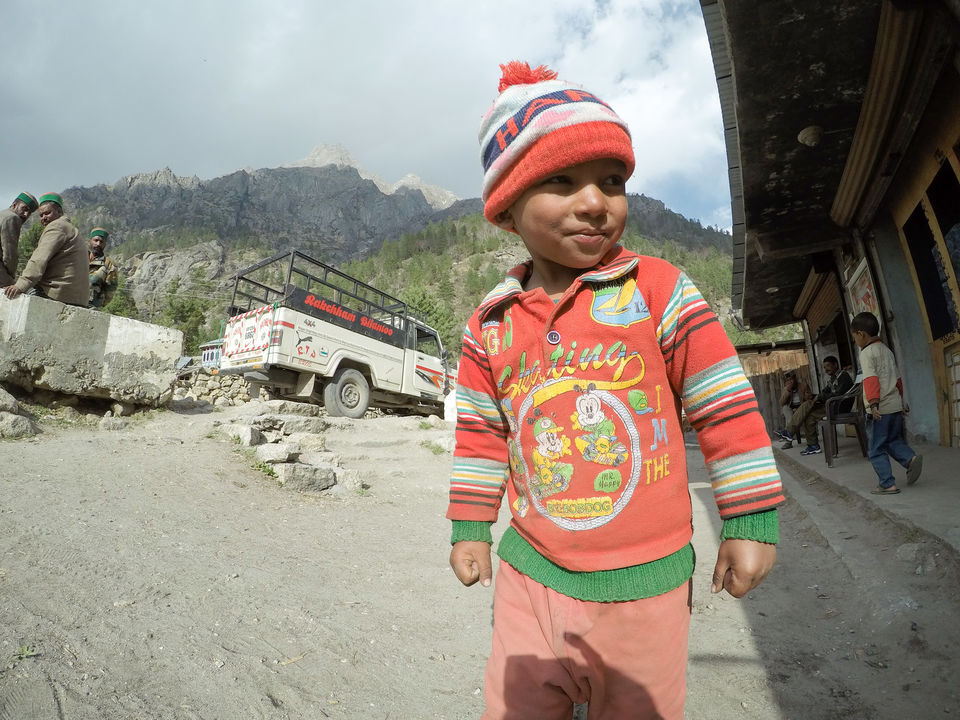 I passed by a couple of general stores but I felt pulled towards one which was comparatively smaller. I asked the owner if I could get a cup of tea. His eyes lit up and in the most humble of tones, he offered me a chair and requested me to wait. He slowly emerged from the adjacent room with a decorative cup brimming with tea. You remember the kind of cups our mothers used to take out for our guests? That one.
Thank you for the tea.
"Was it OK?"
Oh no, it wasn't just OK, it was really great.
"I wanted to say one thing, if you don't mind."
Yes please?
"People from Gujarat are very humble and good. We feel really good when you come and visit us."
Oh is that so? I'm grateful.
"If you wish to have dinner, I have a small restaurant and you can come drop by later today."
It would be my honor. Any chance I can get kadi-chawal?
"Why not, we'll prepare it in our own way for you specially."
That sounds wonderful! I'll see you at 8.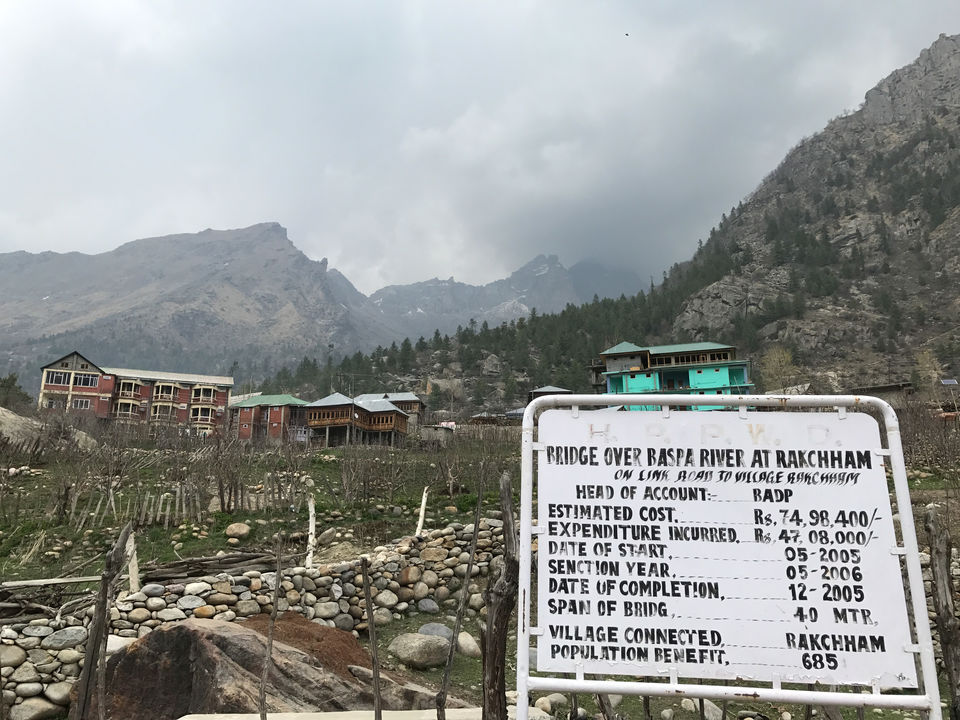 After spending some time on the small bridge this village possessed I could see the weather turning ominous. I asked my hotel staff if this was an indication of snow but alas, it wasn't.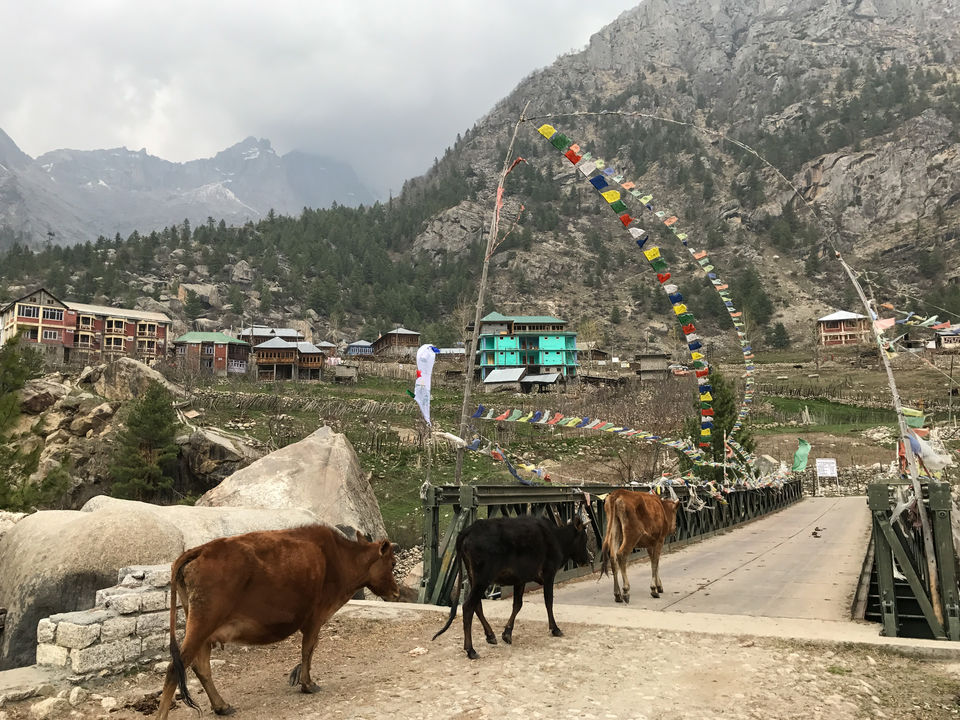 The small dhaba had 3 tables out of which one was occupied by my host's two brothers. They sparked a conversation as soon as I entered.
"You should come here during August/September when the valley is painted green by the flora and red by our signature apples."
Sure, I am so grateful for your warm welcome and the only place that trumps your beautiful little village is Diskit in Ladakh.
"Yes, but you know it's a cold arid desert, right?"
You got me there.
"The apples we grow here, if you hit them on somebody's head I can assure you apple won't feel a thing but I cannot guarantee the safety of that person."
Ahaha! I'll keep that in mind next time I'm in a quarrel with somebody.
All the kadi-chawal I've eaten my entire life has gone to my tummy, but this one went straight to my heart.
Devoid of Internet I scribbled in my notebook and shortly fell asleep excited for my visit to Chitkul.
Day 5 - Chitkul was calling and I shouldn't have picked up.
Chitkul
If you're warm enough in a place this chilly weather even a 5-6 hours of sleep will do you wonders. Also the non existent notifications due to lack of signal only complements the connection you'll feel with your surroundings.
I requested the waiter for a tea in a glass of steel as a force of habit. I struck a conversation with a driver.
Are you a local, Sir?
"No, I'm from Shimla."
Ah, you are a local to me.
"Haha! Yes."
I am wonder-stuck by the love and care Kinnauri people provide to the apple trees.
"Oh yes, these trees need more care than a baby. They need regular grafting to keep them in shape. The irregular branches are cut so that the tree doesn't fall in places. They have special fertilizers."
I see. So I believe all the apples get exported?
"Yes, reason being the influx of many big companies. They buy entire gardens and the owners get a good price, everyone is happy. During August-September the apples get ripe and changes the vista of this place completely."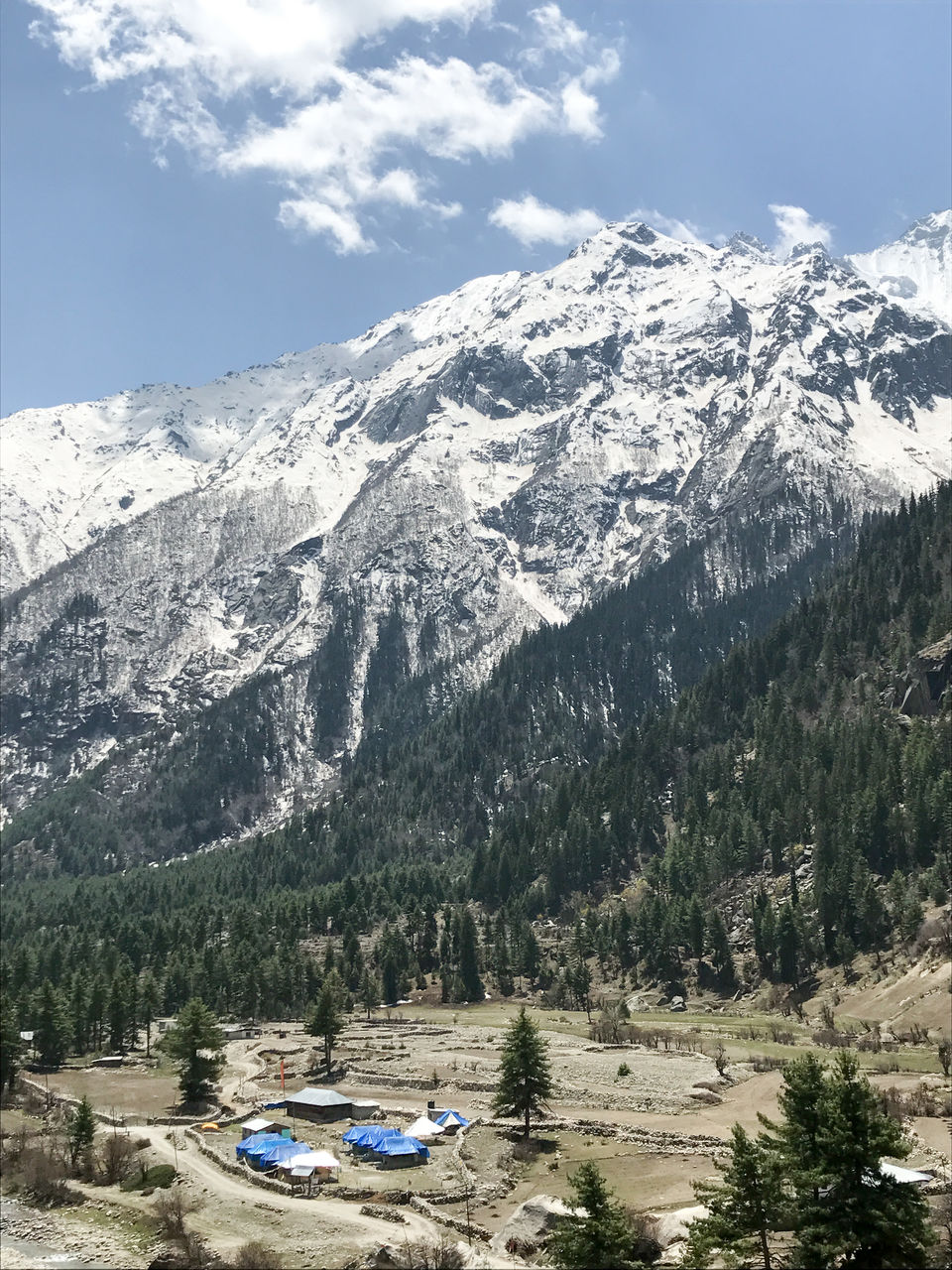 The bus to Chitkul departs from Sangla and reaches Rakchham at 1:00 - 1:30 PM. I waited for the bus for an hour to ensure I don't miss to make the most of my time in the last inhabited village of India.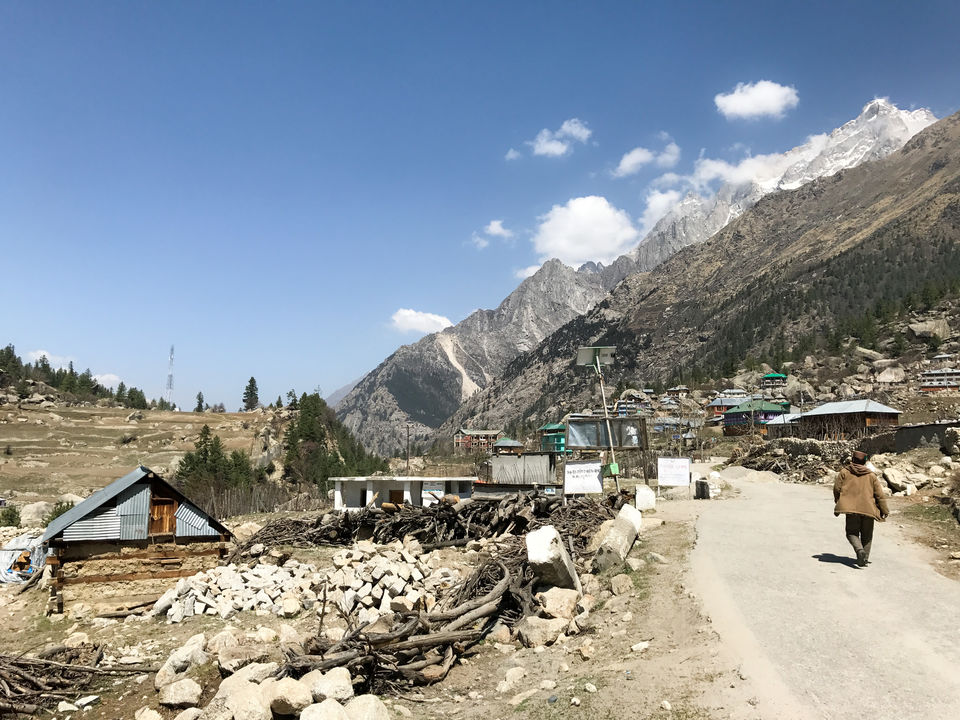 I waited for the bust at -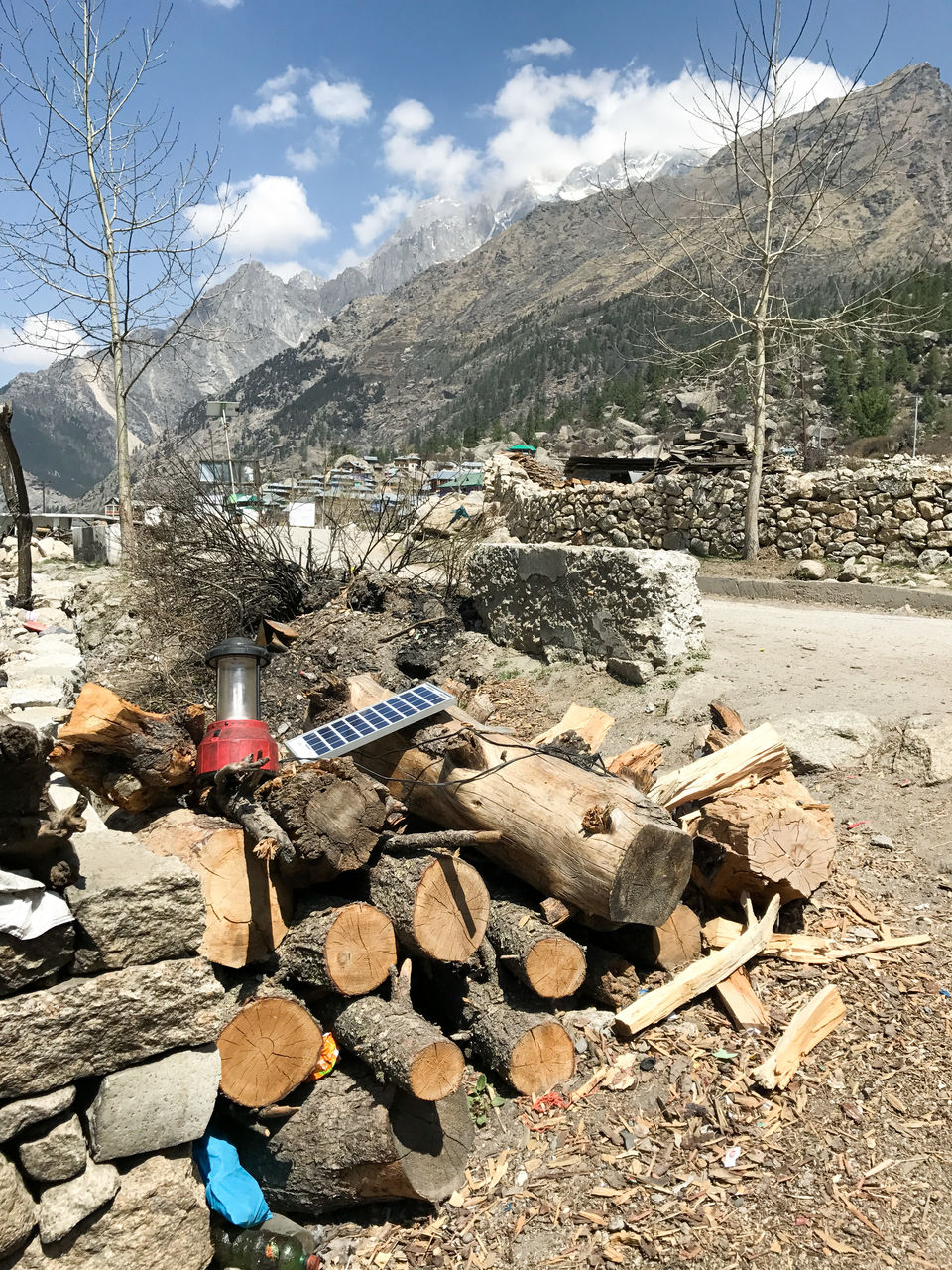 Chitkul lived up to my expectations. The place was indeed being taken over by concrete buildings and tin roofs commemorating commercialization. But it couldn't overshadow the pristine beauty that the last village of India had to offer. I spent the two hours in this village walking the narrow streets full of wooden houses on both sides, locals busy in their day-to-day work as they observed tourists passing them by.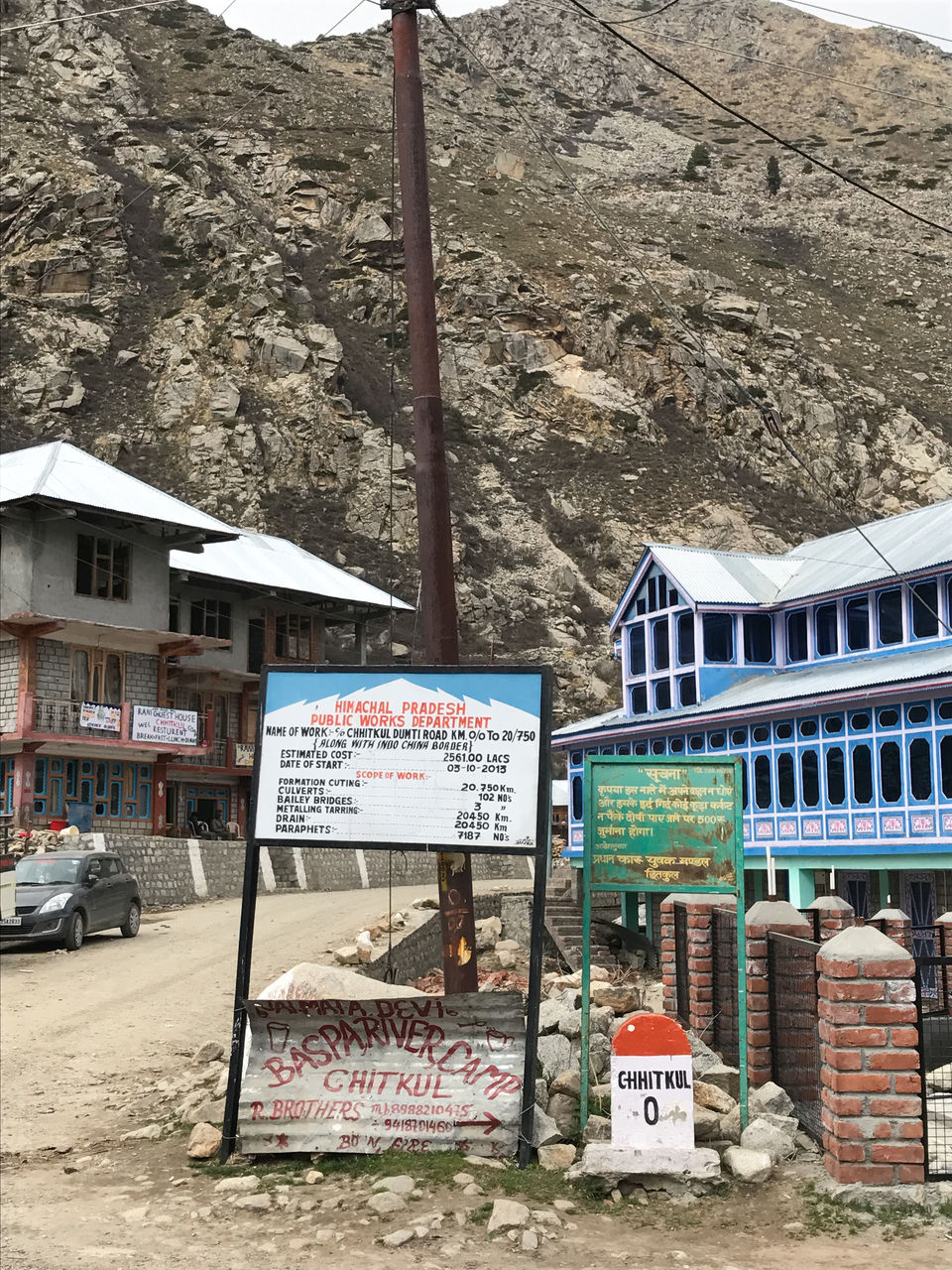 As you wander further down the road, you'll reach the banks of Baspa.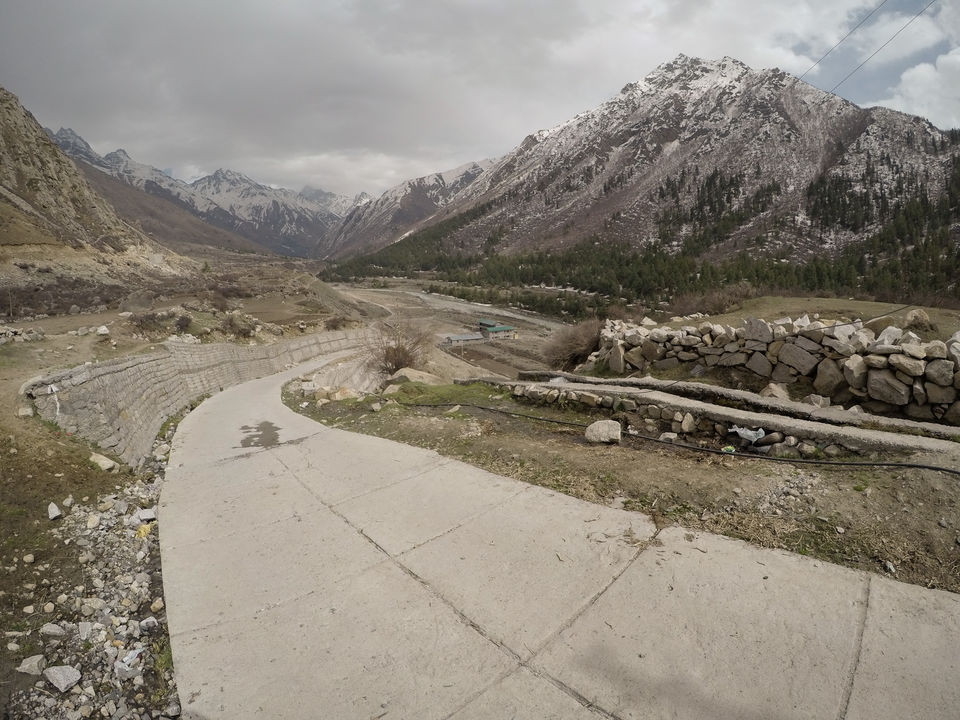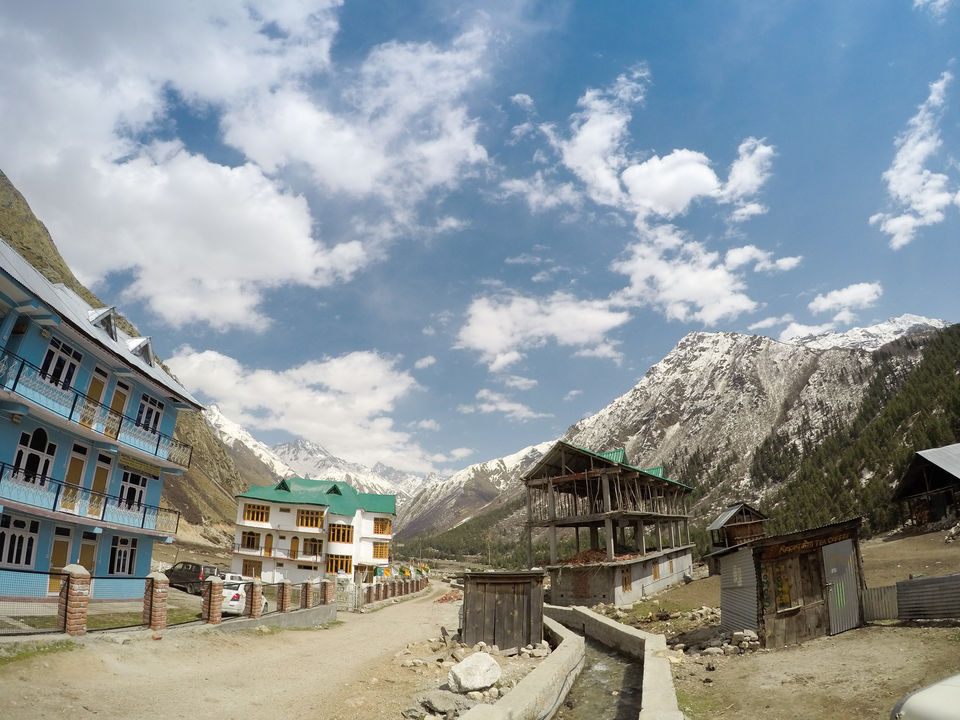 The atmosphere was pleasant by the abundant sunshine as it radiated off the snow that had trickled down the mountain towards the Baspa River which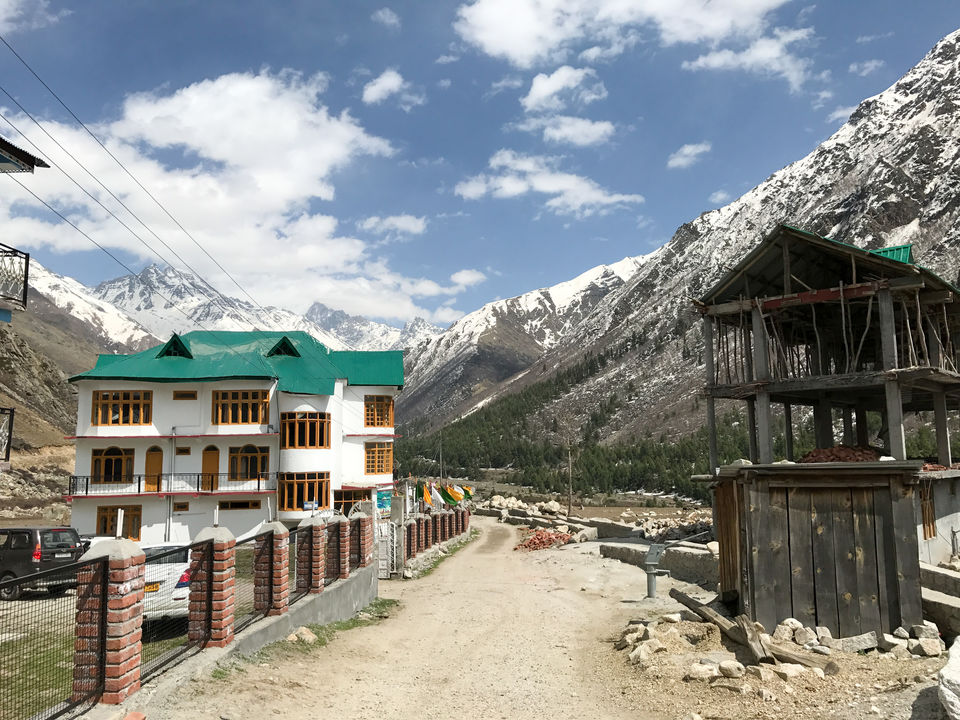 There's a temple at Chitkul which was swarming by Bengalis when I entered the premises.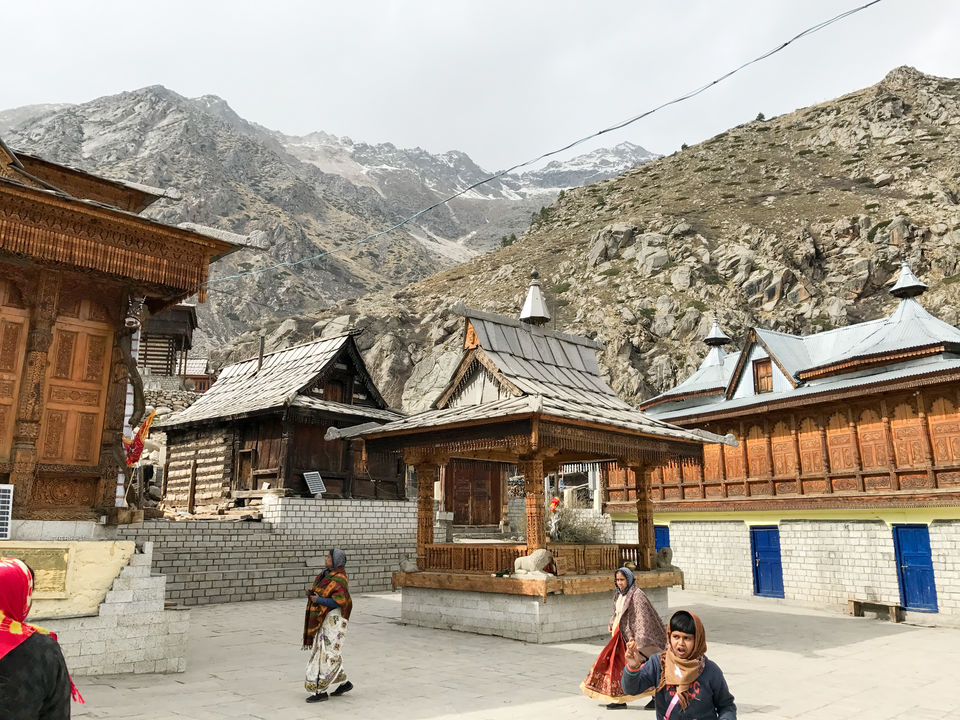 As I was making my way towards the bus stop, I saw a small school and couldn't help but stand on my toes to get a glimpse of little kids giggling at the sight of pesky tourists, in this case - me. I tiptoed into the school as the door was half open. Nostalgia hit me into the guts as I stepped and a teacher smiled at me.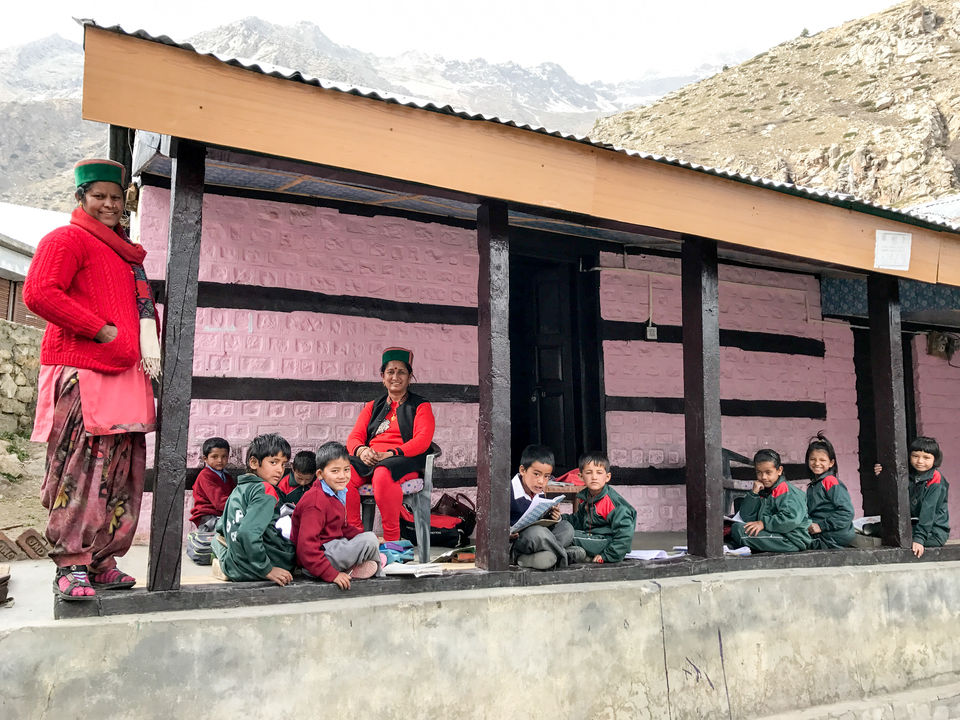 I am sure you must've stared out the window endlessly during a boring class only to be interrupted by a chalk piece flying towards you.
How does your view fare against what these kids have?
"Ma'am can I quickly go take a sip from the stream down below? I'm really thirsty." How did your RO+Triple UV water tasted like?
I struck up a conversation with the teacher who is seated in the picture.
..
Can I take a picture?
"Only if you send me a copy."
I will make sure you receive a copy.
"Everyone says they will, but eventually forget."
I promise I won't disappoint you, ma'am!
..
She scribbled the address on a piece of paper and handed it to me. I intended to keep this promise.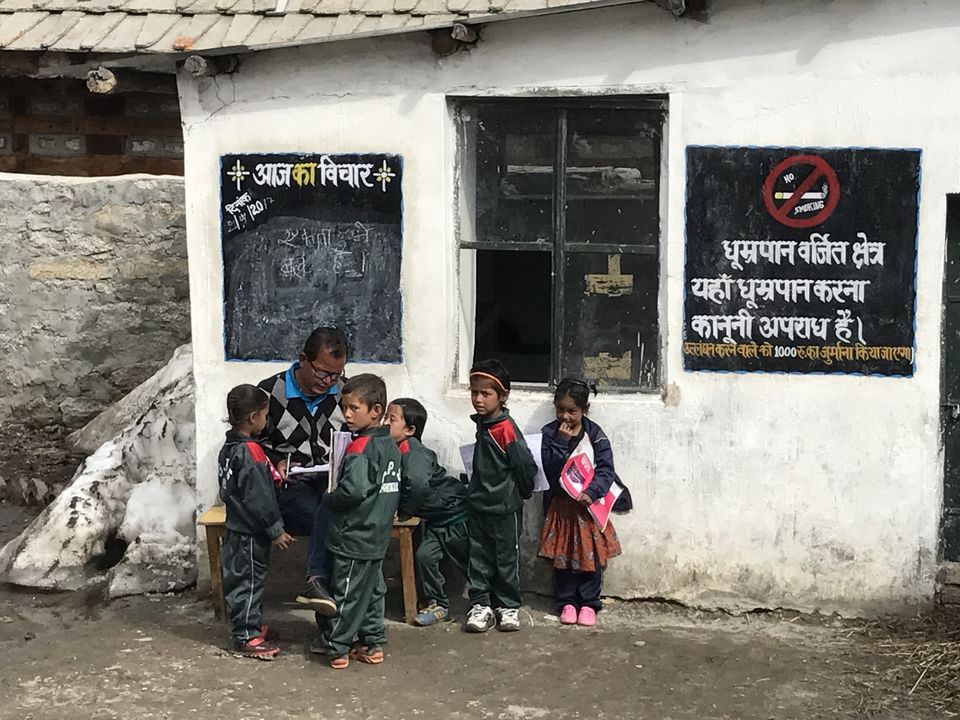 This is what my idea of travel has become, drink ample amounts of tea and scrounge for unique experiences so that when you look back, you won't be reminded by the famous temple you saw or how comfortable your hotel stay was but by the lives you touched.
I didn't intend to spend a night here as much as I wanted to so time was of the essence. One of the many reasons this visit to Chitkul will be memorable would be this guy I met during my bus ride to this village.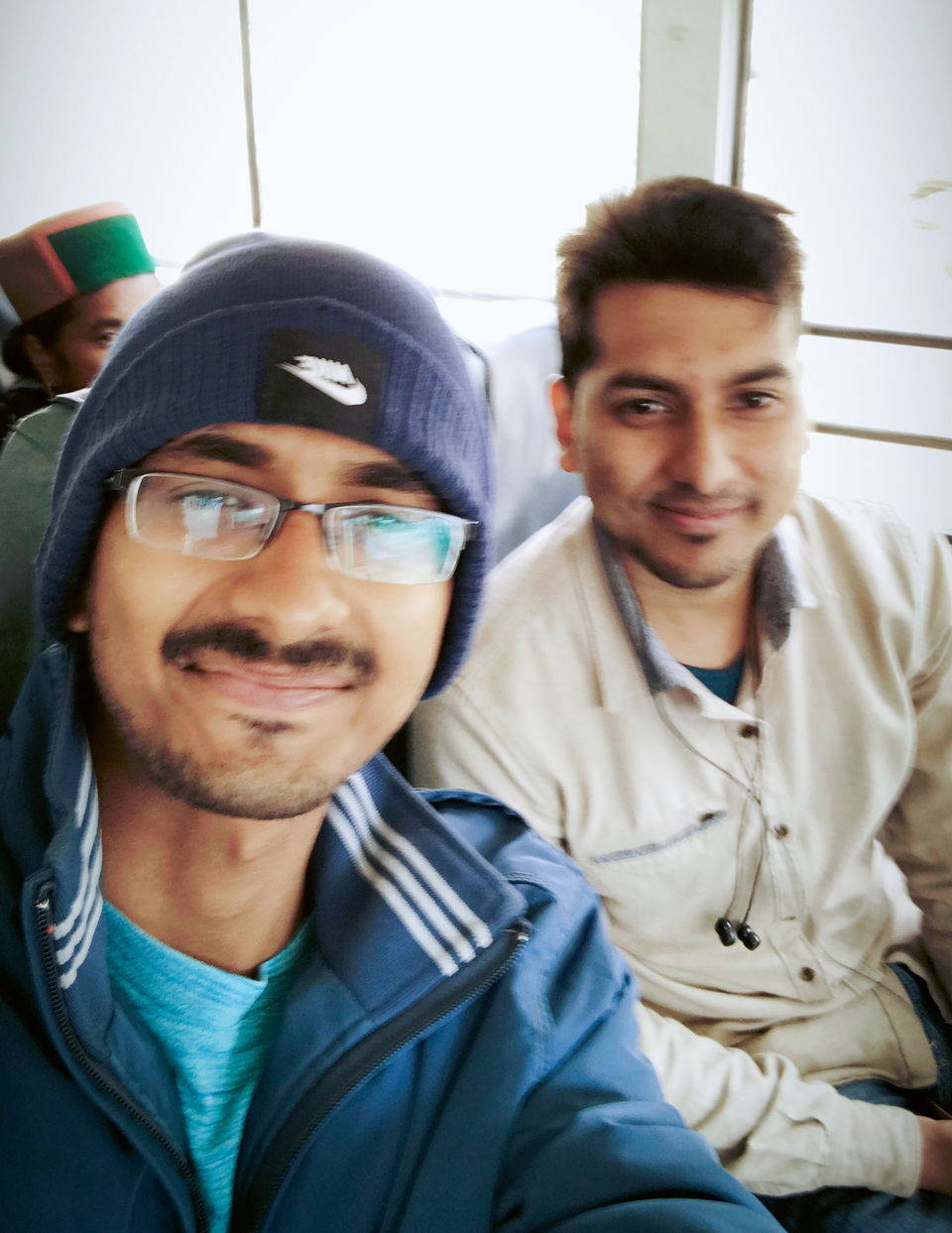 Being in the same business as I, his frustration from day-to-day work was relatable. Hence he was forced to travel solo for 22 hours on a bus ride from Chandigarh to Reckong Peo. I must add that the arduous journey was completed on an HRTC bus which is really commendable.
I immediately had an awakening and felt reassured from the inside that I'm not alone. We exchanged contact details and I'm glad to have another friend in Chandigarh, a city very close to my heart. We talked about how our work sucks at times and some people around us who make it even more difficult.
On my request he agreed to have a cup of tea at last restaurant of India. If you haven't posed with this sign-board, have you even visited Chitkul?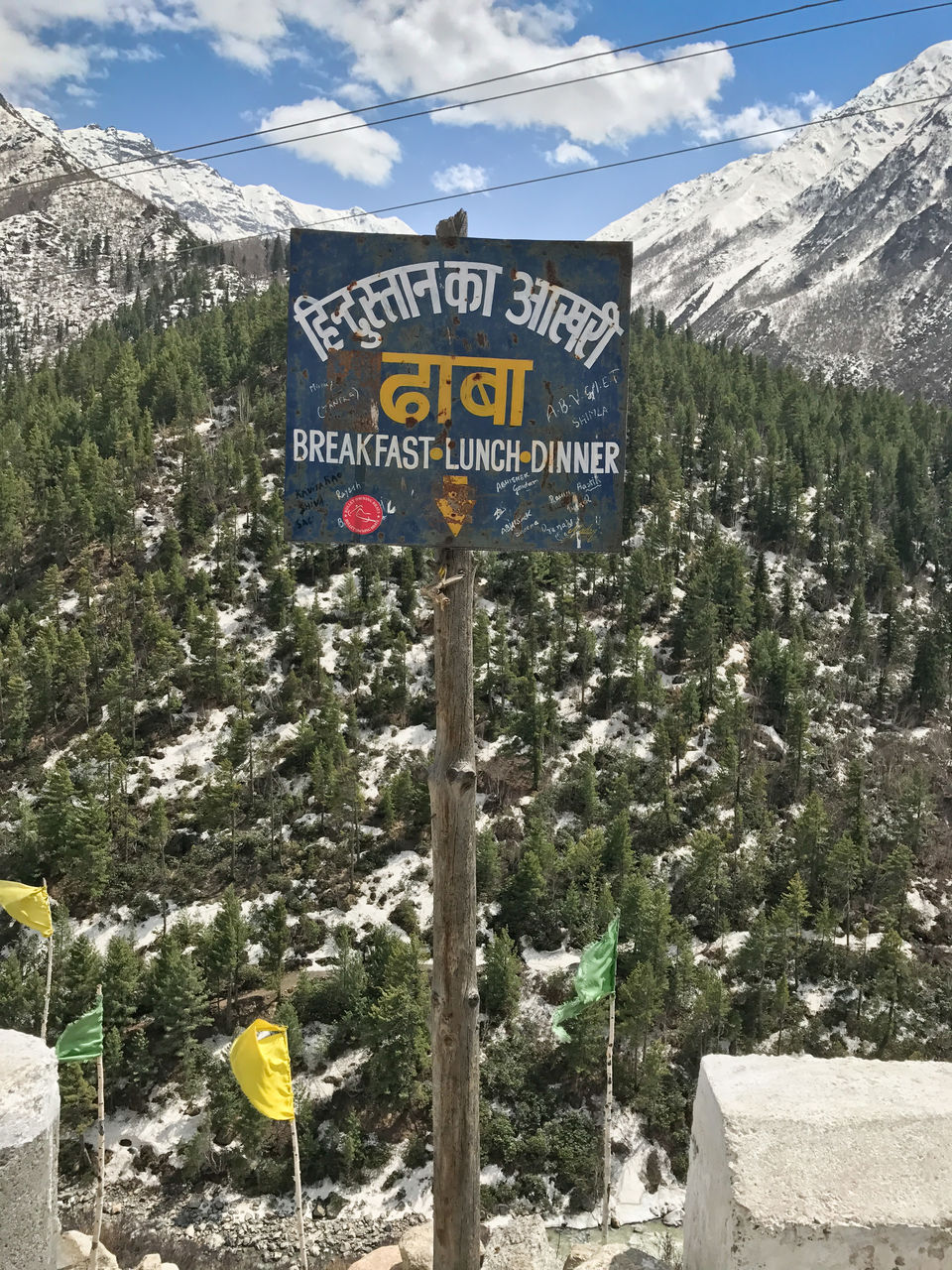 Technically other restaurants have now opened down the road but this particular Although other shops have opened at a little distance from this place this little cafe perched carefully on the edge of the hill is a must pit-stop.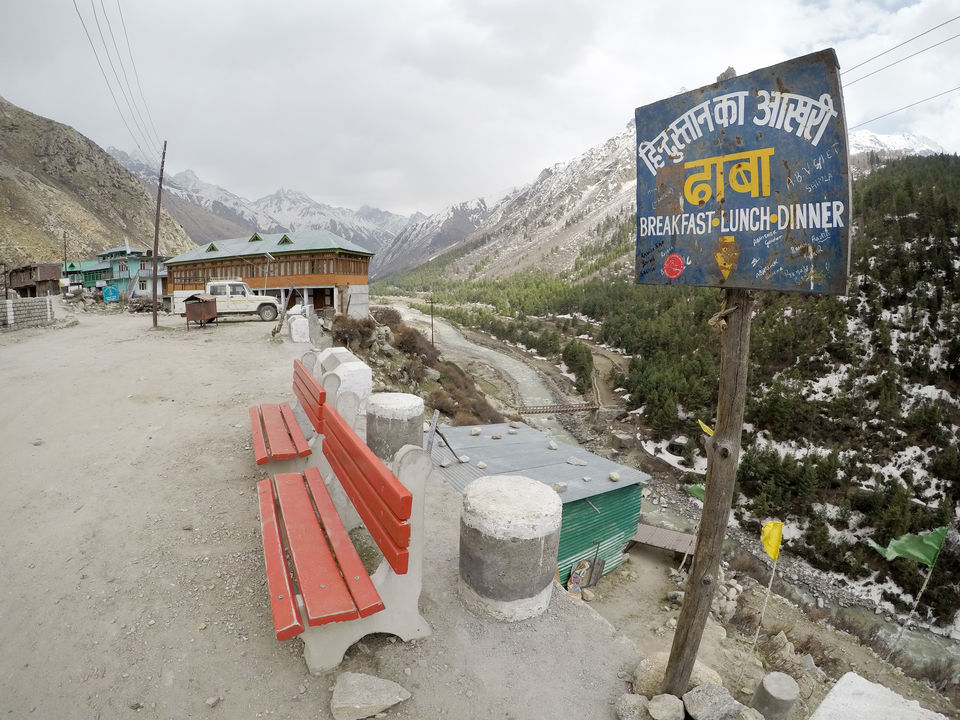 You simply can't beat this view, not even with your penthouse in Bandra.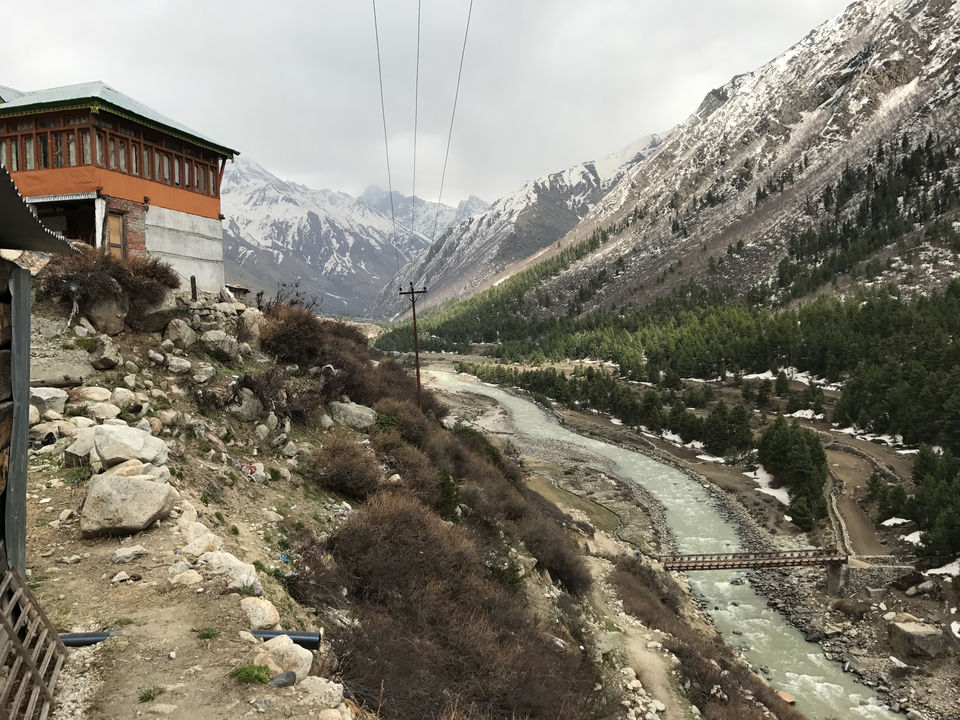 But add a certain element, and the view improves drastically.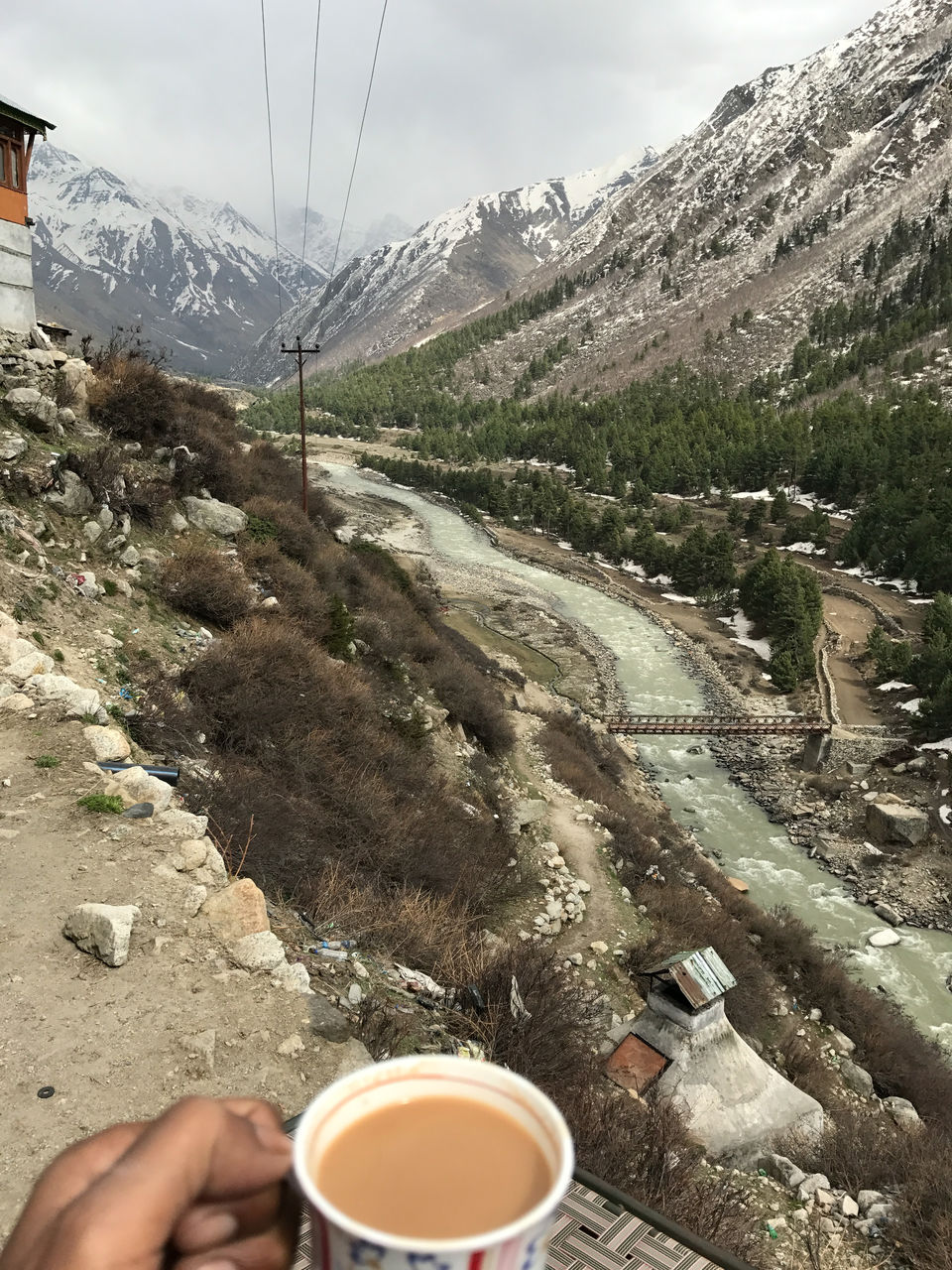 I spotted an unlikely friendship between a cow and a young sheep. It led me into thinking that how tough life must be here that even animals have to resort on mixing in with different species. It might feel weird but it felt beautiful how the sheep stayed by her side all the time, especially when it felt threatened. Compassion is a virtue known not to everyone and these meek animals are the perfect teachers.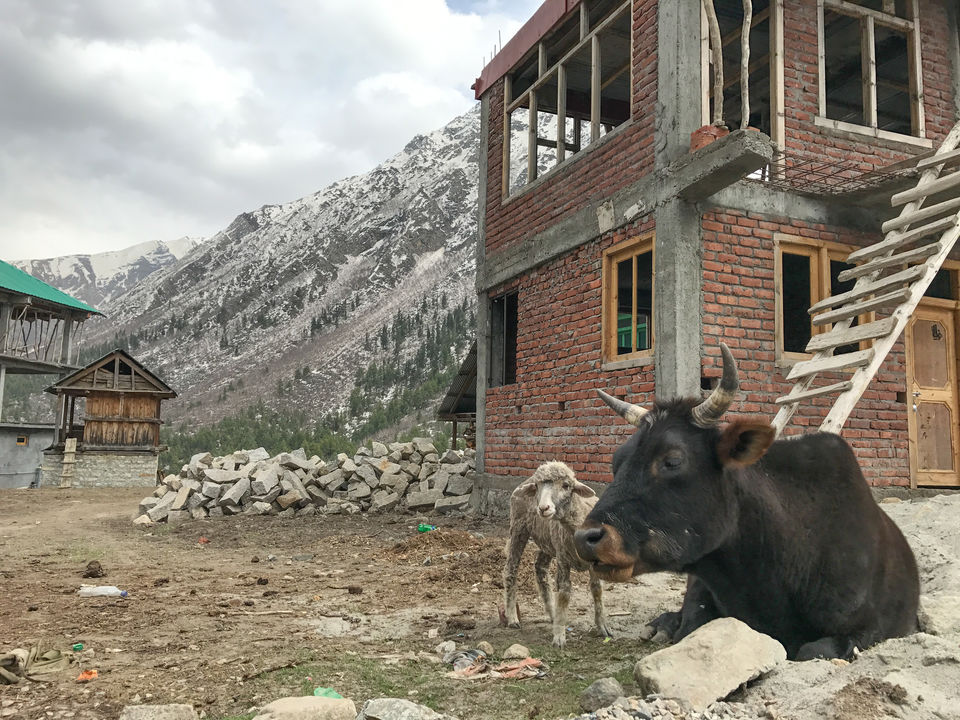 At roughly 3:30 PM there's a bus which starts from Chitkul and goes all the way to Chandigarh! I boarded it only to get off at Rakchham for a warm soupy maggi.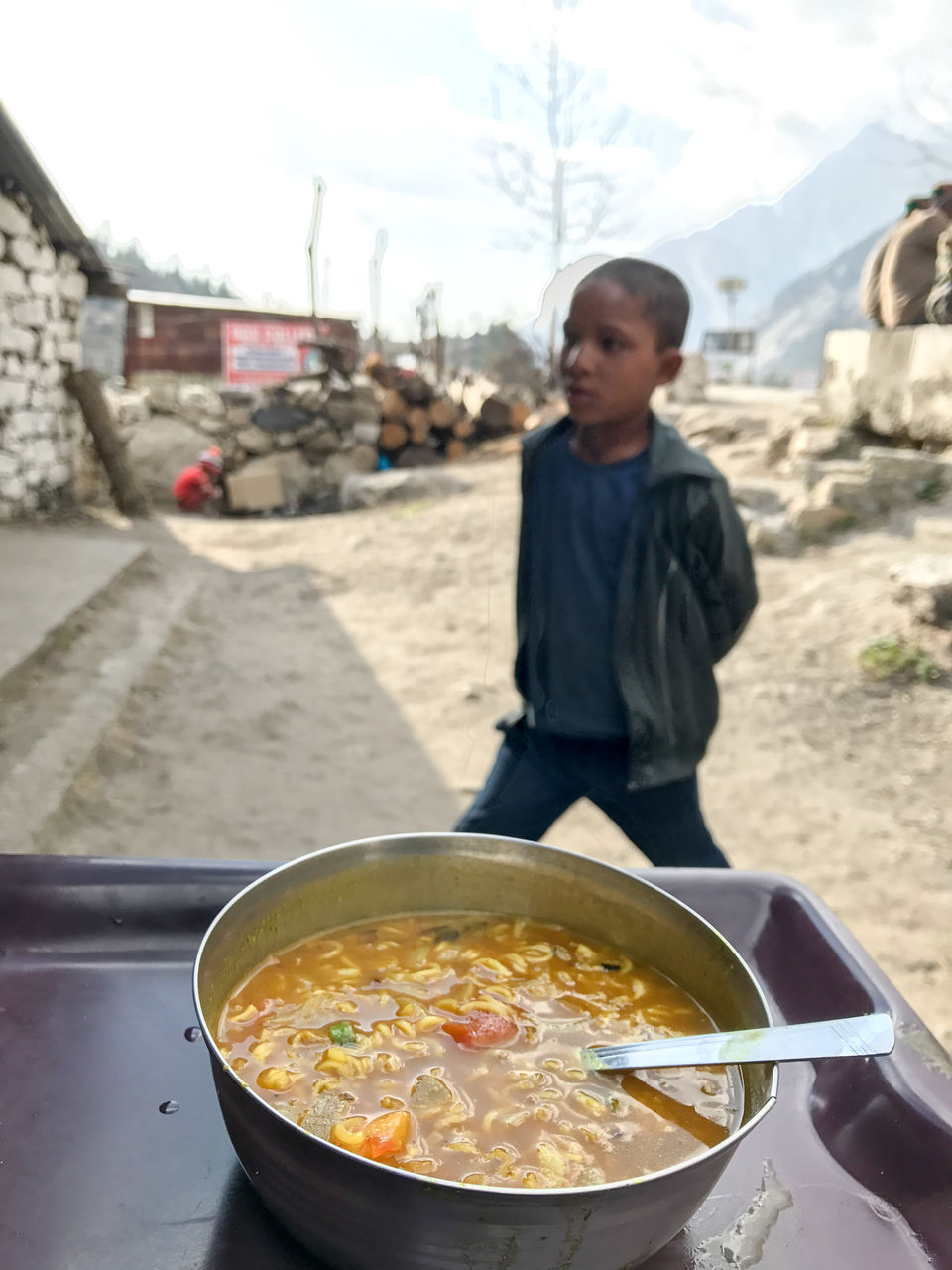 I spent the rest of my evening sitting by the banks of Baspa - finally dipping my feet into the icy cold water after I jumped across stones to find a place to sit.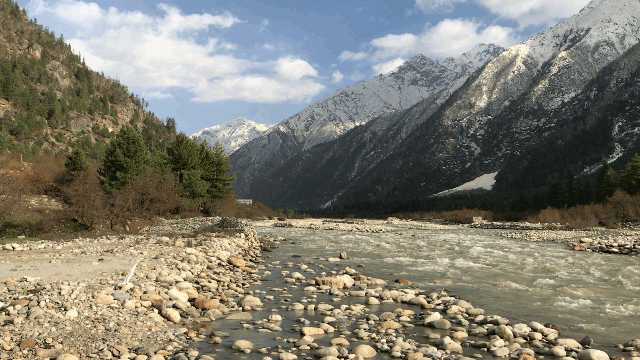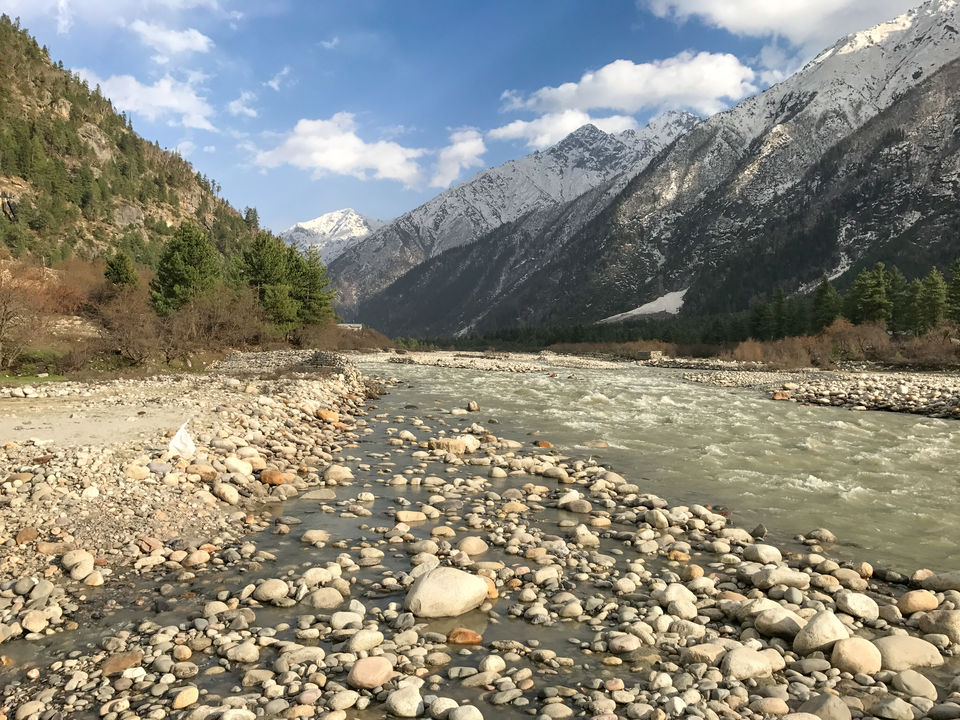 Would you f**kin believe it? You're literally as far away as possible from civilization but IIT-JEE is one thing that followed you all the way through to the second last village of India.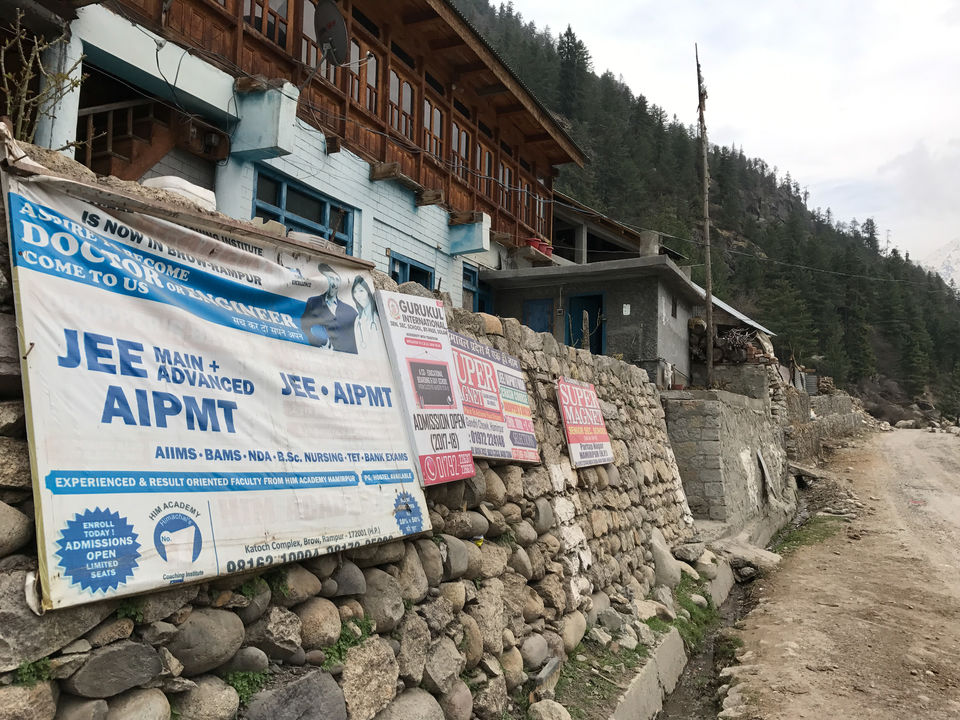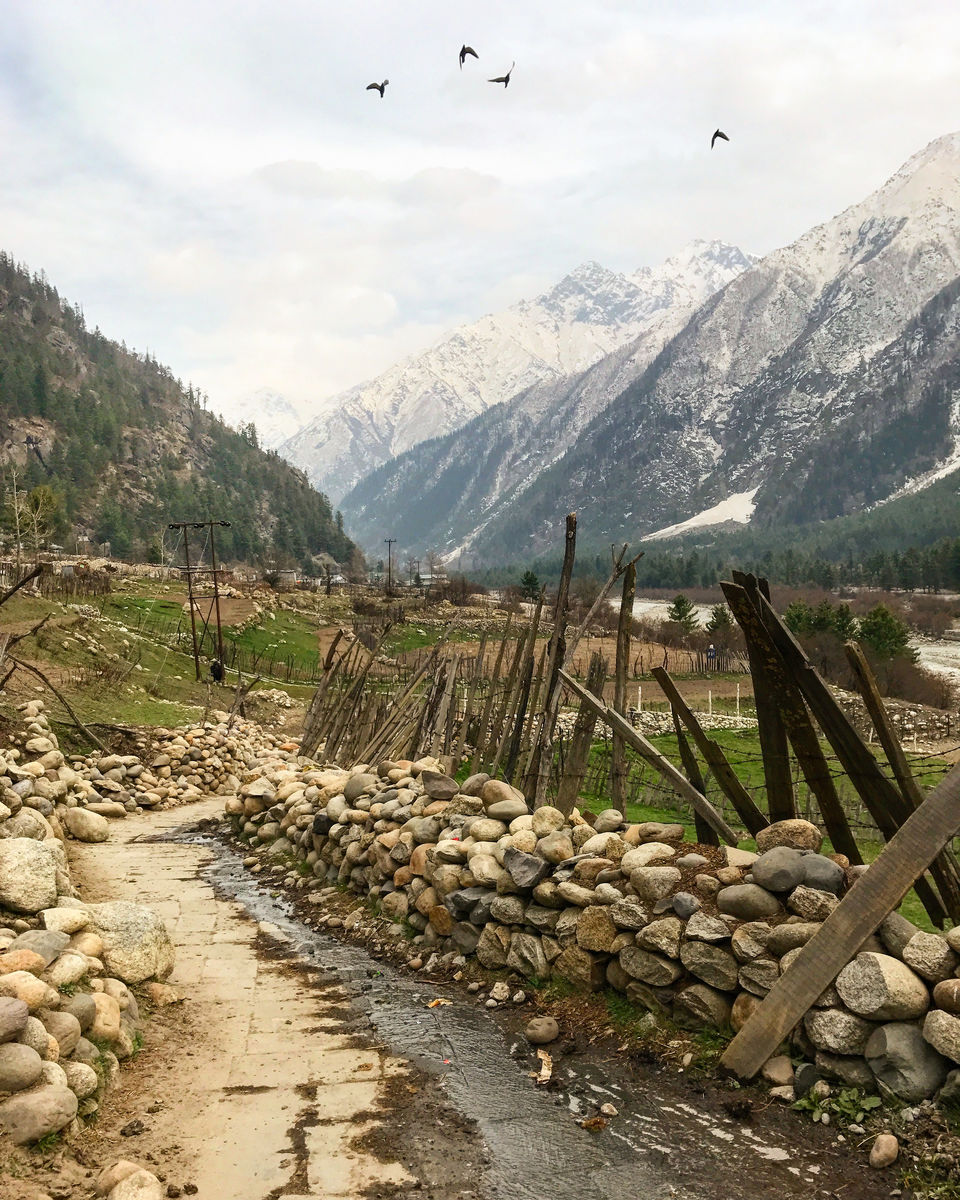 I again returned to the same Dhaba in the evening where the owner promised to cook me a locally grow dish of Rajmah. As I waited, his 8 year old kid sat beside me. He tugged my arm and I passed a smile.
..
"What's your name?
"Arvind"
Arvind, what class are you in?
"Teesri" Third
That's cool. Do you..
"Can you give me ten rupees?"
Umm I don't have change, keep this. (I gave him a Rs. 50 note.)
Don't tell your dad! What are you doing to do with this money? Chocolates? Ice cream?
"I'll buy a notebook." He made hand gestures to make me understand.
..
I don't care if he was lying but his words moved me. These people do not have the comfort of a 24x7 Store or the convenience of 30-minutes-or-free-pizza but they make do, each day every day. The Rajmah beans were nothing like I've ever eaten before and I paid him more than I generally would to thank someone for a good service.
​
Day 6 - I went fishing but caught an apple instead.
Sangla
While I waited for the bus towards Sangla, the dog I mentioned earlier paid a visit to say goodbye. He even brought a fren with him.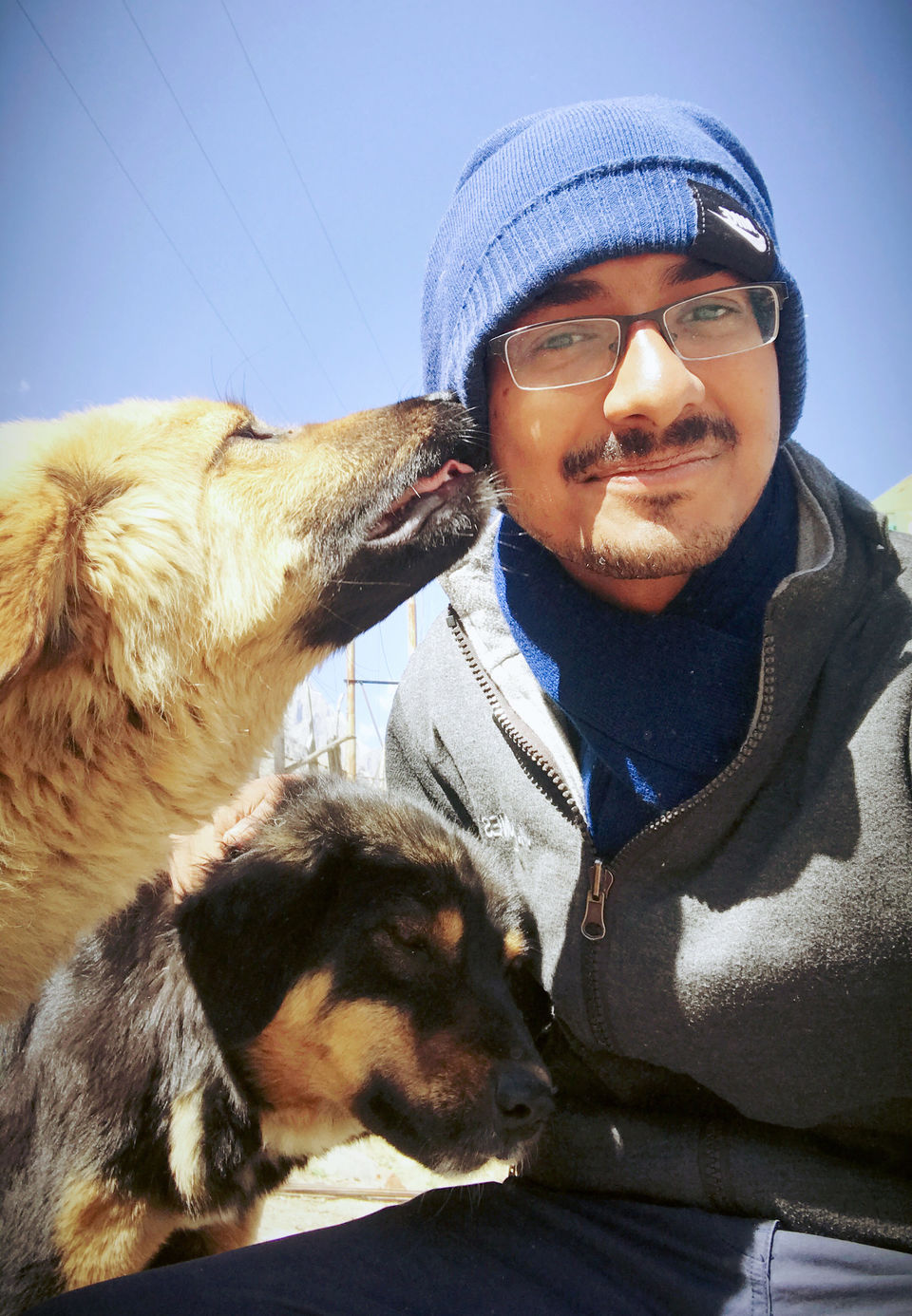 I couldn't get enough of Kinnaur in the past week and I already started planning my next visit here.
Sangla sealed the deal for me.
The sun was shining with all its might but the air was chilly.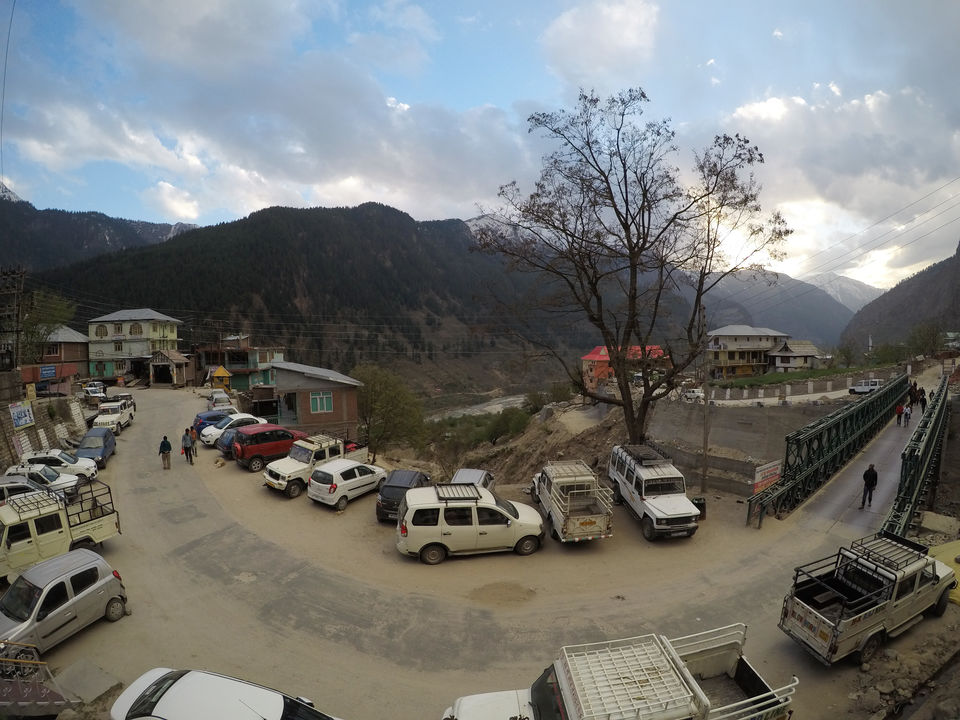 Sangla is the major town in the Baspa Valley which has all the amenities like ATMs, banks, petrol pumps etc. This town marks the start of the valley which ends at Chitkul. Apples are harvested heavily in this town as a major cash crop.
I checked in to a guest house and asked what can I do/see here as I just have a day. I was advised to visit the Bering Nag temple which was located on the slopes of the hill where the village is carefully perched. The hike down the hill may be a usual milk-run for the locals but I could feel my body saying this to me with every step - 'you do realize we gotta climb up on our way back, right?'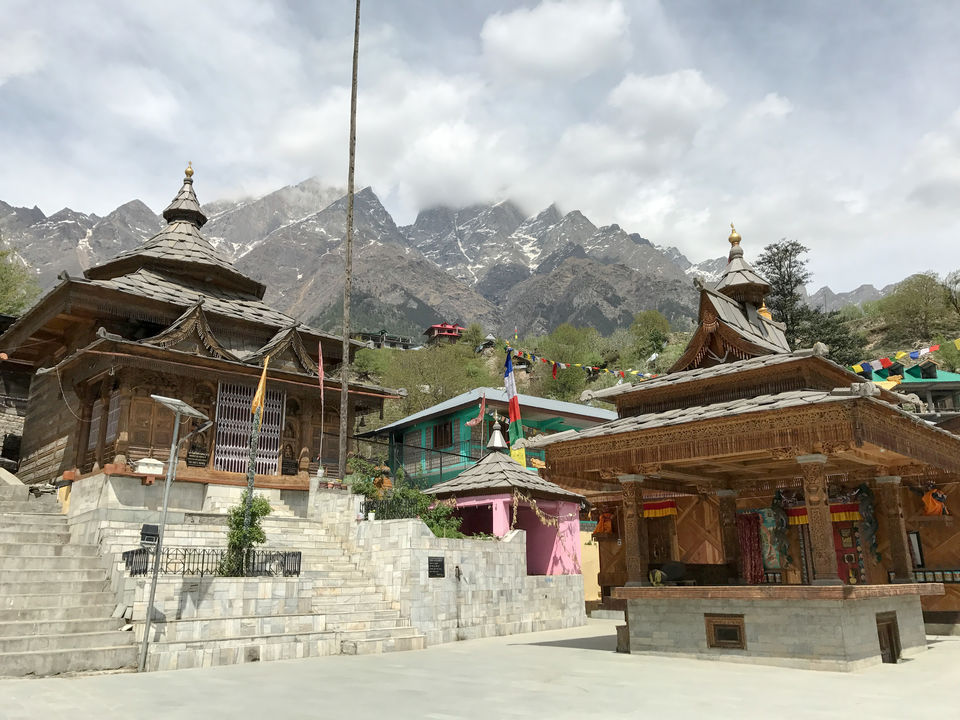 The other destination for the day was the Trout Farm which was an hour's walk from the temple. In order to reach there, you have to leave behind the busy roads of the town and make your way towards this bridge over Baspa River.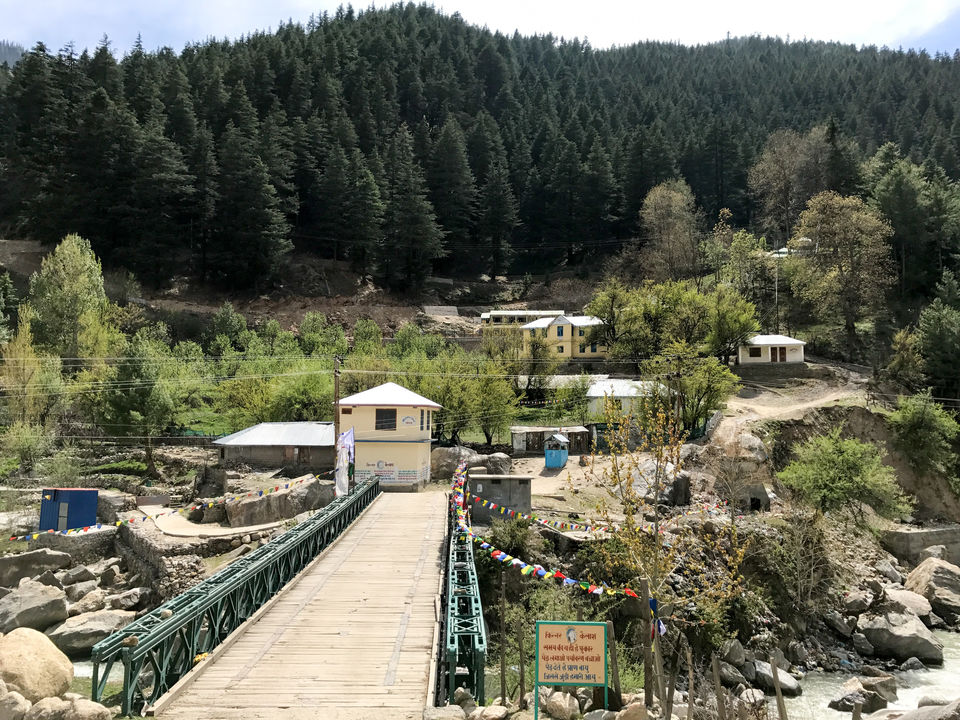 Up until now I was a little disappointed in wasting a day in this noisy town but that changed as soon as I took a left and continued my way towards the farm.
The entire trail is flanked with apple gardens on one side and dense forests on the other.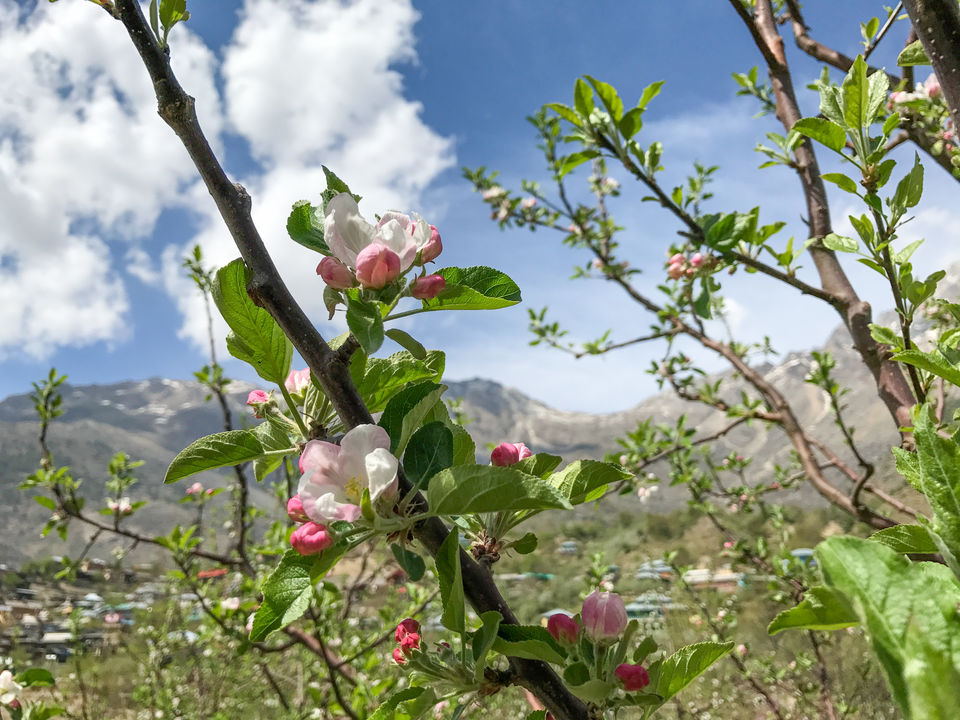 Looking at the village from a distance through the apple trees puts things in perspective; except tourism, the cultivation of this fruits are the only source of income in this valley.
Time is Dancing ~ Ben Howard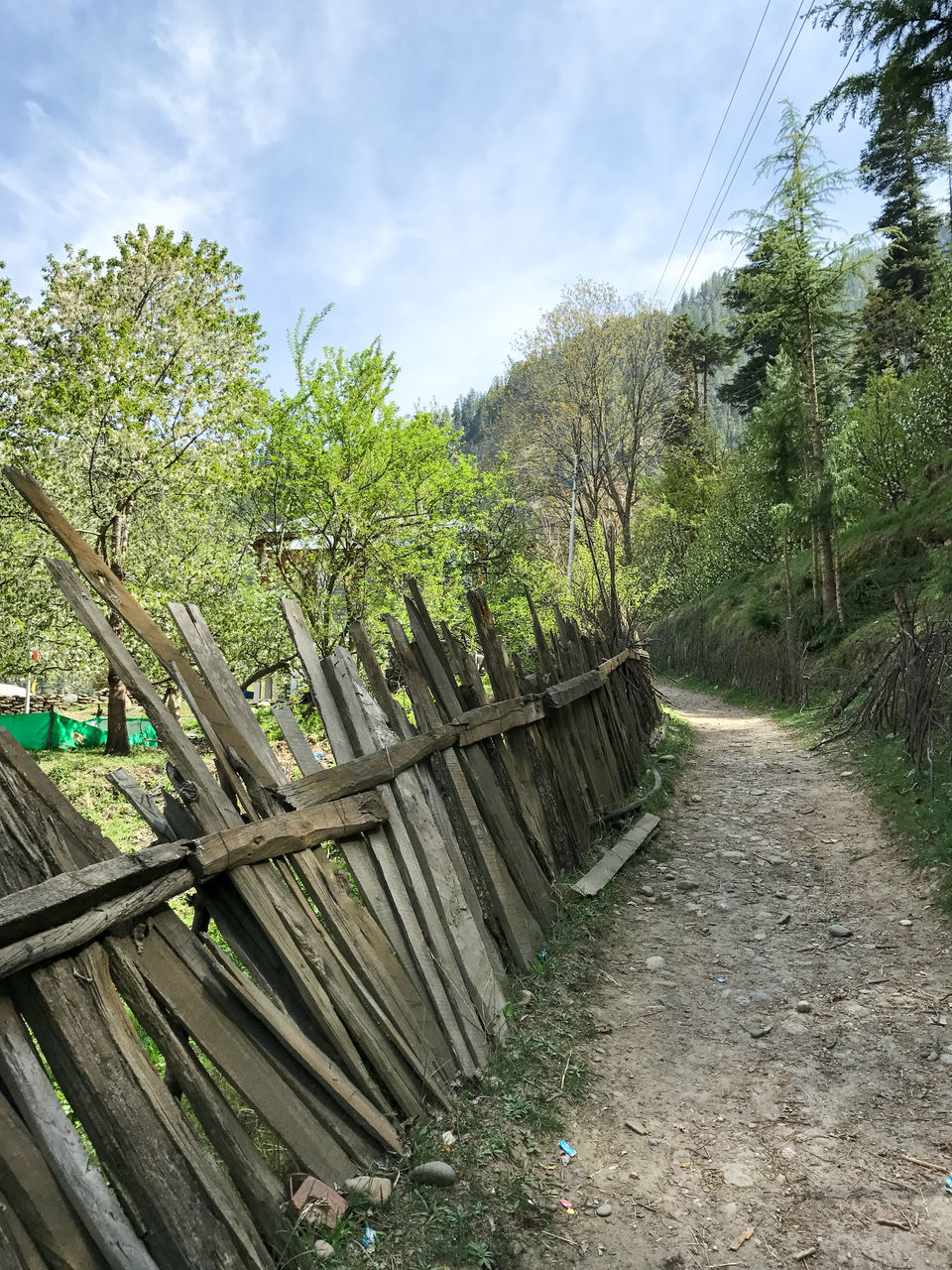 I'm all for walks but continuous steep slopes are a pain in the back. Half hour into my hike I spotted a bridge in ruins which had to be crossed. As the flow of the water wasn't much, I would've accepted my fate even if it gave way. Fortunately it did not, but it did shake a little bit.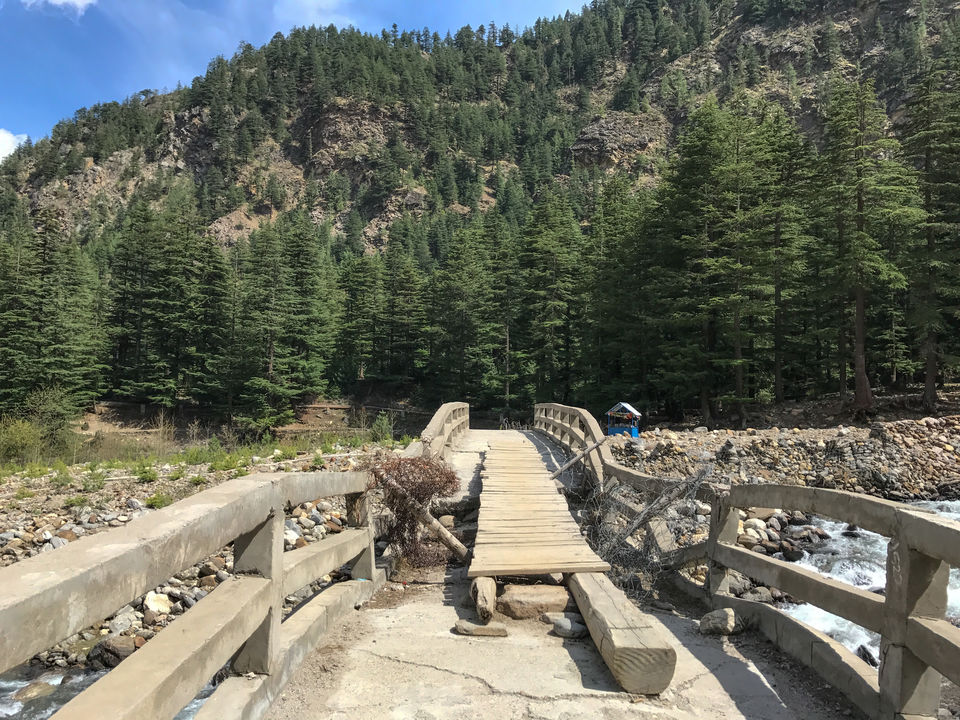 Talk about jugaad and we all cry in unison with our unique ideas.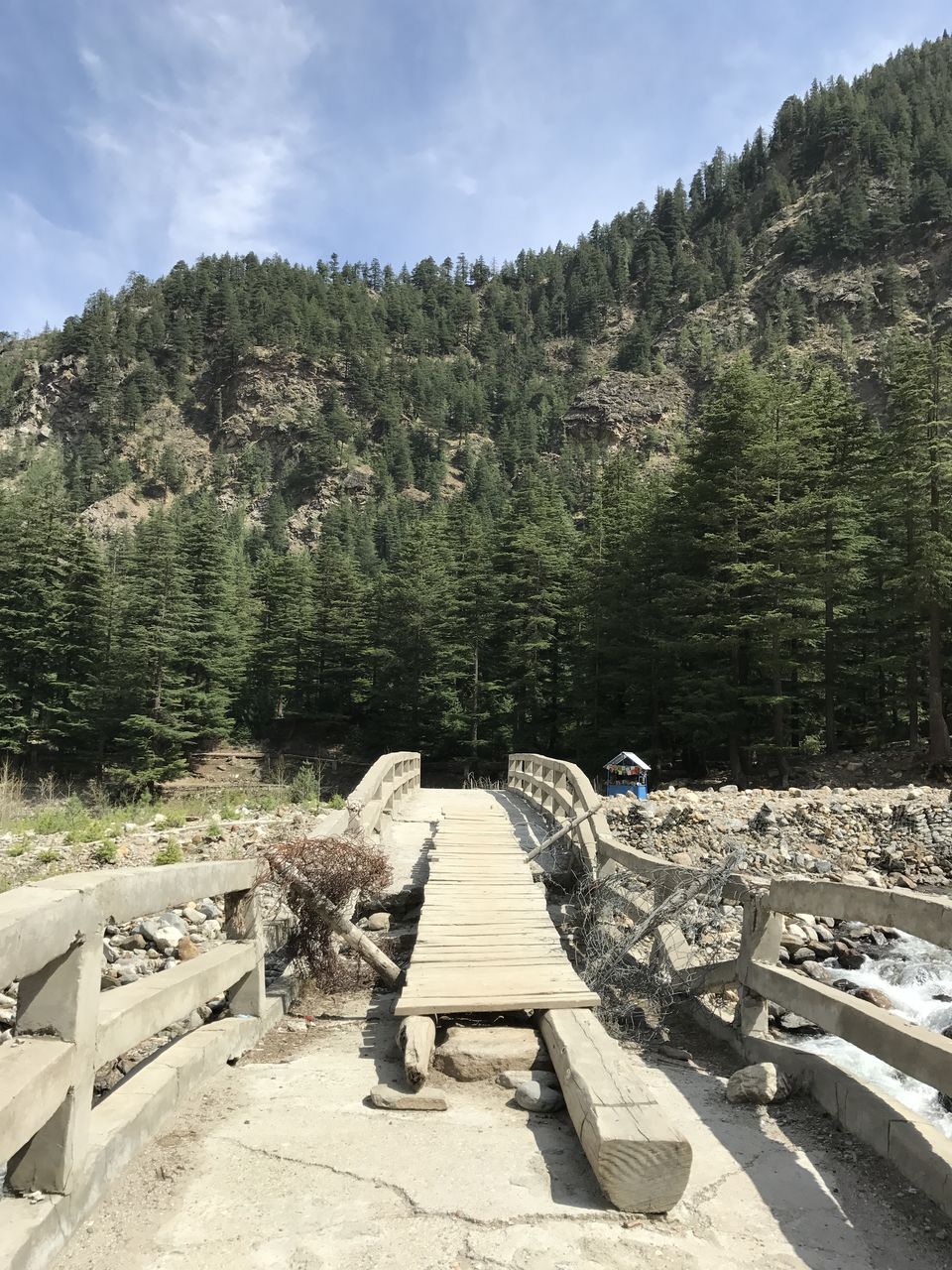 I was a mere 100 yards from the trout farm but I couldn't suppress my curiosity watching a gentleman busy painting the trunk of one of the trees. I stood on my toes against the wall and requested if I could come in for a stroll. He smiled and showed me the gate.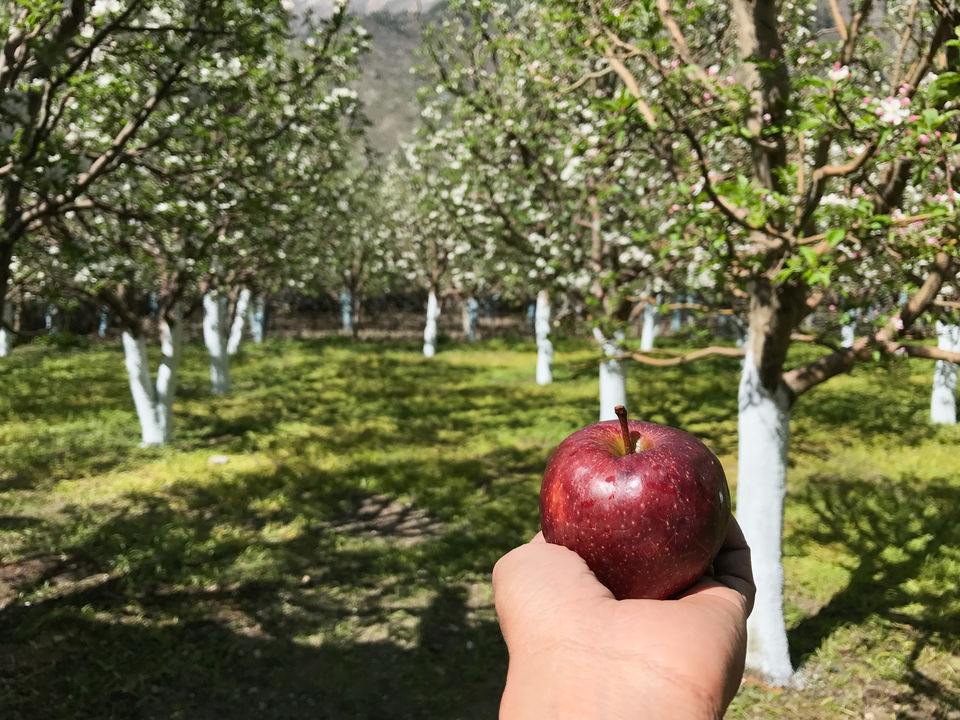 The caretaker of that garden was called Gangamani. She was in late 40s but looked much younger. She seemed to be very friendly and out-spoken. She welcomed me me and I had one of the fondest conversations ever while on the road.
..
"This is a very busy time for us as we need to be constantly on our feet to trim the branches so that they don't affect other trees in the proximity."
I see. So you live around here, in Sangla?
"Yes, I have a home here. I also saved some money and bought a house in Zirakpur, where my son lives with his family. He often comes visit me when I'm busy with the plantation."
I can see you've done a fantastic job with the trees. The people you've employed are also happy with you.
"Yes, I never put undue pressure on them. They have migrated from Nepal to here and live hand to mouth. Their kids often run to me and ask for treats. I feel like a brand new mother all over again!"
That must be very special, I am sure. I noticed one your workers was holding a new born baby and her father seemed very happy.
"I know, I told the couple that they can take take rest for a couple weeks until things settle."
Do you remember when you first planted these trees?
"I believe it was 1986-87 when I planted these trees with my own hands. It was a whole different time back then."
Unbelievable! 30 years and still going strong!
"Thank you. We feel good when tourists come and visit us apart from the main attractions, like you ventured to our farm."

I'm quite happy I did. So, any harsh experiences with tourists so far?
"Bengalis! Not just once but twice! Once a curious family of 13-15 approached to observe but as soon as I allowed them into the farm, they went into a frenzy and started plucking the apples from the trees and started stuffing them in their bags! I literally had to shoo them away! It was all chaos and I found it inconsiderate. "
I am so sorry, I am sure that doesn't hold for every Bengali out there. A bad apple. There's one in every bunch. *punpunpunpun*
..
She scrounged in her warehouse for some apples from last season and emerged victorious. I dig my teeth into that apple and it didn't feel like last season's. As I started to get up and leave she stopped me
..
"Care for a tea?"
I'll really appreciate a cup, thank you.
..
I strolled around her babies and took so many pictures that my phone shortly died. I still regret not taking a picture with her but I asked for her phone number and promised I'll return when the apples are ripe for picking.
The main market road of Sangla is full of cafes and I stopped in one of them just in front of UCO Bank. I advise you to taste the chutney(dip) the owner has prepared in house meant to be relished with samosas.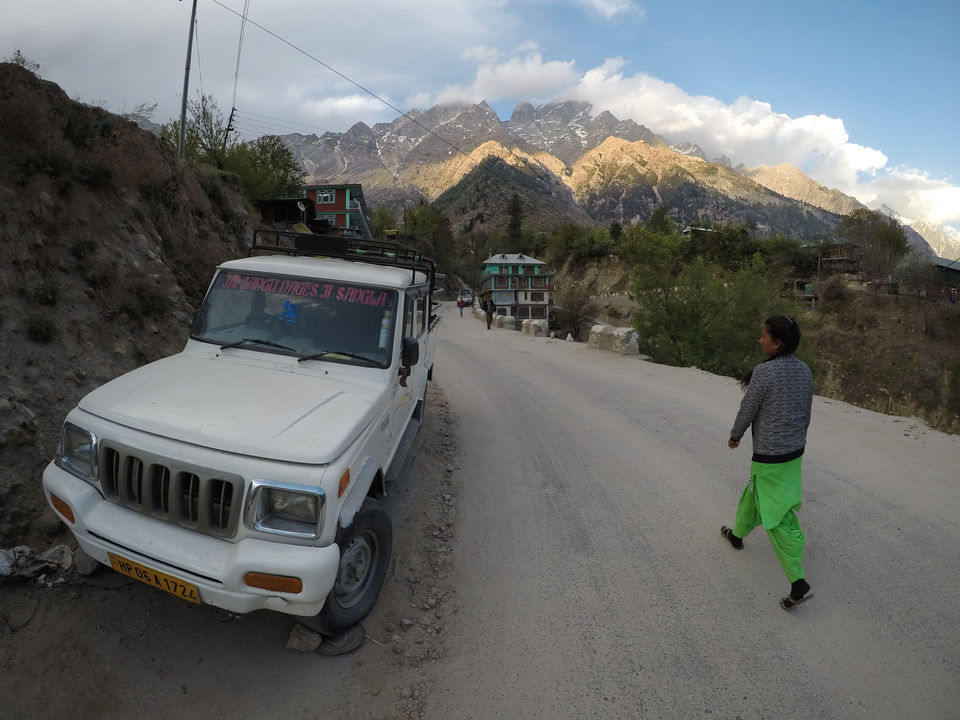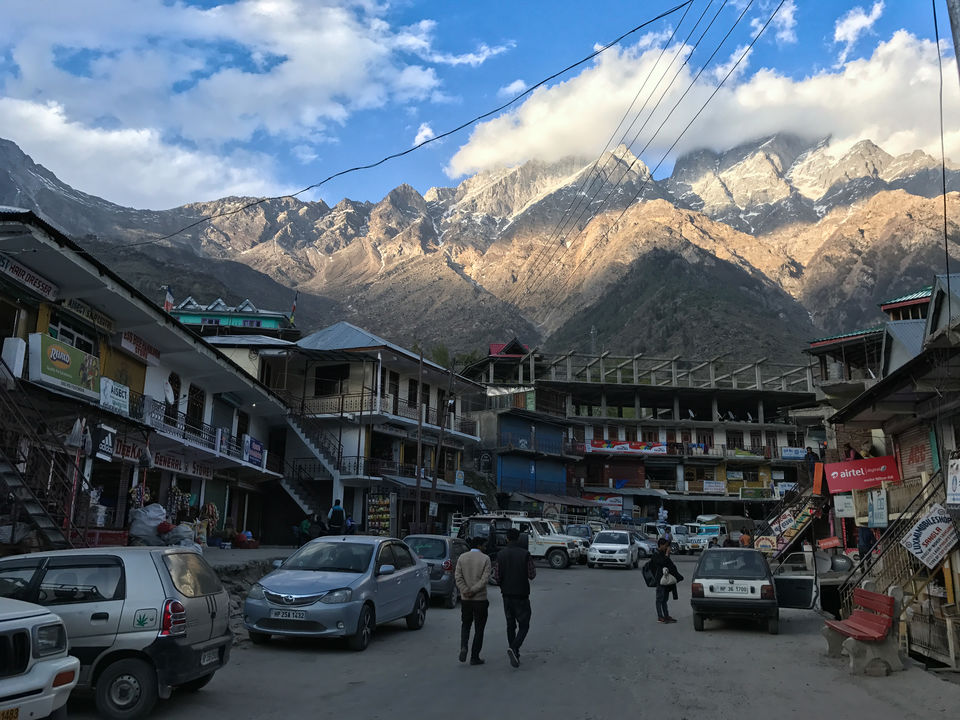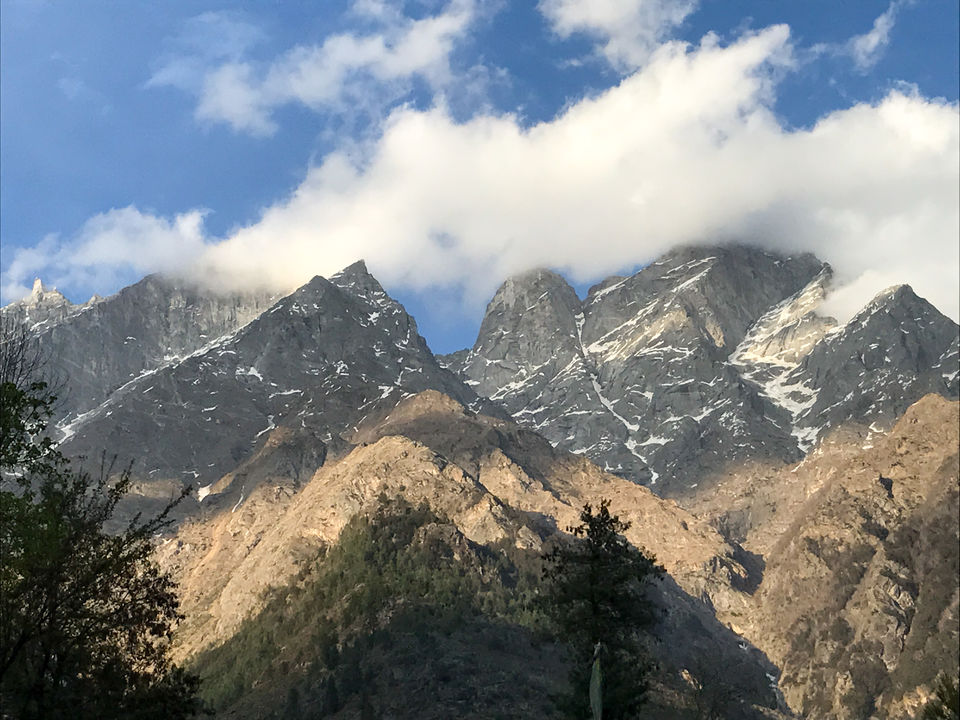 I finally got tired of walking and sat by the balcony of my guesthouse and fired up my portable speakers. I watched the sun go down, little did I know it had a surprise for me as it bade farewell.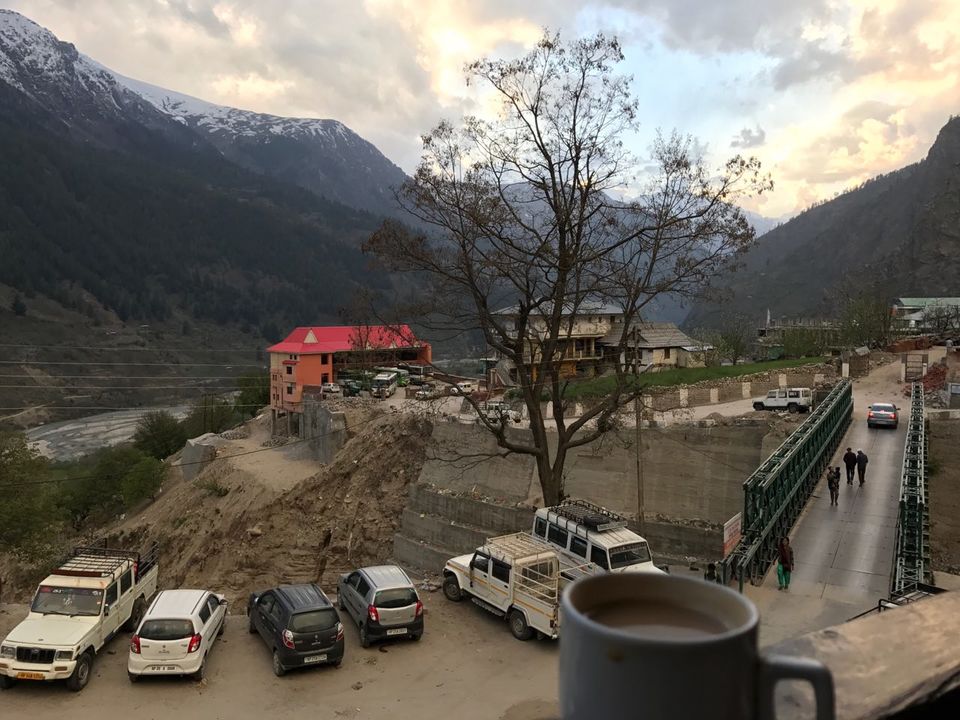 It started raining heavily as soon as it went dark. The temperature dipped steeply and I was the least worried if I would get stuck. I hoped it would snow the day after but unfortunately it did not.

Day 7 - Yes, it was about the journey this time.
I was supposed to catch a 06:45 AM bus to Shimla and then onward to Delhi and it was still raining. It was a 5 minutes walk from the guest house to the bus station and I couldn't arrange for an umbrella. My purple towel volunteered for execution as it safely escorted me to my destination.
TIP: As much as you want to, refrain from getting drenched in the mountain rains. We're not built to bear the wrath it brings with itself. The weather cleared after an hour of treacherous twists and turns.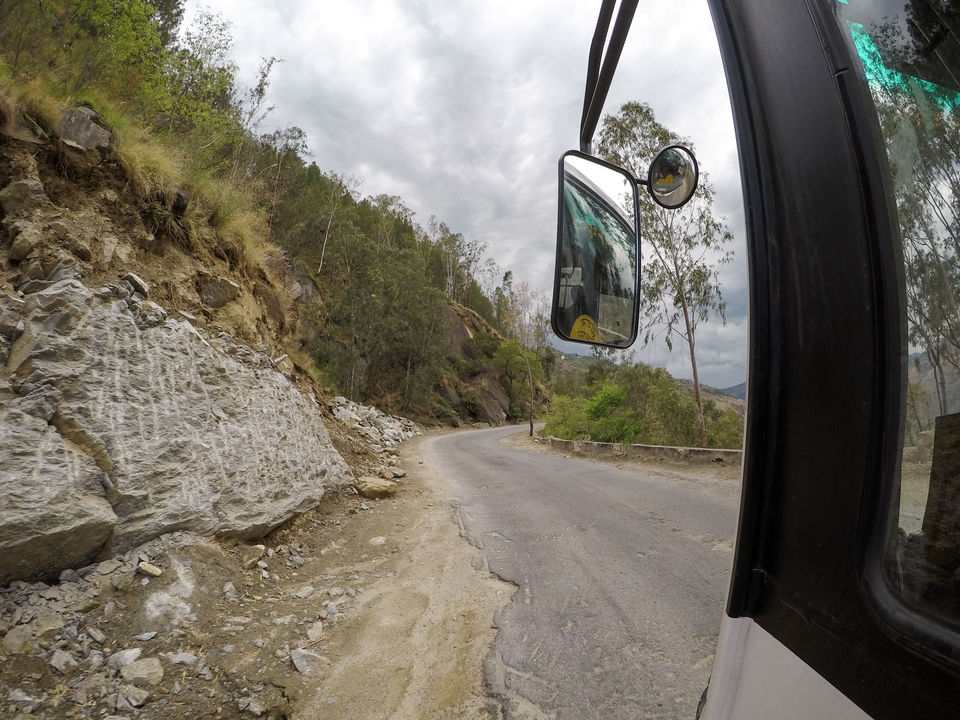 Occasionally we'd run into a jam..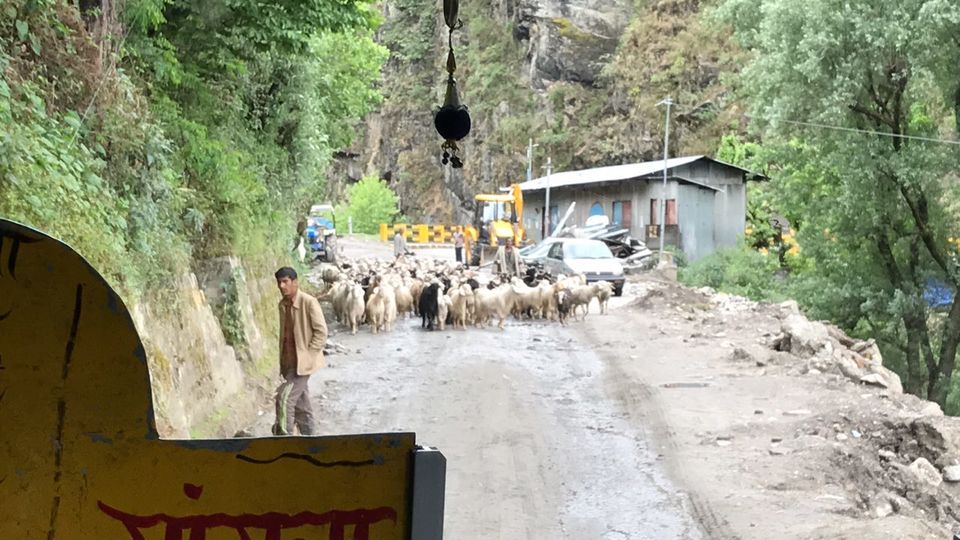 and when it cleared, we had to pass the boss level -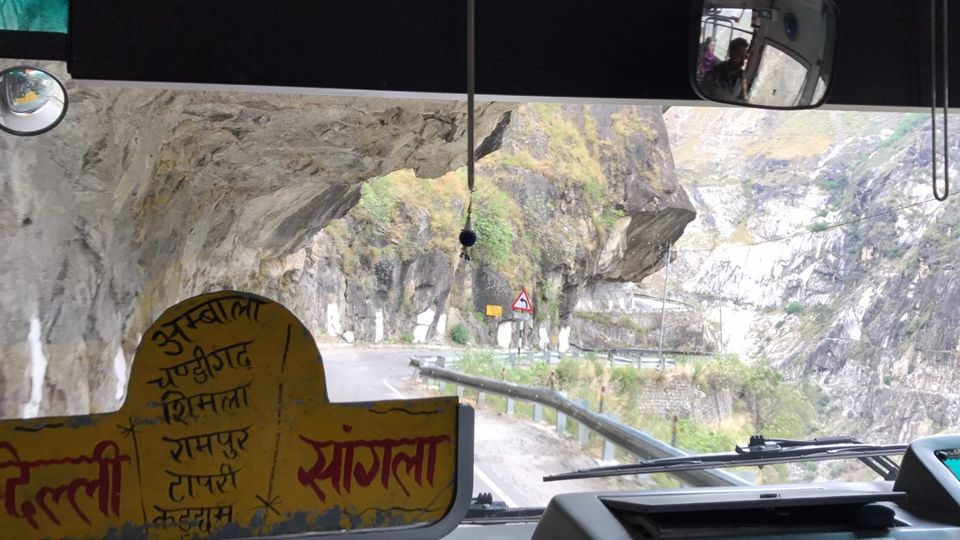 As luck would have it, I met this interesting chap named Joey when the my trip's credits were rolling.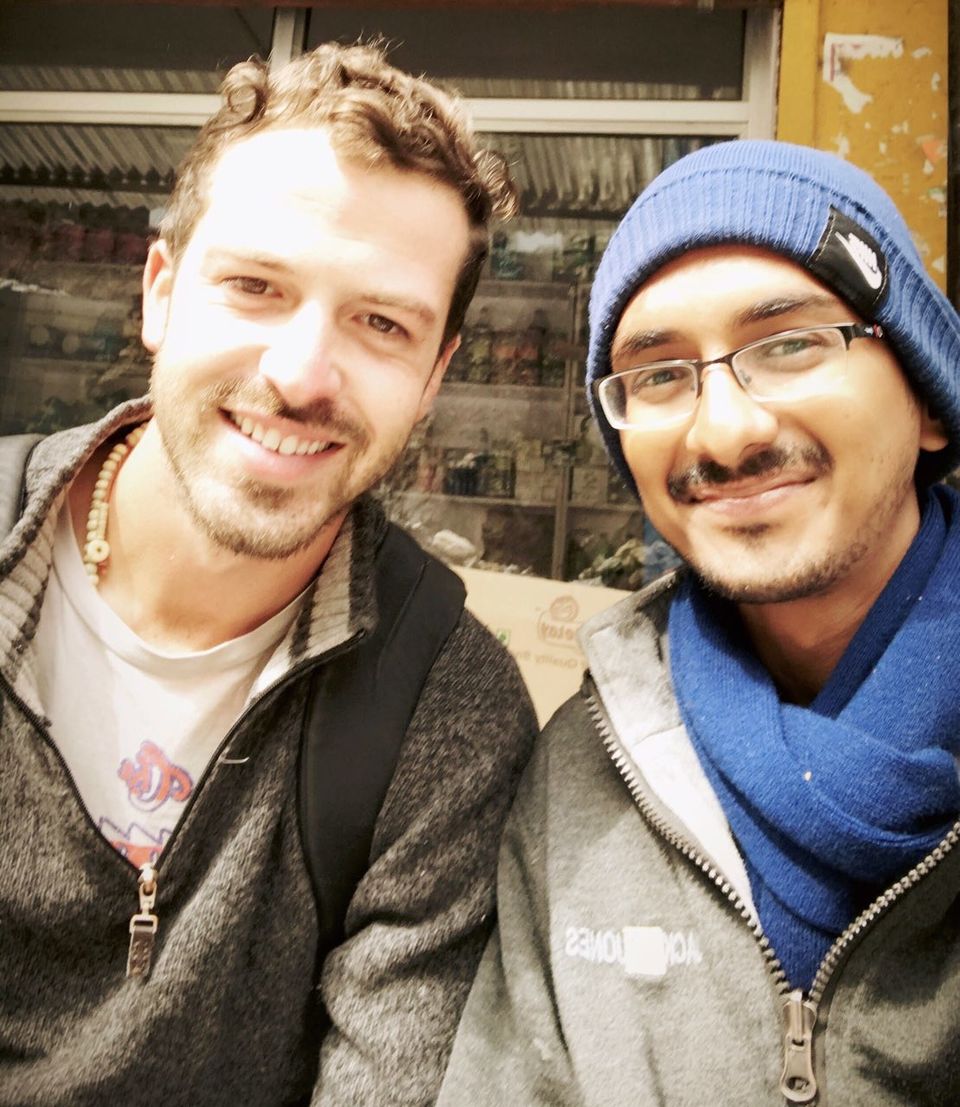 ..
Where are you from?
"I am from Boston. I completed my bachelors in Civil but I realized that wasn't my calling. "
Oh, I work in IT Security. Since when have you been in India?
"I've been here since August, I recently opened a guest house in the outskirts of Sangla. It's called Roojoom and I'm still working on the menu."
That's really nice. I will certainly drop by when I'm back in the valley.
"You're always welcome man, I mean I have zero management or restaurant experience and I face challenges but I'm learning so much each passing day."
I know what you're talking about. The best way to learn is to learn on the job.
What's your favorite Indian food?
"Man I f**ing love paranthas, I've been having that every day and when things settle in my guest-house I'm gonna make my own every morning."
..
We conversed about all things that makes Kinnaur into what it is - which is more than dangerous roads that lead to it, villages located on forested slopes of snow capped mountains or a beautiful river gliding effortlessly through towns blessing every life that depends on it for survival. We talked about the undying spirit of the valley people, how they live each day flashing a tiresome smile at tourists like us who have not seen similar hardships.
Do you remember Leo's Oscar speech?
"Let us not take this planet for granted. I do not take tonight for granted. Thank you so very much."
Let's not live EMI to EMI but from one experience to another. Let's not be ignorant of someone in need, let's stop and help them out. Let's be compassionate - towards all living beings. Let's not overthink. Let's swallow our pride and save that relationship. Let's do what we love and love what we do.
"All for one and one for all"
..
I hope you liked my story. I'm always keen on including teeny-tiny details but I intentionally left them out to keep this short. If you have any questions, please give me a shout!
Frequent searches leading to this page:-
kalpa to chitkul bus, kalpa kinnaur tour