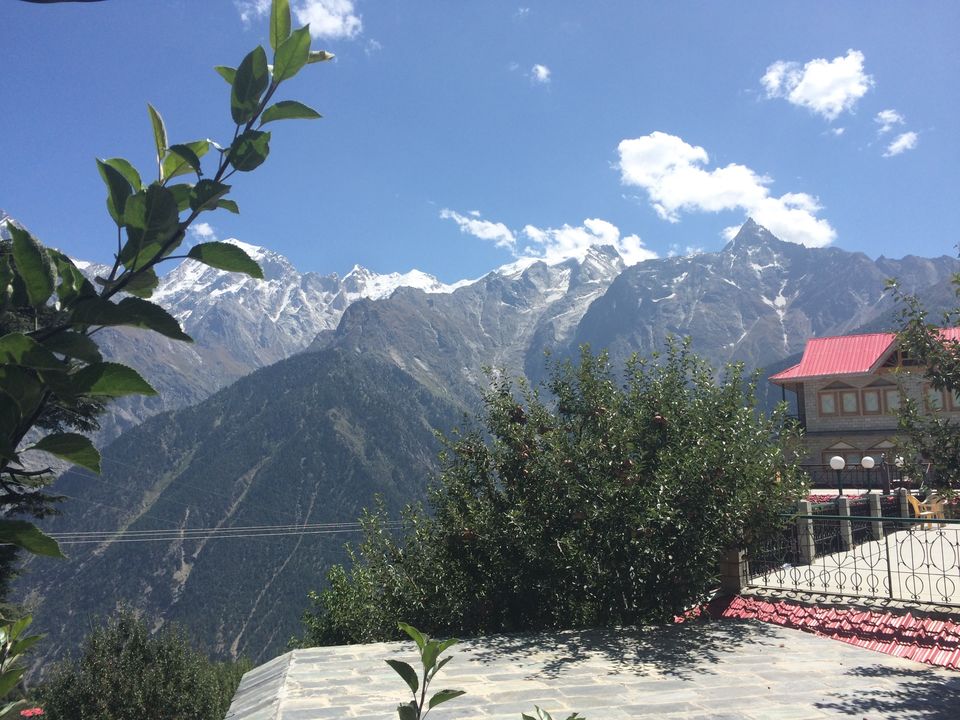 As Michael Palin rightly said - "Once the travel bug bites you there is not known antidote". I have traveled extensively through the length and breadth of this incredible country, yet my favorite remains the Kinnaur District in Himachal Pradesh. In this issue I am going to take you to one of the most beautiful places in India. It's a journey to a small hamlets called Kalpa and Chitkul. Surrounded by Kinner Kailash range, these serene villages are no less than little Shangri la's. This place is one of the least populous in India. The moment you enter, you'll be welcomed by smiling faces and lined trees with exotic fruits such as peach, apricots, chestnuts to name a few. The air is so clean, it's like a whole new experience for someone coming from Delhi.
I got my inspiration to Visit this place after I saw this very famous movie called Highway. The last leg of the movie is shot here. The Journey starts from Kashmere Gate Bus stand if you want to take the direct bus. The route is long, arduous and physically demanding. Depending upon the weather and road conditions, it takes anywhere from 20 -25 hours to reach there. It's also important to take a break as there are no luxury buses or trains that do this route. Your other option is to reach Shimla to which there are many options available and then hop on to next available bus to Reckong Peo. Since I was travelling alone, I decided to meet some of my college friends in Chandigarh.
Once my route was finalized, I booked a one way ticket from Chandigarh to Reckong Peo. I also did that because this bus was semi - deluxe which is slightly better compared to Delhi-Reckong Peo direct which is an ordinary one. Now, despite the fact that Himachal roadways buses are well maintained, my back was totally gone by the time I reached Peo. I was patiently waiting and chatting with some of the local people that I made friends with while on my journey. You have to trust me when I say this, I'd never seen such a picturesque bus stand in my life. It was a bright day with 360 degree view of snow-capped mountains. What better can you ask for? Your day is already made.The moment I got down, I realized I was not feeling tired at all.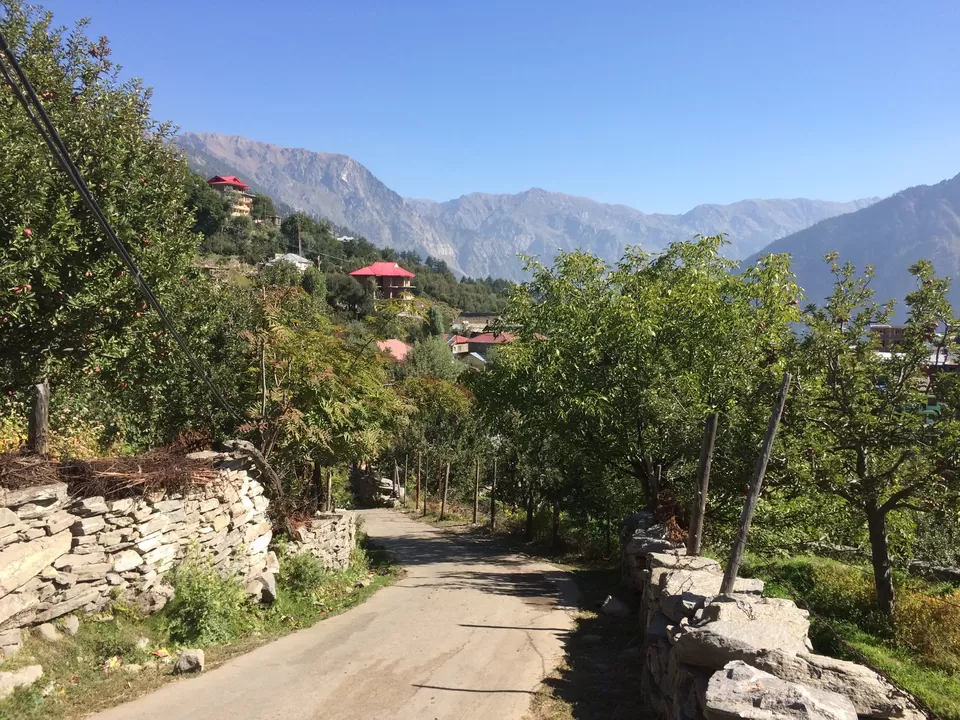 I then took another bus which would take me to my first destination – Kalpa. From Reckog Peo, Kalpa is just about half an hour ride and plenty of local buses are available during day time. As our bus progressed, I noticed the views were only starting to get better. September is the harvest season for the very famous Kinnauri apples so I was bang on time. The apples were ripe and ready to be picked. The locals were generous enough to let me in their orchards and even have their home made apple juice which by the way was best I've ever had. I couldn't help but notice how "less becomes more". These people are so friendly and are so content that it was evident from their smiling faces. Since it was already afternoon, I met some kids coming back from their schools who were more than happy to tell me more about the local places to visit.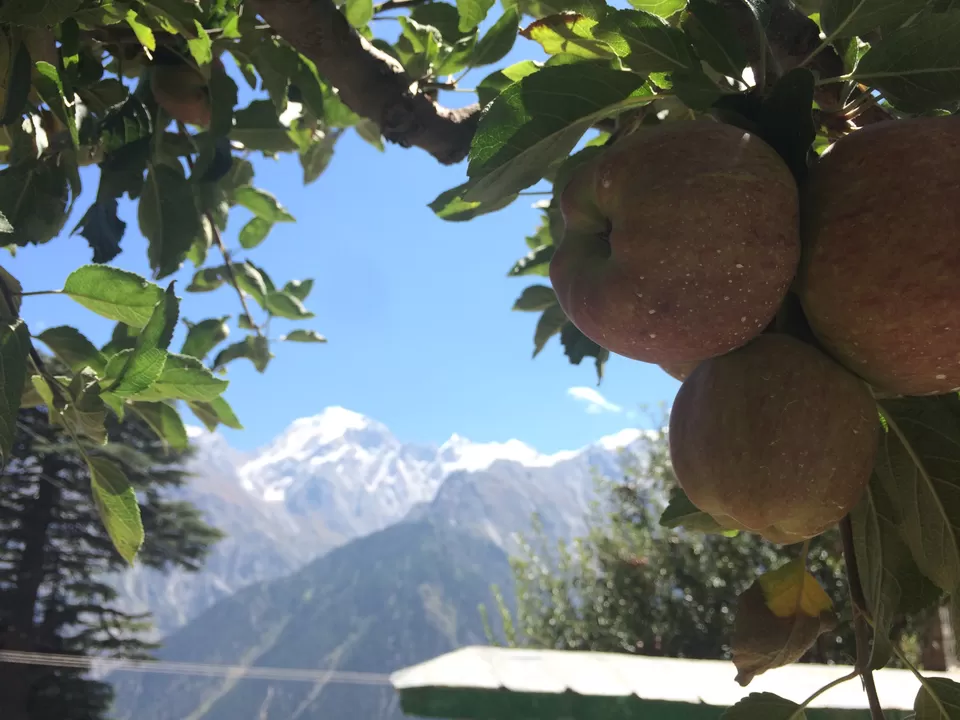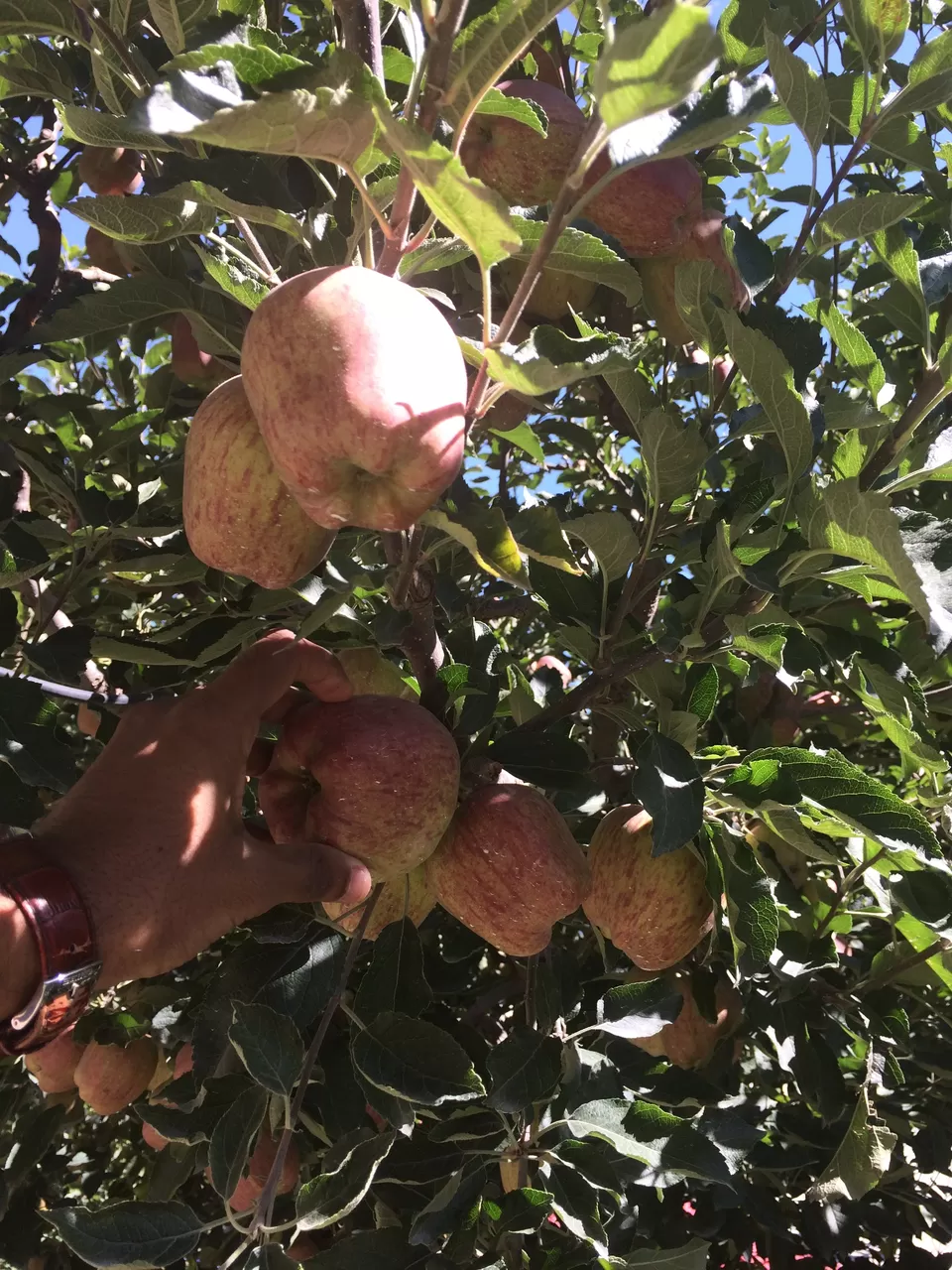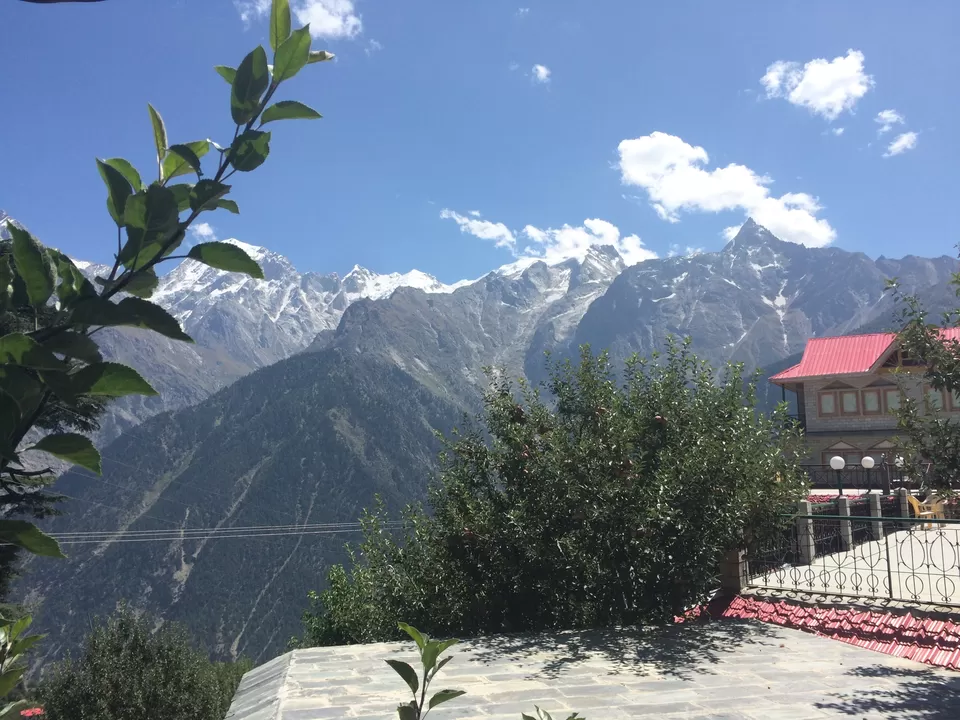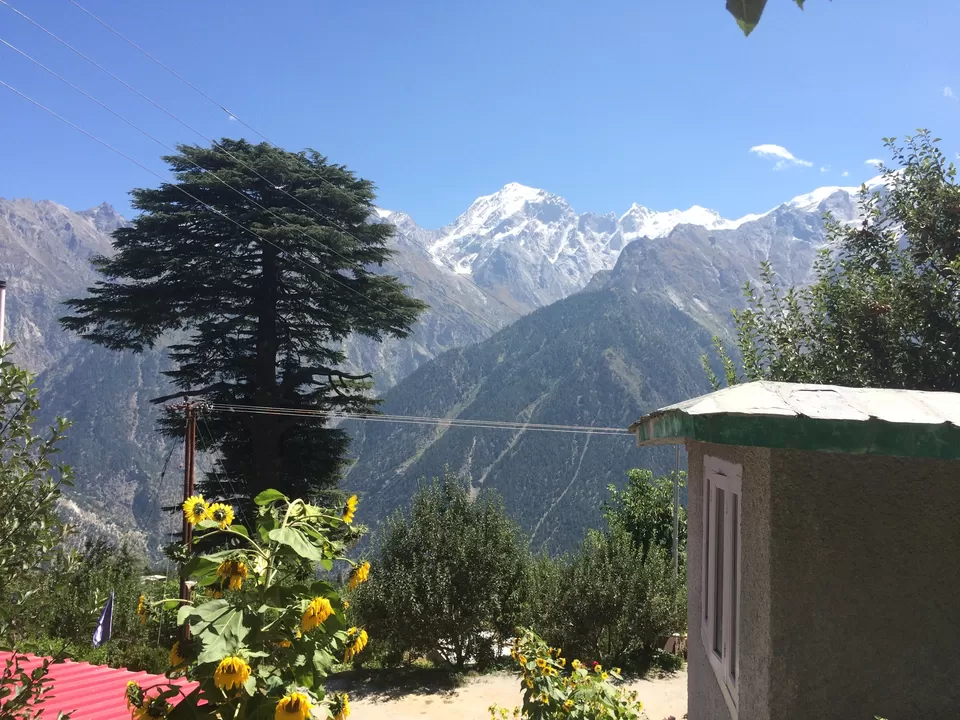 This place is still untouched by the wave of commercialization. There are no fancy hotels or places to eat. You'll eat what the locals eat and you'll be treated like a local in home stays. I did my research and booked a budget hotel because it was famous for great views. One has to walk uphill to reach this hotel but the trek is well worth it. I checked-in and got ready to explore. I spent the whole day walking around on foot, visiting local Monasteries and walking trails. I even got a chance to spend some time with the local police officer who was proud to tell me that there is no crime at all in this area and that there is space for only 2 prisoners in the jail but how even that has always remained vacant ever since he joined back in early 2000's. As the sun set, it was time to head back to my hotel. I spend some time reading, joined a group of college kids at the camp fire. The night was feeling like it was sub-zero. The temperature indeed dropped to minus 10 during night and I was literally freezing. After spending some time with the group, I decided to retire.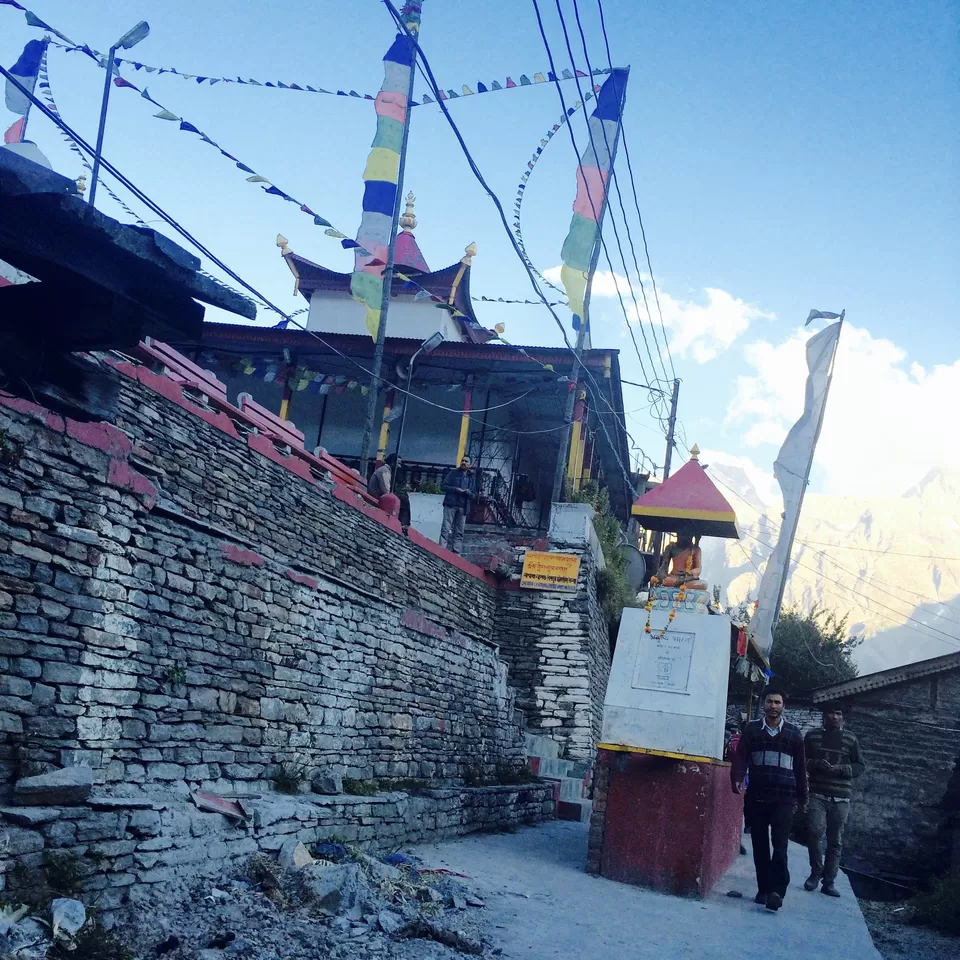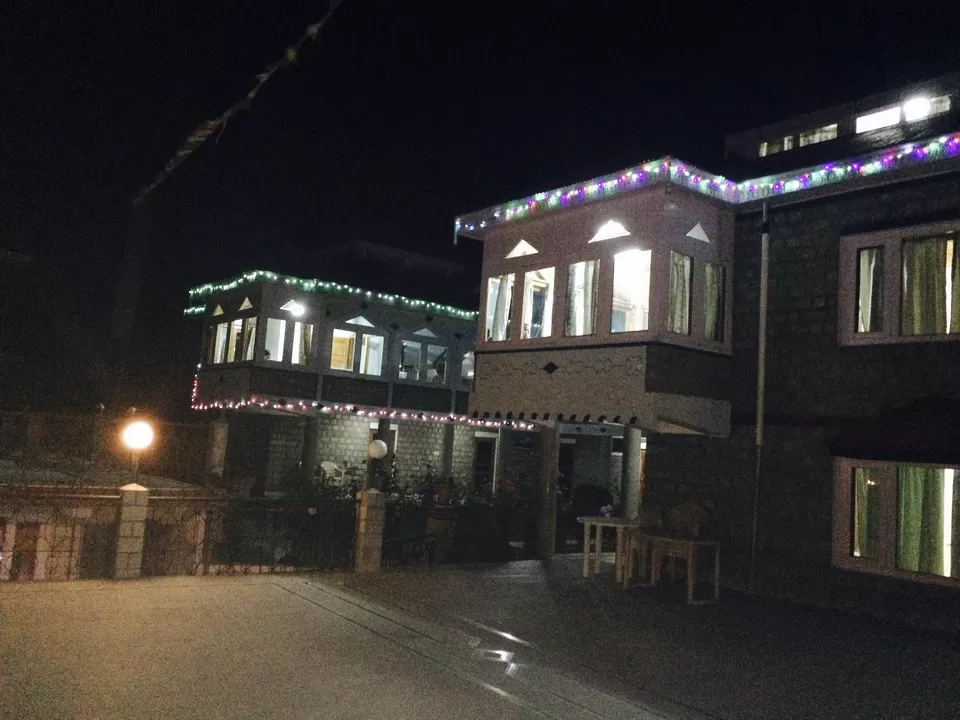 I woke up fresh and energized for the day. I took a long shower and got ready to visit my Next destination- Chitkul. Chitkul is the last inhabited village before indo-china border. This place is very famous for its high quality potatoes. These potatoes, considered to be one of the best in the world are used by many famous brands for making crisp and large potato wafers.
Chitkul is again about 6 hours of bus ride from ReckongPeo. As there are not many buses, one has to be careful to be on time. Chitkul is situated on the banks of River Baspa. The river flows alongside as you move and is said to change colour (which honestly I couldn't notice). The roads here are very dangerous. With blind turns, hairpin bends and narrow width, these roads are touted as one of the most dangerous in the world. However, I was least bothered as I was busy noticing the spectacular views and the amount of adrenaline rush was at its peak. I fully trusted the driver of our bus and was assured of his skills. There were several small villages that fell on our way like Roghi, Sangla and Rakchham that looked rather straight out of a fairy tale. I decided to explore Roghi the next day because to me it pleased the most.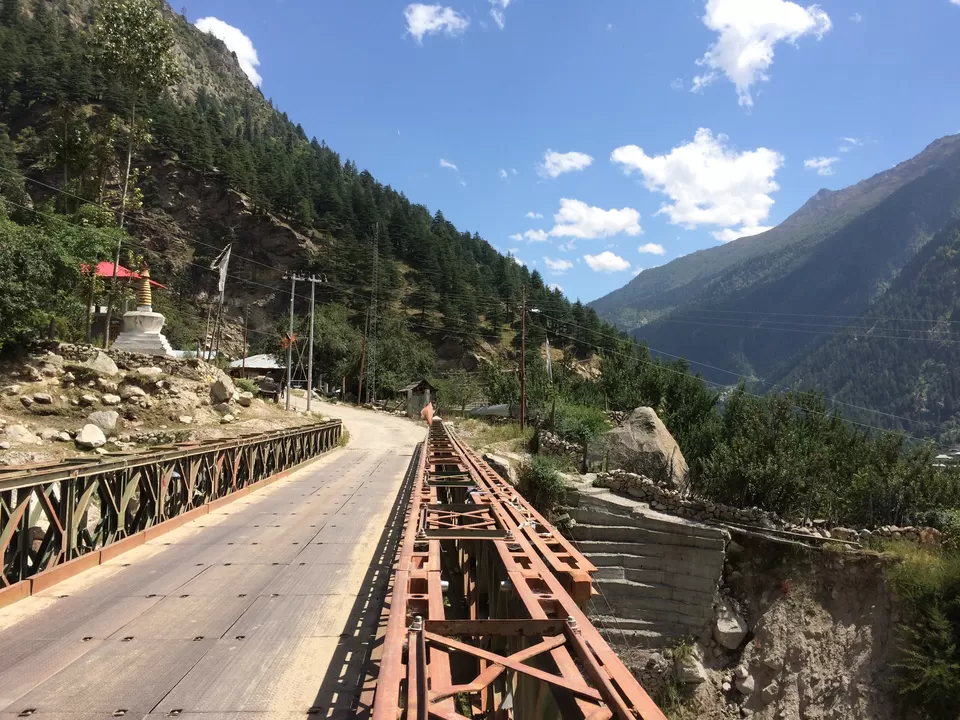 I reached Chitkul at 1 p.m. I was hungry after this long bus ride. I started walking towards the shops and was surprised to see that they had practically everything within these small shops. I bought some chips and decided to walk down to the river. The locals warned to be careful of the river current which made my excitement level go even higher. I went to the river and sat on one of the stones. The water was so clean you could drink it straight from the river. I found out later that as a matter of fact, they indeed use this water to drink and cook food. I was very relaxed after spending time at the river. I clicked few pictures and also noticed that there was no cell network on my phone. I then came up and ate at "Hindustan ka Akhri dhaba". The food was okay but I was happy to have dined there.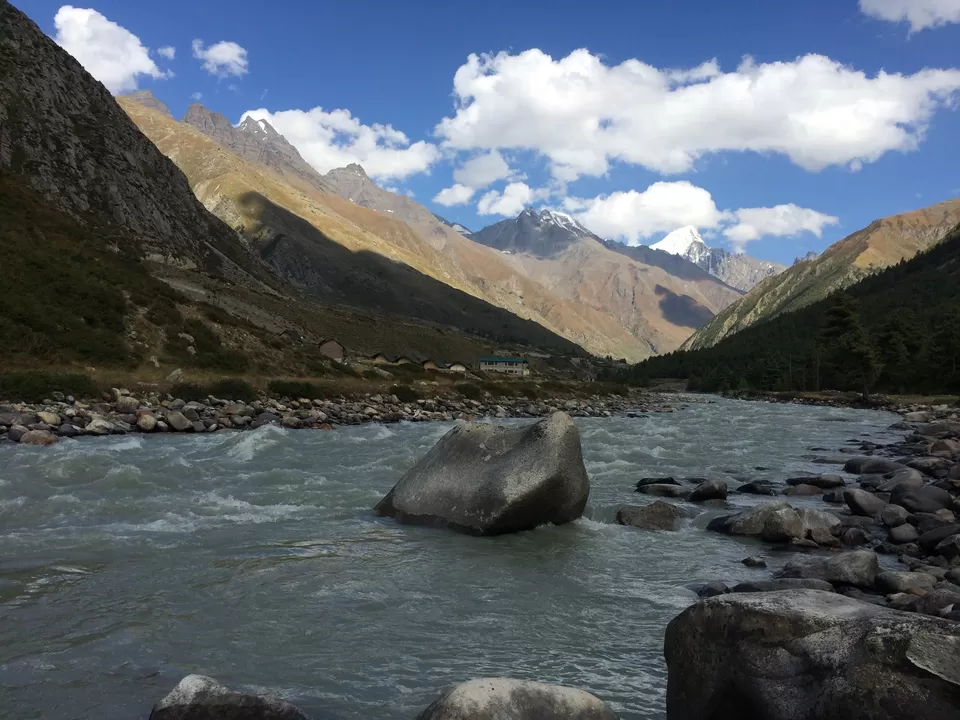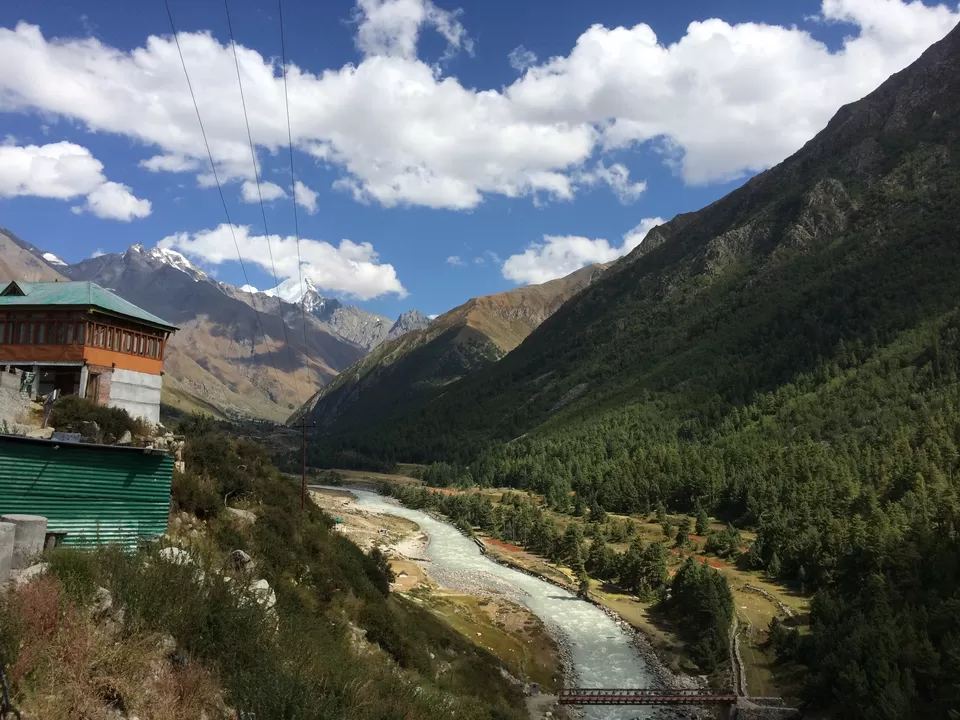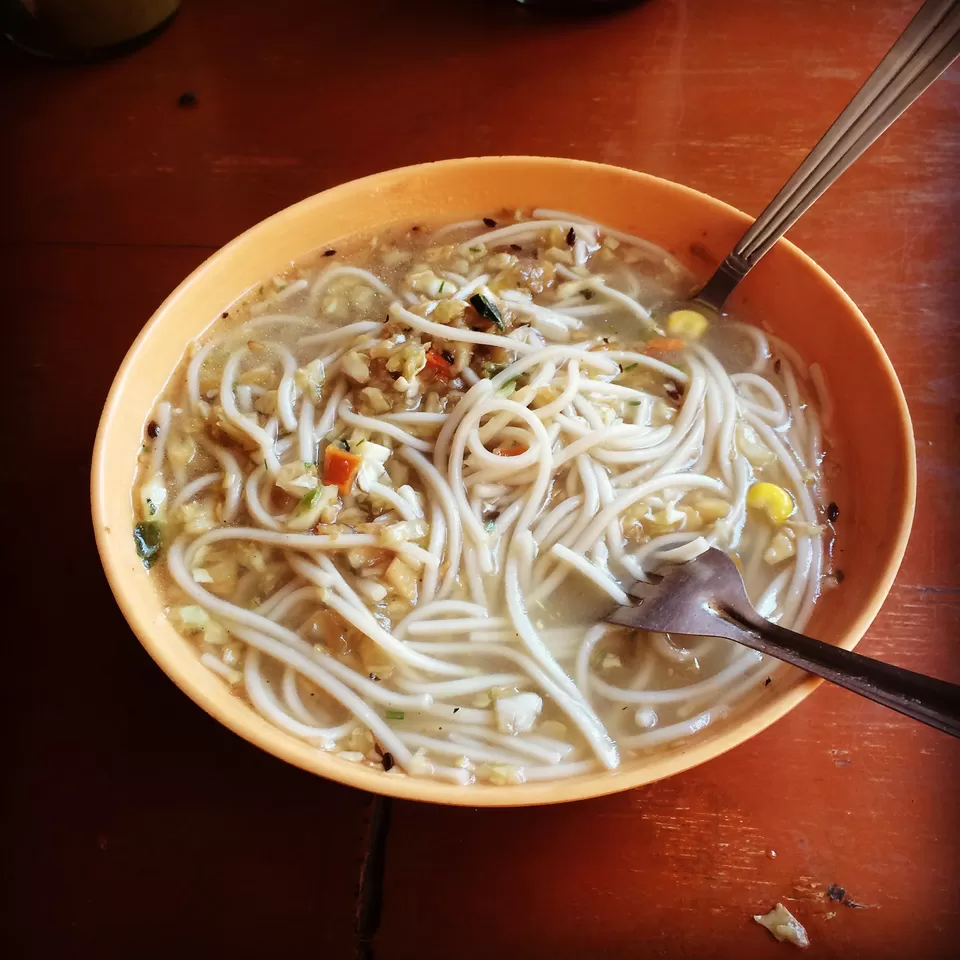 I was too busy with my chit chat session with locals that I didn't realise I have already missed my last bus to Reckong Peo. This meant spending the whole day at Chitkul. I was anyways happy to roam around and explore the village so I didn't mind. I then started looking for a place to stay and to my utter surprise I found none. A local saw me worried and offered me his place to stay. I was reluctant as this is not something we're used to in big cities, but he seemed nice and I had little choice so I gave in. He was a wonderful host. The food on offer was sumptuous and full of flavors. We spent next few hours talking about how life is so different in this part of India. There was local music in the background which was quite soothing. They offered me breakfast next morning and packed some dry fruits for me. I was spell bound, it was nothing like I'd ever experienced before. I offered them some money as a gesture, but such a fool I was that I didn't realize it was not money that they were after. I am still in touch with this person and it brings a smile on my face whenever I think about my stay at his place.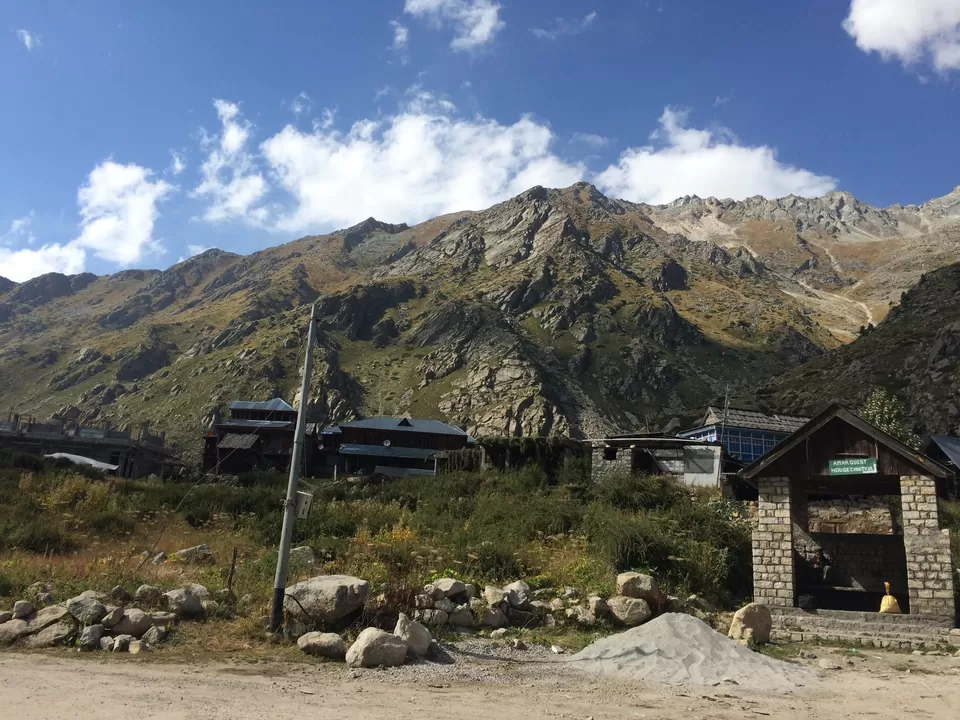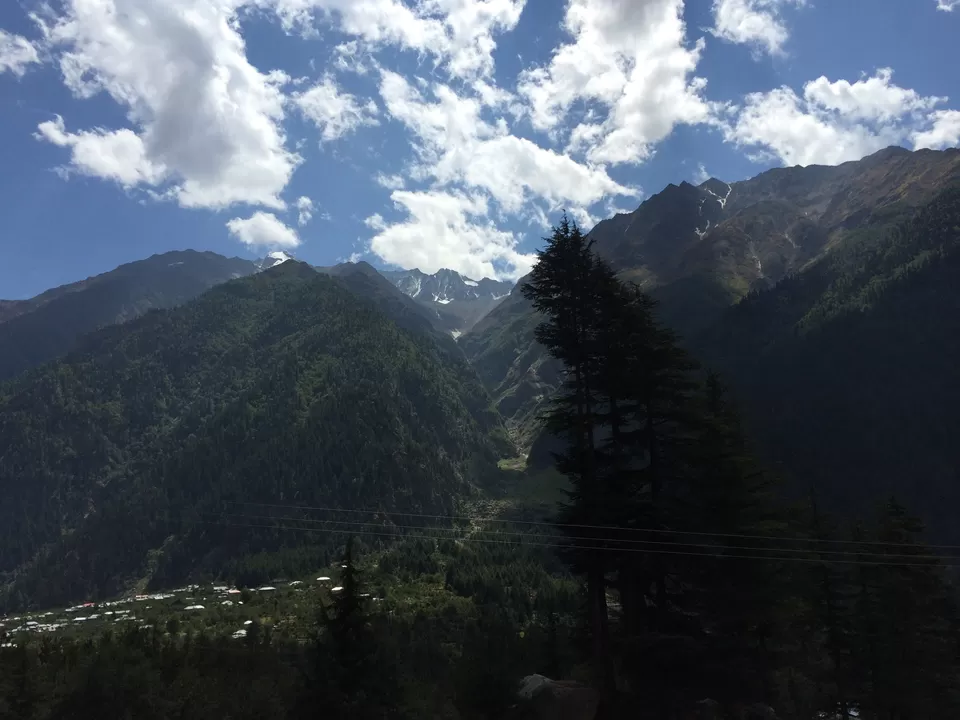 I started my journey towards Kalpa and stopped at Roghi village as already planned. This again was a little gem that no one hears about in main stream media or elsewhere. After spending few hours here, I took a bus to Peo. From Peo ,I was expecting a regular bus service to Kalpa as I had seen the very first day I arrived here. I was once again in for a trouble when I realised there are no buses after 7 p.m. Couple of people suggested me that I start walking through the shortcut and so I did. There were no street lights and it was pitch dark. There was one more person walking alongside. He said he regularly walks this route and there is nothing to be worried about. We would have hardly walked for 10-15 minutes when the other person was honked at by someone in a car behind, he was brother-in-law of this guy and he even offered to drop me. Without any doubt, I hopped on. He asked me to sit in the front seat as he wanted to know more about me (funny how these people are so fond of hearing stories about big cities like Delhi ). We dropped the other guy first and then I was dropped. He gave me his number and invited me to the harvest festival which was to happen next day. Farmers arrange for a feast and thank god for a good crop. I ordered food in my room itself. Soon after I dozed off.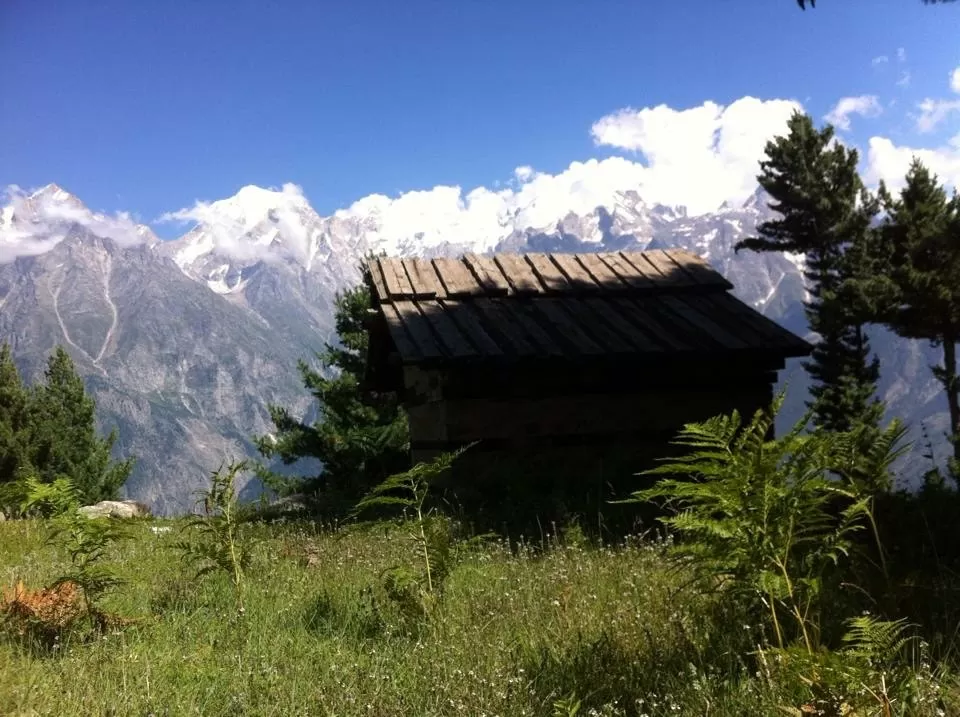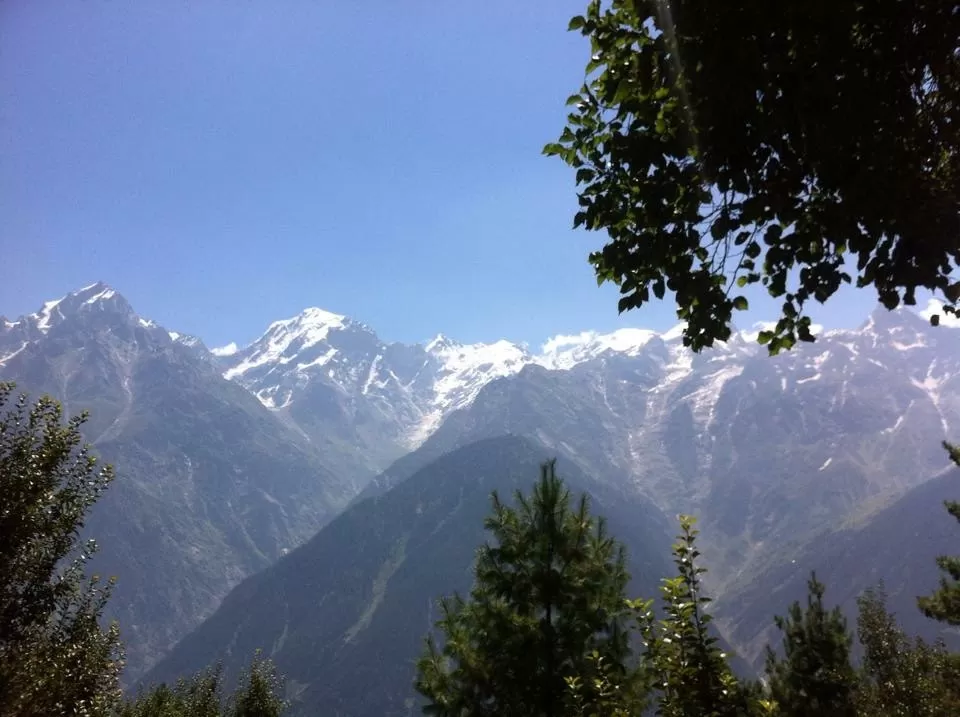 When I woke up, it was already 9 am (this was way too late by their standards is what I was told). I got ready, picked fresh apples for breakfast and got ready for the day. The community area was decorated with confetti, lights and stuff. I stayed there for some time, met my friend from last night and went to see the Kamru Fort and the Sapnifort, both of which were quite unique in their architecture. I also wanted to visit Kaza which is in Spiti valley and lies at a distance of 200km from Peo. However, I kept it for my next visit as I was simply too tired for 16 plus hours of bus journey. With almost a day in hand, I made my way up to Chakka Hill. Chakka hill is short trek of 2-3 hours with bird's eye view of the entire valley. There was one elderly couple along with me. Both of them had been married for 40+ years and were both travel enthusiasts. They were very fit and I felt embarrassed of not being able to cope up with their pace. We followed the water channel, through apple orchards and reached the top well within time (thanks to the elderly couple for keeping me motivated). I wanted to see the sun set from the hill but abandoned the idea because I wanted to reach hotel on time. From my past experience I knew it would get very dark and difficult. I reached hotel by 7 p.m. and once again united with the group of college friends. After having dinner and playing some games (which I rather disliked) I started losing interest and I excused the group to come back to my room. I wanted to sleep well as I had an early morning bus to Shimla.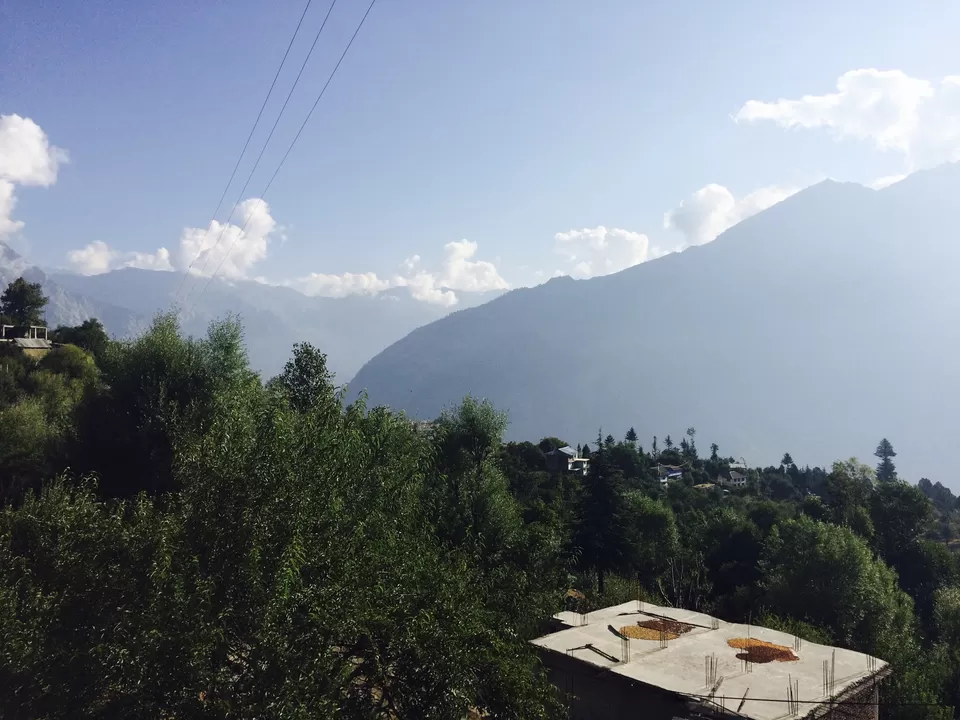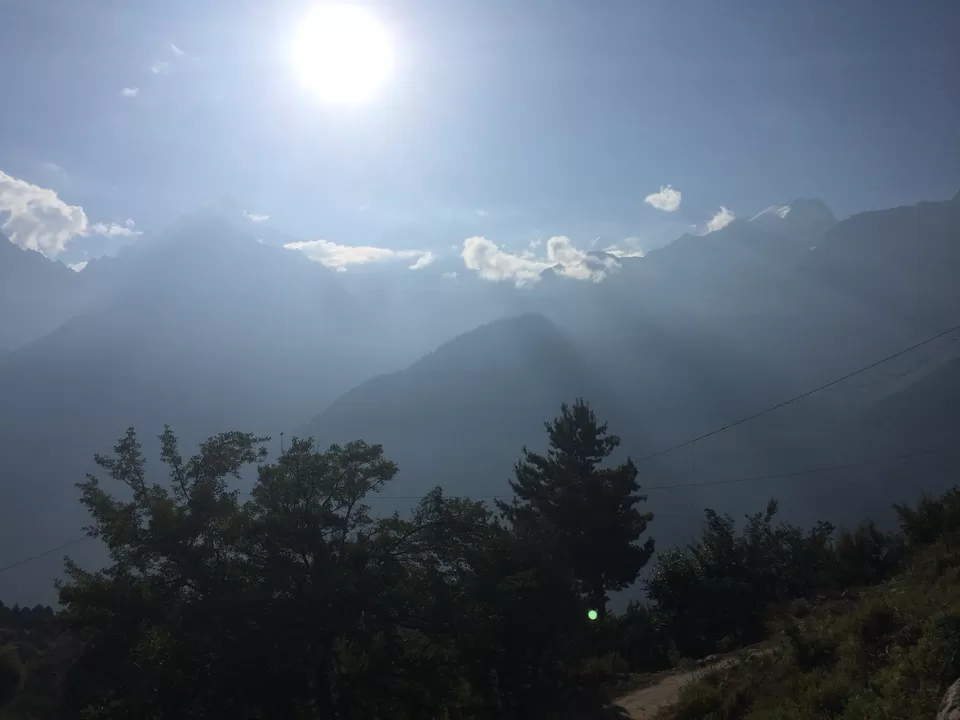 I woke up in the morning but I was sad to pack up, I was sad to vacate the room. I knew I was going to miss this place a lot and would want to come back again. I walked till the bus station. It was 40 minutes of walk with all my luggage but it didn't bother me. The bone chilling wind was tearing me apart but I was not bothered. I bought an ordinary bus ticket to Shimla as I had already booked a Volvo bus from Shimla to Delhi for onward journey. The journey was even more tiring and long this time. I was no more looking forward to my destination the way I did when I was coming to this place. I reached Shimla in 12 hours because of heavy traffic and rains along the way. I then waited for my bus to Delhi at Tutikandi Bus stand in Shimla.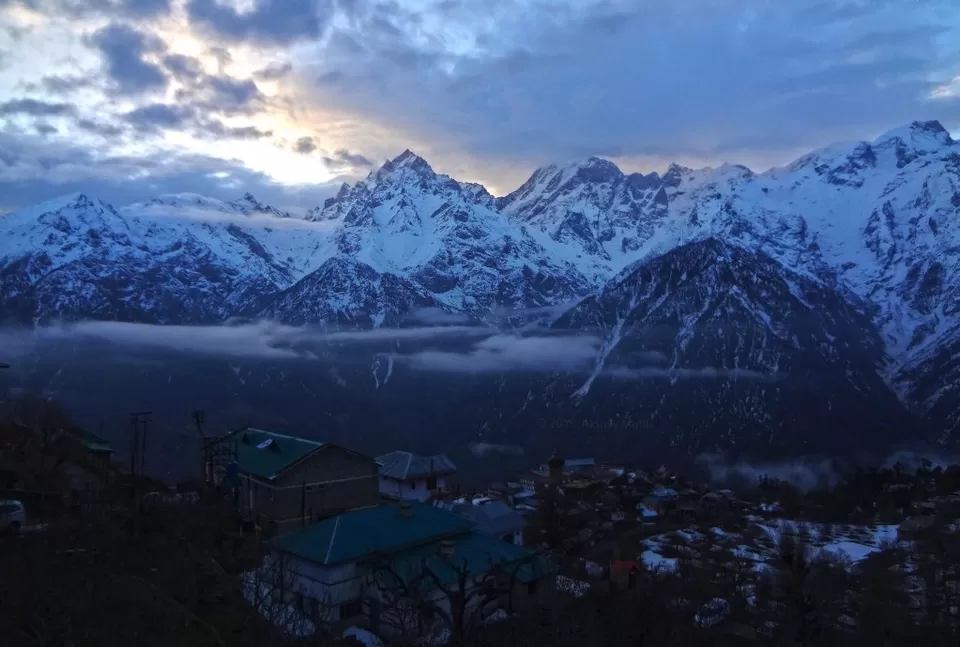 I reached Delhi early morning. I had a day off today but it was so incredibly tough to stay home. I didn't want to turn on my AC because of fresh air that I got used to while I was away, but I guess that was a necessity. The Next day I had my office. I was hit hard by post vacation blues but I knew the next one was coming very soon. I would like to end this tale with a quote from Miriam Adeney-
"You will never be completely at home again, because part of your heart always will be elsewhere. That is the price you pay for the richness of loving and knowing people in more than one place."
Happy Travels!
Frequent searches leading to this page:-
kalpa chitkul, things to do in chitkul, trip to chitkul and Kalpa