If you think Hill stations like Manali and Shimla are overrated and too crowded nowadays, let me tell you two things. Firstly, we have something in common and second, you are right. India has a lot of other beautiful hill stations and I am going to tell you about one of its best – McLeod Ganj. I visited McLeod Ganj with 6 of my friends and my girlfriend when it is at its full radiance; December end.
Located in the state of Himachal Pradesh, McLeod Ganj is a beauty that bewitches you, arrests your heart and gives all your senses employment. The view of the mountains and the smell of the nature make your brain a camera that saves everything you see as a memory.
Day 1 - Travel
We took an overnight bus from Delhi that dropped us at Dharamshala; just 5 km away from McLeod Ganj. Then we took a Traveller to reach McLeod Ganj.
For those who do not prefer travelling by bus because most groups have a friend that vomits during bus journeys, fortunately, there are other ways of transport too.
Train:
You can always board a train till Pathankot; the nearest station to McLeod Ganj – 90 km away.
Flight:
The nearest Airport to McLeod Ganj is Gaggal or Kangra Airport – 20 km away.
However, I always prefer a bus while travelling to such places because of two reasons: first being the view en route and second being more important, it is way cheaper. You can feel me right?
Day 2
We reached there by 9 am and directly checked into the hotel as it was pre-booked. After breakfast, we left for Bhagsunath Temple. It is a Lord Shiva Temple and people believe that the sacred shrine and its pools have healing properties. There was a small gate made of stones right next to the temple. I casually crossed the gate and was astonished to see the best of nature. I could literally smell the scent of trees, feel the cold and clear breeze on my face and my eyes wide open seeing the magnanimous lush green mountains right in front of me and a deep ditch below. What did I tell you about the employment? Our guide pointed to a place far away to our left to which we walked through a very narrow trail. Ever heard the quote 'the journey is more beautiful than the destination'? I could relate to it at that very moment. By nature I am a very lazy person but for that very time being, I felt nothing but peace and happiness inside me. Each step I took made me drop a worry with it.
Finally, we reached the Bhagsunag fall. The place our guide pointed at; a waterfall that surges into a small rocky pool. It is a memory to keep with you forever. The water was completely white and as chilled as mountain snow. However, only I dared my feet into the water and told everybody how bad an idea it was. There is a small stall nearby that serves hot tea, Maggi and few other snacks. I had 3 back to back teas for obvious reason. We stayed there for a while, had the Maggi lunch, which was a must and left for the last and one of the most heard about spots of this place – The Shiva Café.
The café is located a bit above the fall. I being too excited to see it; was skipping the steps leading to the café. We reached the café and saw that it was full. The café is completely made of stones, dimly lit, decorated with Bob Marley and Shiva pictures with music playing constantly and has a seating capacity of only 6 tables. It might sound like a below average café to you now but I am sure no other café can ever be a competition to this. For me, it was like a kid sleeping in nature's lap. As the café was full, we decided to sit at the benches outside. It was nearly sunset and believe me when i say that the temperature dropped by 7° in just 10 minutes, that is, from 9° to 2° and the wind started to blow faster, hitting us like blades. We were shivering like anything and decided to wait inside for a vacant table but the beauty and problem of the café is that nobody wants to leave. We waited for a whole 45 minutes till we got a table, that too in sharing. The food was okay and affordable. While we sat and ate, I saw another group waiting for 30 minutes. We finally left and reached back hotel.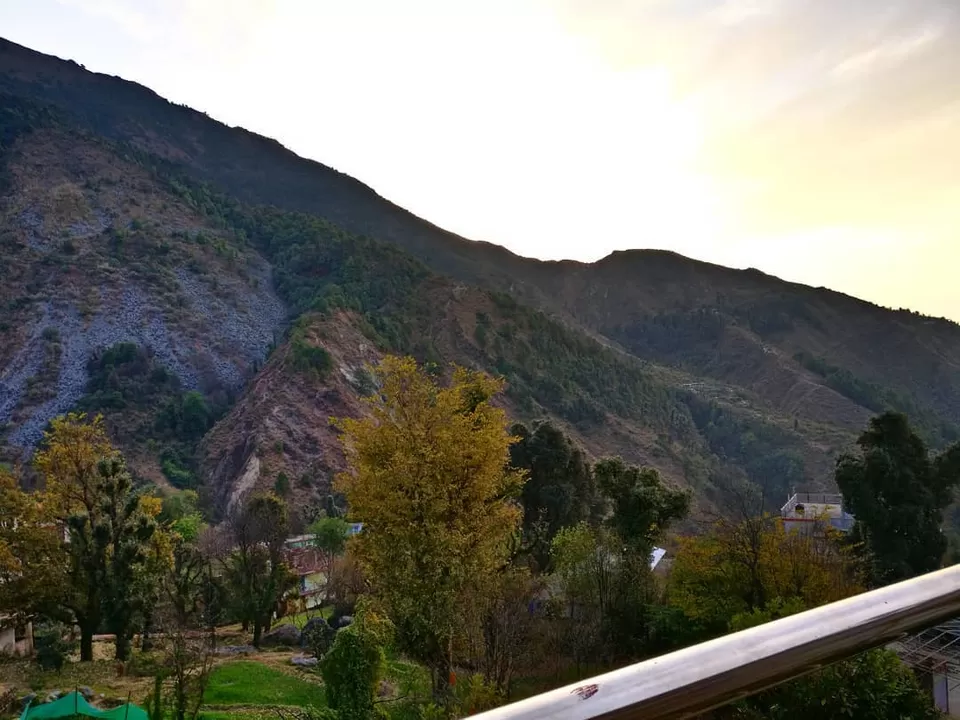 For us, the day started at 9 am. We were going for trekking to Triund which is at a height of 2850m and is 9kms long. We took some snacks and juices for the way as the small stalls that sell these stuffs are located at a distance with one another. Other things that i understood are that with increasing height of the trail, the things keep getting expensive and my girlfriend more annoying. Who wears boots for trekking? Anyway, you will start with buying tea at 20rs a cup and end up at 80rs a cup on the top. The trek is of easy difficulty and can be done by a beginner. As the nearby trail to Triund was covered with snow, it became very slippery and almost everybody slipped once or twice. It took us around 3-4 hours to reach the top only to be flabbergasted by what we saw. It was full of snow, not very thick but enough to play with. You can also see the Dhauladhar range on one side covered with snow. After some tea and maggi, we stayed for a bit, enjoyed the view and clicked a lot of pictures.
As the sun started to set, we too descended. It got dark soon and we had to use our flashlights to see the way. When everybody came down, they came down with their luggage. When I came down, I came with my luggage, her luggage, her jacket, her boots and she taking a ride on my back. The food was ready at the camping site. We ate and went for the party organized by our travel company. At 12, everybody wished each other a 'Happy new year' and continued dancing. At 2 am, everybody sat around the bonfire listening to music and talking to each other. What is a trip without meeting new people? We slept only after seeing the mesmerizing sunrise and me seeing a lullaby to my girlfriend. A lullaby after sunrise, Great! Isn't it?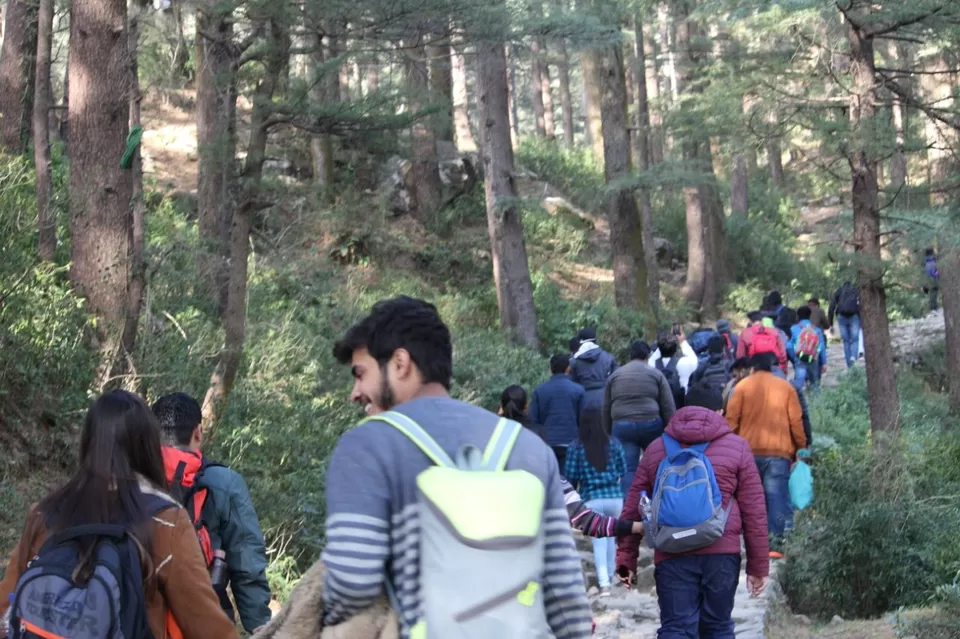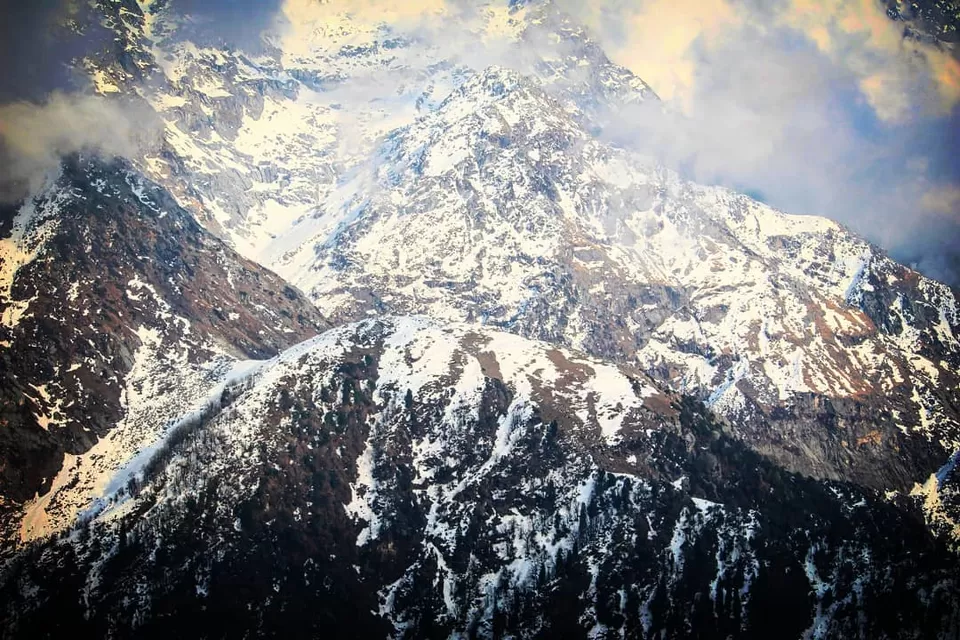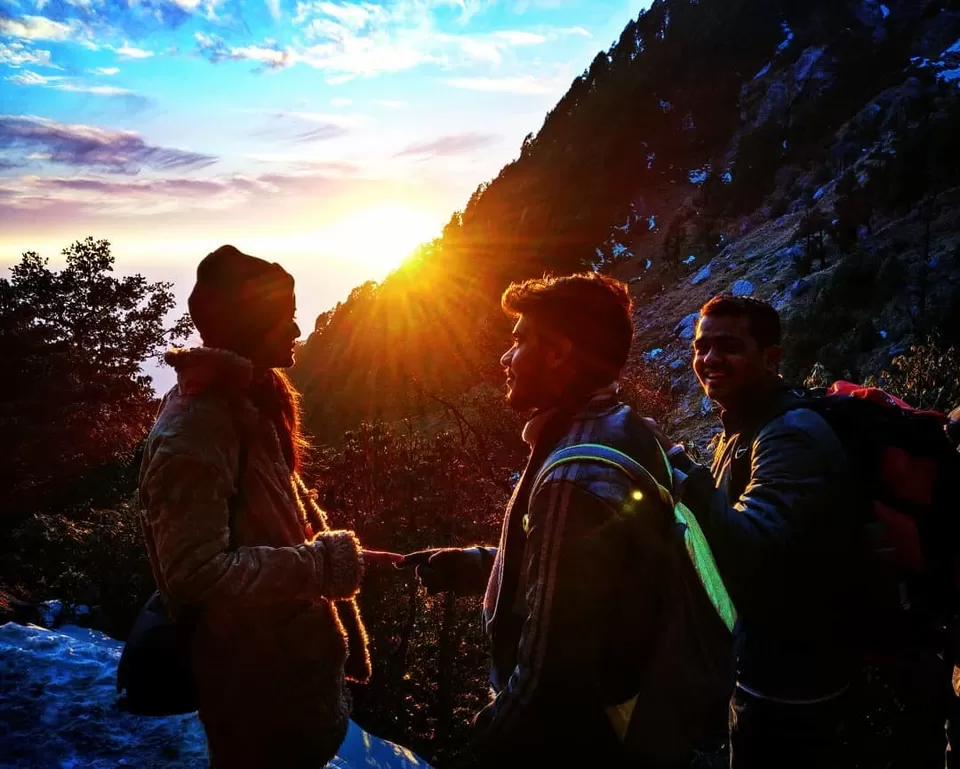 After having our breakfast, we left for H.H Dalai Lama main Temple. Personally, I am not a very religious kind of a person but I went there because it was better than standing alone on the road waiting for friends. However, the monastery was really beautiful and peaceful. I also had the chance to spin the prayer wheel which is said to have meritorious effects. One thing that I would also suggest you is to try the 'Momos (Dim sum)' just outside the Monastery. Unlike everywhere else, these Momos have a filling of potatoes and spinach. After the Momos lunch, we left for our bus waiting for us at the nearby stop. We left McLeod Ganj by 5 Pm and reached Delhi by 7 Am.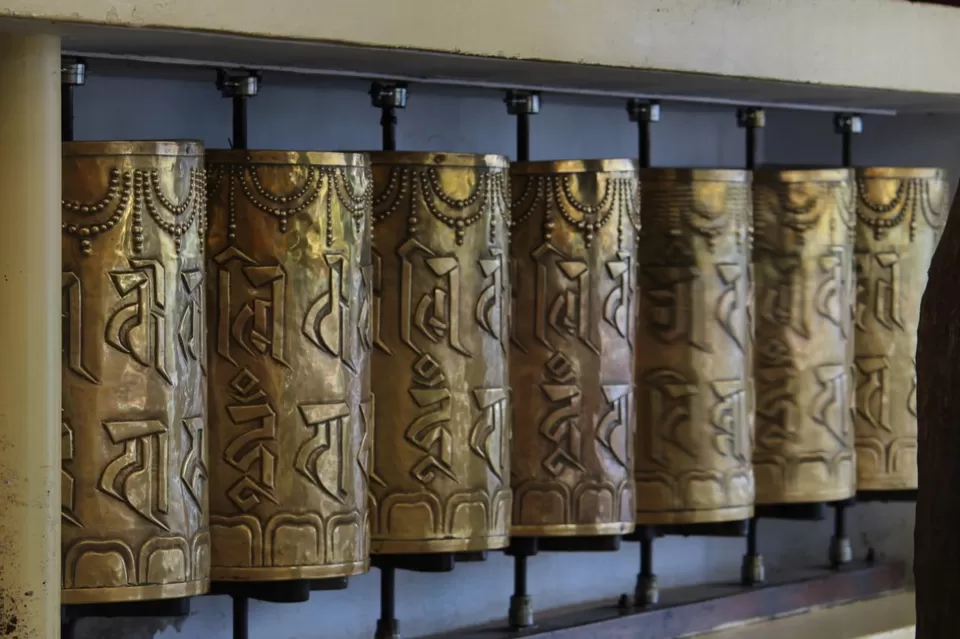 So next time, you lose a job or go through a break up, fail an entrance exam, get friend zoned or anything that makes you put sad statuses on social media, don't go to a bar. Go to McLeod Ganj.
Points to remember while visiting McLeod Ganj:
 Don't be drunk/high if you are going to walk through trails or trekking.
 There are no washrooms built on the way so you will have to control or use the woods.
 It gets really chilly in the evening. Always carry an extra jacket with you.
 Carry a few newspapers with you. Fold it and put it inside your t-shirts. It will keep you really warm.
 Carry your flashlights.
 Carry a first aid box with you in case anybody slips or gets hurt.
 Taking a guide will always be better to save time and effort.
 Don't go to trekking with your girlfriend if she doesn't like it or you are going with your friends or you just don't want to.